From dainty decor to practical picks, these are the best wedding favors to make your big day extra special.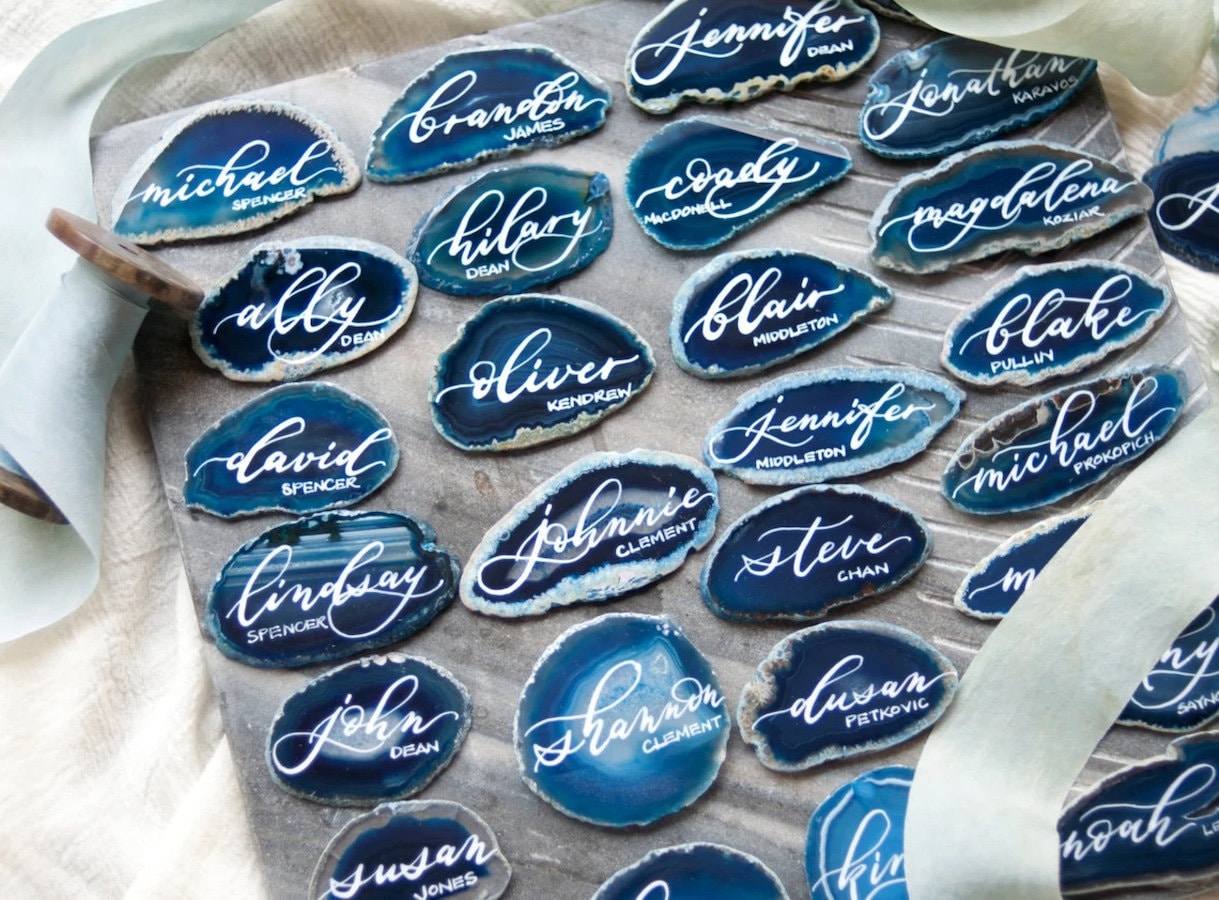 You've picked the date and the venue, said yes to the dress (or tux), and collected all of the RSVPs. Now you just need to find the proper keepsake to gift your guests that feels representative of you and your partner's love story. While wedding favors aren't mandatory for your nuptials, they can be a lovely parting gift and a reminder of the sweet memories they made on the day you said "I do."
Unique wedding favors
There's nothing quite like the love you have, and your wedding favors should reflect that unique, special spark between you and your spouse-to-be. Try one of these picks for the best unique wedding favor ideas you haven't seen before.
1. An activity book that's all about you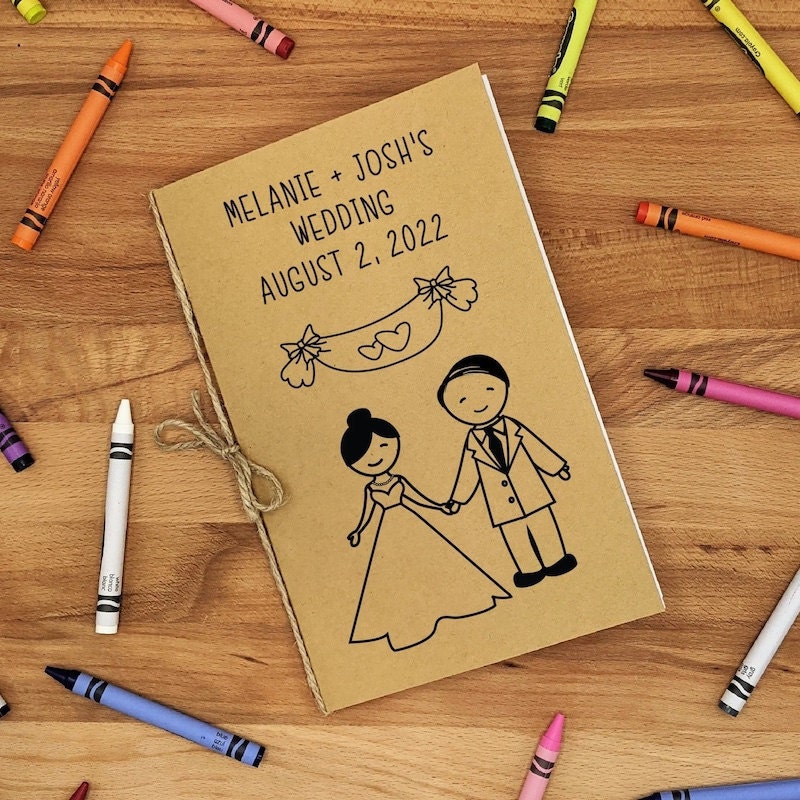 SHOP: Wedding activity book from hoot events, from $5 each
For the crossword solvers, board game night champions, and clever creatives, this creative wedding favor idea is a charming keepsake for your guests, who can be equipped with crayons so they can race to the finish of the reception maze or find all of the buzzwords in the word search. And with over 150 customizable elements to add on to your purchase, you can make this unique wedding favor absolutely and playfully you.
2. The best wedding favors for fall weddings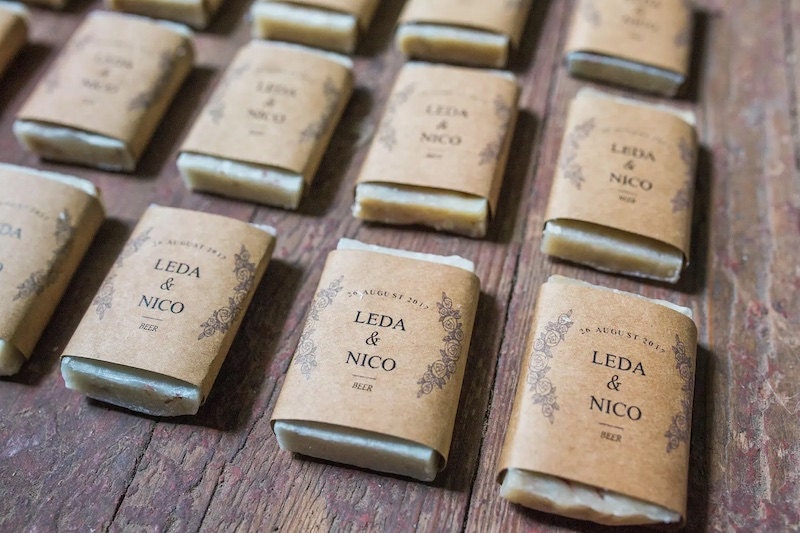 SHOP: Fall-scented wedding soap favors from Le Box Boutique, from $26 for 10
Getting married during the height of sweater weather and pumpkin spice season? Celebrate your special day and the perfect time of year with these autumn-inspired scented soaps. Choose your favorite scent (buyers are loving the Apple Butter aroma) or get a variety of over a dozen scents, add your name and wedding date, and you'll have a fragrant wedding favor fit for your favorite season.
3. The best wedding favors for tea time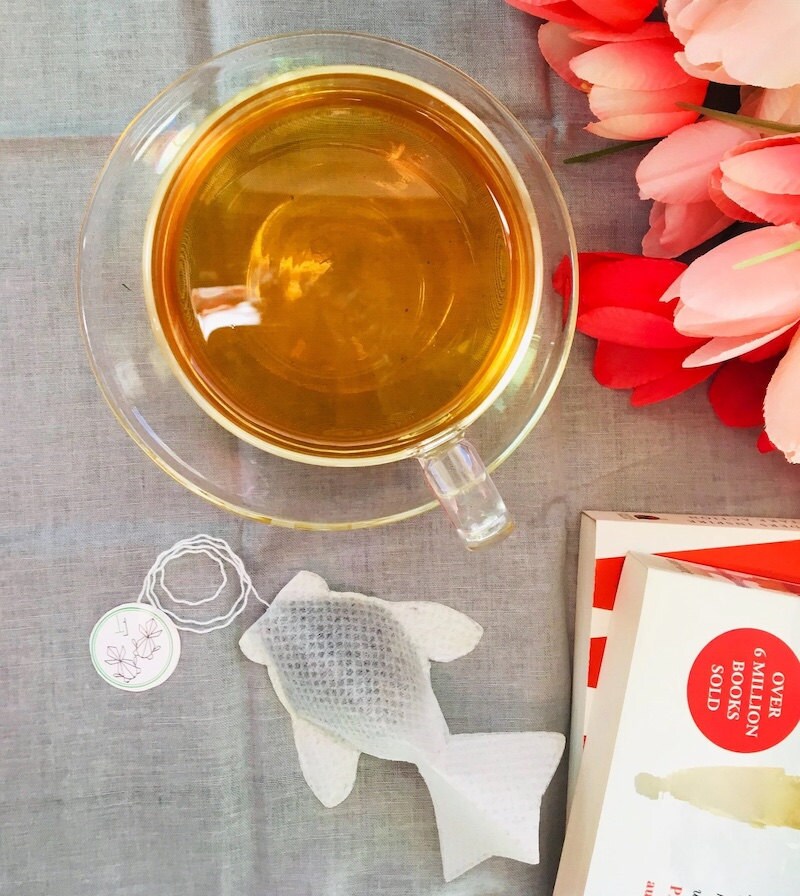 SHOP: Fish tea bag wedding favors from Floa Tea, from $15 for 6
Pinky up! These oh-so-cute fish-shaped tea bags are the perfect playful favors for the couple that always chooses tea over coffee. Available in black, oolong, and green flavors, these tea bags will delight wedding guests of all ages—from the flower girl to your Great Aunt Ruth.
Personalized wedding favors
Whether it's a special engraving with you and your partner's names on it or a wedding favor magnet with an illustration of your beautiful, happy faces, these personalized wedding favors are customized for your big day.
4. The best wedding favors for the bridal party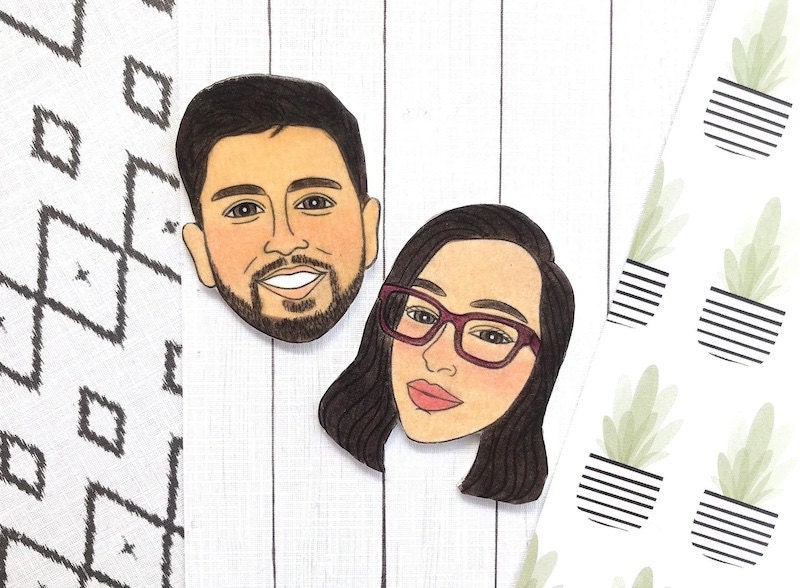 SHOP: Personalized illustrated wedding favor magnets from Kit Atlas, from $38 for one face
Adorn your bridal party's fridges with an illustration of your gorgeous faces with these wedding favor magnets. Best for smaller weddings or the bridal party, these custom wedding favors are a perfect complement to your save-the-date magnets.
5. The best wedding favors for coffee shop couples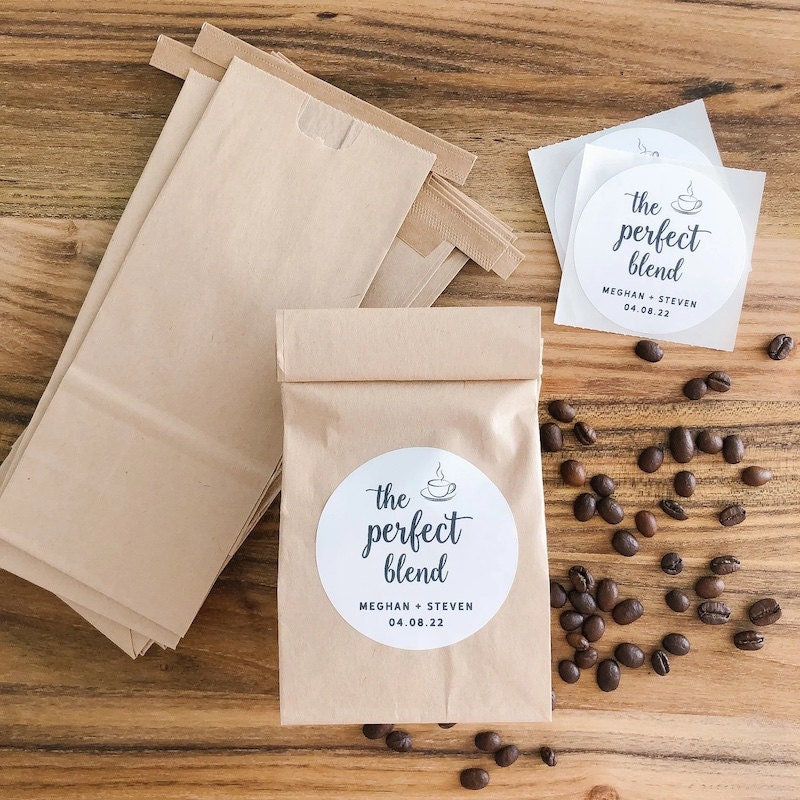 SHOP: DIY coffee wedding favor bags from The Paper Shoppe CA, from $13 for 10 bags
Was your meet-cute at your favorite cafe? Do you and your spouse-to-be seek out the best coffee brews in your city? These custom coffee wedding favors feature a kraft paper bag and a custom sticker to commemorate your wedding day. Add your favorite coffee to the bag and you'll know it was meant to bean.
Useful wedding favors
The best wedding favors are the ones your guests will actually use, and these practical picks will have them fondly thinking of you and your partner's special day each time they use your wedding keepsake.
6. The best wedding favors for summer weddings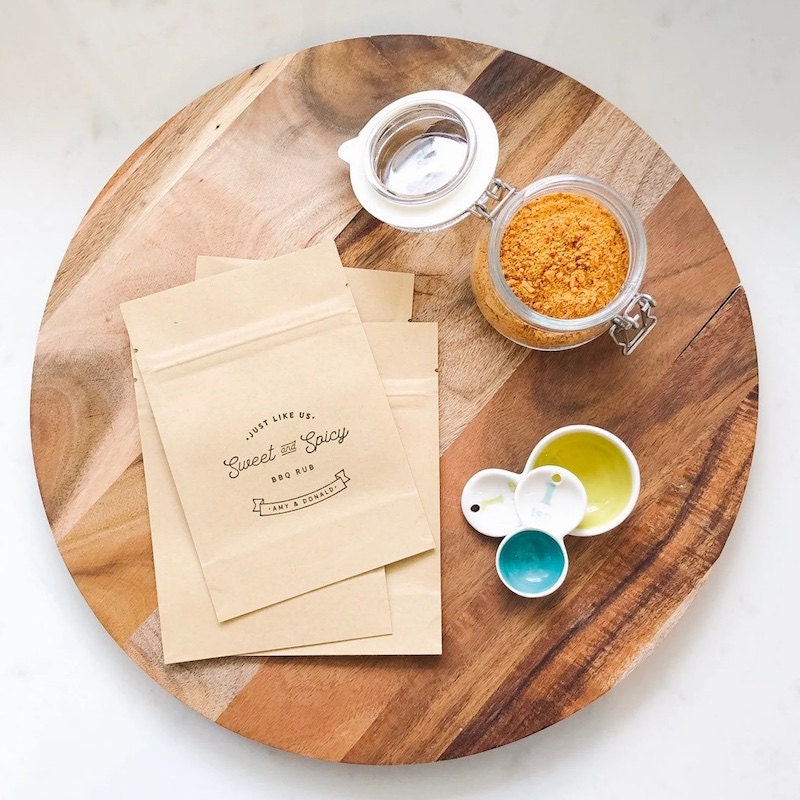 SHOP: DIY spice wedding favor bags from The Paper Shoppe CA, from $34 for 10 pouches
Pass the mustard! These spice favor pouches are made special so you can add your favorite barbecue rub or seasoning to this DIY wedding favor. Each paper bag comes custom-stamped with your and your fiancé's names and your wedding date, and we think this would be an exceptionally appropriate wedding favor for backyard weddings and summertime nuptials.
7. The best wedding favors for the home renovators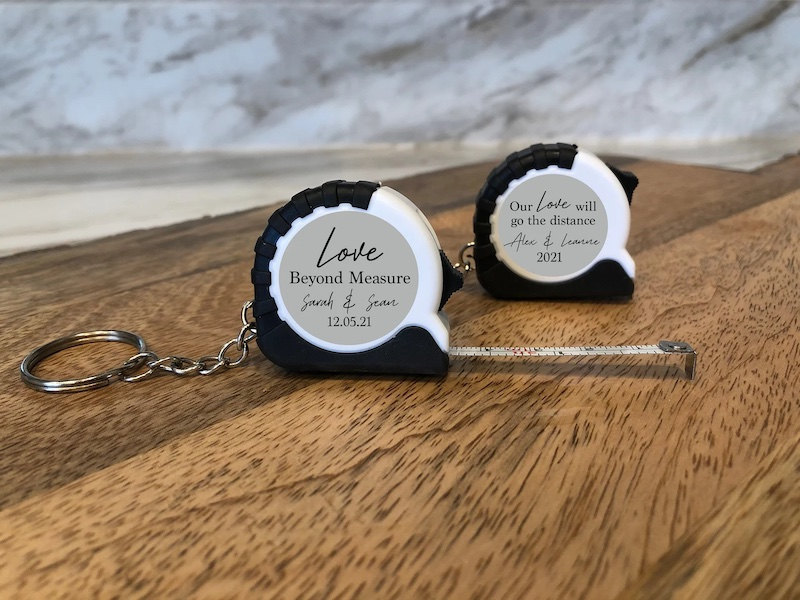 SHOP: Customized measuring tape wedding favors from Two Jays Creative, from $17 for 5
For the handy couples who always have a home improvement project on their docket, these measuring tape wedding favors will be in the toolboxes of all your guests for many years to come.
8. The best wedding favors for beer lovers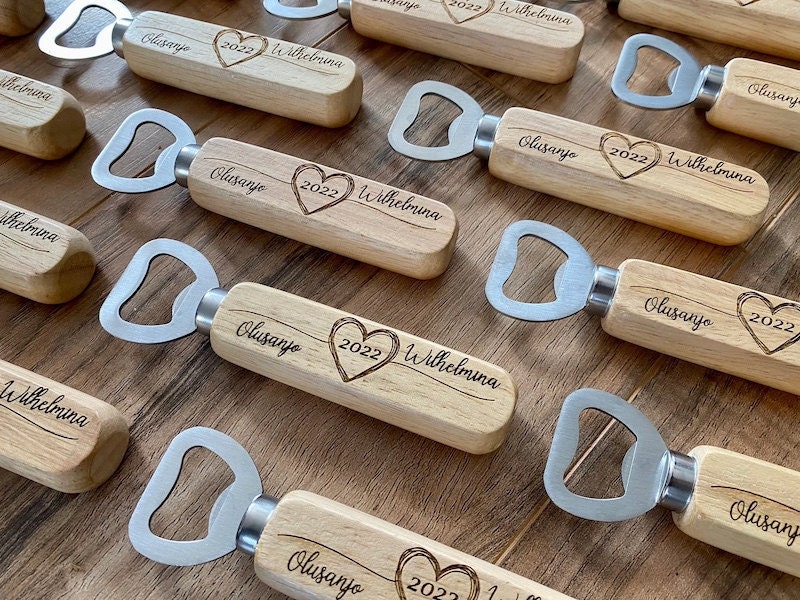 SHOP: Wooden engraved bottle opener wedding favor from Munsell Made, from $25 for a set of 5
If you and your significant other frequent your local brewery or are always trying out new craft beers, these engraved wooden bottle openers are a wedding favor they'll use every time they're ready to crack open a cold one. Pair it with your favorite beer glass for the groomsmen for the ultimate bridal party favor.
Elegant wedding favors
A delicately engraved birch candle holder. A handmade ceramic wine stopper. A rich bottle of olive oil custom-labeled for your special day. These elegant wedding favors are sure to wow the crowd—whether it's a small, 10-person gathering or a multi-day, multi-family bonanza.
9. The best wedding favors for foodie couples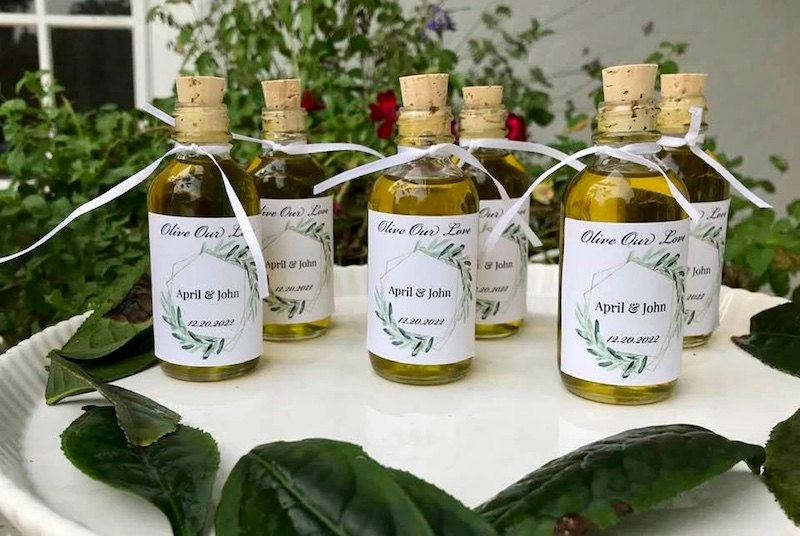 SHOP: Personalized mini olive oil wedding favors from Reve Labs, from $132 for 25 bottles and labels
Experienced chefs know that the best meals start with the best ingredients—and good company. Luckily, with these olive oil wedding favors and your guest list, you'll have both.
10. The best wedding favors for wine lovers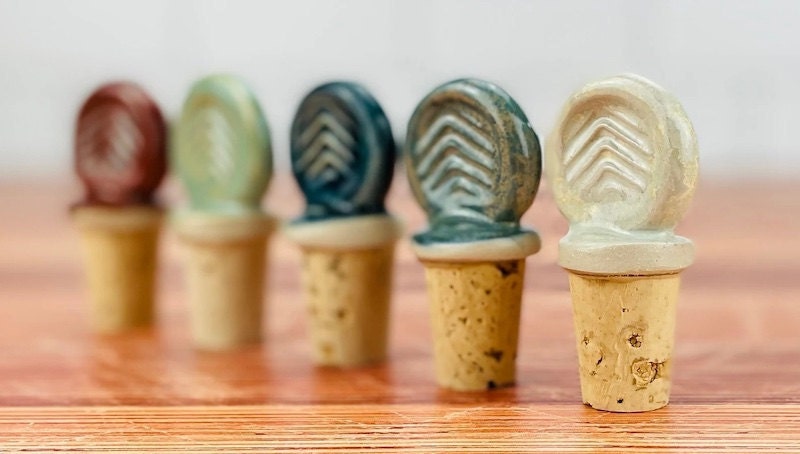 SHOP: Ceramic wine stoppers from Jason Wolff Pottery, $26 for a set of 4
Your loved ones will happily be popping corks for your wedding day, but if they ever need an extra day to finish that bottle of red, these elegant and earthy hand-crafted ceramic wine stoppers will be with them when they're ready to pack it in for the night.
11. The best wedding favors for outdoor weddings
SHOP: Rustic birch wood tea candle holder from JV Country Creations, $26
Whether your wedding is taking place in an old country barn or features rustic touches in a more modern venue, these birch wood tea candle holders function as a gorgeous centerpiece for wedding tables and a piece of decor for guests to take with them. Carefully engraved with you and your partner's initials, these wedding favor candle holders will add that farmhouse chic touch to the homes of your guests.
Inexpensive wedding favors
Having a wedding can get pretty pricey, but luckily these budget wedding favors are gorgeous and useful without breaking the bank.
12. The best wedding favors for destination weddings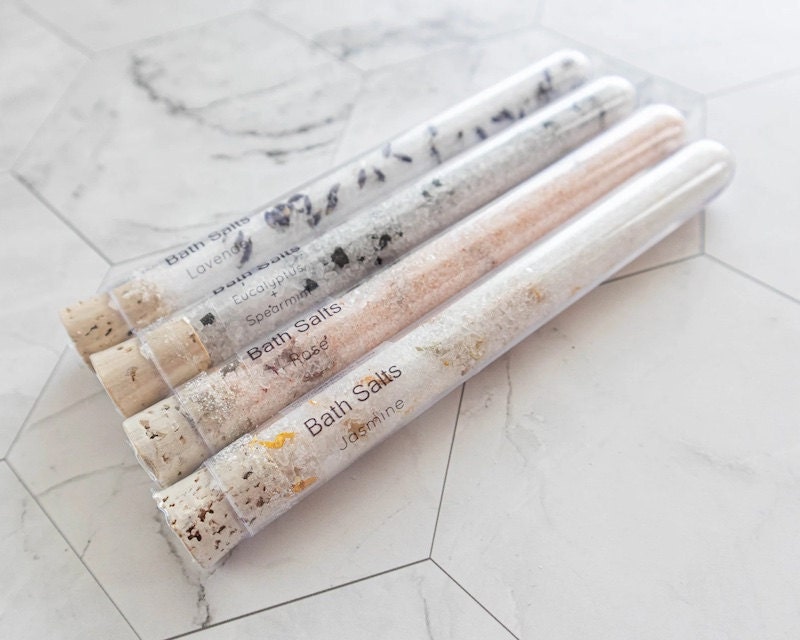 SHOP: Single test tube of scented bath salts from Charmed Bath Body, $3 for 1
Encourage your guests to enjoy some rest and relaxation (especially if they're coming a long way for a destination wedding!) with these spa-worthy scented bath salts in a single test tube—the perfect size to use in a good soak before their flight back home or to stow away in their carry-on!
13. The best wedding favors for bridesmaids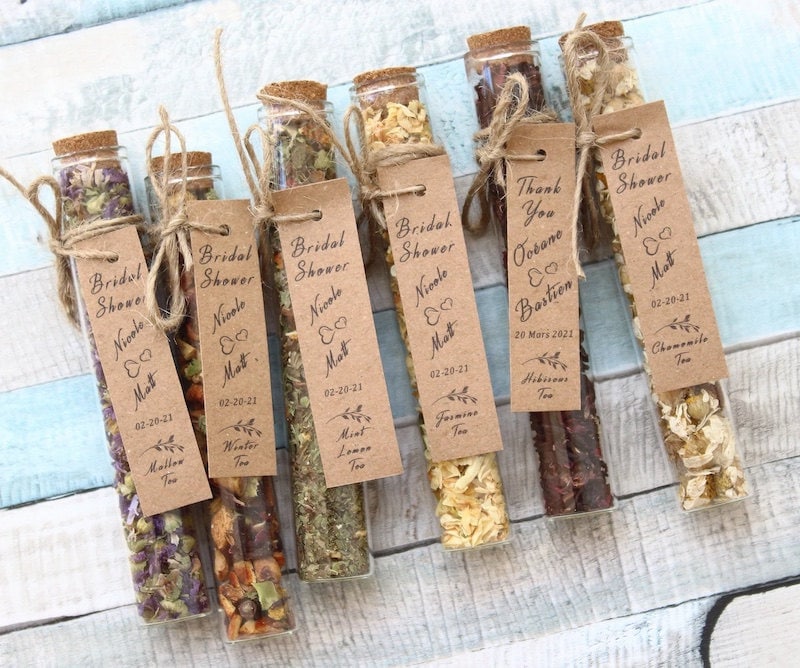 SHOP: Herbal tea party favors from Rozalia Crafts, $2 for 1
Love is a-brewing and these delicate tea party favors celebrate you and your spouse-to-be's perfect blend. Choose from a variety of herbal teas to suit your guests' tastes and pick your favorite label for a tea-rific wedding favor.
Shot glass wedding favors
Order a round for the happy couple (that's you!) and make sure every guest has their own personal shot glass for the toast.
14. The best boho shot glass wedding favors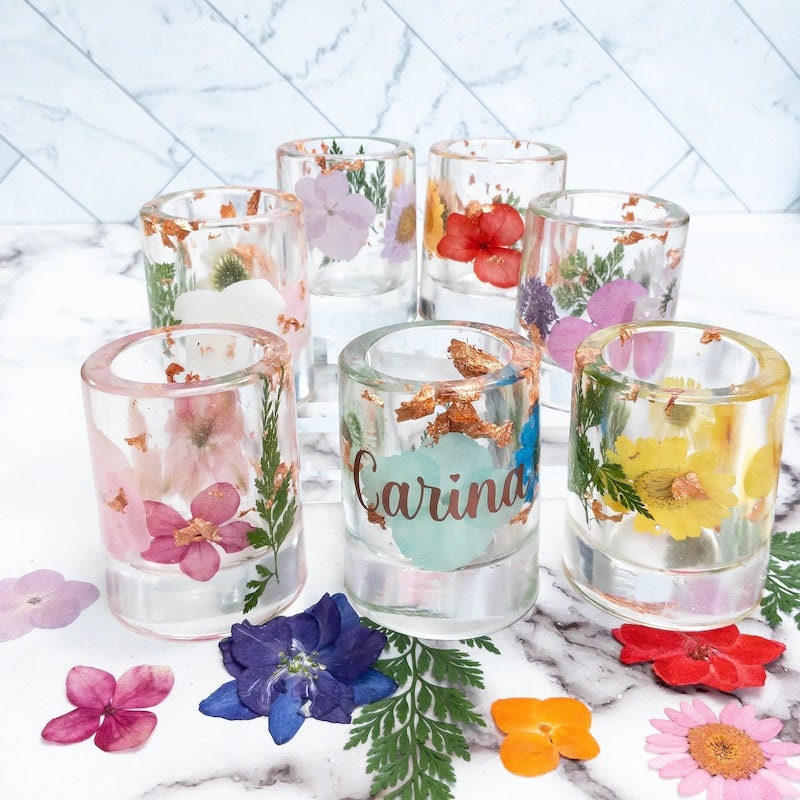 SHOP: Pressed flower personalized shot glass wedding favor from Designs by Savi, $9 for 1
These darling floral shot glasses are fully customizable: You can add gold, silver, or rose gold flakes, have each of your wedding guest's names printed on each glass, and you can request a color scheme that fits your preferred palette.
15. The best modern shot glass wedding favors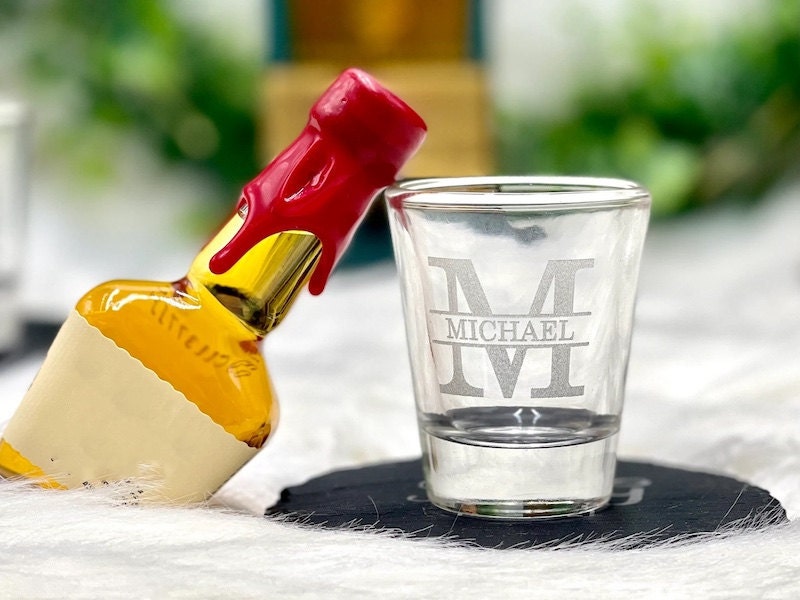 SHOP: Custom engraved shot glasses from His Corner, $5 for 1
Simple and understated, these engraved shot glasses offer an elevated way for your loved ones to remember your big day and enjoy their favorite spirit.