Shop ready-to-print wedding invitations or work with an independent artist on Etsy to create a one-of-a-kind invitation suite for your special day.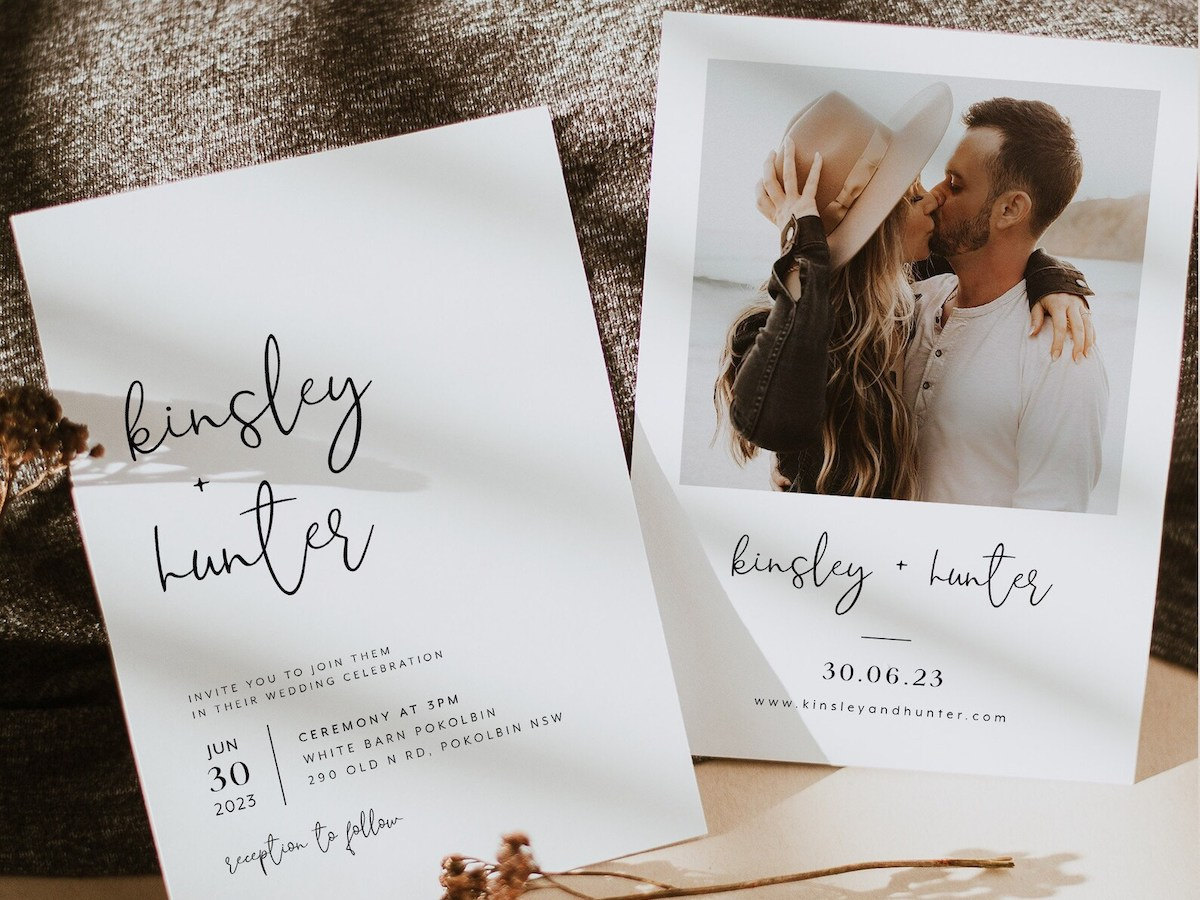 Bright and bold, cute and quirky, traditional and understated, modern and minimalist…your wedding invitations and save-the-dates are your guests' first impression of what to expect at your wedding. Ready to make a major statement? These are the best wedding invitations to announce every style of wedding.
No matter what type of design you're looking for, you'll find a wedding invitation created especially for you by an Etsy artisan that helps you express the tone of your celebration to your guests. Many brides opt for a digital wedding invitation template, designed by an Etsy seller and ready to be customized with everything from your names to the background color or photo. Once you're happy with the design, you can print these invitations through the printer of your choice (and many Etsy sellers have a printer they recommend, too!).
Or, work directly with an independent designer on Etsy to create a one-of-a-kind wedding invitation suite with thoughtful details like calligraphy and hand-lettering and creative materials like acrylic, wood, and customized wax seals.
Get ready to say "I do!" to your dream wedding invitation.
Photo wedding invitations
Have a photo of the two of you that you simply adore? Why not build your wedding invitation suite around it! While many couples choose to use an engagement photo on their save-the-date announcements, a photo wedding invitation is a great place to include your favorite pictures, as well. These invitations are beautifully designed and simply waiting for your sweet snapshot.
1. Gold foiled wedding invitation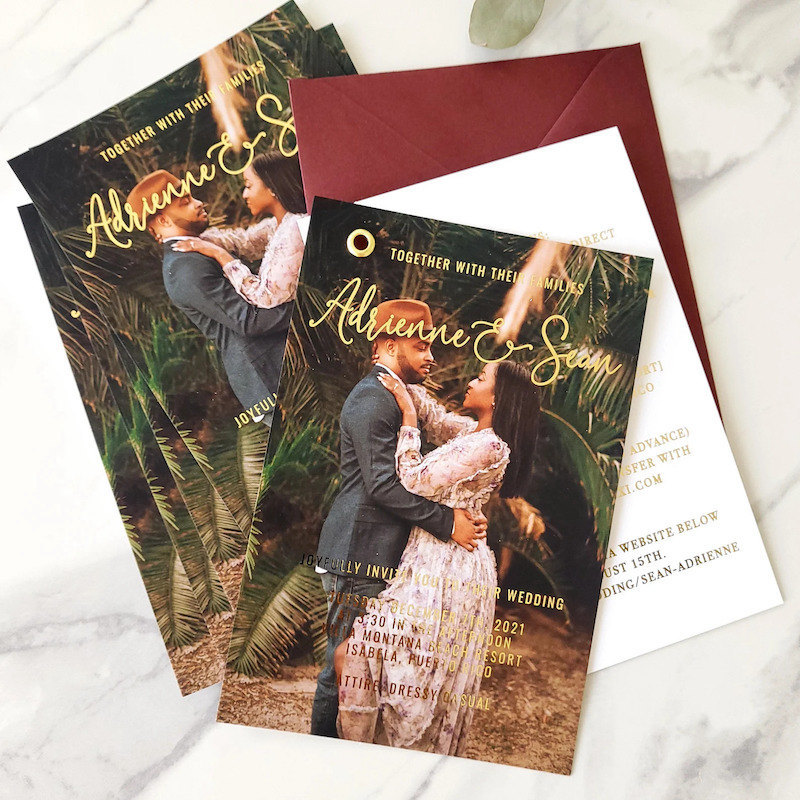 SHOP: Gold foiled wedding invitation from XOXO Kristen, from $29 for a set of 10
Pick your favorite pic and let it shine as the backdrop for this photo wedding invitation that includes your names imprinted on it in metallic foil. You can select gold, silver, or rose gold lettering to best match your image.
2. Retro photo wedding invitation bundle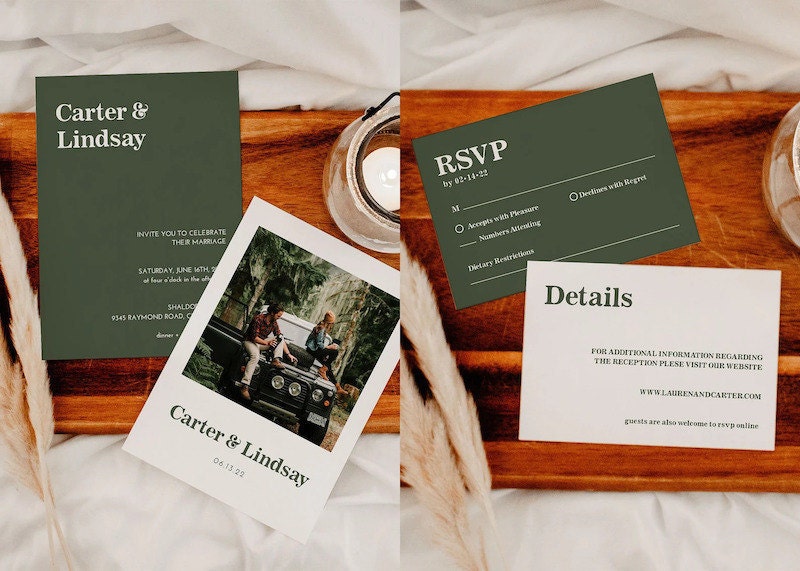 SHOP: Retro minimal wedding photo invitation from Good Sunday Designs, $7
This retro wedding invitation template is ready to download and add your favorite snapshot to. Work with the forest green and white color scheme, or update the template with your own color scheme then print when you're ready.
3. State photo wedding invitations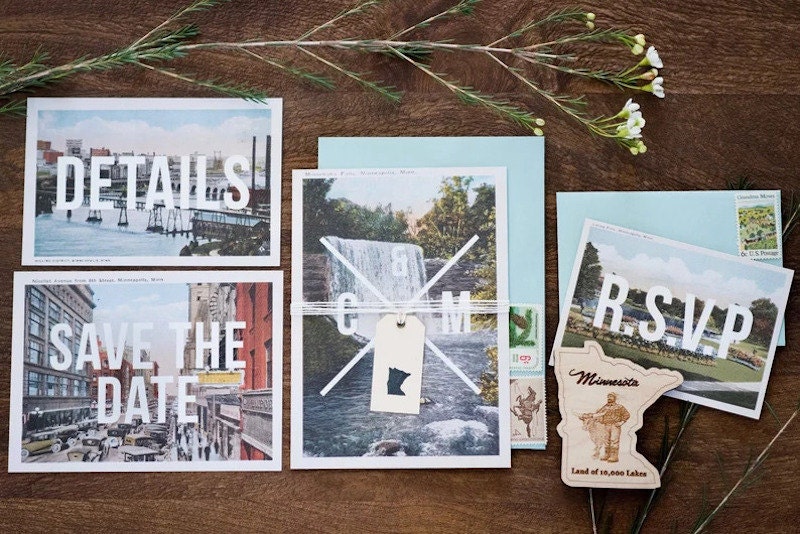 SHOP: Minneapolis, Minnesota wedding invitation from Lakeside Paper Company, from $3 for an invitation with a minimum order of 50
With backdrops ranging from the Land of 10,000 Lakes to Notre Dame and semi-custom illustrations, couples adore the extremely unique wedding invitation designs from Lakeside Paper Company. Pick a meaningful location in your love story, and let the designing begin.
Boho wedding invitations
If visions of pampas grass and flower crowns are dancing through your mind, these bohemian-inspired wedding invitations are the perfect pick to announce your big day. The boho wedding invitations created by the independent artists on Etsy often feature muted color palettes inspired by the lush, natural hues found throughout Mother Earth and botanical accents like soft florals, branches, and vines.
4. Earthy, arched invitation suite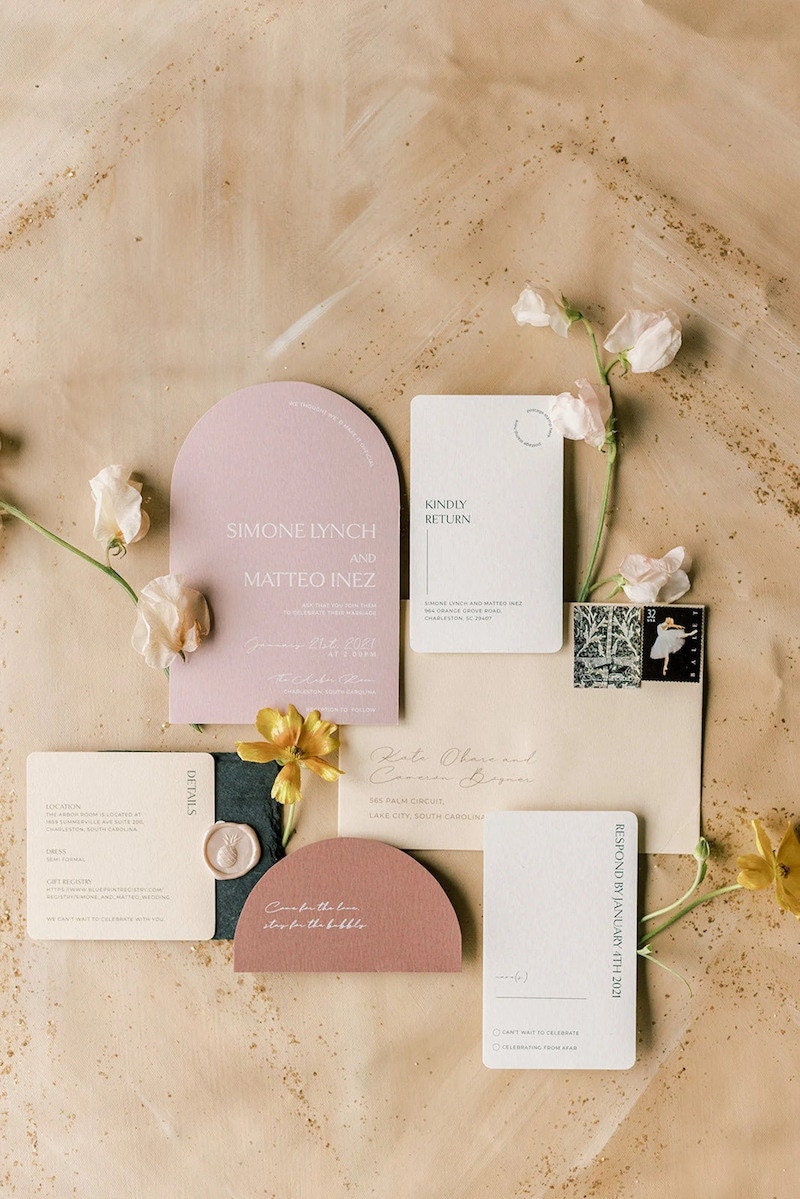 SHOP: AISLING invitation suite from Fielding Milligan, from $11
Sweeping arches and soft lines give this boho wedding invitation suite a natural elegance. The colors can be customized to match your palette and a raindrop-inspired clip holds all the pieces together for guests.
5. Desert-inspired wedding invitations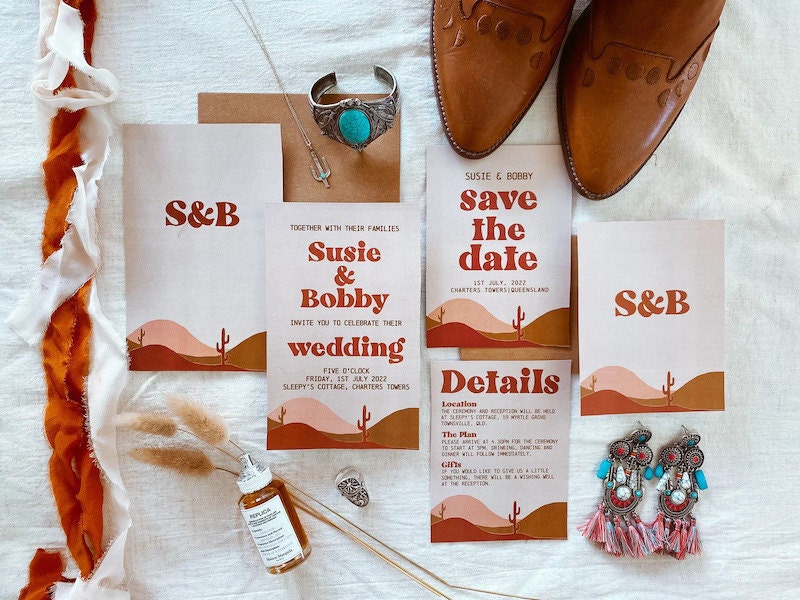 SHOP: Take It Easy wedding invitation suite from The Oopsy Daisy Company, $44
Planning a low-key wedding in the high desert? This cacti-adorned wedding invitation template has a decidedly retro feel thanks to the sand-dune inspired color palette and bubbly font.
6. Acrylic wedding invitations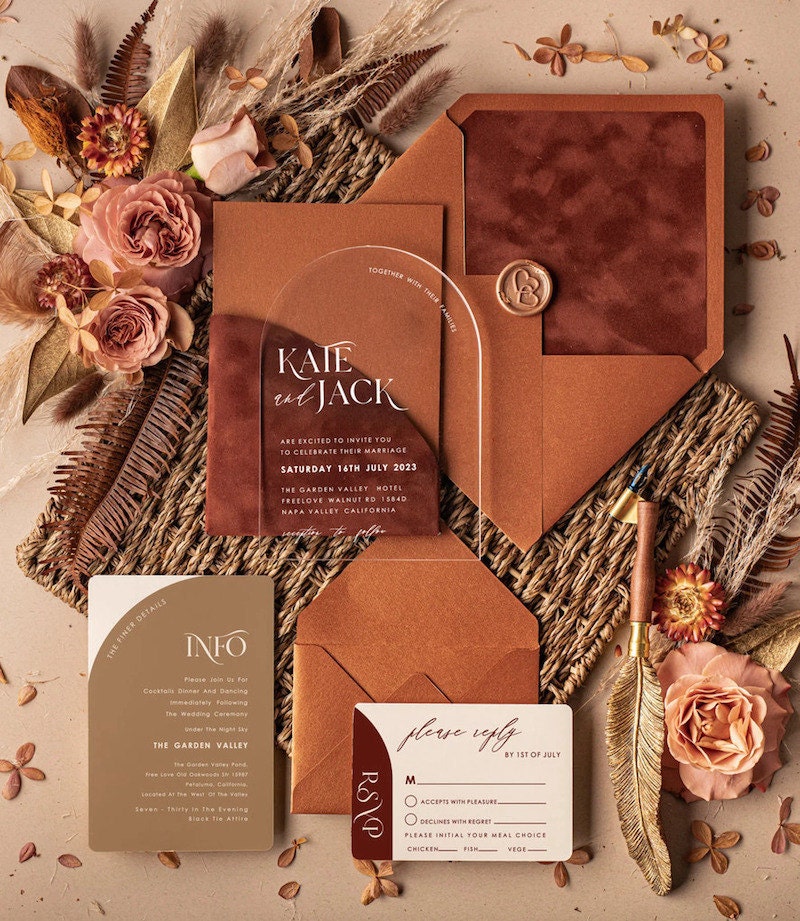 SHOP: Arch acrylic terracotta wedding invitations from Margo Designs Store, from $9
Give your boho nuptials an upscale twist with these arched invitations printed on clear acrylic and shared inside a velvet-lined, terracotta-hued envelope.
7. DIY boho wedding invitation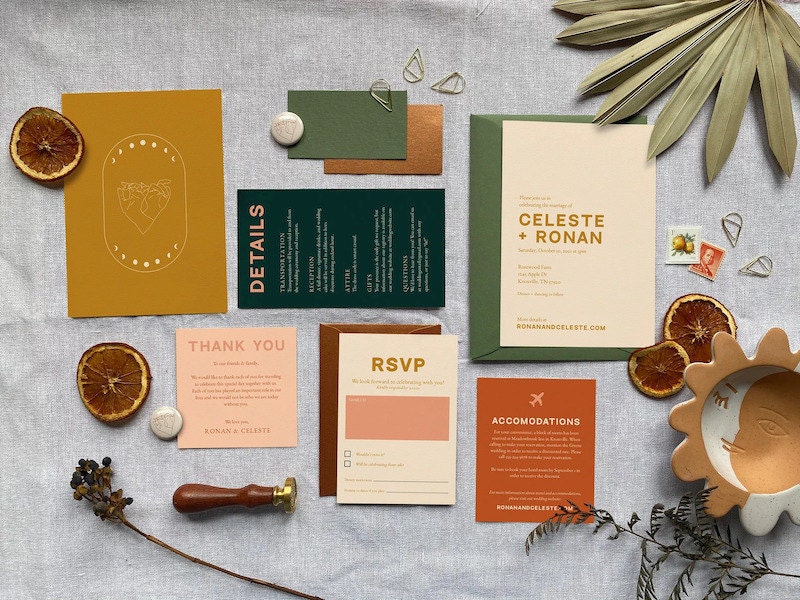 SHOP: DIY printable boho invitation set from The Iconic Bride, from $42
Buyers love this easy-to-use boho wedding invitation template featuring five essential pieces: an invitation, response card, accommodations information, wedding details, and a coordinating thank you card.
Winter wedding invitations
Ready to "sleigh" the first impression? Because of the icy, snowy scenery, winter weddings provide some of the richest, most eye-popping wedding color combinations of any season. Whether it's deep jewel-tone palettes like sapphire and burgundy or winter landscape-inspired tones like emerald green and rich chocolate browns, these are a few of the best winter wedding invitations on Etsy.
8. Jewel-tone purple wedding invitations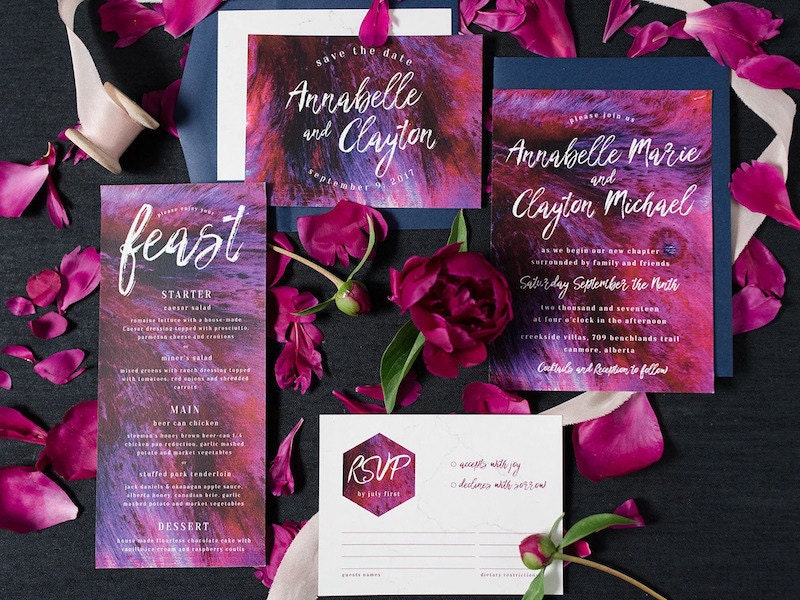 SHOP: Purple and pink wedding invitation suite from Pink Umbrella Invites, from $84 for a set of 30 invitations
Set the scene for a decadent, winter wonderland wedding with these jewel-tone purple and pink invitations that pop against a snowy backdrop.
9. Holly and berries Christmas wedding invitation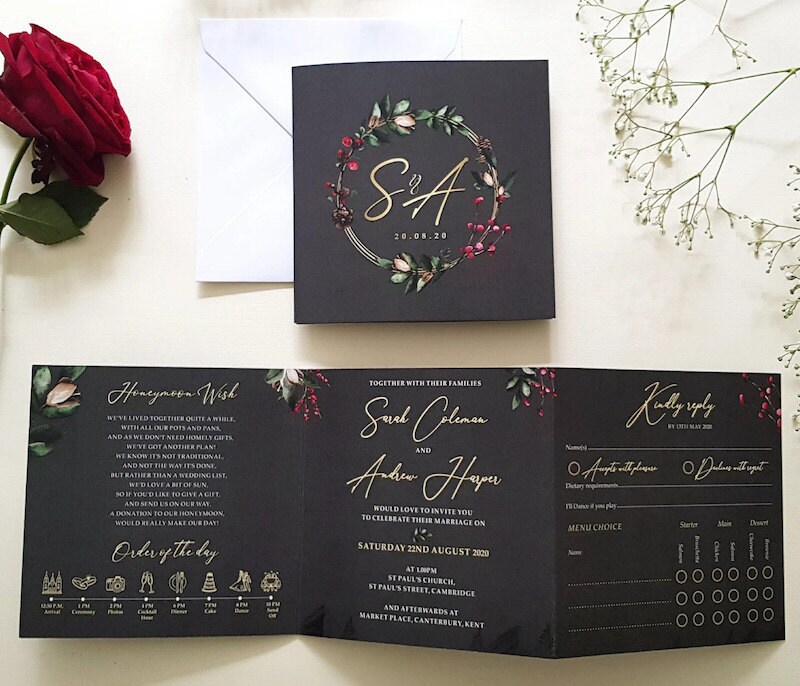 SHOP: Trifold winter wedding invitation set from Sienna Mai, from $62 for a set of 10 invitations
Buyers rave about designer Sienna Mai's attention to detail with these winter wedding invitations featuring a wreath of festive holly and berries and a trifold design that allows you to share all your wedding day details in one spot.
10. Woodland winter wedding invitation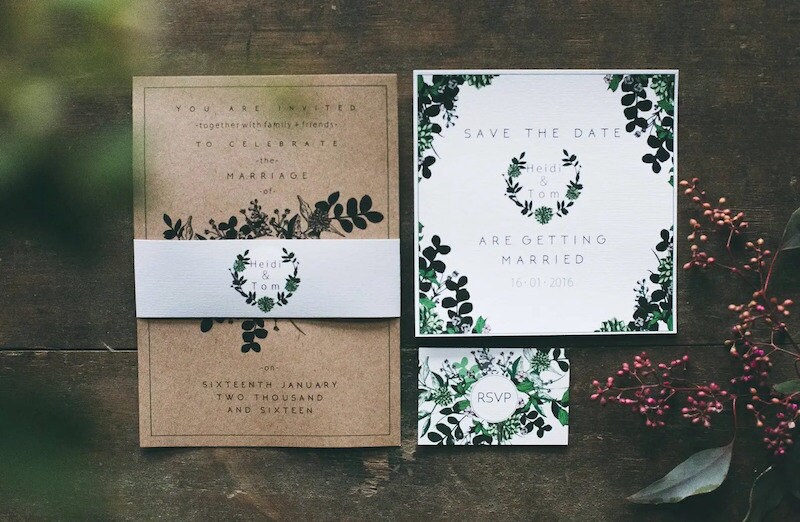 SHOP: Woodland wedding invitation from Wildwood Paper Store, sample packs starting at $7
This foliage-filled wedding stationery suite is a subtle nod to winter's famed fir tree and features a monogrammed band that secures all your invitation pieces together.
Traditional wedding invitations
Choosing a traditional wedding invitation design lets your wedding details take center stage. These simple yet classic layouts are an understated and elegant way to invite your guests to enjoy your special day.
11. Elegant calligraphy wedding invitation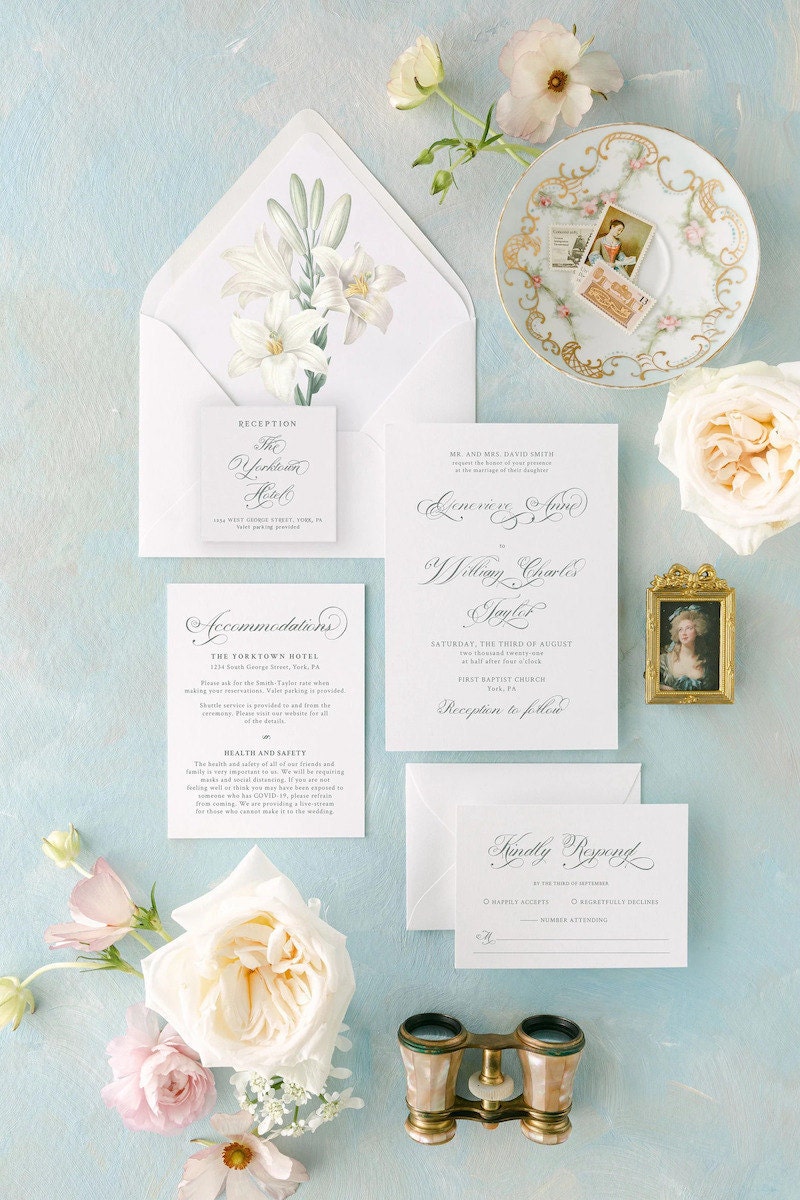 SHOP: Regency calligraphy wedding invitation from Elmwood Paperie, from $120 for a set of 25 invitations
Inspired by the style and sophistication of the Regency Era, this traditional wedding invitation suite features a strong script font that places the focus on your names and the accompanying interlocking monogram–and rightfully so!
12. Wreath monogram wedding invitations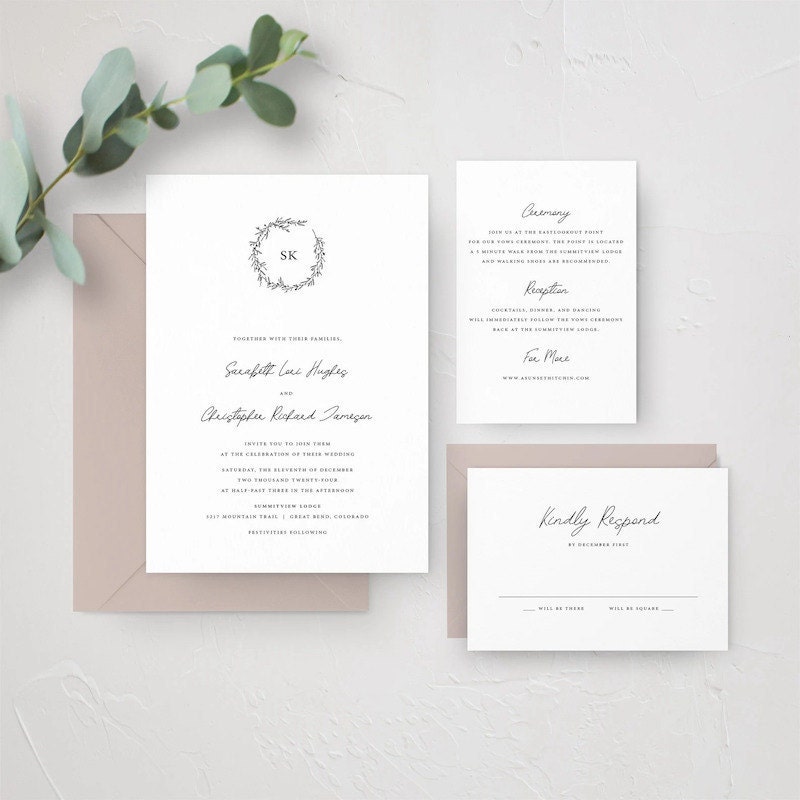 SHOP: Minimalist invitation from Protea Press, from $42 for a set of 20 invitations
The minimalist design of these traditional wedding invitations works well to set the stage for either a formal affair or a simple backyard wedding. Envelope colors and many more details can be completely customized to match the overall tone of your wedding.
13. Handwritten wedding invitations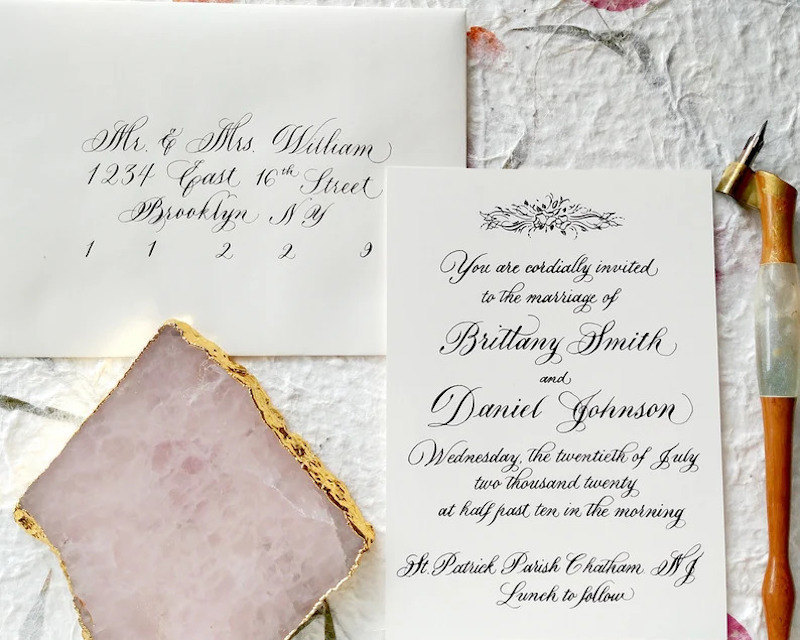 SHOP: Handwritten wedding invitations from Swaying Letters, from $65
An echo of yesteryear, each of these wedding invitations are written by hand in a classic copperplate calligraphy script using a dip nib and ink pen.
Vintage wedding invitations
Whether it's to set the tone for a history-making celebration or simply to embrace the soft and subtle stylings of the parties of the past, these vintage wedding invitation designs are a beautiful way to give your guests a peek at the celebration to come.
14. Cheery yellow invitation template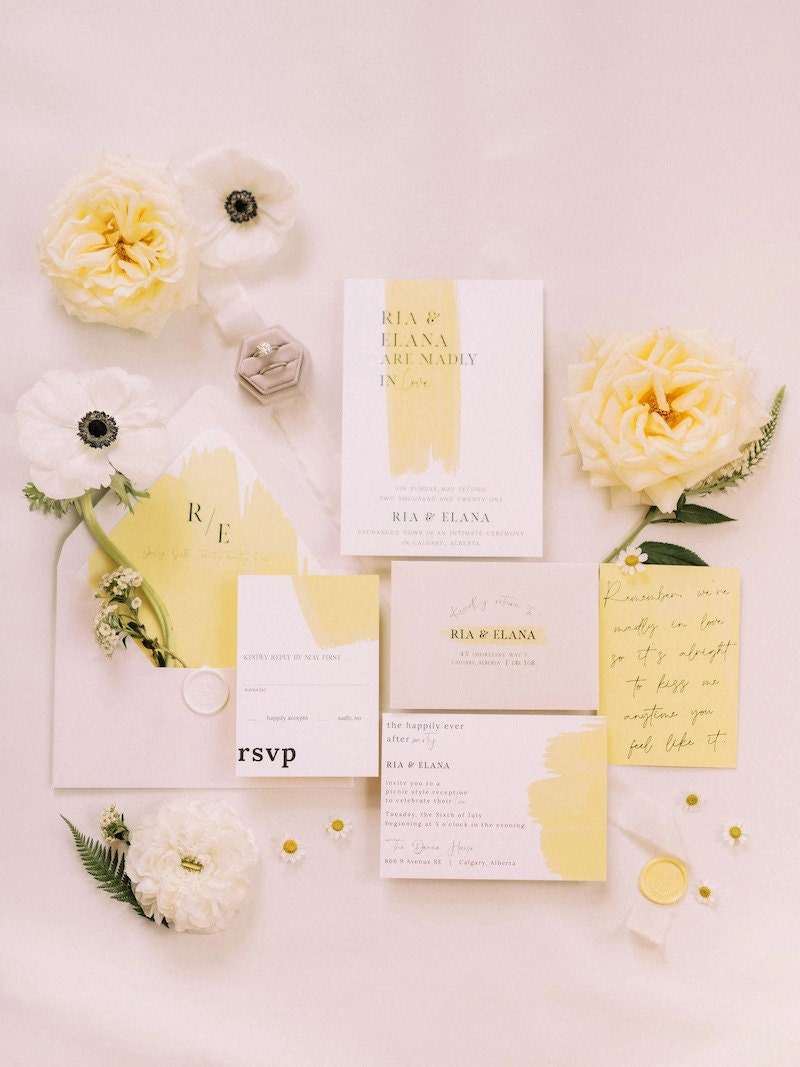 SHOP: Happy yellow wedding invitation suite from Holly Loves Paper, from $17 for an invitation template
Use this digital wedding invitation template to send some sunshine–and an important invitation!–to your friends and family. With its simple swath of yellow, this vintage-inspired invitation suite pairs beautifully with pastel tea roses and your special love story.
15. Pastel peacock wedding invitations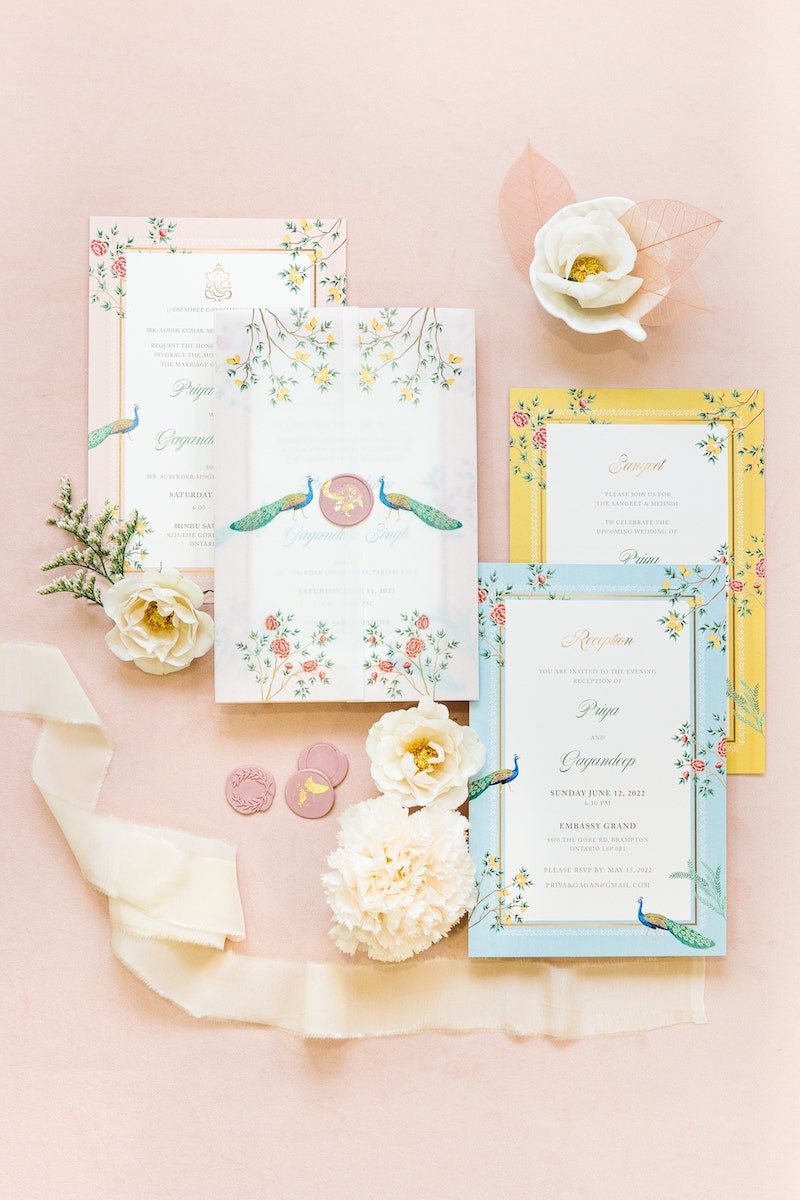 SHOP: Peacock wedding invitation from G Designers, from $6 per invitation
Adorned with majestic peacocks and vintage-inspired floral designs, this invitation suite is a stunning introduction to your wondrous wedding weekend.
16. Retro-inspired invitation template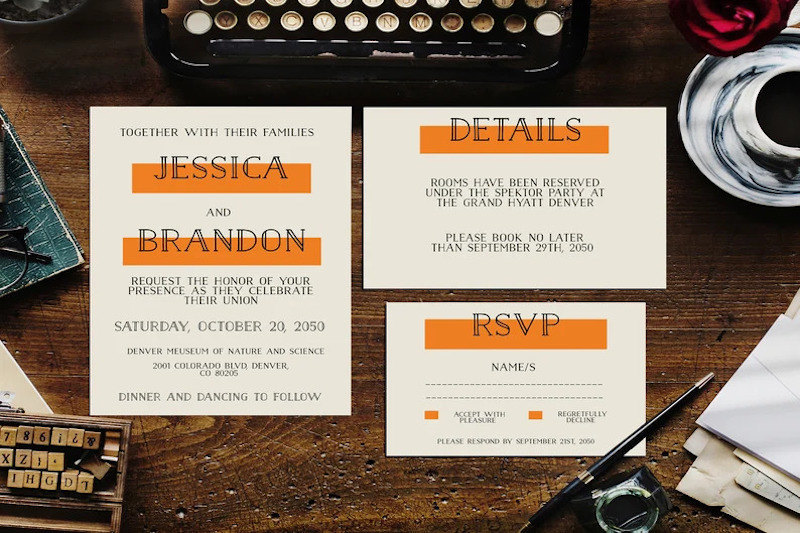 SHOP: Retro orange wedding invitations from Sachi Print Shop, $15
Embrace the bold and happy colors of the '60s–either orange or robin's egg blue–with this retro-inspired wedding invitation suite that includes downloadable designs for an invitation, details cards, and response card.
17. Vintage floral wedding invitations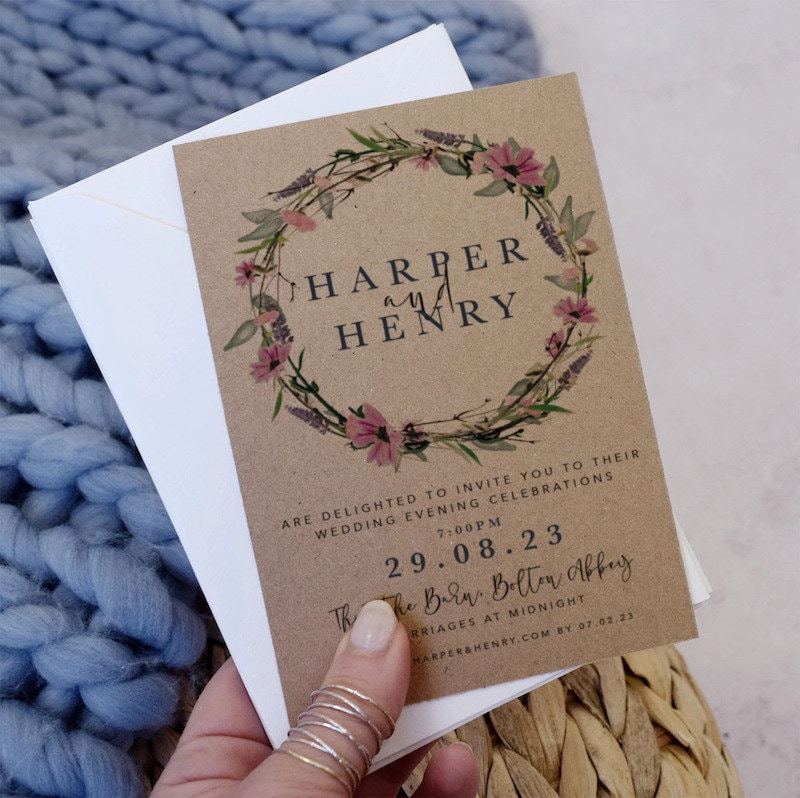 SHOP: Wildflower wedding invitations from Julia Eastwood Studio, from $21 for a set of 10 invitations
Whether you're planning a rustic wedding or a more antique affair, these elegant floral wedding invitations ensure your guests know right where to be.
Blank wedding invitations
If you'd rather customize your wedding invitations on your own, beginning with a blank, printable wedding invitation template from an Etsy seller is a great place to start. These designs are formatted for easy printing through the printer of your choice, and you can often customize everything from the wording to the font choice and background colors.
18. Blank wedding invitation template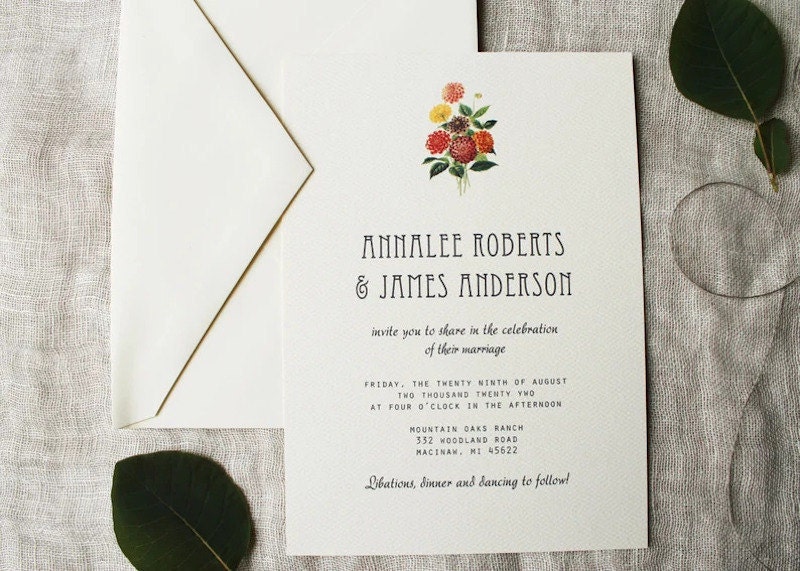 SHOP: Dahlia wedding invitation template from Kayleigh DuMond, $16
Perfect for springtime brides, these DIY floral wedding invitations are delivered as an editable, instant download file that can be adjusted from your computer or smartphone. This package includes a wedding invitation, details card, response card, and a folded thank you card template so you can mix and match exactly what you need to create a custom wedding invitation suite from your own home.
19. Blue wedding invitation bundle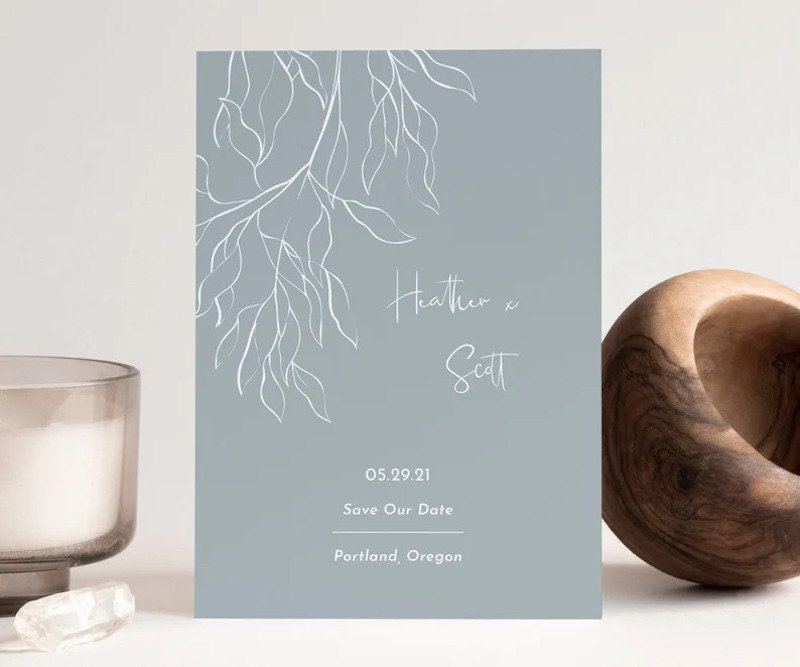 SHOP: Blue wedding template bundle from Celeste Paperie, $68
An idyllic something blue for your upcoming wedding, this invitation template bundle features all the basics along with reception essentials like menus, place cards, table numbers, a welcome sign, and more.
20. Minimalist wedding invitation template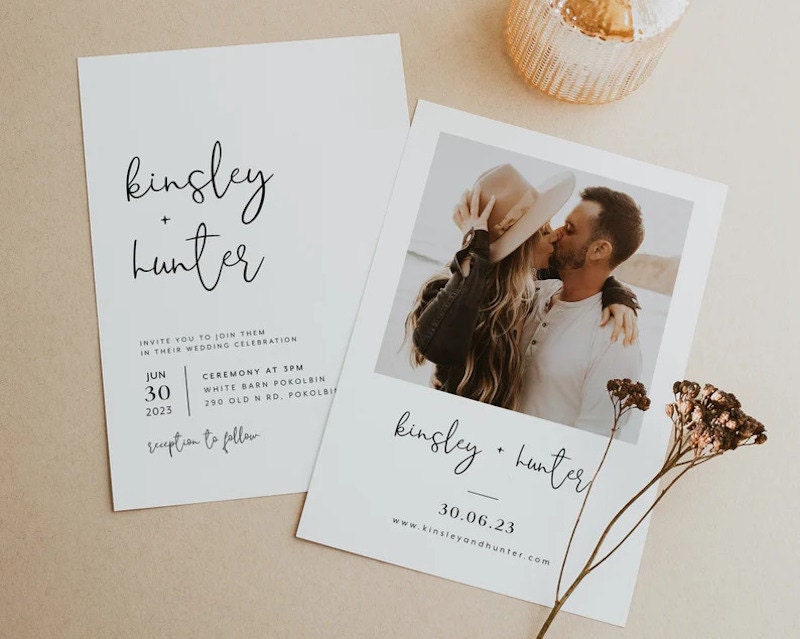 SHOP: Wedding invitation template with photo from Paper Minx Weddings, $11
Looking for a minimalist wedding invitation where you can showcase one of your favorite couple portraits? This downloadable template features a simple, clean design that lets your photo shine.