From stacked wedding ring sets to unique black wedding bands, these are the best wedding rings for a lifetime of love.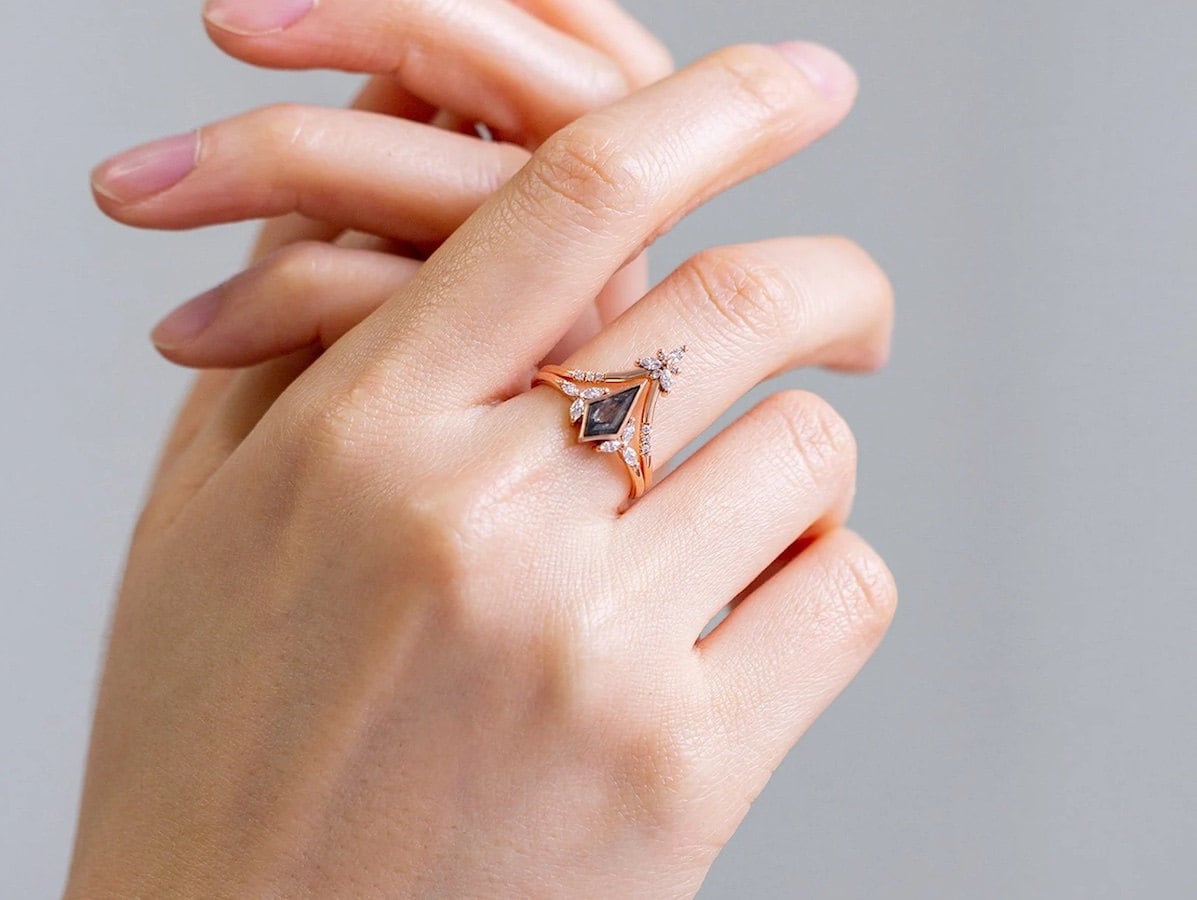 Wedding bells are ringing! You have the perfect engagement ring and the most stylish wedding dress (or jumpsuit!), but before you say "I do," you'll need to find wedding bands that, like your love, will last a lifetime. A memento of the best day ever, you and your significant other's matching wedding rings should reflect the special bond you've created together.
So goes the old saying, there are three rings of marriage: The engagement ring before the wedding, the wedding band for when you say your vows, and a third ring to commemorate your commitment to each other, whether that's starting a family together or celebrating a milestone anniversary. Whichever ring you're looking for, these unique picks are eye-catching bands that are timeless enough for everyday wear.
Unique wedding rings
With your extra-unique engagement ring on hand, you want a wedding ring that will complete the set and boast a look that is as unique as your love story.
1. Best moissanite wedding ring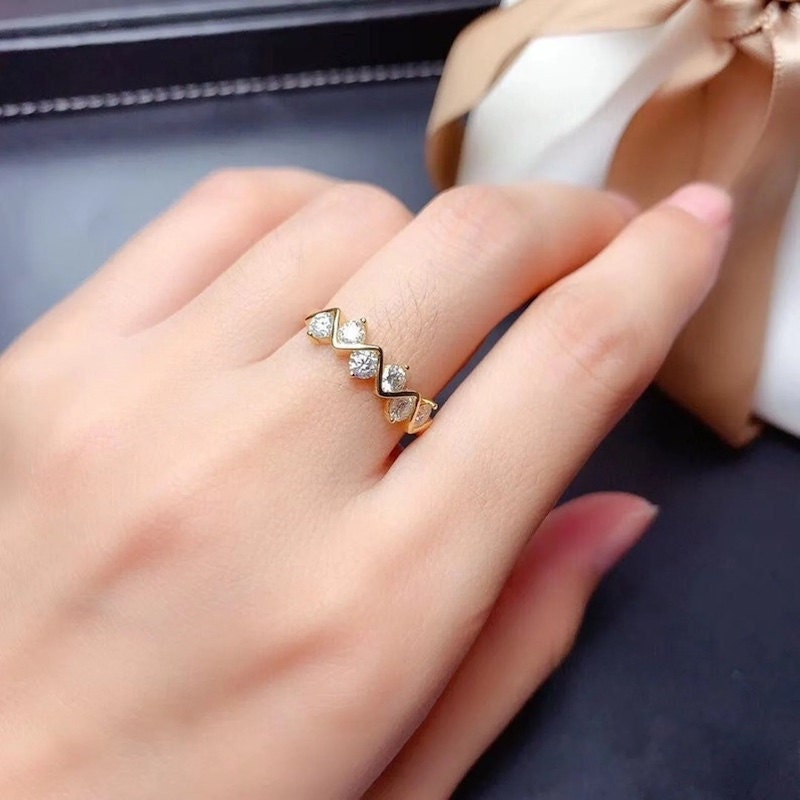 SHOP: Delicate moissanite wedding ring from Legendary David, from $299
This dainty and delicate ring features multiple art-deco-style moissanite gems along a chevron-shaped gold band. This ring is an excellent choice for a wedding band or an anniversary ring, since your love is the gift that keeps on giving!
2. Best matching wedding ring set for all couples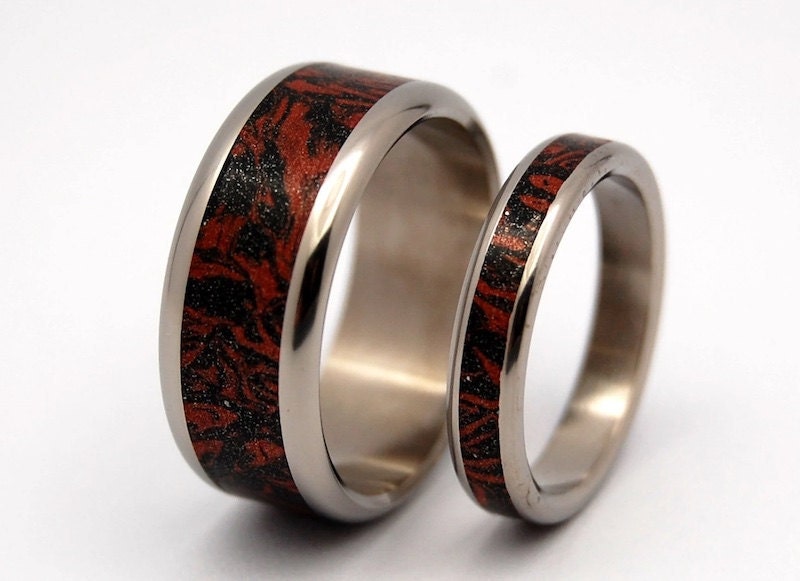 SHOP: Titanium and wood matching wedding ring set from Minter & Richter Designs, $792
Get an oh-so-unique matching pair of wedding bands that lets both spouses enjoy a ring that suits their style. Made from titanium and warm-toned wood, this gender-neutral wedding band is an earthy, eye-catching vision.
3. A one-of-a-kind wedding ring that's all you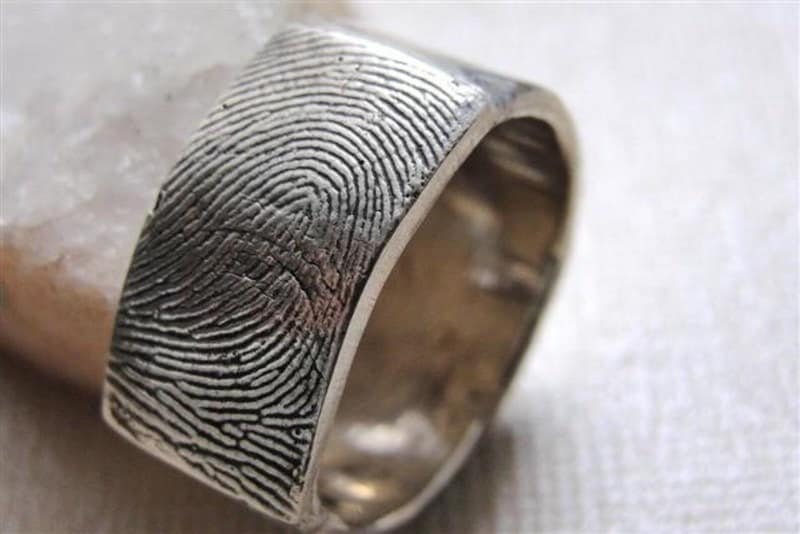 SHOP: Custom fingerprint wedding band from Rock My World Inc., $331
No two fingerprints are exactly the same, just like your love is unlike any other. With this incredible one-of-a-kind wedding ring, you send a mold of your fingerprint to imprint onto a sterling silver ring, creating an instant family heirloom.
4. Best unique engagement ring and wedding band set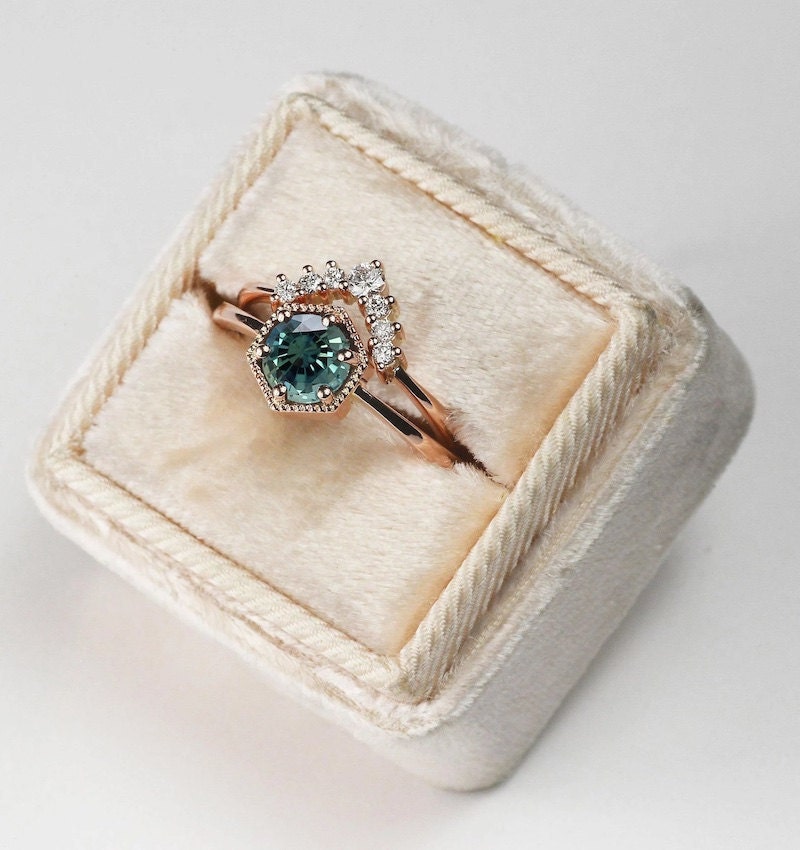 SHOP: Teal sapphire engagement ring with tiara wedding band from Diorah Jewellery, from $1,690
When you choose an engagement ring and wedding ring as a set, you get the benefit of them fitting perfectly together since they were literally made for each other. Exhibit A: This gorgeous teal sapphire engagement ring paired with a diamond wedding band, shaped just-so to make the perfect union. Remind you of anyone?
5. Best wedding ring for a boho bride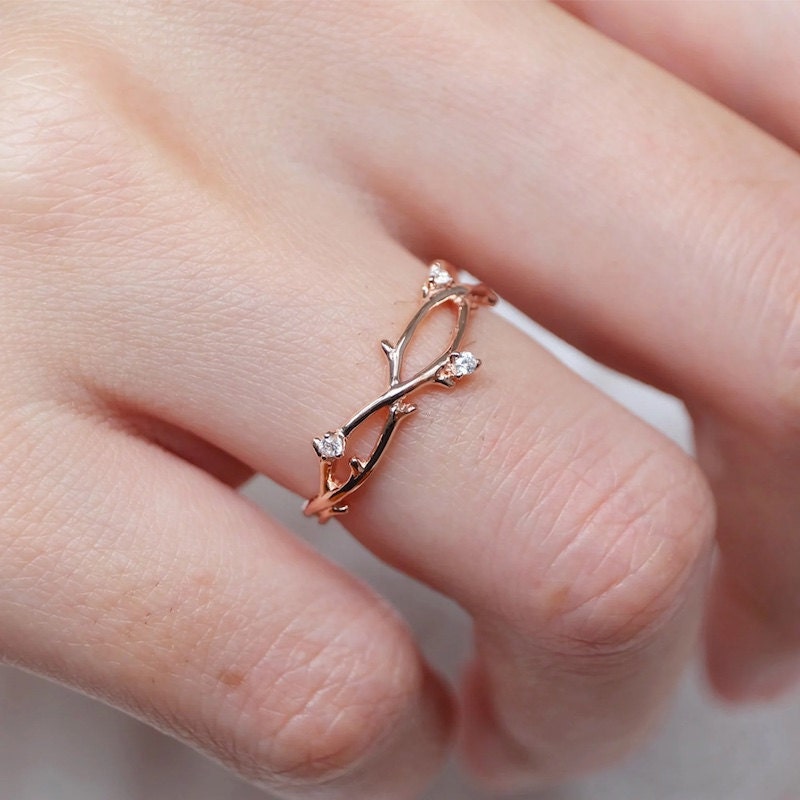 SHOP: Diamond leaf wedding band from W2NJewelry, $189
If your wedding is in a woodsy locale or along the sandy shores of your favorite beach, this gemmed leaf wedding band brings together your love of nature with the elegance of a diamond wedding ring.
Gold wedding rings
A classic color for a wedding band, gold wedding rings symbolize the prosperity and abundance that will come from this marriage of two soul mates.
6. Best chevron wedding ring set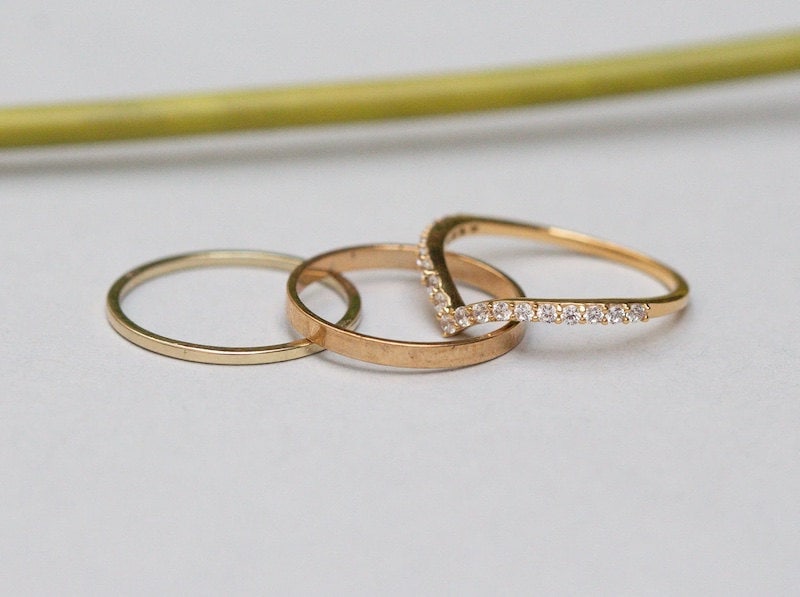 SHOP: Chevron and tiara ring set from Minimal Marvels, $81
This set of three minimalist gold rings are simple enough to be worn every day but chic enough to wear to any cocktail party in your future (including your wedding reception!). These stacking wedding rings play nicely with any engagement ring, and the chevron ring embellished with cubic zirconia adds just a little sparkle to any outfit.
7. Best diamond wedding ring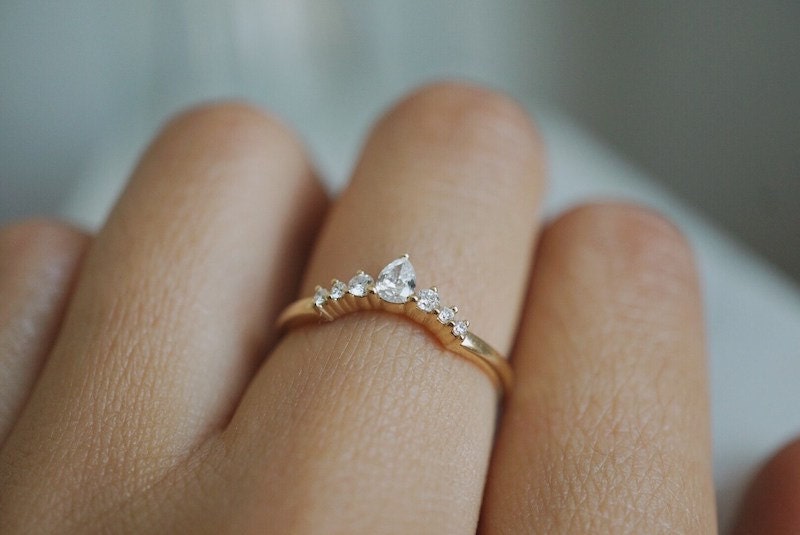 SHOP: Pear and round diamond wedding ring from Foe & Dear, $1,487
Fit for a queen! With a peppering of pear and round diamonds, this tiara wedding ring adds a twinkling crown to your engagement ring.
8. Best classic gold wedding band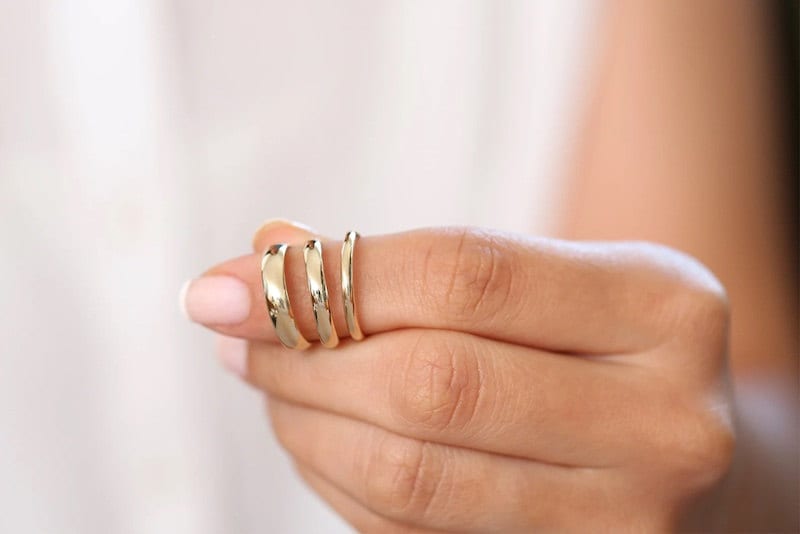 SHOP: Classic dome polished gold wedding ring from Ferko's Fine Jewelry, from $207 for one
It's the gold standard of wedding rings for a reason! Available in solid white gold, yellow gold, and rose gold, this gender-neutral wedding ring's simple design goes with anything and will make you feel like you struck a gold mine—literally.
9. Best celestial stacked wedding ring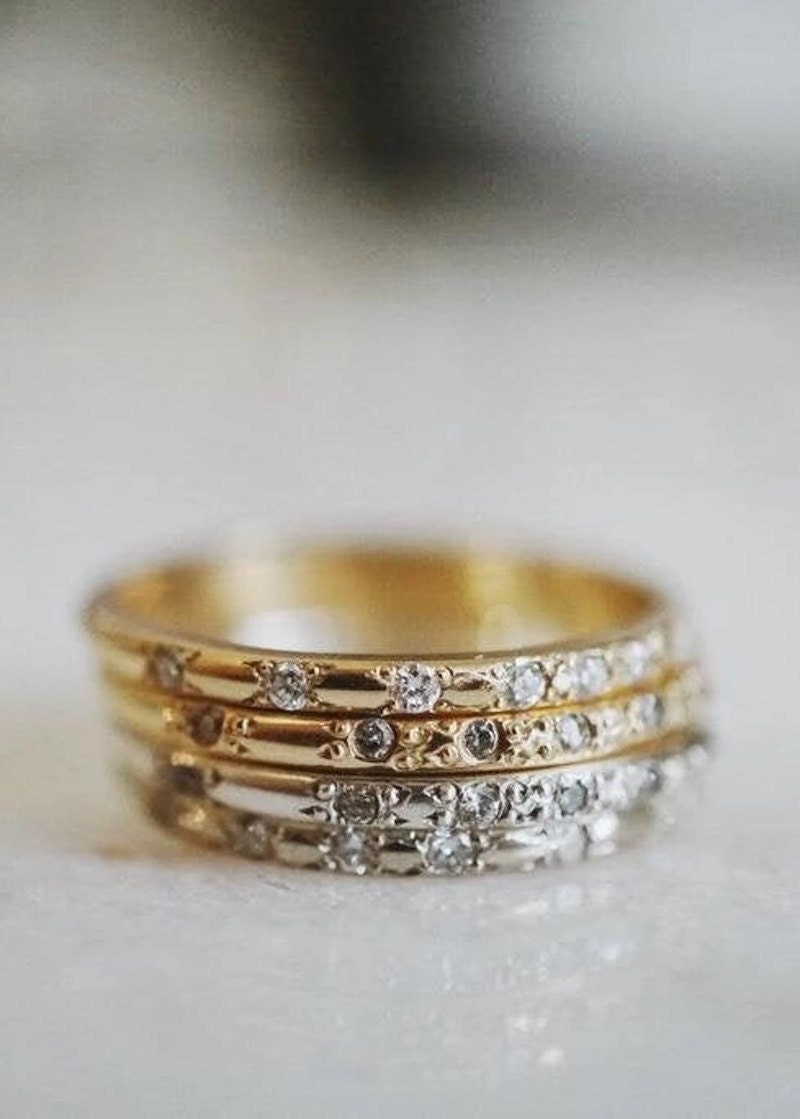 SHOP: In the stars diamond wedding band from Foe & Dear, from $695 for one
Was your love written in the stars? This sparkling diamond wedding ring twinkles in the like a supernova as you dance in the moonlight on your wedding night.
10. Best tiara wedding ring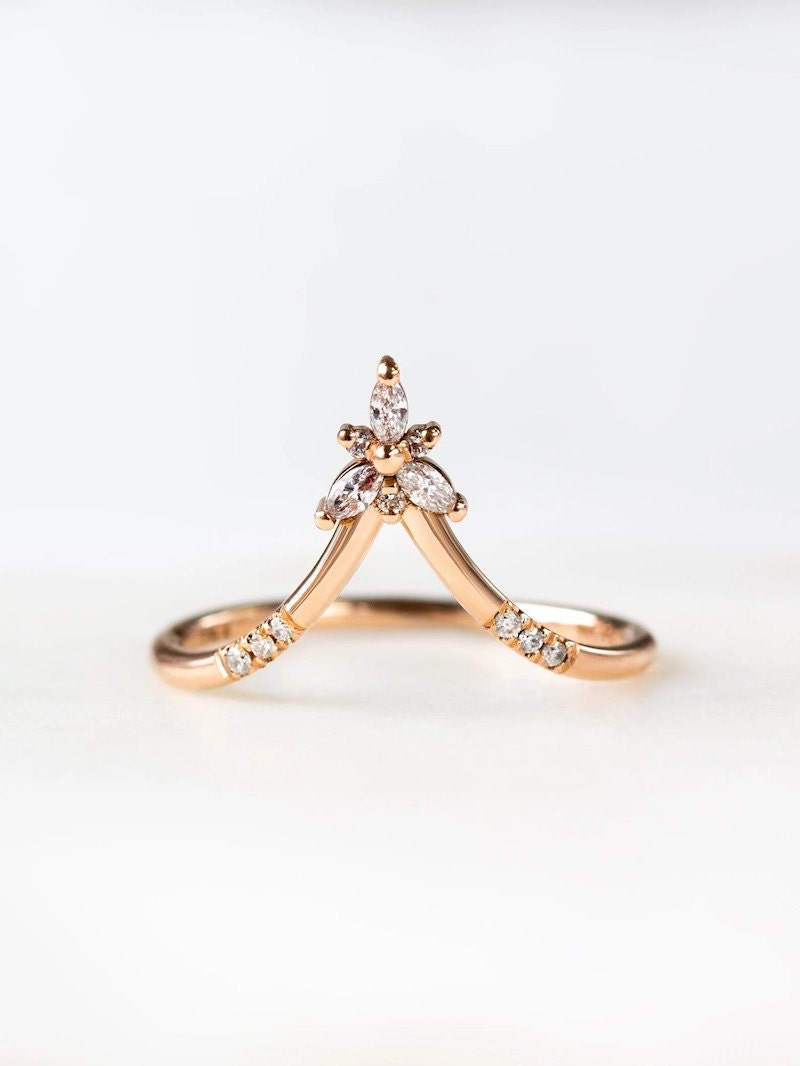 SHOP: Stacking wedding ring with trio of diamonds from Hiddenspace Jewelry, $810
This dainty art deco wedding ring can stand on its own or stack above your diamond (or birthstone!) engagement ring. Its diamonds make up a flower pattern, which is ever-blooming and ever-eye-catching.
Simple wedding rings
Whether you're a minimalist or want your gorgeous engagement ring to take center stage on your finger, simple wedding rings offer a dynamic look that is both elegant and chic.
11. Best copper wedding ring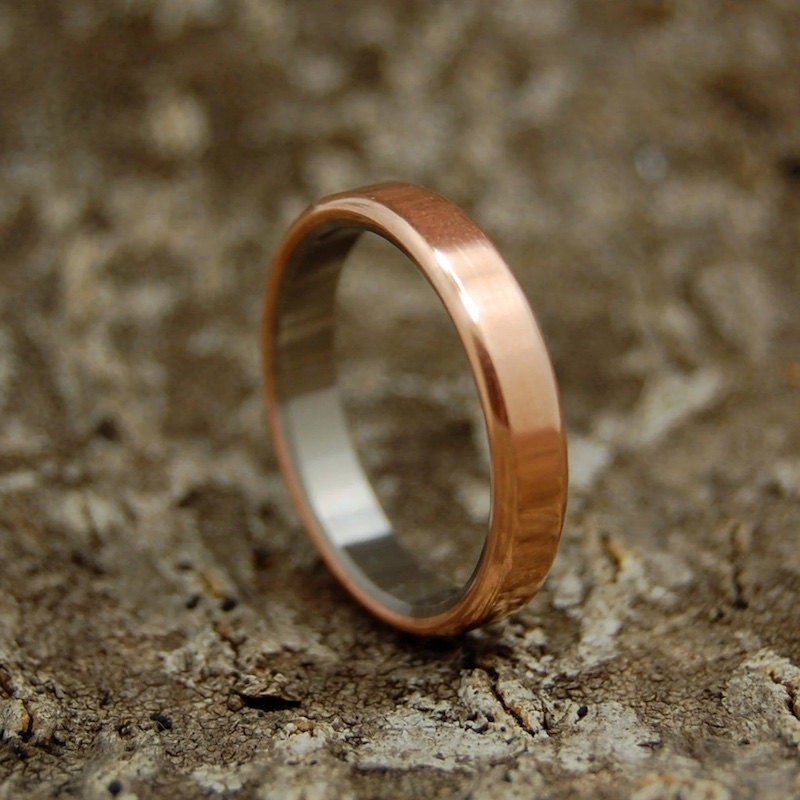 SHOP: Rosy copper wedding ring from​​Minter & Richter Designs, $300
This rose-gold-colored wedding band proves that like love, your wedding ring does not have to be complicated. Even better: This unisex style means you and your partner can have a matching set of wedding rings.
12. Best curved wedding band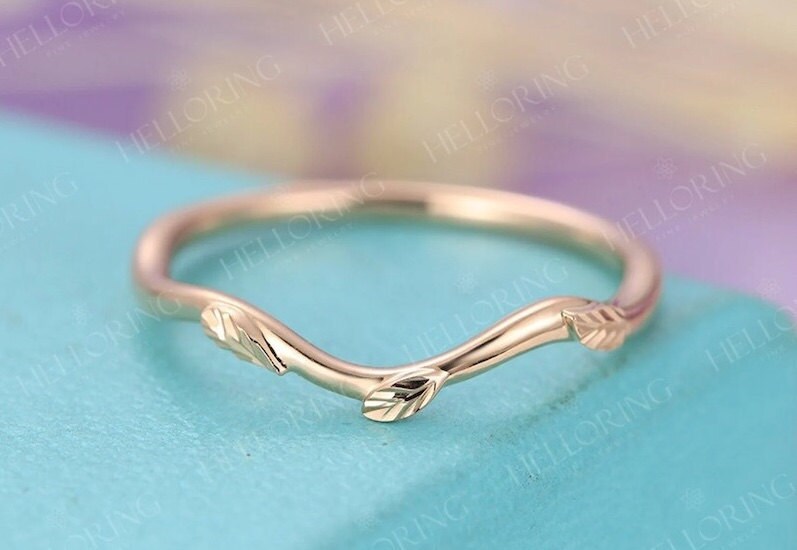 SHOP: Curved stacking wedding band from HelloRing, from $306
For the bride that loves earthy elements in her wedding band, this curvy wedding ring looks like a vine gently wrapped around your finger with little leaf details along the curves.
13. Best sparkly simple wedding ring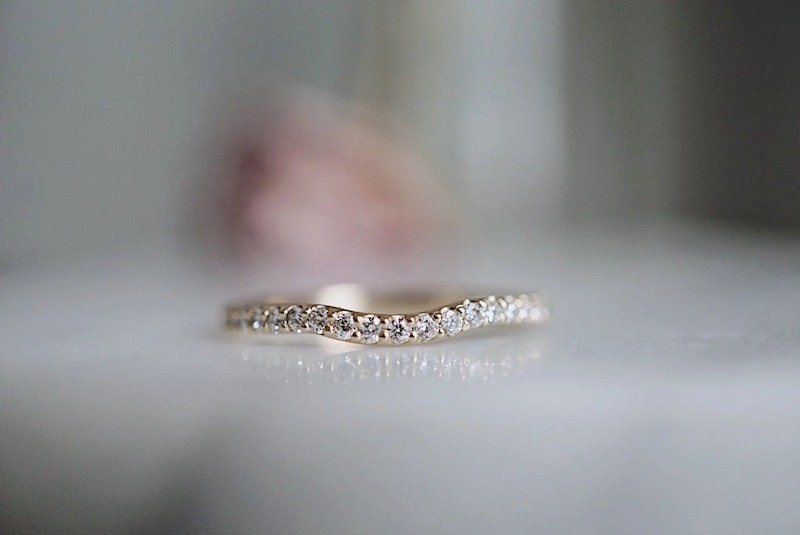 SHOP: Dainty curved diamond wedding band from Foe & Dear, $1,410
Dazzle on the daily with this curved band featuring a glittery array of pave-set diamonds. Use it as your stacked wedding ring with your engagement ring or on its own—either way, this beauty was made to shimmer on your ring finger
14. Best minimalist wedding ring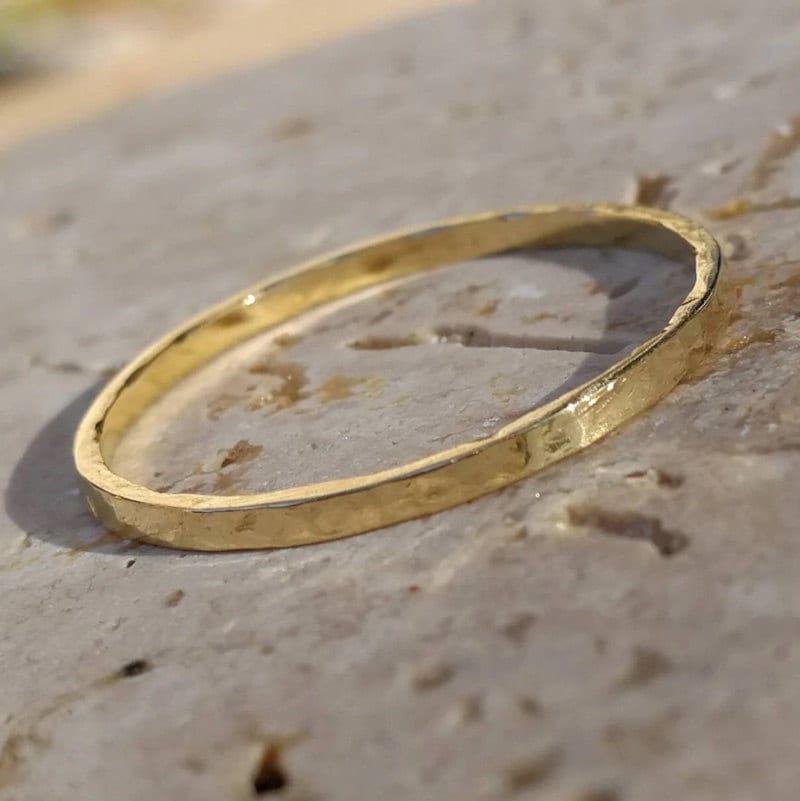 SHOP: Hammered gold wedding ring from Dismoiceline, from $177
Hammered and polished, this softly textured gold wedding ring ticks all the boxes. Classic design? Check. Made with 18 karat gold? Check. Stackable and hand made just for you? Check, check, check.
15. Best baguette wedding ring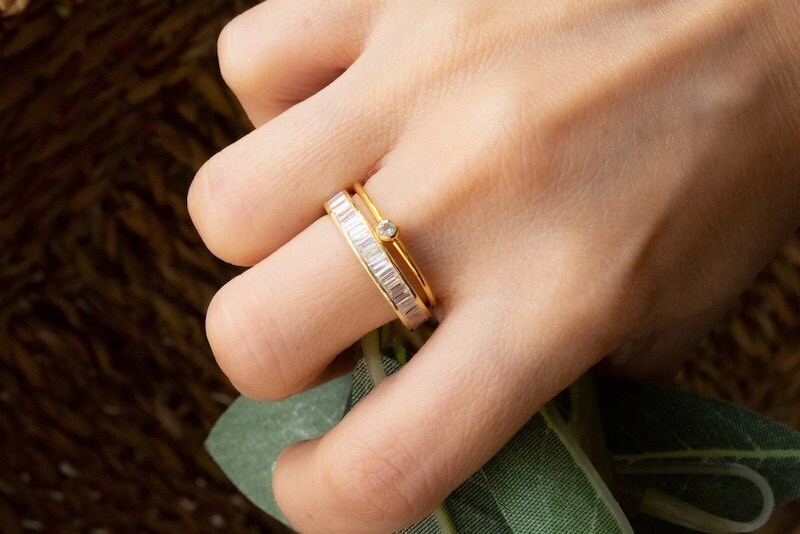 SHOP: Baguette eternity stack wedding ring from Minimal Marvels, $63
Named after their resemblance to the famed Parisian bread, baguette diamonds are small, step-cut, rectangle-shaped gems, and baguette rings lay these bread-shaped gems alongside one another to create a twinkling ring band. This baguette ring features crystal-clear cubic zirconia, set in sterling silver, ready for your next glamorous trip to the patisserie.
Vintage wedding rings
Vintage-style and vintage wedding rings have designs that have stood the test of time and often come with a story from a particular era. Your one-of-a-kind love deserves a timeless wedding ring.
16. Best classic vintage wedding ring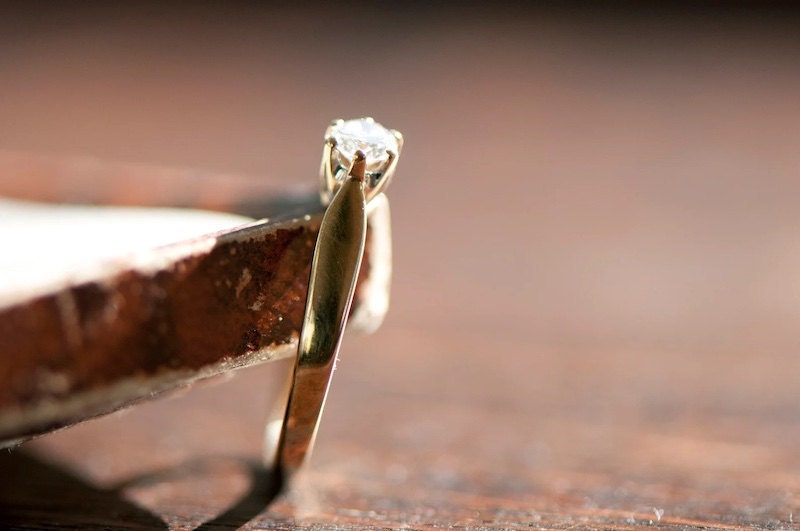 SHOP: Vintage diamond engagement ring from KK Vintage Collection, $511
This simple-yet-elegant solitaire vintage wedding ring could double as your dream engagement ring. The golden shoulders taper into the setting seamlessly as the yellow gold band wraps around your finger as the diamond captures and refracts the light.
17. Best vintage-inspired wedding band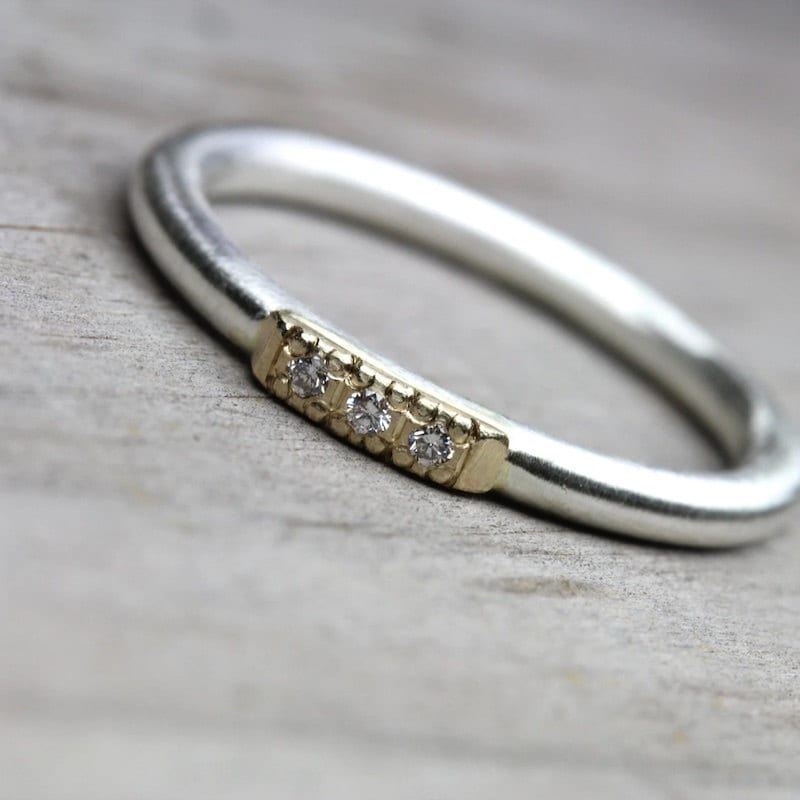 SHOP: Vintage-inspired bead-set diamond wedding ring Nangijala Jewelry, $215
Call it old-fashioned, but this vintage-inspired ring has an extra modern touch. Its antique-style row of bead-set diamonds on a contemporary-styled thin band means you get the best of both worlds.
18. Best vintage diamond wedding ring
SHOP: Vintage estate sale wedding ring from WH Johnston and Co, $2,587
Discovered at an estate sale and harkening back to the 40s and 50s, this vintage wedding ring brings a timeless brilliance to your ring finger. As with the best vintage items, this ring comes with a charming detail: A engraving in the inside of the band from the jeweler.
Black wedding rings
An edgy alternative to the traditional bands, black wedding rings add an unexpected and bold element to your big day. You and your spouse-to-be never shied away from challenges, and these black wedding bands signify the strength and power that your relationship holds.
19. Best color-changing black wedding ring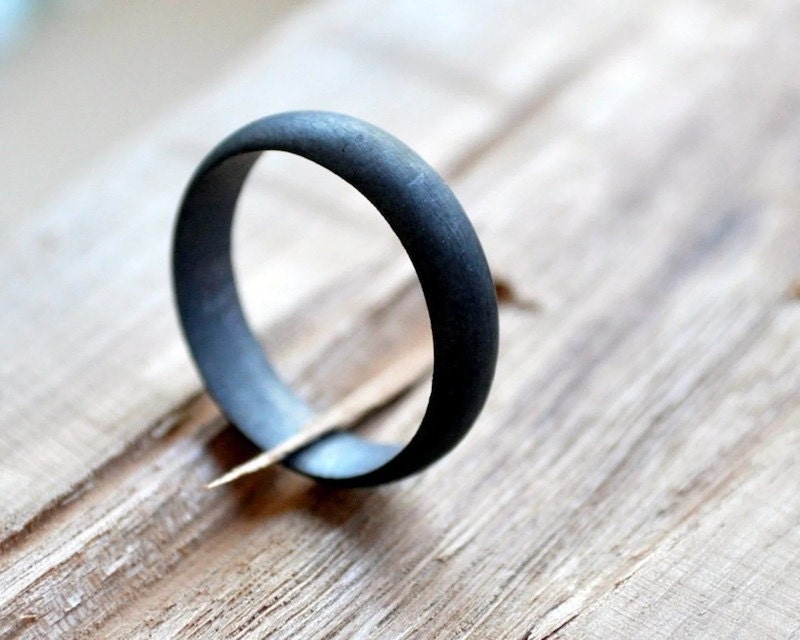 SHOP: Oxidized sterling silver men's wedding ring from Epheriell, $102
This black wedding ring is made of oxidized metal, so it slowly changes from a charcoal black into a smoky silver wedding band with wear. Choose to re-oxidize or keep the rustic silver look—either way, this ring has buyers raving about its quality and style.
20. Best black solitaire wedding ring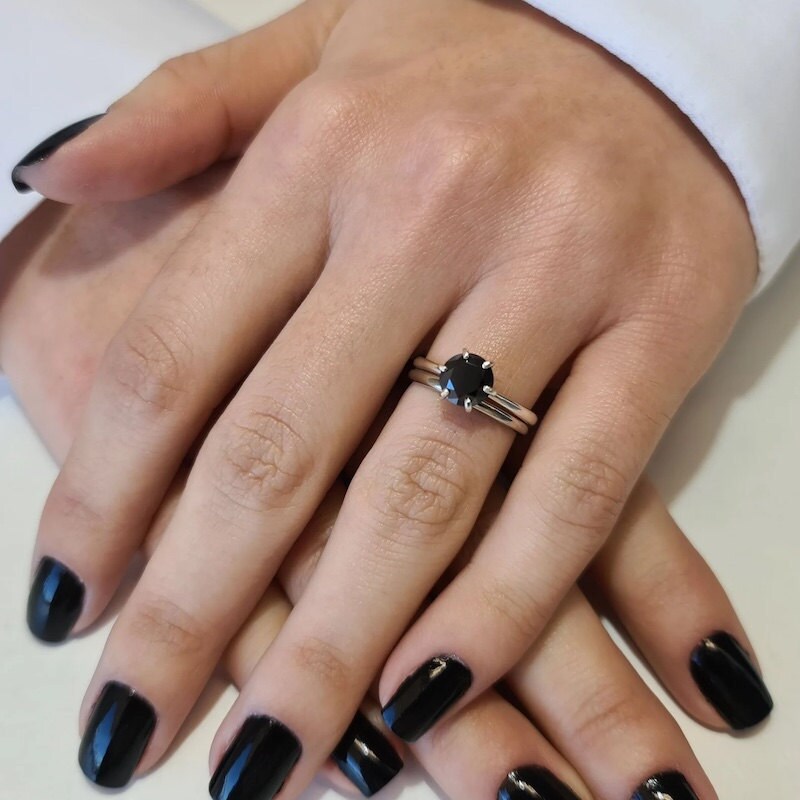 SHOP: Black moissanite solitaire ring from Blue Jewellery Store, from $525
The simplicity of this ring makes it so the depth of the black moissanite at the center is the star of the show. Purchase as a set with a minimalist wedding band to let that gem shine and glisten on your finger.
21. Best black and copper wedding ring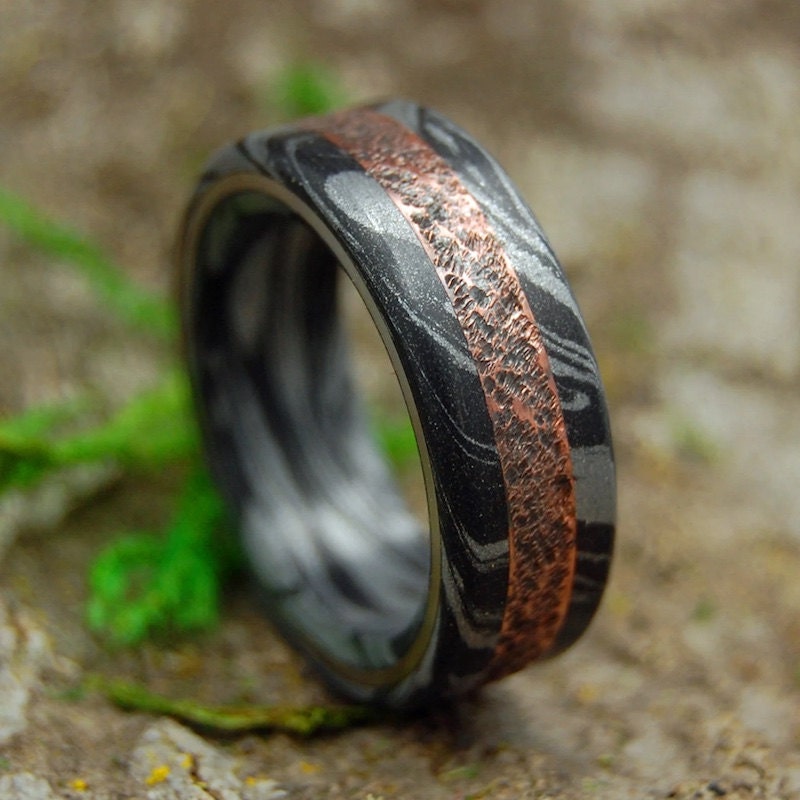 SHOP: Textured copper and black wedding ring for men from Minter & Richter Designs, $555
For a rustic and textured wedding ring for men. Made with a Japanese method of metalworking to create a layered pattern, this ring boasts black and silver swirling titanium and a hammered copper center. Add an engraving to make this wedding band extra-special.
22. Best black stacking wedding ring set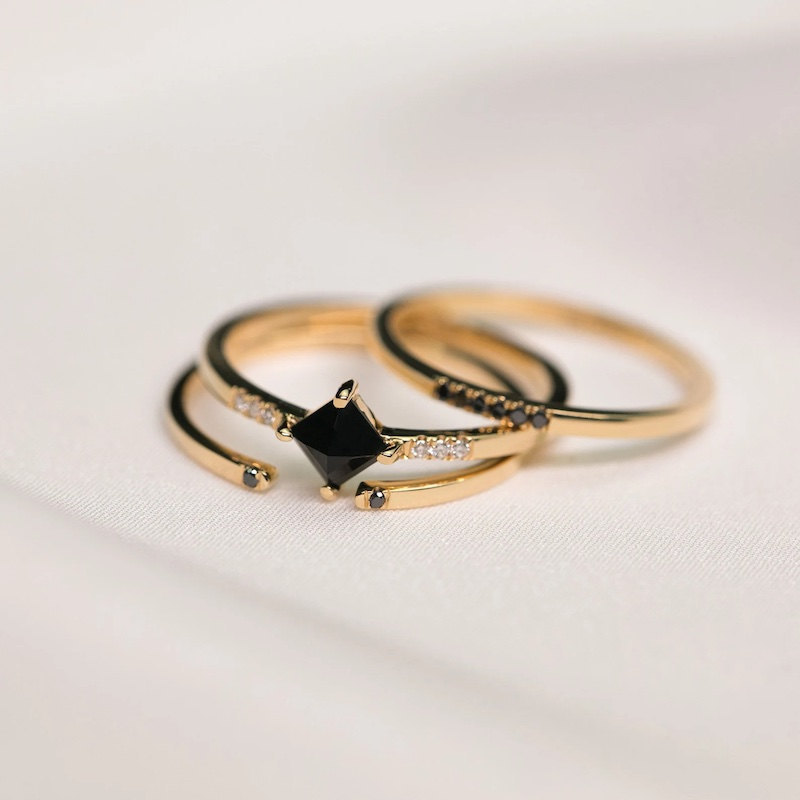 SHOP: Solid gold black onyx wedding ring set from Purple May Jewellery, from $666
This gorgeous wedding ring set, like most good things, comes in threes: An opulent onyx diamond ring, an open ring band with diamond details, and a thin wedding band embellished with your choice of black or white diamonds.
Rose gold wedding rings
A feminine and modern take on the classic yellow gold wedding ring, rose gold wedding bands are perfect for a boho bride.
23. Best dainty rose gold wedding ring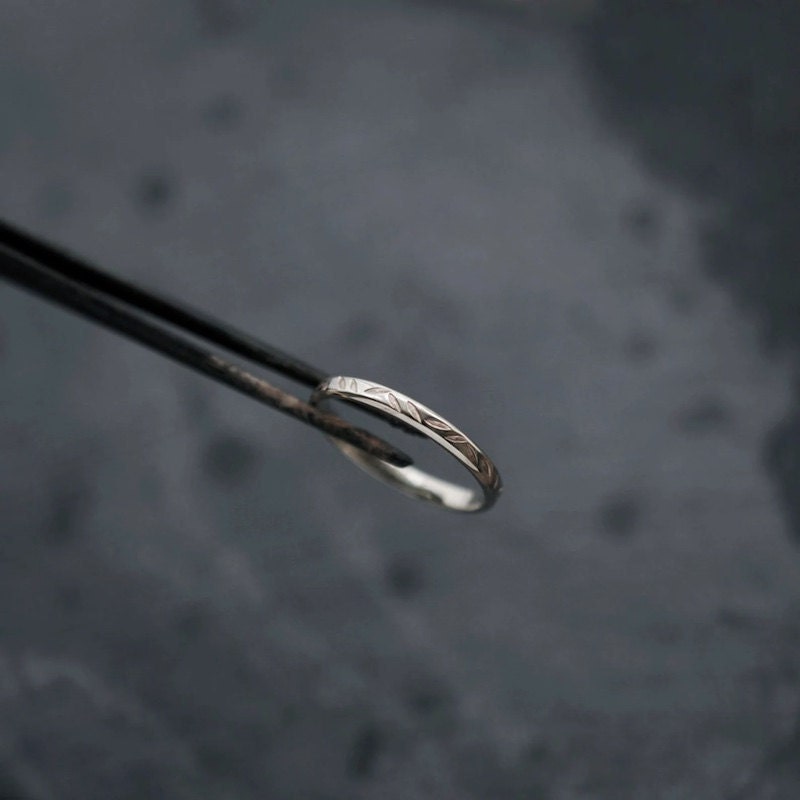 SHOP: Falling petals rose gold wedding ring from Minicyn, $574
Whether they're petals or leaves or just an abstract shape to you, this rose gold ring adds a delicate touch to your wedding day. The impressions along the band are made using vintage steel stamps sourced from vintage markets in Paris, so the city of love is embedded in this unique wedding ring.
24. Best textured rose gold wedding band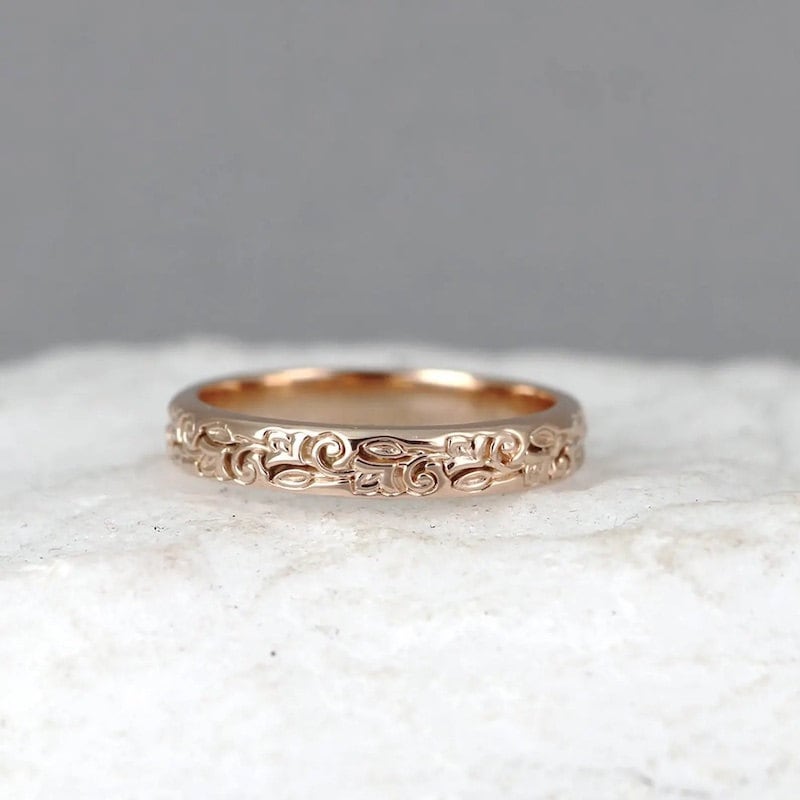 SHOP: Textured rose gold wedding ring from Engaged Jewelry, $630
Buyers are loving the gorgeous texture and lived-in feel of this rose gold wedding ring. With its engraved pattern resembling that of abstract flowers and buds, this wedding band makes clear that everything's coming up roses.
25. Best customized rose gold ring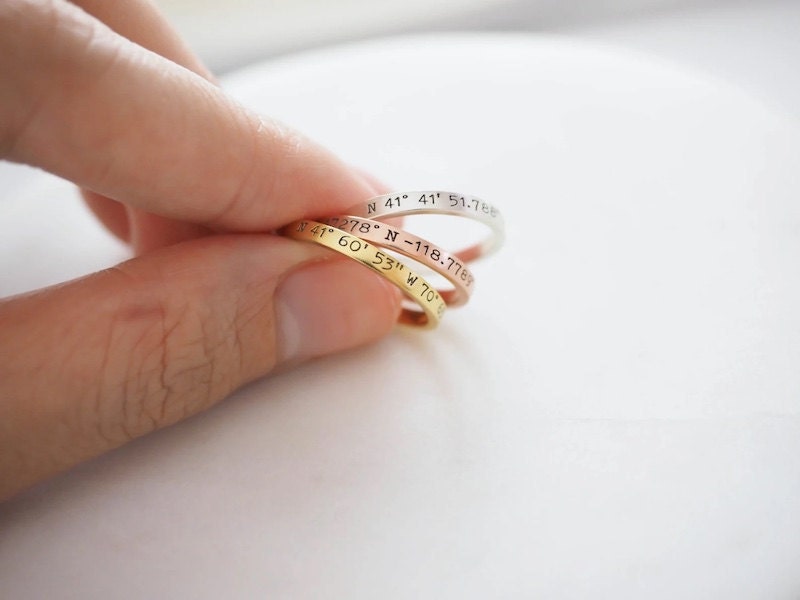 SHOP: Dainty coordinates stackable ring from Caitlyn Minimalist, from $29
Commemorate the place where you met (or the place where you said "I do!") with these dainty stackable wedding bands, engraved on one or both sides with the geographic coordinates of your choosing.