Say "We're glad you're here!" to all those near and dear with these picks designed by independent makers.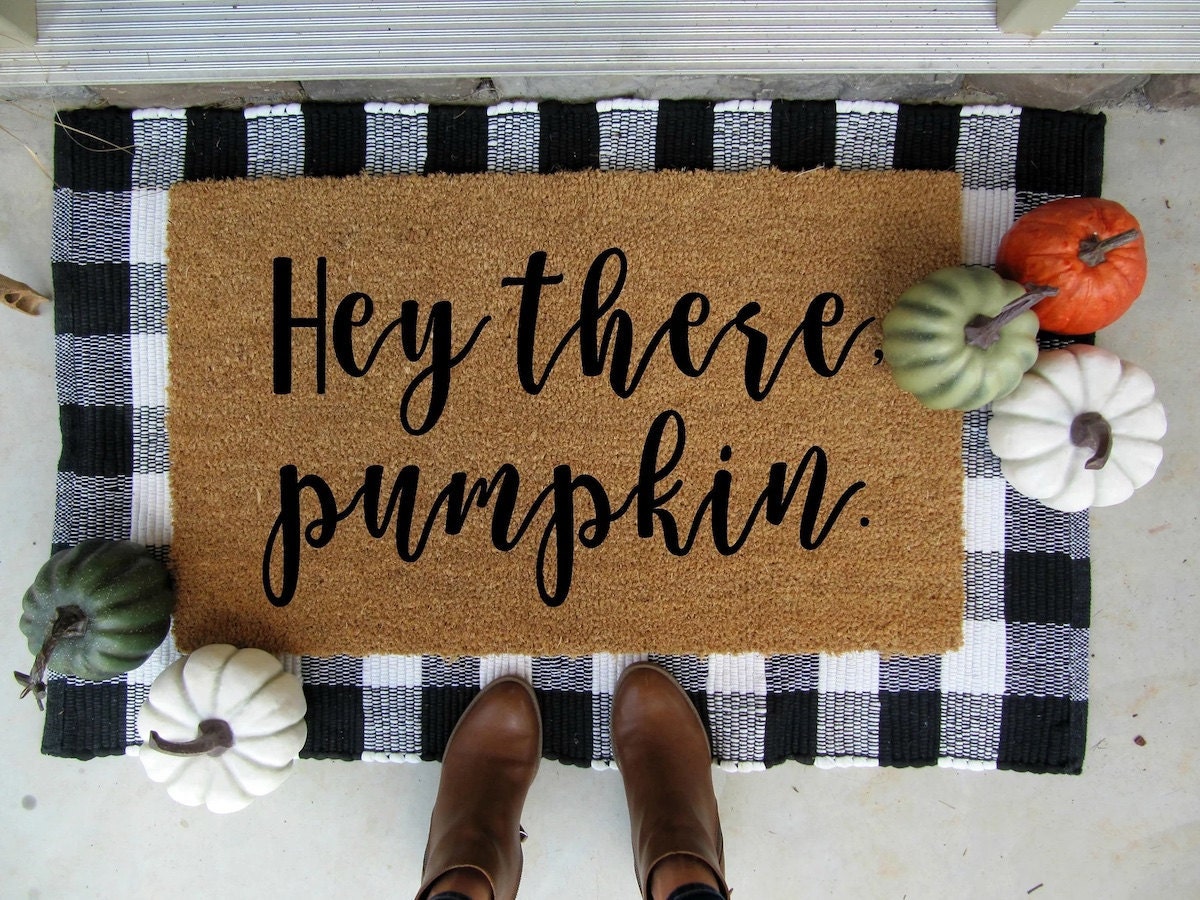 Though it's a necessity designed to prevent dust, dirt, mud, and water from getting in the house, the best welcome mats can also add some serious style to your stoop and give guests a warm welcome as they enter.
Welcome mats come in an array of hardwearing materials such as natural coir (coconut husks). Generally, your mat should reach the edges of your front door, but you can use a smaller mat and layer it with a coordinating outdoor rug to up the overall size.
Now that those practical details are checked off, it's time for the fun part—picking a mat design that brings a smile to your guests' faces as they approach. From festive holiday designs to personalized doormats, these picks for the best welcome mats are designed by talented Etsy sellers and beloved by buyers.
Funny welcome mats
A doormat with a humorous slogan breaks the ice when welcoming guests, and it's almost a guarantee your visitors will be chuckling before you've even opened the door.
1. Welcome mat for plant lovers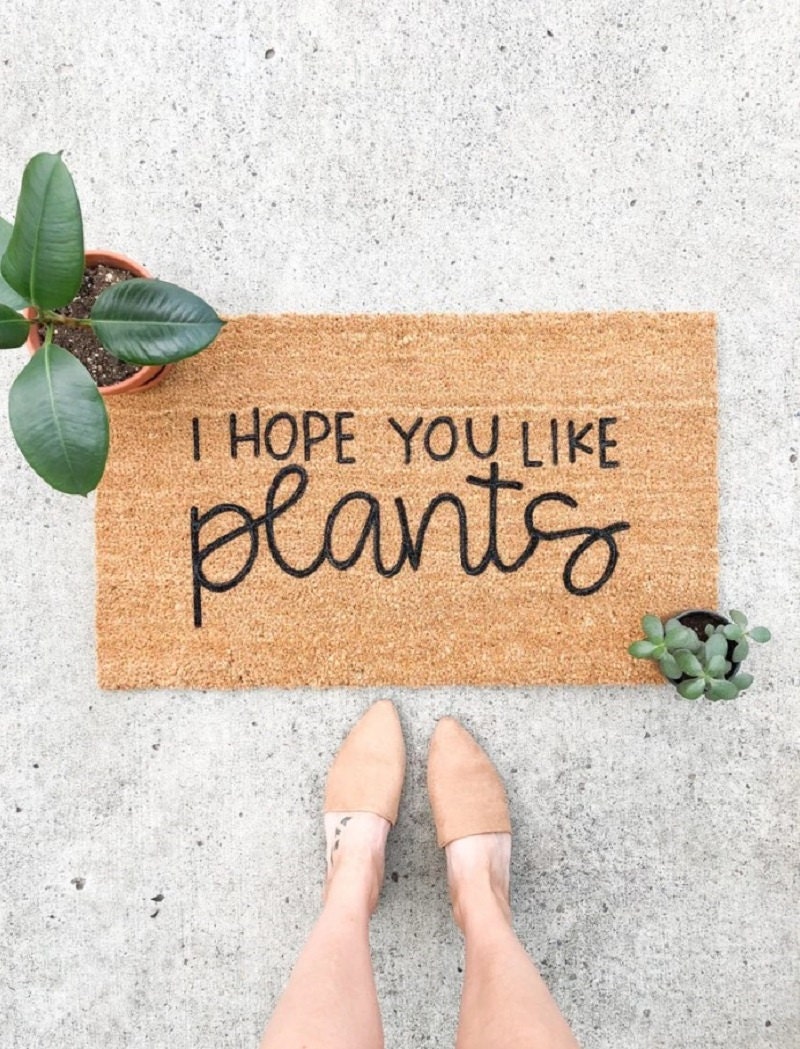 SHOP: House plant doormat from Grateful Paper Company, $60
Plant parents everywhere are loving these cute welcome mats that will let visitors know that they're about to enter a mini jungle. Made from natural coir with a durable PVC backing, buyers say that these mats have the "perfect amount of silly," and the ideal "mix of quality and quirky!"
2. Hand-painted mat for grill masters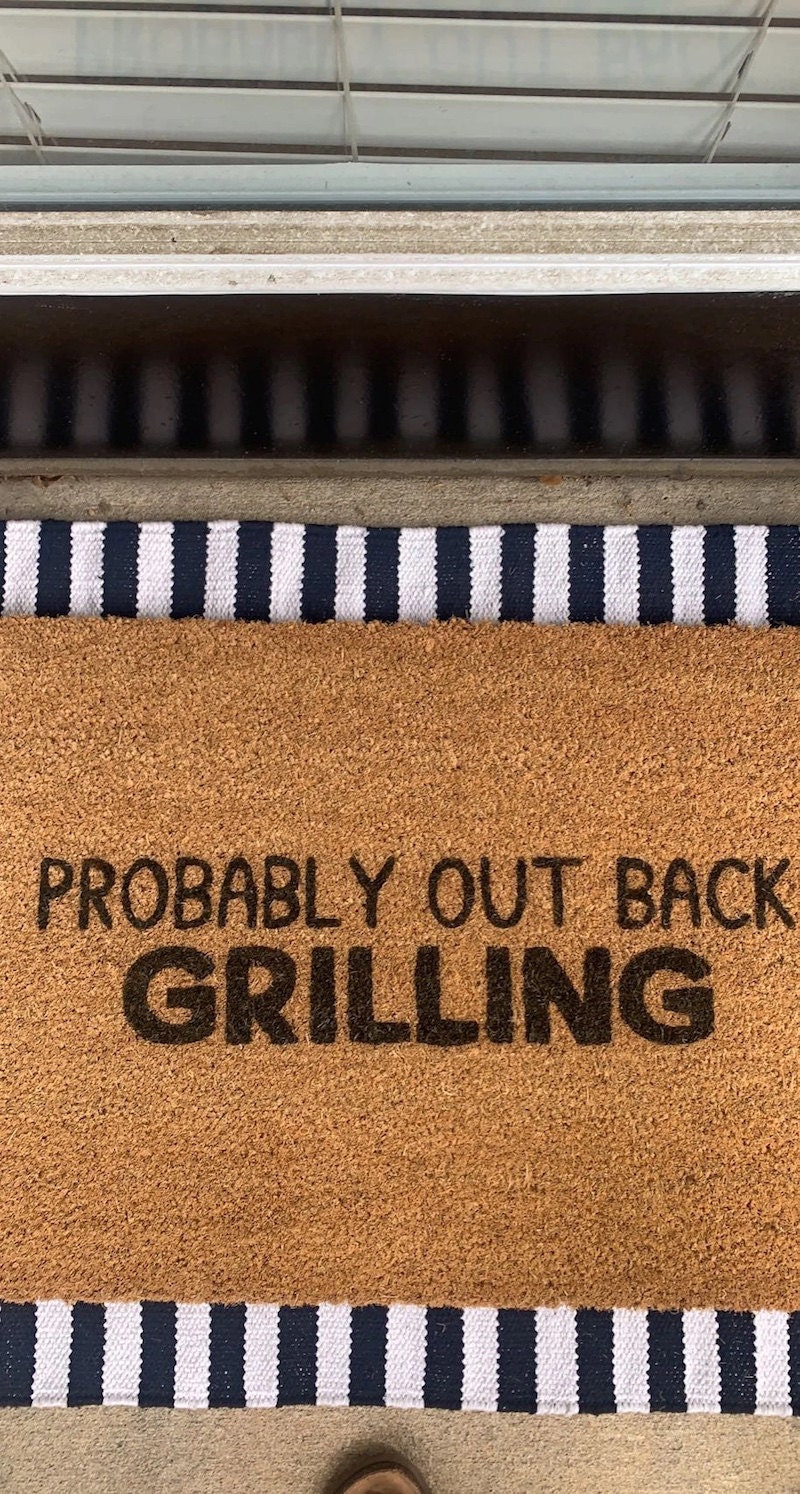 SHOP: 'Probably out back grilling' doormat from CreationsxCarra, $54
If you find yourself getting out the BBQ at the first sign of a dry day, this funny welcome mat is made just for you. Created from a durable coir material with a PVC backing to keep water from seeping through, it's a practical and fun way to greet your guests.
Custom welcome mats
If you love a good personalized item, a custom welcome mat made just for you and your family is only fitting. A great housewarming gift or a personalized pick for newlywed couples, the custom welcome mat designs on Etsy include names, monograms, dates, and more.
3. Hand painted family mat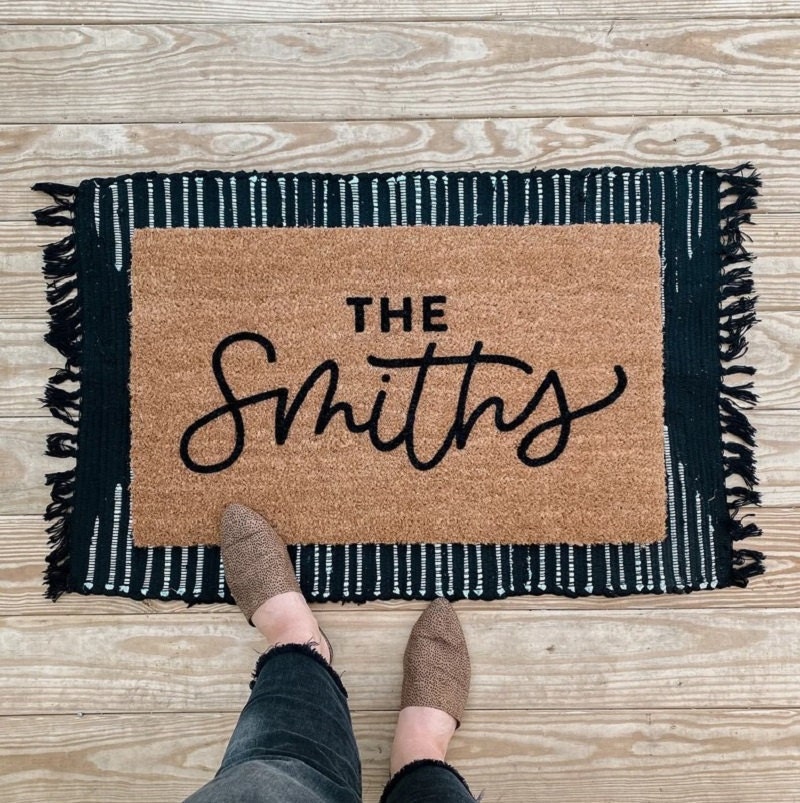 SHOP: Custom family name welcome mat from Drift Design Co, $90
Customers are loving these personalized welcome mats that feature the family name on the front in a fun yet elegant font. It has an extra-strong and thick vinyl backing that doesn't scratch floors, and the black latex paint is coated in a UV sealant so it won't be fading anytime soon. As well as being high quality, shoppers say these mats are cute and adorable, and that the seller offers great customer service.
4. Personalized doormat for couples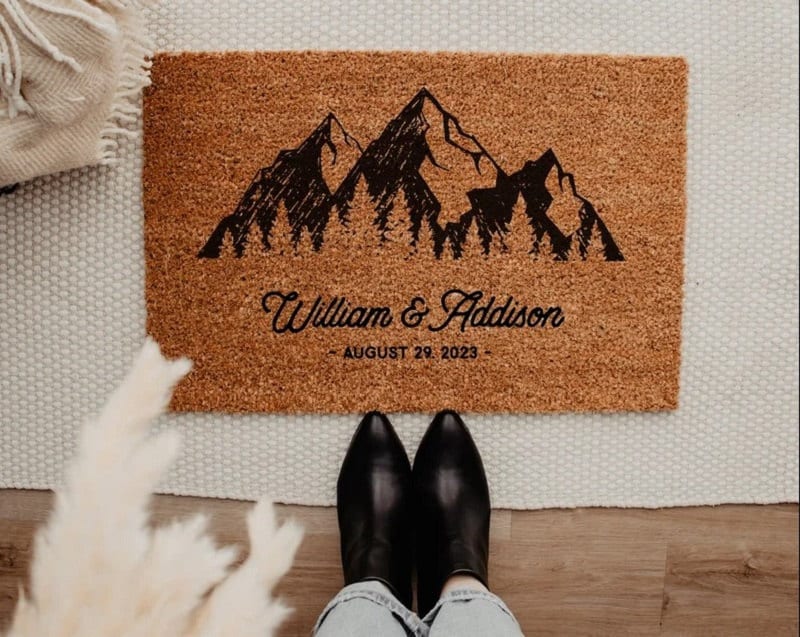 SHOP: Personalized couples doormat from The Cozy Comfy Home, from $47
With a hardy golden coir bristle top and durable base that's easy to clean, these welcome mats feature a classy mountainous landscape with a personalization of your choosing. They're available in four different sizes, and, according to many customers, the shop offers stellar customer service, fast shipping, and is extremely accommodating.
5. Large welcome mat with name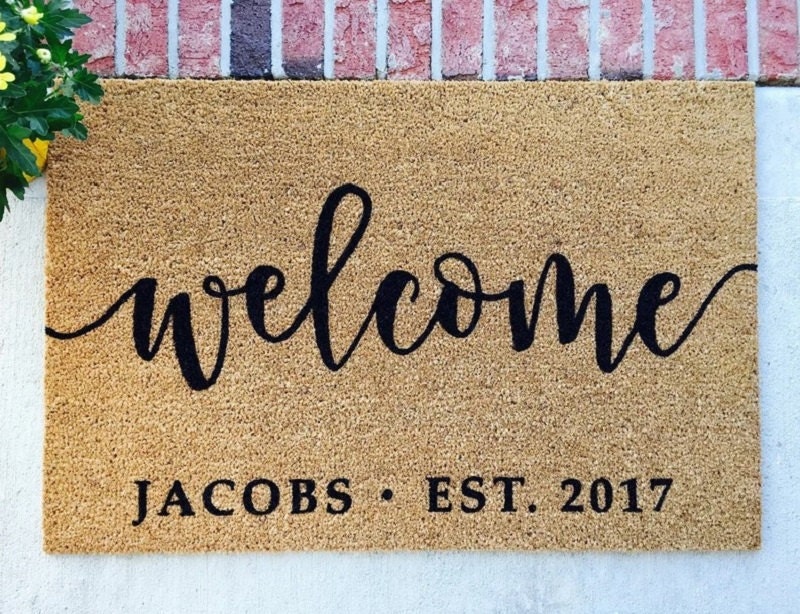 SHOP: Hand painted personalized doormat from Color Love Studio, $52
Slightly larger than your average door mat at a lengthy 36 inches to cover more porch area, these personalized options are hand-painted with a stain-resistant, UV sealant to keep them looking newer for longer. In addition to buying them to adorn their own stoops, buyers love gifting these mats and say the customer service is "above and beyond".
Cute welcome mats
Have a look at these delightful and endearing welcome mats that'll add a touch of cuteness to your front porch.
6. Hello beautiful welcome mat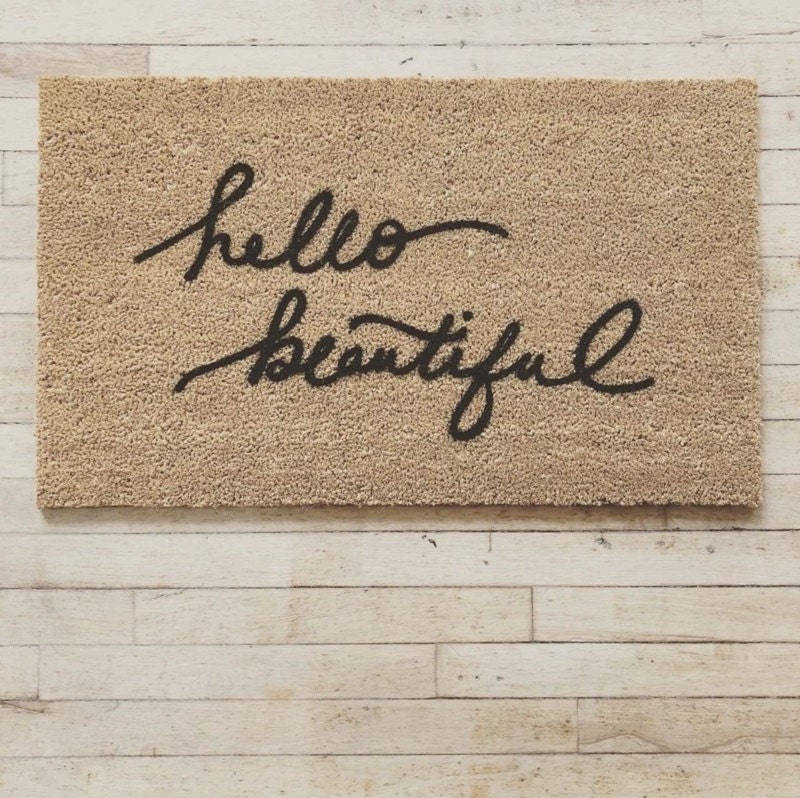 SHOP: Hand-lettered welcome mat from The Painted Lilly, $54
What better way to give your guests a much-needed pick-me-up than to greet them with a quick "hello beautiful"? These calligraphy doormats are made from a sturdy natural coco fiber and also make great gifts as the seller adds thoughtful packaging and hand-written calligraphy address labels. "It is the one item that made my house really feel like a home," wrote one enthusiastic shopper.
7. Halloween doormat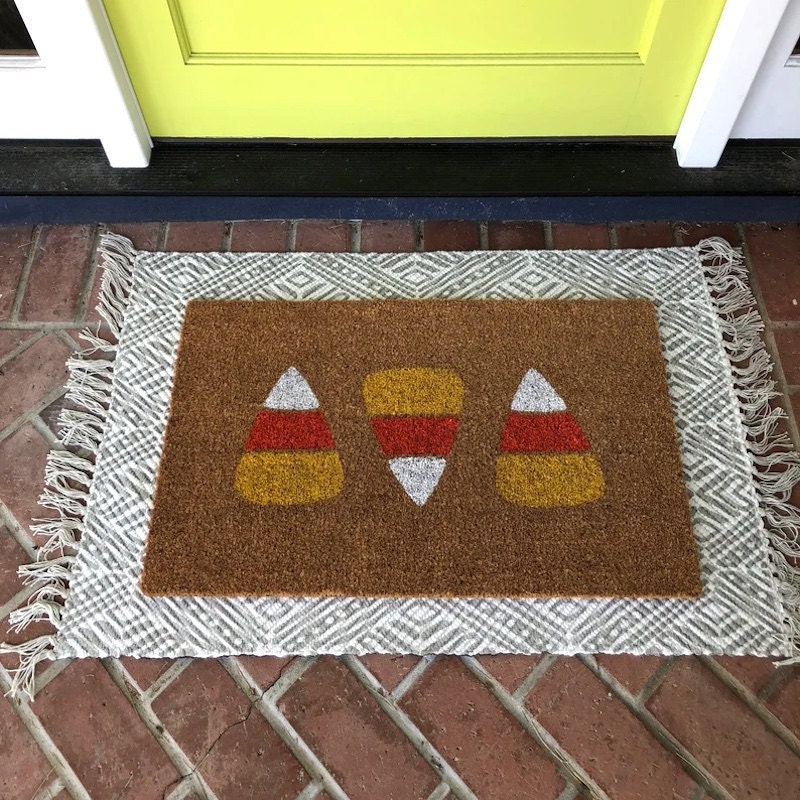 SHOP: Halloween doormat from Nickel Designs, $53
For a seasonal item you can bring out again and again, year after year, these Halloween candy corn doormats are ideal. They're a fun way to subtly denote the season without being over-the-top, and you can be forgiven for not wanting to put it away when October comes to an end. Many five-star reviewers love the bright colors, and the high quality.
8. The best fall welcome mat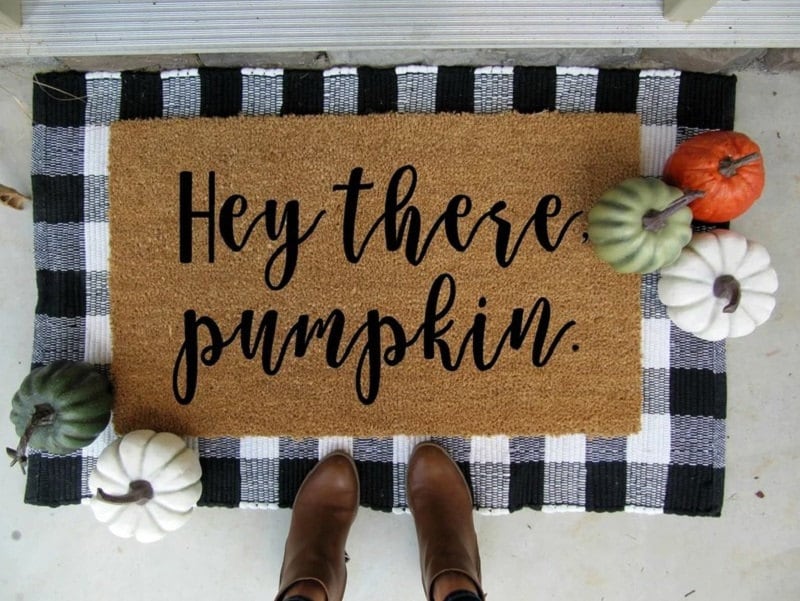 SHOP: Hand lettered autumn, halloween doormat from Cindy Hughes Design, from $48
Yet another greeting that can speak directly to your guests, these "Hey there, pumpkin" doormats are super friendly, and there are three sizes to choose from. They're easy to keep clean as you can just vacuum over them, and shoppers say they're well-made and look absolutely fabulous.
9. Best interior welcome mat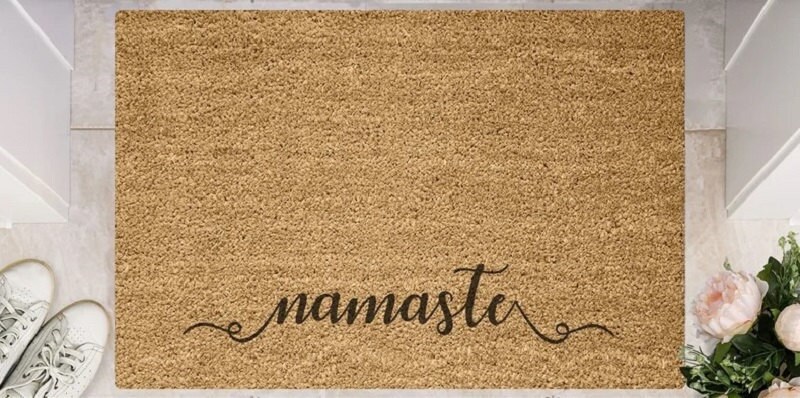 SHOP: Namaste doormat from CRAFTWALLA, $21
Whether you're into yoga or not, Namaste is a traditional, beautiful, and respectful greeting that will be appreciated by anyone you invite to your home. Designed to be placed on the inner side of your front door, these affordable welcome mats are made in a small shop in the UK that offers impressively fast shipping according to buyers.
10. The best holiday doormat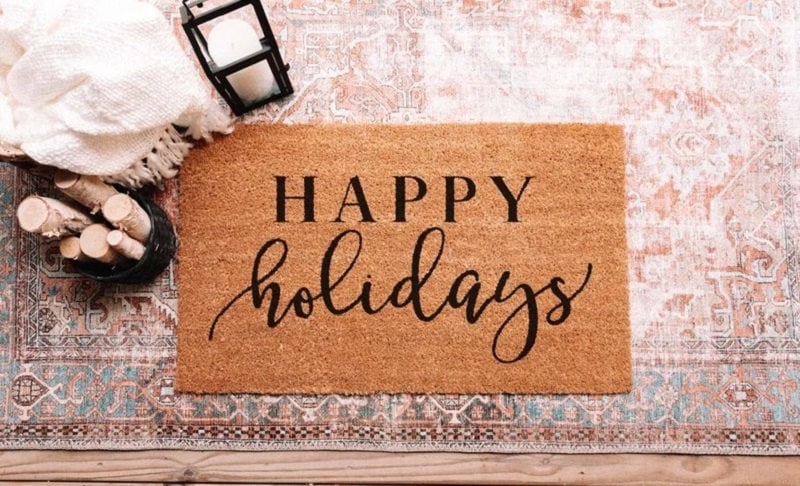 SHOP: Happy holidays doormat from Hamlin Row Shop, from $17
Though they're durable enough to be kept out all year round, these seasonal welcome mats from add the perfect final touch to your holiday decorations. They're budget-friendly, come in three different font styles, and a choice of four sizes.
How do we pick the best welcome mats?
As Etsy Journal editors and contributors research and curate shopping guides for some of the best-loved items on Etsy, we thoughtfully consider the creativity, customization, and craftsmanship that go into each product. We also consider buyer reviews, item ratings, and customer service, and tap the expertise of our in-house merchandising and trends experts to uncover high-quality finds for every budget. You can find more information about each item in the seller's listing details and can take a look at their individual shop policies and reviews, too.