Wine and dine in style with these unique and handmade wine glasses.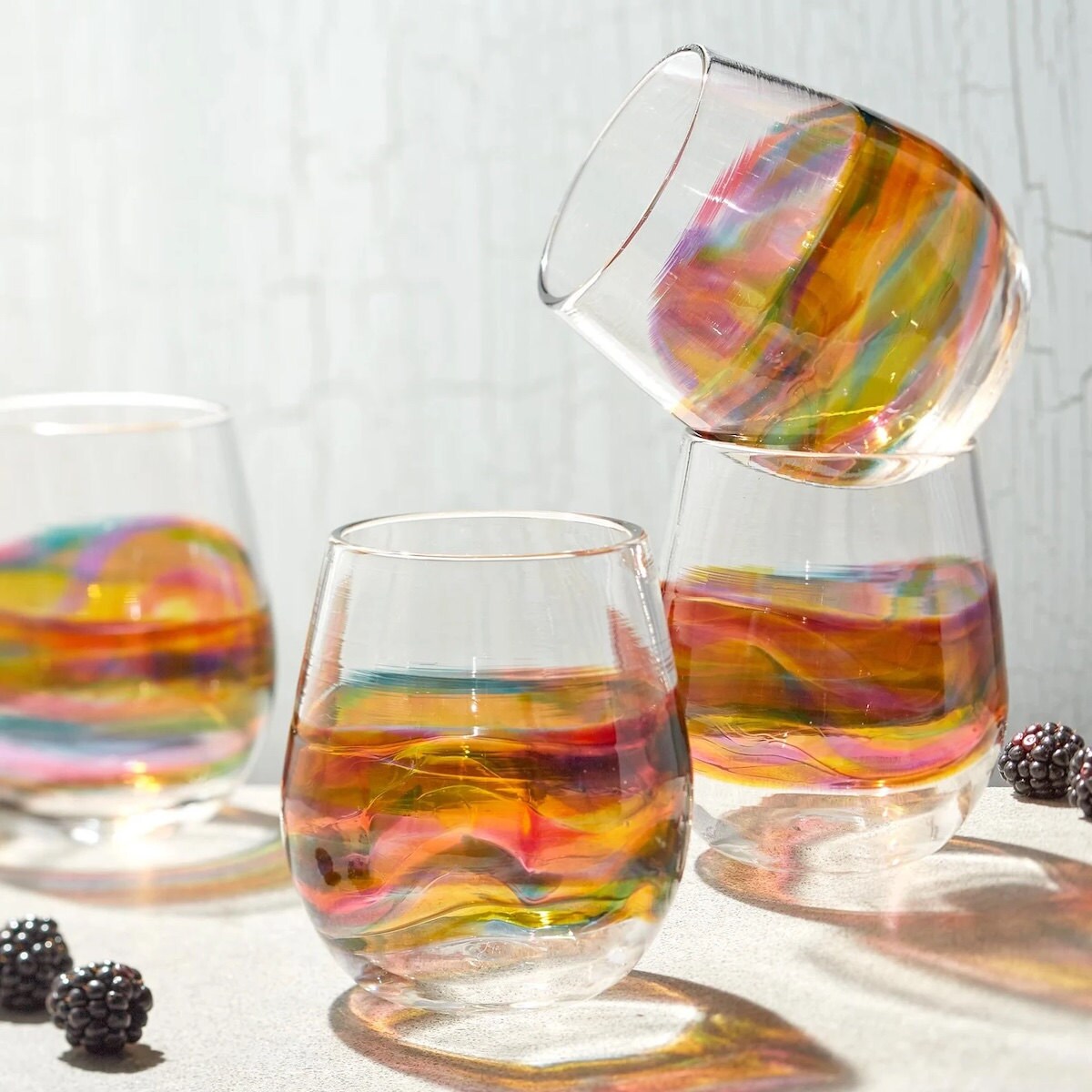 We've all been there: You've just popped open a wonderful bottle of wine to share with loved ones at your home bar while celebrating a milestone or hosting a sip-and-paint gathering, and you realize you don't have the proper stemware for the spirit. While any old drinking glass can do the trick in a pinch, having a dedicated set of handcrafted wine glasses is a stylish way to complete your dining tablescape. Red, white, rosé, or bubbles, these wine glasses are the perfect finishing touch for any get-together.
Unique wine glasses
Many great hosts know the secret to great servingware is the story behind it, and these unique wine glasses fit the bill. With these personalized wine glasses and one-of-a-kind vintage picks, guest will admire your setup nearly as much as your wine selection.
1. A personalized wine glass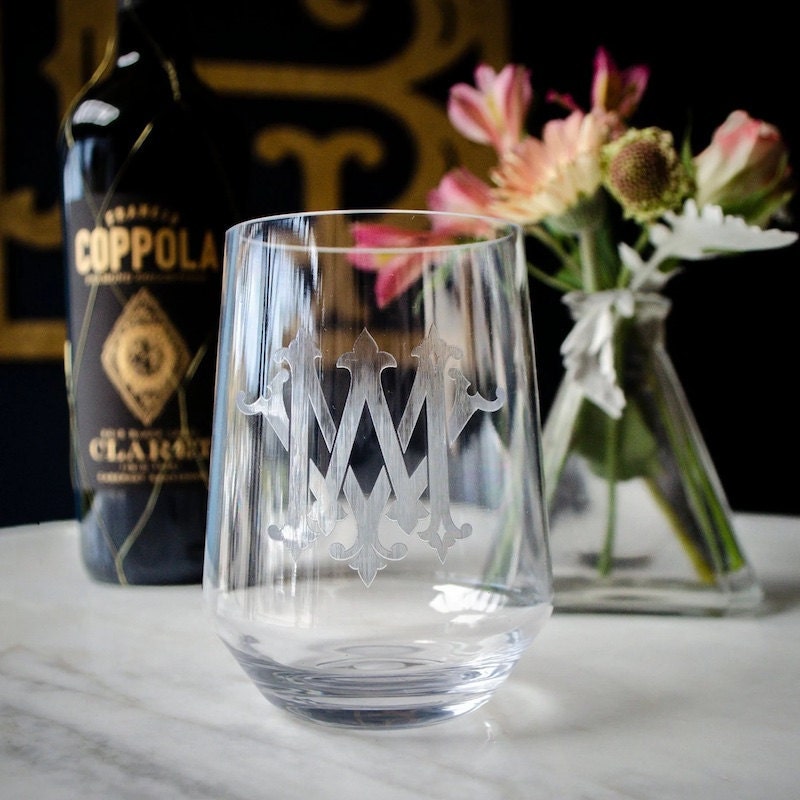 SHOP: Custom monogrammed stemless acrylic wine glass from GB Design House, $17
Impress house guests with these unique acrylic wine glasses customized with your monogram. Beyond your own barware, a personalized wine glass is a thoughtful housewarming or wedding gift for the wine lovers in your life.
2. A painted vintage wine glass set
SHOP: Vintage, hand-painted wine glass set from Primaty Vintage, $70 for six
This set of hand-painted, vintage wine glasses can be enjoyed from all angles: On the table, the painting has the look of wheat blowing in the wind, and from above, the soft yellow strokes come together to look like a flower, making these cute wine glasses a darling addition to your dining decor.
Best red wine glasses
Sommeliers know: Red wine often needs to aerate, and its complex, full-bodied aromas benefit from a wider, fairly large wine glass. These thoughtfully crafted red wine glasses will have you swirling and enjoying the tasting notes of your favorite ruby-hued bottle.
3. A stemless red wine glass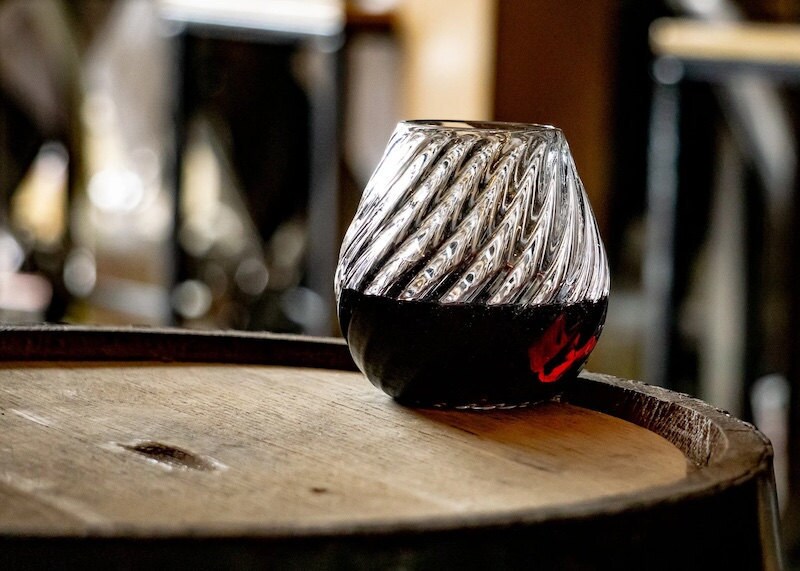 SHOP: Elegant, hand-blown red wine glass from Pretentious Beer Glass, $45
Pinot and cabernet sauvignon fans alike will love the shape of this elegant red wine glass, designed to bring out the robust flavors of their favorite red. It is deceivingly lightweight, and the curved, ribbed pattern of the glass catches the light just-so for an added touch.
4. A revolving wine glass pair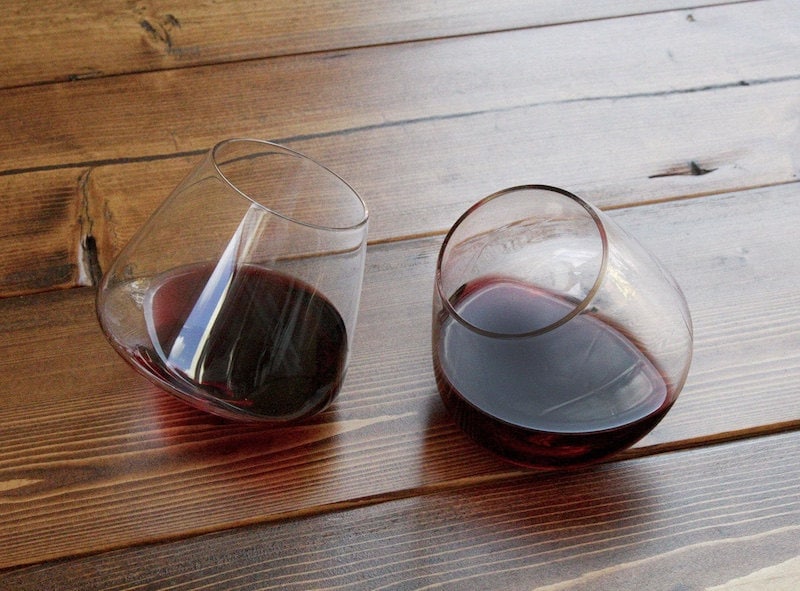 SHOP: Pair of revolving wine glasses from Swoon Living, $40 for two
Create the perfect swirl with these revolving wine glasses. Have fun with them as you sip and spin (but never spill!), or buy these as a set with a repurposed barn wood base to hold them steady.
Best white wine glasses
Especially in the heat of summer, a chilled white wine is the ideal, light drink to enjoy after a long day (or after a particularly delicious meal!). White wine glasses are typically narrower than your best red wine glasses to preserve more delicate and subtle flavors, and these handcrafted glasses do not disappoint.
5. A brilliant white wine glass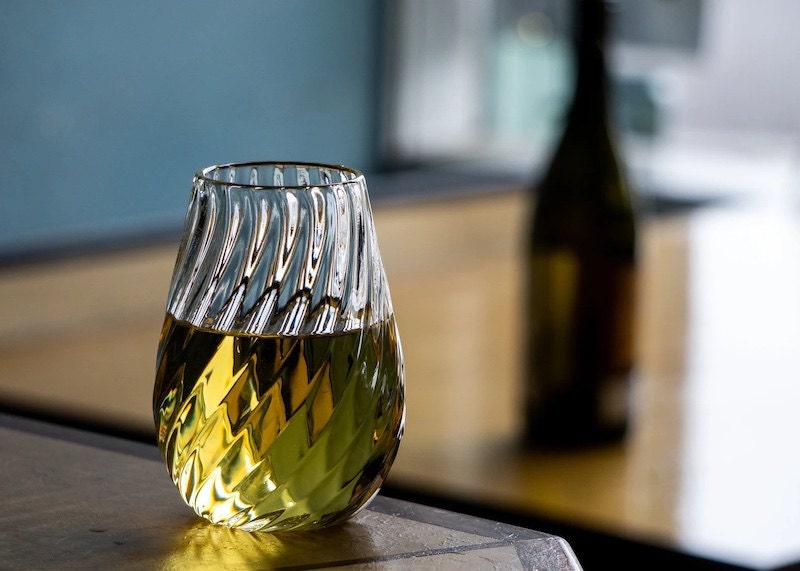 SHOP: Stemless white wine glass from Pretentious Beer Glass, $45
With its slim profile to bring out the flavors of your favorite white wine, this hand-blown glass was made with whites in mind. Buyers are raving that this white wine glass's "infinite twisted optic pattern" is gorgeous and delightful for sipping.
6. A personalized white wine glass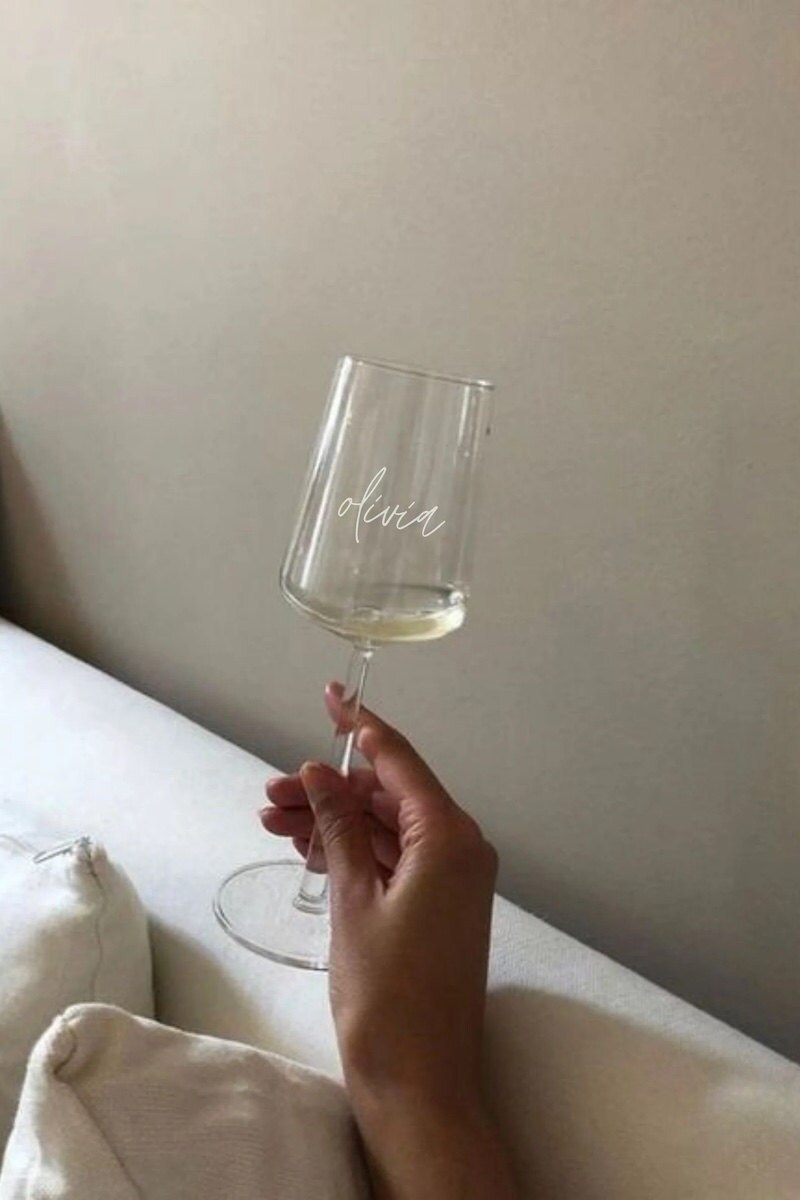 SHOP: Personalized wine or champagne glass from Created By Zoe, from $44
This personalized wine glass has your name all over it—literally. Choose from champagne flutes to stemless glass to traditional wine glass shapes so you can enjoy your favorite drink with ease.
Best stemless wine glasses
Besides their good looks, stemless wine glasses are often more durable and versatile than their stemmed counterparts. With their sleek shapes and curves, these picks add an elegant and modern flair to your dining table.
7. A hand-blown wine glass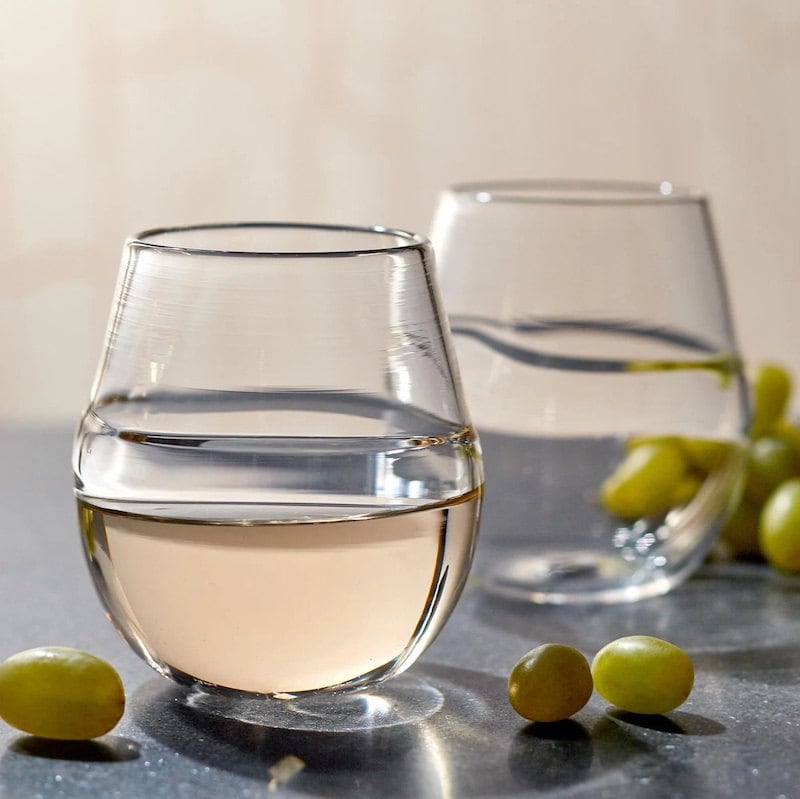 SHOP: Hand-blown stemless wine glass from Providence Art Glass, from $54
Hand-blown glasses are individually crafted, and no two are alike. These stemless wine glasses are blown without the use of a mold so they are extra-special, and they have the added detail of a clear band around the center for a unique but understated look.
8. A colorful stemless wine glass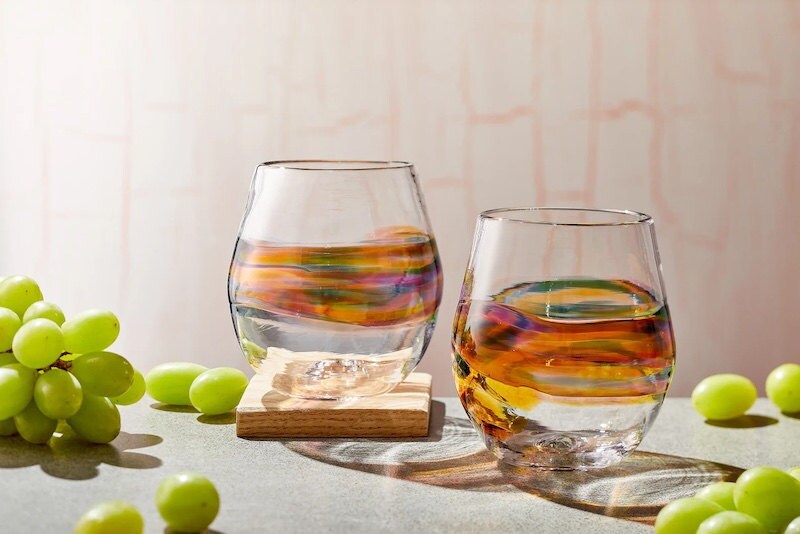 SHOP: Marble sunset wine glass from Providence Art Glass, from $54
Add a little color to your tasting party with these sunset-inspired stemless wine glasses. Wrapped with colorful marbled glass, these hand-blown glasses are stunning for display, a summery sangria, and even as everyday water glasses.
Best plastic wine glasses
Sometimes, you need an unbreakable wine glass. Whether there are kids running afoot, a feisty pet, or you're planning a picnic excursion, plastic wine glasses are a fantastic choice if you want to class up your gathering without the risk of broken glass.
9. A personalized plastic wine glass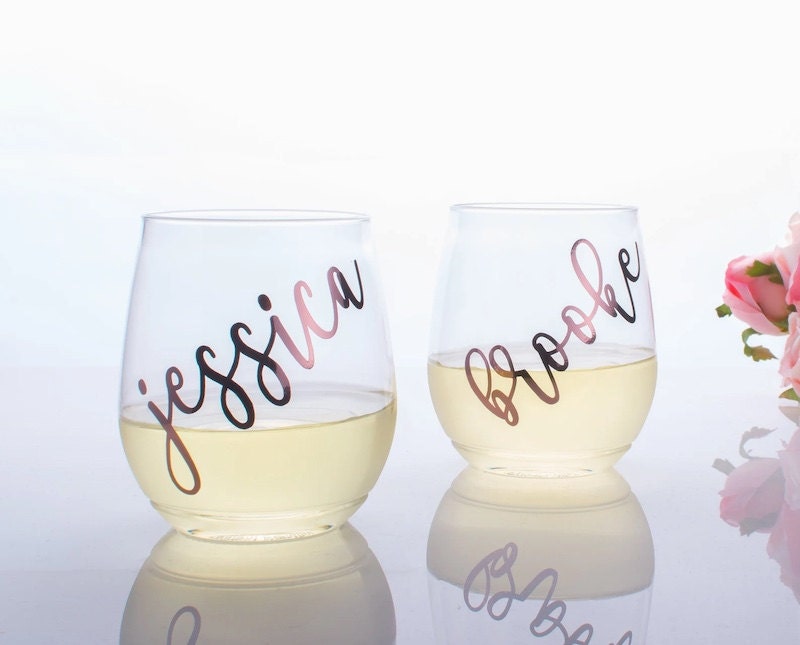 SHOP: Personalized plastic wine glass from Orange County Gifts, $6 for one
Perfect for a bachelorette party, bridal shower, or a celebratory day trip, these plastic wine glasses can be personalized with each guest's name, so everyone feels embraced by the host—and no one loses track of their drink!
10. Plastic champagne glasses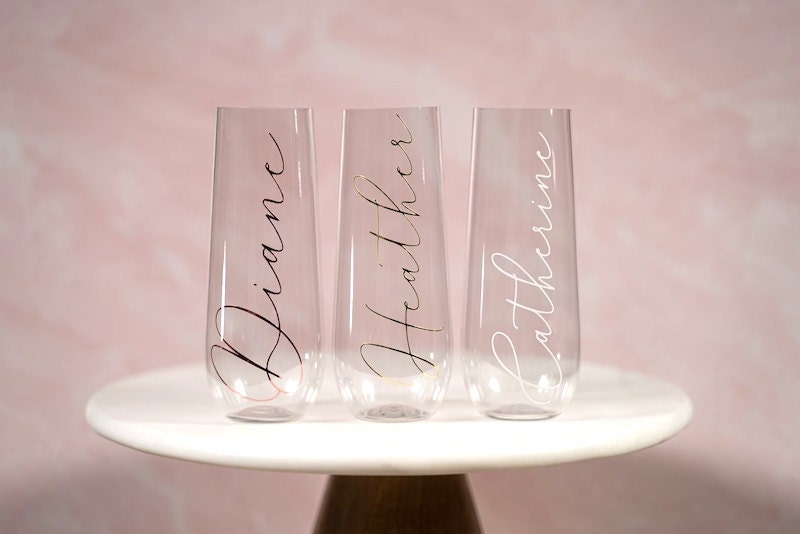 SHOP: Disposable stemless champagne flute from Sunny's Soiree Co., from $3 for one
Perfect for a bridesmaid proposal box or morning mimosas, these stemless plastic champagne flutes can double as a glass for any beverage of your choice: wine, Prosecco, juice, you name it.