In search of the perfect birthstone ring, necklace, or bracelet? Check out our dazzling collection of birthstone jewelry for endless inspiration.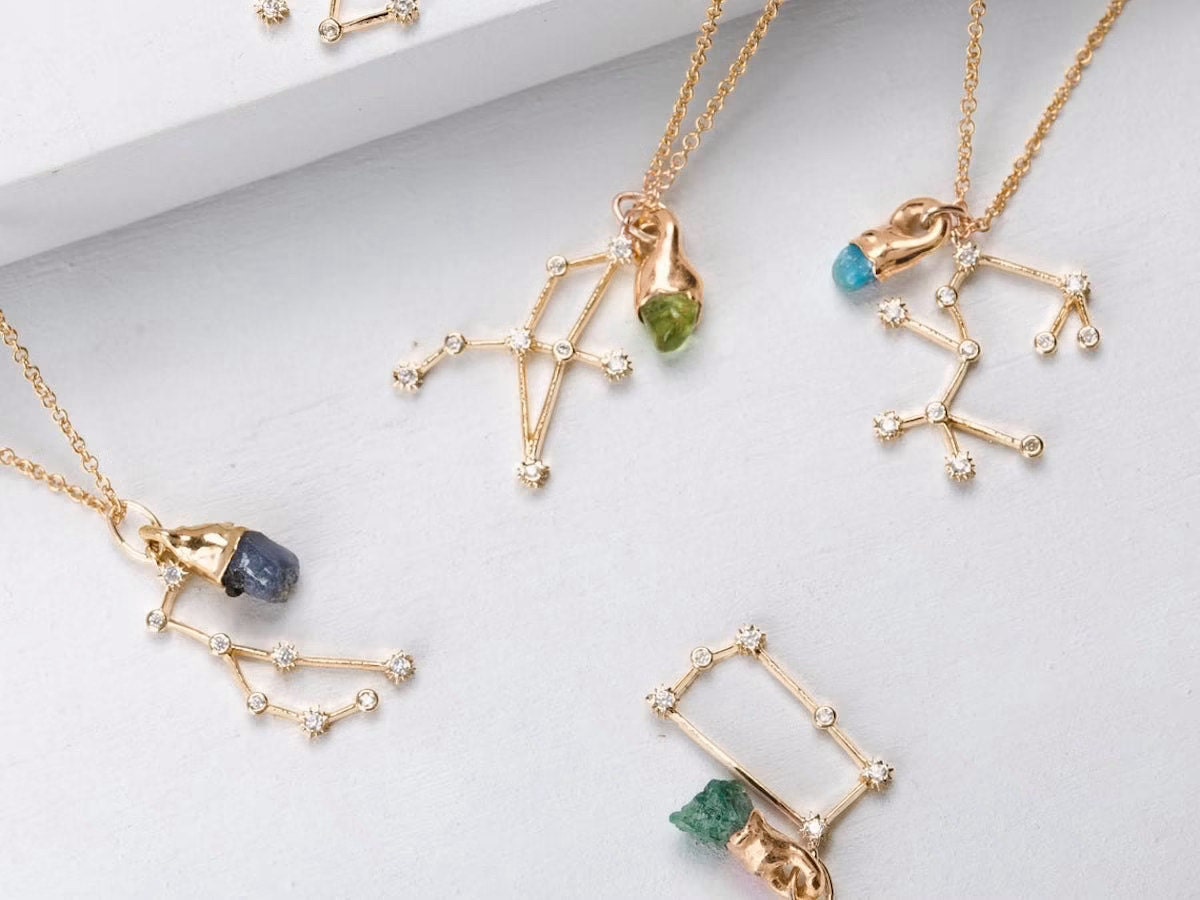 Gem lovers, rejoice: Birthstone jewelry is more in demand than ever, and Etsy sellers have got you covered with beautifully reimagined twists on the classics. From on-trend ombré strands in ruby red and emerald green to dazzling multi-gem raw birthstone rings that combine unexpected shapes with a touch of glimmer, the knockout pieces from these expert designers and curators encourage you to pile on any (and every) gem that suits your personal style—no matter where on the calendar your birthday falls.
Read on to discover 11 extraordinary birthstone jewelry collections we're currently crushing on, and let their distinctive designs inspire you as you search for your next birthday gift idea, milestone marker, or custom keepsake meant just for you.
Alternative birthstone jewelry from TISH jewelry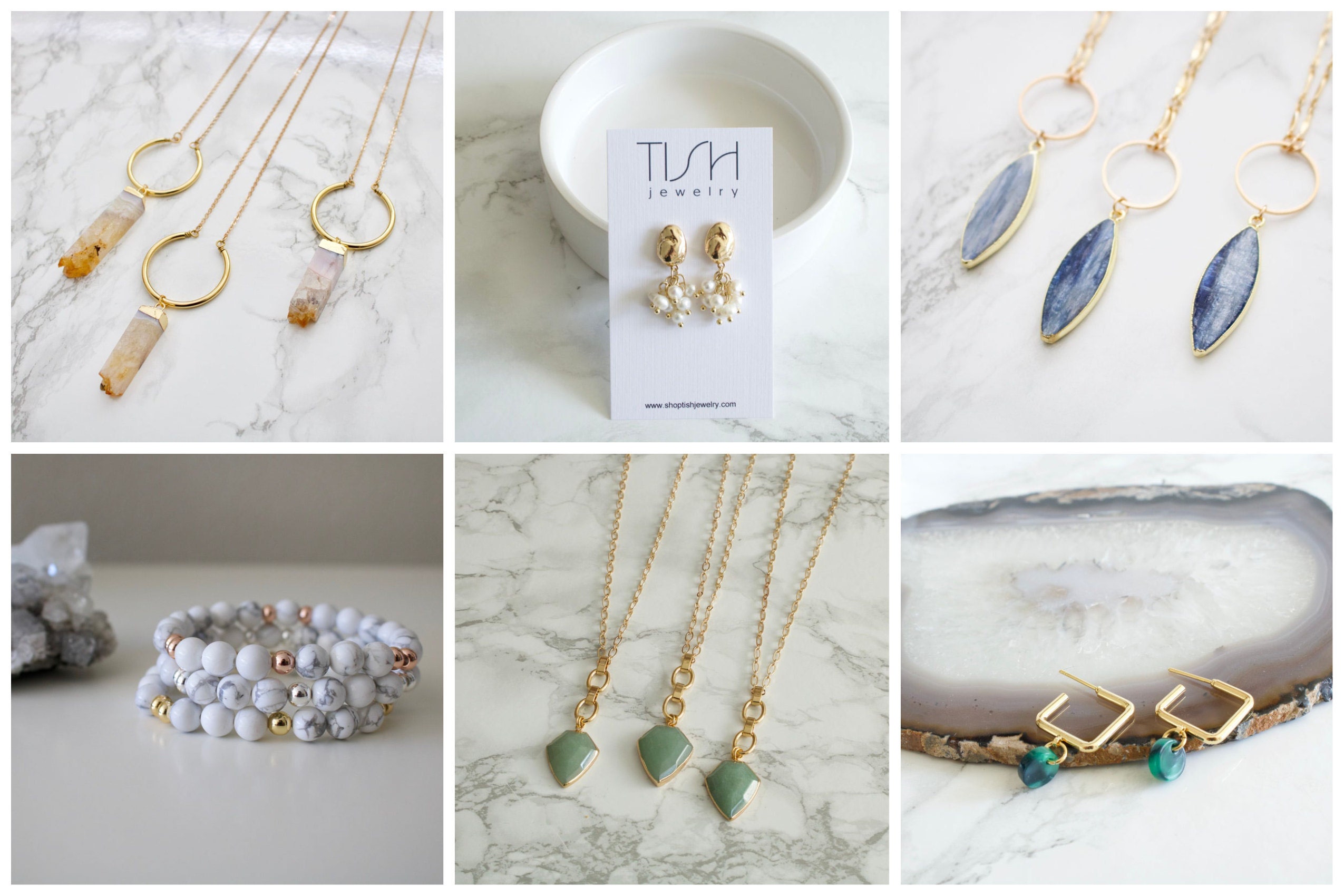 SHOP (clockwise from top left): Raw citrine crystal necklace, $51; Clara pearl cluster earrings, $41; blue kyanite necklace, $47; howlite bracelet, $9; Erika green aventurine necklace, $42; Mae square hoop earrings, $30; all from TISH jewelry
To "accent and enhance a woman's inner beauty, never out-shining or taking away from it." That's how designer Lateisha Brown describes her understated designs for TISH jewelry. Inspired by the strong and loyal community who has supported her craftsmanship from the beginning, Lateisha's designs mix strong materials with naturally beautiful stones for a collection marked by unassuming elegance. Many of her designs highlight beautiful, lesser-known alternative birthstones like a raw citrine crystal necklace (one of November's birthstones and an aventurine drop necklace with August's birthstone.
Playful birthstone pieces from Jill Makes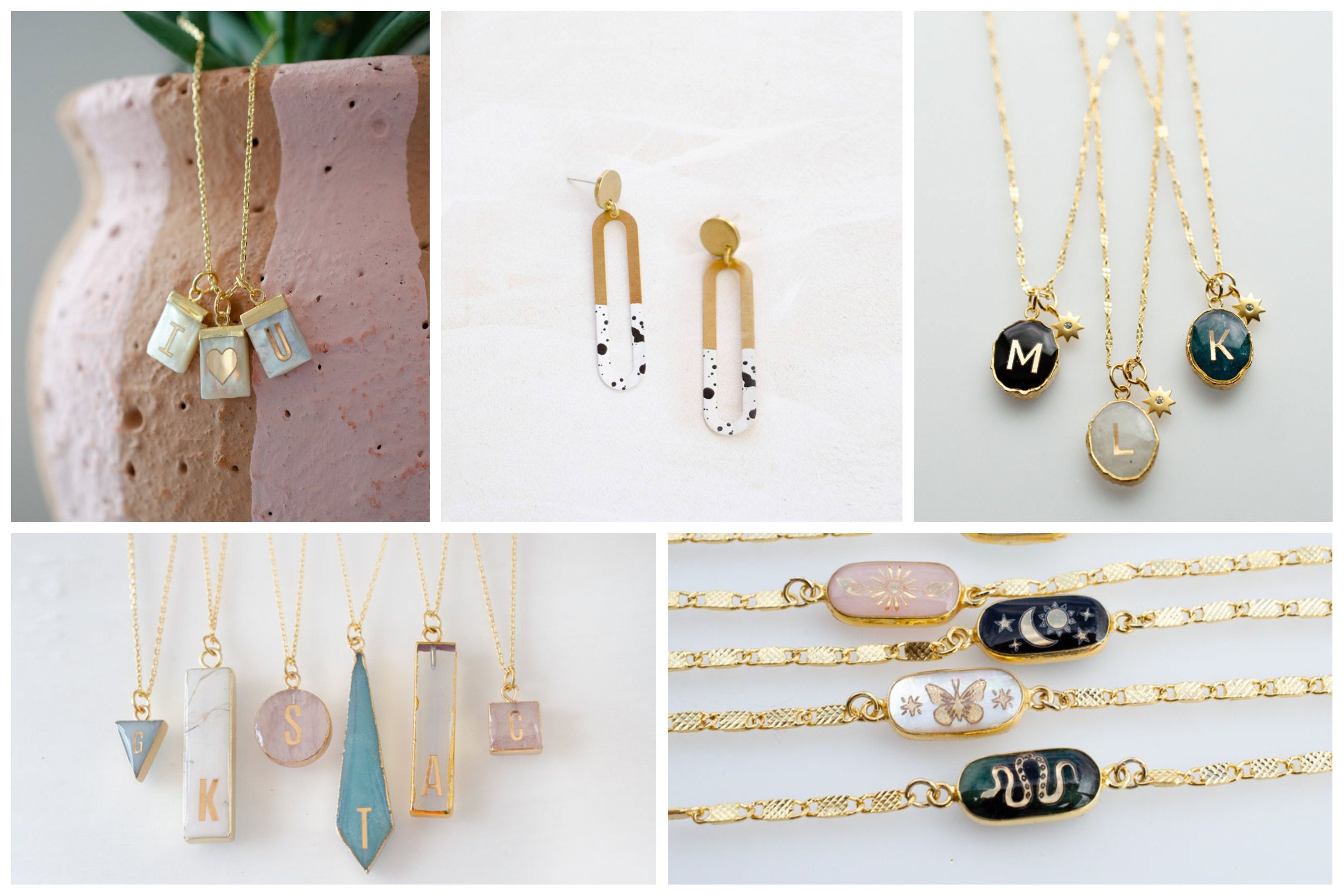 SHOP (clockwise from top left): Personalized pearl initial charm, $80; splatter brass earrings, $32; initial gemstone charm necklace, $47; amazonite charm necklace, $40; dainty gold bracelets, $45; all from Jill Makes
Committed to handcrafting "jewelry for upbeat people," Jill Foreman merges her background as a graphic designer and product designer with a love of color to create mixed material masterpieces. Her love of the unexpected shines through in stylish spins on personalized birthstone jewelry—like these natural stone pendants with graphic gold-plated designs in place of initials and amazonite necklaces perfect for Taurus babes. Even traditional birthstones, like June's timeless pearls, get an edgy upgrade in her personalized pearl initial pendants.
Delicate birthstone jewelry designs from Aquarian Thoughts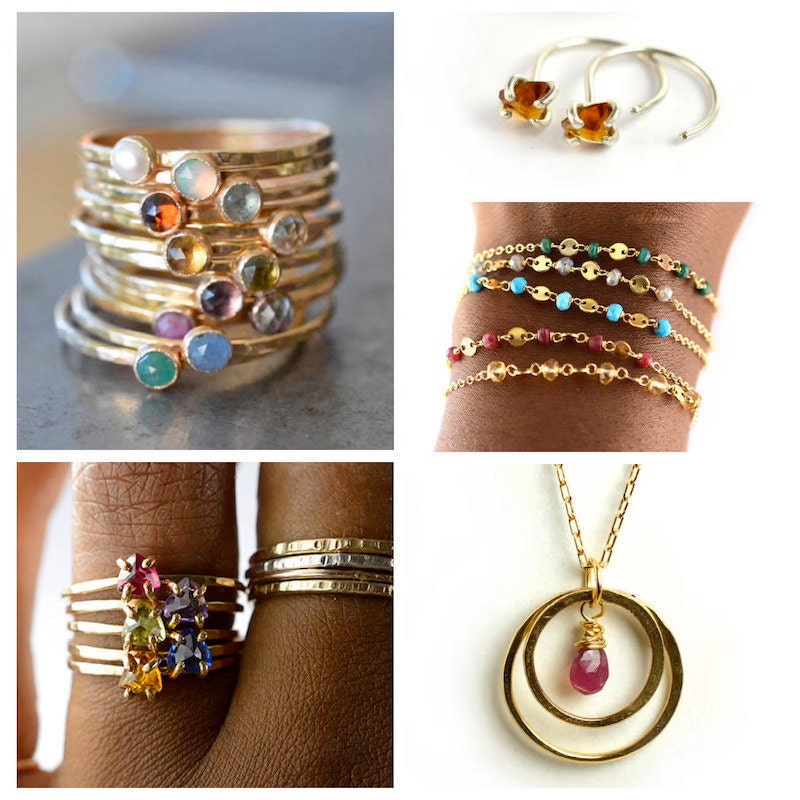 SHOP (clockwise from top left): Gemstone stacking rings from $38 each; golden tourmaline hoop earrings from $42; beaded chain bracelets from $38 each; geometric birthstone necklace from $40; trillion-cut gemstone stacking rings from $42 each; all from Aquarian Thoughts
Whether you're on the hunt for the perfect present for a loved one or for yourself, Nadirah Bostick's layering-friendly line of birthstone rings, necklaces, and bangles promises something sparkly and special to suit every ensemble. Offering a veritable rainbow of dainty yet modern pieces specifically designed for stacking, New Jersey-based Aquarian Thoughts has become a go-to for maximalists looking to build their own unique look with multiple stones at a time. Nadirah's personal accessorizing approach? "The more the merrier. If you mix metals and styles, and each one is something you're really attracted to, then it's meaningful. It tells its own story," she says.
Carefully sourced birthstone styles from Abiza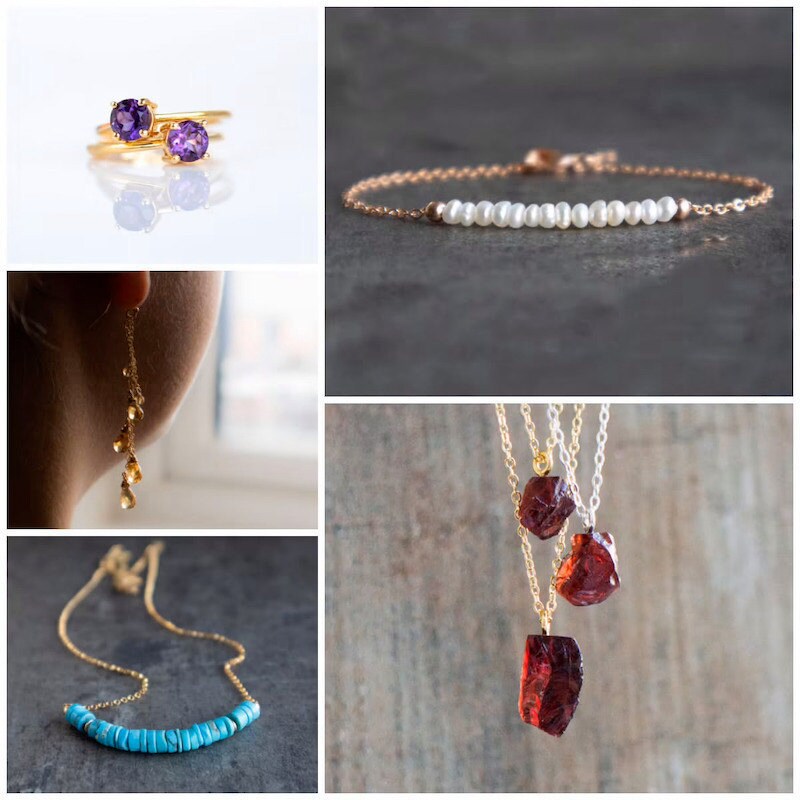 SHOP (clockwise from top left): Amethyst rings, $83 each; seed pearl bracelet from $59; raw garnet necklace from $56; turquoise necklace from $83; citrine dangle earrings from $111, all from Abiza
With dainty beaded bracelets, elegant drop earrings, and timeless birthstone necklaces, the Abiza collection is a study in understated sophistication—and top-notch quality, thanks to a meticulous, globe-spanning sourcing process. "Every stone in our shop is carefully selected and directly purchased by us in the gemstone market in Jaipur, India, which is the world's gem capital," says owner Aylin Kucukoglu, who is based in Chester, England. "Since our designs are based on showcasing the gemstones, we pick them one by one to make sure the end result is always amazing."
Boho-chic birthstone vibes from Esh Collection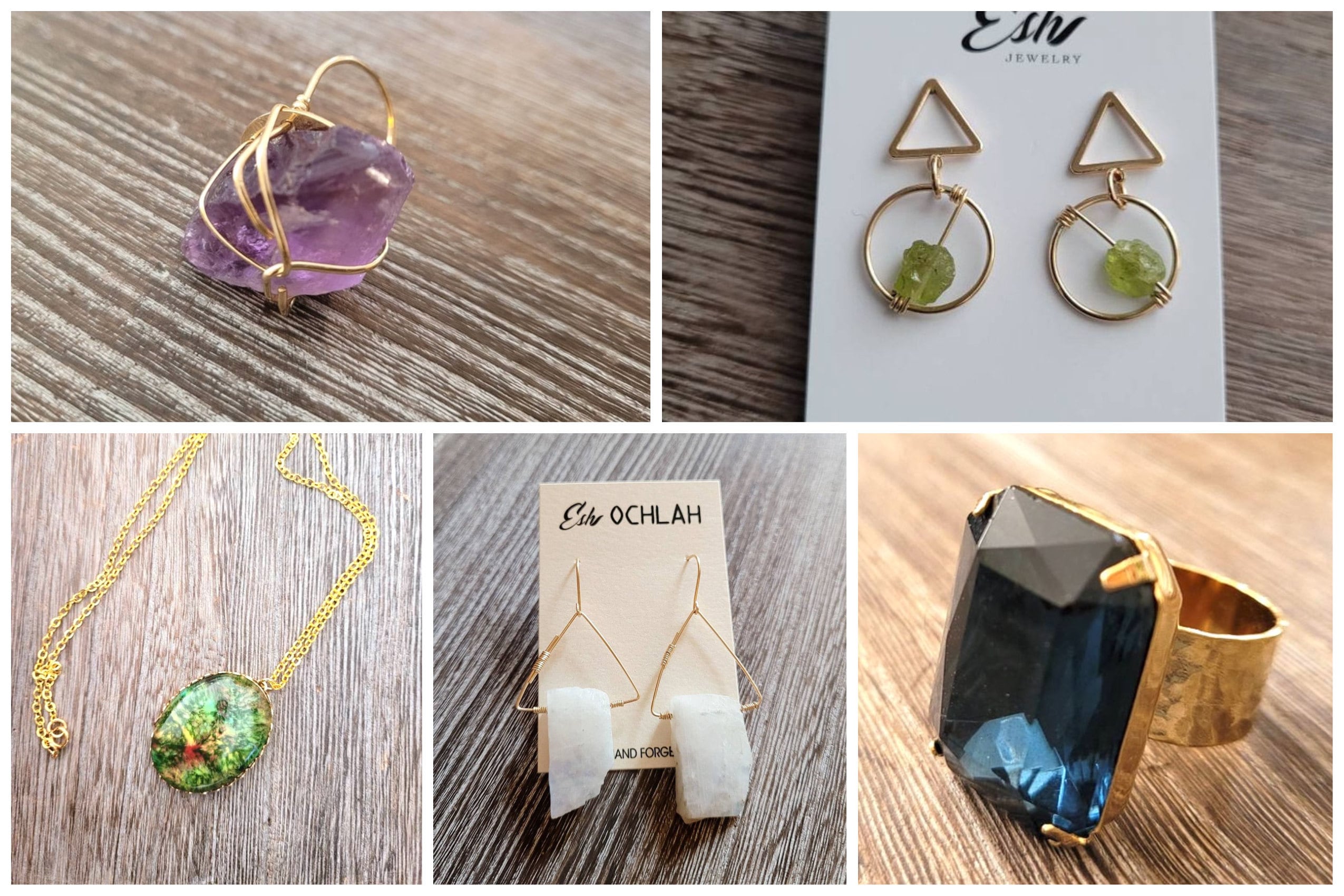 SHOP (clockwise from top left): Amethyst ring, $68; peridot geometric earrings, $52; green cameo necklace, $33; moonstone triangle earrings, $88; Montana blue sapphire ring, $28; all from Esh Collection
"Vintage beads embody three of my favorite things: art, history, and fashion," says Tasha Hussey. The boutique owner-turned-jewelry designer combines her passions by sourcing vintage stones and repurposing them into one-of-a-kind creations for her shop, Esh Collection. A bohemian elegance characterizes her aesthetic as well as her collection of semi-precious gems, where shoppers can discover everything from standout statement birthstone rings and stately cuffs, to glamorous drop earrings and layer-friendly strands punctuated by spectacular pendants. But among her most popular pieces are her geometric birthstone earrings, which combine raw stones with angular gold frames. "Jewelry is a conversation starter," says Tasha. "Like a wearable piece of art."
Stunning vintage birthstone jewelry from Gold Adore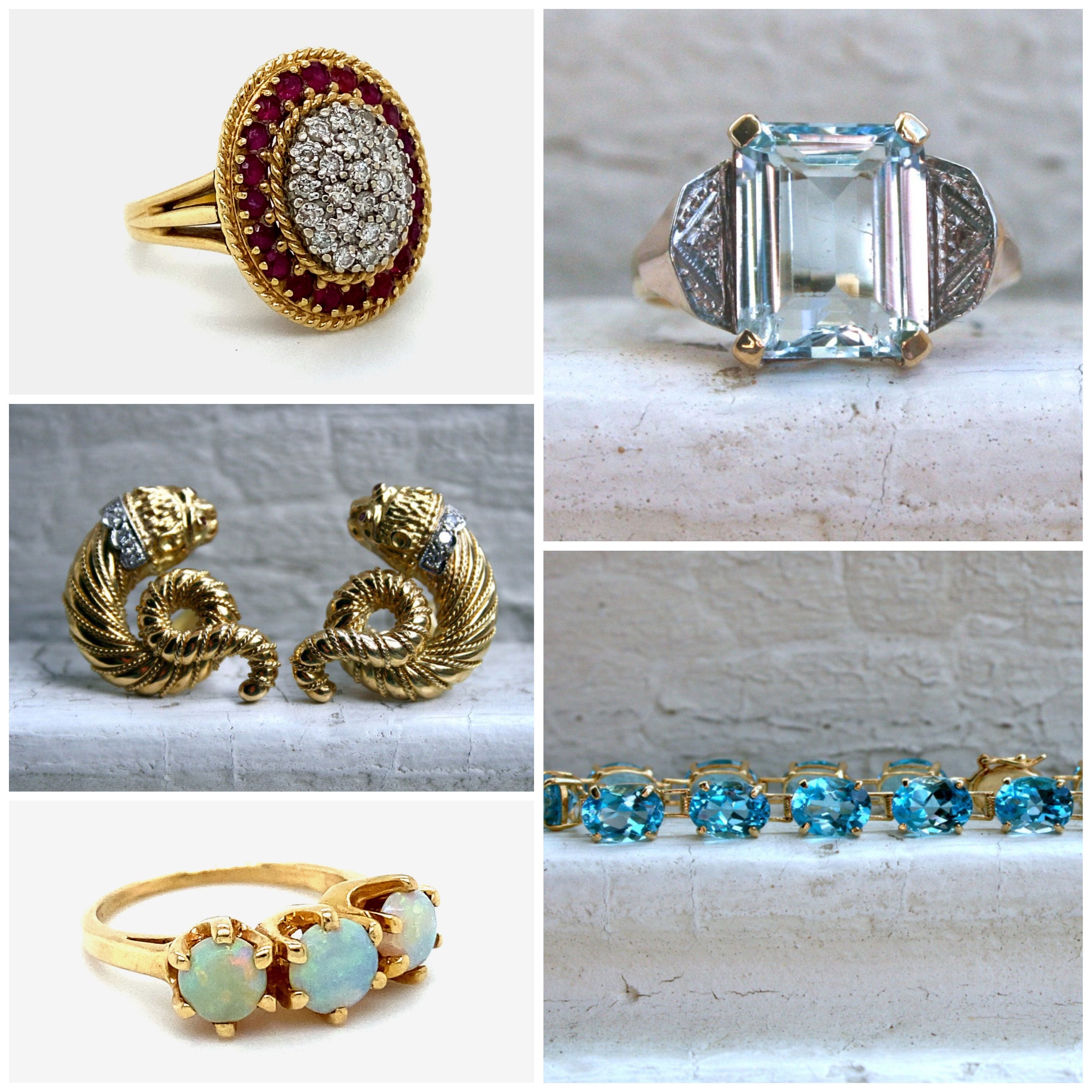 SHOP (clockwise from top left): Diamond and ruby halo ring, $1,999; aquamarine and diamond ring; vintage blue topaz bracelet, $695; antique opal wedding ring, $699; vintage Chinese dragon diamond and ruby earrings, $2,500; all from Gold Adore
From breathtaking 19th century rubies to 1950s cocktail rings dripping with old Hollywood allure, the beautifully preserved vintage showstoppers in certified gemologist Gillian Griffiths's shop, Gold Adore, abound. "The most rewarding part is when I see my pieces being worn," she says. "Some of my reviews have made me cry happy tears." Her one-of-a-kind statement rings and Art Deco pendants show off birthstones in their full splendor, and Gillian encourages shoppers to branch out from their comfort zone when sporting their signature gem. "Birthstone jewelry is special because it incorporates a bit of the personality of the wearer," she says. "The colorful array encourages people to shop outside what they might traditionally go for."
Birthstone necklaces that pop from ARTIQUE BOUTIQUE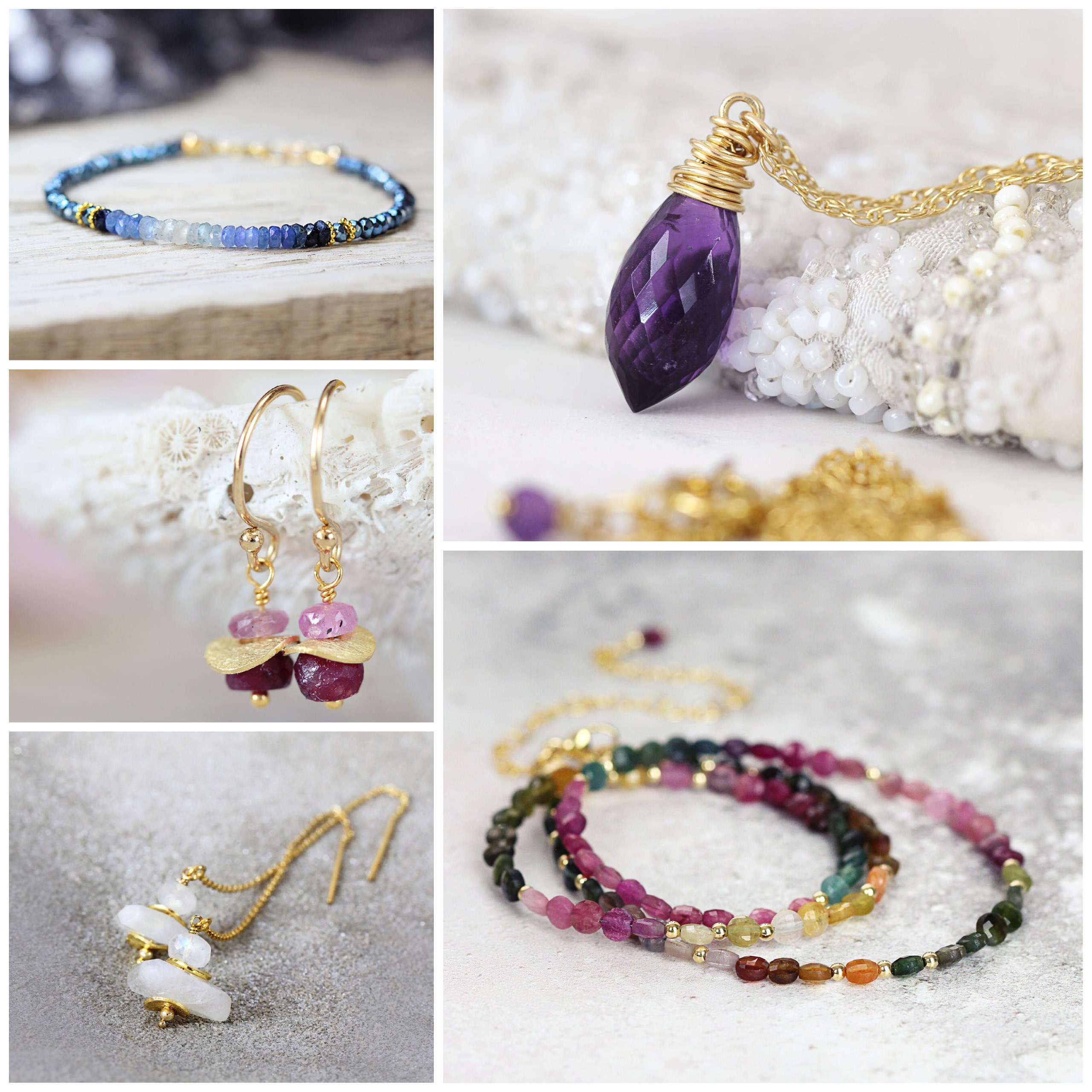 SHOP (clockwise from top left): Sapphire ombré bracelet, $187; amethyst pendant necklace, $92; multicolored tourmaline necklace, $208; moonstone gold threader earrings, $60; ruby drop earrings, $66; all from ARTIQUE BOUTIQUE
"I love to use beads and stones to tell a little story that your eye can follow along the length of a piece of jewelry," says Joanne Poore, owner of UK-based ARTIQUE BOUTIQUE. Using an unconventional pairing of organic silhouettes and slimline chains, Joanne has created a boho-luxe line filled with teardrop-shaped birthstone pendants, dangly multi-layered earrings, and multi-hued strands that add a splash of color to your neck or wrist. For an approachable place to dive in, we recommend her extensive collection of simple yet sophisticated birthstone earrings, which spans the calendar. "Try a fresh stone or color as a way to update an outfit for the new season," Joanne suggests. "Play is a great way to discover and express your own unique spirit."
Stackable raw birthstone pieces from Ringcrush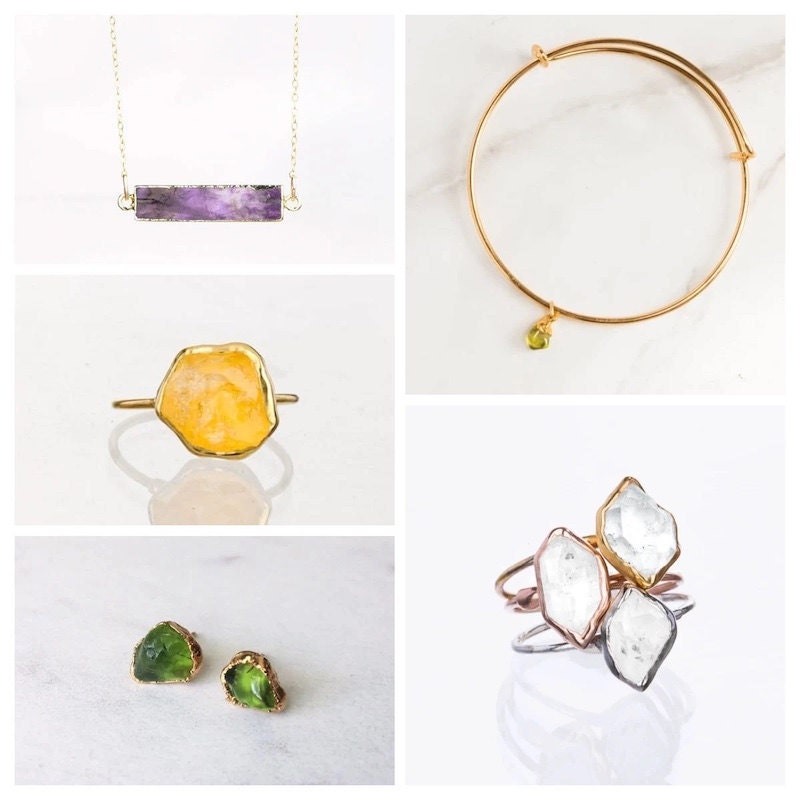 SHOP: Raw amethyst bar necklace, $24; raw birthstone bracelet, from $30; raw Herkimer diamond rings, $30 each; raw peridot earrings, $30; raw citrine ring, $30; all from Ringcrush
Whether it's a pair of brilliant cluster earrings, an ultra-chic bar necklace, or a versatile set of stackable birthstone rings, each Ringcrush piece is intentionally created to spotlight a one-of-a-kind raw gemstone. Using a process called electroforming which involves "growing" stones until solid metal forms around them, shop founder Bailey Christenbury and team combine expert design chops and serious technological know-how. "It's my favorite part of the process," says Bailey of the unique jewelry making technique. "It's science, but it feels like magic."
Milestone-worthy birthstones from Studio 1040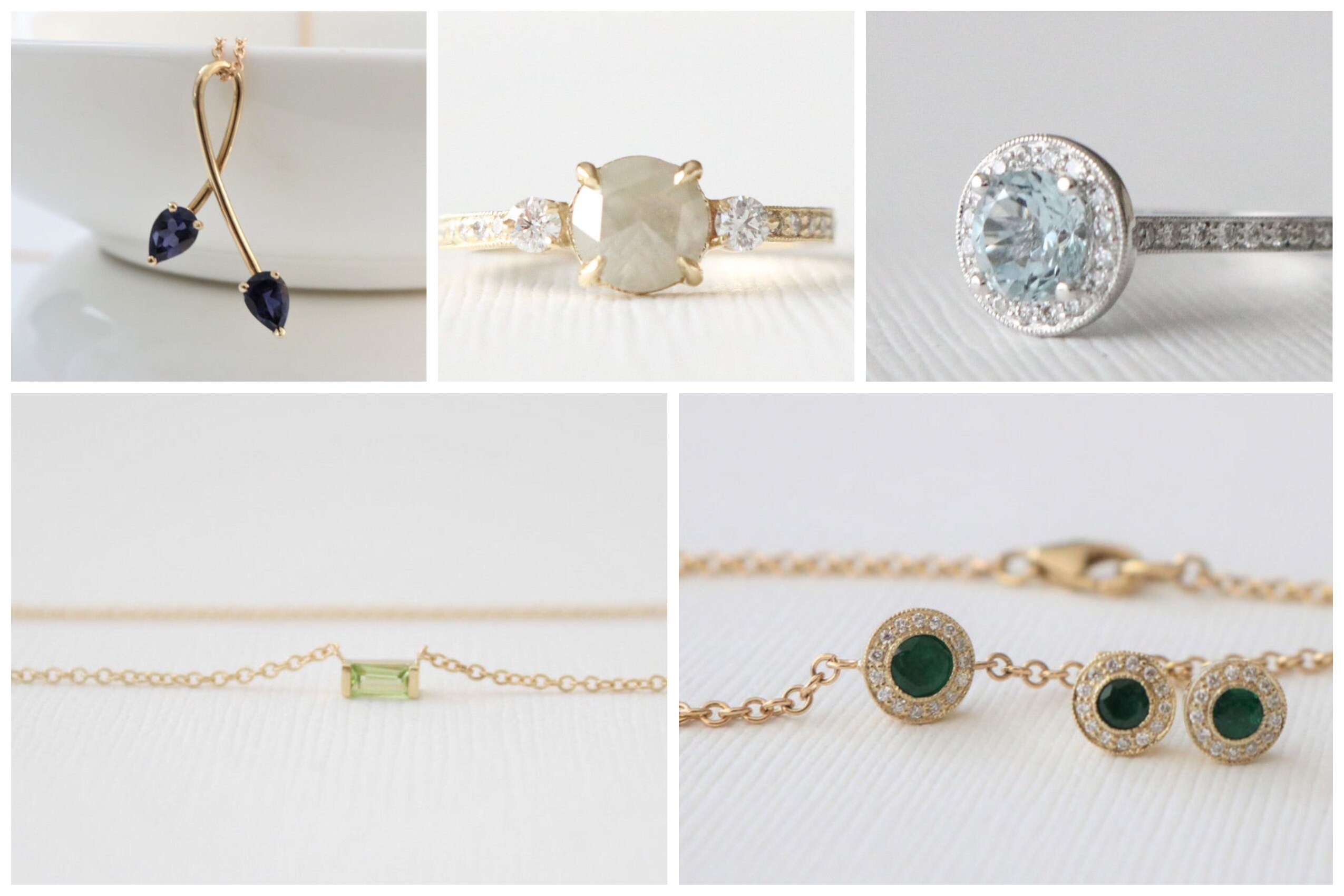 SHOP (clockwise from top left): Sapphire pendant, $452; light gray diamond ring, $1,920; aquamarine and diamond ring, $1,350; peridot bar necklace, $300; emerald bezel diamond set, $1,320; all from Studio 1040
To mark an extra-special occasion (got an engagement or major birthday on the calendar?), no ordinary gem will do—and the heirloom-quality masterpieces from Los Angeles-based designer Jacqui Garcia were made to meet an exceptional moment. The pieces in her Studio 1040 shop, from diamond dazzlers to spectacular emerald sets, are worth the investment thanks to her meticulous sourcing and speciality in customization. Though jaw-dropping gemstone rings are her speciality, her birthstone necklaces and bracelets are worthy of a celebration too.
Modern birthstone jewelry inspired by nature from Robin Woodard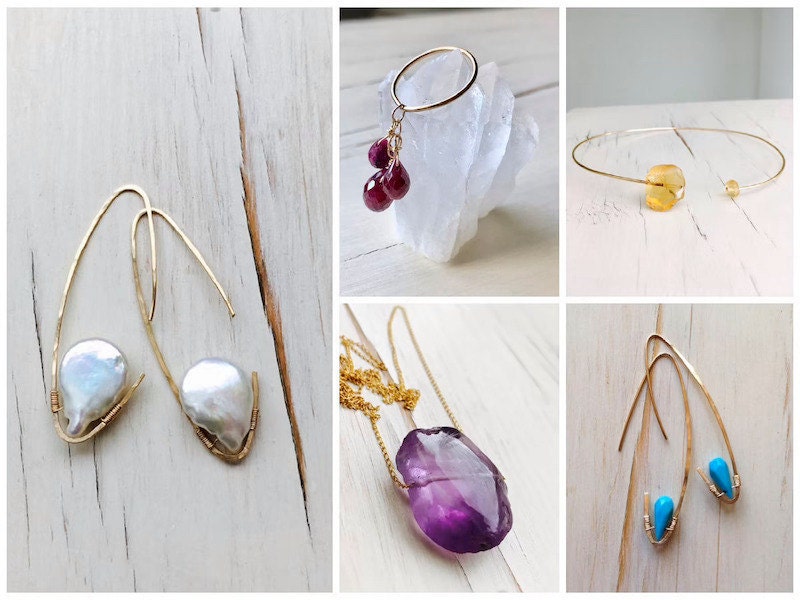 SHOP (clockwise from left): Oblong pearl hoops, $74; raw citrine choker, $52; ruby teardrop ring, $68; turquoise earrings, $59; raw amethyst necklace, $42; all from Robin Woodard
"Nature is my muse," says Los Angeles-based maker Robin Woodard, whose geometric emerald pendants and modern pearl-adorned hoop earrings feature minimalistic chains and settings constructed to let the stones' organic beauty shine. And with Robin's background as a fashion stylist (she created her first jewelry pieces for photo shoots), it's no surprise that she designs with the vision of a complete ensemble in mind. "I think the best jewelry can be easily dressed up or dressed down," she says. "But either way, a simple outfit can be totally transformed by the right piece."
Simple and elegant birthstone jewelry from Pablo Valencia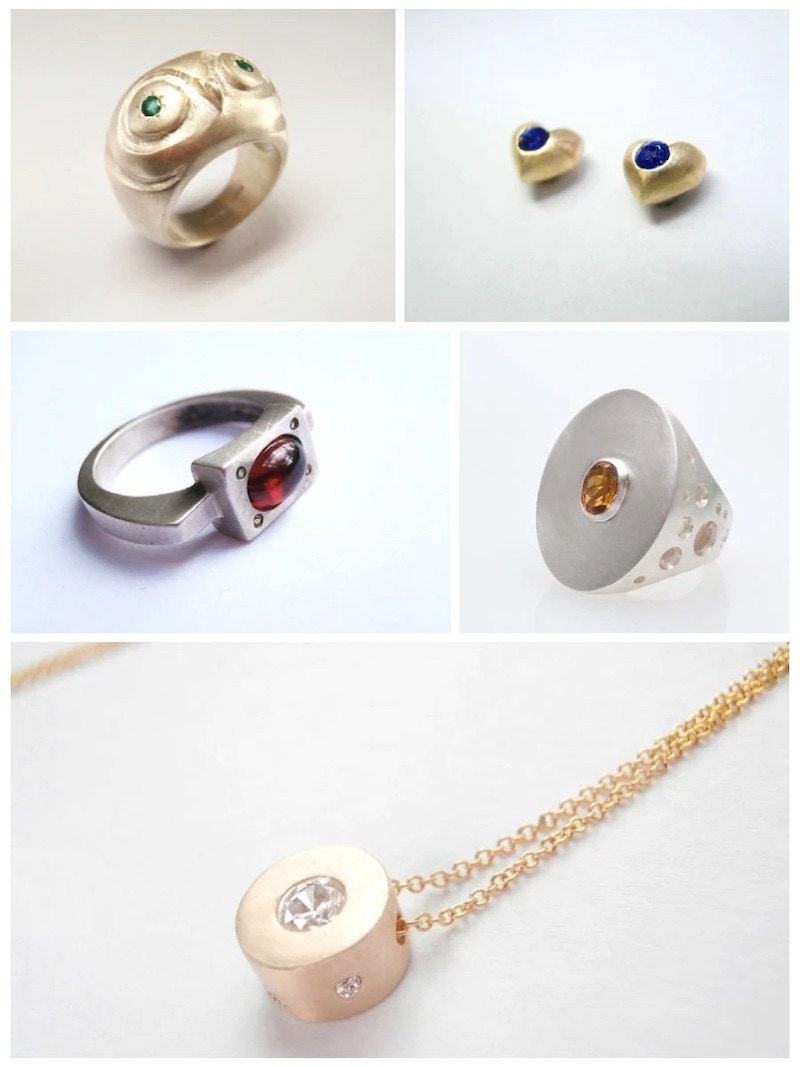 SHOP (clockwise from top left): Emerald owl ring, $375; sapphire mini heart earrings, $275; citrine "Fall" ring, $450; diamond Bauhaus necklace, from $325; retro garnet ring, $125; all from Pablo Valencia
Trendsetters in search of birthstone jewelry that's anything but cookie-cutter need look no further than New York City-based Pablo Valencia. Blending classic craftsmanship with a contemporary sensibility, he creates edgy pieces that stand out from the crowd—like Bauhaus-inspired pendants and sculptural stone-studded rings—and make their wearers feel seen. "I feel that your birthstone gives you a sense of belonging," says Pablo. "It's sort of like when you're in love—every song sounds wonderful, but there's that one that really gets you."