Discover tried and true, buyer-approved little luxuries our community loves, and meet a few of your new favorite Black-owned businesses.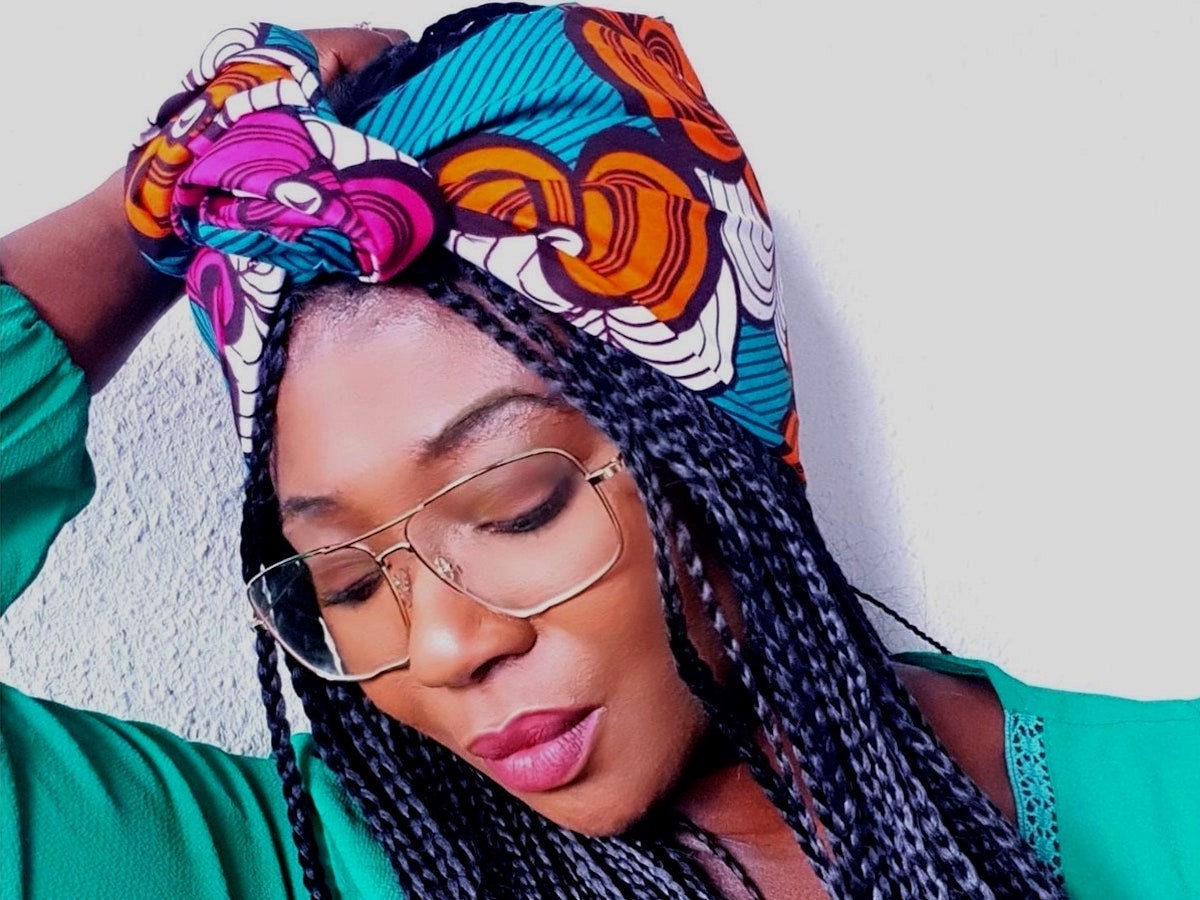 From the journal that safeguards your memories and ambitions to the versatile accessory that's the MVP of your time-tested hair-care regimen, we all have our own personal rituals that brighten our days—and the special little luxuries we swear by that make them possible. This Black History Month, we're on a mission to help you find a few new go-to products—and support some incredible Black artists and creatives in the process. To help you get started, we pored over hundreds of glowing reviews from Black-owned businesses on Etsy to spotlight 32 gems that earned downright raves from shoppers—everything from fresh art prints to spectacular style finds to bath and body blockbusters that feel like they were made especially for you.
Read on to discover some of your new favorite creators, and make supporting Black-owned Etsy shops part of your everyday routine.
Editors' note: This post has been updated with new products for 2023.
Signature styles from Black-owned businesses
Eye-catching earrings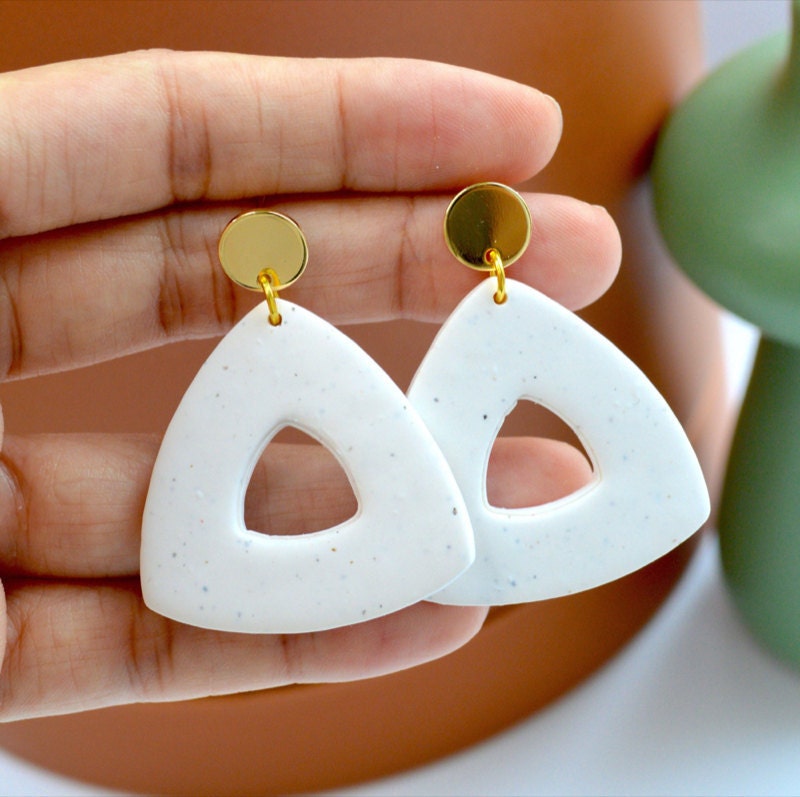 SHOP: Statement earrings from Pache Studio, $26
Why we love them:
Lightweight enough for long-term wear but bold enough to create a playful look that pops, these polymer clay danglers from jewelry designer Juliana Pache are a great reason to make statement earrings part of your everyday ensemble.
What Etsy shoppers are saying:
"These are even more beautiful in person! They're not heavy and are also a perfect size—not too large, not too small. I'm keeping the purchase for myself but would purchase to give as gifts as well. I cannot wait to wear them!" — AC
A wallet that wows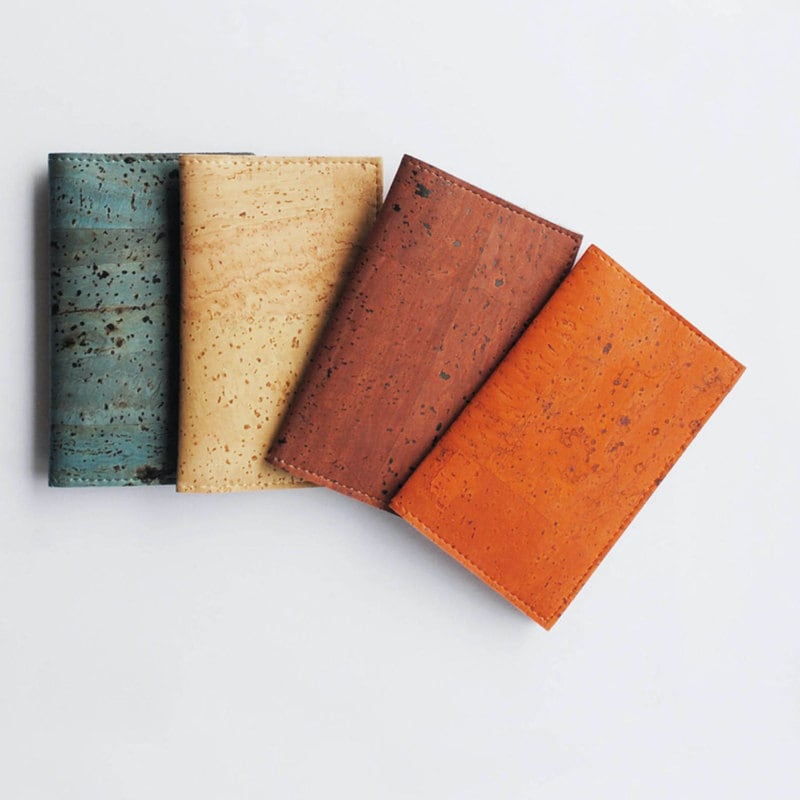 SHOP: Cork cardholder from Mind the Cork, $19
Why we love it:
Cork carving pro Jenny Espírito Santo's line of planters and storage pots have totally captured our hearts, and the eco-minded maker's slim cardholders are equally captivating. Available in a rainbow of earth tones, these minimalist billfolds are the pinnacle of design and durability.
What Etsy shoppers are saying:
"Repeat purchaser! I just bought a second one for a friend and she loved it. Well made, quality, beautiful product. PS: Black creators matter!" — KW
A grab-and-go hair lasso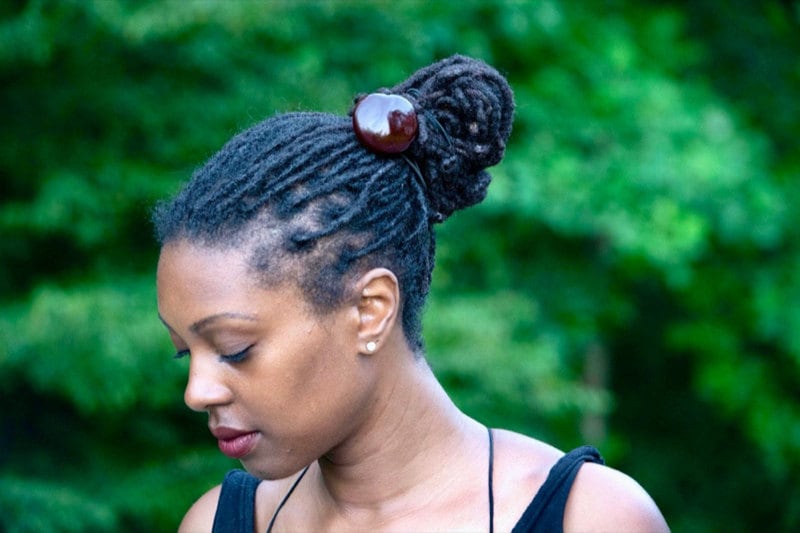 SHOP: Hair lasso from Loc Accessory, $29
Why we love it:
Not just your run-of-the-mill elastic, this pretty ponytail holder from accessories designer Carolyn Conyers is made with an extra-thick band perfect for pulling back natural hair without breakage. Even better? The shiny bead embellishment looks stunning wrapped around your wrist until you're ready to use it.
What Etsy shoppers are saying:
"I hated stretching out all my hair bands to do a quick updo with my locs. This loc lasso does exactly what I wanted it to do! The designs are even more gorgeous in person. I love that when I take my hair down, it can turn into a cute bangle or necklace. Super fast shipping too! Thank you so much!" — ER
An empowering piece of jewelry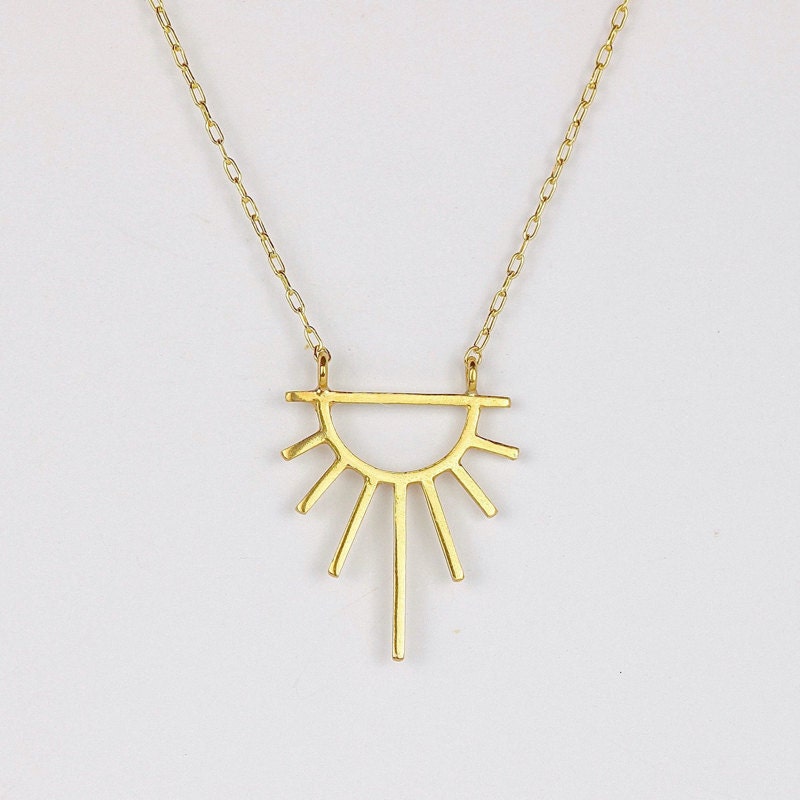 SHOP: Art deco sun necklace from Marica Vidal Jewellery, $123
Why we love it:
Inspired by a life full of enlightening travels, globe-trotting designer Marcia Vidal fashioned this golden sunburst pendant as a symbol of new beginnings and positivity—a wearable reminder to always be searching for happy horizons.
What Etsy shoppers are saying:
"This necklace is beautiful. As soon as I opened the box, I knew it would be a favorite! The length, quality, and design are perfect. Thank you." — CM
A luxurious layering piece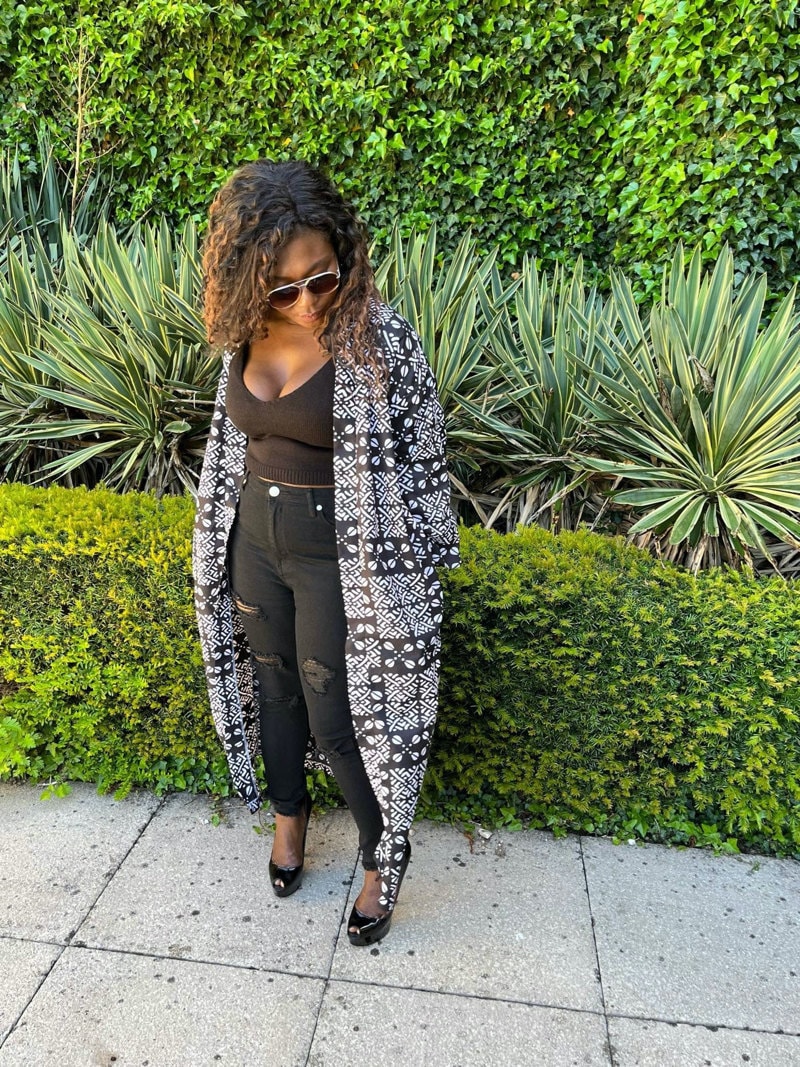 SHOP: Oversized ankara kimono from Colour Me J, from $84
Why we love it:
A few quality pieces are all your closet needs to keep you feeling chic through the seasons, and this flowy ankle-length kimono from Jocelin Asante is a capsule wardrobe keeper. Lightweight enough for layering and available in a range colorful Ankara prints, we love it styled with a simple jeans and tee combo or paired with a contrasting Colour Me J skirt for a bold pattern-mixing moment.
What Etsy shoppers are saying:
"I have been looking for a kimono like this and had been unsuccessful and disappointed until now! The quality and workmanship is 5-star! I haven't been able to take it off! It's the perfect size and length and perfect for all year round wear. I've received so many compliments and had to recommend Colour Me J to loads of my friends. Thank you so much for adding a gorgeous kimono to my wardrobe!" — TA
A beaded bracelet for him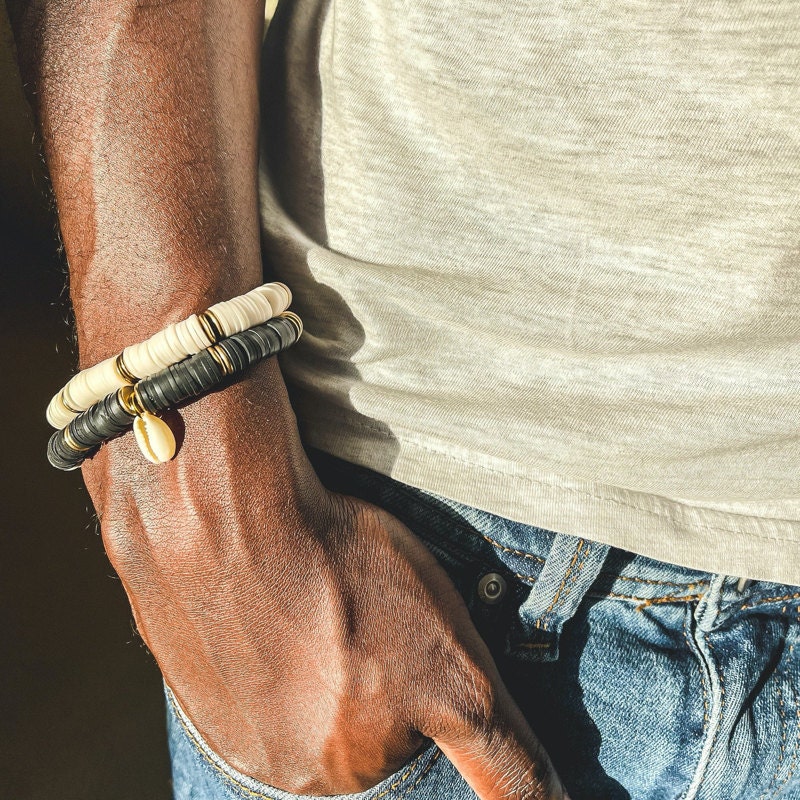 SHOP: Heishi bead bracelets from Atiwo Designs, from $23
Why we love it:
Strung with earthy heishi beads, these African-inspired stacking bracelets designed by jewelry maker Dorianne Attiogbe spotlight the cowrie shell—a symbol of prosperity and wealth. And as a bonus, the extra stretchy strands fit handsomely over bigger hands.
What Etsy shoppers are saying:
"Love, love, love these bracelets. She did an awesome job. Love the color and the fit. Highly recommend these." — JJ
A customizable crochet scarf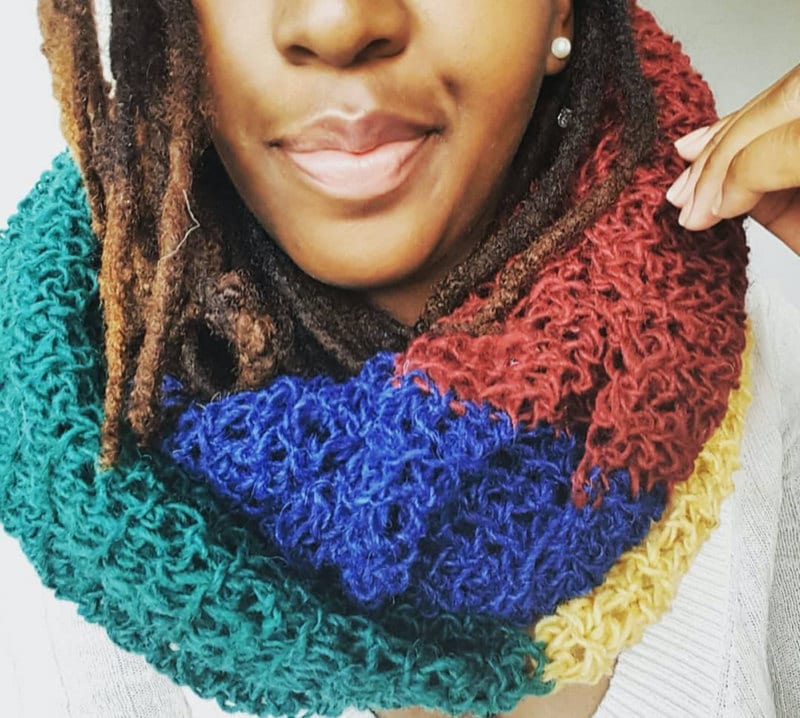 SHOP: Custom crochet infinity scarf from FAMEousJ, $28
Why we love it:
With the option to choose colors and patterns to your liking, this infinity scarf, hand-crocheted by self-taught maker Chanel Jaali, is as unique as you—and warm and snuggly to boot.
What Etsy shoppers are saying:
"Absolutely amazing! This scarf is so plush and thick that it can withstand harsh weather, all the while keeping you fashionable. I purchased it to complement my sorority, Sigma Gamma Rho, Incorporated, and look forward to rocking it at events!" — TH
A tie that honors heritage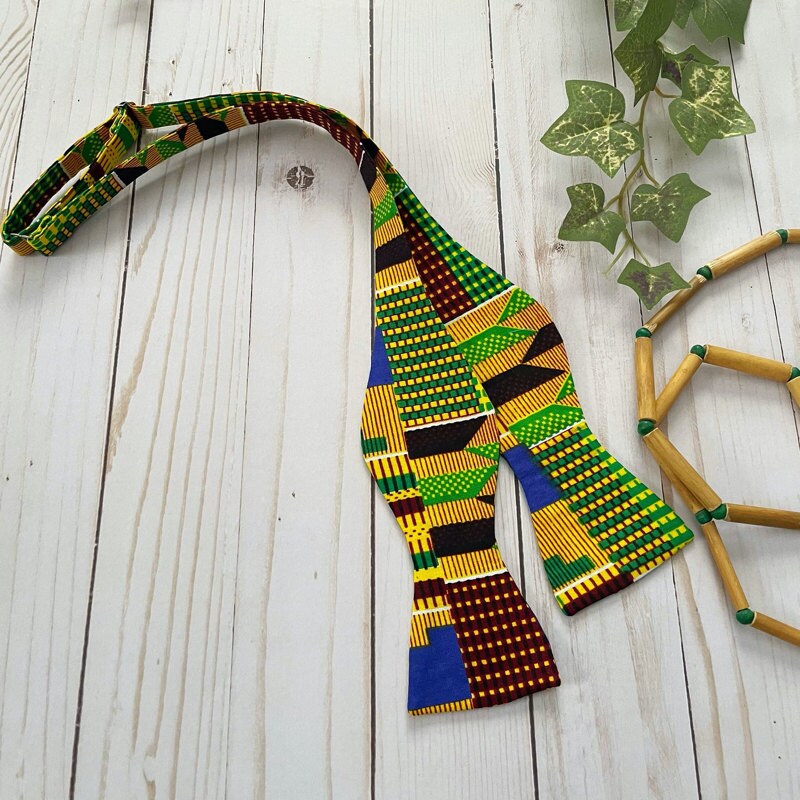 SHOP: Kente bow tie from Handsome Jimmy, $25
Why we love it:
Dapper gents can carry their heads high sporting an authentic African kente tie from Alicia Nabors. Full of handmade love and ancestral pride, these colorful cotton cloth stunners will not only help him suit up in style, they come in both self-tie and pre-tied varieties for ease of use.
What Etsy shoppers are saying: 
"I have a large bow tie collection (70+) . The two that I ordered from this artist are made of top quality fabric, which makes all the difference in tying the bow. Add to that the speed it was received and the personal note from the artist, and this is a company I'll be returning back to." — MP
Handsome homewares from Black-owned Etsy shops
A well-crafted candle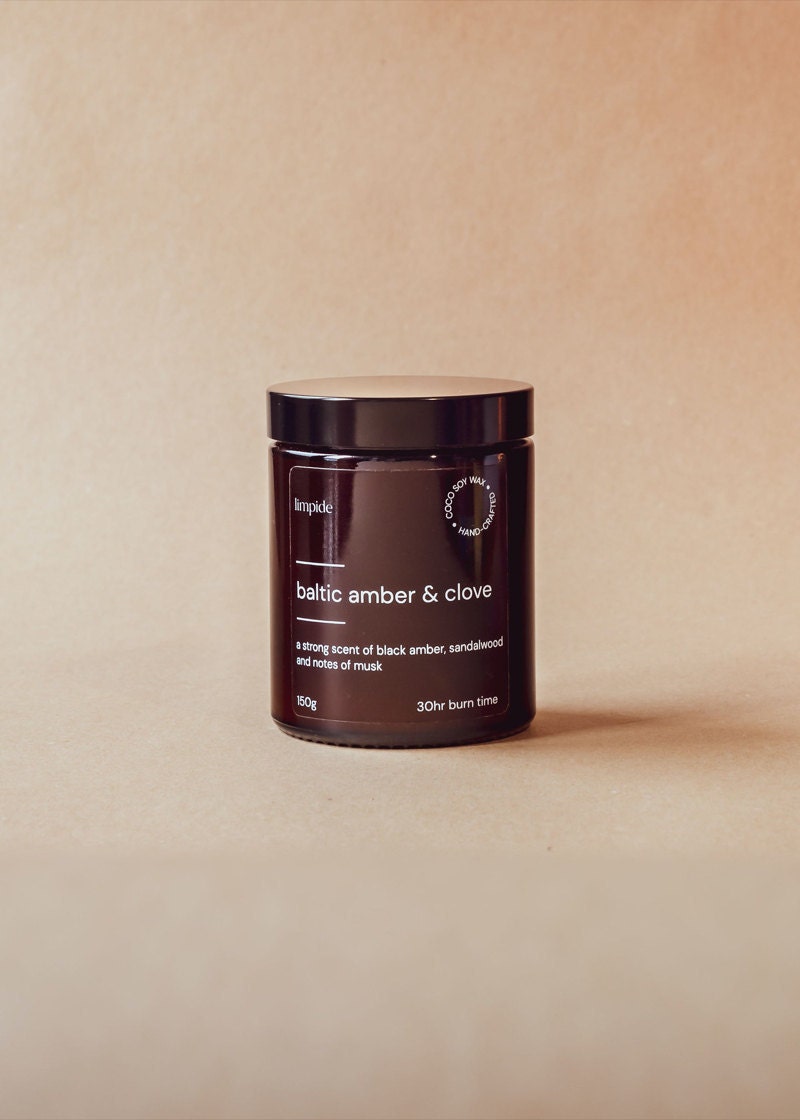 SHOP: Hand-poured soy candle from Limpide Candle Store, $21
Why we love it:
Featuring a soul-soothing blend of familiar scents like vanilla and sandalwood, this soy wax candle created by fragrance aficionado Ludovic delivers an instantly warming ambiance to any cozy-at-home setup.
What Etsy shoppers are saying:
"These candles are gorgeous. The baltic amber and clove scent fills up the room and instantly lifts my mood. I need to try the others now. I highly recommend!" — EJ
Art that centers Black men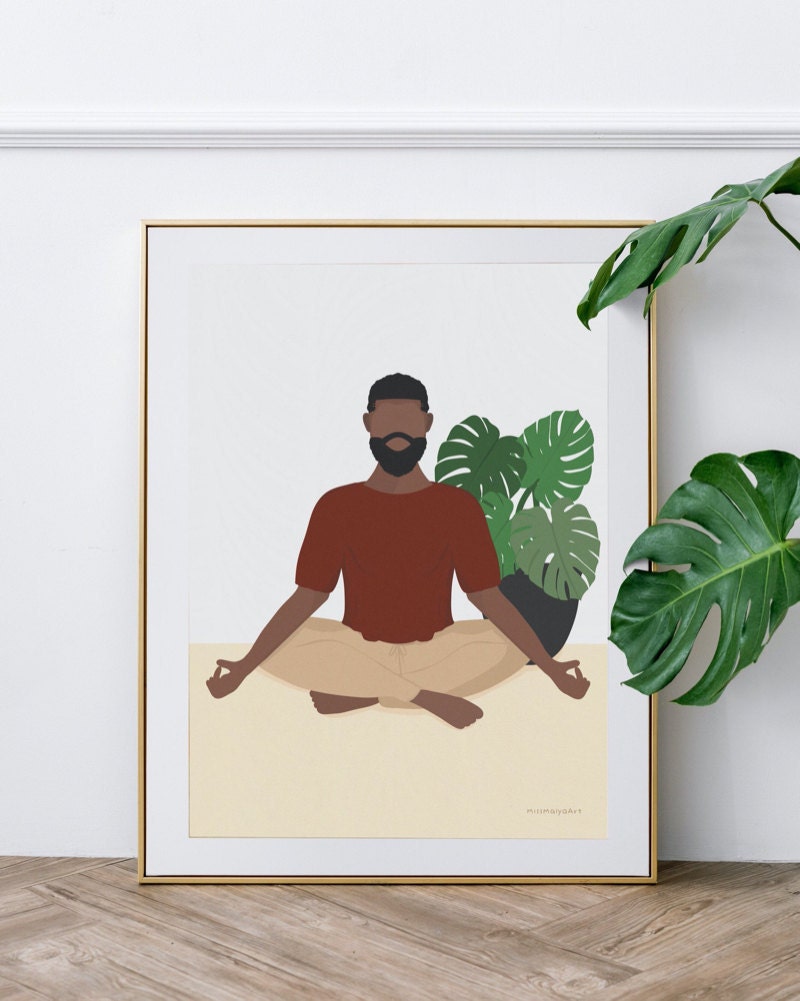 SHOP: Meditating man art print from Miss Maiya Art, from $23
Why we love it:
For anyone who needs a leader to look up to, this illustrated print by Miss Maiya is an inspiring reminder of the beauty, strength, and assurance that come from taking the time to self-reflect.
What Etsy shoppers are saying:
"I love this piece of art. His presence is so powerful I wrote a poem about him. This piece is placed in our bathroom. I wanted my Black son to see a Black man in his power. Mediating and in silence. All my friends and family love it! Great piece of art." — AM
A versatile desk accessory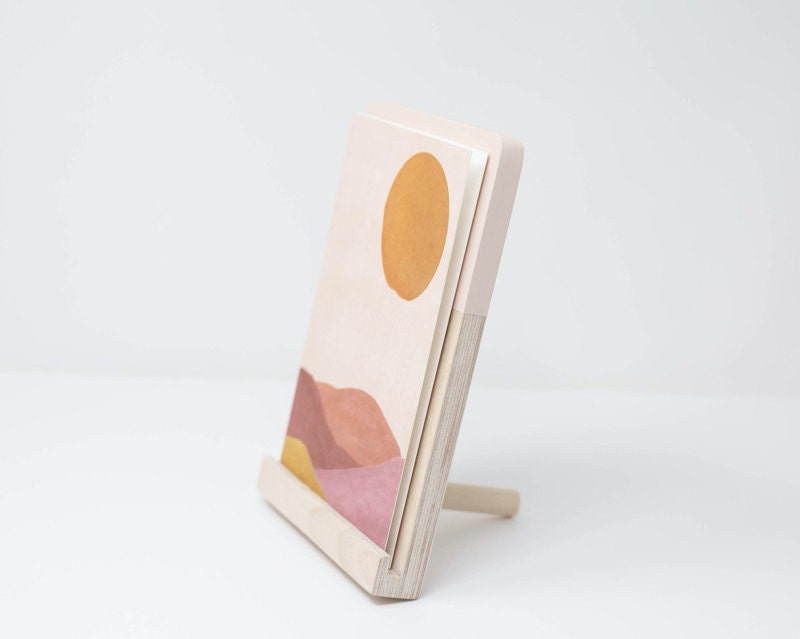 SHOP: Wooden desktop easel from The Heart Department, $32
Why we love it:
Whether it's a family photo, a handy calendar, or a pretty postcard you want to gaze at every day, a color-blocked clipboard easel from Tanalee Lavern is a modern way to display a mini dose of motivation on your desk.
What Etsy shoppers are saying:
"Business owner Tanalee is a great craftsperson and Etsy seller! The Heart Department clipboard is unique, stylish, and of high quality material. I'm using it to prop up my sticker book. Most definitely will be buying more for work, etc. I'm spreading the word to family and friends because the product is that great! Please purchase to your heart's content and your heart will be full when you receive your clipboard." — AG
Fabulous fiber art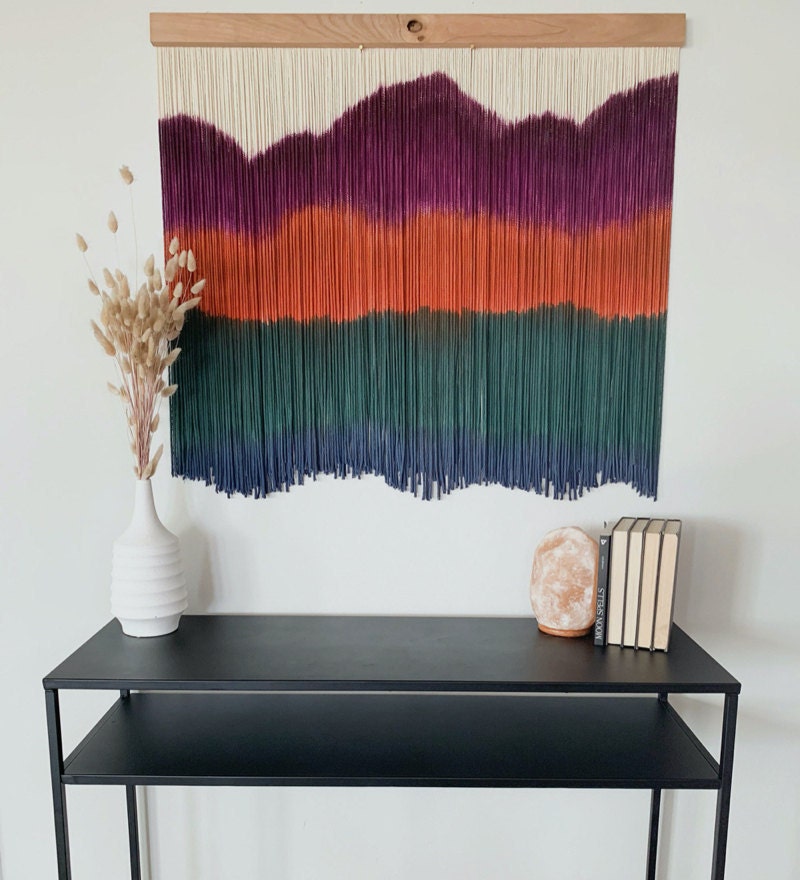 SHOP: Large dip-dyed fiber art from J. Durán Art + Home, from $165
Why we love it:
Whether you're drawn to colorful waves or an earthy, organic ombré, each dip-dyed design from textile artist Jay Durán is its own unique conversation piece that can be customized to fit your decorating scheme.
What Etsy shoppers are saying:
"This piece is bold and beautiful yet natural and calming. I absolutely love it! It was very well packaged and super easy to hang. My special request of staining the wood a darker color was honored, and I couldn't be happier. Thank you!" — LH
An appealing apron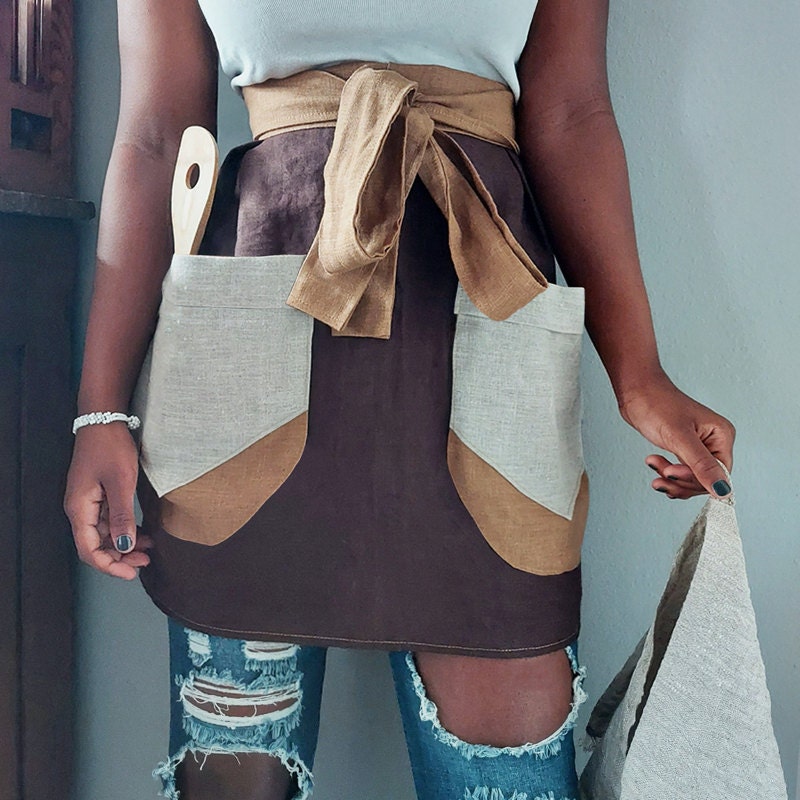 SHOP: Pocketed linen half apron from Crue Home, $72
Why we love it:
Featuring two roomy pockets and an adjustable double-wrap waist tie, this lovely linen apron from Jessica Dewberry may just inspire you to do a twirl or two around the kitchen. The culinary staple is not only functional (it offers plenty of space for stirring spoons, recipe cards, and more), but it also boasts a retro flair that'll make an afternoon of meal-making feel like a celebration.
What Etsy shoppers are saying:
"The apron is amazing and the quality is great. I absolutely love the waist tie; it wraps around with room to spare. It makes me feel like I should be drinking champagne and baking." — LM
A mug to hold onto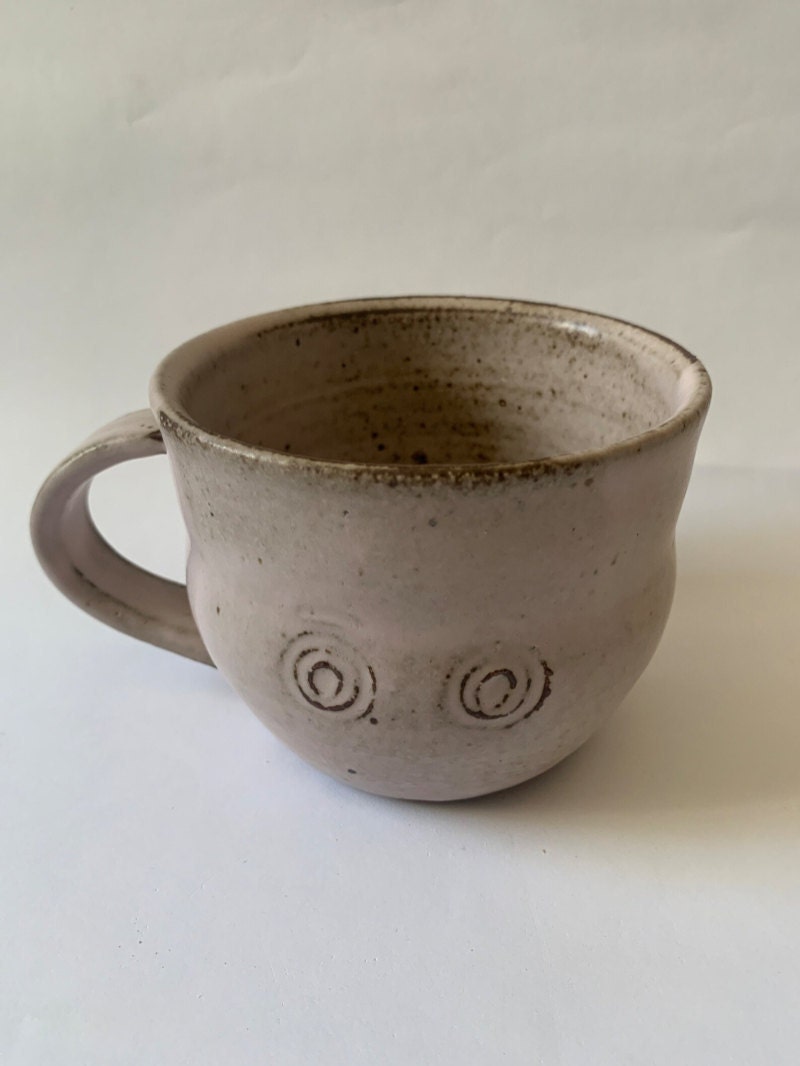 SHOP: Handmade ceramic mugs from CLAY, by Kimberleigh, from $28
Why we love it:
Sipping a toasty beverage from your favorite mug is among life's sweetest, simplest pleasures, and once you've found the one, you'll never want to let go. Lucky for you, each hand-thrown stoneware cup by talented ceramist Kimberleigh Aarn is crafted with care to cultivate cozy vibes time and again.
What Etsy shoppers are saying:
"I love this beautiful mug! I happen to be sipping tea from it right now. I really appreciate the slender rim and the way she formed it so that when you sip, you don't drip. Very clever design! The shape is very comfortable in the hand, and the natural matte texture is so lovely and unique. Just a great piece all around, and I look forward to enjoying more of her wonderful works in the future!" — SB
A convenient catchall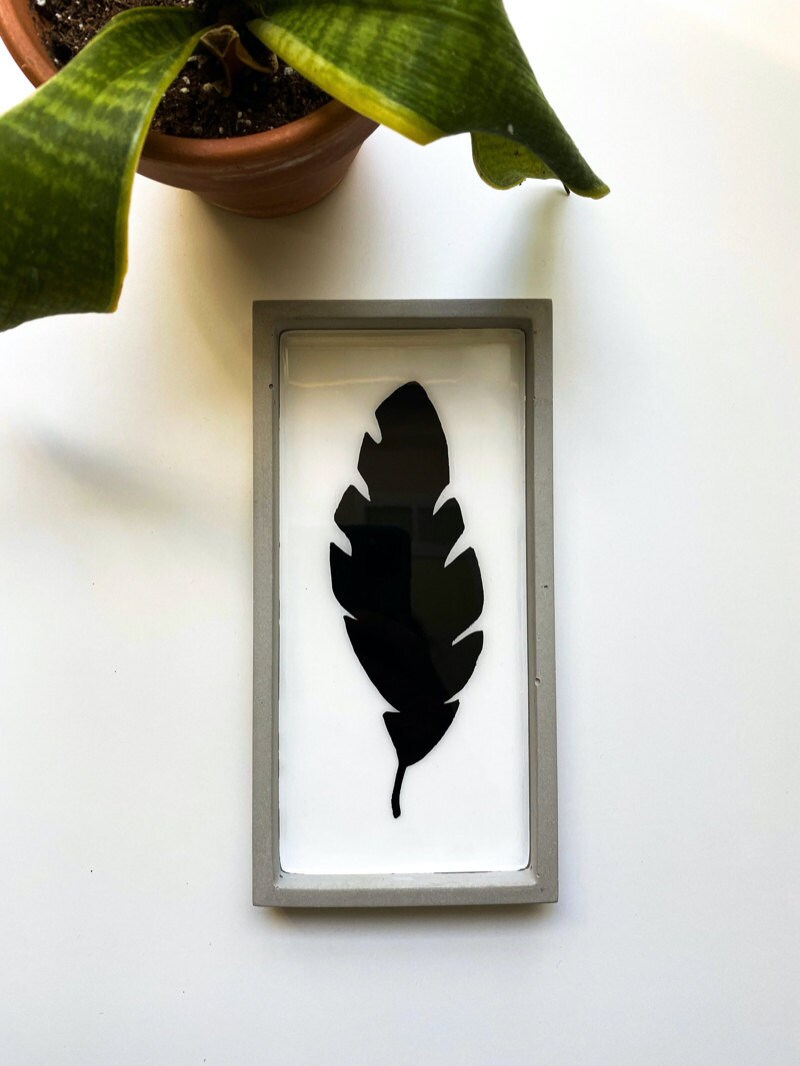 SHOP: Concrete valet trays from Tara Jayne Designs, from $25
Why we love it:
If you ask us, home goods designer Tara Warrick's sleek, sophisticated line of concrete catchalls and coasters are proof that organization and decoration can go hand in hand. Hand-painted with delicate leaf drawings and color-blocked geometric shapes, each tray can be appreciated for its talent for tidying or admired purely as a conversation piece.
What Etsy shoppers are saying:
"So nice, and well worth the purchase. I mean, this thing is so elegant! I used this one to organize memory cards and batteries after a long day of shooting wedding and portrait photography. The best part is when it's empty, it's so beautiful! I bought two and am plotting on another." — HC
A print with purpose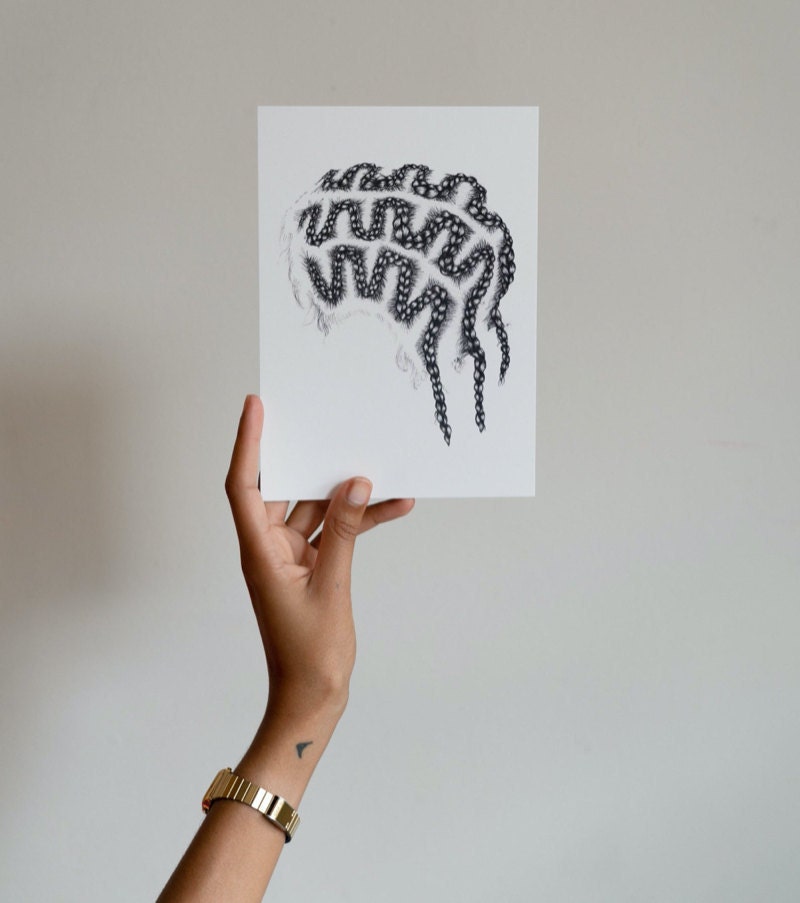 SHOP: Zigzag art print from BIBANABI, $19
Why we love it:
Habiba Nabisubi's stunning hand-drawn prints are more than just a frame-worthy find for your wall; they're a celebration of all the love, culture, and care that goes into styling Black hair.
What Etsy shoppers are saying:
"I could not be happier with these pieces! They are all so beautiful and I've gotten nothing but love from everyone who's seen them. You are truly a phenomenal artist and it's a pleasure to have your work in my home." — AM
A hanging home accent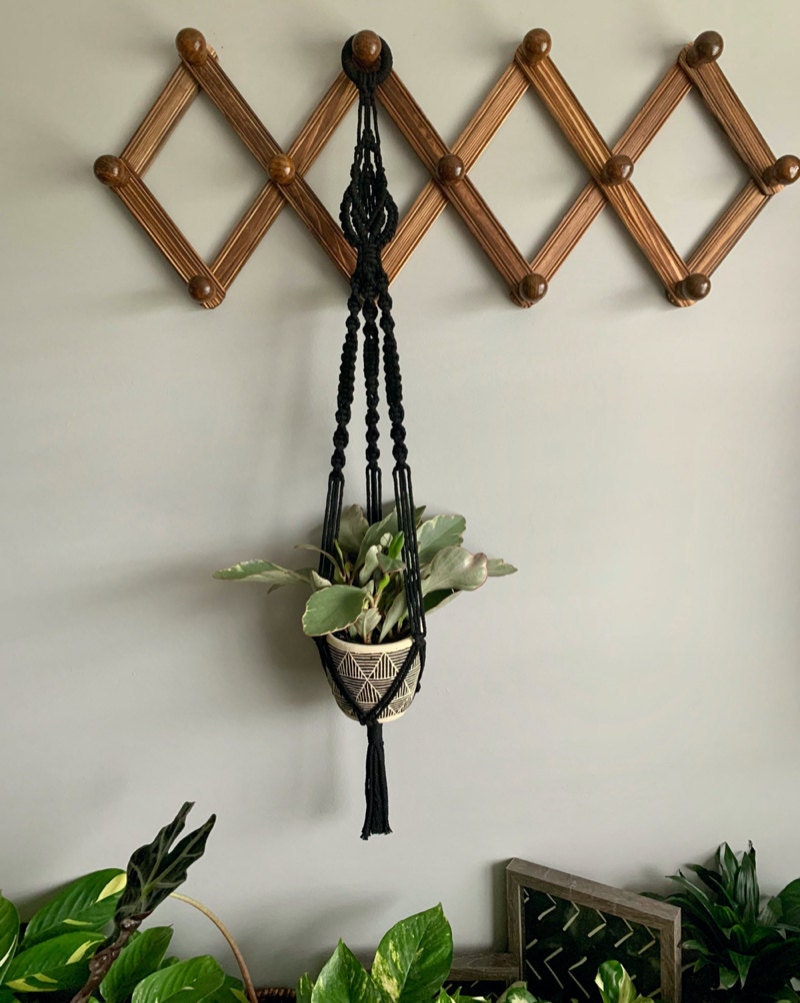 SHOP: Macrame plant hanger from Knot a Game, $30
Why we love it:
Knotted by hand from sturdy cotton cord, fiber artist Iola Lee's gorgeous macrame plant hangers are a naturally boho-chic way to greenify any nook, cranny, or corner of your living space.
What Etsy shoppers are saying:
"These will look amazing on my back porch for my plant babies! They were beautifully packaged, the craftsmanship is perfect and the quality is great! Love them, thanks!" — DC
Self-care staples from Black-owned businesses
An at-home spa day experience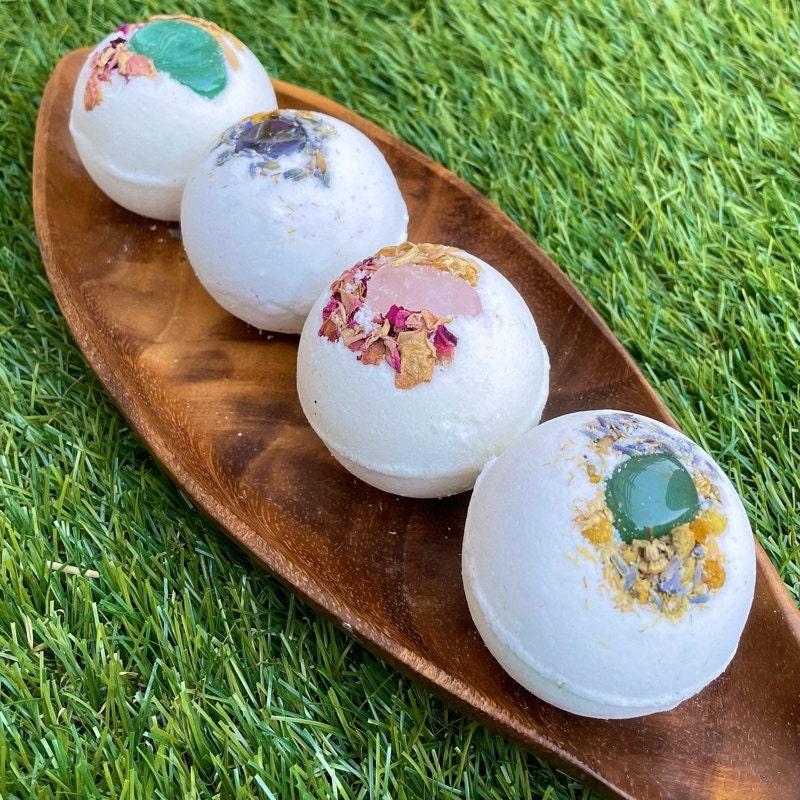 SHOP: Crystal-infused bath bomb from Beach Bum Wisdom, from $7
Why we love it:
A bit of personal pampering is the secret ingredient to starting a self-care journey. Infused with a luscious blend of essential oils like lavender and orange, embedded with a crown of dried flowers, and topped off with a polished crystal, these beautiful bath bombs from Naima Woodson make everyday feel extra.
What Etsy shoppers are saying:
"Absolutely divine. I purchased two bath bombs to go on a mom's weekend with my sister. The dried flowers were very easy to clean out of the tub, the fizz was awesome, and the crystal was an absolute bonus. What I didn't expect was the body oil in the bath bomb, and oh my god that was the best part. I highly recommend these to anyone who just needs to chill. They are top-tier." — KW
Eye-catching nail art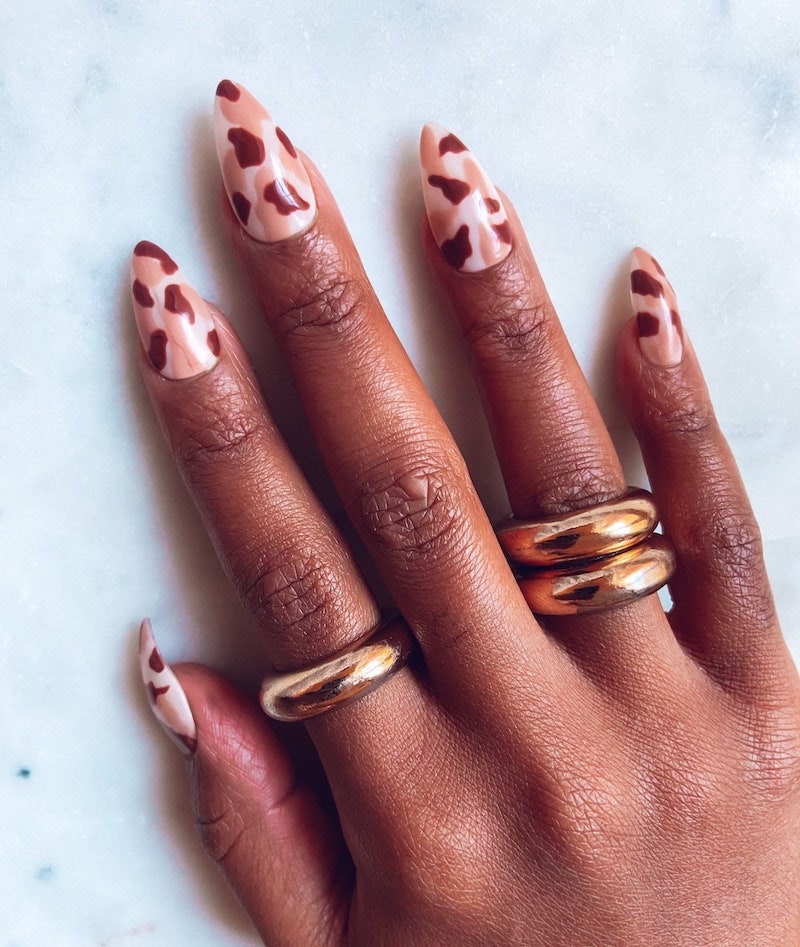 SHOP: Custom press-on nails from Sidney Shanae Company, from $28
Why we love it:
Elevating your nail game is as easy as press-and-go with gorgeous handmade sets from Sidney Shanae Walker. Not only does each kit come in shapes that range from medium almond to long stiletto, but the talented artist even offers custom paint-jobs to match your personal taste.
What Etsy shoppers are saying:
"Sidney ALWAYS knows what to do when it's time to get creative. Her customer service is impeccable and her designs are one-of-a-kind! I'm constantly getting compliments and I'll never be too shy to say, "Oh these? They're Sidney Shanae Nails! Here's her Etsy!" — SD
A cream for coils and curls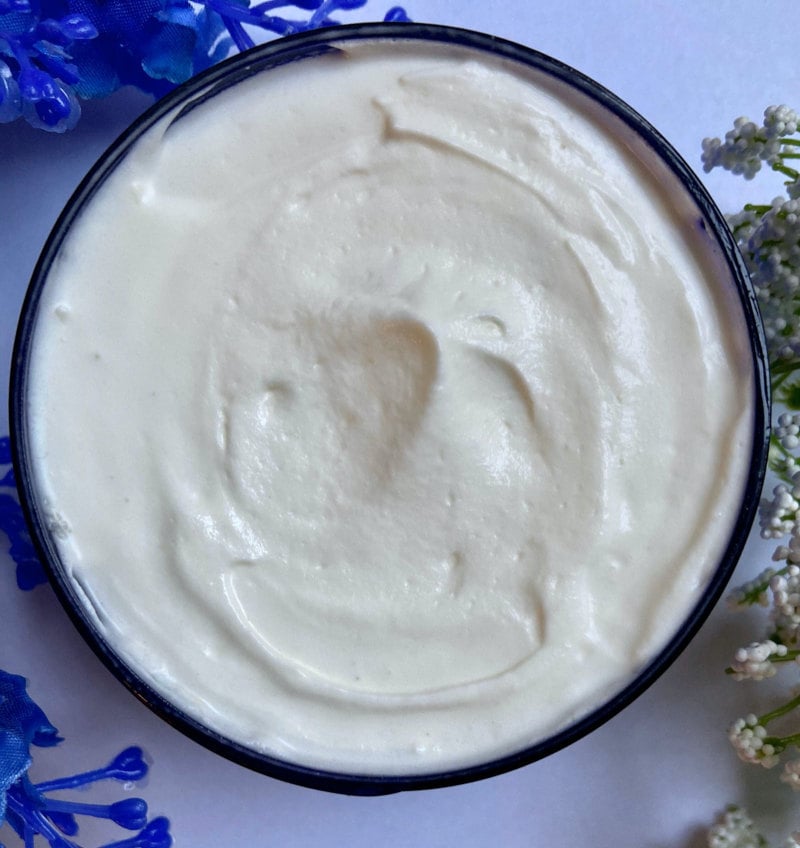 SHOP: Whipped mango and cupuacu butter from Lena Love Naturals, from $18
Why we love it:
With an ultra-rich, whipped consistency and a silicone- and paraben-free ingredient list packed with strand superstars like raw mango butter and avocado oil, Antoinette Moody-Polnitz's decadent butters are a treat for textured tresses ranging from wavy to 4C—and great for the skin, too.
What Etsy shoppers are saying:
"Listen, you can't go wrong with any of these butters! Your hair will love them all and stay moisturized for, at minimum, one week. Great service and quality every time I place an order." — JJ
A hair-saving hat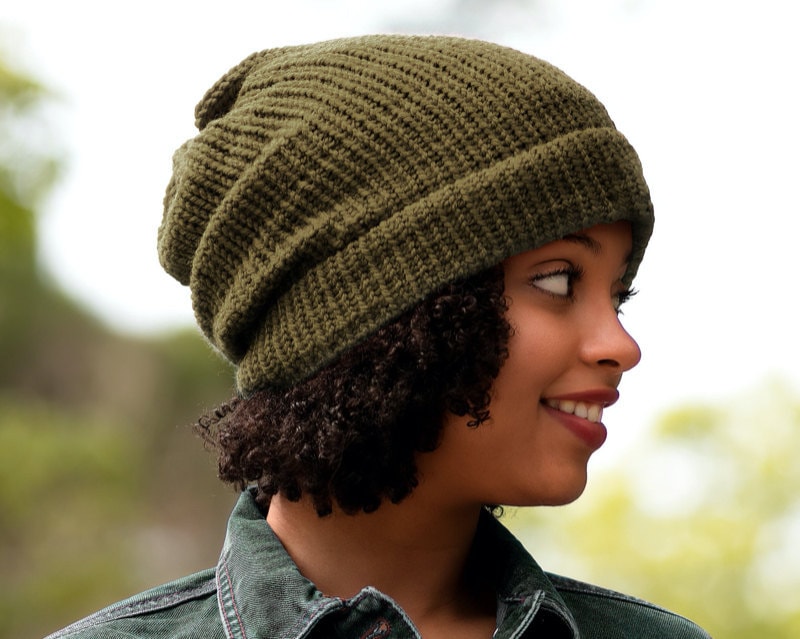 SHOP: Satin-lined knit beanie from Breezy Tee, $54
Why we love it:
Loyalists of creator Brie Moore's popular line of T-shirt towels, turbans, and twisty headbands swear by the smoothing effect of her carefully selected fabrics on coils and curls, and her selection of beanies are no exception. Knitted with a warm wool blend for bonus coziness and lined in silky soft satin, these protective hats keep moisture in and winter shivers out.
What Etsy shoppers are saying: 
"This hat is exceptionally well made, warm, and comfortable. It doesn't leave those awkward lines on one's forehead. My curly hair does not get all fizzy, and looks nice after wearing it. I have NEVER had a hat that didn't make my hair look like a total disaster, so I gave up on hats. I LOVE it! Thank you for making such a great product." — JP
Sumptuous bath salts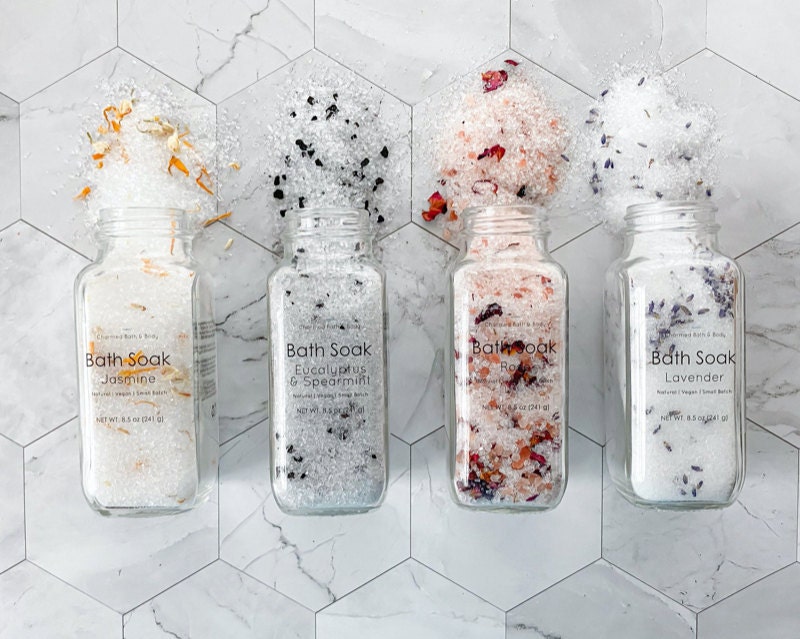 SHOP: Bath salts from Charmed Bath Body, from $10
Why we love it:
When it comes to nurturing the self, it's all about ambiance. And thanks to Charmeas Headen's best-selling bath salts, you don't even have to leave your house to take your senses on a luxurious trip. Simply sprinkle the essential oil-infused crystals in the tub, and instantly transport yourself to fragrant fields of lavender, jasmine, and eucalyptus.
What Etsy shoppers are saying: 
"The bath salts are great. I especially like the rose scent, though the jasmine comes in a close second! Items definitely met my expectations." — JV
Masks that make a statement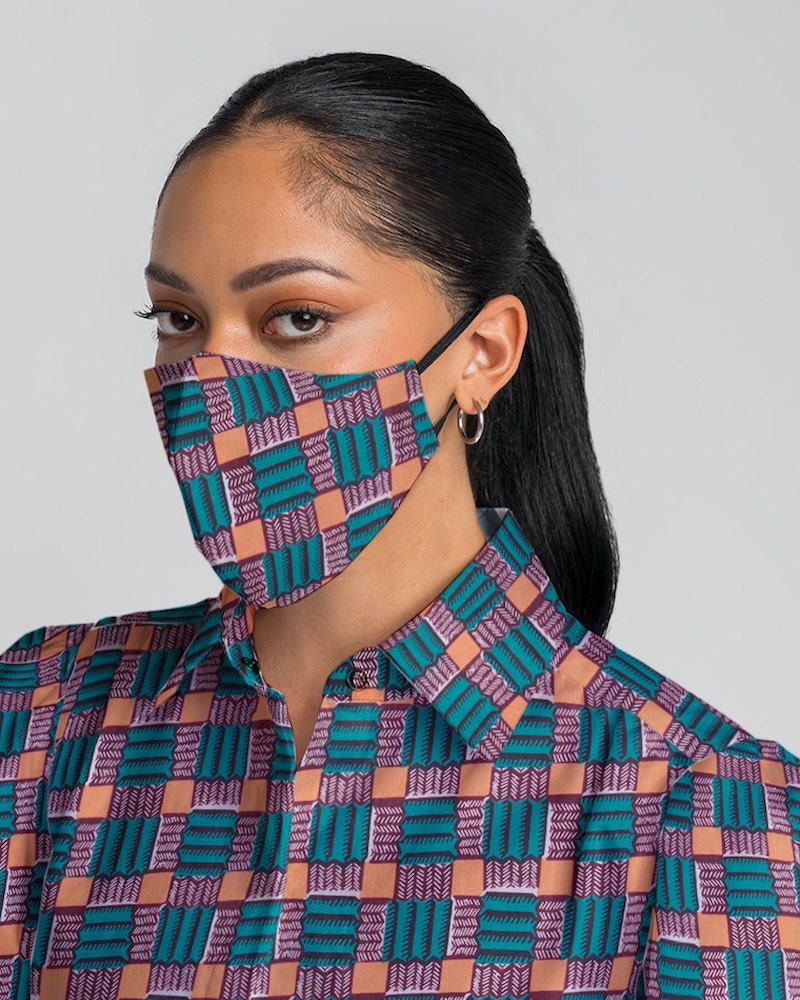 SHOP: Set of 3 face masks from DEMESTIK, $50
Why we love it:
Reuben Reuel's fashion line has been turning heads with its vibrant printed fabrics since 2012. Lucky for us, the pattern-loving designer has added elegantly structured masks to the DEMESTIK collection, so we can strut in style even if we choose to social distance.
What shoppers are saying: 
"These masks are works of art. They are truly sculptured, making the colors and designs dance. I bought them to give to my sister and my niece. Unfortunately, I told them about the order. Now I'm stuck. I have to give them up, as promised! LOL! Guess, I'll just have to reorder! (Mums the word!) All things DEMESTIK are fabulous!" — NW
Self-affirming stationery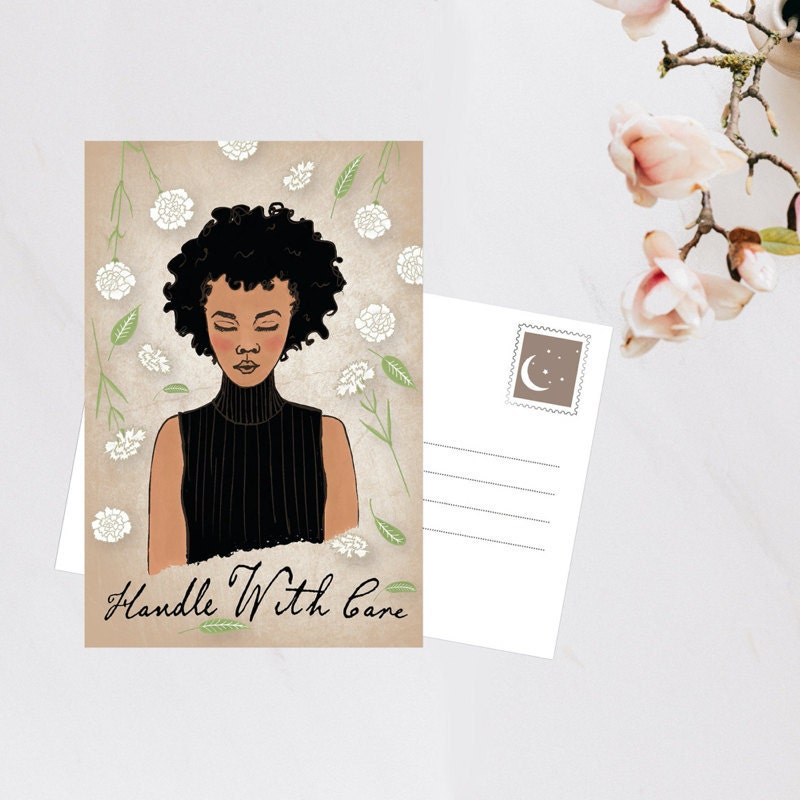 SHOP: Postcard from Ebonii's Moon, $4
Why we love it:
Thanks to Carmen Cardoza's inclusive postcard illustrations and peppy sticker sets, you can tackle everyday to-dos (including all your letter writing) feeling truly seen and celebrated.
What Etsy shoppers are saying:
"This shop will be one of my favorite stationery shops. I've seen some beautiful postcards, and these are just beyond. The details and colors are lovely. I got a sheet of stickers as well and they are so cute. It's just nice to see stationery that looks like me. And I contacted this shop and I got a response right away. Such a pleasant experience. Can't wait to buy more!" — CP
Giftable goodies (for yourself and others!) from Black-owned shops
A culinary keepsake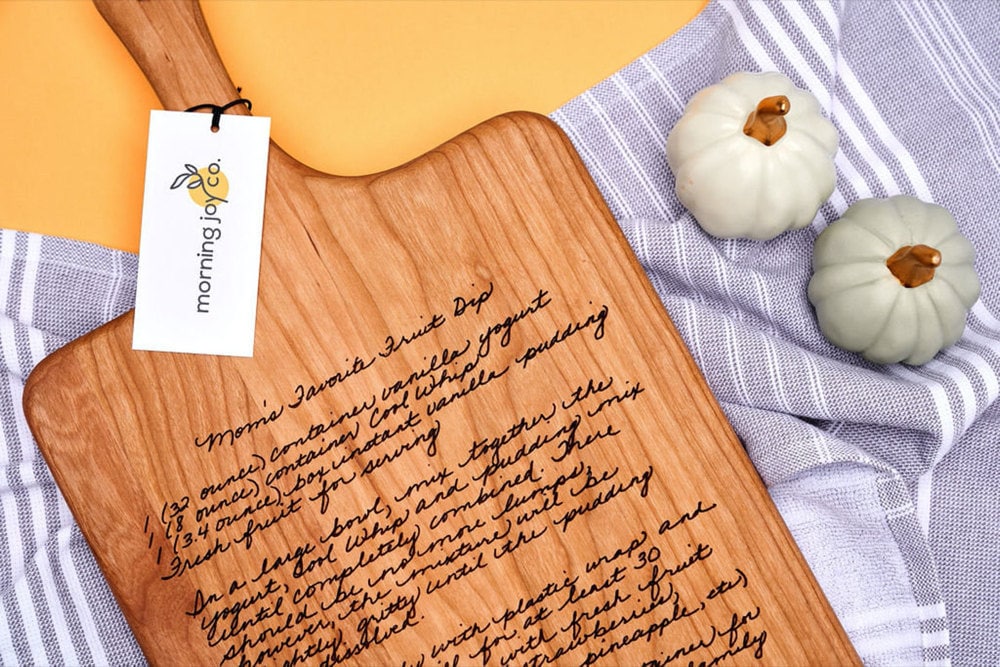 SHOP: Recipe cutting board from Morning Joy Co., $64
Why we love it:
Morning Joy Co. owners Jasmine and Justine Allred laser-engrave beloved family recipes onto sturdy cutting boards (complete with original handwriting), turning an everyday kitchen staple into a display-worthy treasure.
What Etsy shoppers are saying:
"Morning Joy Co. is amazing. Justin and Jasmine were in communication throughout the entire production process. I ordered three of the cutting boards as gifts for my sisters and brother. They turned out exactly what I had hoped for—they serve as a reminder of my mother's beautiful handwriting, and the recipe she used to make when we were sick." — SL
A stellar work of art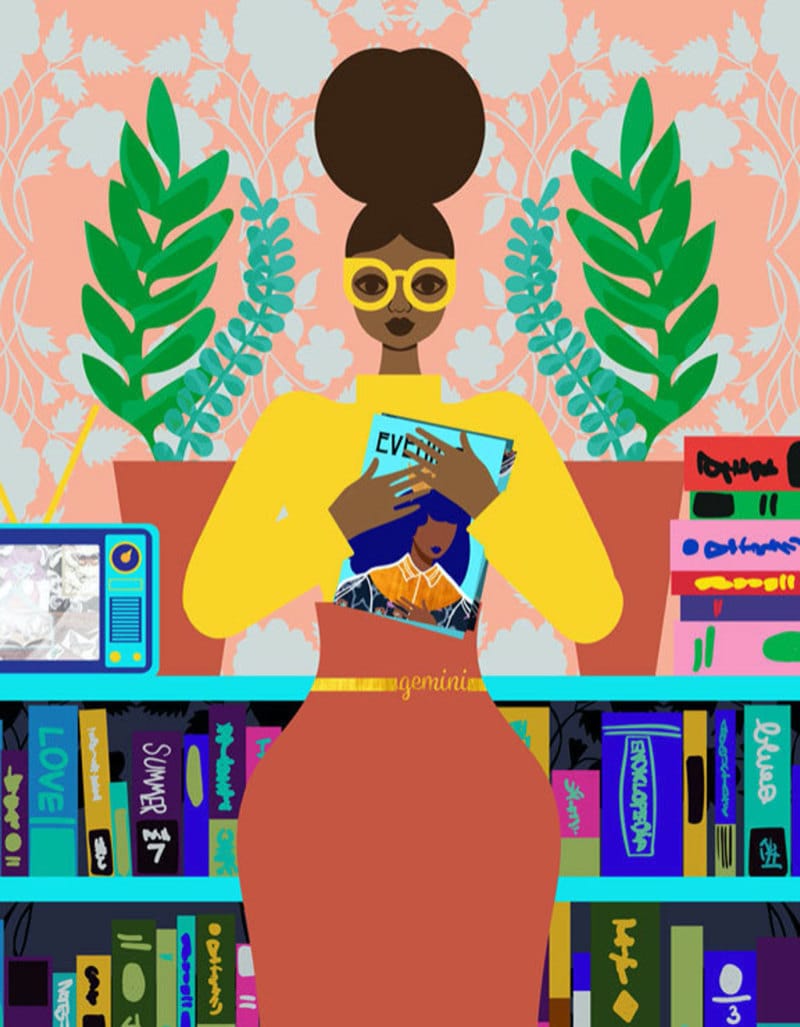 SHOP: Gemini print from The Pairabirds, from $22
Why we love it:
It's hard to choose just one favorite from Tabitha Brown's range of colorful prints featuring Black women reveling in their femininity, celebrating sisterhood, and nurturing their minds and spirits. But with their effortlessly cool aesthetic and playful astrological alter egos, her zodiac-themed pieces are a great way to begin personalizing your gallery wall.
What Etsy shoppers are saying:
"I bought this print as well as three others for a collective girlfriends' gift. All four portraits had elements that showcased each respective friend. We all loved it! Thank you for further contributing to our Black Girl Magic!" —KT
A journal that serves joy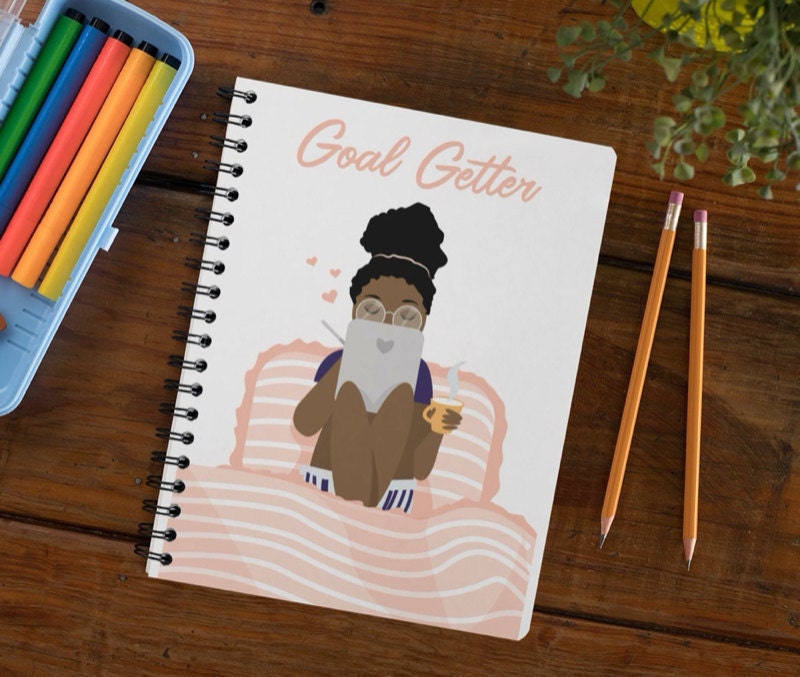 SHOP: "Goal Getter" notebook from Copper and Brass Paper Goods, $10
Why we love it:
Copper and Brass Paper Goods founder Ariel Young set out to create a line of stationery that embraced Black representation. Combining bold, encouraging words with a tranquil pastel palette, her college-ruled "Goal Getter" notebook welcomes your big ideas with page after crisp, blank page.
What shoppers are saying: 
"My granddaughter loved it. She's a diarist at 15 going on 16 and she said the gift was both beautiful and useful." — SA
A happy-hour highlight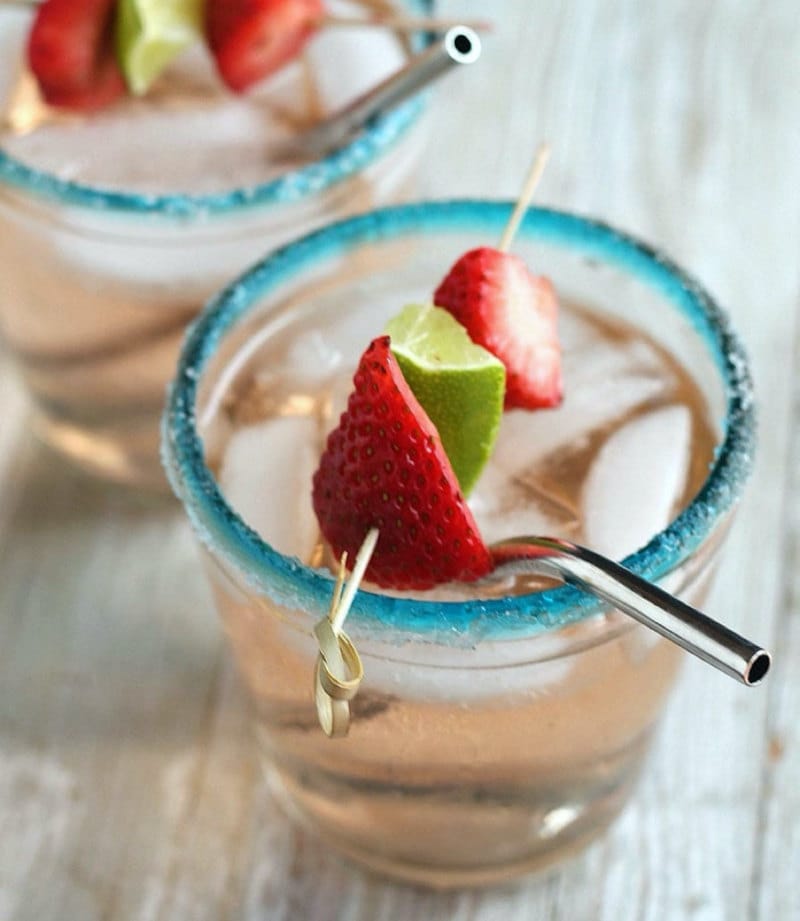 SHOP: Strawberry margarita cocktail infusion kit from InBooze, $18
Why we love it:
Tipplers, rejoice: This strawberry margarita mix, developed by culinary blogger Ashleigh Evans, is big on flavor, and a single packet goes a long way. Each easy-to-use infusion sachet yields eight to ten sugarless servings, so you can stretch one mixology sesh into a weekend's worth of cocktails. Cheers to efficient libations!
What Etsy shoppers are saying:
"I ordered one for myself and another for my cousin. We're both turning 50 this year, and our plan is to celebrate together. Making these drinks will be a perfect bonus!" — JB
Cards worth keeping in a frame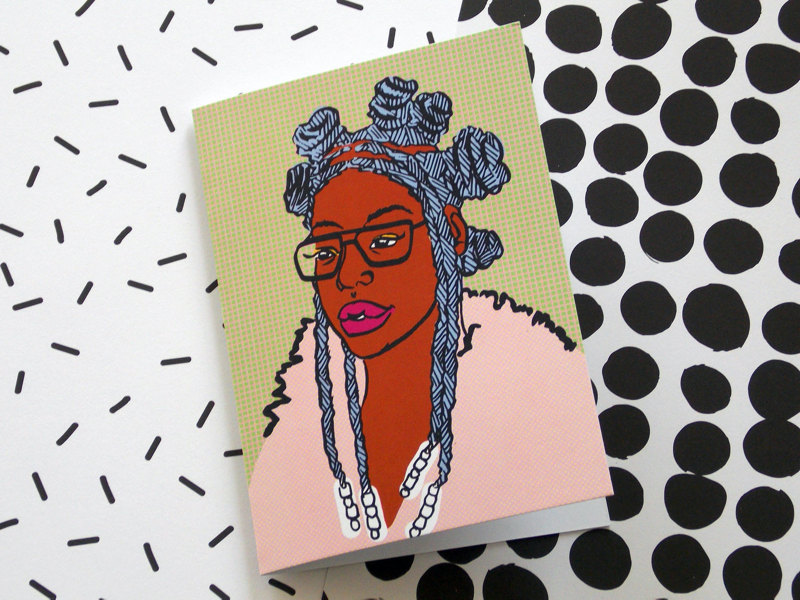 SHOP: Art cards from Dorcas Creates, $4 each
Why we love it:
Adorned with a gorgeous array of Black women accented by bold pops of color and pattern, these hand-illustrated greeting cards from artist Dorcas Magbadelo make an ideal medium for sending out positive affirmations to all your closest crew. But beware: With muses this awe-inspiringly vibrant, you may feel compelled to keep a few for yourself.
What Etsy shoppers are saying:
"The most AMAZING artwork! Colors are vibrant and high quality. I plan to frame them! Artist was very helpful in picking out frame size. Fast shipping with bonus journal! Will definitely buy again!" — CMR
Colorful ear candy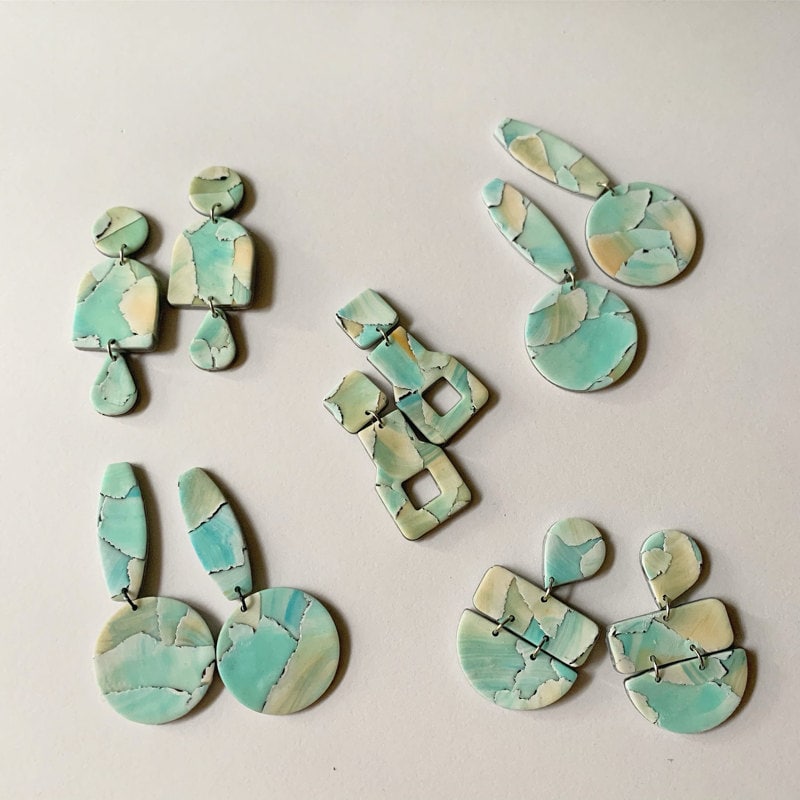 SHOP: Ocean stone clay earrings from Eternal Gems by Karena, $23
Why we love it:
Jewelry pro Karena Sherie has perfected the art of elevating polymer clay earrings with her signature funky shapes, a refreshingly playful palette, and the mesmerizing marbling technique used to create the oceanic effect on these beauties. We think they're a fabulous choice for a splash of everyday opulence, whether for yourself or your fashionable bestie.
What Etsy shoppers are saying:
"What an amazing purchase. The earrings were made with such care. I cannot wait to wear them." — CH
A literary essential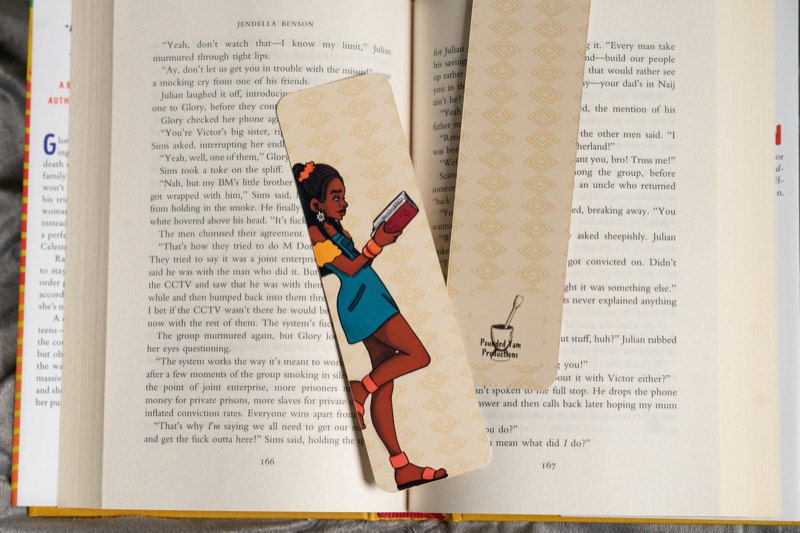 SHOP: Bookmark from Pounded Yam Pro, $2.50
Why we love it:
Practicing shelf love is a whole lot easier with this bibliophile-friendly bookmark, detailed with a charming illustration by stationery superstar Enobong Tommelleo and preserved in a satisfying glossy finish.
What Etsy shoppers are saying:
"Absolutely LOVE the bookmarks! I will be giving one each to my granddaughters as they are now reading chapter books. The artwork is superb! They arrived intact and secure so as not to be bent in the mail. I will definitely be shopping from this Etsy shop again and will recommend it to family and friends. Thank you!" — CS
A divine doll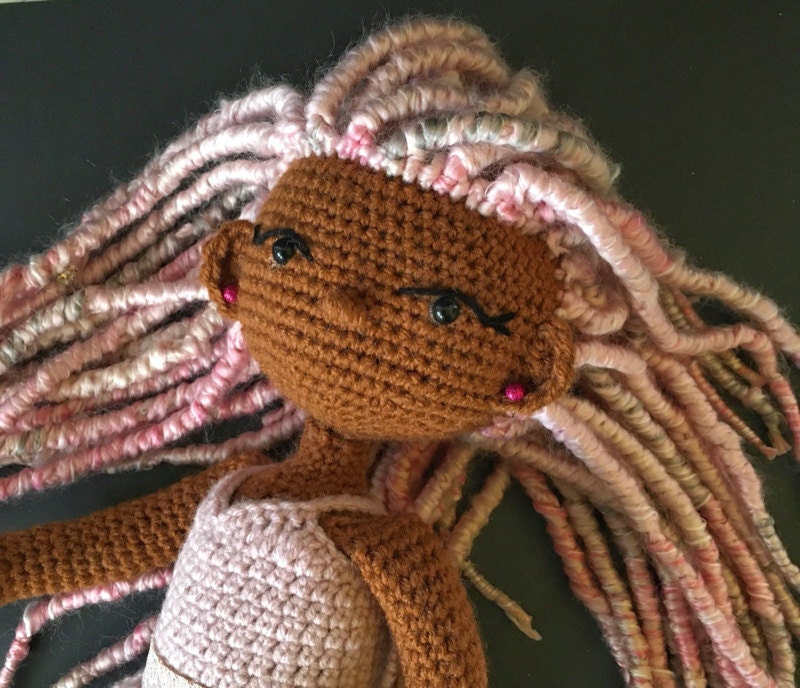 SHOP: Handmade crocheted dolls from A Touch of Blu Designs, from $60, or from $4 for patterns
Why we love it:
Children and adults alike will feel the love in every stitch of a completely customizable crocheted companion by Colletta Peterson. Or if you want to add your own personal touch, try her instant-download patterns, available in options to suit every skill level. 
What shoppers are saying: 
"I screamed out loud and then teared up with joy. I dreamed up this doll but she is way more beautiful than I ever imagined her. Coletta was amazing to work with. She took my concept and brought it to life. All the details were her creativity and inspiration—my idea was just a concept. Her earring-studded elf-like ears...her butterfly wings and belly chain...her hair. Every detail is gorgeous. I will love this doll forever!" — SJO