A black color scheme is a bold wedding choice—here's how to pull out all the stops for a delightfully dramatic, one-of-a-kind event in ebony.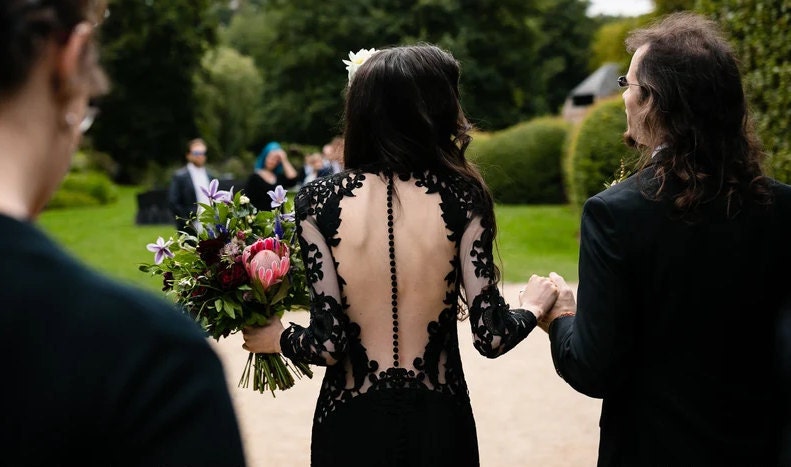 While many brides envision a traditional white wedding, others want something a bit more brooding and dramatic. Choosing your wedding colors is kind of a big deal, and if you're asking yourself, "Can I really have a black-themed wedding?" the answer is a resounding yes, absolutely, most definitely—and it will be incredible!
Black is a great color for weddings for a few reasons—it's elegant and timeless, daring and bold, and it's extra-versatile. A black wedding theme can be formal, romantic, or dramatic, and it can give gothic, boho, or Hollywood glam vibes.
Whether you're dreaming of an all-black wedding or you're considering black as an accent color, pulling together a black-themed wedding is easier than you might think. Small shops on Etsy have everything you need (and then some!) to pull in this striking color for some instant elegance. Let these tips for a black wedding color scheme inspire you to do you, and make your big day as bold and exciting as you are!
1. Announce your big day with black wedding invitations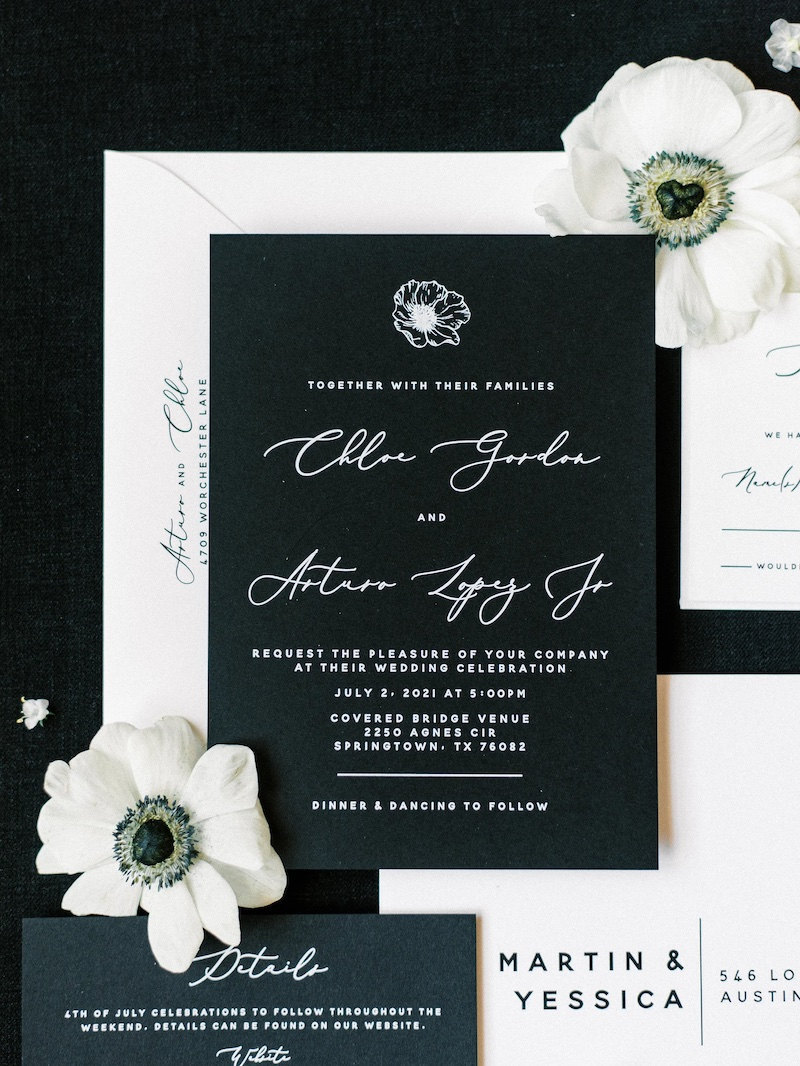 SHOP: Modern black and white Invitations from Brown Fox Creative, from $5
Set the tone for your wedding right off the bat with unique wedding invitations inscribed with inky black accents. This is the spot to let your guests know about any special attire they should wear, too, such as dressing in all-black if you're looking to really set the mood.
Your wedding invitations can be as dramatic or understated as you'd like. Go with white invitations with black lettering or a black-and-white photo—or choose black wedding invitations featuring crisp white or gold lettering. Black velvet invitations are a striking choice for any formal event. Velvet envelopes are a luxe finishing touch for your invitations. If you're feeling daring, send all-black invitations with subtle, raised black lettering for a beautiful, monochromatic look.
2. Wow them with inky wedding wear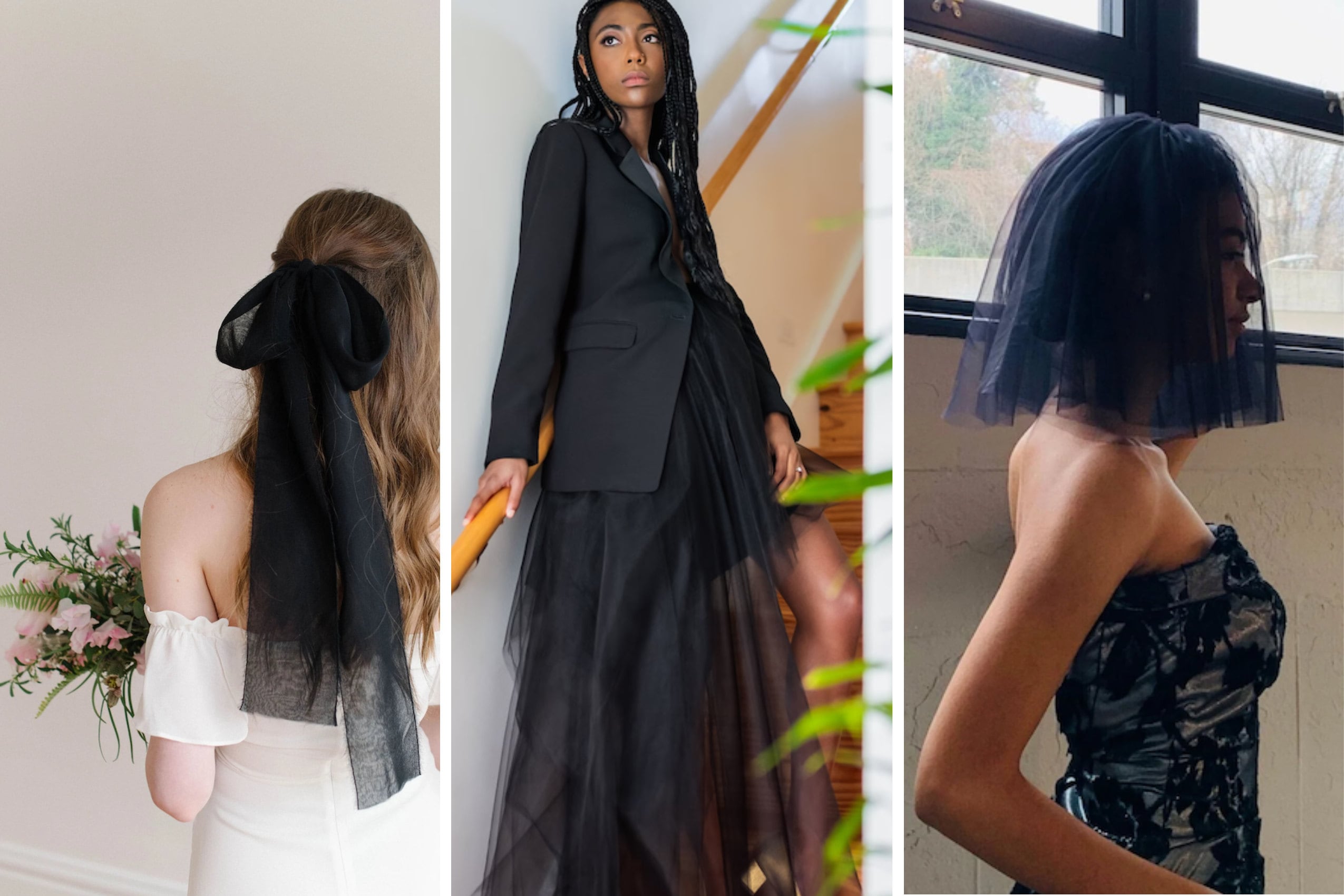 SHOP: (from left) Silk chiffon hair scarf from Stansberry, from $52; asymmetrical tulle skirt from The Lotus Bloom Co, $248; blusher veil- Black from The Lotus Bloom Co, $58
If you're not quite ready to commit to a head-to-toe black wedding dress, no sweat—incorporate as much or as little of this hue into your bridal look as you like. Slip on some black wedding shoes, or go for luxurious accessories like an obsidian pendant, a raven bow for your hair, or a lovely black wedding veil, cape, or shrug to add just the right touch of black. For the groom, choose a pair of bold black cufflinks or a fancy onyx tie clip. Have your ring bearer bring your beautiful, black wedding rings down the aisle tied to a silky, sable pillow.
3. Pick out noir decor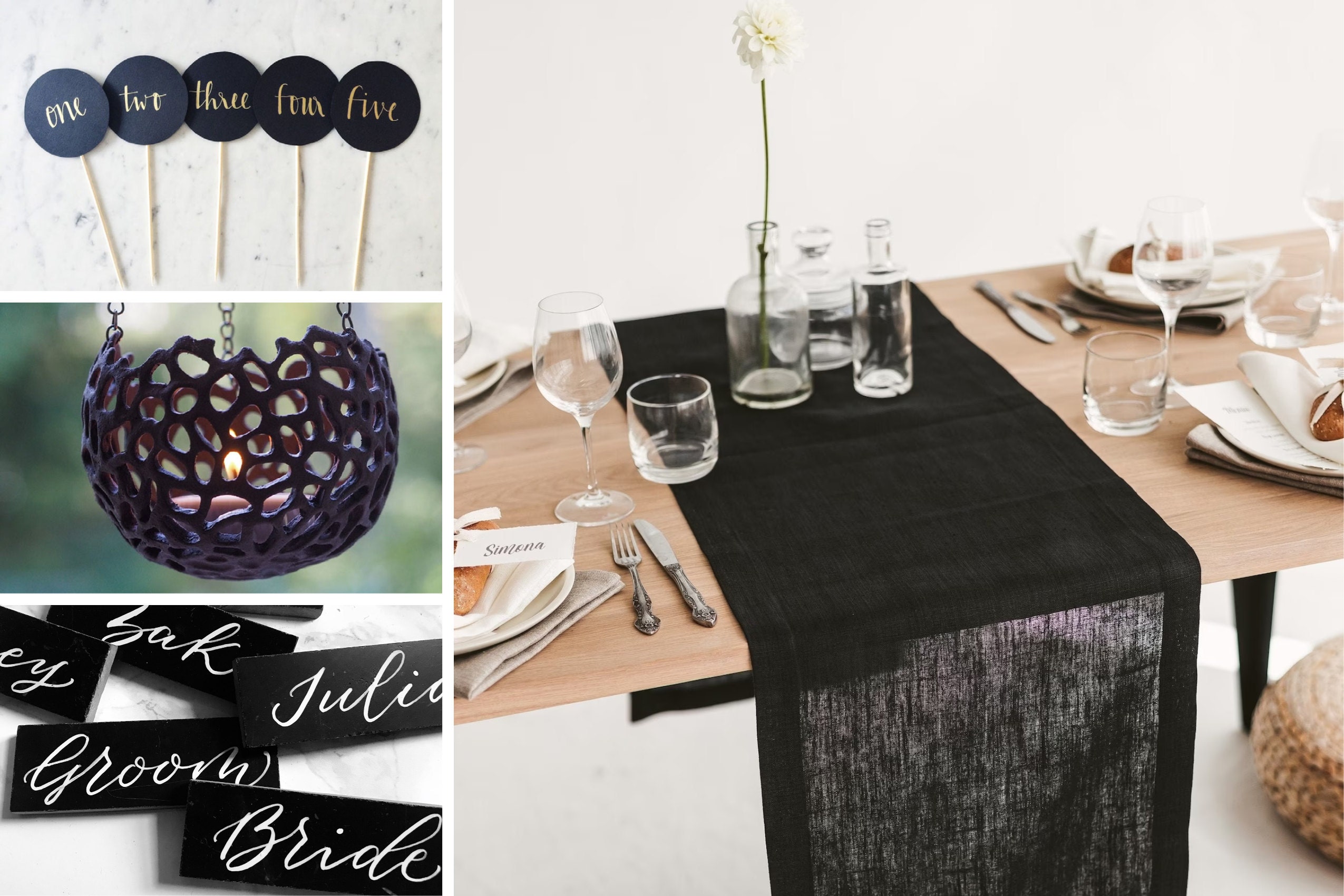 SHOP: (clockwise from top left) Custom round hand-drawn table number from Little Confetti Love, $6; black linen table runner from Thing Stories, from $27; marble tile place cards from Letters from Eden, from $3; and hanging pottery candle holder from Paint My Dream, $190
Carry the sable theme to the reception with black wedding decor. Set the table with black cardstock place cards with white or gold lettering. Black marble place cards can double as wedding favors—Etsy shops can add their names in silver, gold, or white.
Drape your reception tables with black runners, and create eye-popping centerpieces with black ceramic or stone candle holders and black floral accents. Punch up the black with gold, white, or deep burgundy highlights for a nice contrast.
4. Go dark with the floral arrangements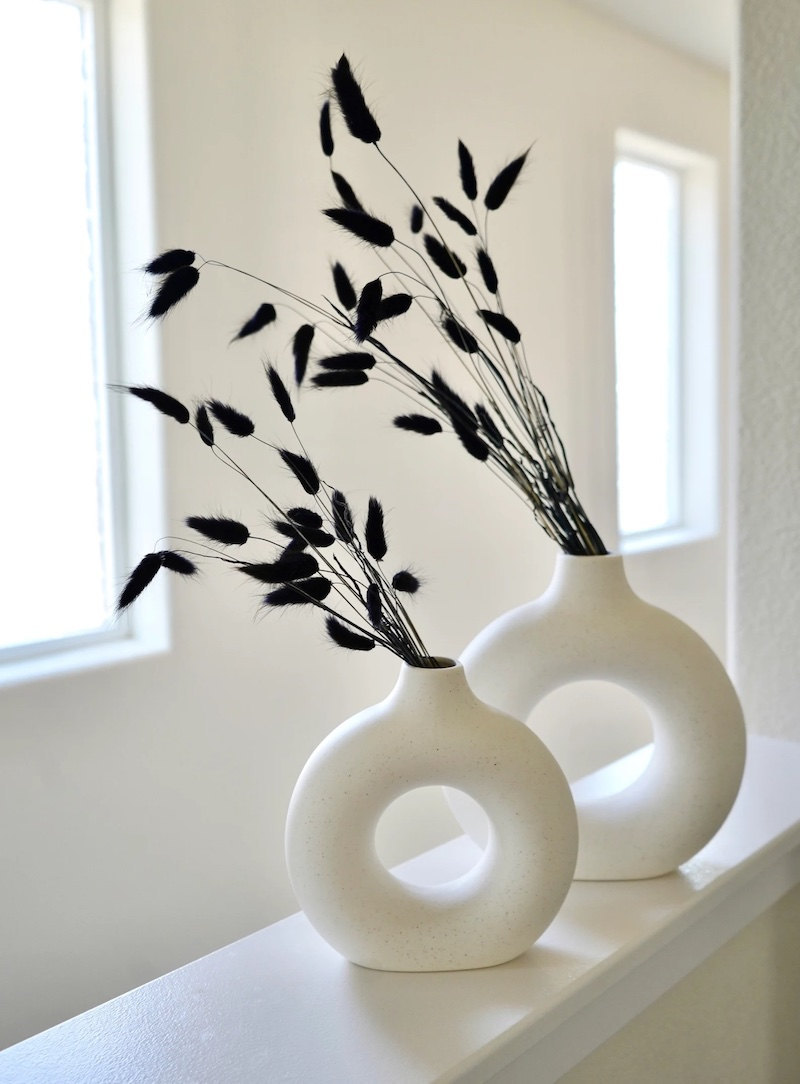 Dramatic floral arrangements always make a bold wedding statement. Since there are no flowers that naturally bloom black, silk flowers are the way to go. Alternatively, you can have fresh flowers dyed black. Add sprigs of baby's breath to very dark floral arrangements for dramatic contrast and depth.
If you have complementary wedding colors, like white, silver, or red, incorporate them into the arrangements, either with real or faux leaves, berries, or feathers. Infuse a softer touch with accent flowers in shades of white or light pink. Other colors that pair beautifully with black include:
Dusty pink or rose gold (romantic!)
Copper or rust (rustic!)
Deep purple or burgundy (moody!)
Jewel tones like emerald, ruby, or amethyst (vibrant!)
Use the same general floral motif throughout, including corsages, bouquets, boutonnieres, and aisle decorations.
5. Serve dark, decadent desserts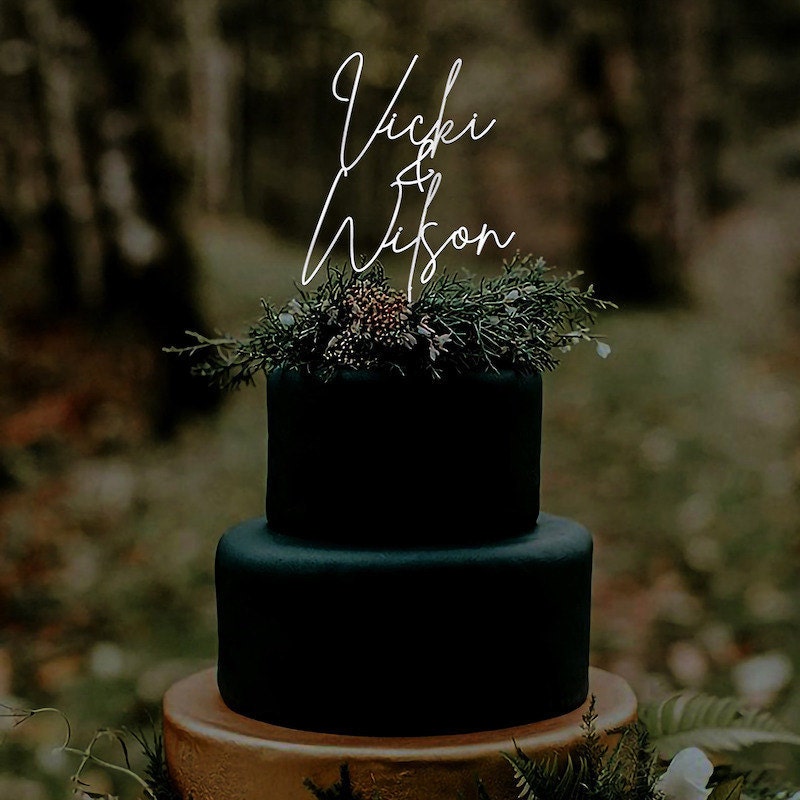 SHOP: Custom wedding cake topper from Rawkrft, from $15
For a minimalist look, top a simple, black wedding cake with a shiny, gold or silver custom topper. For more drama and sparkle, sprinkle on contrasting white or silver edible glitter—or make it a monochromatic masterpiece with black fondant flowers.
Double-delight your guests with some delicious, dark desserts, like fresh, sweet strawberries dipped in melted dark chocolate and covered in glittery candy hearts.
6. Send your guests off with fanciful favors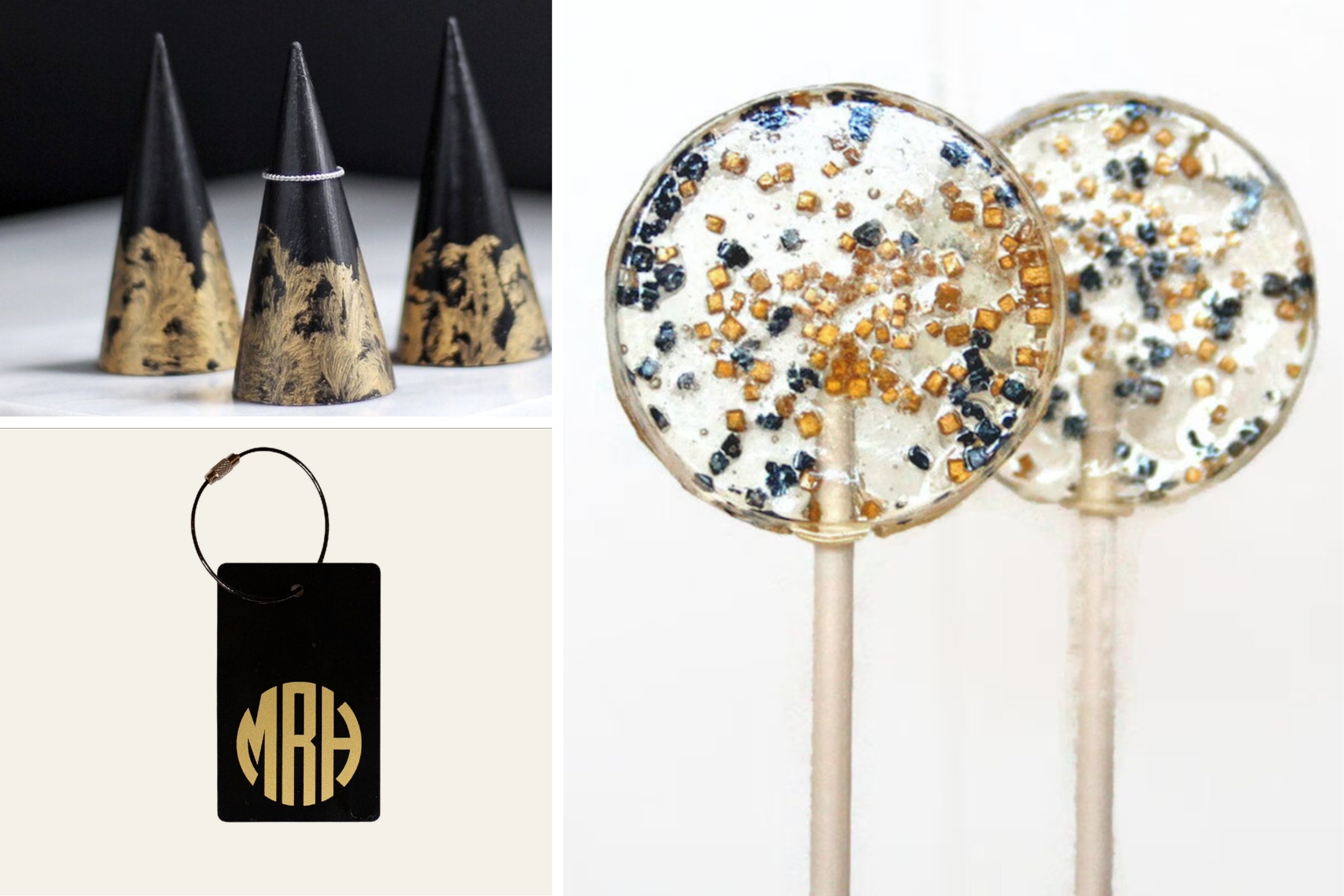 SHOP: (clockwise from top left) Black and gold concrete ring cone from Mind The Minimal, $12; black and gold lollipop wedding favors from Homespun Parties, from $16; and black and gold monogram luggage tag from Special Event Keys, from $10
When the party's over and it's time to bid your guests adieu, send them on their way with black wedding favors. A gorgeous black luggage tag with gold monogram lettering is a handy wedding favor for destination weddings. Monogrammed treat bags filled with black-colored sweets—like dark chocolate-covered peanuts, custom lollipops, or mini candy bars with custom wrappers—make for an extra-sweet wedding guest "thank you."
Whether you want a black wedding theme with a gothic spin or you're leaning toward a black-tie wedding vibe, the small shops on Etsy will help you bring your vision to life with black florals and favors, decor and delectables, and attire and accessories.
Even more wedding inspo from the pros at Etsy: