by c0nniesewer
A heartfelt gift leads two women to Bob Dodd, a remarkable folk artist who spent seventy years turning celluloid fragments into rings.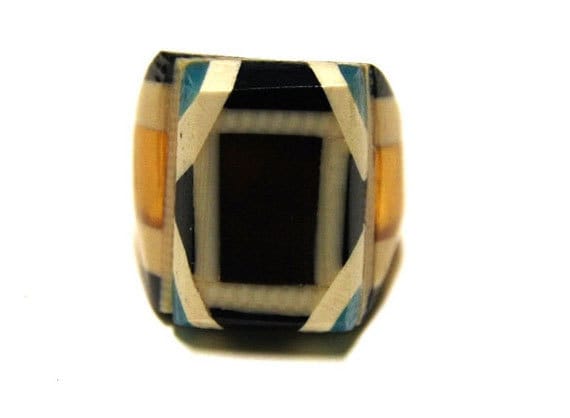 Here at Etsy, we believe that the story behind an object is often just as fascinating as the object itself. Short Stories is our series dedicated to telling the tales behind extraordinary pieces found or created by Etsy sellers. 
Today we're sharing the story of an artistic relationship forged by a love of unusual jewelry. Here's Constance Awenasa, collector of folk art celluloid rings by artist Bob Dodd.
It all started in 2003, when I bought an old celluloid ring from the 1930s or '40s for $150 at a flea market in New York. I wore it every day. In 2005, when I was being treated for breast cancer, my dear friend Kelly came to take care of me after one of my surgeries, and she fell in love with the ring. At the end of her visit, I gave the ring to her in thanks. Of course, I cried because I loved the ring so much! Now here's a lesson in the benefits of being generous of heart: soon after, Kelly did some research on celluloid rings and got in touch with the son of a prolific celluloid ring creator, Bob Dodd. (An important note: Bob did not create my ring.) We received an invitation to visit Bob at his home in Robinson, Illinois. Kelly and I soon visited and fell in love; when we arrived that first day, Bob had 700 rings to show us!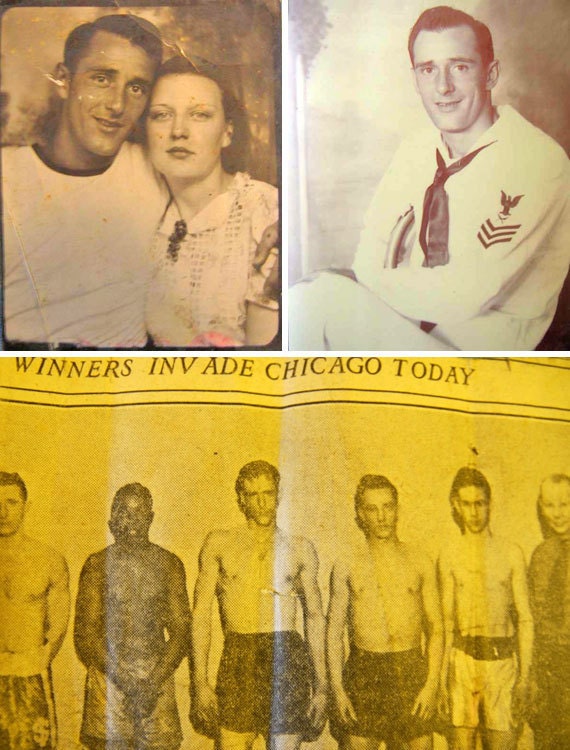 Bob said that when he started as a sailor in 1937, making rings from celluloid was a crafty thing to do, but few people made more than one or two because the process was so time consuming and labor intensive. Each of these intricate rings was made by hand — without the use of molds or melting — by cutting up raw materials such as old celluloid toothbrushes, hand mirrors, vanity trays, combs, piano keys, guitar picks, umbrella handles, pocket knife handles, accordion pieces. (Bob said he once even used a piece from the windshield of a helicopter or small plane.) These pieces are then filed, pieced together, and filed again. This process can take a master craftsman a day or more to complete.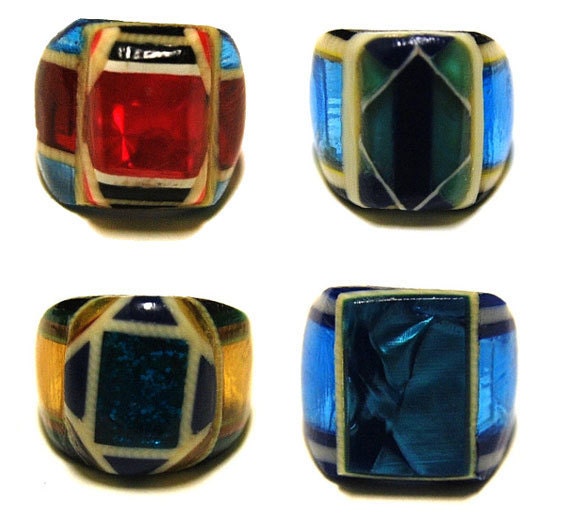 When Bob first began making his rings, he and his brother would sell them to their fellow sailors, and they would often incorporate photos of a sailor's girlfriend or Marilyn Monroe. The rings were popular in his time (but on a much smaller scale, since they didn't have the Internet), although most of what was out there were machine-made rings where one could mail in a photo of a loved one and have it placed on the top of a smooth, black ring. Ultimately, Bob felt proud that his rings made their way across the world with his fellow sailors. He continued to make rings after his military service, but mostly just sold or gave them to people in his small town in Illinois. A little backstory: celluloid is a semi-synthetic plastic that predates Bakelite and began being produced in 1870 to replace ivory. It's worth noting that celluloid mostly died out in the 1950s, when fully synthetic plastics became the norm. Once we met Bob, Kelly and I loved tracking down materials for him. I found a company in the Midwest that had thousands of old celluloid toothbrushes. I bought all of them for Bob, which made his eyes light up; they had become nearly impossible to find.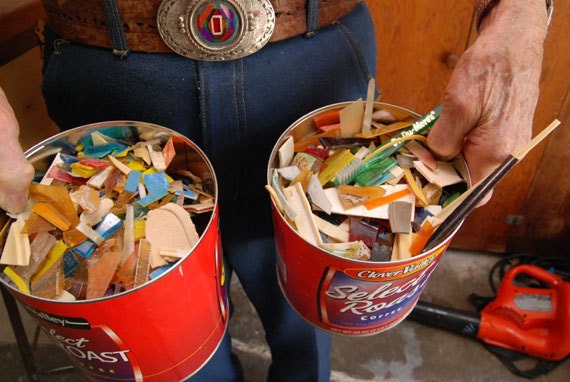 Over the course of three years, I watched Bob construct rings many times, and (thankfully) he taught Kelly and me to make them ourselves the year before he passed away. I documented our lessons from Bob and referred to them when Kelly and I made our first few rings.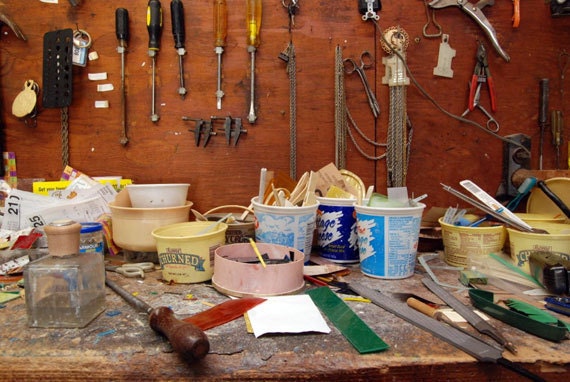 Bob worked at his craft nearly every day from 1937 until his death. Although he mostly made these beautiful rings, he occasionally used celluloid to make other things like slingshots, picture frames, belt buckles, and key chains. He also made jewelry out of cut coins. Bob passed away in November 2008, at the age of 92, from smoke inhalation in a fire that broke out in his workshop at home.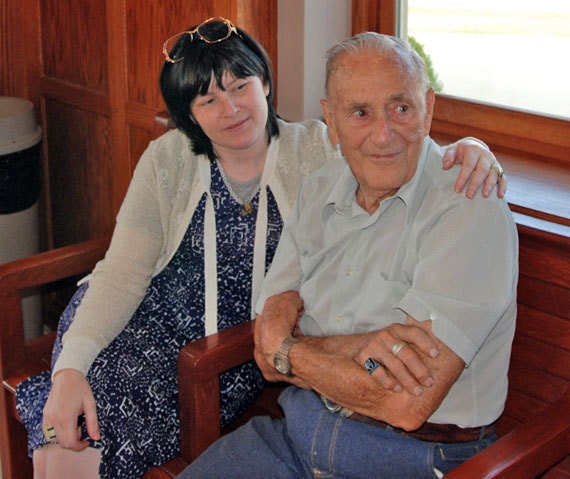 During my time with Bob, I purchased about 300 of his rings (crazy, right?). About 100 of those are my personal collection that I'll always keep for myself. I've given away several dozen and sold several dozen more over the years. I'm selling the others now (those not in my personal collection) in order to buy materials for my attempt to follow in Bob's footsteps, albeit on a much smaller scale. I recently leased an art studio and have started making rings again.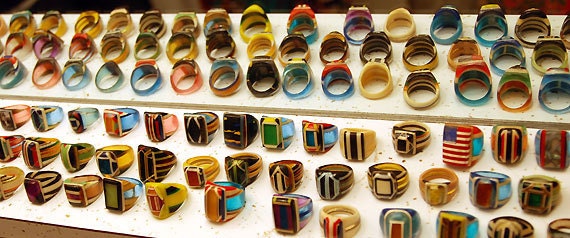 Although I've seen examples of celluloid rings not made by Bob Dodd (like the one I found at that flea market in New York), they're difficult to find. After much research, my belief is that Bob is the most prolific of these folk artists. He left behind a legacy of incredible folk art, and though he's dearly missed, his passion lives on in those of us who appreciate and wear his work.
Have you created or come across an object with an extraordinary story that needs to be told? Email us!