Give guests a sneak peek of your Bohemian-inspired wedding day with these picks for the best boho wedding invitations and templates.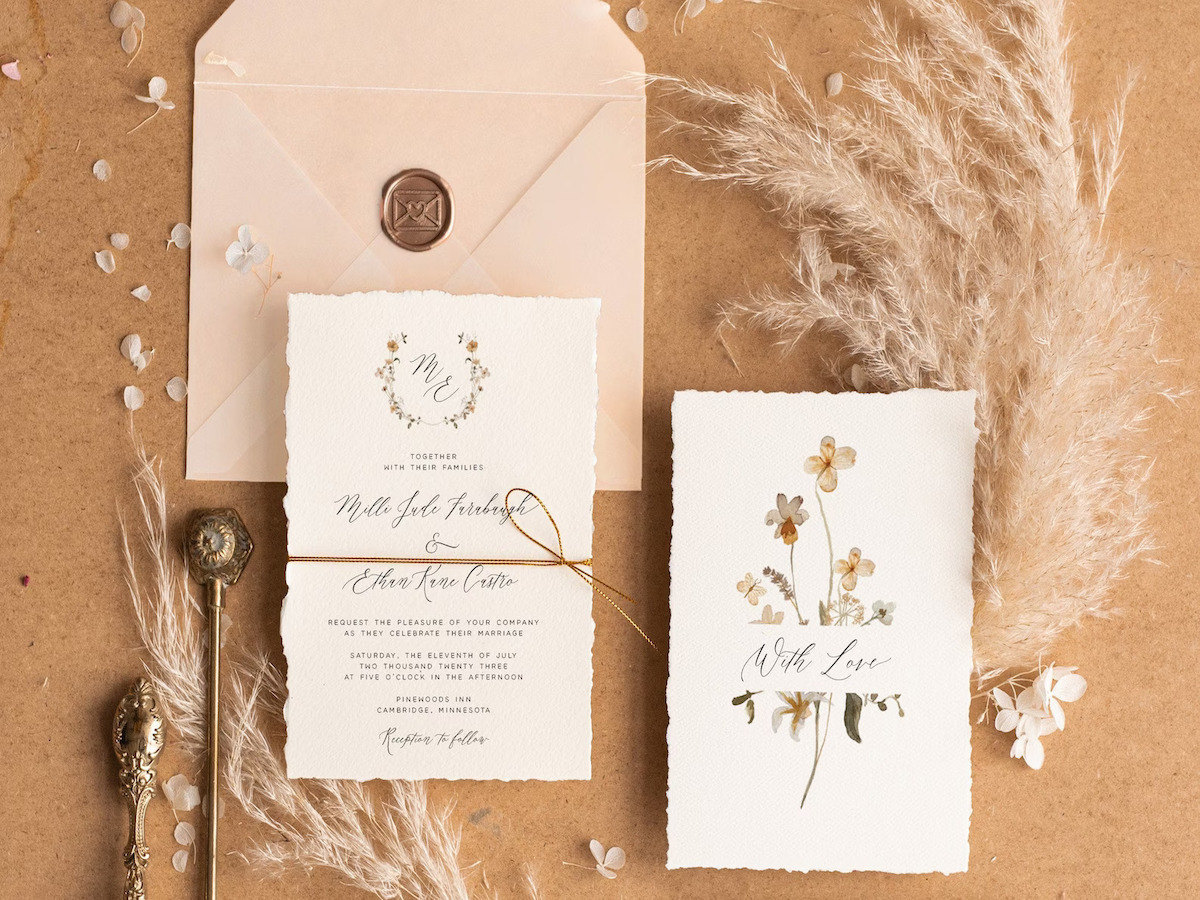 You said "yes," now it's time to say "You're invited!" to your nearest and dearest with a wedding invitation that sets the tone for your celebration. Your invites give guests an idea of what to expect from your boho wedding, whether it's floral and feminine, rustic and rural, or beachy and balmy. In addition to sharing all the big day details, your loved ones can get a sense of the setting and decor so they can begin planning their perfect party attire.
Traditional boho wedding invitations feature soft color palettes and natural elements like feathers, antlers, and flowers. But that's only the beginning of the forest-inspired fairy tale fête when you turn to the talented designers on Etsy for the perfect boho wedding invitation template. Modern brides are taking these boho-inspired elements and infusing them into their wedding invitations in unique ways, like feather-pressed wax seals, gilded branches, and dimensional textures like lace and handmade paper.
Best boho style wedding invitations
Pampas grass? Check. Minimalist designs? Yep. Earthy hues? You got it. These are the hallmarks of classic boho weddings, and this folksy aesthetic is front and center in these picks for the best boho wedding invitations.
1. Pampas grass invitations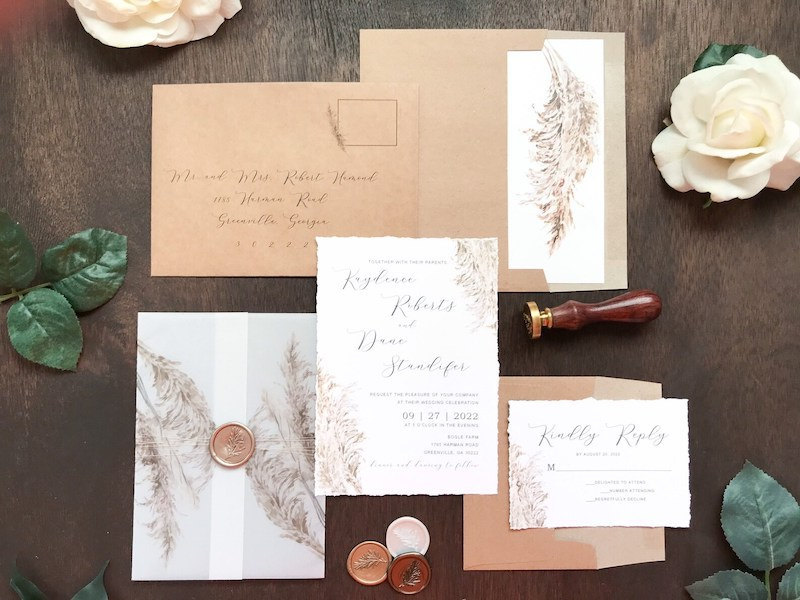 SHOP: Pampas grass and vellum invitations from CC Prints by Tabitha, starting at $6.50 per piece for 50 inivitations
If boho brides had an official flower, it would be pampas grass. Classy couples will love the exquisite details on these boho chic invitations: deckled edge paper, an elegant pampas print on vellum, and a tasteful wax seal to top it off. And with upgrades like belly bands, twine, and kraft paper envelopes, there are plenty of ways to amp up the elegance.
2. Modern boho invitations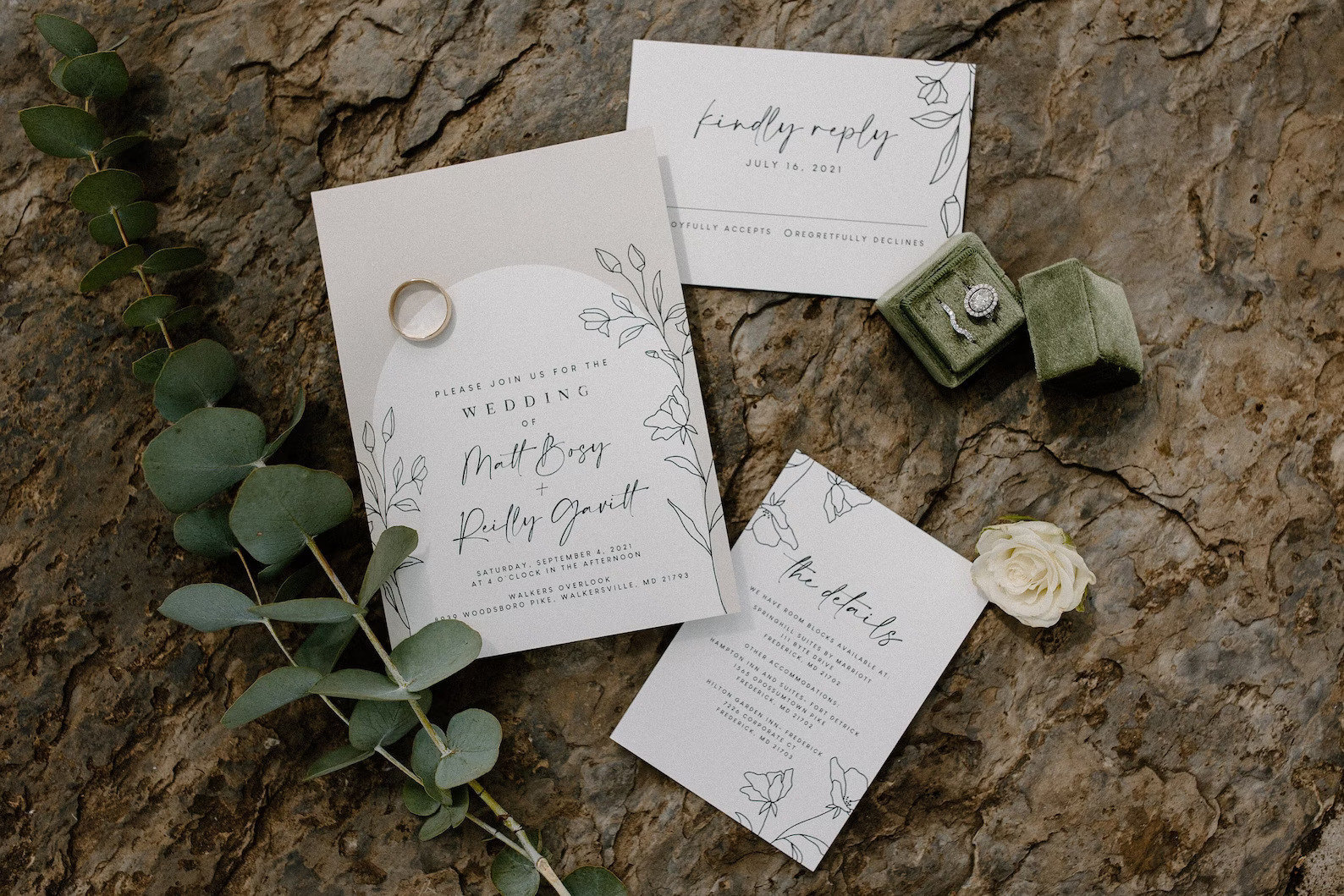 SHOP: Modern floral invitations from Kirra Reyna Designs, from $65 for a set of 20 invitations
For the minimalists out there, these simple and sophisticated invitations might be just the thing. Clean lines and neutral tones create a modern aesthetic that keeps the focus on what matters: your special day.
3. Handmade paper invitations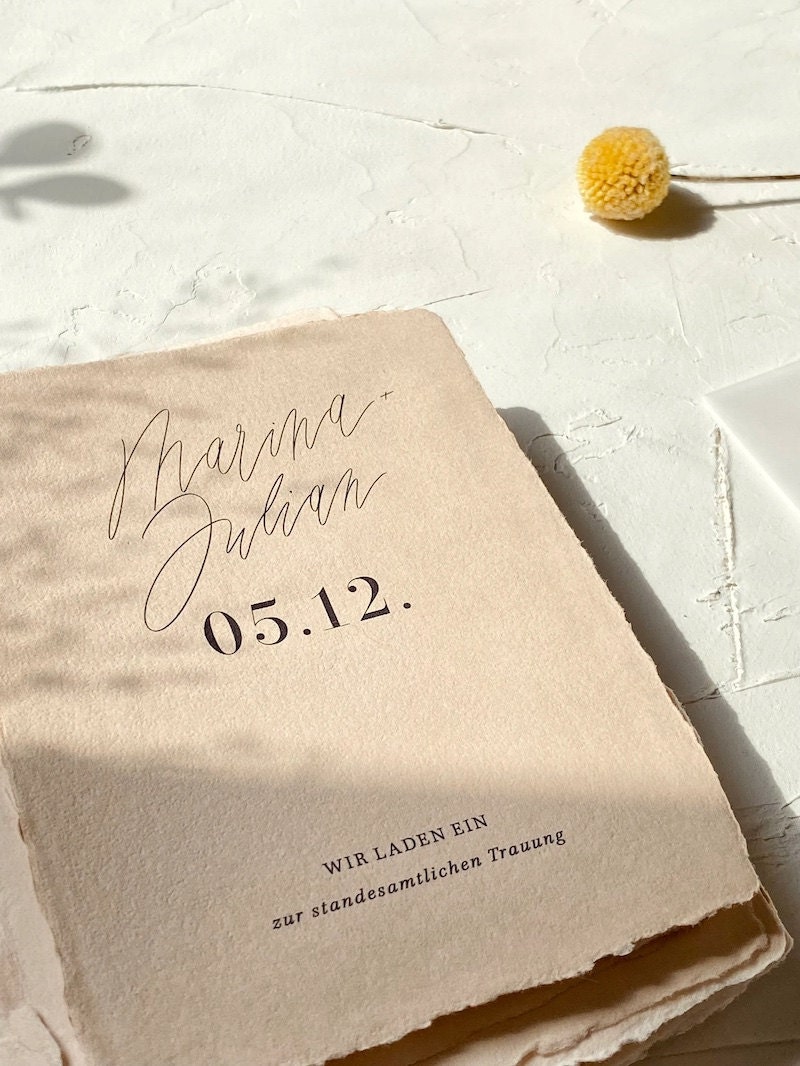 SHOP: Minimalist handmade paper invitations from Weddink Papeterie, from $280 for a set of 30 invitations
Looking for something with a subtle DIY touch? The soft, imperfect edges and textured finish of handmade paper adds dimension that effortlessly complements this invite's spare design. The ultimate in boho minimalism, these wedding invitations let your details shine.
Best boho wedding invitation templates
Need a last-minute wedding invitation or simply want to handle some of the details yourself? These boho wedding invitation templates feature fully customizable designs from independent artists. Simply download, edit, print, and mail.
4. An earthy invitation template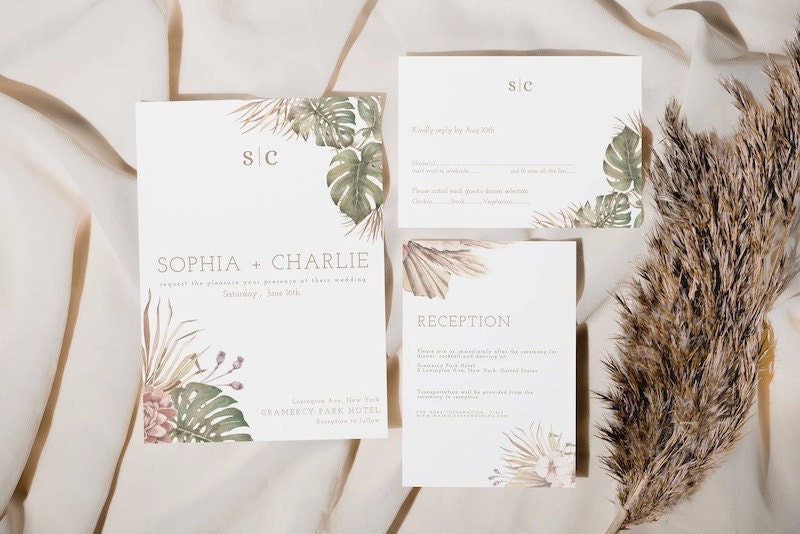 SHOP: Monstera leaf invitation template from Motice Paper Design, $18
With monstera leaves and sun palms peeking in to frame this taupe-toned template, this is about as boho as it gets. Plus brides are raving about how easy it is to edit and print these invites at home.
5. A desert chic invitation template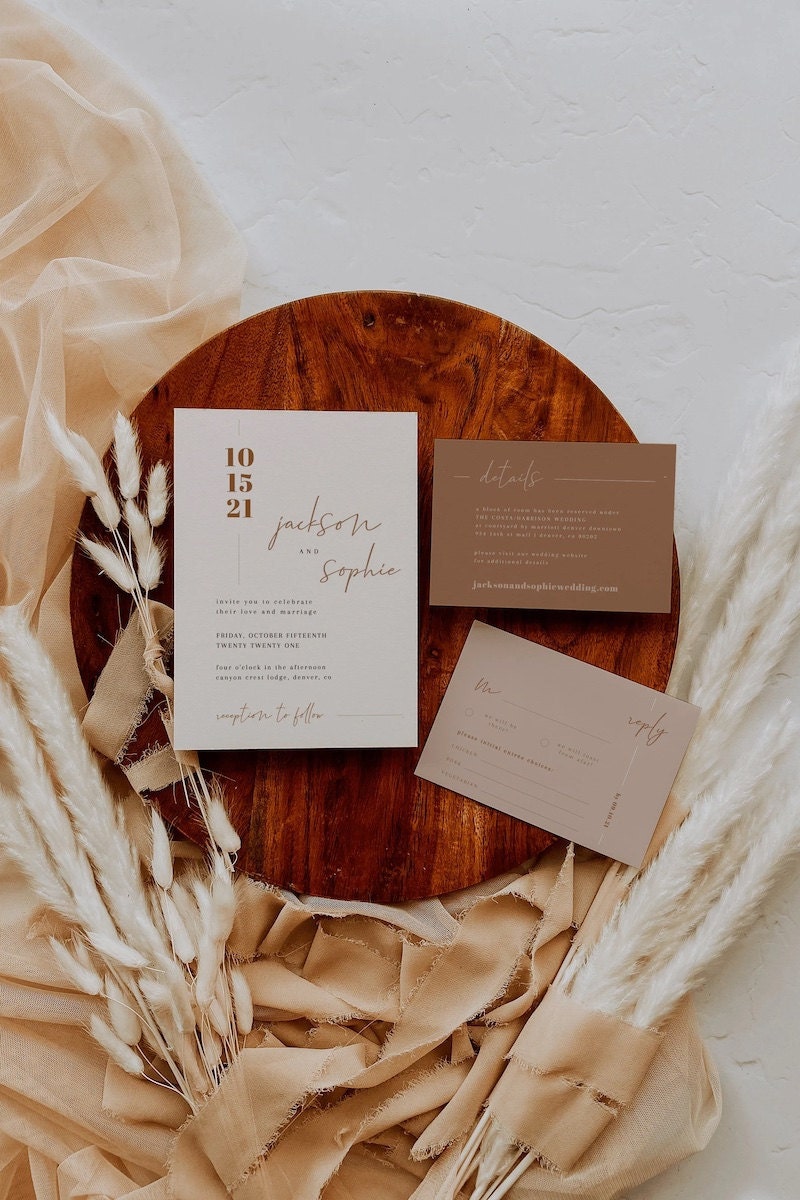 SHOP: Desert-inspired wedding invitation template from Niki Press Designs, $80
The rusty, terracotta palette of this template evokes the feel of rocky canyons and billowing sand dunes. And with classic fonts and a minimalist design, this suite is versatile enough to use wherever you're saying "I do"—no desert required.
6. A palm leaf invitation template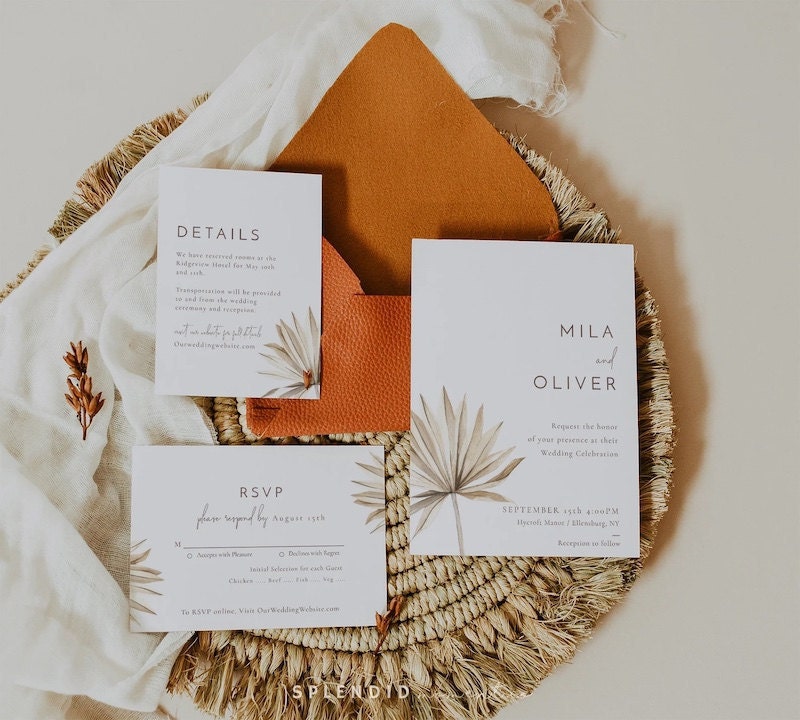 SHOP: Minimalist palm leaf invitation template from Splendid Moment, $19
"Leaf" a lasting impression on your "fronds" and family with this posh palm motif. Make it even more memorable by adding one of your favorite photos together on the backside for a sweet surprise.
7. A lacy invitation template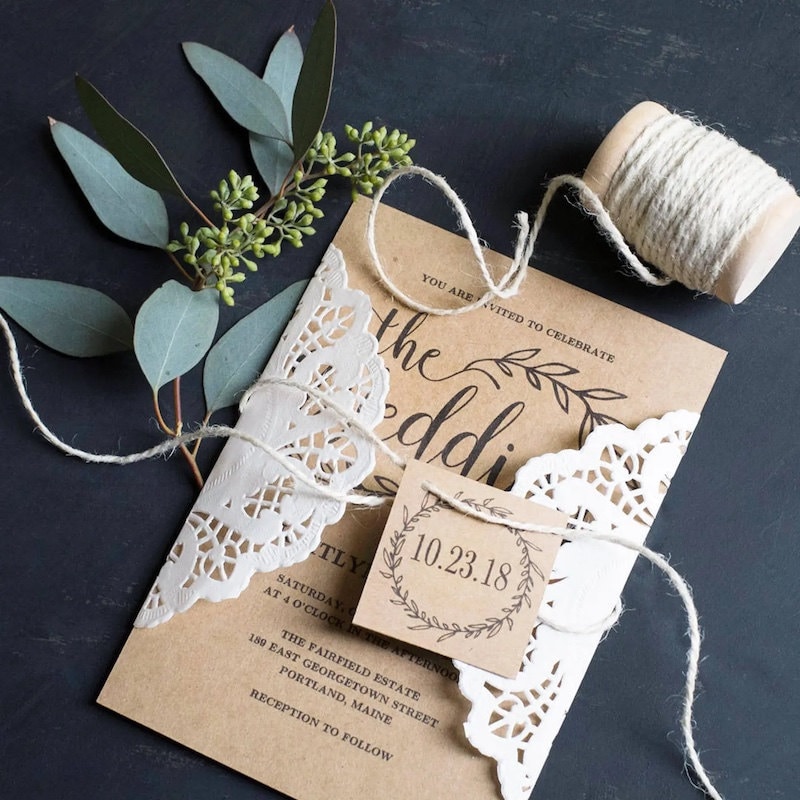 SHOP: Lace-wrapped wedding invitation template from Vine Wedding, $15
Brides can't stop talking about how happy they are with these invitations, or how many compliments they've gotten! Kraft paper and a delicate doily wrap add texture and personality to this rustic template.
8. Dusty rose invitations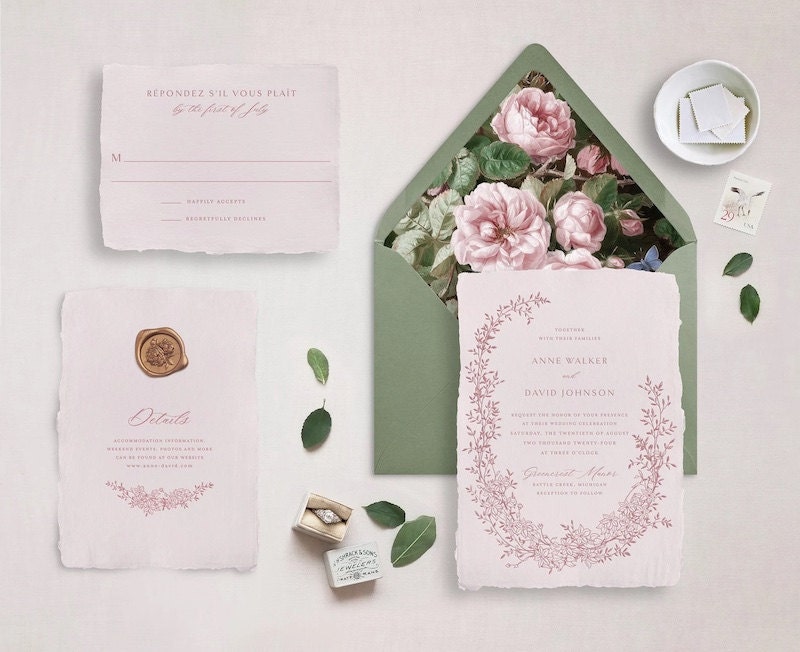 SHOP: Rose wreath invitation template from Silver Six Press, from $49
This intricate, asymmetrical floral wreath has "romance" written all over it. Opt for these delightfully detailed printable boho invitations if you're going for a sweet and stylish aesthetic.
Best rustic wedding invitations
With their rugged wood textures, antlers adorned with lavish florals, and all-natural details like twine and handmade paper, rustic boho wedding invitations are the perfect accompaniment to your down-home affair. Whether you're exchanging your vows in a charming barn or on a picturesque ranch, these invitations offer a homespun quality that lets guests know to expect a wonderfully rural celebration.
9. Cherry wood invitations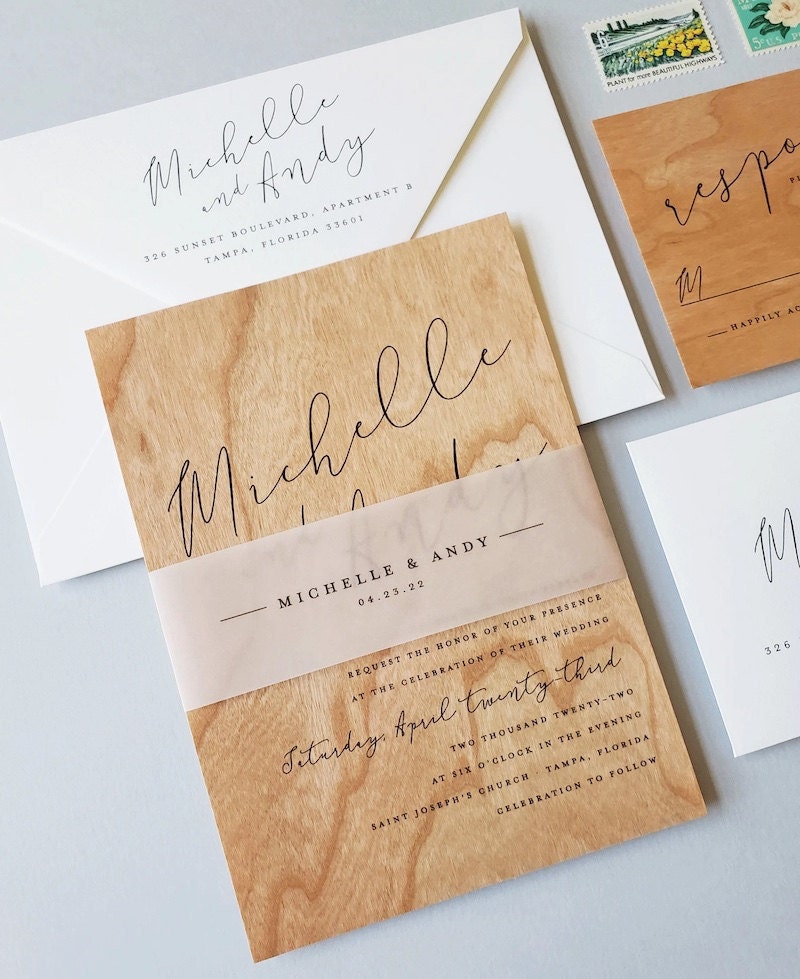 SHOP: Real wood invitations from Cricket Printing, $5 for invitation sample
Skip carving your initials into a tree, and get your names on these real wood invitations instead! Make an impression on your invitees with this unusual cherry wood veneer paper that easily matches the rural vibe of any boho wedding.
10. Farmhouse chic invitations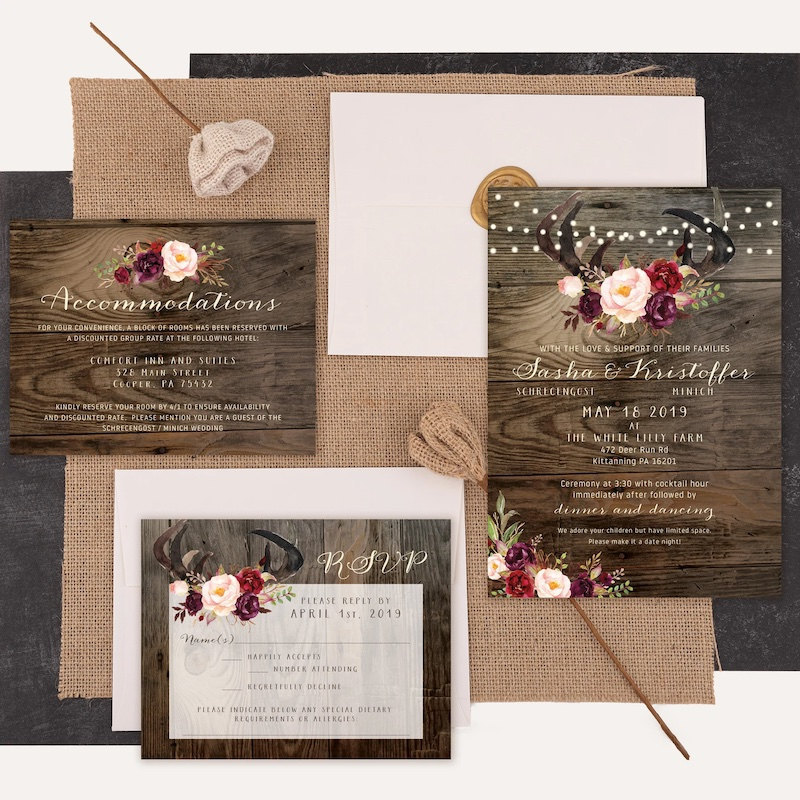 SHOP: Floral antler invitations from Inviting LeeLee, from $2 for invitation sample, from $18 for digital files only, from $105 for invitation sets
If you're getting hitched out in the country, search no further! Give guests a sneak preview with these invites that emulate the look and feel of a romantic barn wedding, complete with glowing string lights and lush floral arrangements.
11. Woodland wonderland invitations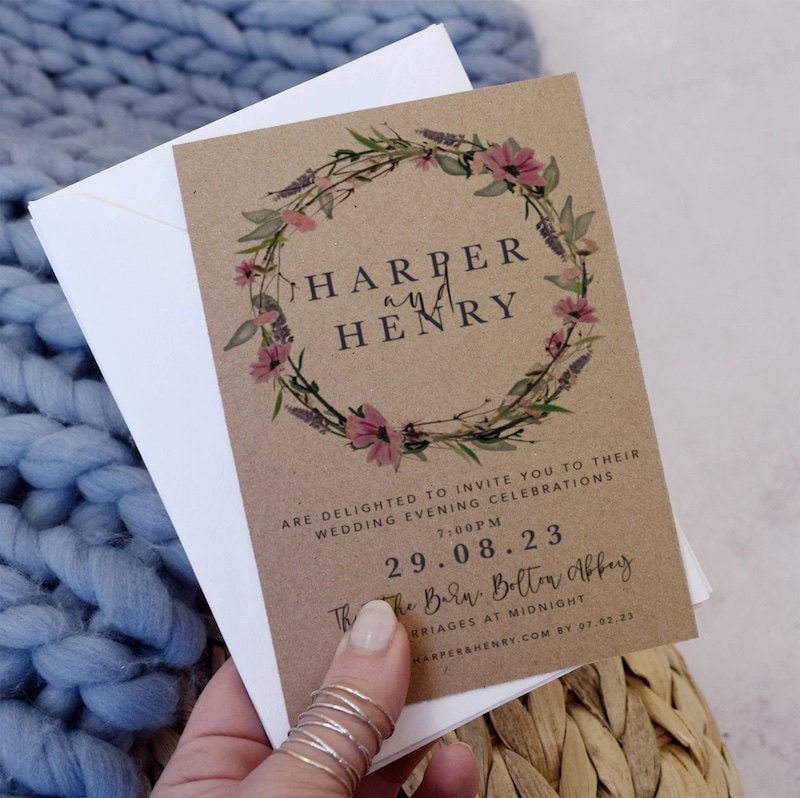 SHOP: Woodland wreath invitations from Jakeala, from $1 for invitation sample, from $18 for 10 invitations
For the nature-loving couple, these wildflower wedding invitations are just the right balance of woodsy and whimsical. Plus buyers can't stop talking about the excellent quality and beauty of the finished product, with one happy customer calling them "better than we ever imagined."
Best beach wedding invitations
Beach-loving boho brides know there's nothing better than the wind and waves as a backdrop for their big day. If your wedding party will be walking down a soft, sandy aisle, you'll want invitations that match that blissful and serene seascape. Tropical foliage motifs work well for exotic destination weddings, while simple waterfront views are both classic and versatile enough for lakeside and oceanview parties alike.
12. Dreamy watercolor invitations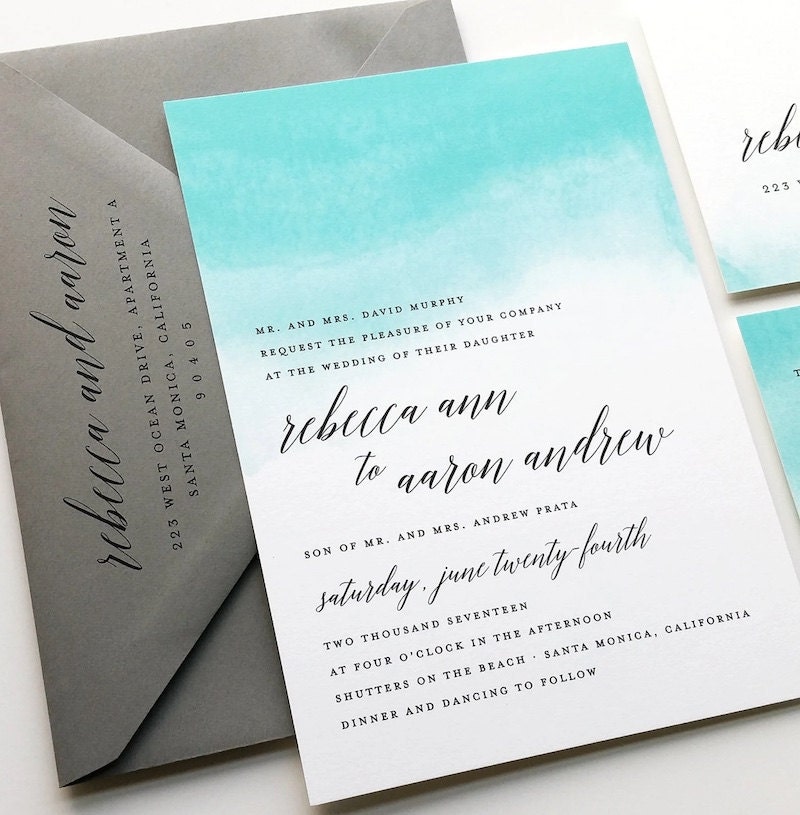 SHOP: Teal watercolor invitations from Cricket Printing, $5 for invitation sample
Transport your guests straight to the shoreline with this abstract, ombre design. With a teal blue wash of watercolor, this saltwater-soaked invite is sure to make a splash.
13. Scene-setting invitations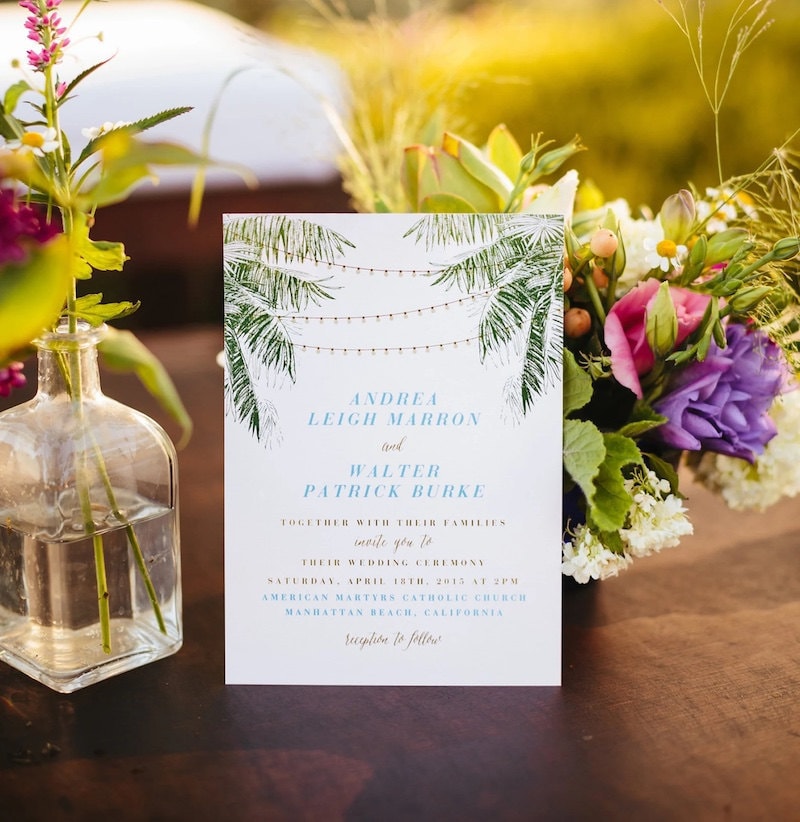 SHOP: Illustrated palm tree invitations from Citrus Press Co, from $3 for invitation sample
Pretty palm leaves and twinkling fairy lights set the seaside scene for your special day. Personalize these invitations with various envelope color choices and foil stamp options to capture your wedding's boho vibe.
14. Tropical boho invitations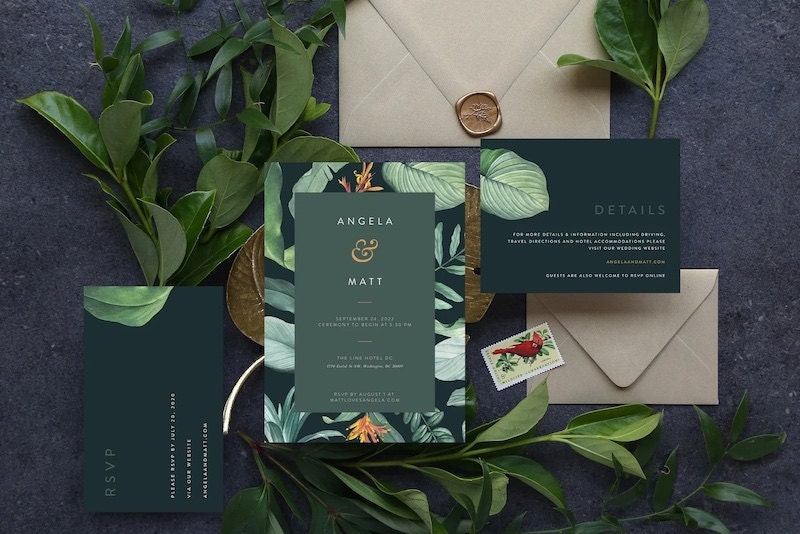 SHOP: Tropical leaf invitations from Sarah Marie Gerrity, $17 for downloadable template
Destination wedding anyone? Gorgeous illustrations of tropical flora against rich green hues make these digital boho wedding invitations the perfect precursor to paradise.
15. Embossed invitations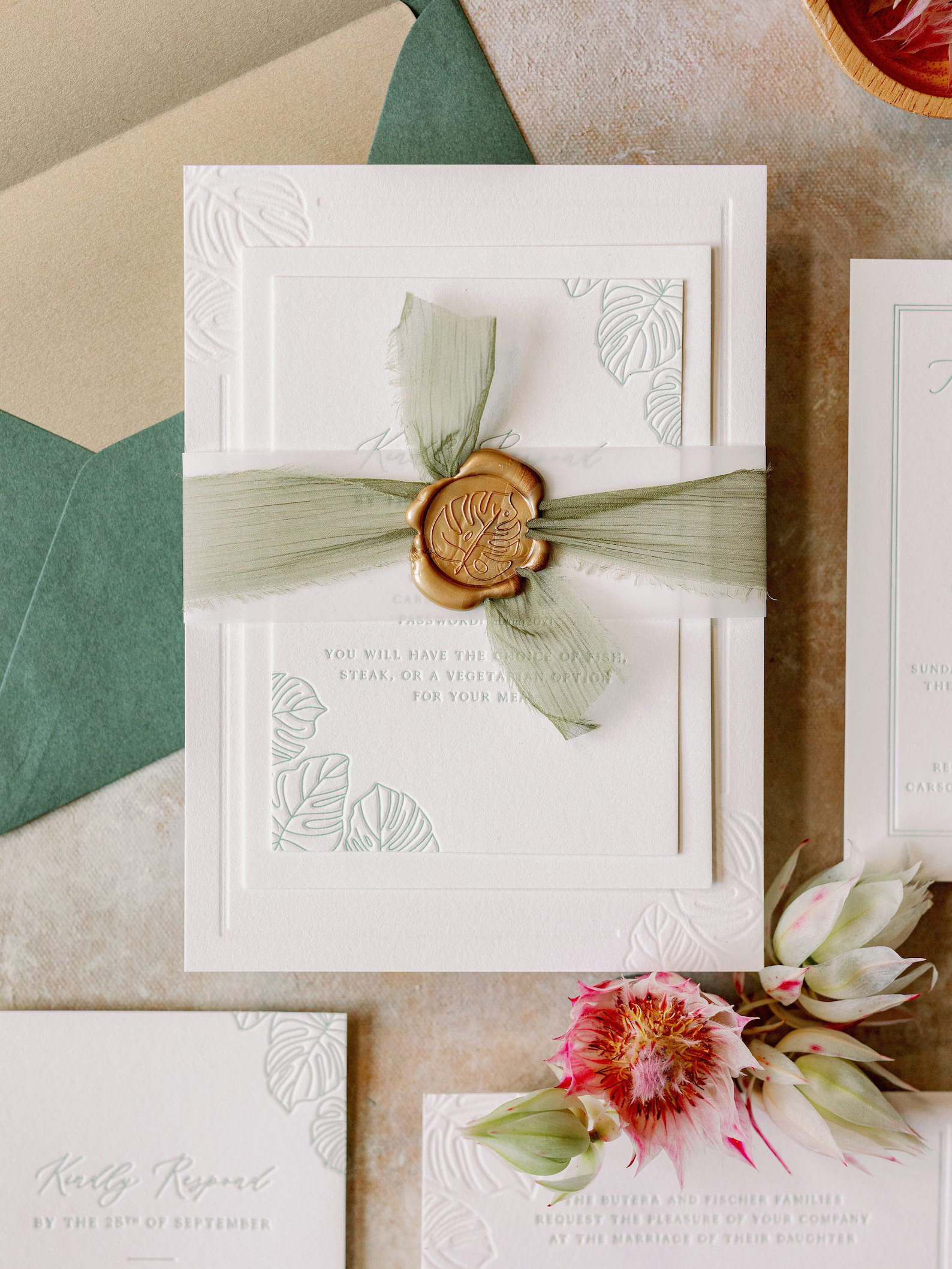 SHOP: Embossed monstera leaf invitations from Brown Fox Creative, from $4
Embossed with minimalist monstera leaves and wrapped with a luxurious silk ribbon, these invitations promise a beachside wedding that won't soon be forgotten. A wax seal that matches the foliage adds to the suite's air of opulence.
16. Custom illustrated beach invitations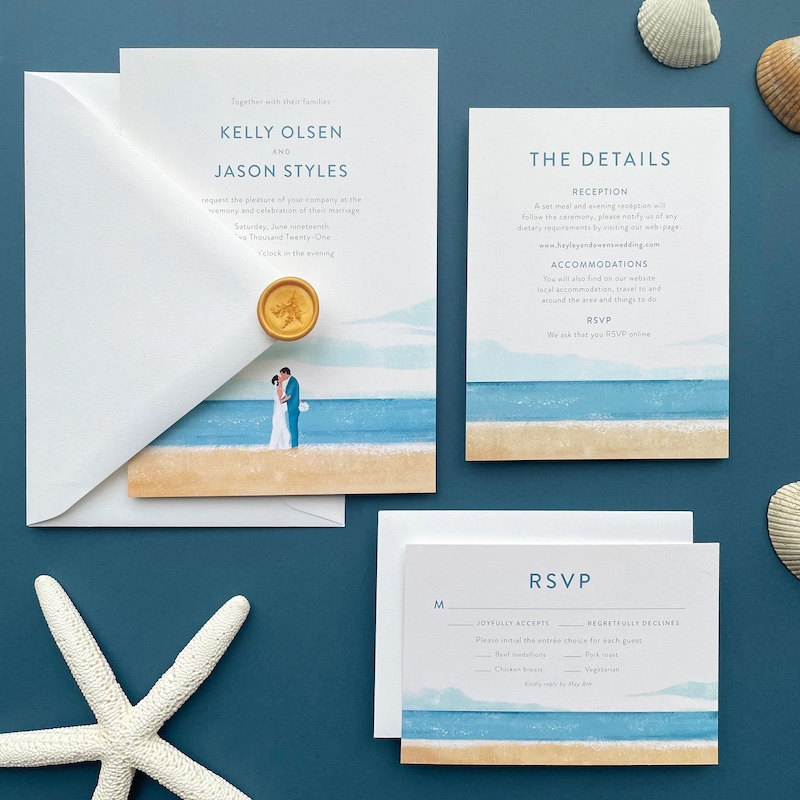 SHOP: Customizable beachfront invitations from Merimoi Press, from $185
You can practically feel the sand between your toes just from looking at this ethereal, pastel-painted beach scene. Customize the appearance of the coastal couple to make these invites truly one-of-a-kind.
Best floral wedding invitations
From bouquets and boutonnieres to centerpieces and corsages, flowers are a boho bride's ceremonial staple. It's only natural that they show up on these picks for the best floral boho wedding invitations too! The options here are breathtaking, whether you want extravagant arrangements, playful pops of color, or romantic wreaths.
17. Floral wreath invitations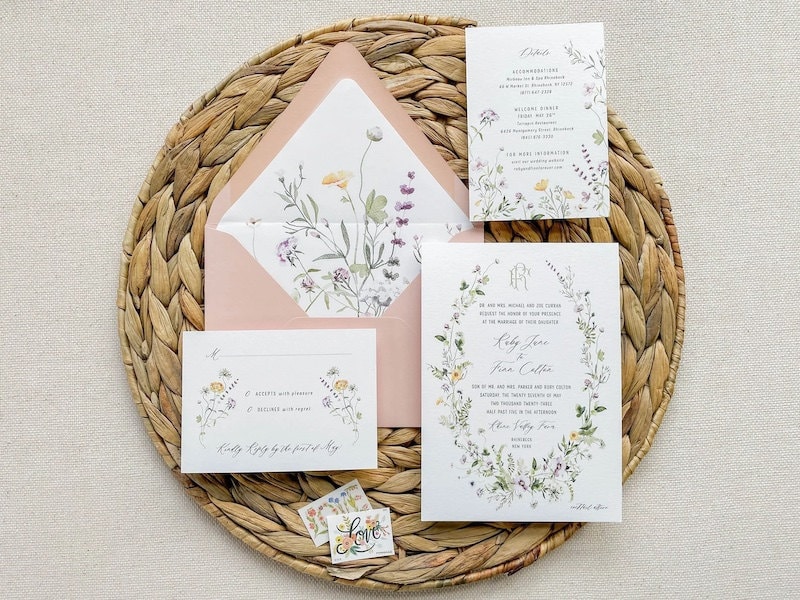 SHOP: Delicate flower wreath invitations from Skip to My Lou Design, from $8 for invitation sample, from $375 for 50 invitations
These certainly aren't your garden variety wedding invitations! Brides are in love with the delicate floral wreath design, calling it "gorgeous" and "absolutely breathtaking."
18. Deckle edge wildflower invitations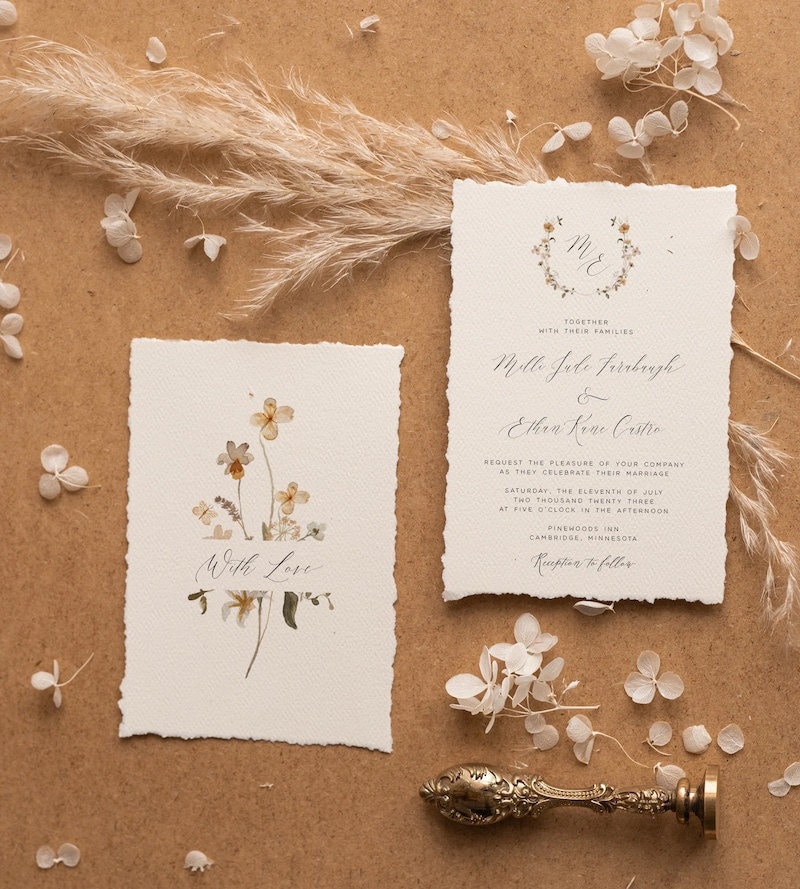 SHOP: Wildflower wreath invitations from White Lace Design, from $7 for invitation sample, from $55 for 10 invitation suites
Vintage fans might appreciate the whimsical, weathered style of these hand torn invites. A dainty wildflower wreath adds a tasteful touch that beautifully complements the rough-around-the-edges paper.
19. Luxe laser-cut invitations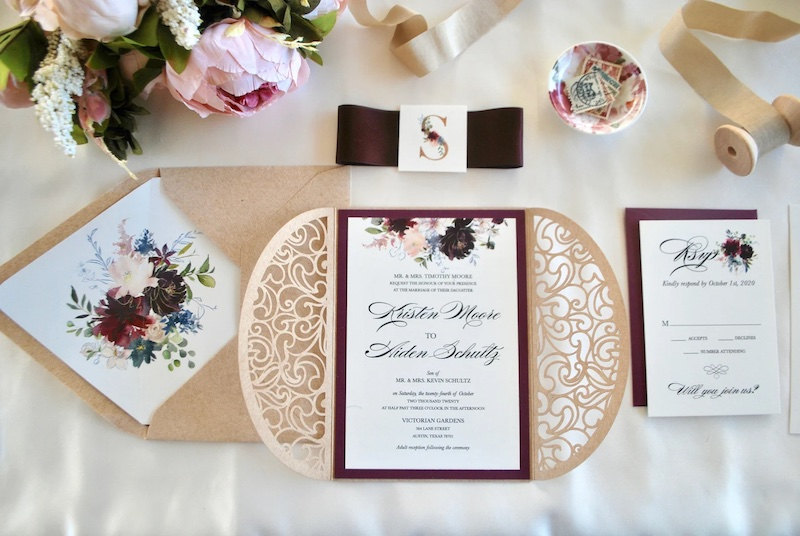 SHOP: Laser-cut gatefold invitations from Out the Box Creative, from $10 for sample packet, $100 for full order deposit
For stationery with a luxe look, go for a gatefold wedding invitation! These laser-cut invitations feature fancy flowers and a rich marsala color scheme that's undeniably elegant.
20. Brightly bordered invitations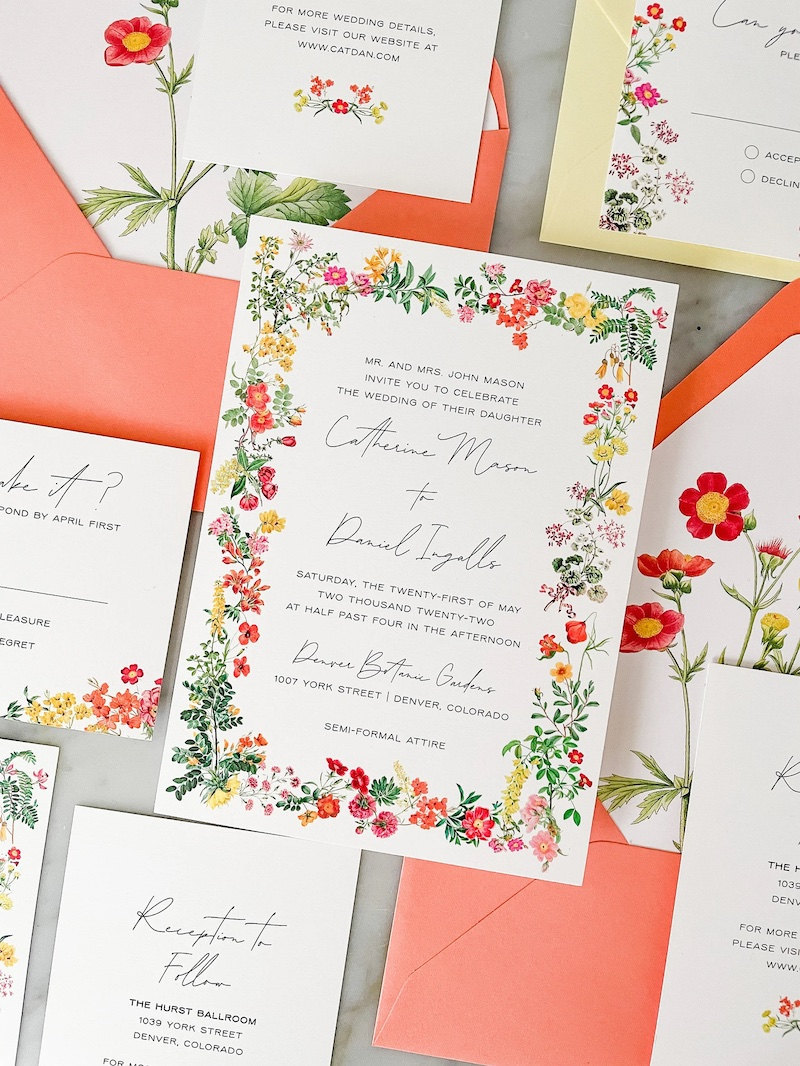 SHOP: Colorful flower invitations from Design by Laney, from $5 for invitation sample, from $250 for 50 invitation suites
Planning your celebration for spring or summer? This bright, blooming design may be just what you're looking for. Cheerful blossoms frame all the need-to-know deets to set a tone that's almost as joyous as the big day itself.
How do we pick the best boho wedding invitation ideas?
As Etsy Journal editors and contributors research and curate shopping guides for some of the best-loved items on Etsy, we thoughtfully consider the creativity, customization, and craftsmanship that go into each product. We also consider buyer reviews, item ratings, and customer service, and tap the expertise of our in-house merchandising and trends experts to uncover high-quality finds for every budget. You can find more information about each item in the seller's listing details and can take a look at their individual shop policies and reviews, too.