The tiny figures adorning this wreath include holiday figures and a menagerie of fantastic animals. (And they were cast from antique candy molds!)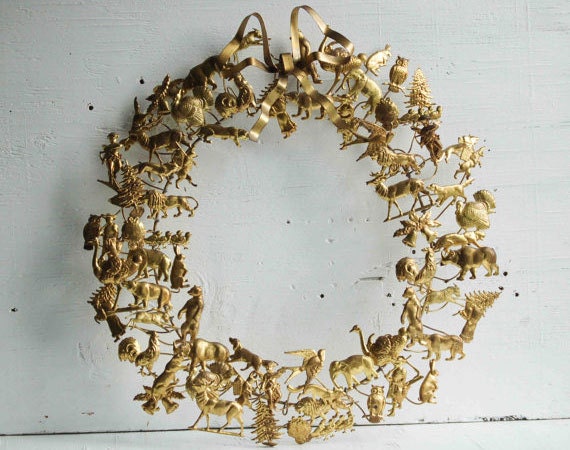 Here at Etsy, we believe that the story behind an object is often just as fascinating as the object itself. Short Stories is our series dedicated to telling the tales behind extraordinary pieces found or created by Etsy sellers.
Here's Red Truck Designs with the story behind this remarkable holiday wreath.
Like so many vintage treasure hunters, I am always on the lookout for something unusual and fun. When I came across this brass wreath at a secondhand store, I knew it was something special.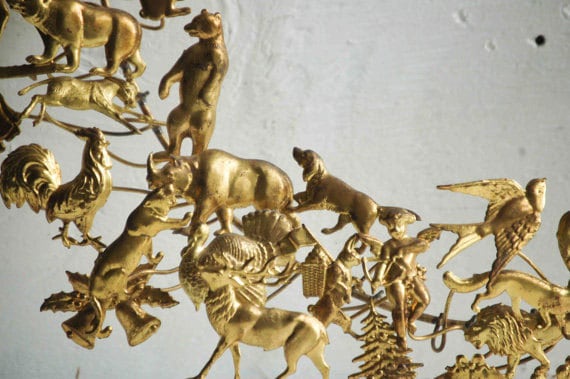 Details%20of%20the%20brass%20figurines.
This three-dimensional wreath measures approx 16 inches in diameter and features a multitude of wonderful brass embossed figures, both holiday-themed as well as animals. The figures are quite detailed, and each one is carefully hand-soldered onto the circular framework. In this wreath, you find a rabbit carrying Easter eggs in a basket, Santa Claus riding in his sleigh, a turkey, a pilgrim, a jack-o-lantern, chicks, ostrich, deer, dogs, owls, and many more interesting creatures. Easter, Christmas, Thanksgiving, Valentine's Day, and Halloween are all represented. I did a bit of research and learned that this is a Petites Choses All-Holiday Wreath. I have been told that these wreaths came in two or three sizes and were made in the 1980s during the height of the American Country decorating trend. The company was known for their whimsical designs and high quality methods of construction, and the images on the wreath were actually cast in brass from antique candy molds.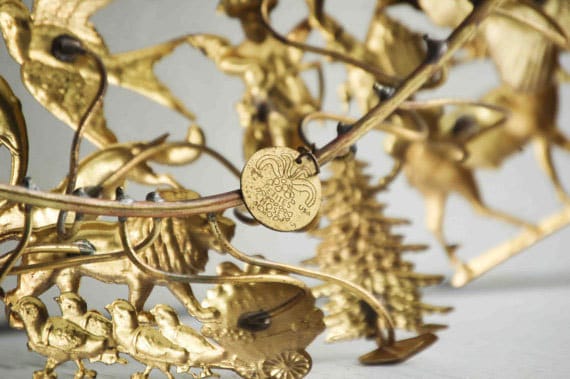 The%20maker's%20mark.
This wreath is in very good vintage condition. There are no breaks, damage or repairs. It is truly a work of art that can be displayed all year long.
All photos by Red Truck Designs.
Have you created or come across an object with an extraordinary story that needs to be told? Email us!