With options for every style, budget, and type of wedding, these exquisitely crafted bridal capes add the perfect dose of drama.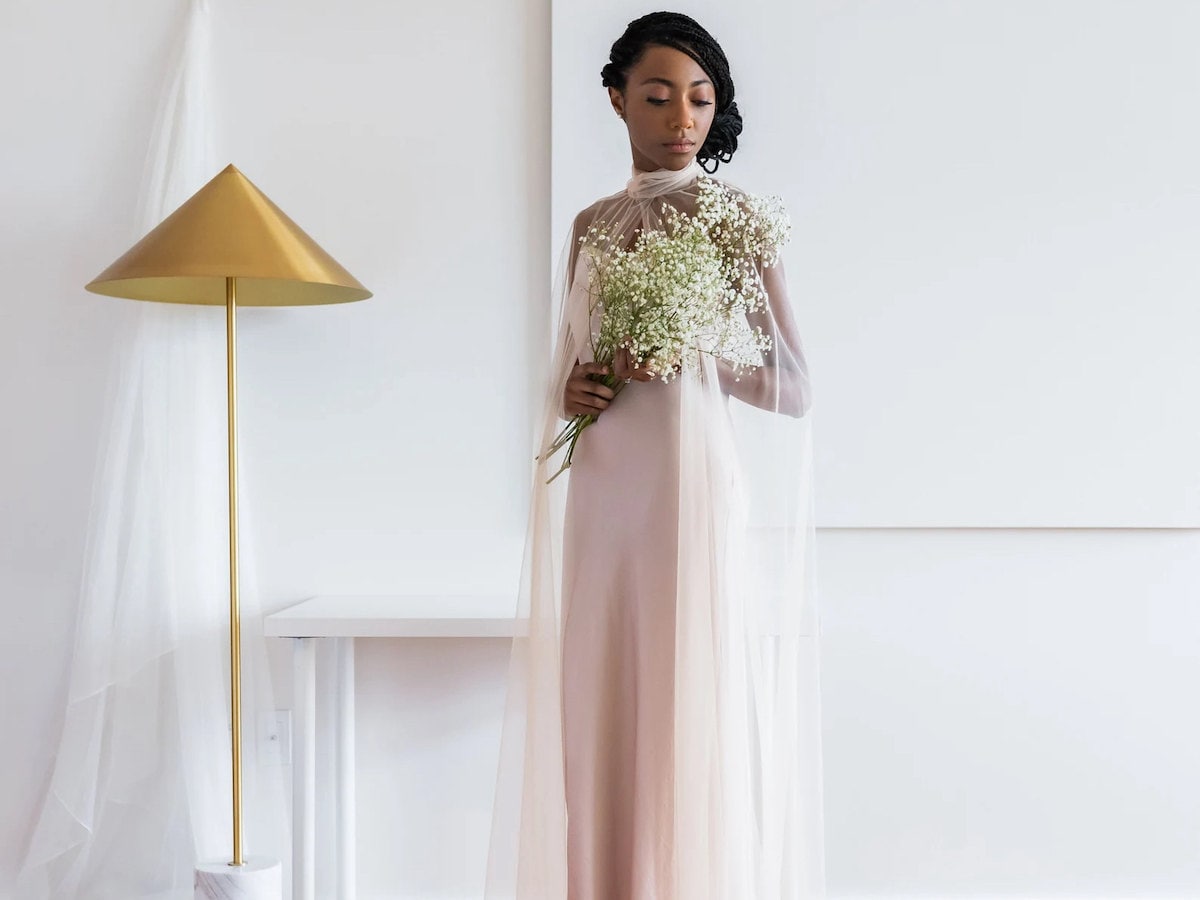 While the little girl inside of you (you know, the one who used to hide behind the chiffon curtains and emerge—veiled—doing the classic two-step aisle walk) is jumping for joy right now, shopping around for bridal capes can be daunting. Just like the wedding dress and the rings, a bridal cape has to be perfect for you and your big day. The good news? With gorgeously crafted options for every type of bride, bridal capes can elevate your wedding look to peak-elegant heights, and transform even a minimal dress into a dramatic gown.
Whether you want a floor-scraping featherweight option, or a short cape that looks like it's part of the dress itself, the talented independent designers on Etsy have got you covered with picks for every specific style and budget. Not only will these capes add the perfect finishing touch to your wedding dress, but many can also be repurposed and worn after the big day, too. What could be better than that?
See our picks for the best bridal capes:
These handmade options ooze style and grace, and will warm your heart every time you get sentimental and flick through your wedding album in future years. If this were a magazine article, you'd be ripping out these pages and promptly sticking them in your wedding planning book. Since it's not, this is definitely one for the "Wedding" bookmark tab.
Best short bridal capes
These short bridal capes are chic and stylish, and are the easiest type of cape to pair with many post-wedding outfits, making them an excellent investment piece, too!
1. Wedding pearl cape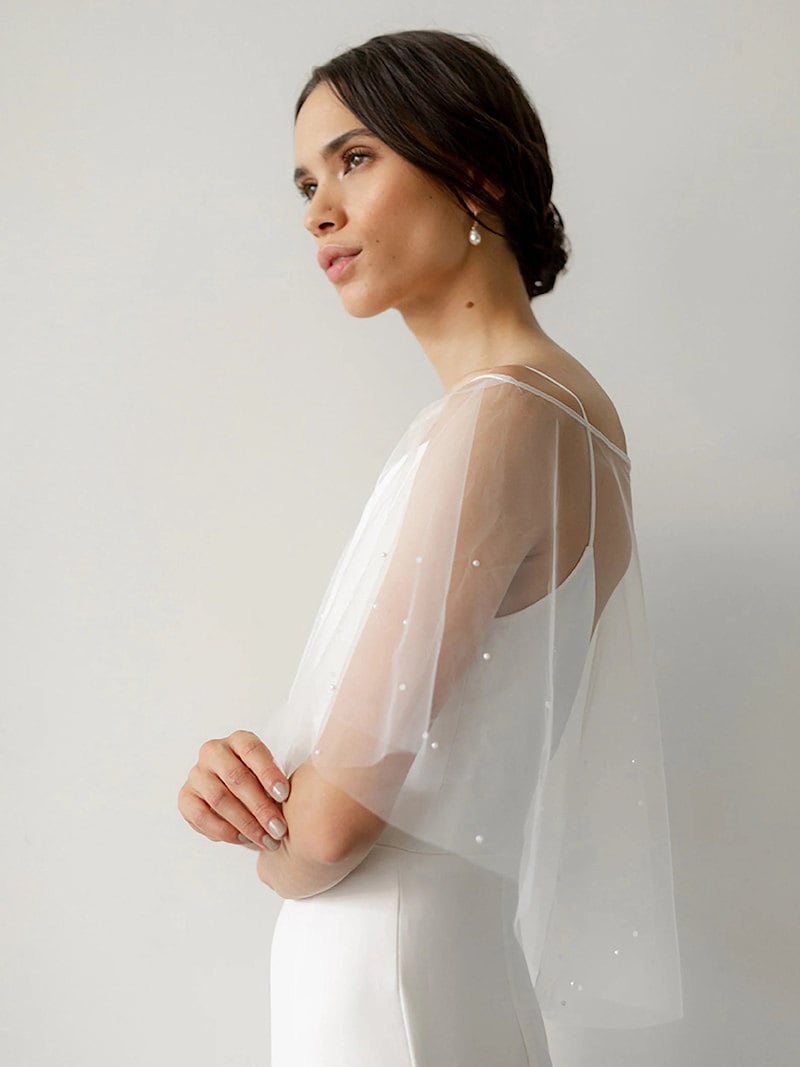 SHOP: Pearl bridal cape from Davie & Chiyo, $141
Speckled with faux pearls, this lightweight, transparent tulle bridal cape is ideal for anyone who wants a sophisticated cape, but doesn't want it to be the main attraction. It perfectly complements a wedding dress without being overpowering, and adds a dash of understated glamor reminiscent of Hollywood's golden age.
2. Embroidery bridal cape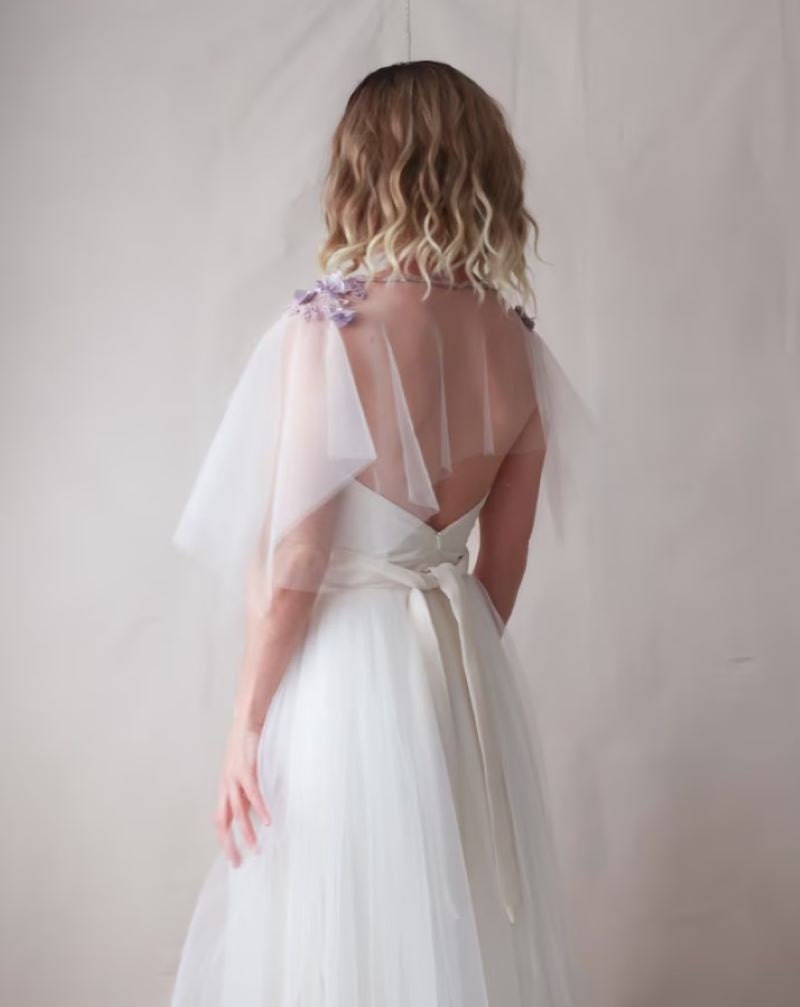 SHOP: Bridal cape in tulle and embroidery from Faith Cauvain, $57
Handmade in Paris, this off-white tulle bridal cape has delicately embroidered lilac flower petals, and looks wonderful on a bustier or sleeveless wedding dress. It's made from very fine dentelle fabric, and is really rather affordable considering the copious amount of Parisian chic it provides.
3. Charlotte capelet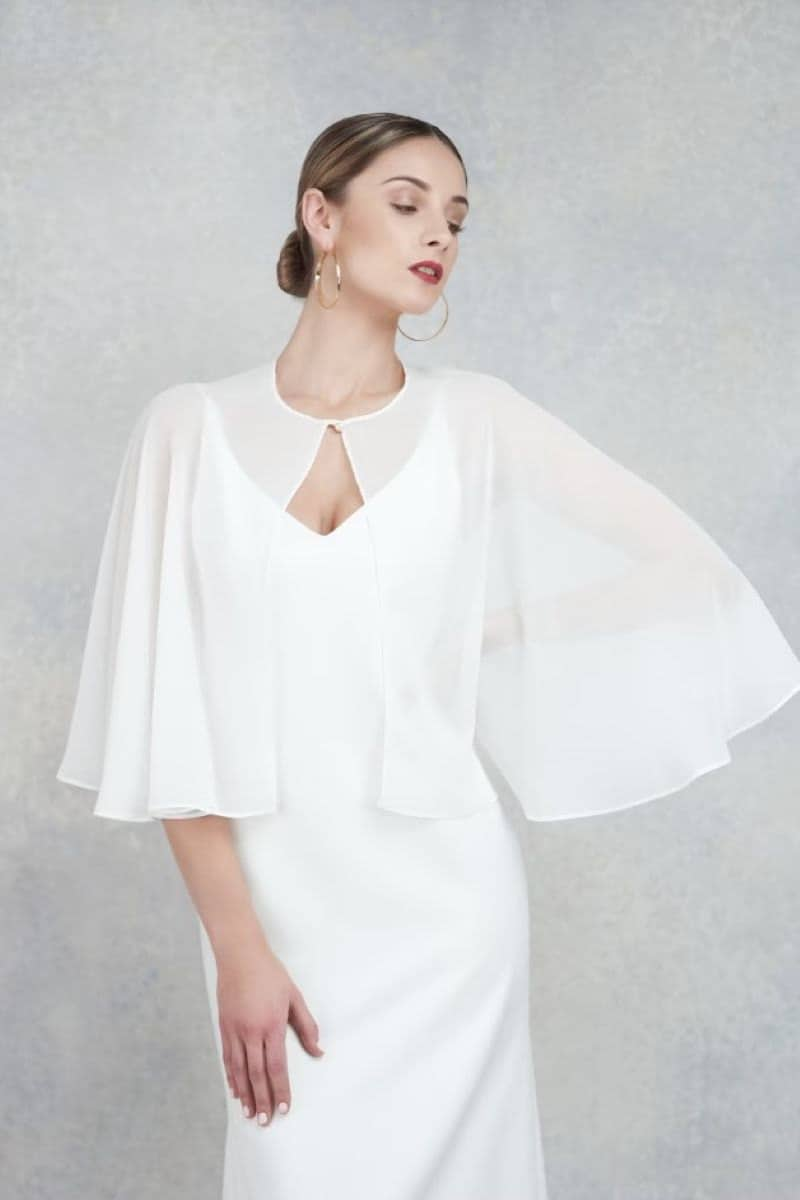 SHOP: Chiffon capelet with a front neck pearl button closure from White Studio Bridal, $144
Ideal for a minimal wedding dress, this white short chiffon capelet with pearl button detailing at the neck is designed and handmade in Toronto, and is available in sizes XS to XL. It's suitable for all seasons, with one blushing real-life bride even wearing it over her casual beach wedding dress. Love!
4. Vintage-inspired wedding cape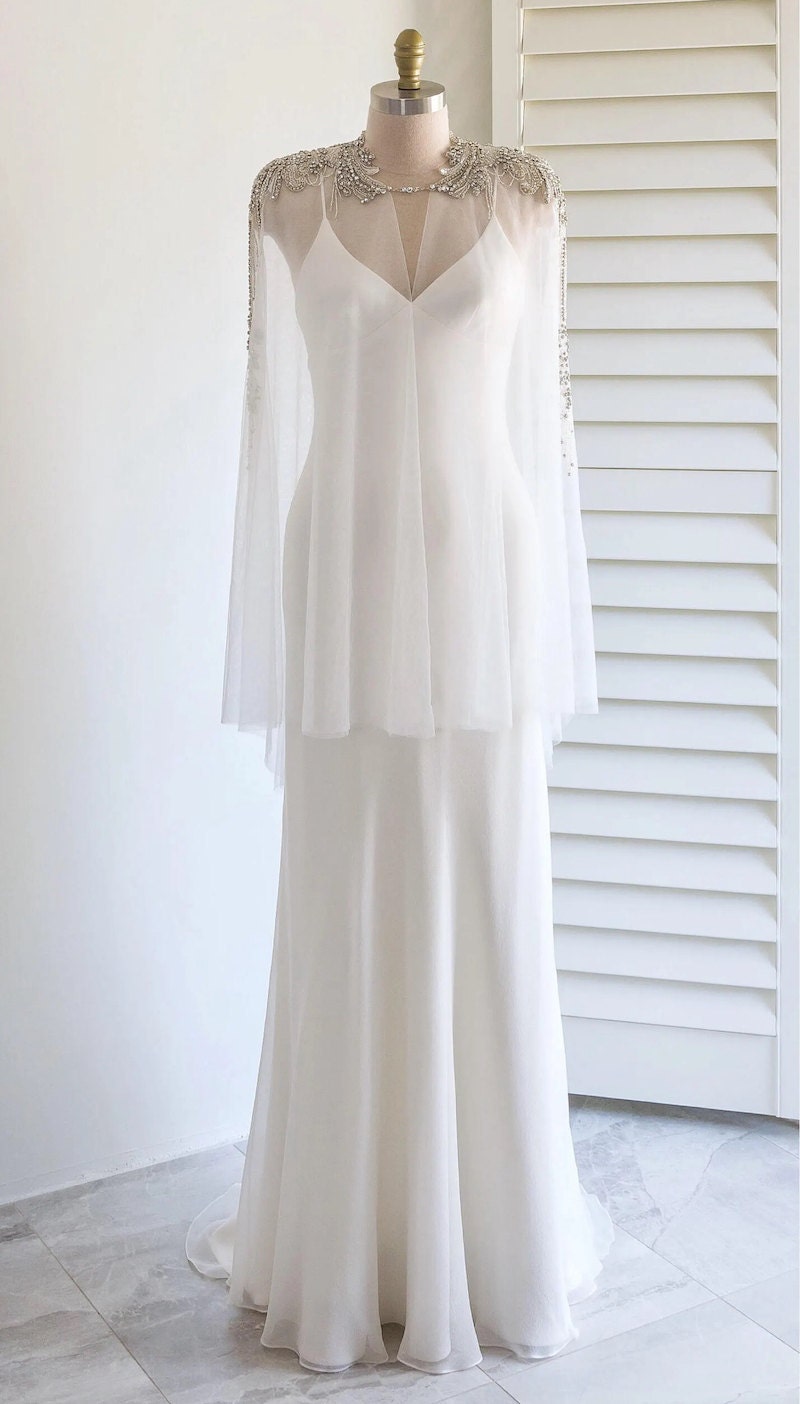 SHOP: Romantic tulle cape embellished with diamonties, beads, and sequins from Lilac Moon Bridal Wear, $521
Once you've picked your jaw up off the floor, take a closer look at the exquisite detailing on this beaded tulle bridal cover-up. It's available in off-white or ivory, and one shopper explained, "Putting it on at the dress fitting had the whole room gasping!" Another happy bride added, "OMG this piece is absolutely stunning! Amazing talent and care went into making this for me."
5. Ruffle tulle cape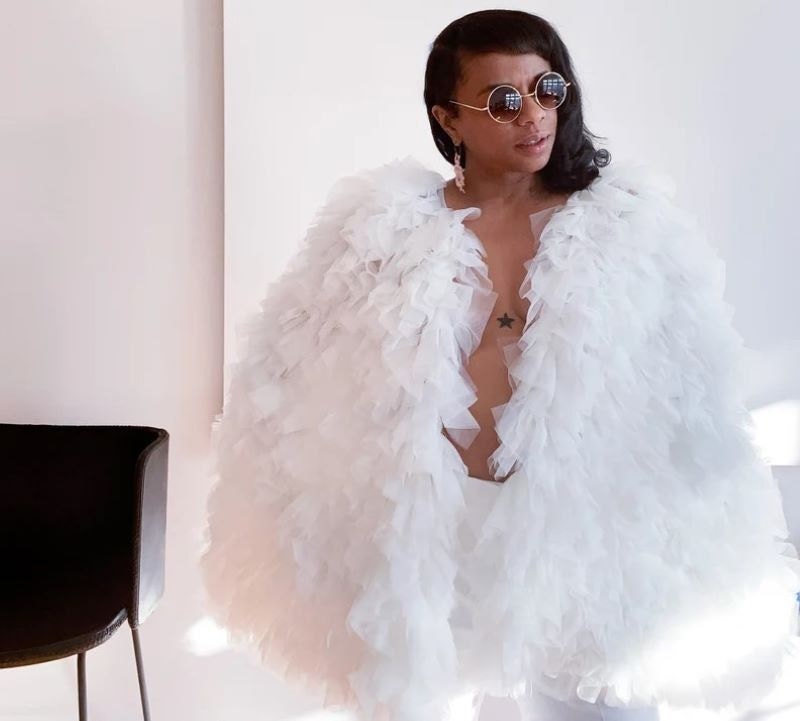 SHOP: Tulle shrug from the lotus bloom co., $480
Whether you want to wear this ruffled number to and from the reception or keep it on all night, this bridal cape is sure to turn heads. Made with yards of long and soft tulle, this bold and beautiful ruffled bridal coat is available in a selection of colors including the classics—ivory, white, champagne—as well as some more daring options like lilac, black, and dark blue.
6. Statement lace cape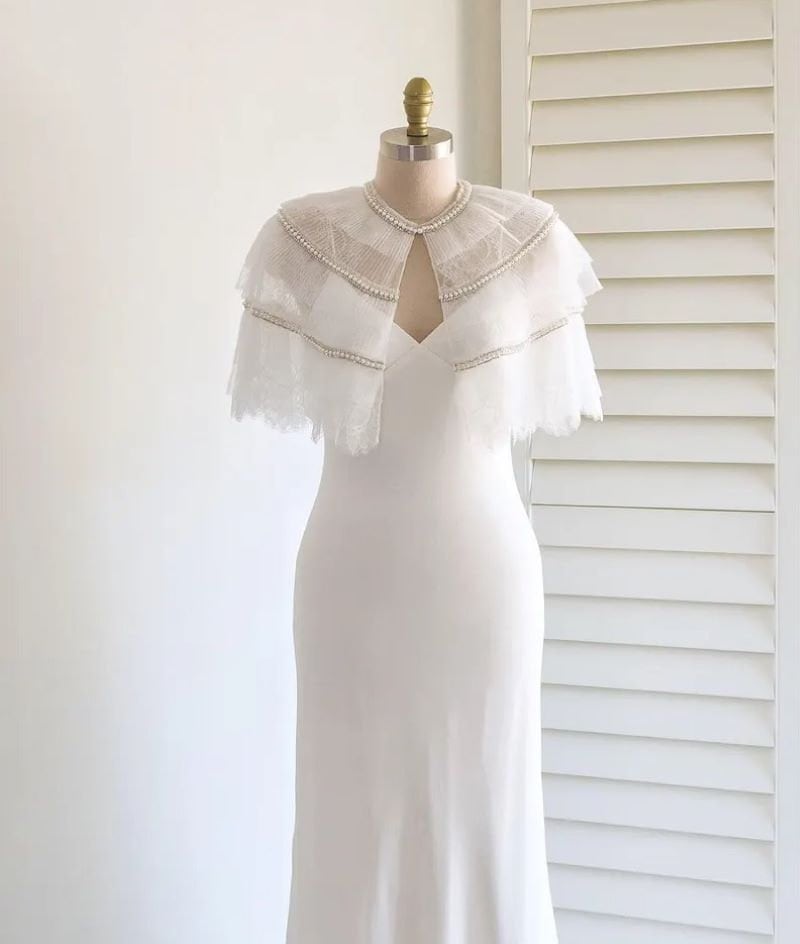 SHOP: Off white wedding capelet with pleated tulle trim from Lilac Moon Bridal Wear, $413
Short and debonair, this off-white bridal cape has a beautiful roaring twenties flair that will make any bride feel like a million bucks. The detailing is magnificent, with pearl and rhinestone chains adorning the delicate tiered lace trim, and a single pearl bead serving as the button closure to keep it in place.
7. Chic lace cape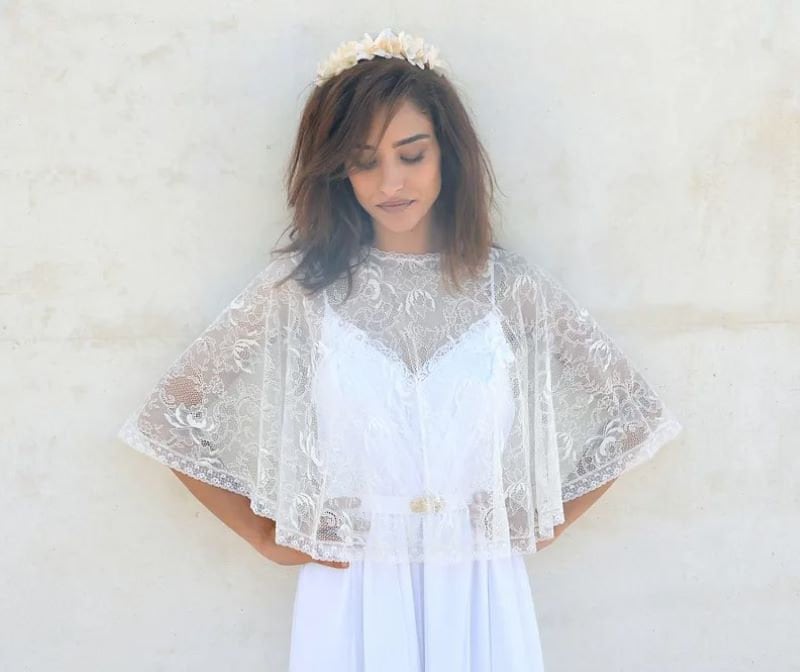 SHOP: Bride shawl with lace from Barzelai, from $94
Pairing perfectly with either a minimal or boho-style wedding dress, this short lace number is handmade in Israel, in a small workshop specializing in bohemian wedding attire. It sports a full-circle cut that makes the lightweight fabric drape seamlessly on the shoulders, and shoppers call it "absolutely beautiful," "amazing quality," "very well made, and stunning."
Best long bridal capes
If you've always dreamed of making your first appearance as a bride with a long, billowing cape trailing behind you, these regal options have been handmade just for you.
8. High-collared cape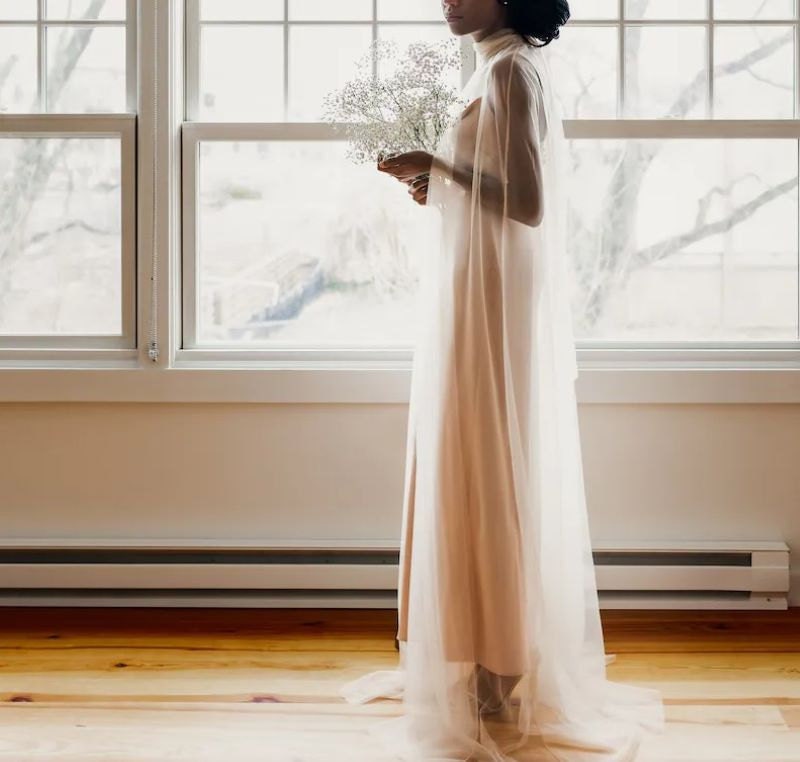 SHOP: Modern floor-length tulle cape from the lotus bloom co., from $188
Available with or without a train and in nine different colors, this high-neck tulle bridal cape is delicately handcrafted with care and attention in the designer's small atelier in Maryland. "Just beautiful," raved one bride-to-be. "I've always liked covering my shoulders and this makes the perfect accent to my wedding gown." Another shopper, who chose this instead of a veil, wrote that they "received so many compliments! It honestly offered the modesty I was hoping for without being too warm."
9. Midnight sparkling cape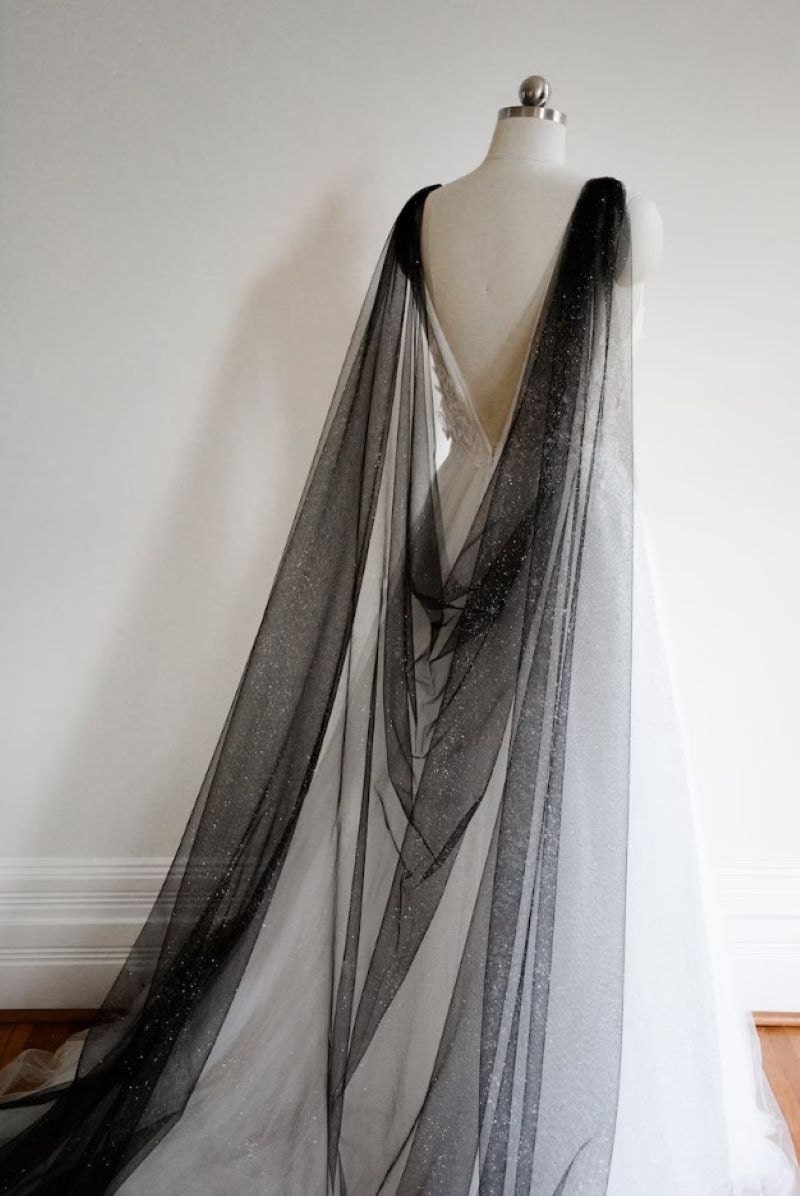 SHOP: Black shoulder veil from Noon On The Moon, from $165
One of the best ways to add a personal and unique touch to a wedding dress is to add a splash of color. This black wedding cape, aptly named "Midnight", glistens in the light thanks to the addition of glittering diamond dust. "I absolutely love this cape," wrote one buyer. "It's so pretty and subtle, and it makes me feel so ethereal."
10. Handmade feather cape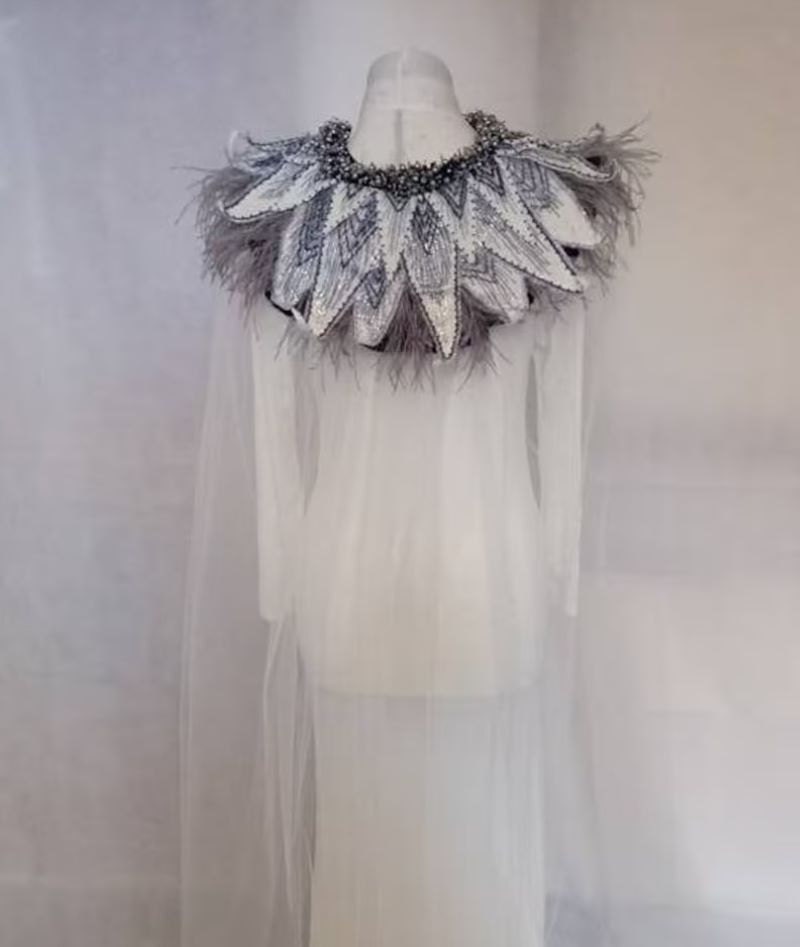 SHOP: Feather and beaded cape with detachable cape from Adorn by Ashley, $192
Exuding sophistication, this ostrich feather and bead-adorned cape is incredibly detailed and is dripping with old-world glamor. It comes in a keepsake storage box, and the UK-based seller also offers custom colors to make sure you get the perfect bridal cape for you.
11. "Gracie" lace cape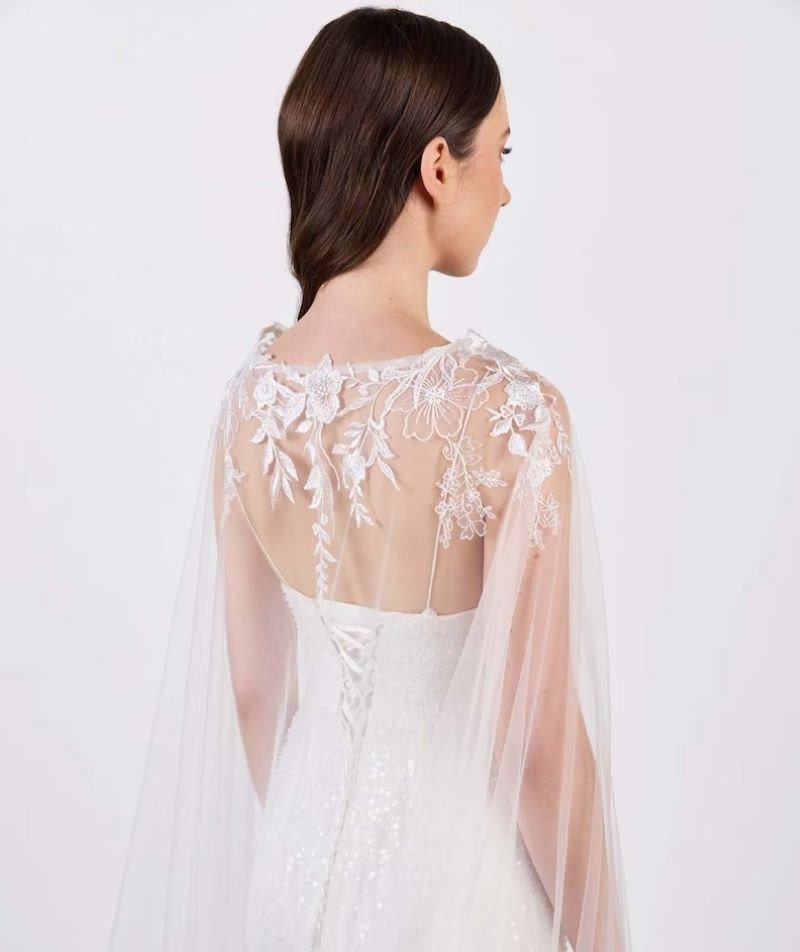 SHOP: Handcrafted cape with dedicated lace and illusion tulle from Kim Alpha Bridal, $184
The "Gracie" cape is a floor-sweeping number handcrafted in Australia from delicate lace and illusion tulle. It features tasteful embroidered florals on the back, and you can choose from ivory, light ivory, and off-white. It's around eight feet long, but the seller can make it longer or shorter, according to your preference. The shop also offers personalized embroidery with your name and wedding date stitched along the back.
12. "Azalea" ethereal flowing flower veil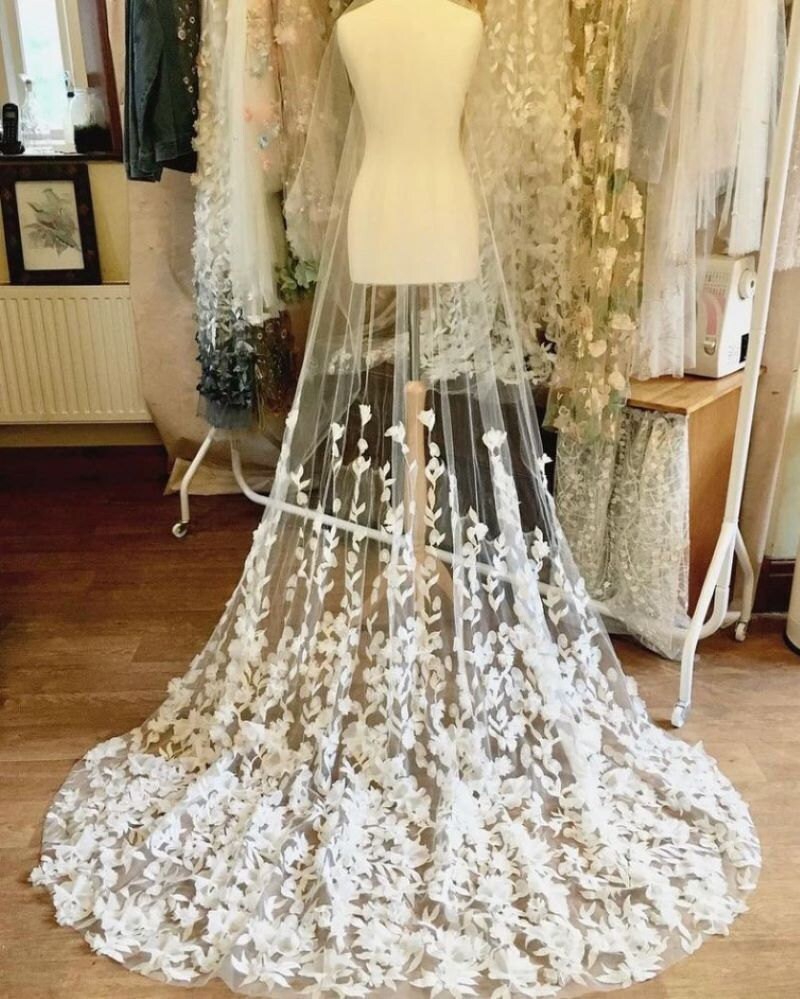 SHOP: 'Azalea' romantic veil with 3D hand-sewn flowers and petals from Meadow Sweet Bridal, from $128
Pretty and romantic, the "Azalea" wedding veil can double as a wedding cape, depending on how you choose to affix it to the dress. Adorned with 3D hand-sewn flowers and petals which are available in either green, pink, or off-white hues, it's the perfect way to jazz up any wedding dress, while still keeping it incredibly classy.
13. Sparkling bridal wings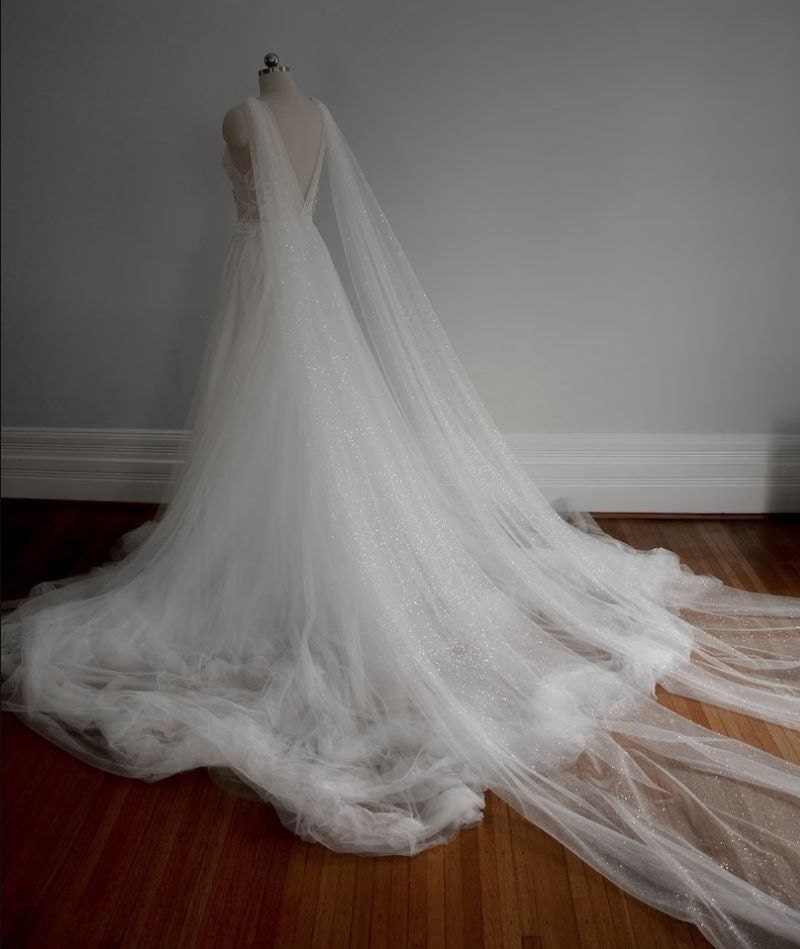 SHOP: Tulle bridal dress wings from Noon On The Moon, from $180
If you're going for the angelic look on your wedding day, these bridal wings are equal parts ethereal and regal, effortlessly endowing you with those highly sought-after princess vibes. The tulle sparkles majestically thanks to the included diamond dust, and each wing has a petite metal clip to secure it in place.
14. "Thea" wedding cape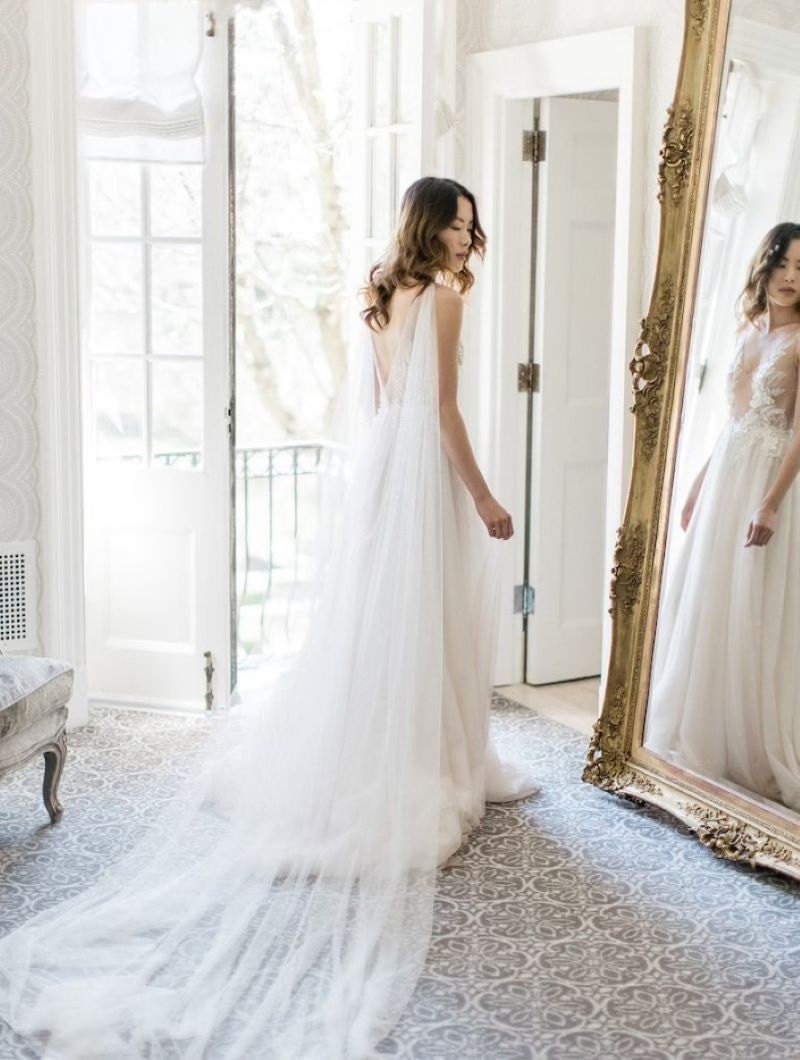 SHOP: Low drape bridal cape veil from Noon On The Moon, from $160
Handmade in a small studio in Stratford, Canada, using imported English net in soft white, pale ivory, or ivory, the "Thea" is a dreamy, long, flowing cape that offers a dramatic and romantic aesthetic. "Gorgeous," one shopper enthused. "It was perfect! The way it clips and hangs looked absolutely stunning on my wedding day! It was so elegant, and I felt like a fairy queen."
15. Handmade drape cape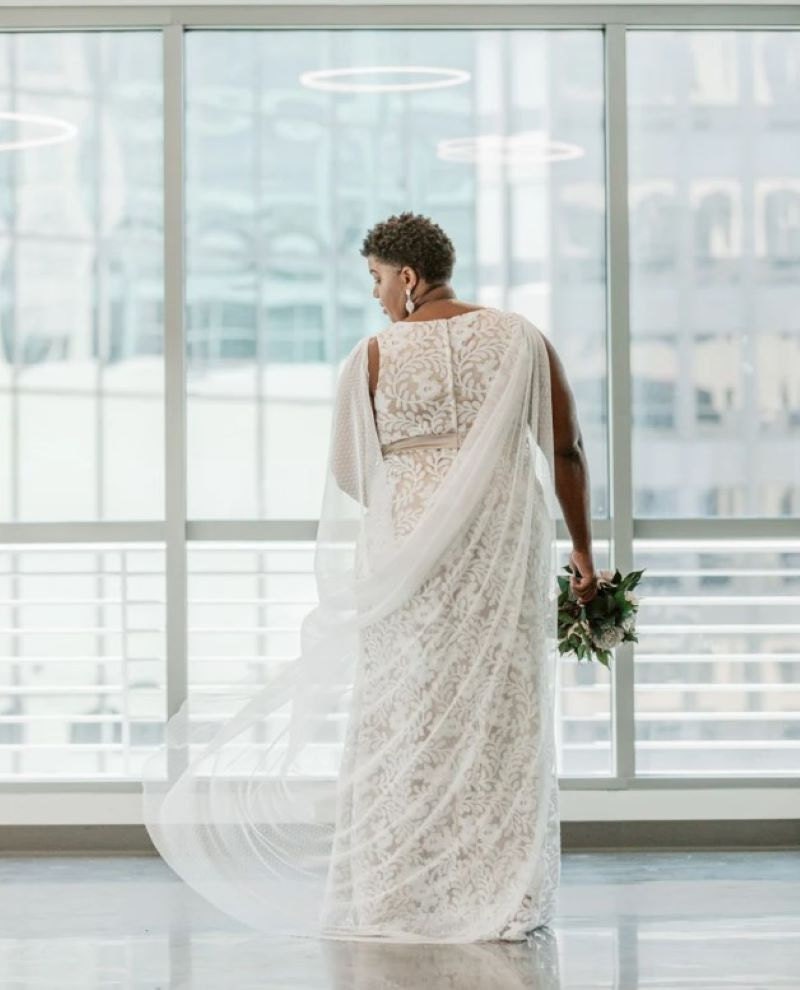 SHOP: Swiss dot cape veil from La Voile Rose, from $47
For something minimal and classy that won't break the bank, this draped cape is just the ticket. It's made from soft Swiss dot tulle, and is available in an array of subtle cuts and designs. One newlywed wrote, "This cape was an ACTUAL DREAM. It was honestly one of my most favorite parts of the whole day. I could not possibly recommend it more."
16. Hooded bridal cloak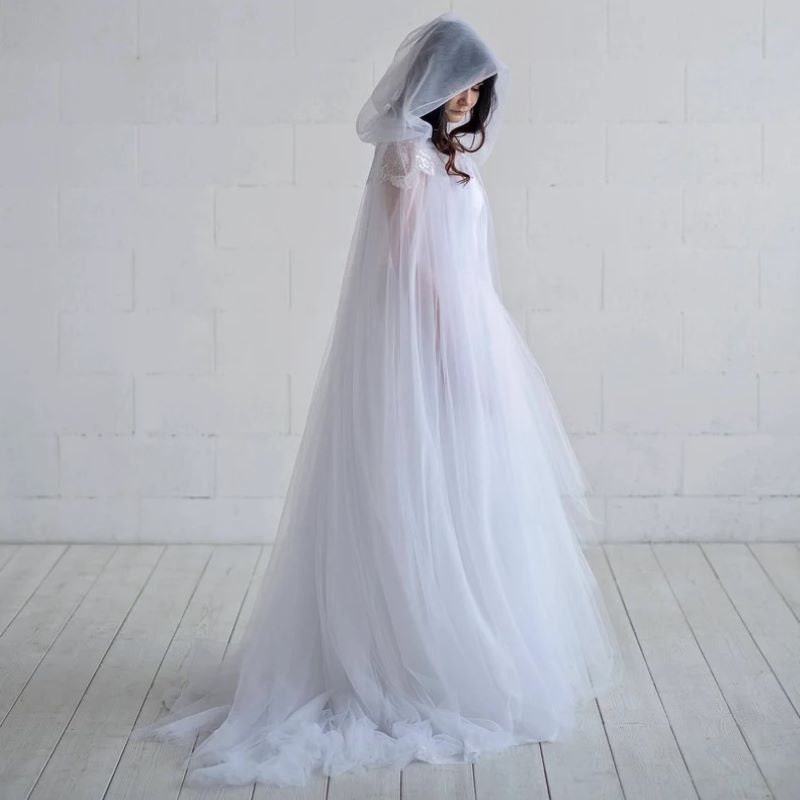 SHOP: Soft tulle and lightweight chiffon bridal cloak from Wardrobe by Dulcinea, $299
The seller behind these soft tulle chiffon bridal capes is all about the romance. Giving hardcore princess vibes, this ethereal hooded bridal cloak has chantilly lace detailing around the shoulders and a round pearly button to keep it securely closed. One bride wrote that their "custom cape stole the show" at the wedding, and we can't say we're surprised.
17. Detachable bridal cape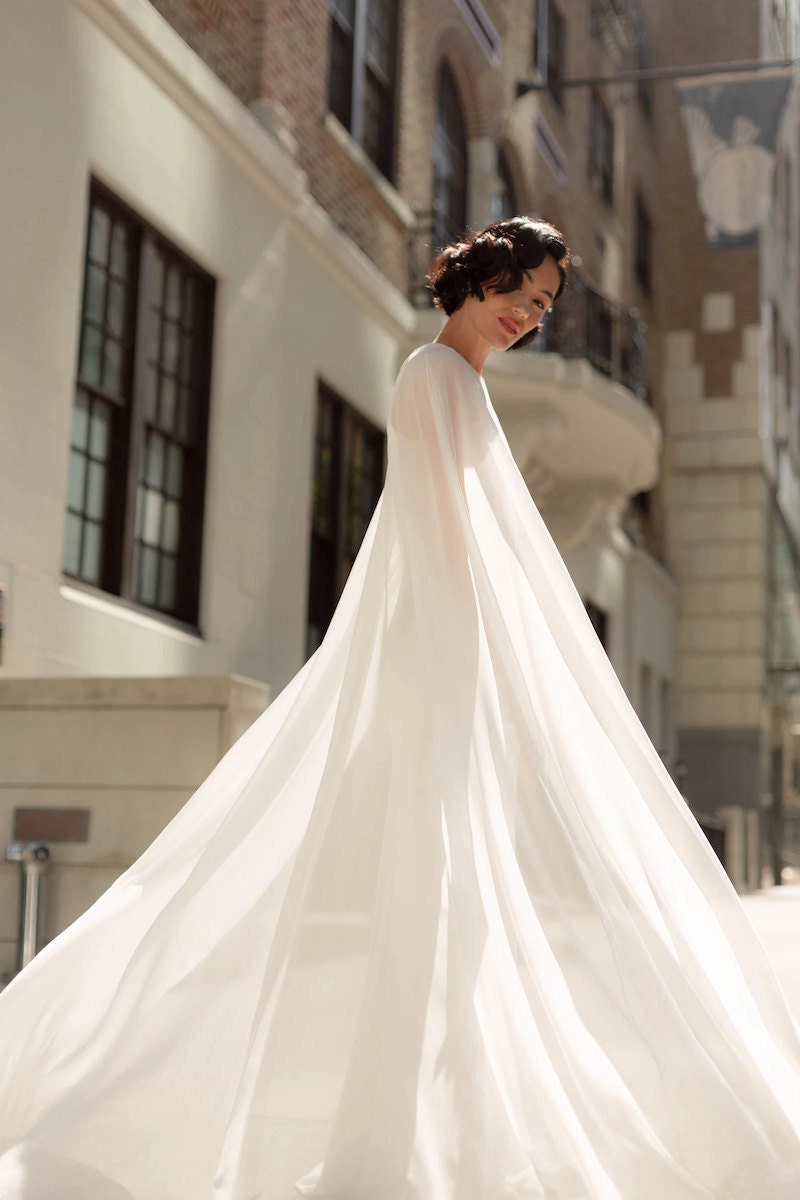 SHOP: Detachable floor-length bridal cape from Davie and Chiyo, $210
Raise your hand if you've got a flair for drama! Us too. And thanks to the invisible hooks holding this stunning handmade cape in place between your shoulders, you can achieve the effortless impactful outfit change of your dreams in a matter in minutes.
Best winter bridal capes
For winter weddings, these bridal capes will not only make you look exquisitely and effortlessly stylish, but can also provide a little bit of much-needed warmth on the big day.
18. Hellebore velvet cape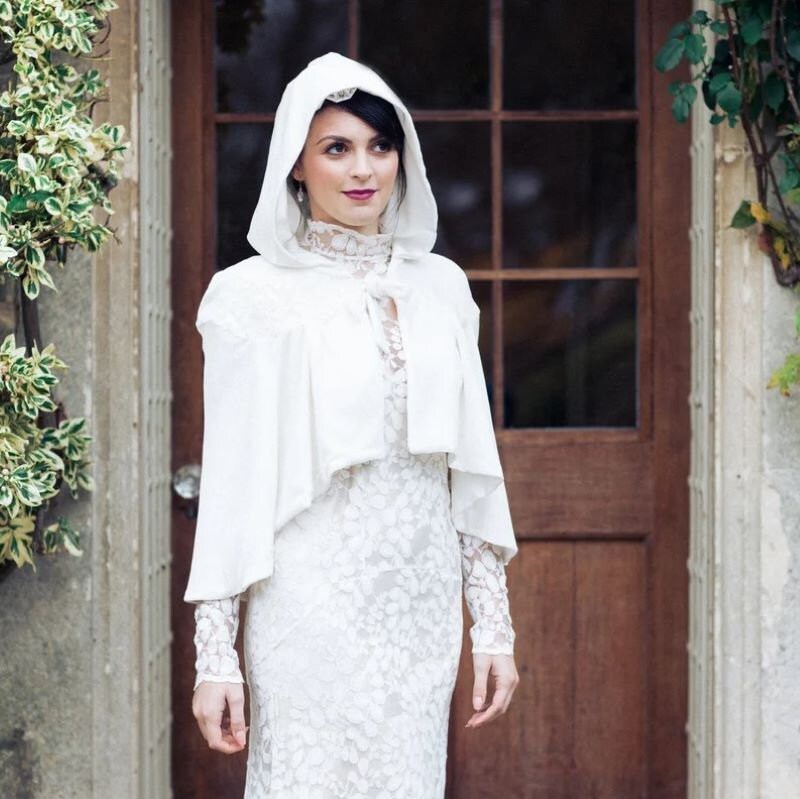 SHOP: Ivory silk velvet cape with a loose-fitting hood from Jessica Charleston, $256
Made from soft and luxurious silk velvet and silk satin, this short bridal cape was handmade in the riverside city of Bristol in England. This lovely loose-fitting cape has a heavy material that drapes a little longer down the back, and an optional tie fastening. It also has a hood that you can play around with to get those gorgeous winter wedding photographs.
19. Mao-necked cape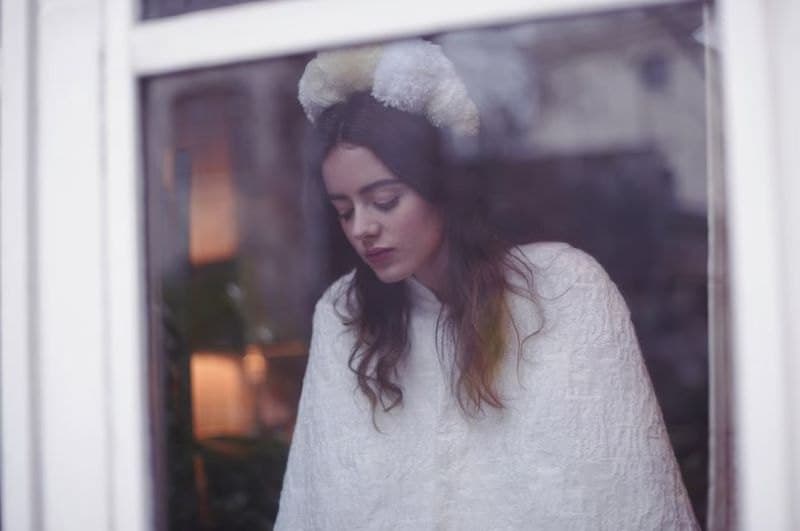 SHOP: White wedding cape in jacquard and polar from Petites Robes Blanches, $321
This vintage-style cape effortlessly nails the winter wonderland wedding aesthetic. It features an upright collar and is lined with white fleece to keep you toasty, even on the coldest of days. It's designed and handcrafted in a small Parisian workshop, and cut from an embossed jacquard-type fabric that gives it an absolutely stunning structure.
20. Romantic wedding cape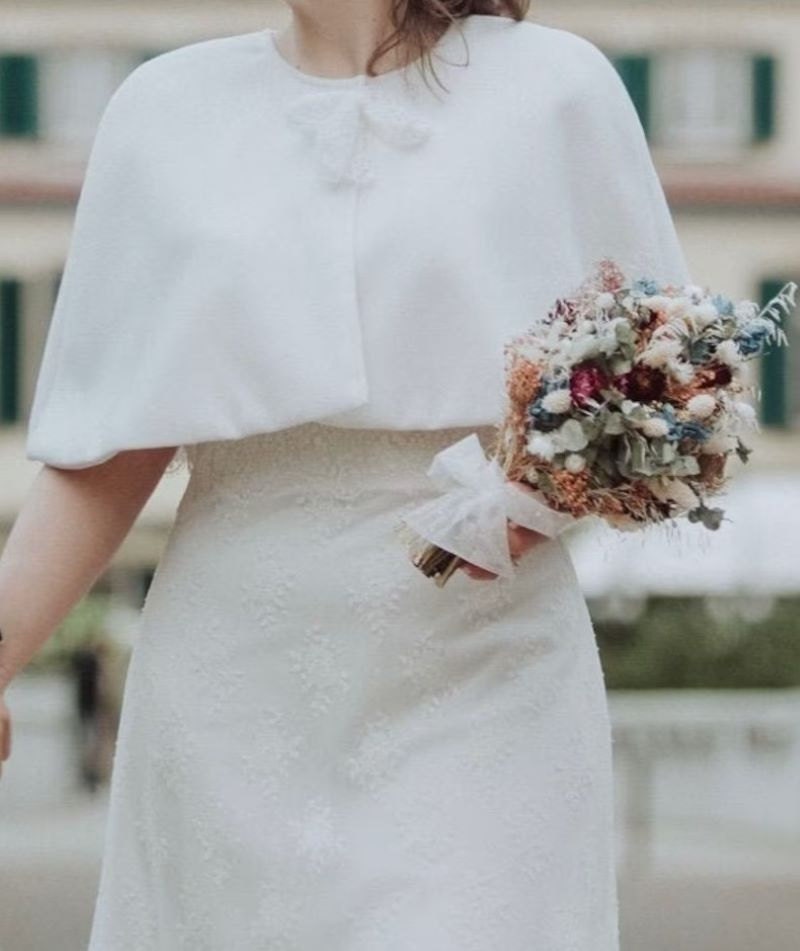 SHOP: Bridal bolero with a bow from bride me Italy, from $112
For a bridal cape that can keep you warm but won't distract too much from the dress, this minimal bolero is simple and chic, and comes in cream white, old pink, or ivory, in a choice of either soft velour, silk satin, or fine velvet. It ties quaintly at the front with a lace ribbon, or, for something more discreet, you could opt for a small hand-crochet button closure.
How do we pick the best bridal capes?
As Etsy Journal editors and contributors research and curate shopping guides for some of the best-loved items on Etsy, we thoughtfully consider the creativity, customization, and craftsmanship that go into each product. We also consider buyer reviews, item ratings, and customer service, and tap the expertise of our in-house merchandising and trends experts to uncover high-quality finds for every budget. You can find more information about each item in the seller's listing details and can take a look at their individual shop policies and reviews, too.