Get creative with your bridesmaid proposal boxes, from choosing a theme and curating the gifts to picking the perfect presentation and popping the question on paper.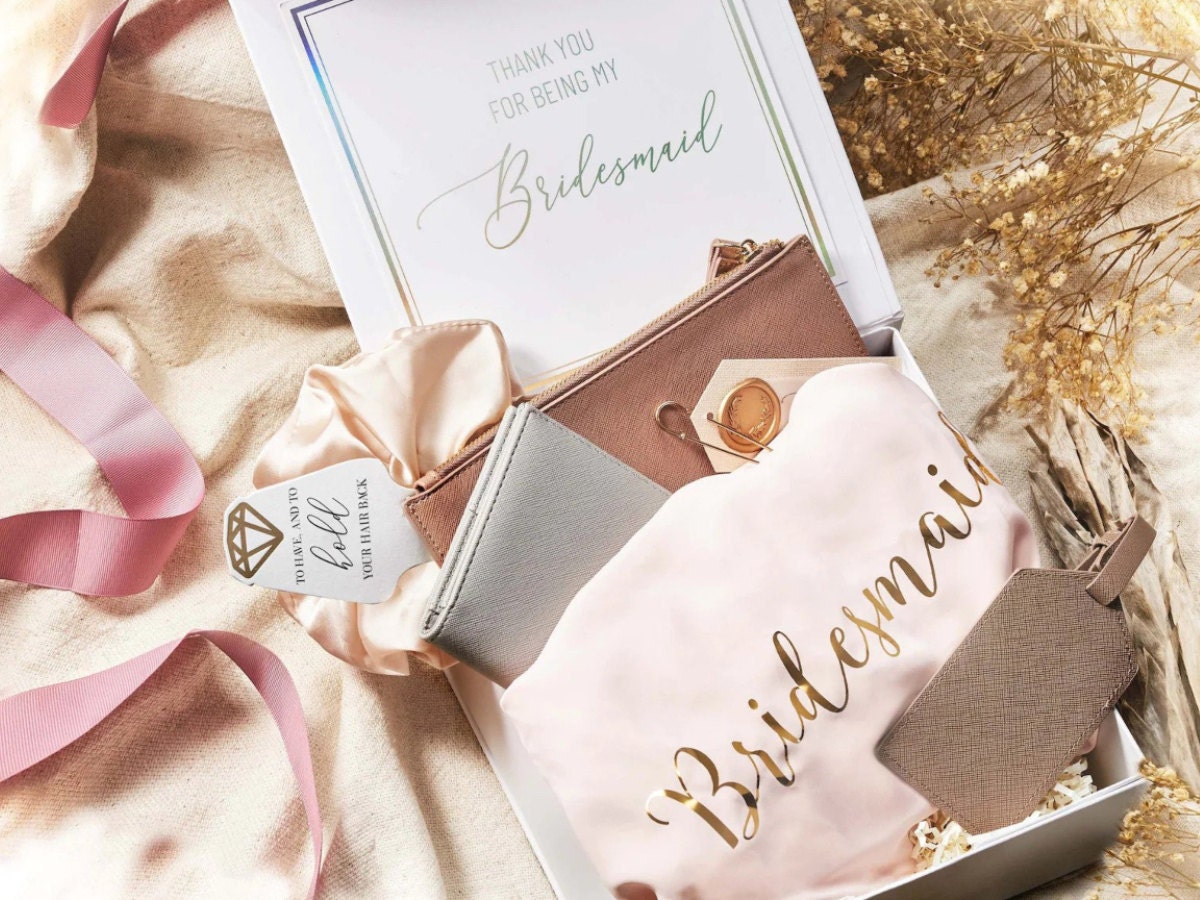 In the days of ancient Rome, the law required 10 witnesses to be present at a wedding to attest that both bride and groom were willing participants—et voilà, the wedding party was born.
Since then, the traditions and rituals associated with the bridal party have modernized and grown more elaborate. Today, there's a lot more to asking your lady (or gentleman) friends to be a bridesmaid than simply asking them to be a bridesmaid. Nowadays, brides-to-be propose to their chosen 'maids—usually bearing a bridesmaid proposal gift.
Picking bridesmaids is often the very first wedding planning move brides-to-be make once their engagement is official. Creating the ultimate bridesmaid proposal makes the moment memorable for everyone involved and gets everyone in the wedding spirit.
Bridesmaid proposal boxes are standard fare for popping the question, whether you're doing it in person or by mail. For many busy brides, a ready-made proposal box that's been carefully designed and curated by a small shop on Etsy is a serious timesaver that makes quick work of choosing just the right gifts for your BFFs.
But if you'd rather create your own DIY bridesmaid proposal boxes from scratch, sellers on Etsy have created super special gifts you can mix and match to created a themed proposal box that's sure to elicit an enthusiastic "I will!" response. Read on for some creative bridesmaid proposal ideas, handcrafted finds, and beautiful boxes and creative cards to bring it all together.
Bridesmaid proposal box ideas
As you begin to assemble a DIY bridesmaid proposal box, choose a guiding theme that will help you narrow down your gift ideas. This bridesmaid proposal box idea can introduce your wedding destination, like a beach-themed bridesmaid box for a seaside ceremony, or celebrate a shared pastime, like a champagne-themed "Cheers!" box for your brunch crew. Choosing the contents based on a theme that embodies your bride brigade is a great way to narrow down all the bridesmaid proposal gift ideas out there and curate a memorable proposal box. Here are a few ideas to help you decide what sort of gift and experience you want to curate for your bridesmaids.
Party in a box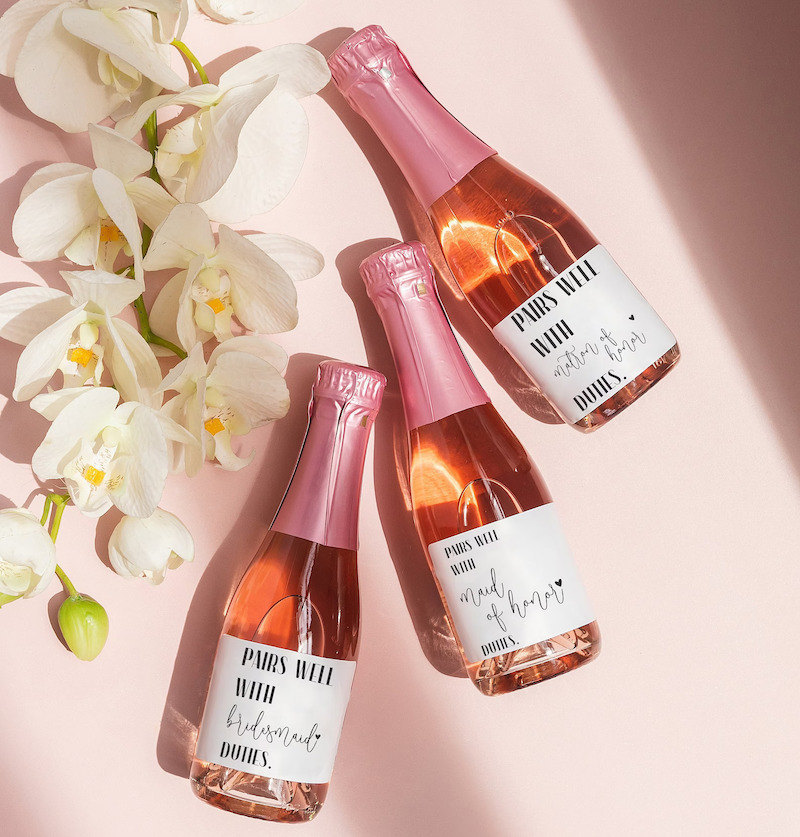 SHOP: Bridal party proposal labels from Label Me Fun, $3
If a good party always brings you and the crew together, make this next celebration extra-special with a toast-ready box you can use right away when they share an enthusiastic "Yes!" For this bridesmaid proposal idea, pair a personalized wildflower shot glass with the pint-size beverage of your choice, tagged with a customizable, water-resistant bottle label.
A beauty box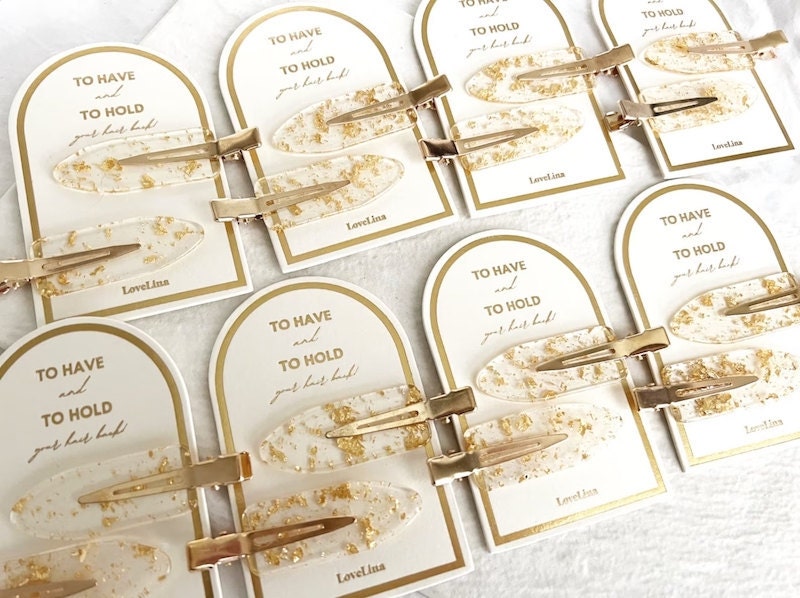 SHOP: Gold and silver bridesmaid hair clips from Love Linax, $4
A bridesmaid gift box devoted to the perfect day-of 'do starts with a set of pretty hair accessories, like these gold and silver "to have and to hold" clips. Choose an accessory they can wear for the wedding, or pick something special that suits each bridesmaid's personality and hair style. Include a luscious hair mask and a monogrammed microfiber hair towel for silky locks on your wedding day.
Aromatherapy box
SHOP: Bridesmaid proposal candle from Paperwhite Co., $10
Set the tone for a relaxed, peaceful wedding day with a "Will you be my bridesmaid?" box filled with aromatic gifts for home and body. An exquisitely scented jar candle makes a great anchor for the set—this one is made with a natural, coconut wax blend and features a label bearing the definition of each position in the wedding party. Include additional scented products, like handmade sachets, refreshing room sprays, fragrant bath oils, or a lovely essential oil reed diffuser.
Creature comfort box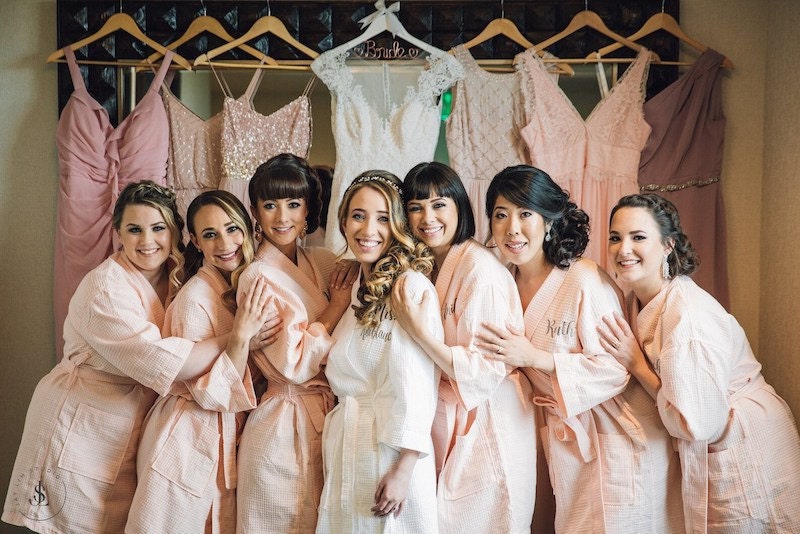 SHOP: Monogrammed bridesmaid robe set from Everly Grayce, $184 for a set of 5
A monogrammed robe is a cozy, intimate gift that your bridesmaids can use on your wedding day to stay comfy and covered up during hair and makeup. Choose thick, warm robes for a winter wedding or lightweight cotton or silk robes for a warm-weather event. These waffle weave, picture-perfect robes come in sets of five—choose from 10 colors to suit each bridesmaid or mix hues to match your color palette. Slip a pair of fuzzy socks in one pocket and a super-soft, handmade neck pillow in the other for an extra-special touch of creature comfort—then roll it all up and slip it into a luxe linen or cotton tote.
Post-wedding recovery box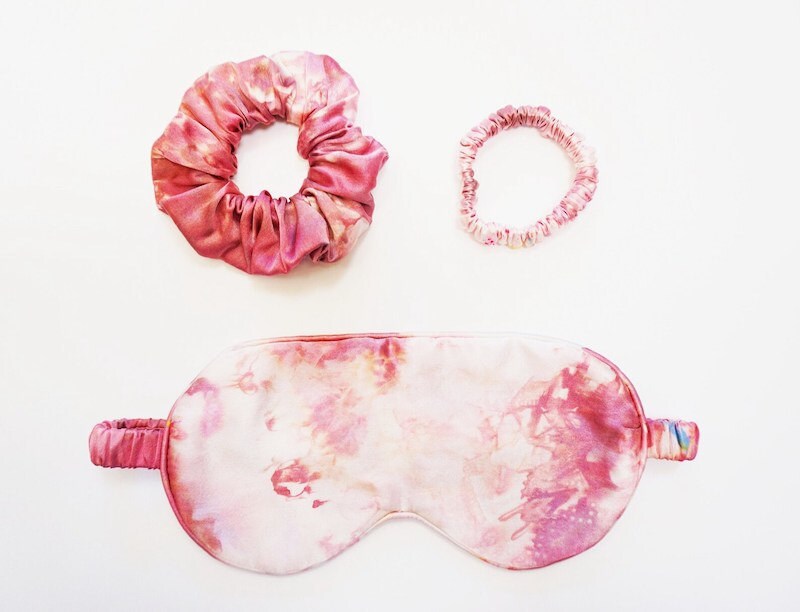 SHOP: Silk eye mask set from Yuiitsu Dye Shop, $50
Since the wedding day usually gets all of the attention, eclipsing the busy day before and the lazy day after, why not gift your bridesmaids with a pre- and post-wedding self-care box? Start with this set of hand-dyed, 100% mulberry silk goodies, including a luxurious eye mask that doubles as a pre-wedding beauty booster and post-wedding recovery apparatus. The silk scrunchies help prevent bed head and offer loose respite for hair that's been in an up-do for hours.
Sweeten the deal with a personalized water bottle for maximum day-of and day-after hydration, along with an aromatherapeutic bath bomb for a good, long, post-wedding wind-down soak.
Bridesmaid proposal gift boxes
Now that you've chosen some items to include in your box, it's time to choose the actual vessel you'll place everything in. DIY bridesmaid proposal ideas can be as simple or fancy, as creative or conventional, and as clever or classic as you'd like them to be—and so can whatever you assemble the gift in. While an elegant, square box is the standard choice for a bridesmaid proposal box, do what suits your own style—like vintage metal lunch boxes or picnic baskets. Here are a few ideas for a bridesmaid proposal box to get you started.
A distinguished satin gift box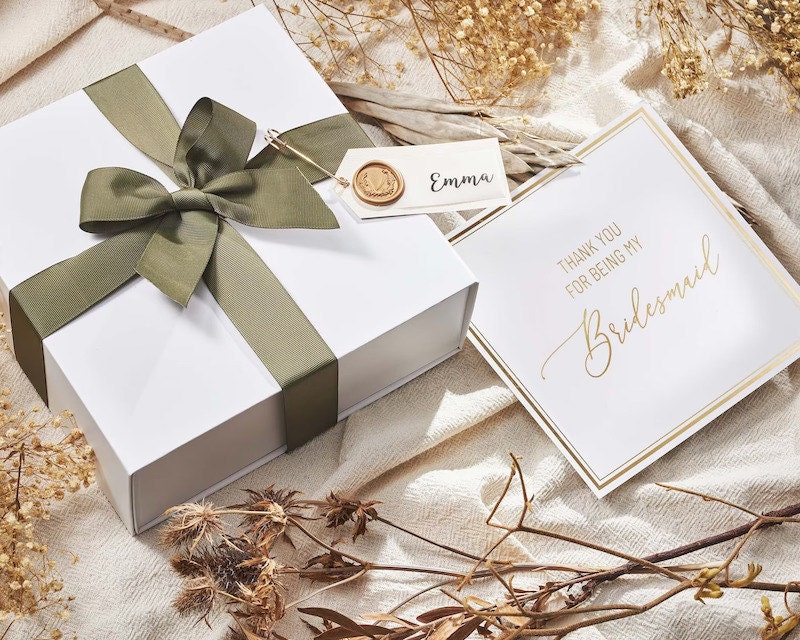 SHOP: Satin bridesmaid proposal gift box from Camellia and Love Giftery, from $17
A sturdy and sophisticated satin box like this one embodies the ritual and grandeur of a wedding—choose from 14 ribbon colors, and include one of nine different cards for this proposal box.
A box of this caliber calls for gifts of luxury. For bridesmaids who like their creature comforts, fill this proposal box with spa-inspired gifts like handmade scented candles, boutique body balms, or exotic bath bombs. For the foodies in your circle, look for artisan chocolates, exotic dried fruits, and nuts—or fancy coffees, teas, and cocoas tucked into a personalized mug.
A personalized beauty bag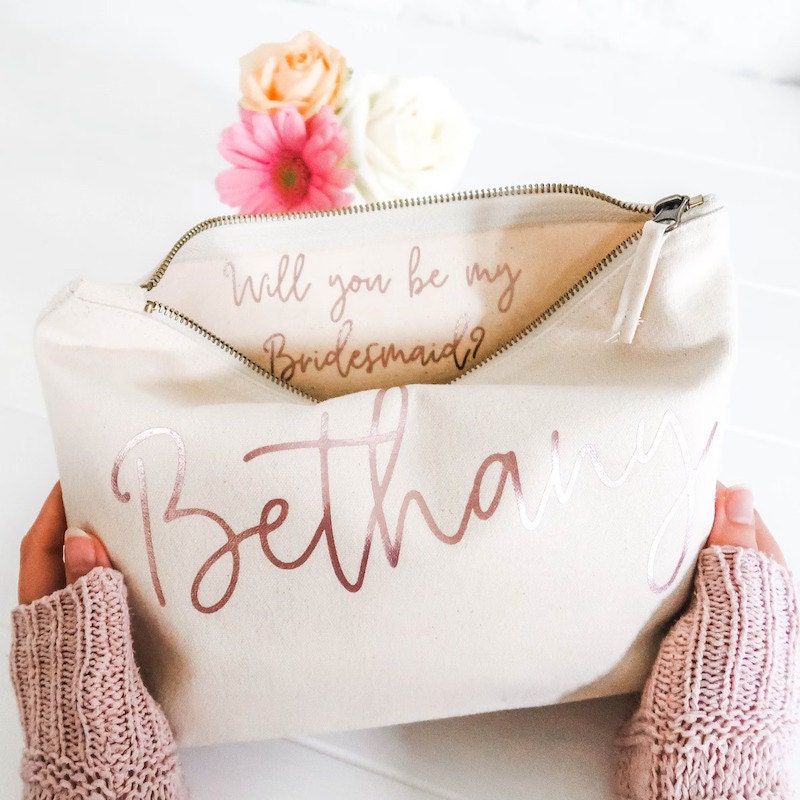 SHOP: Will You Be My Bridesmaid? makeup bag from The Gift Studio Company, from $16
A personalized makeup bag is the bridesmaid proposal gift wrap idea that keeps on giving. This zippered pouch features the bridesmaid's name printed on the outside, and when it's unzipped, a personalized message is revealed.
Fill the bag with one or more skin care essentials, like a microfiber makeup-remover towel, jade roller, body brush, luscious lip scrub, or hydrating facial mask.
A wooden keepsake box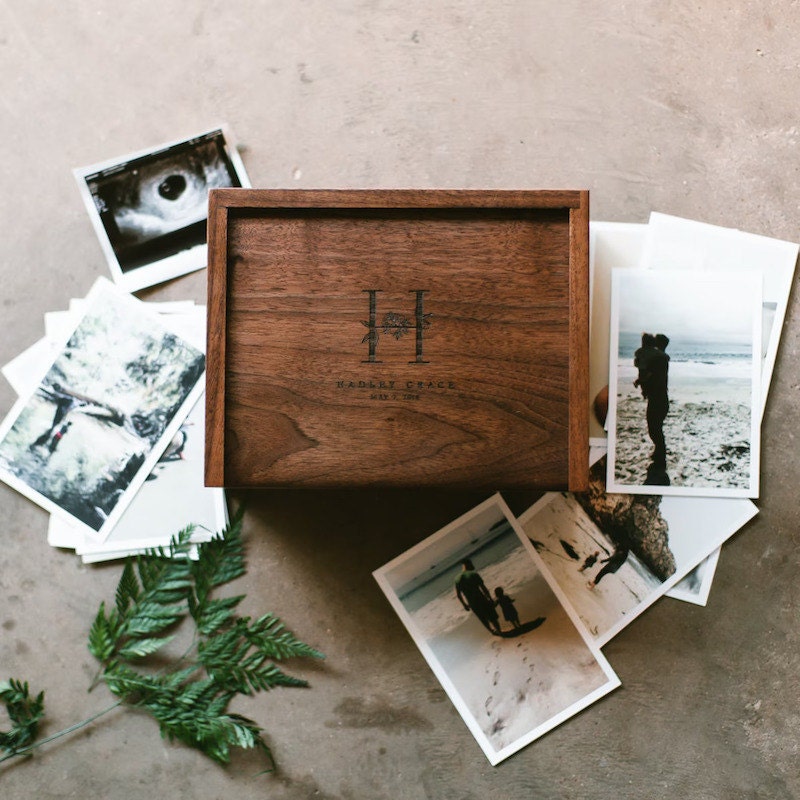 SHOP: Wooden keepsake box from Wayfaren, $95
A beautiful wooden keepsake box is a lovely possession on its own—customize it with your gal pal's name and fill it with swag, and it's a perfect, personalized bridesmaid proposal gift. This handsome box is handmade from solid hardwood and features a sliding lid.
For a truly unique bridesmaid gift that may or may not elicit a few sentimental tears, include a few special photos of you and the recipient. Make it extra-personal with a hand-picked trinket that represents your friendship or a shared experience. Wrap a personalized necklace for each of your bridesmaids to wear on the wedding day, and include it in the box.
A plant-dyed shopping bag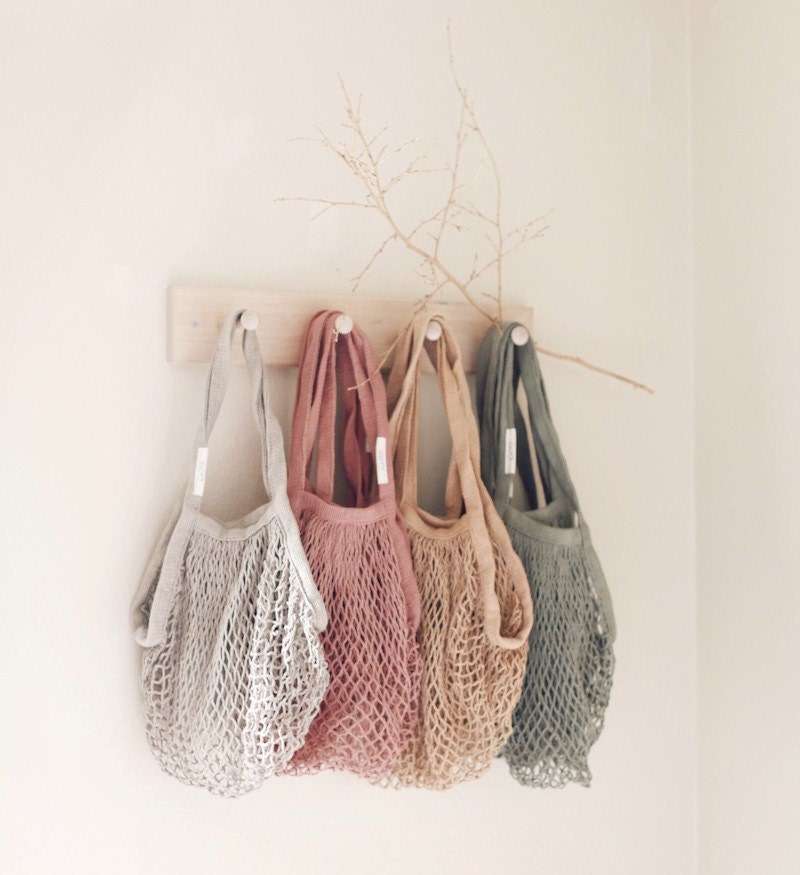 SHOP: Plant-dyed market string bag from Eloise et moi, $22
A sturdy, spacious tote bag is a handy vehicle for large or bulky bridesmaid gifts that won't fit in a box—and reusable market bags go on to do great things for your bridesmaids. These plant-dyed string bags come in eight gorgeous, muted tones that fit right in with this season's hottest color palettes. And if you haven't chosen your wedding colors yet, these hues may be the inspo you're looking for.
A customized wine crate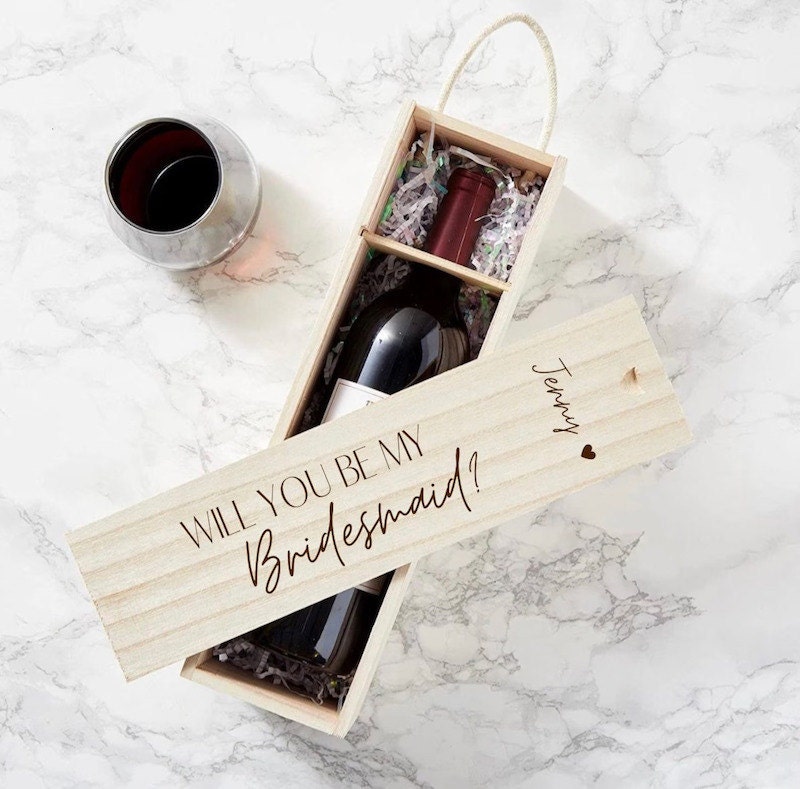 SHOP: Engraved wine box from E and K Wood Crafts, $25
If your future bridesmaids enjoy unwinding with a glass of wine from time to time, present each of them with a bottle of their favorite vintage, tucked into this attractive box. Have their name engraved on the lid, along with a message of your choosing. This small shop also offers custom designs if you've got an inside joke you'd like to share here instead. Finish off each box with a beautiful set of wine glass charms, according to your friend's individual tastes.
Bridesmaid proposal cards
No bridesmaid proposal gift, whether pre-packed or curated by you, is complete without a beautiful card expressing a heartfelt, handwritten message of love and enduring friendship. Fortunately, the talented stationers on Etsy have designed a bevy of bridesmaid proposal cards with delightful design details that give your 'maids a taste of the festivities to come.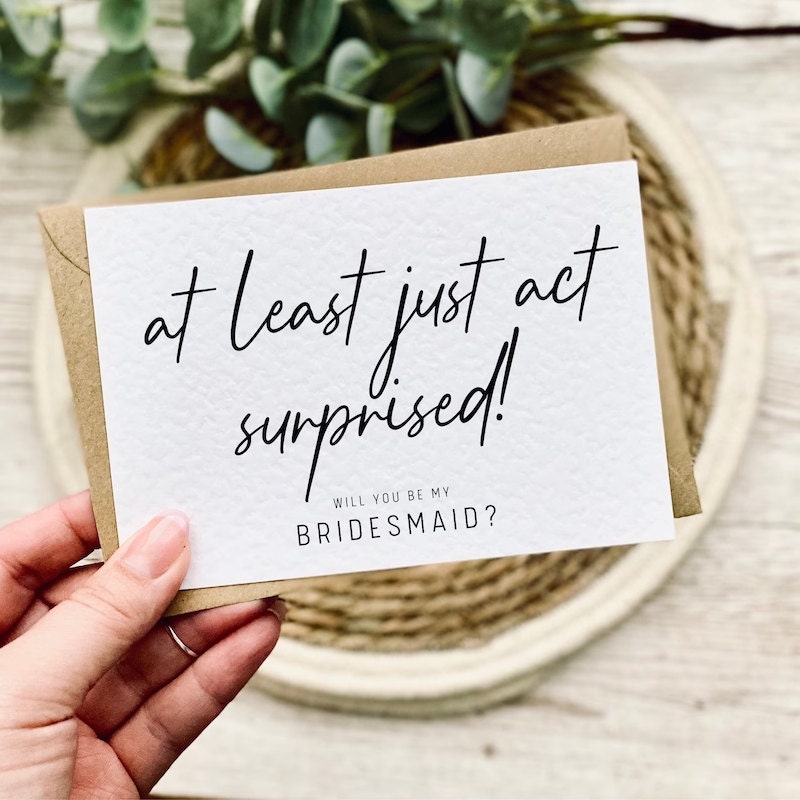 SHOP: Act Surprised bridesmaid proposal card from Little Paper Bird Ltd., from $4
If there's a whole lot of laughter going on when you and your bridal party get together, a light-hearted card—or an outright funny one!—sets the mood and lets your crew know you're feeling pretty chill about this whole wedding thing.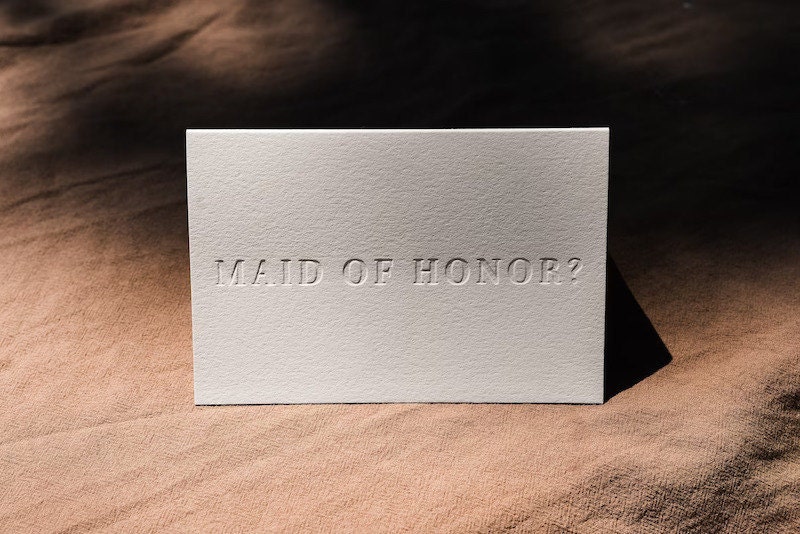 SHOP: Maid of Honor proposal card from Abbey Ratcliff, $5
If you're a minimalist bride at heart—but prefer your simplicity served up with a heaping helping of warmth—this gorgeous letterpress card, with its timeless font, clean lines, and cheeky brevity, might be just the thing.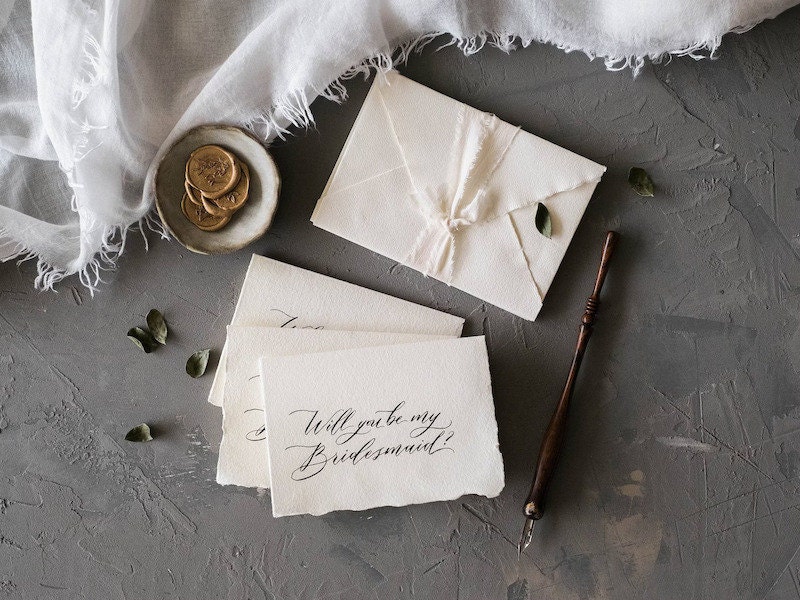 SHOP: Bridesmaid proposal card from Little Carabao Studio, $11
The charm of handmade paper, deckle edges, antique-gold wax seals, and impeccable calligraphy is irresistible to many a boho bride—and this card embodies all of it. Personalize the message on the front of the card, and choose black or gold ink for the lettering.
What to write in a bridesmaid proposal card
The proposal message you write in each card will, ideally, be unique to each bridesmaid. You can keep it brief—"I wouldn't dream of getting married without you by my side!"—or you can wax poetic about what their friendship means to you.
If you know what you want to say but you aren't sure how to say it, do a Google search for quotes about weddings, love, or friendship to find one that expresses just the right sentiment.
As you narrow down your choices for your bridesmaid proposal gifts and start thinking about your proposal messages, remember this, above all: Unless you're a hard-core traditionalist, there is no "right" or "wrong" way to put together your bridesmaid boxes. Stay true to your own personality and style, follow your instincts, and do what makes you happy.
How much should you spend on bridesmaid proposal gifts?
How much you spend on your proposal gifts depends on a few important factors, including your overall wedding budget, the size of your bridal party, the culture of your friend group, and the time and money your bridesmaids will be investing in your big day.
Bridesmaid proposals can range in price, all depending on the items you choose to use as part of your bridesmaid box. More important than how much you spend on the gift, of course, is the gift itself. The "perfect" bridesmaid gift box is the one you know your friends will appreciate, and the tiny thoughtful touches that small shops on Etsy incorporate in their designs and packaging make any gift extra-special.
Choose your gifts with intention, based on what would be the most meaningful to each individual, and you can't go wrong—even on a small budget. In fact, scores of small shops on Etsy offer thoughtful bridesmaid proposal ideas for less than $20—like personalized necklaces, luxurious bath bombs, and artisan delectables. You certainly don't have to choose the same gift for each bridesmaid, but ideally, all of the gifts should be in the same price range.