Give the term "living room" a whole new meaning with plants, dried flora, and botanical decor aplenty.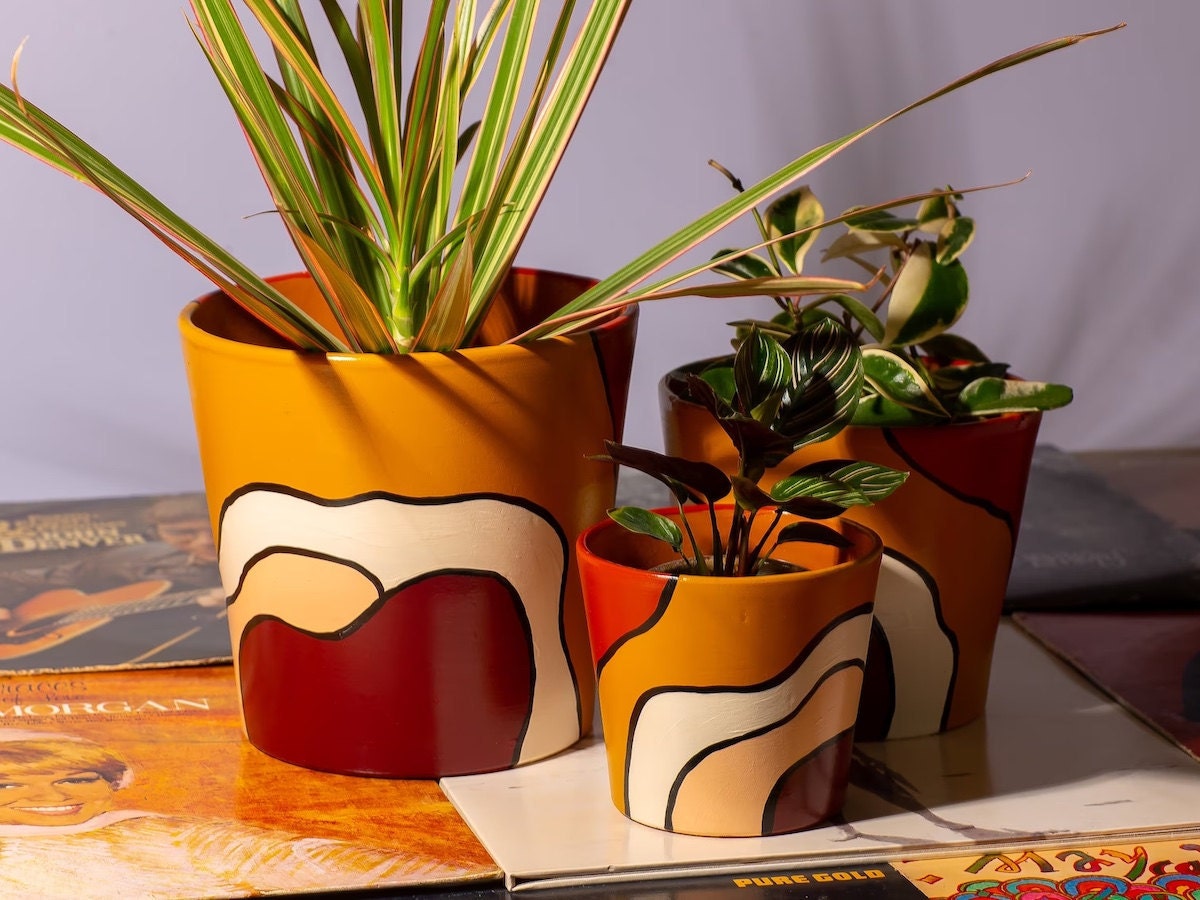 Snake plants, ferns, and cacti, oh my! Known for improving air quality, brightening up your space (and your mood!), and creating a calming atmosphere, houseplants are always a good idea. And while every plant parent knows you can never have too many succulents, there are plenty of creative ways to dial up the outdoorsy vibes at home without paying yet another visit to the nursery.
From gorgeous vases full of dried blooms for ever-vibrant color to understated nature-inspired wall art and decor, adding a little more leafy lusciousness to your "living" room can add new life, energy, and style for every season. Read on to discover quick tips to enjoy the great outdoors year-round, from the comfort of your home.
Go big on planters (and plant hangers!)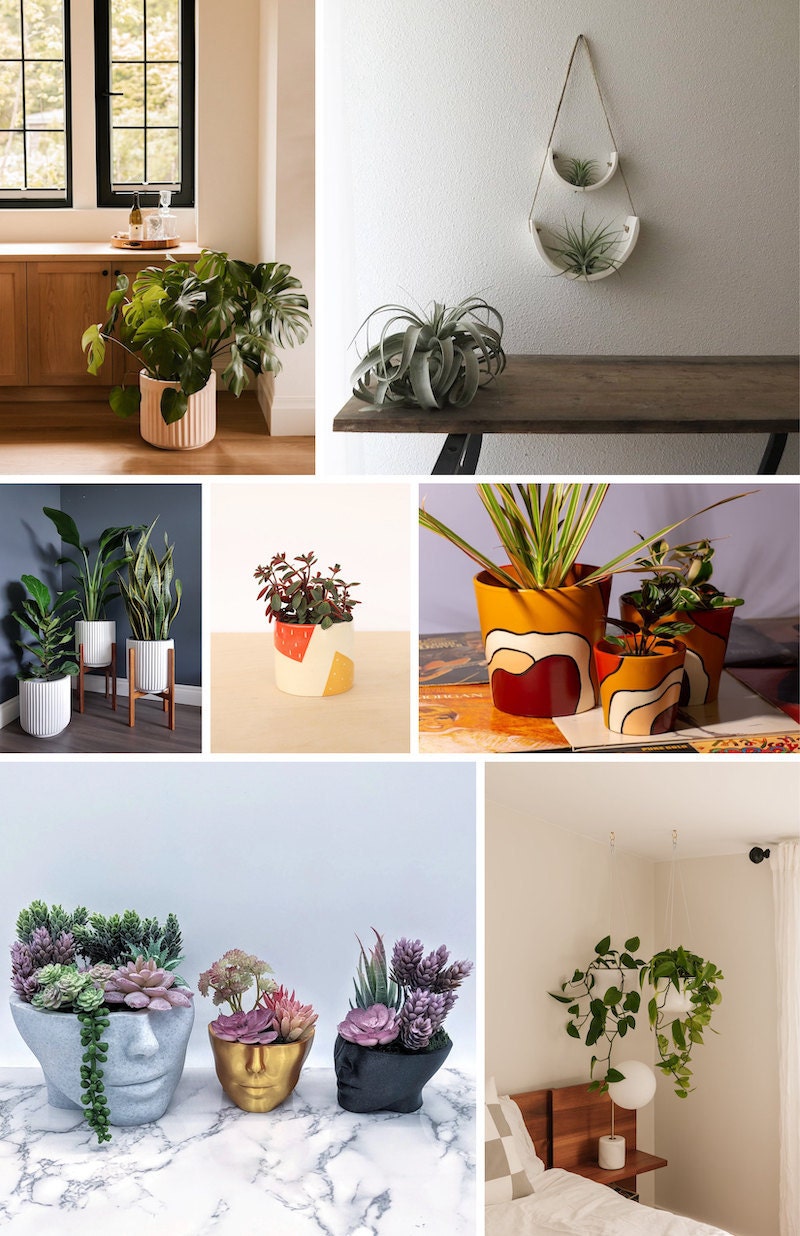 SHOP (clockwise from top left): Large, lightweight modern planter from Hudson and Oak, $133; tiered earthenware air plant hanger from Mudpuppy Ceramic Studio, $76; Desert days planter from Pepper Palm, $45 for one; matte white hanging planter from Hudson and Oak, $65 for one; head sculptural planter from Chicly Built, from $20; ribbed cylinder planter from 2 Plant Girls, $106 for one; colorful ceramic planter from Nightshift Ceramics, $42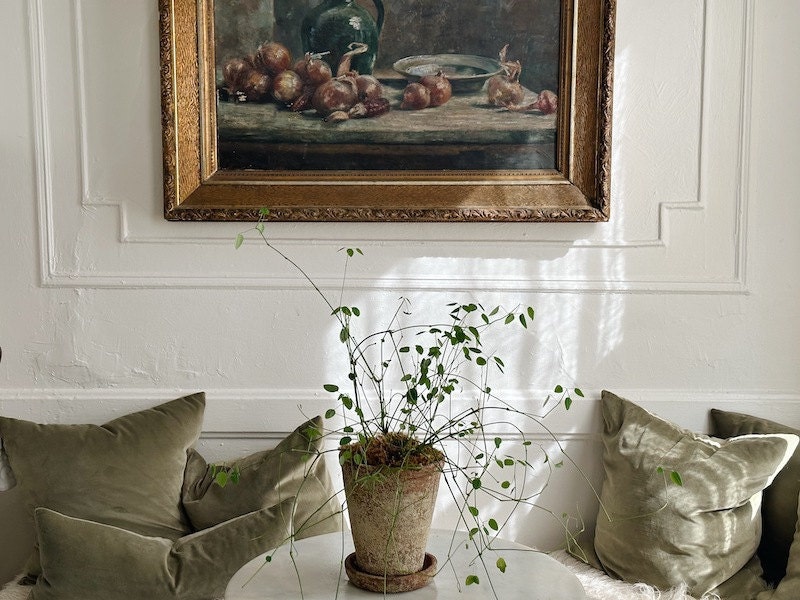 SHOP: Planters
Give your variegated philodendron the best planter that complements its unique shape and color—be it an understated neutral-toned ribbed container or a colorful hand-painted pot to accent your plant's verdant hues. Use vines from a hanging vessel to frame your decor and windows, opt for a plant with an interesting shape as a centerpiece, or choose a larger planter to draw the eye upward to create an airy oasis. Pro tip: You can use plants and planters to hide any unsightly wires or bulky outlets for an instantly chic and effortlessly uncluttered look.
Consider faux and dried flowers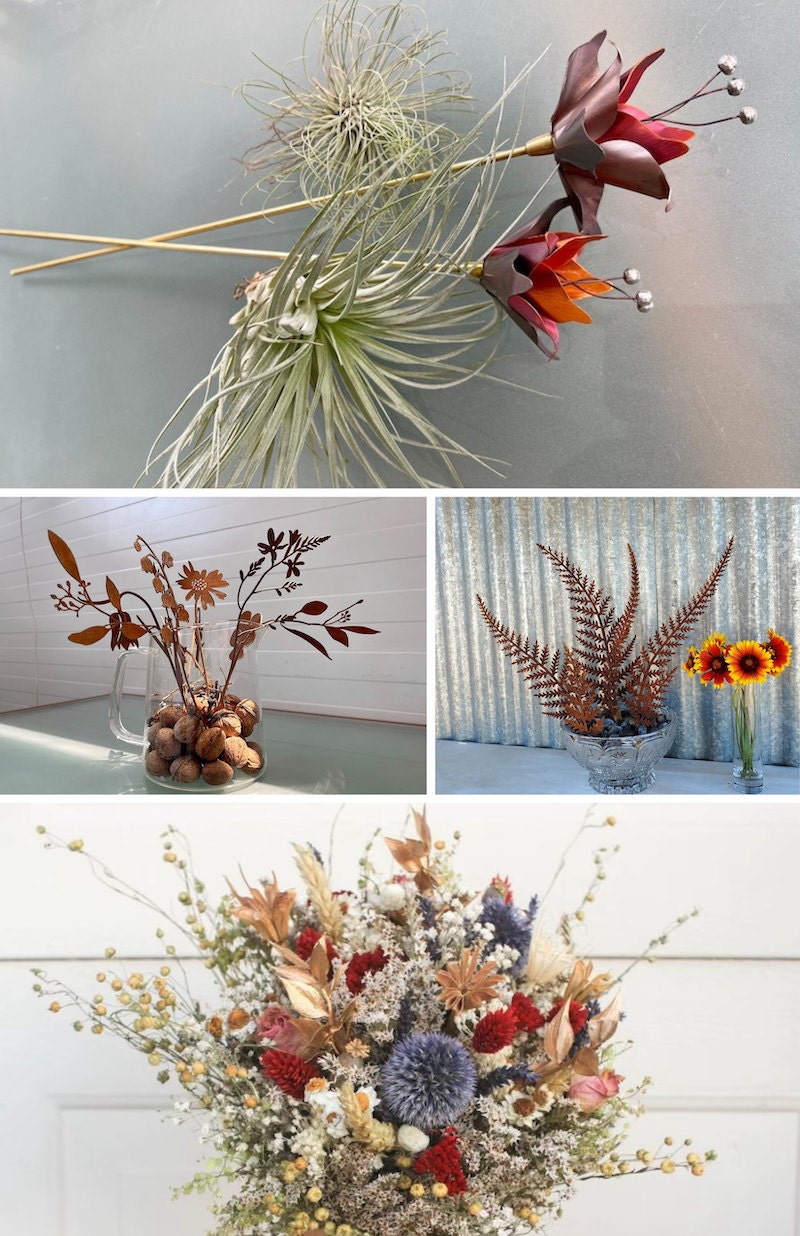 SHOP (clockwise from top left): Copper and brass flower sculpture from Rusty Sparrow Design, $45; rusty fern bouquet from Ironstone Steel, $60; colorful dried flower bouquet from Bridalwish Floral Design, from $16; metal flower bouquet from Rusty Sparrow Design, $51
Not enough sunlight for plants in your home? Have no fear: Dried blooms and faux flowers have a forever freshness that adds color and vibrance to any room, no sunlight (or watering!) required. Style them in your favorite vase, or hang them in bundles for a textured touch on your walls.
Invest in your vase collection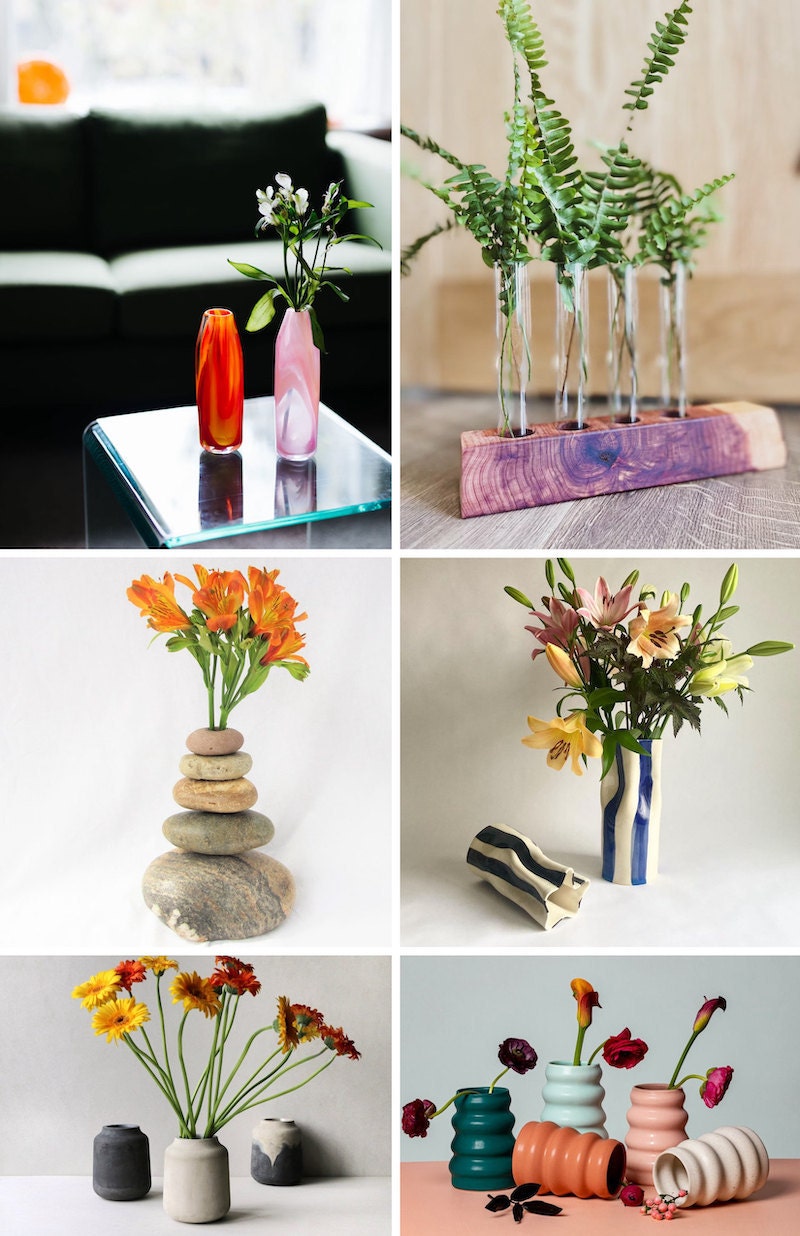 SHOP (clockwise from top left): blown glass pencil vase from Maria Ida Designs, $103 for one; live edge propagation stand from Roots, Sprouts & Home, from $25; striped ceramic vase from ALICJA CERAMICS, from $60; modern rounded vase from Paper & Clay, $64 for one; minimalist concrete vase from SUCCUC, $67 for one; cairn vase from Drift Rock Bay, $53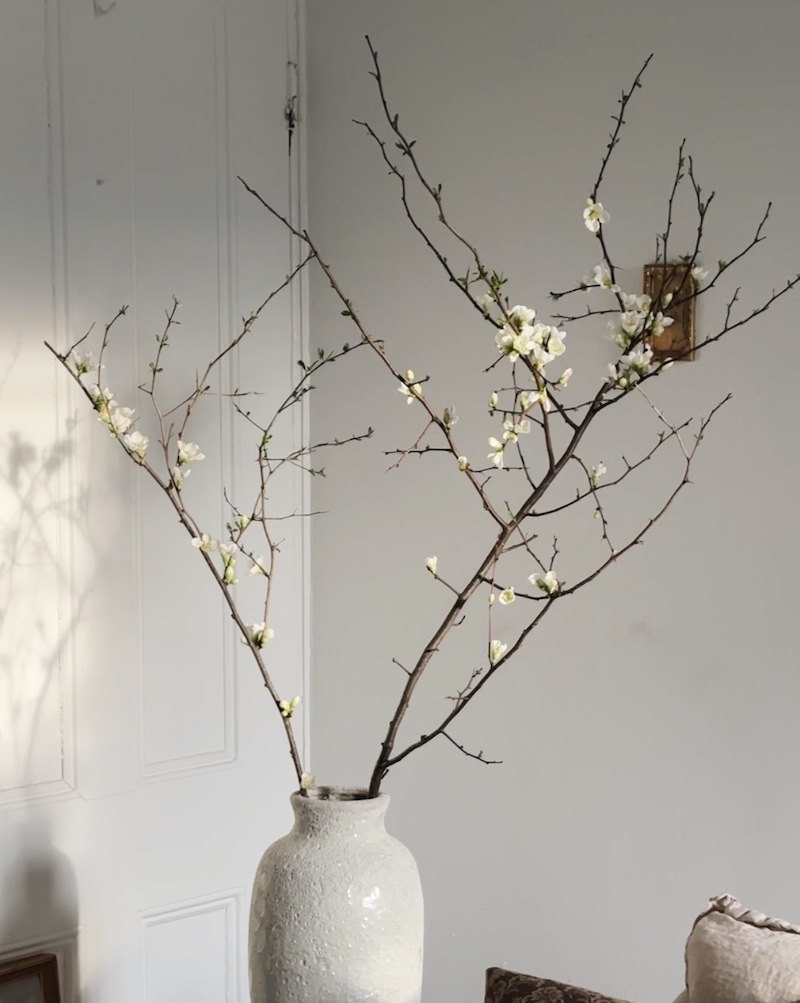 SHOP: Vases
A stunning live edge bud vase for your plant propagation projects. A bold orange blown glass vessel, handmade with love. A vase made from stone, inspired by the cairns and rocky scrambles you see on your favorite hikes through the forest. Whatever your style, these vases make the perfect frame for your artfully arranged blossoms—and are also works of art all on their own.
Enjoy the great indoors with nature-inspired decor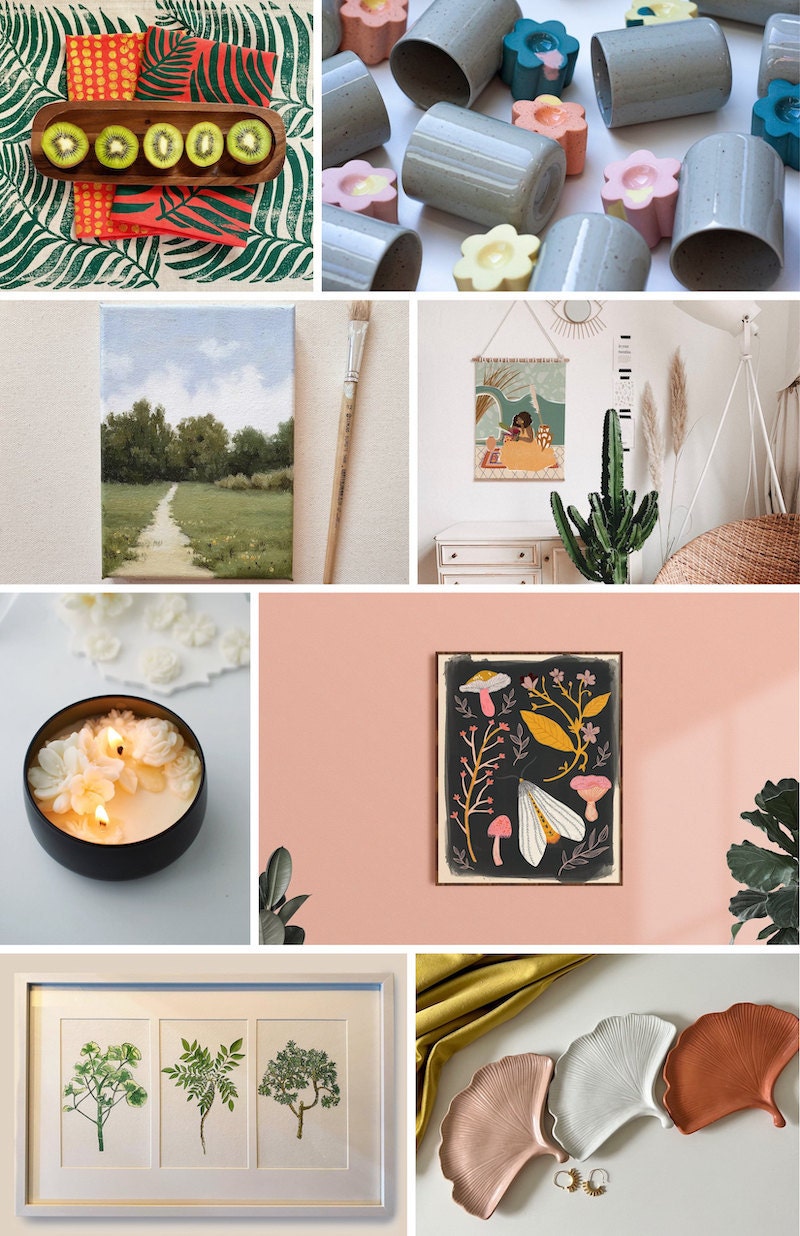 SHOP (clockwise from top left): Printed palm table runner from Julie Peach, from $58; ceramic flower mug from Tochka And Tochka, $44 for one; digital print of boho painting from Sundry Society, $5; colorful moth art print from Dream Folk Studio, from $20; gingko leaf trinket dish from Dovekie & Finch, $20 for one; set of three printable botanical watercolor prints from Aayushee Arts, $3; flower blooms scented soy candle from Cai Cai Handmade, from $29; small landscape oil painting from Artsaves Julia, $79
You don't need a green thumb to enjoy many of the benefits of a home full of natural wonders. Enter: nature-inspired decor. From botanical prints to gingko-leaf–shaped ring dishes to earthy scented candles, you'll transform a room into a forested sanctuary in no time. Bonus: These picks make excellent gifts for plant lovers in your life.
Add some sparkle with plant jewelry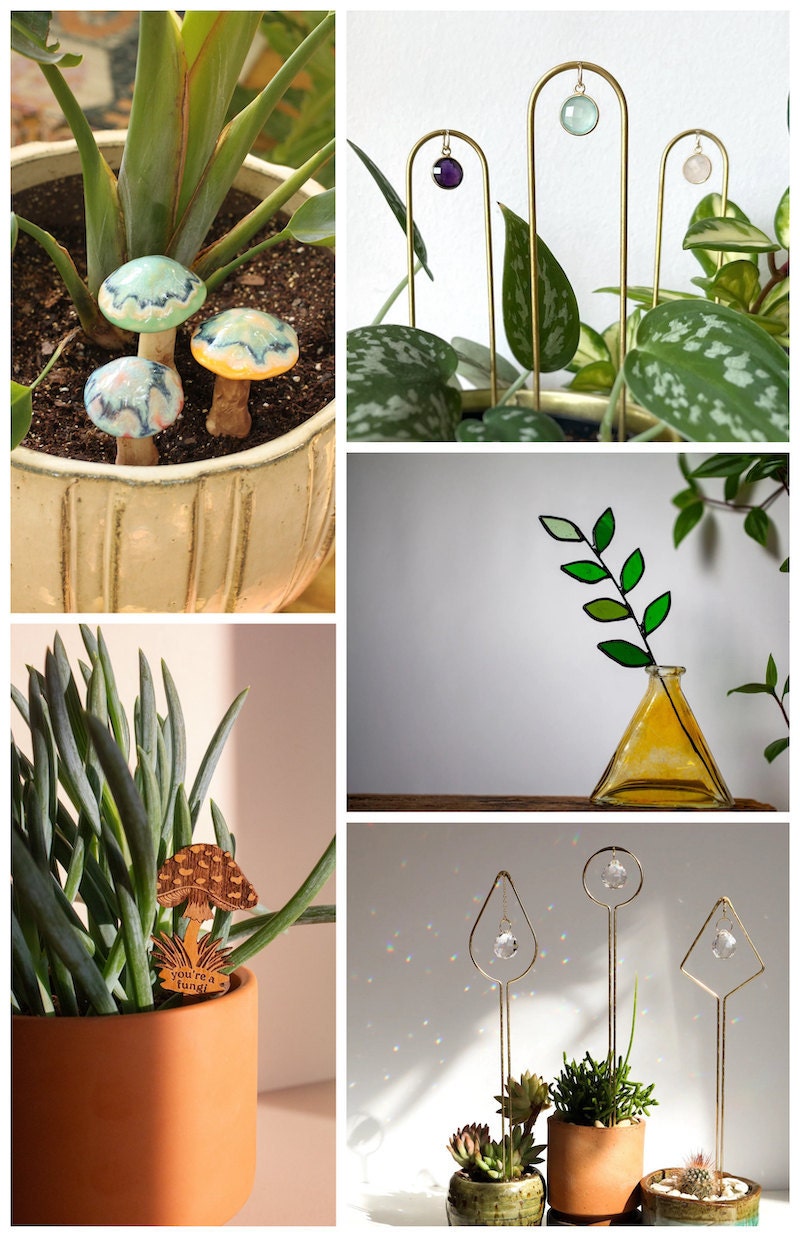 SHOP (clockwise from top left): Whimsical mushroom plant accessory from Clay Hive Co., $13 for one; brass plant stake with gemstone from Annie Lesperance, $18; stained glass pot stake sun catcher from Glass And Light Studio, $33; prism packets set from Sol Proaño, $225 for set of three; funny funghi plant pick from Hereafter LA, $9
You love a good capsule accessory for everyday glam—so why not let your leafy loves play dress up too? Try a twee little toadstool nestled in the soil of your prized pothos, a stained glass sun catcher to add to the pot of your favorite frond, or a prismatic crystal staked alongside your monstera that transforms your space into a twinkling haven of rainbows as the sunbeams refract through each facet.
Even more inspiration for your personal botanical garden
See how one plant lover incorporates greenery into her home decor.