by Aleksa Brown
Set design, costume sewing and tiny wig making is all in a day's work for cat photographer Kate Funk.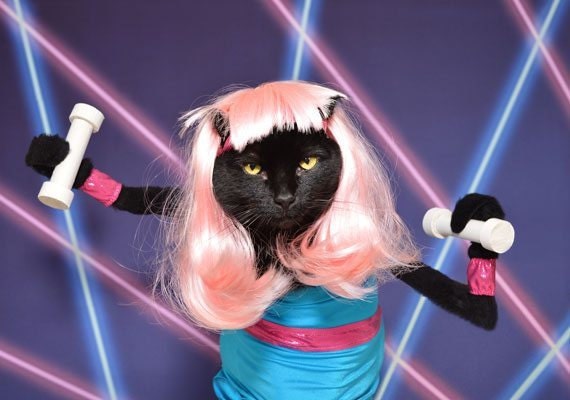 Cat photographer, card-maker and all-around-creative genius
Kate Funk
fell into her dream profession by accident. One day, while working at a Milwaukee paper store, she created a tiny party hat for her recently-acquired rescue cat, AC. That night, Kate took the hat home and put it on AC's head – to her surprise, he didn't seem to mind wearing it. Before long, she was crafting a faux cake out of construction paper and photographing AC in a bright party scene:
the perfect birthday card for a friend
. When Kate's boss at the paper store saw the finished birthday card, she was intrigued and inquired if Kate had any other designs. So, Kate did what any driven creative person would do: she went home and got to work shooting five additional cards – each featuring a costumed AC and his trademark look of disdain – to add to her collection. Things snowballed from there. Eight years,
one book
(and another due out this fall!) and hundreds of AC photos later, Kate works on her business full time. We were curious about her creative process (not to mention totally obsessed with her photographs), so we got in touch to hear a little bit more about how it all works. Scroll on for the full interview, along with an exclusive photo from her forthcoming book.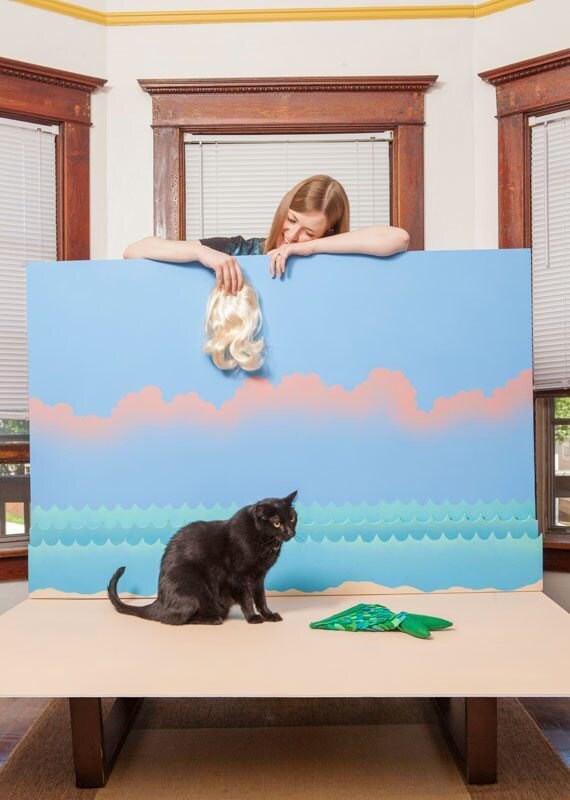 Adam Ryan Morris/Milwaukee Magazine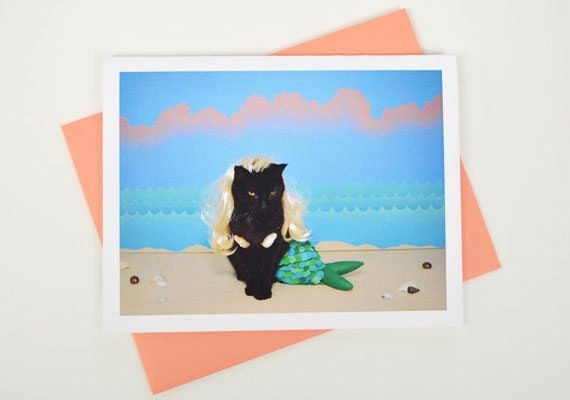 Kate Funk
The props in your photos are incredible – from the kitty wigs and weights in your new calendar to the bright paper dioramas in many of your greeting cards. Do you make everything yourself?
Kate:
I make the majority of my props and costumes myself. When I first began, I would purchase costumes at stores and then create a photograph around them. It reached a point where I realized there were only so many
cat costumes
out there, and there were ideas that I wanted to do that required costumes and props that I wasn't able to find. So I taught myself how to sew by pulling costumes apart and looking at how they were constructed. In terms of costume design, wigs are the hardest part for me. I still buy kitty-sized wigs anytime I see one for sale on the off-chance that I can use it one day; generally, I have to buy normal wigs, cut them apart, and re-sew them onto black skull caps that I sew in AC's size. As for the dioramas, they're all handmade out of foam core sheets and acrylic spray paint. I never know what I'm going to have to try and make next – when I come up with an idea for a photo, the first step is spending a lot of time brainstorming how I'm going to actually create it all. There's a lot of trial and error involved, as I usually don't know what I'm doing. I have to teach myself new things every week. If I had to try and put a rough estimate on it, though, I'd say one photo takes approximately two weeks to do from start to finish.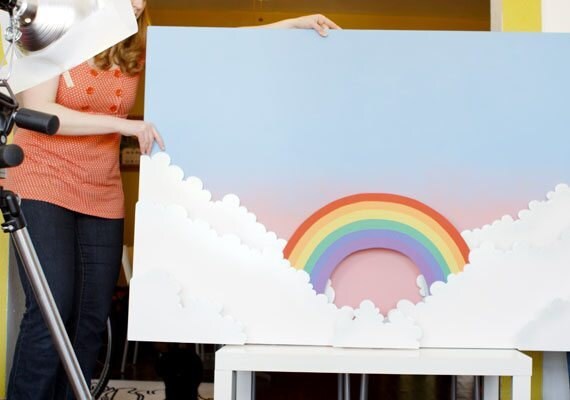 Michael Patterson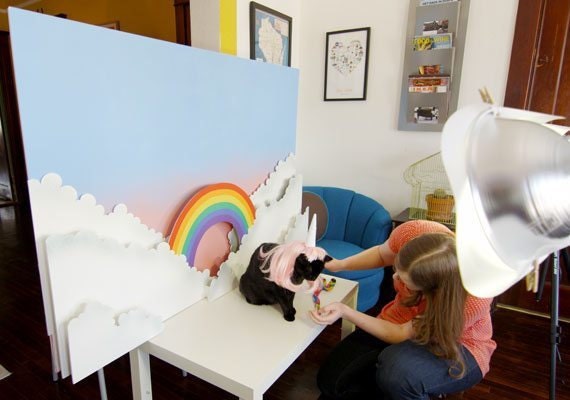 Michael Patterson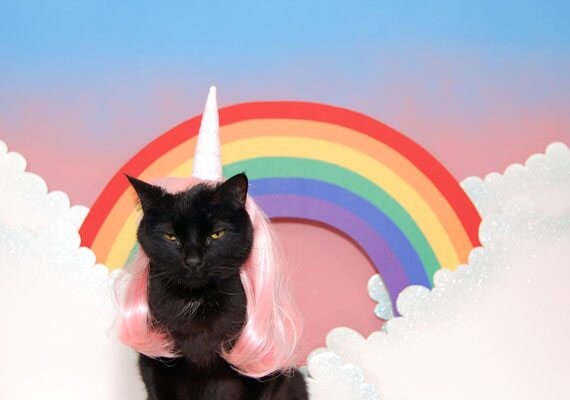 Kate Funk
You've explored a lot of themes over the years – from magical creatures and monsters to the zodiac. Do you have a favorite shoot or series? Does AC?
Kate:
My two favorite themes that I've explored so far are
magical creatures
and
the '80s
. The magical creatures series contained some of my favorite photos I've ever taken of AC. I loved the bright colors and fun costumes I got to make for it, and I think it's some of my best work.
The unicorn photograph
, in particular, was one of the first photos that I put a huge amount of time and effort into creating and I love, love, love how it turned out. The crazy bright colors and rainbow and glitter, combined with AC's expression of pure hatred for everything in it is perfect. I think for the '80s one, it was just exciting to be able to pay homage to a lot of the things that I loved from my childhood. It's pretty awesome to spend a day watching
Pee-Wee's Playhouse
and convincing yourself it's for the sake of research! As for AC, I couldn't tell you what his favorite theme would be, but I have a sneaking suspicion he's just in it for the treats.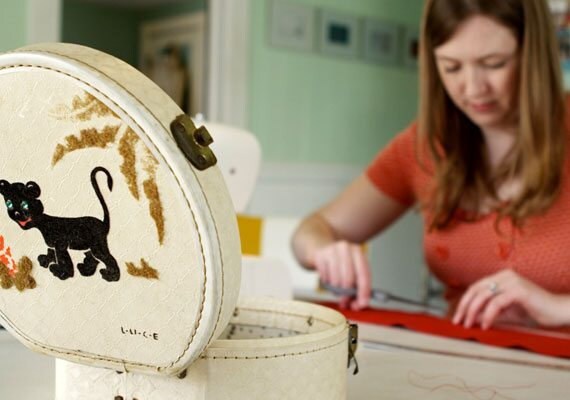 Michael Patterson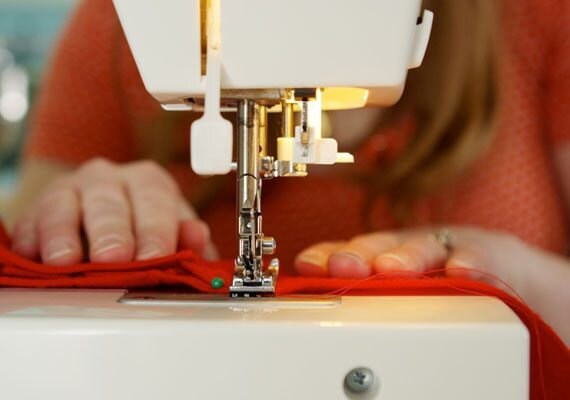 Michael Patterson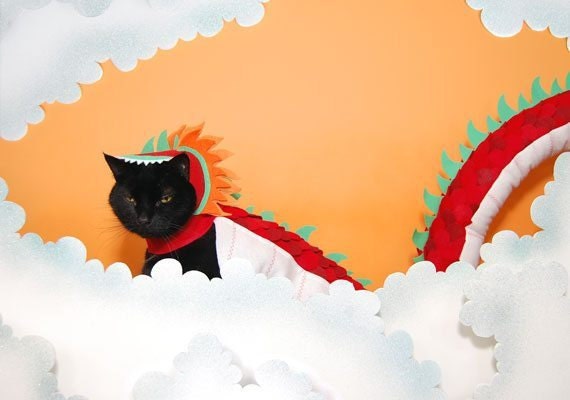 Kate Funk
What are some of your favorite materials to work with?
Kate:
One of my favorite materials by far is felt, which I use to make AC's costumes. The majority of the magical creatures calendar had costumes made of felt, including the
Chinese Dragon
and the
mermaid
. So much work went into those costumes! It could be that I'm not the best sewer in the world, but I love how easy it is to work with. It doesn't require you to finish your edges, and it has so much structure. There are tons of great felt sellers on Etsy, too. (
Felt on the Fly
is the shop I've ordered from the most, though I've also shopped from
Wool Hearts
.) Acrylic spray paint is definitely my other favorite material. I'm by no means a painter, but it blends so easily and comes in a bunch of amazing matte colors that I can photograph without getting any light reflections. I love using stencils rather than just straight painting – one of my favorite moments is when I've finished painting a layer and I get to pick up the stencils to see if it worked. It's similar to the feeling when you take photographs on film and have to wait to see if they turned out or not.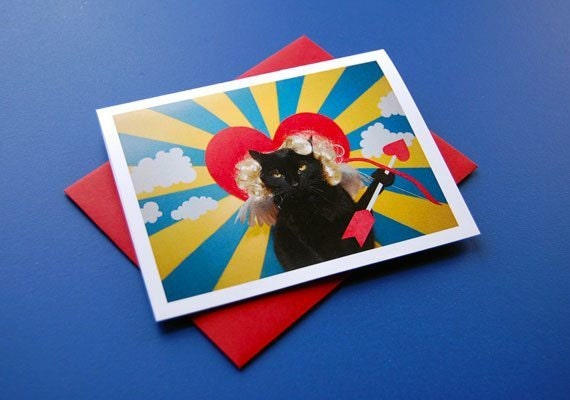 Kate Funk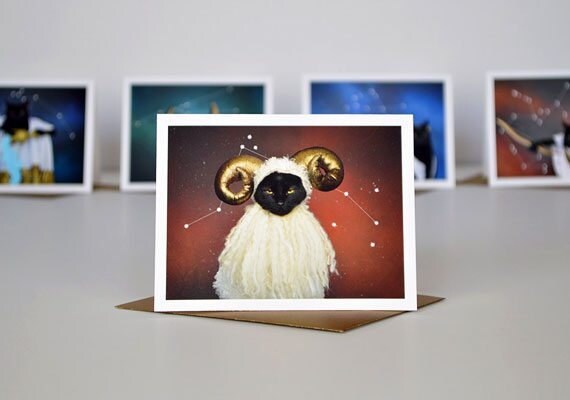 Kate Funk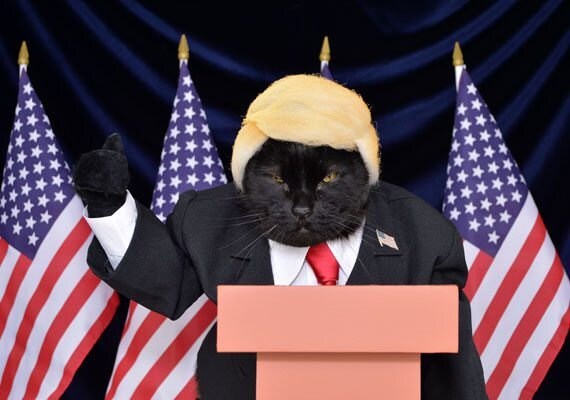 A new image from Kate's forthcoming book; published with permission from St. Martin's Press. Kate Funk
What inspires you?
Kate:
Everything. I feel like I spend a lot of my life just taking in everything around me. I think that's why I love photography so much: rather than creating my own art, I'm just trying to capture all of the beautiful things that already exist so I can remember them forever. Going through the photo album on my phone, there are a massive number of photos I've taken of color combinations or patterns I've been entranced by. Whenever I'm feeling creatively drained, I find that I can pick myself up again by going through them all and rediscovering something to use as an inspiration.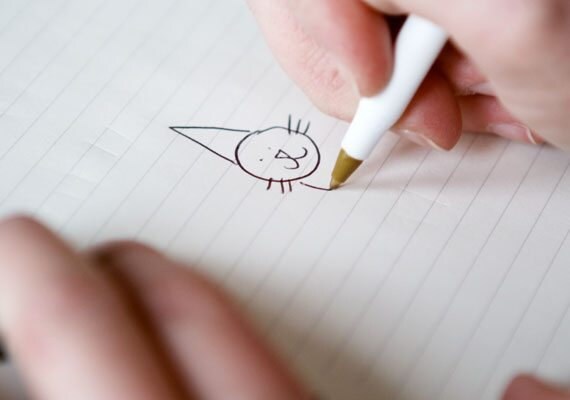 Michael Patterson
Kate Funk
How has your work evolved since you started?
Kate:
The amount of time and effort that I'm willing to put into each photograph is the biggest thing that has evolved in my work. When I started, it was really just a joke, and I had no idea that it would turn into anything. Those beginning photos were made with lots of construction paper, string, glue sticks and scotch tape, but there was a certain point where I realized
this is actually my career now, and I need to put more effort into making the costumes and dioramas.
When I go back and look at those original photographs they make me cringe a bit – although I think that's something most artists feel about their early work. I'll never get rid of that first, original photograph (above). Luckily it's still one of my best sellers, because I'm far too sentimental to ever stop carrying it.
Kate Funk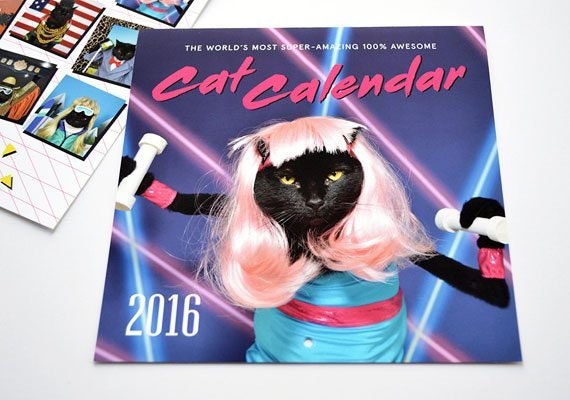 Kate Funk
Thanks to Kate Funk for sharing more about her process. Shop her collection here – including her 2016 calendar, featuring a very '80s AC.