From glitter-encrusted cardboard villages to rosy-cheeked Swedish gnomes, these festive vintage treasures will fill your home with holiday cheer.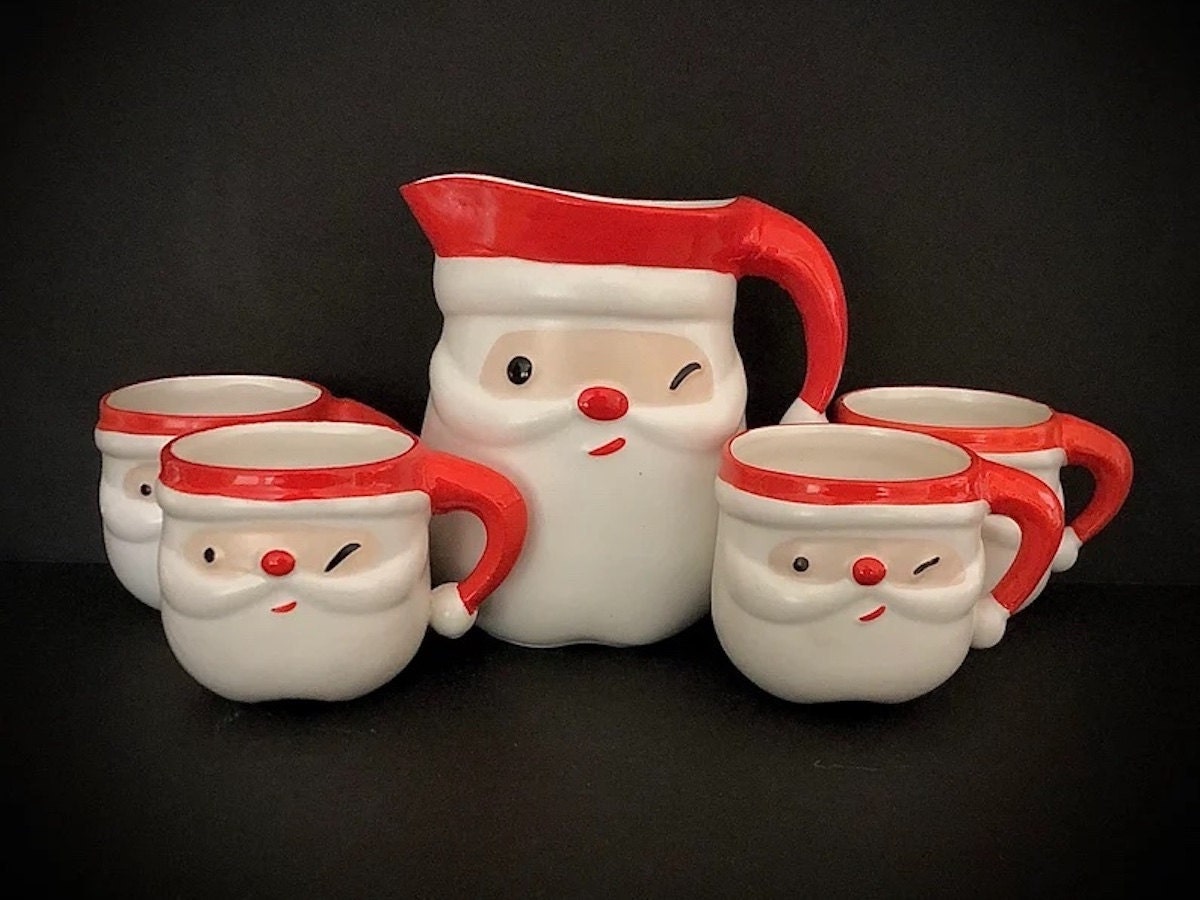 For anyone who celebrates Christmas (or just embraces seasonal decorating), there's a familiar ritual that takes place every year—whether it's the day after Thanksgiving or just before the first out-of-town guests arrive. It involves the taking down of boxes, the careful unpacking of items (some fragile, some not), and finally, the thoughtful display of beloved trinkets that will fill a home with festiveness for the remainder of the year. From ornaments to miniatures, Etsy is a veritable wonderland of Christmas collectibles—many of which are vintage. Read on to discover the stories behind a few of our favorite old-school finds.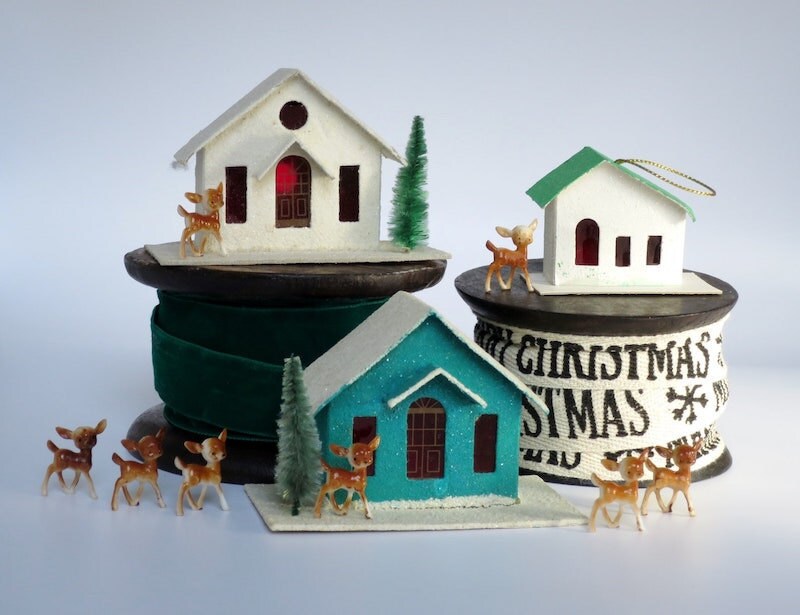 SHOP: Vintage set of three putz houses from Swirling Orange, $29
What are putz houses? Tiny Christmas villages are one of the holiday's decorating mainstays. Nicknamed putz houses, a German word that translates loosely to "putter around" ('cause that's what you do, putz around with the trinkets until they're just how you want them), the tradition began with wooden houses or house-shaped candy boxes from Germany. But with the introduction of holiday string lights came a new kind of putz house, straight from Japan (where much of America's Christmas decor production shifted after WWI). In the late 1920s, Japanese designers created simple cardboard houses with holes in the bottom for the lights to go through, illuminating the houses' cellophane windows. Putz house proliferation, at least in Japan, died out when WWII began, narrowing the collectibles' peak popularity to just about 10 years. But recently, these cardboard villages have found new life, inspiring makers to design their own modern DIY kits.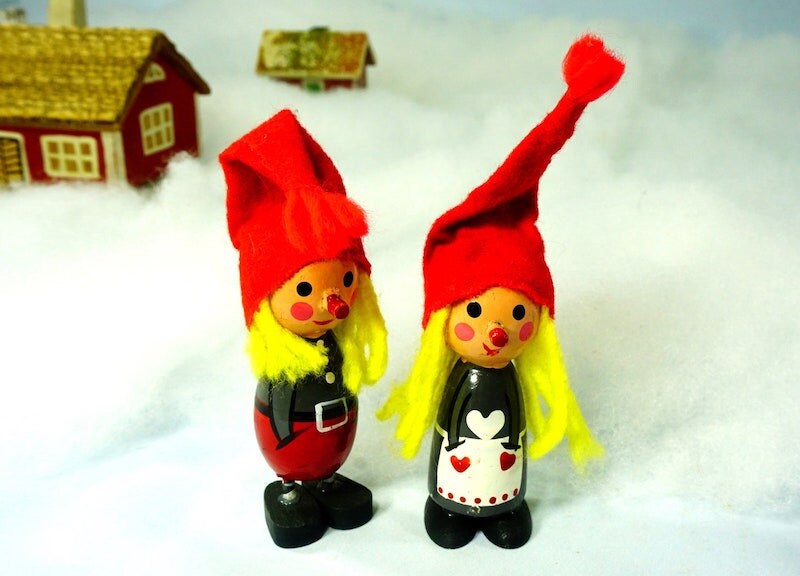 SHOP: Danish wooden nisse tomte set from Little Christmas Store, $24
What is a tomte? Long before Americans had Santa Claus, Swedes had tomtes: garden gnome-like creatures associated with the winter solstice. After an 1881 Swedish magazine published a poem about a tomte alongside a painting of the small folkloric figure with a long white beard and a jaunty red cap, the modern tomte was born (influenced no doubt by the then-rising Father Christmas craze); now he's the one who brings gifts to Swedish children on Christmas Eve. As such, tomtes are incredibly popular when it comes to Christmas decor, and you can see their likenesses immortalized on linens and rendered in wood, needle felt, and even little clay sculptures—the smaller the better.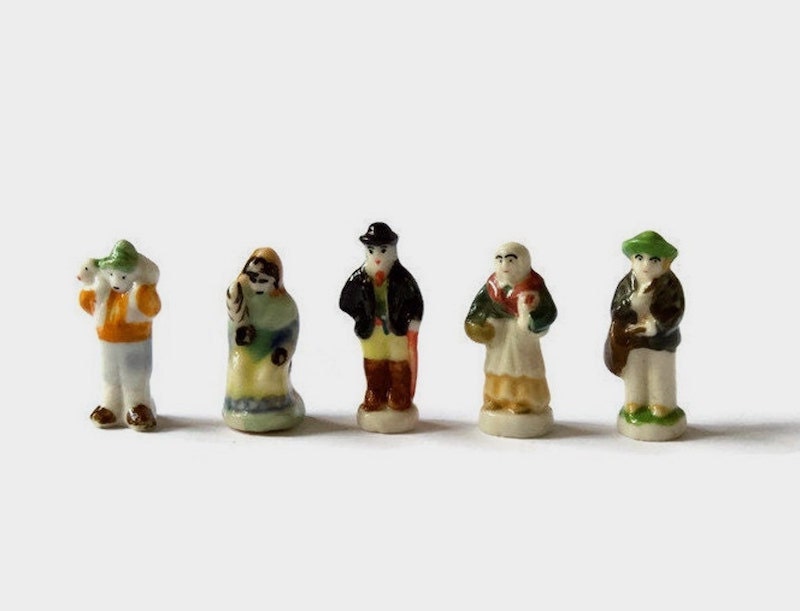 SHOP: Set of five vintage French fèves from Theo Vintage Shop, $15
What is a fève?
Of course, if you're looking for something really miniature, there's no better place to start than with French fèves. In France, January 6th is known as La fête de l'épiphanie, (also known as the Epiphany holiday or Three Kings Day), believed to be the day the wise men came bearing gifts for the baby Jesus in Bethlehem. To commemorate the occasion, a cake is baked and a bean is hidden within; whoever's slice has the bean is king for the day. In the 1940s, it became popular for a king cake to house a small, hand-painted ceramic figure known as a fève (bean in French), instead. The tiny figures, clocking in at under 2 inches, often make up a nativity scene, but also come in more surprising forms: a troupe of circus performers, say, or even Disney characters. In 2010, French couture designer Christian Lacroix even designed a set of regally attired fèves for the famed French bakery Ladurée—what better proof could there be for their continuing appeal?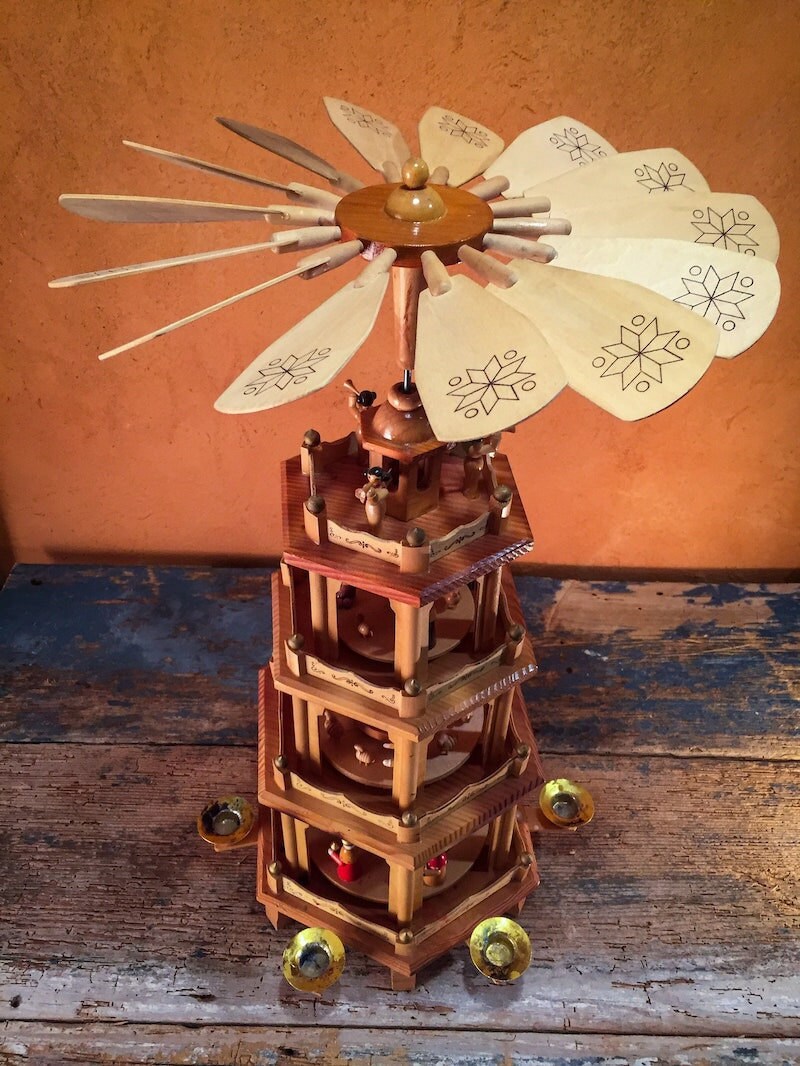 SHOP: Vintage tiered Christmas pyramid from 375 shop, $254
What is a German Christmas carousel?
Like many Christmas decor traditions, Christmas carousels originated in Germany and are thought by some to have paved the way for the Christmas tree. The origins of these propeller-topped wood carousels, which were powered by the rising heat from candles set into the base, date back to the 18th century. Christmas carousels (also known as Christmas pyramids) commonly depicted nativity scenes and became even more popular in the 1830s thanks to the invention of kerosene (a much cheaper replacement for the costly candles used before). Despite the ubiquity of real Christmas trees today, the carousels are still incredibly popular, having changed very little since the 1800s, and larger-than-life versions (several stories tall) are constructed in the central squares of towns in Germany's Ore Mountains each year at holiday market time.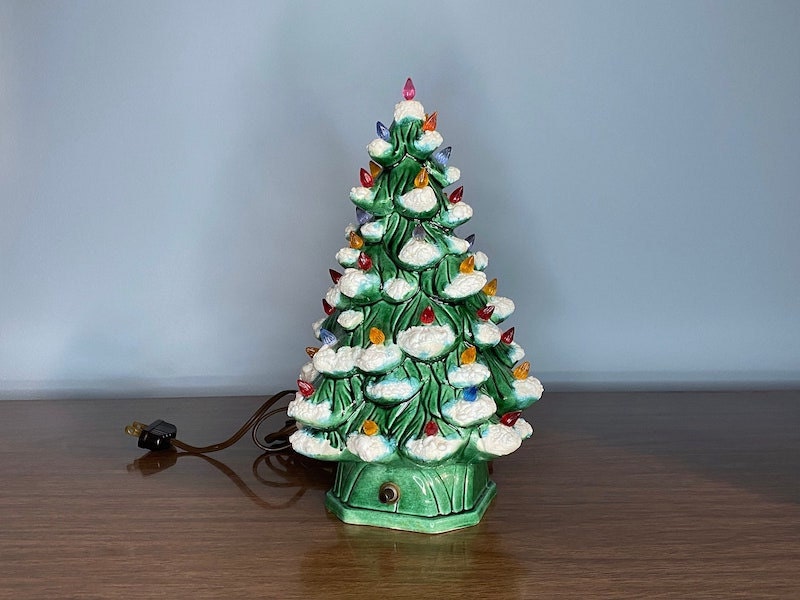 SHOP: Vintage 10" ceramic Christmas tree from Retro Home Supply, $50
What is a ceramic Christmas tree? While ceramic Christmas trees date back to the late 1940s, they saw their popularity soar in the 1970s—they're your Christmas decor equivalent of bell-bottom jeans and lava lamps. The earlier models were often hand-painted ceramic, with individually lit bulbs decorating each little branch. Toward their heyday in the '70s, though, they were usually bought already painted, with a single light source illuminating all the small, brightly colored plastic bulbs. While the standard design is a merry evergreen, more unusual editions are flocked with snow, or come in non-traditional colors like blue or silver. Other hard-to-find varieties are those larger than the standard tabletop size—say, over 20" tall—or include a base that can function as a music box when wound.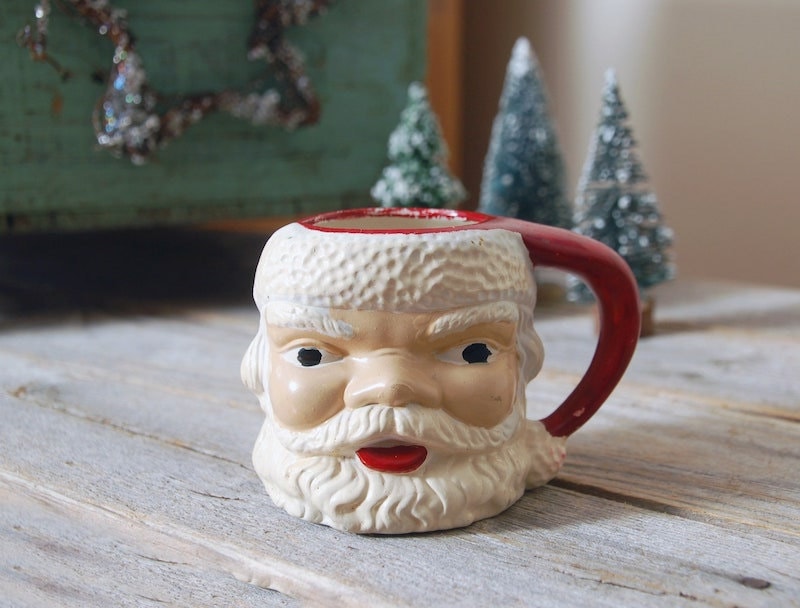 SHOP: Vintage Santa Claus mug from Sunflower Hill Market, $22
What is a Santa-face mug?
Though holiday-minded ceramicists have likely been sculpting Santa's face into mugs for centuries, the first commercially produced Santa-face mugs appeared in the late 1940s. Over the years, Santa-face mugs expanded to include winking Santas, non-winking Santas, hard plastic versions, and minis, often distributed as party favors. These days, they're often used as festive kitchen decor, but possibly best appreciated when deployed on their original mission: sipping your favorite hot cocoa.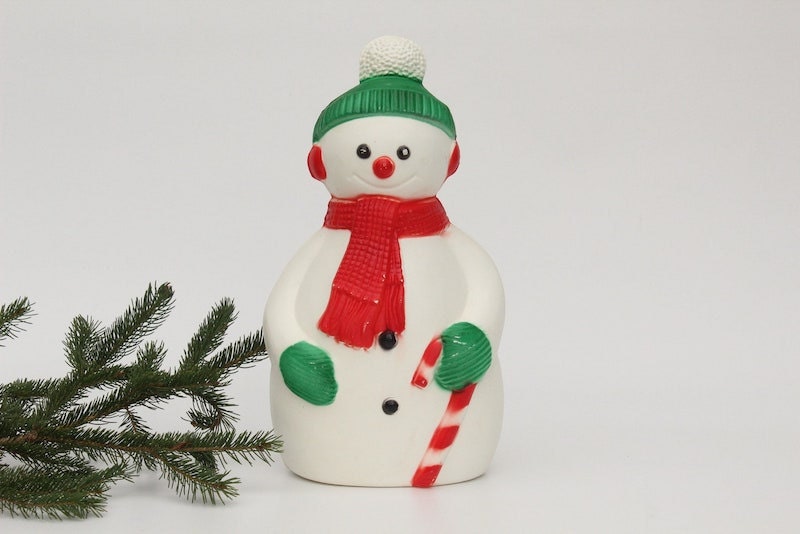 SHOP: Vintage snowman blow mold from Les Choux Gras, $54
What is a vintage Christmas blow mold?
Blow-mold decorations are the improbably cheerful counterpart to austere mid-century modern decor. A product of technology initially developed at the turn of the 19th century, blow-molds are created by forcing air into molds prepared with molten plastic. Blow-mold Christmas decorations first took off in the 1930s, when advancements in that process made it easier and cheaper to produce them—creating a wave of cheerful Christmas decorations made from hard, often hand-painted plastic, and illuminated by lightbulbs placed at their base. Santa, the reindeer, and merry snowmen are among the most popular figures.
Love vintage holiday trimmings? Learn more about all kinds of antiques and collectibles in our vintage holiday ornaments guide and our history of the aluminum Christmas tree.
Editor's note: This previously published post has been updated with fresh product picks for the 2021 holiday season.