From fresh takes on classic reds, greens, and wintery whites, to delightfully unexpected rainbow-brights, find the holiday hues that speak to you.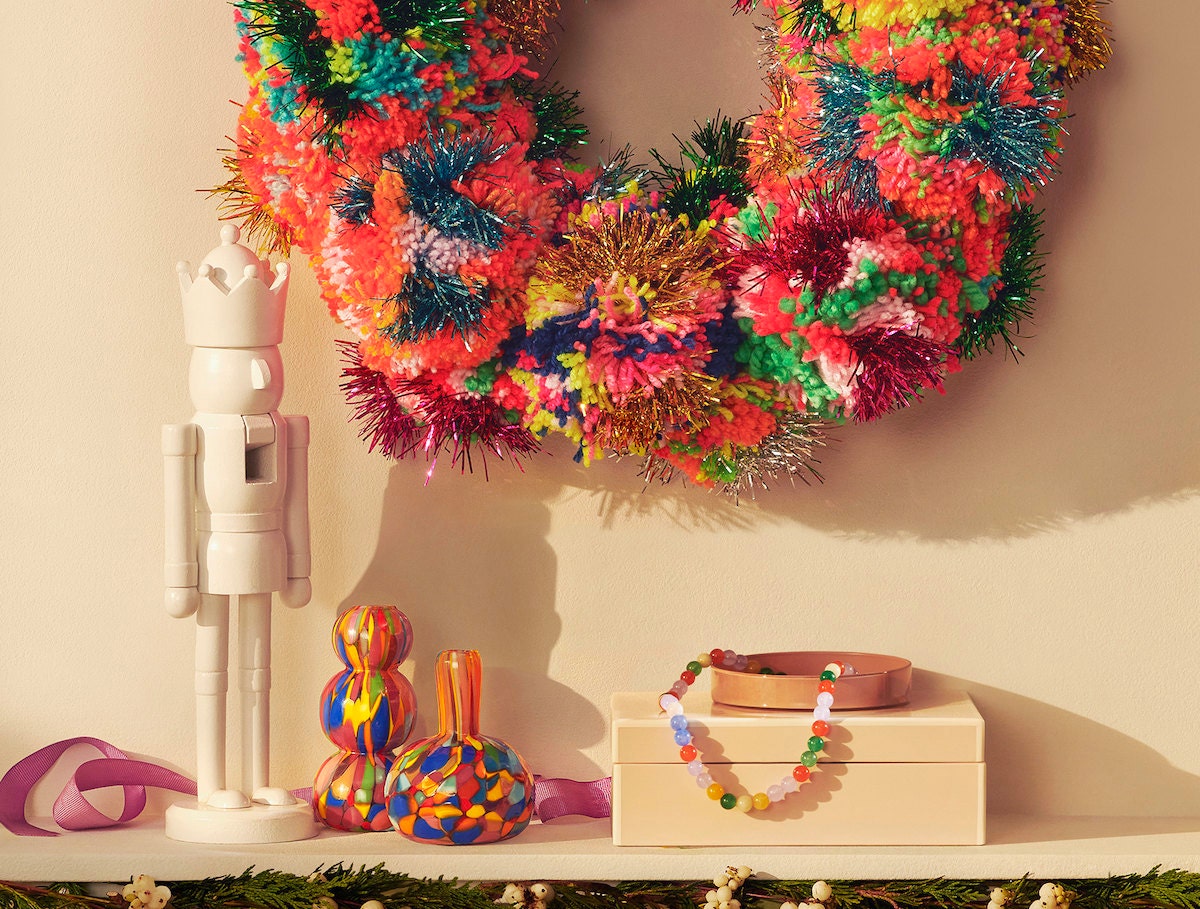 When it comes to decorating for the holidays, the colors you choose are among the first things folks notice as they walk in your door—and this season, we encourage you to toss the rule book out the window. From traditional red and green hues to sophisticated, sparkly whites and golds and even playful pops of pink, make the most wonderful time of the year even more meaningful by leaning into hues that suit your personal brand of festive. Whatever your aesthetic looks like, rest assured that talented Etsy sellers are crafting extra-special decor that fits your home and feels perfectly and distinctly you.
This year's holiday color trends are a choose-your-own adventure: Find the color scheme that fits your community's traditions, and brings cheer to all of your nearest and dearest. The vibe is yours to define, and there's no wrong way to go about your personal hanging of the greens, or pinks, or golds, or whatever you choose! Need inspiration? We've got you covered. Set aside a plate of cookies and a glass of milk, let it snow, and read on for colorful holiday decor ideas for every style and budget.
Deck the halls in every color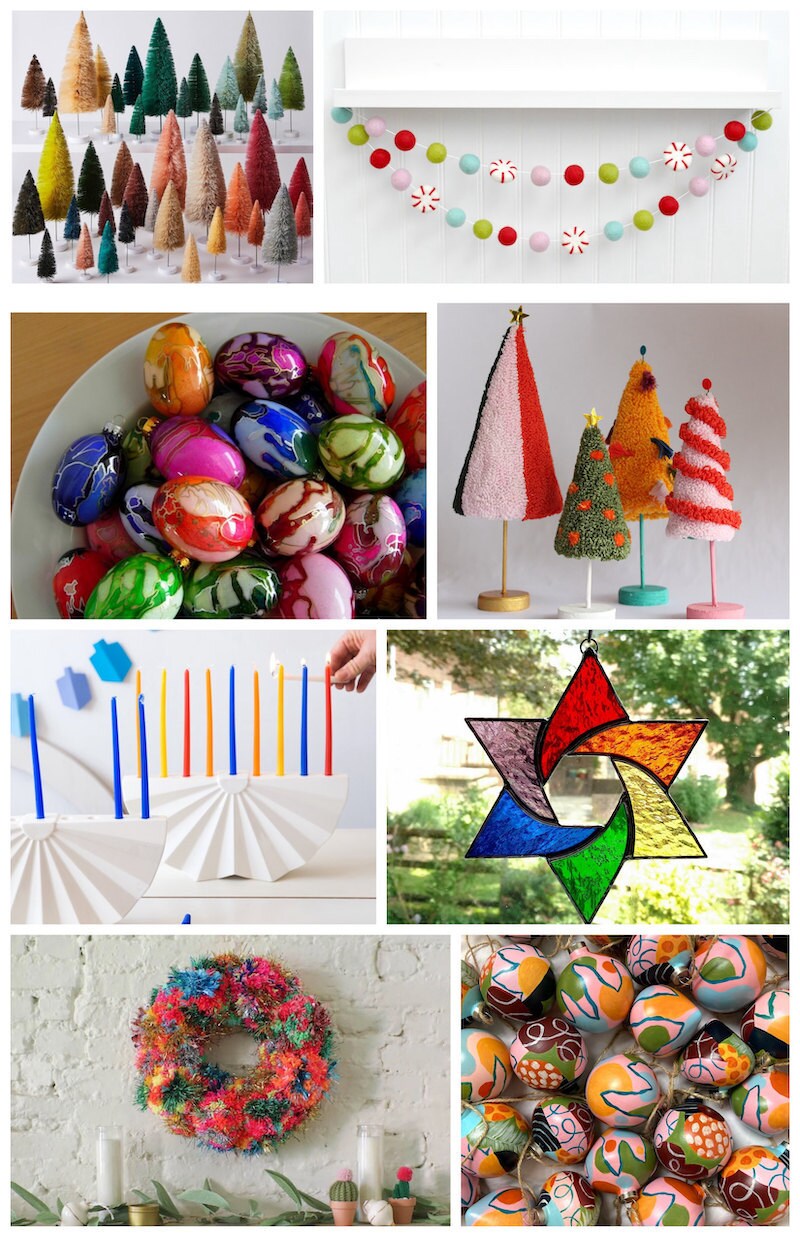 SHOP (clockwise from top left): Set of colorful trees from Nutch Design, 50 for set of 5; peppermint felt garland from JuJuBee Goods, from $16; digital pattern for colorful tufted Christmas trees from D.K. Wright Construction, $10; rainbow stained glass Star of David suncatcher from Stained Glass Your Way, $45; painted ceramic ornaments from Lily Windsor Walker, $17 for one; colorful pom-pom and tinsel wreath from Fat Pom Poms, $243; ivory-colored menorah from Studio Armadillo, $229; marble-painted glass egg baubles from Schemata, $31 for one
Consider this permission to use all the colors in the crayon box this season—because what's more merry and bright than rainbow-themed holiday decor? Mix and match traditional red and green tones with vibrant hues like sunny beams of yellow, hot pink, vibrant teal, and whatever other colors bring you the most joy. We're talking a neon yarn and tinsel wreath, a menorah featuring rainbow-colored candles, and multi-hued metallic ornaments. So grab your pom-pom garland and bring on the decorating dopamine!
Add a playful pop of pink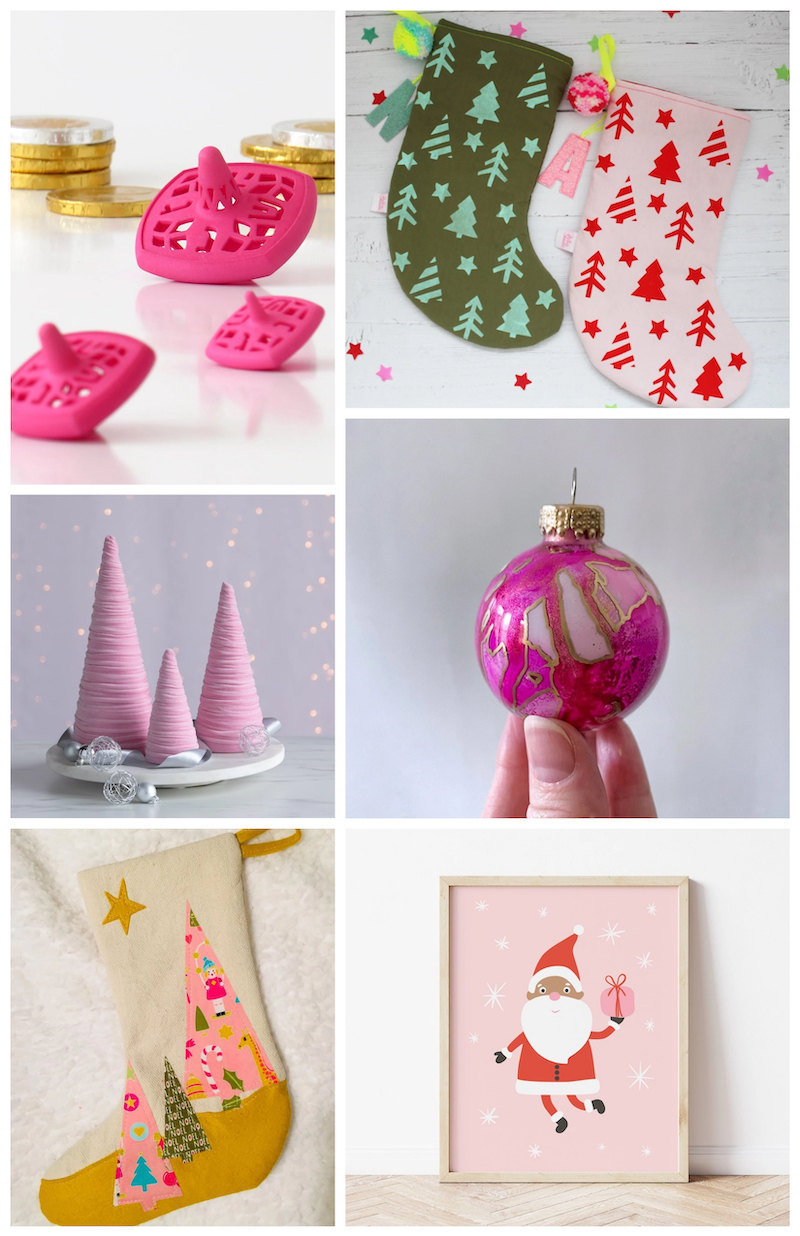 SHOP (clockwise from top left): Hot pink nesting dreidels from Studio Armadillo, $84 for set of 3; screen-printed stocking from Julia Staite, from $25 for one; bright pink glass ornament from Schemata, from $29; printable Santa wall art from Charlie and Pig, $5; midcentury-inspired Christmas stocking from Sweet Mess Baby, $18; set of pastel pink velvet trees from Your Heart's Content, $44
This summer was all about hot pink everything, and this bold color isn't going anywhere. Add a touch of this playful hue to your dreidel, ornament, and candle collections—and don't forget the pink Christmas tree! Pair these blush and neon pinks with greens, from a verdant lime hue to deep jewel tones like emerald green for a modern refresh on the traditional red-and-green color scheme. You can bring as much or as little pink into the mix as feels right for you—and if hot pink isn't your thing, baby pinks and lighter pastel shades are an easy way to dip a toe in.
Shimmer and sparkle with white and gold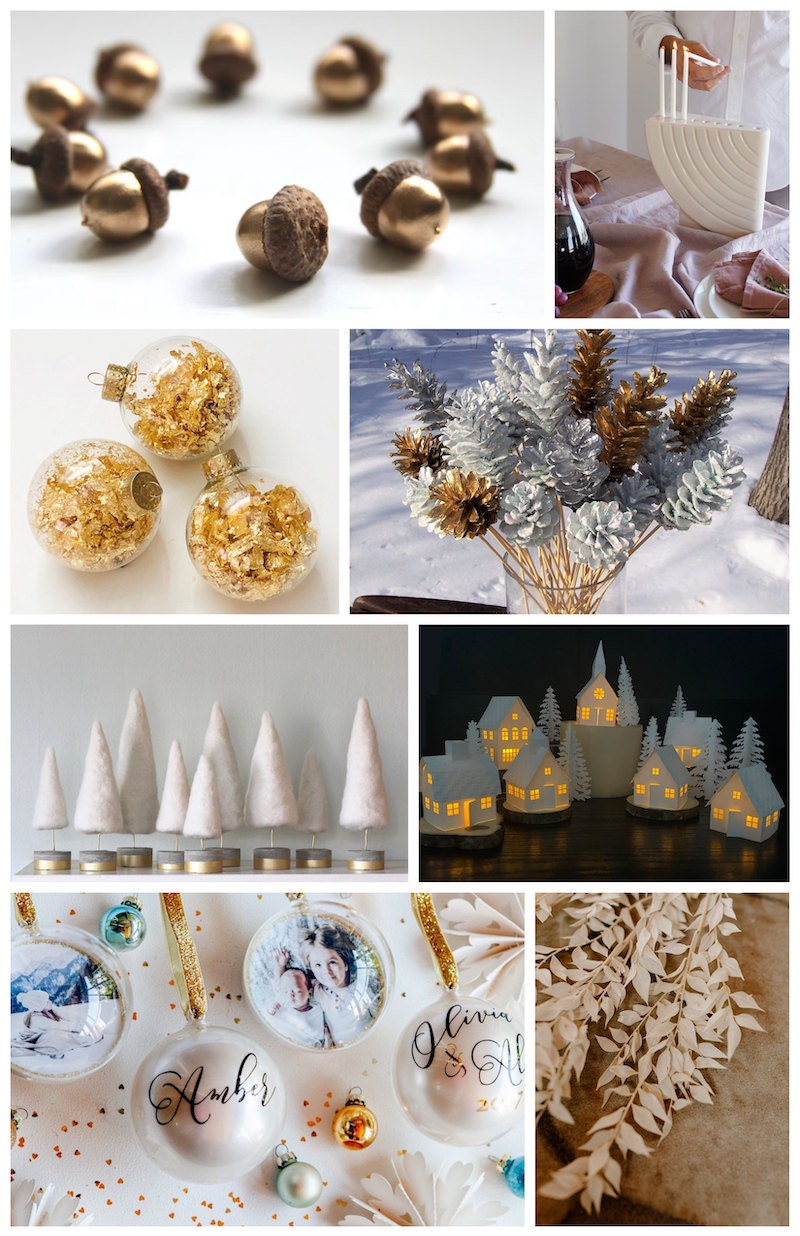 SHOP (clockwise from top left): Gold-painted acorn ornaments from Les Nanaseries, from $25 for a set of 15; contemporary ceramic menorah from Yahalomis, $273; pine cone bouquet from Nature's Craft Supply and Decor, $16 for a dozen stems; set of white Christmas tea light village from All for the Joy of It, from $45; dried white ruscus leaves from Pampas Trove, $27; personalized photo ornaments from MÆRRIMENT, from $30; felted wool white Christmas tree from Sheep Creek Studio, from $54; set of gold leaf filled ornaments from Holiday Every Day Art, $60 for a set of 12
Channeling the quintessential image of snow-covered houses with glowing golden windows, this elegant, easy-to-match holiday color combo will complement the stockings hung by the chimney with care—no matter what color they are. From gorgeous gold leaf ornaments to minimalist menorahs to white Christmas tree decorations or maybe a vintage aluminum tree, this palette is sophisticated, subtle, and perfect for those who want to feel festive but prefer to stick to neutrals.
Bonus: For an extra-moody and modern look, add some contrasting black accents to your white and gold decor. These are some of the darkest days of the year after all, so it's only fitting to add some ebony tones to your white and gold Christmas color palette.
Get nostalgic with traditional and vintage-inspired hues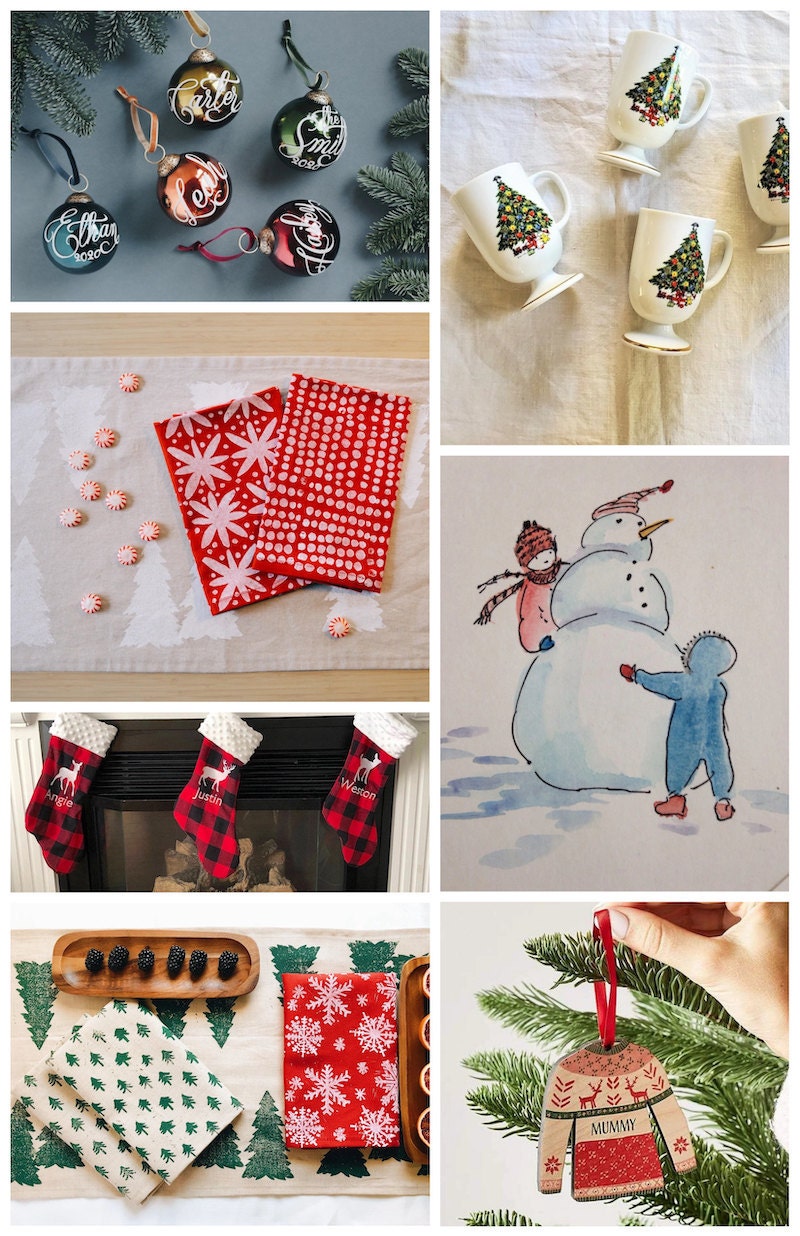 SHOP (clockwise from top left): Vintage-styled personalized ornaments from MÆRRIMENT, $35; vintage Christmas tree mugs from Styled Ivy Home, $63 for a set of 4; painted winter greeting card from Artfully Told, $15; personalized sweater ornament from Create Gift Love, $12; block-printed evergreen tree table runner from julie peach, from $58; personalized plaid stockings from la petite maman, $40 for one; red linen napkins with printed white snowflakes from julie peach, from $28 for a set of 2
They're classics for a reason. This season, honor time-tested traditions and dial up the nostalgia by leaning into the familiar tones that have become holiday mainstays. Think greens and reds for Christmas and Kwanzaa and deep blue hues for Hanukkah. Personalized stockings in a go-to red plaid? Check. A cobalt stained glass Star of David to hang in your kitchen window? Check. Block-printed table linens sporting forest green trees and cheerful red and white snowflake motifs? Check. All from extraordinary Etsy sellers? Check, check, check.