We're putting a festive spin on our favorite evergreen home decor looks of 2019, from snowy white wreaths to desert-chic ornaments.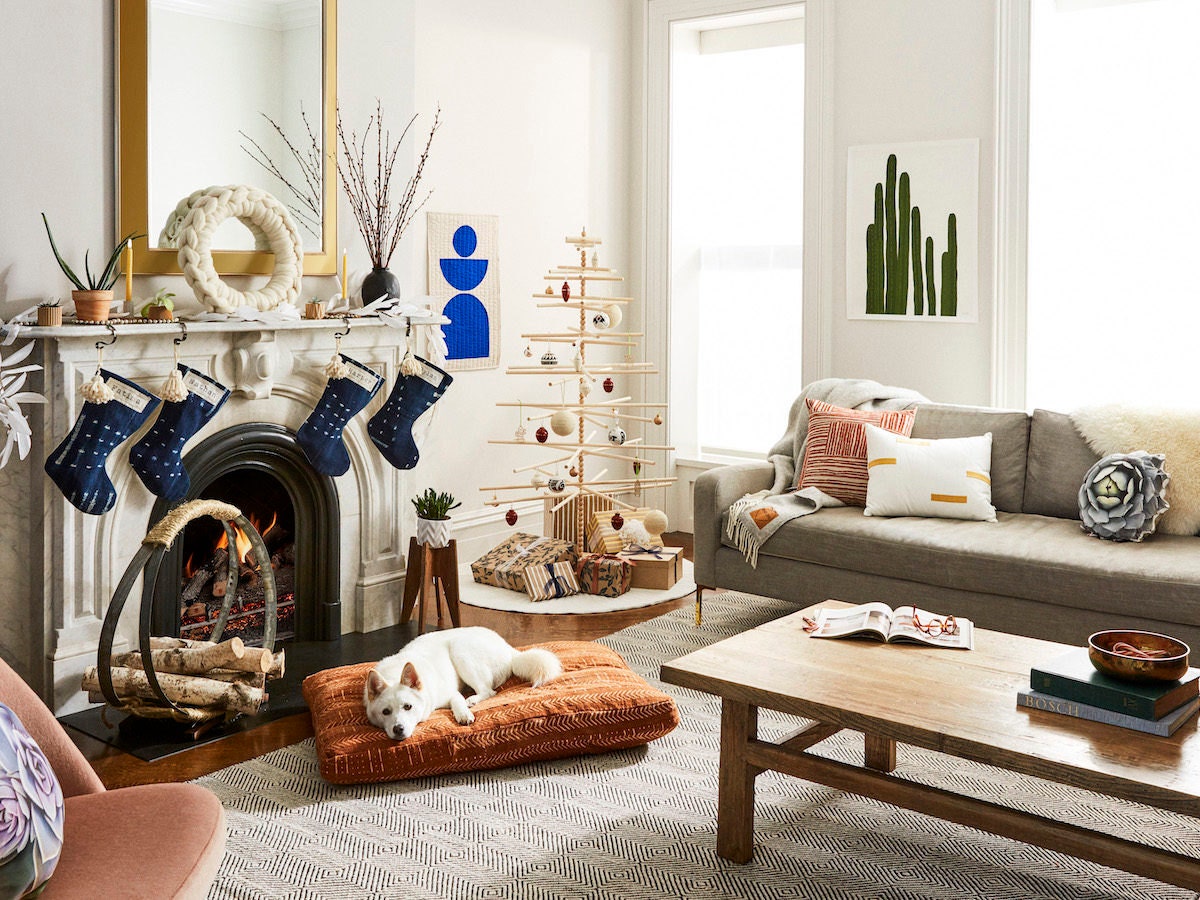 There's a whole lot of creative rearranging that happens every year when the boxes of bells and snow globes, garlands and mistletoe come out and everything needs to find a place. But what if, rather than packing away your everyday decor until January, you could style it beautifully alongside your seasonal keepsakes? This year, we invite you to consider a more harmonious approach to decking the halls—one where perennial favorites and holiday pieces work together to create a seriously cozy gathering space that reflects your unique, year-round interiors aesthetic.
To give you some in situ inspo, we've remixed some of our top 2019 trends (think soft winter neutrals, Southwestern motifs, and warm pops of burnt orange) with coordinated holiday staples, and assembled a living room look that's equal parts festive and chic. Read on to discover all the one-of-a-kind, handmade items that bring this peaceful oasis to life, then start a wish list for your own merry and bright home update.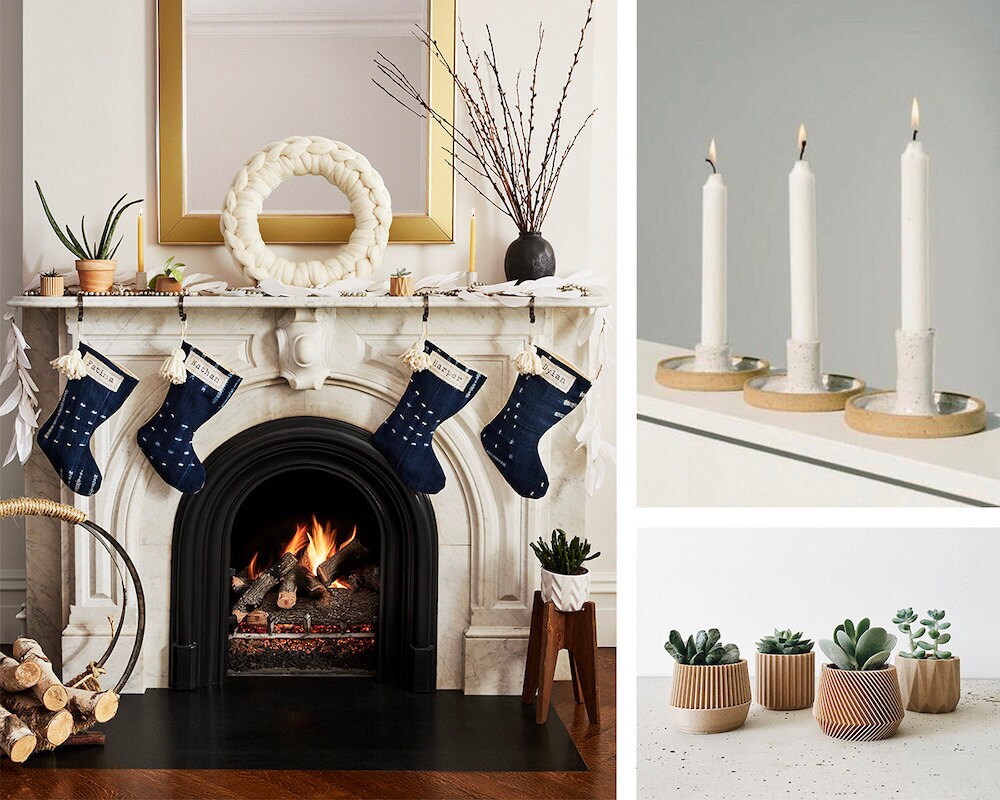 A crackling hearth is the heart of any welcoming wintry setting, but it doesn't have to be swathed in red and green to draw people in. For a sophisticated mantelscape that's still Santa-friendly, opt for wonderland-inspired accents in an array of ivories and creams. Your statement-making centerpiece? A hand-woven wool wreath in a single snowy shade, whose inviting texture adds warmth and dimension to the display. To keep the look natural and neutral, hang a neat row of black or navy mudcloth stockings (stamped with each family member's name) and, atop the shelf, arrange a set of earthy, speckled ceramic candlesticks and recycled wood planters. Frame the scene with pieces that add polish and practicality no matter the season, like a sturdy firewood rack and a minimalist plant stand crafted from solid pine.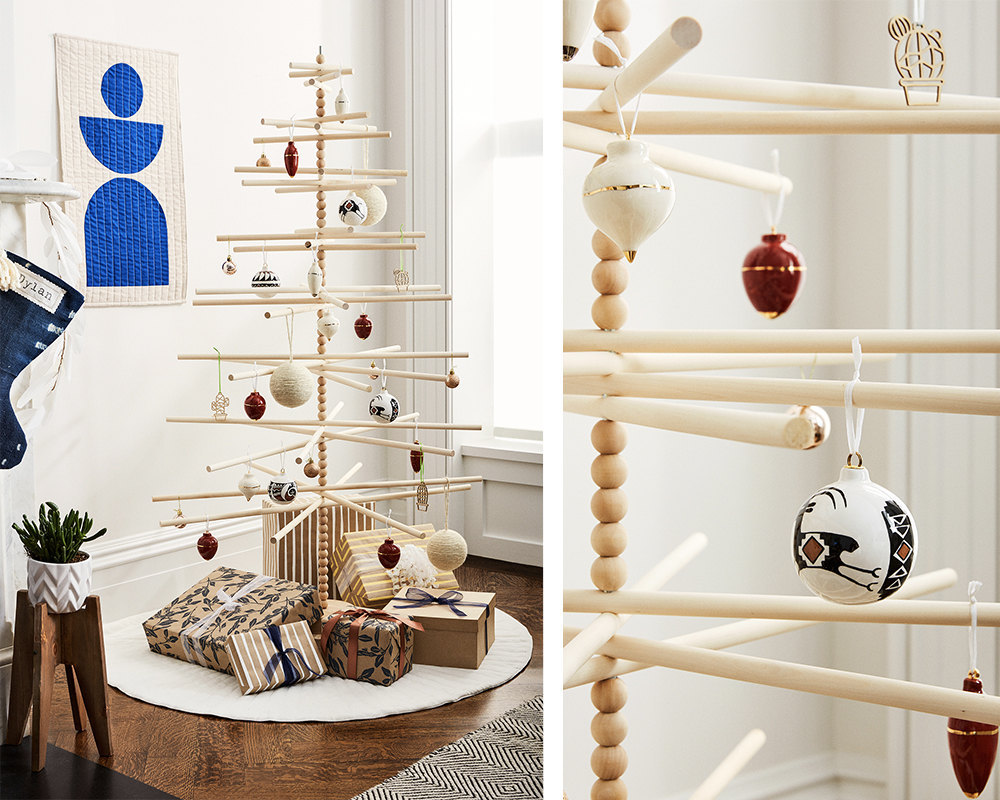 Most days, a modern cobalt wall quilt will immediately catch guests' eyes with its color-contrasting shapes, but so long as you have presents ready to pass out, everyone's gaze will be fixed beneath the tree. Give them something gorgeous to look at with screen-printed gift wrap patterned with slender stripes and eucalyptus sprigs—elegant papers that could easily double as table runners if rolled out for a fancy feast. When it comes to your "evergreen", a streamlined wooden design is not only easy to assemble and eco-friendly, it also happens to be a striking way to show off a curated collection of ornaments. To achieve a subtle Southwestern theme, adorn its bare branches with a medley of baubles in a pared-down palette of sandy whites and adobe reds, then pepper in a handful of laser-cut cacti. For a final flourish, string up bulbs hand-painted with images of antelope, jackrabbits, bighorn sheep, and other desert dwellers.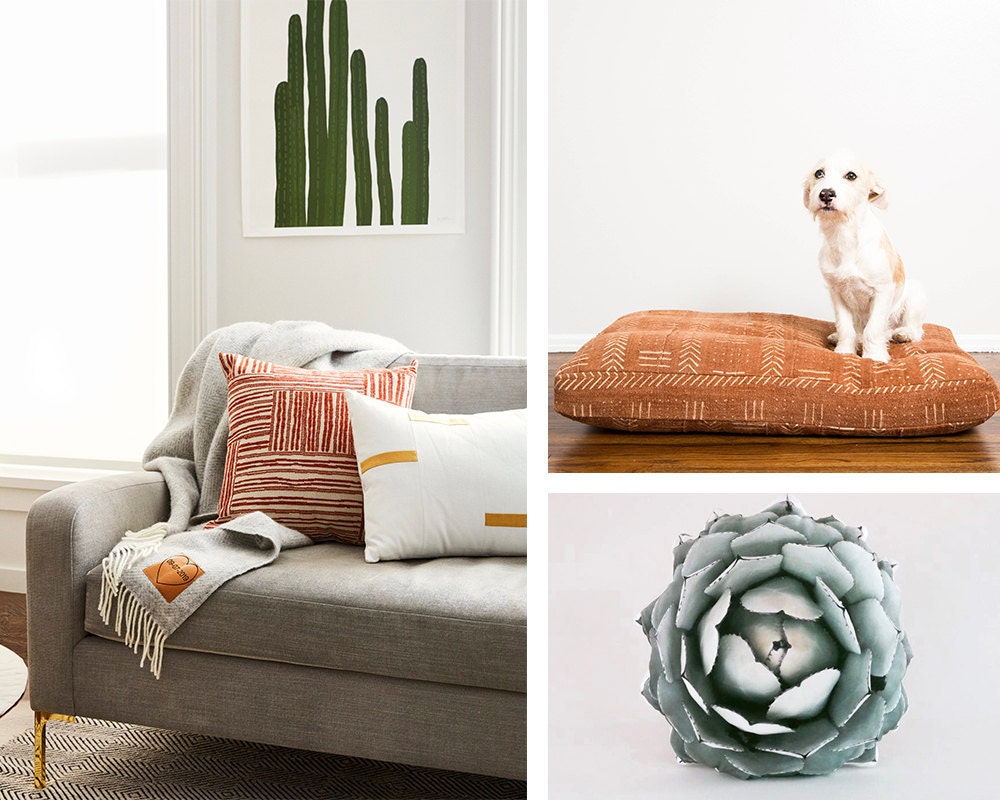 Ready to curl up by the fire and admire your work? Pile on the warm and toasty vibes with coordinating throw pillows in desert sunset hues, and toss in a stuffed succulent or two for an extra plush touch that's anything but prickly. And don't forget a matching mudcloth bed for your pooch, who deserves an equally cushy perch from which to oversee the festivities (or take her daily snooze). Wrap yourself in comfort with a wool throw engraved with joyful wishes on its leather label, and settle in for a long, happy snuggle season.
Photographs by Kate Mathis.