Two stress-busting activities (baking and coloring) come together in a cookie unlike any other.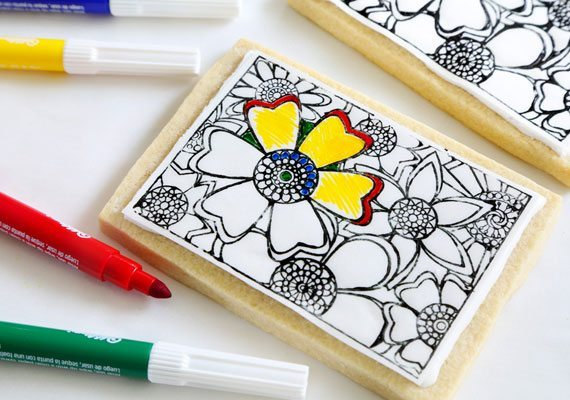 Adult
coloring books
are all the rage right now, and with good reason: The simple act of coloring is therapeutic — an easy way to relieve stress and decompress — while serving as an outlet for creativity and self-expression. Plus, it's fun!
In this baking project, I've translated the
coloring book trend
into cookie form using edible wafer paper,
rubber stamps, 
and food-color markers. Whether you want to decorate these cookies for a
weekend project
 or as an activity at your next celebration, remember to do the baking one day ahead, as the iced cookies need to dry for several hours (or overnight) before the pattern can be added.
Step 1: Make the Cookie Dough
You will need: 1/2 lb. (two sticks) unsalted butter
1 cup plus 2 tablespoons granulated sugar
1 egg
1 tsp. vanilla extract
3 cups all-purpose flour
Pinch of salt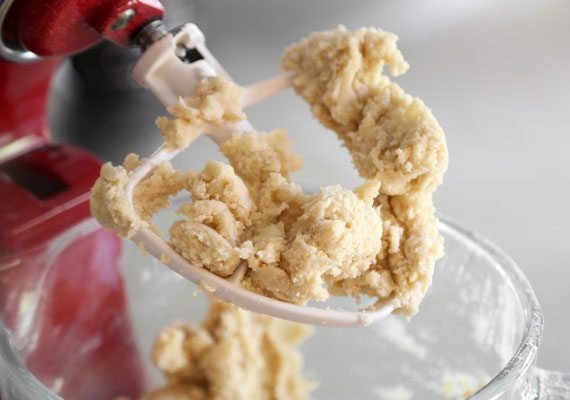 In an electric mixer fitted with the paddle attachment, mix the butter and sugar together until just incorporated. Do not over-mix at this stage, or the cookies may spread while baking.
Next, add the egg and vanilla extract. Mix again on low speed, stopping to scrape down the sides of the bowl intermittently, as needed.
In a medium bowl, whisk together the flour and salt, then add to the butter and egg mixture. Mix on low speed until a dough is formed and there are no longer any streaks of butter in the mixing bowl. The dough will often clump around the paddle attachment while being mixed; this is normal and a good sign that your dough is the right consistency. If your mixture does not come together and is crumbly, add ice-cold water 1 tbsp. at a time until the dough clumps.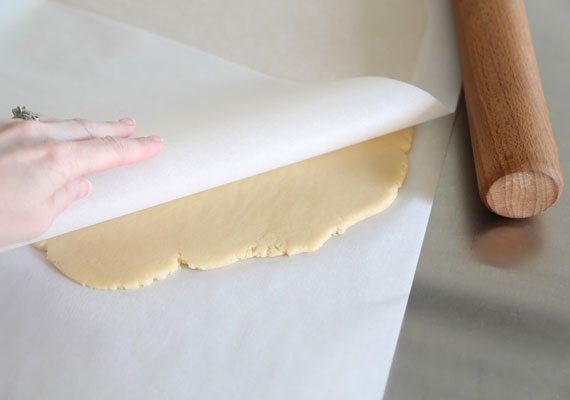 Roll the dough flat between sheets of parchment paper and chill until ready for use, or at least 30 minutes.
Step 2: Whip Up the Royal Icing
You will need:
4 cups confectioners' sugar
1/4 cup meringue powder
1/2 cup water, plus more for thinning the icing
1/2 tsp. clear vanilla extract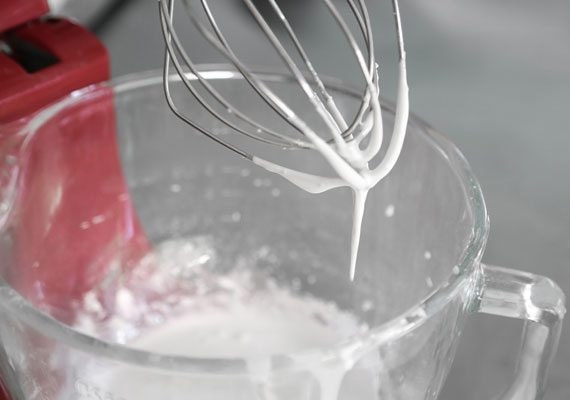 In the bowl of an electric mixer fitted with the whisk attachment, stir the confectioners' sugar and meringue powder on low speed until combined. Add the water and beat on medium-high until stiff peaks form. Add the flavoring and beat on low until combined. If you're not going to use the icing immediately, drape a damp towel over the bowl to prevent the icing from drying out.
To bring the icing to flood consistency, mix in a few drops of water at a time; the icing should fall in a ribbon from the mixer's whip. You can also check the consistency by dragging a spoon through the center of the icing in a straight line, creating an indentation. When the icing is of perfect flood consistency, the indentation should completely disappear in precisely 10 seconds (or as close as you can get); if it disappears too soon, stir in additional confectioners' sugar.
Step 3: Bake Cookies
You will need:
Sugar cookie dough Heavy-weight craft paper, such as poster board Scissors
Preheat the oven to 350°F.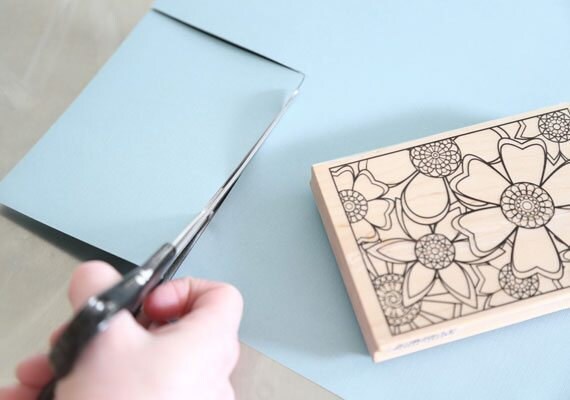 Cut two postcard-size (4x6-inch) pieces of poster board.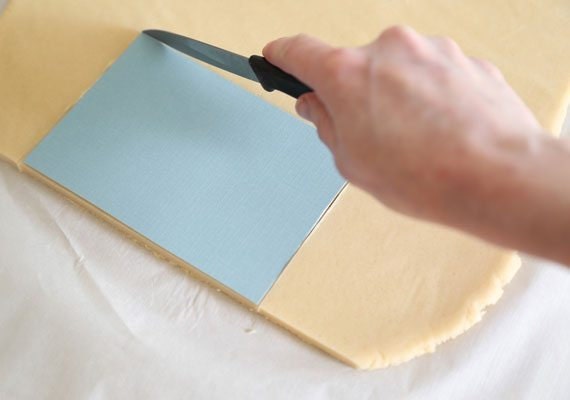 Use one of the 4x6-inch poster board pieces as a template to cut rectangular pieces of cookie dough; flour your knife after each cut for clean slices.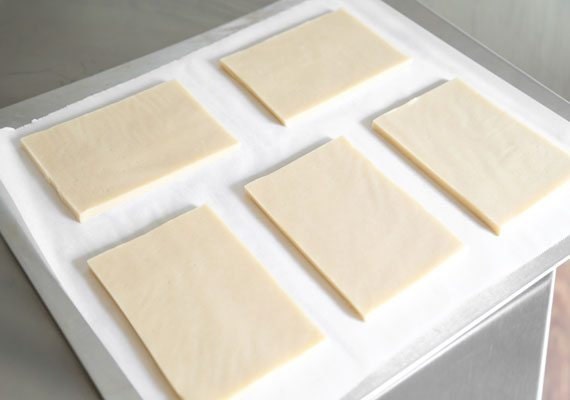 Bake the cutouts for 15-20 minutes, or until the cookies are golden around the edges.
Step 4: Stamp Your Design
You will need:
10 sheets wafer paper (available at specialty cake-decorating supply shops and online)
Black gel food color (I like Americolor Super Black or LorAnn)
Small flat-head artists' brushes
New or clean rubber stamps (designs that have large open areas work best for coloring) Zip-top bags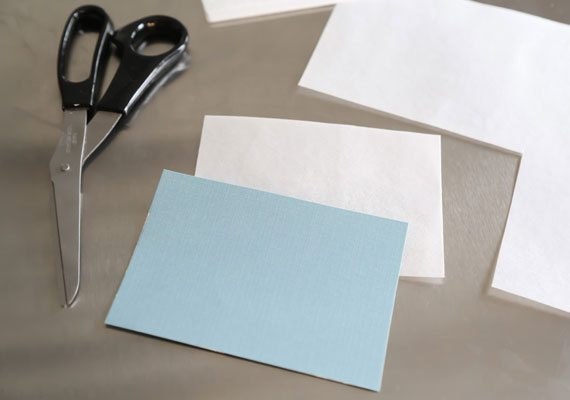 Use the second piece of poster board as a template to cut out 10 or more rectangles of wafer paper. Reserve the scraps for blotting paint brushes and testing stamps.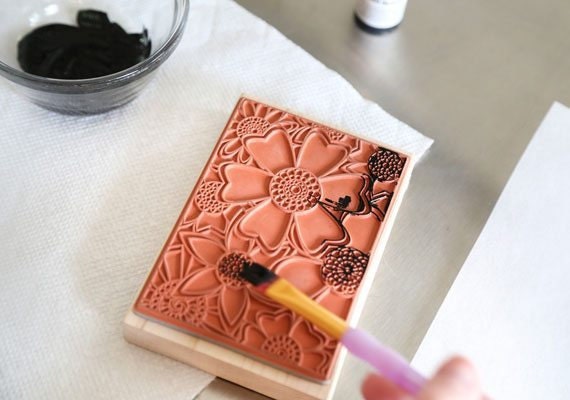 Place a small amount of black gel food color in a bowl. (I recommend using undiluted gel food color because it has a low moisture content – excess moisture will cause the wafer paper to disintegrate.) Using a flat-head artists' brush, coat the raised areas of the stamp with food color and immediately stamp a piece of wafer paper.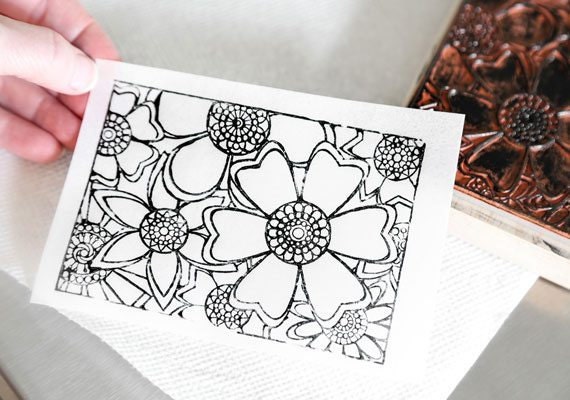 Peel the wafer paper away from the stamp to reveal the image. Allow the image to stand until dry, about 15 minutes (the paper may curl a little from the moisture).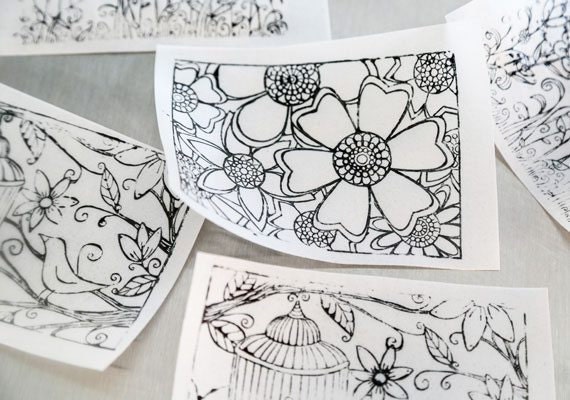 Repeat the stamping process until you have 10 images. After the images have dried, transfer them to zip-top bags in a single layer to keep them fresh and flatten the paper.
Step 5: Apply Design to Cookie
You will need:
Fully baked cookies
Royal icing, flood consistency
Piping gel or corn syrup (in dish) Small flat-head artists' brush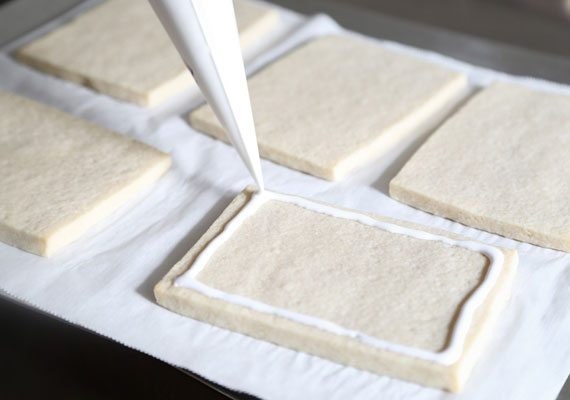 Transfer the royal icing to a piping bag or a zip-top bag with the corner snipped. Apply the frosting to the cookies within 1/4 inch of the outer edge, and cover (flood) the entire center of the cookies.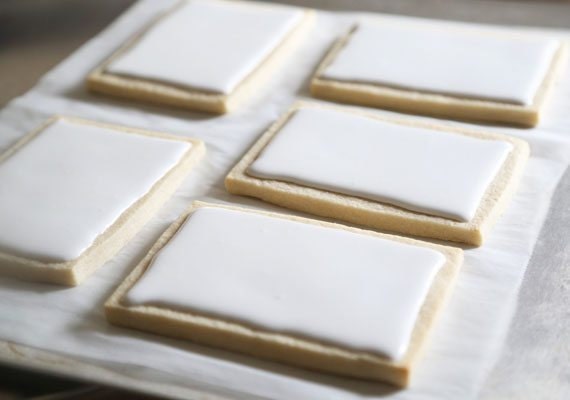 Allow the frosting to dry for 8 hours or overnight (preferred).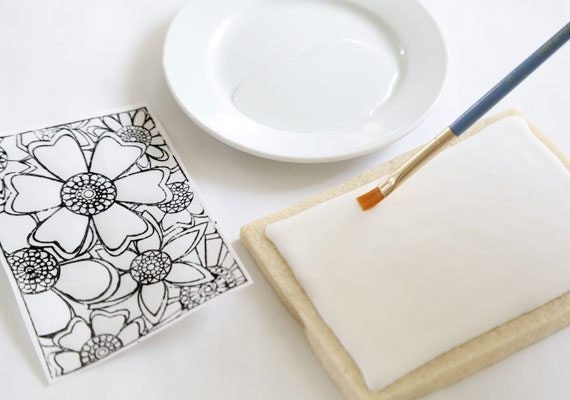 When the icing has set, lightly brush the surface with corn syrup or piping gel using an artists' brush, and place a stamped wafer-paper image on top; smooth down well with fingertips.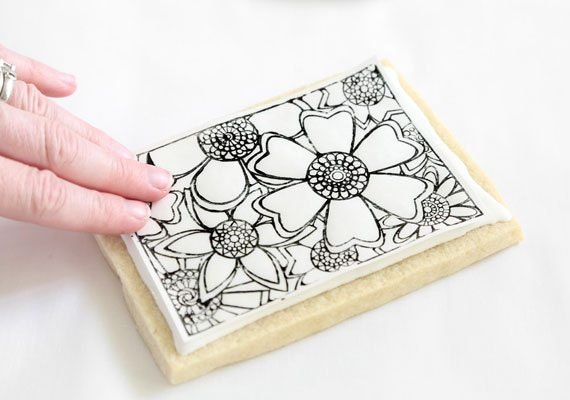 Turn the cookie upside down immediately and let it stand for 30 to 45 minutes so the image will adhere evenly and have a flat surface. Repeat with remaining cookies and wafer paper.
Turn the cookies right-side up and let stand to dry an additional 10 minutes before you begin coloring.
Step 6: Color the Cookies
You will need:
Finished cookies Food color pens (I used Food Writers)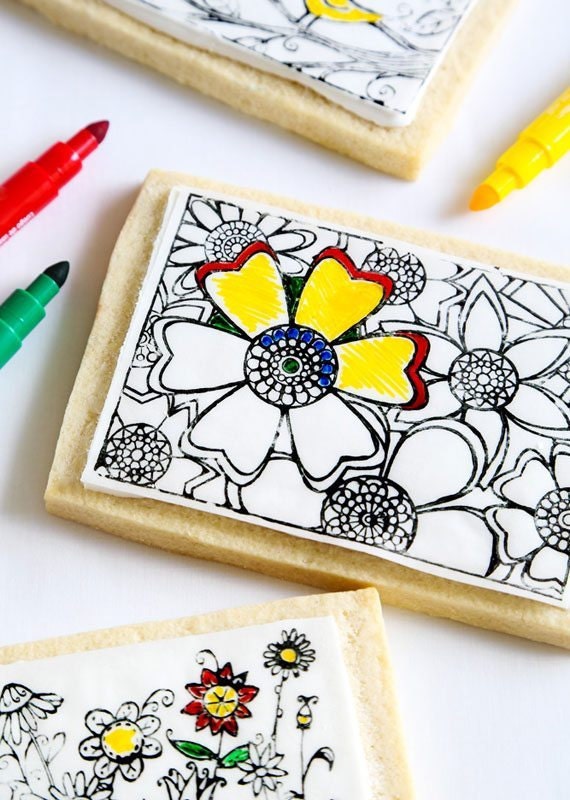 Now it's time to color your cookies! Use food color pens to color the cookies, but remember: Don't press down too hard with the pens or it may dimple the icing underneath. If you don't have food color pens, make your own food paint by stirring together a small amount of food color and a few drops of vegetable oil.
All photographs by Heather Baird.