From soft textured pillows to the chunkiest knit blankets, these ultra-comfy home accents are everything you need for cuddle season.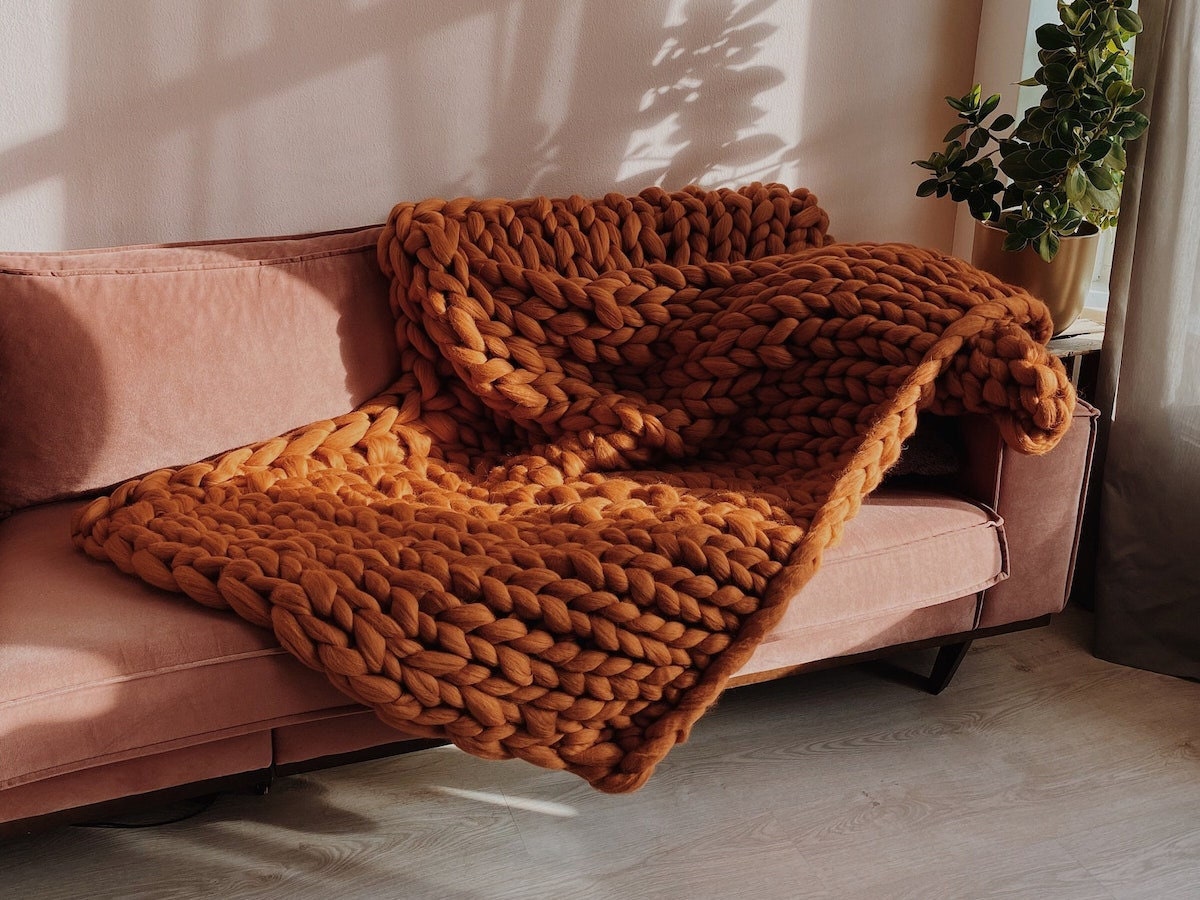 Looking for a shortcut to an extra cozy abode? We're here to help with some fresh finds in our favorite fall fabrics. From vegan suede to velvet, these oh-so-touchable materials will easily infuse your space with serious autumnal vibes. Ready to get inspired? Just grab a mug of something toasty (no pumpkin spice haters here), and join us by the fire as we snuggle into the season in style.
Bouclé all the way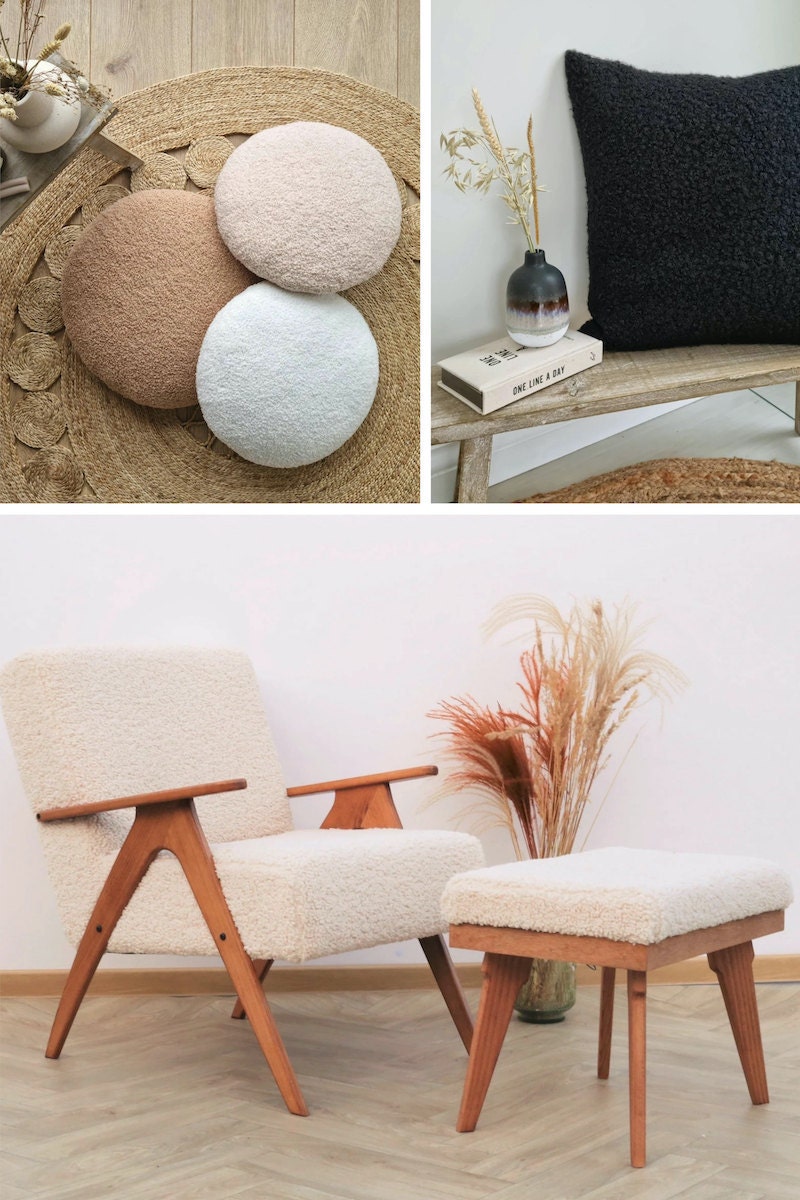 SHOP (clockwise from top left): Neutral round cushions from Studio Gem, $32; cushion cover from Studio Gem, $24; mid-century style lounge chair from RetroDesignCRO, $537
Homebodies have been gravitating toward this soft-yet-nubbly material lately—and it's easy to see (and feel!) why. Fans of fun fabrics love bouclé's comforting, cozy vibes, and how it comes off casual yet special all the same. Often seen in soothing muted hues like cream, bouclé has recently been popping up in more saturated shades of gray, blue, and blush—perfect for a subtle glam-up. Go all in with an investment piece like this classic lounge chair or try on the texture with a smaller accent pillow in a charming circle shape.
Vying for velvet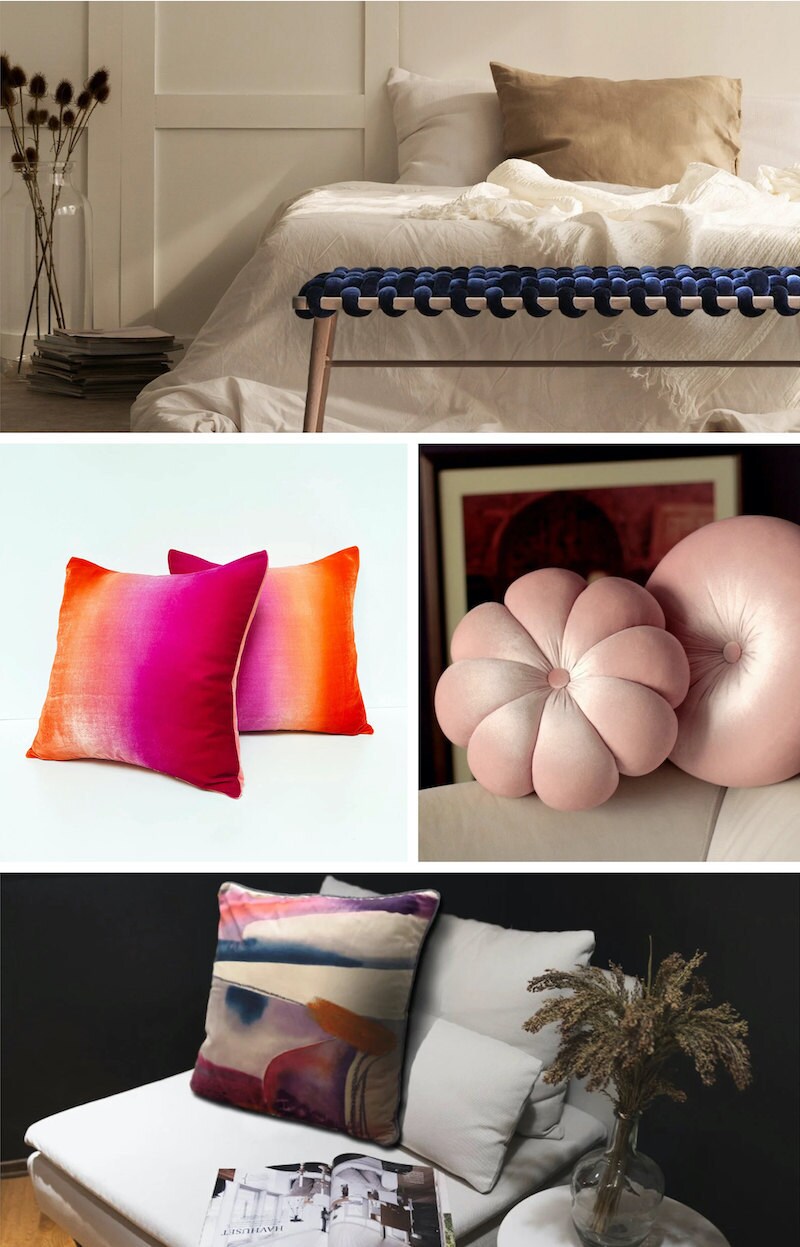 SHOP (clockwise from top left): Velvet woven bench from Knots Studio, from $765; pink and orange pillow cover from Colorbloom, $101; round or flower pillow from FULYAK, $69; velvet cushion cover from Ina de Saint Andeol, $33
Nothing welcomes winter quite like sumptuous velvet touches. Equally at home in bedding or the living room, this fabric adds a moody flavor to any space. Keep it classic with solid jewel-tones, or dial up the drama with a bold ombré. Trims like tassels and piping add an elegant, formal effect straight out of our Regencycore dreams, but for a more modern statement, try velvet with a twist—like this beautiful braided blue bench.
Soft spot for suede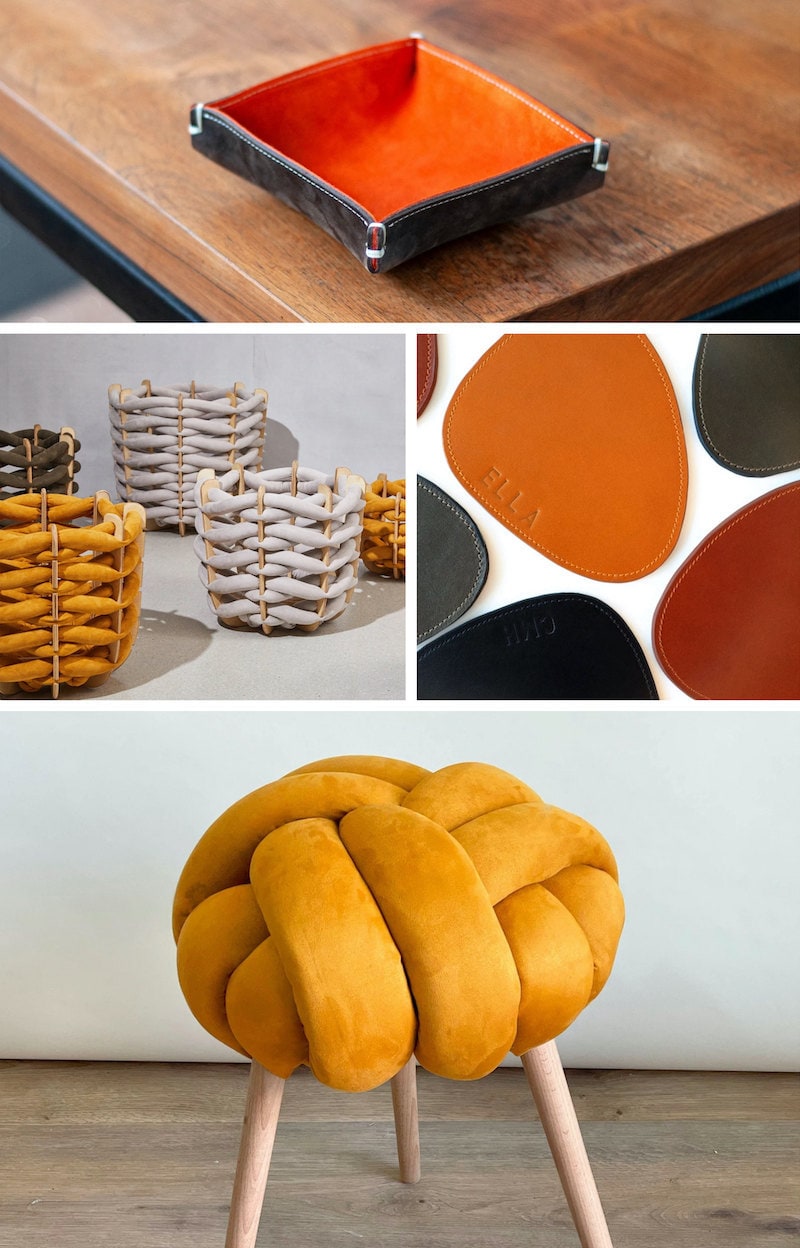 SHOP (clockwise from top left): Leather catchall from zeynNY, $36; large woven baskets from Knots Studio, $203; placemats from shhmanufaktur, $112; vegan suede stool from Knots Studio, $351
Brush up to buttery suede, including the vegan variety, for some instant warmth. Reminiscent of western style and horseback riding, this fabric feels earthy and lived-in in the best way. Lean into the rugged aesthetic with accents like this suede-topped catchall tray, or go bold and mod with a golden-hued woven stool for some added dimension. Tip: for a similar tactile sensation with a slightly different flavor, consider brushed cotton or leather.
Cute and comforting corduroy and chenille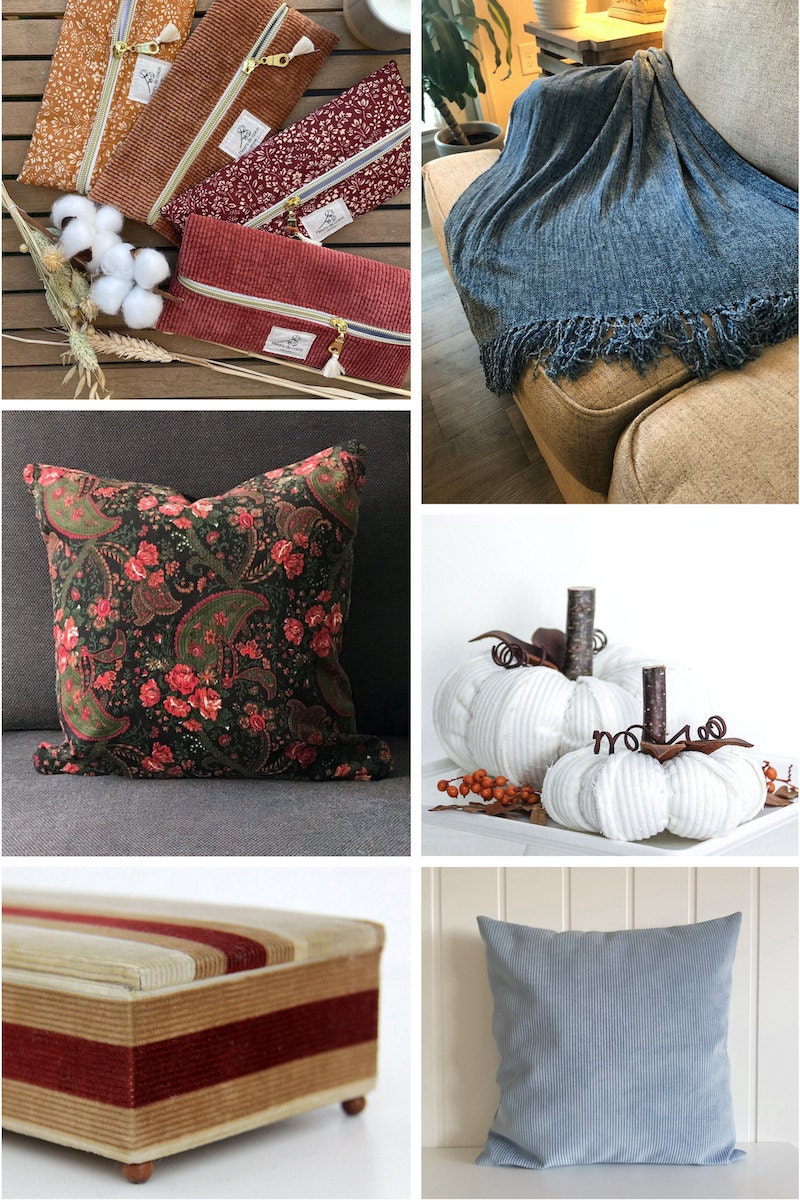 SHOP (clockwise from top left): Pencil case kit from Fleurs de coton creations, $17; handwoven chenille throw from Handwoven by Kathy, $72; corduroy pumpkins from DAmore1896, $25; blue pillow case from HannahAlohanDesign, $17; blue pillow case from HannahAlohanDesign, $17; paisley pillow cover from INHOUSEDESIGNNYC, $34
Thanks to its sturdy raised texture, corduroy is as practical as it is nostalgic. With its delectable nooks and crannies, this fall fabric staple has undeniable professorial charm. Answer the call of the campus—and quickly update your seating area for the season—by surrounding yourself in corduroy throw pillows like this autumnal floral number. Try layering different thicknesses of the fabric, mixing fine ribs with thicker cords and deeper channels. Or balance the weight of the fabric with a lighter shade, like this baby blue accent pillow.
With its similarly shaped vertical ribs, chenille is corduroy's equally cozy close cousin. Its name comes from the French term for the caterpillar fur it resembles. Toss a chenille throw in the mix for some extra fuzzy feels.
Make way for waffle knits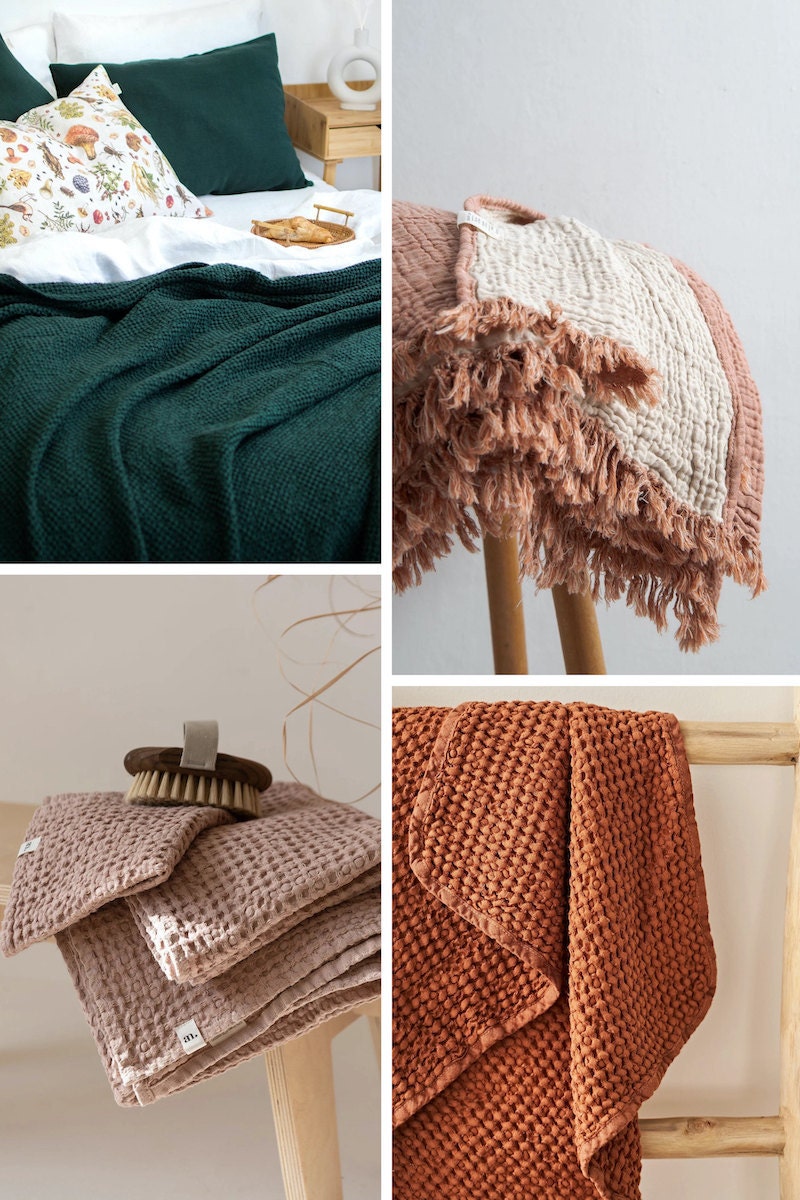 SHOP (clockwise from top left): Waffle blanket from Grannet Home, $93; double blanket from confetti mill, $170; set of linen hand towels from The Wrinkles Shop, $33; linen towels from April notes, $75
Waffle knits lend depth and texture to typically lightweight materials like linen and cotton, and can be a great way to create a cozy, inviting vibe in warmer climates. Simply drape a pretty puckered towel over your blanket ladder or bench, and you've got an instantly elevated effect worthy of a private spa moment. Looking for something ultra-light? Try a crinkled, gauzy curtain or bedside throw for all the comfy character without the extra weight.
Wild for wool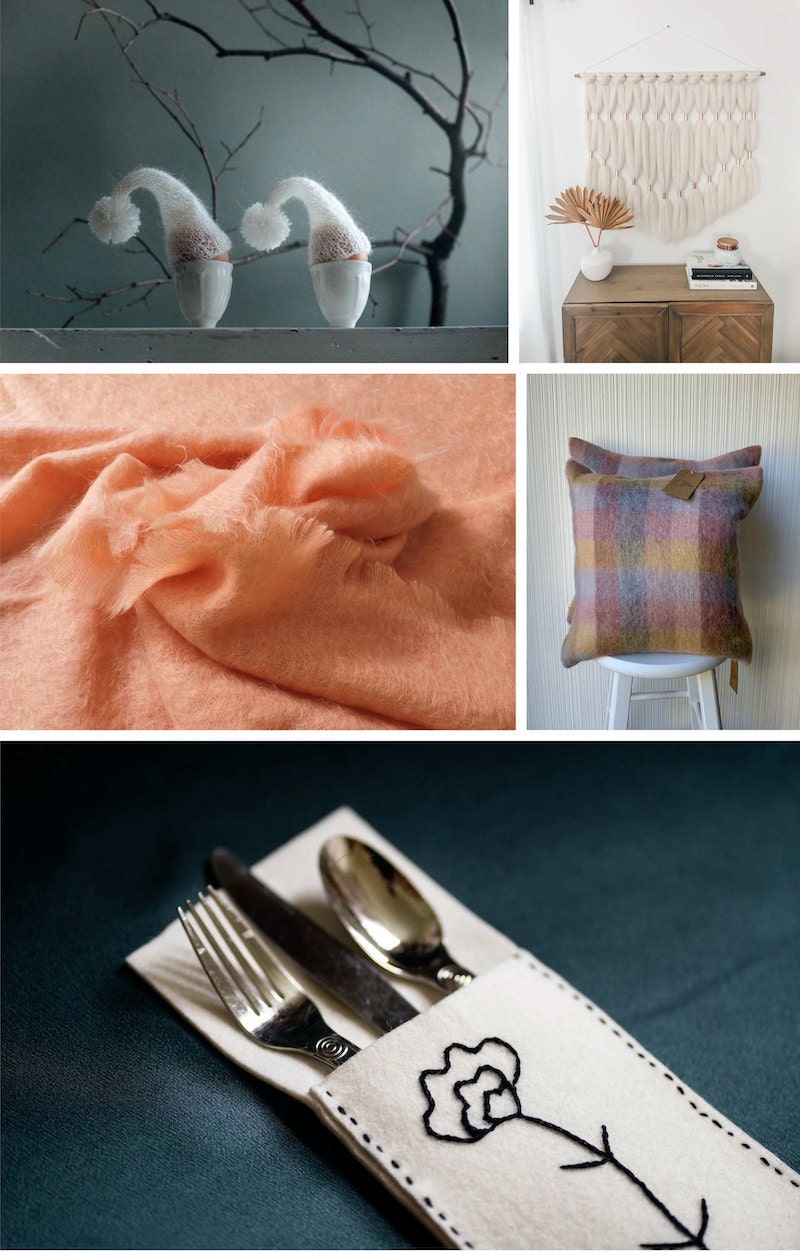 SHOP (clockwise from top left): Egg hat warmers from imali, $9; wall hanging from GlenwildArtStudio, $250; plaid mohair pillow cover from OldenVintageCo, $95; merino silverware sleeves from PalwashaStore, $24; vintage mohair blanket from DutchWoolDesign, $252
Introducing fluffy wool is a surefire way to turn any space nice and toasty before winter. A few of our favorite fibers? Mohair with its gauzy pile, and beautiful, hard-wearing merino. For a warm and woodsy academic aesthetic, try oversized plaids and striped varsity-style blankets—perfect for creating your own cozy home library or reading nook. Snuggle up with staples like wool pillows and throws, or incorporate the material in unexpected ways like this statement-making wall hanging crafted from coarse wool roving, this charming merino wool utensil holder, or these adorable egg warmers, hand-knit from the most delicate mohair.
Chunky knits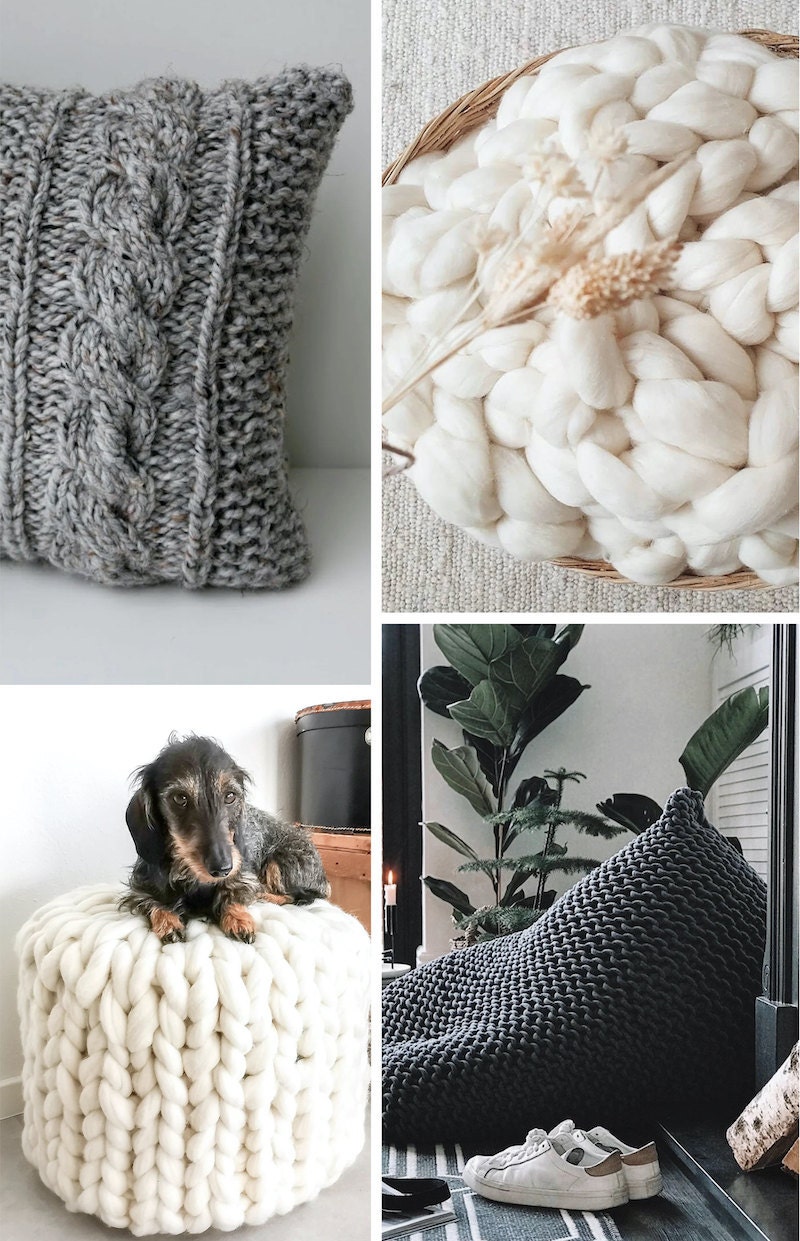 SHOP (clockwise from top left): Cable knit throw pillow from BeaCapesDesign, $60; merino wool blanket from Mio-Mat, $114; bean bag case from Jessica Lee, $147 Scandi pouf from MANIFATTURA089, $180
When it comes to winter knits, we always say: the chunkier the better. Crafted on an eye-catchingly enormous scale, even classic cable knits and simple garter stitches become patterns that seriously pop. Start relatively small with billowy pillows and warm weighted blankets, or fully transform your lounging arrangements with a seriously plump perch stitched from thick yarns—like this Scandinavian-style pouf, or this elevated take on a bean bag chair.
Woven wonders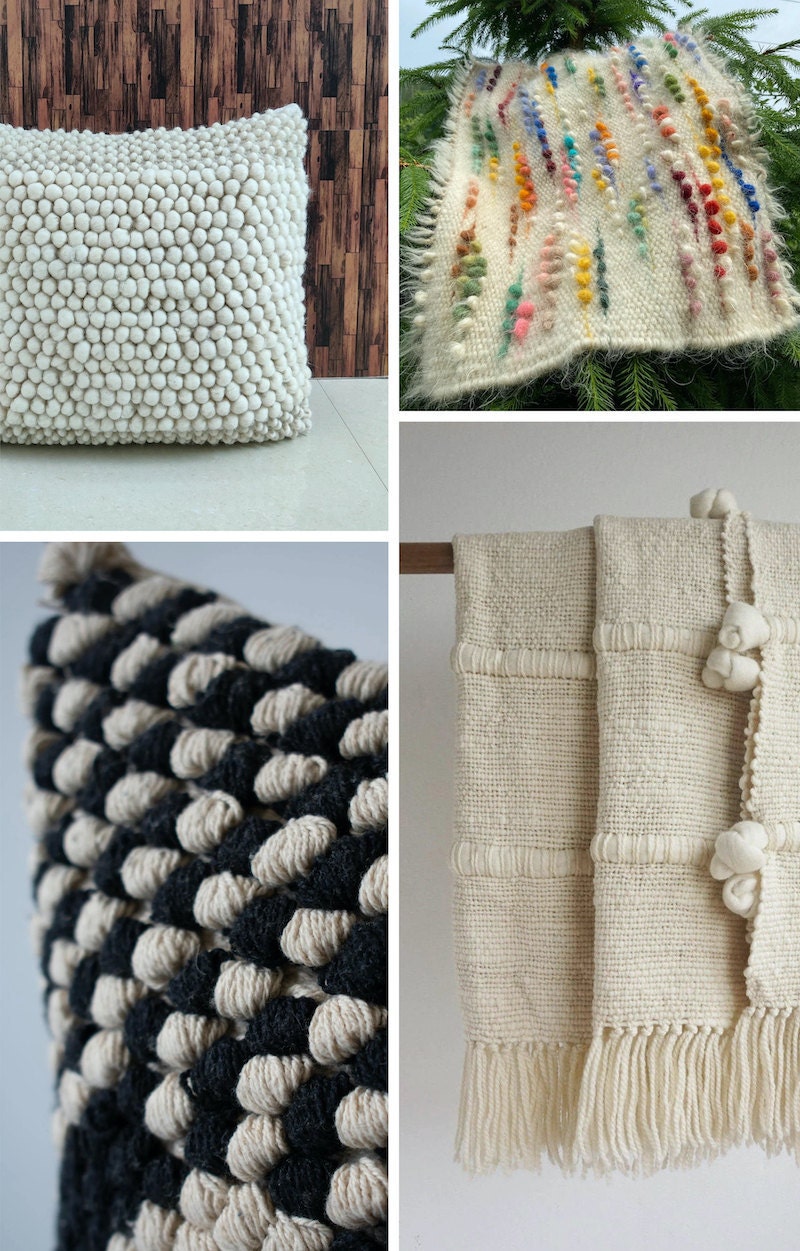 SHOP (clockwise from top left): Hand-loomed cushion cover from Honey Bee, $53; handwoven rug from WovenWoolArt, $40; merino knot throw from Texturable, $520 natural pillow cover from ShowCushions, $50
For something extra-tactile you can sink your hands—or feet—into, pile on the hand-woven accent pieces featuring three dimensional details. (Think: popcorn stitches, knots, and bubble knits that beckon you in for a cuddle.) This standout style would feel right at home in any boho-chic abode, with textural touches such as this hand-loomed cushion cover or merino knot throw completing your cozy look.