Introducing Etsy Studio, a new market for inspiration and unique craft supplies.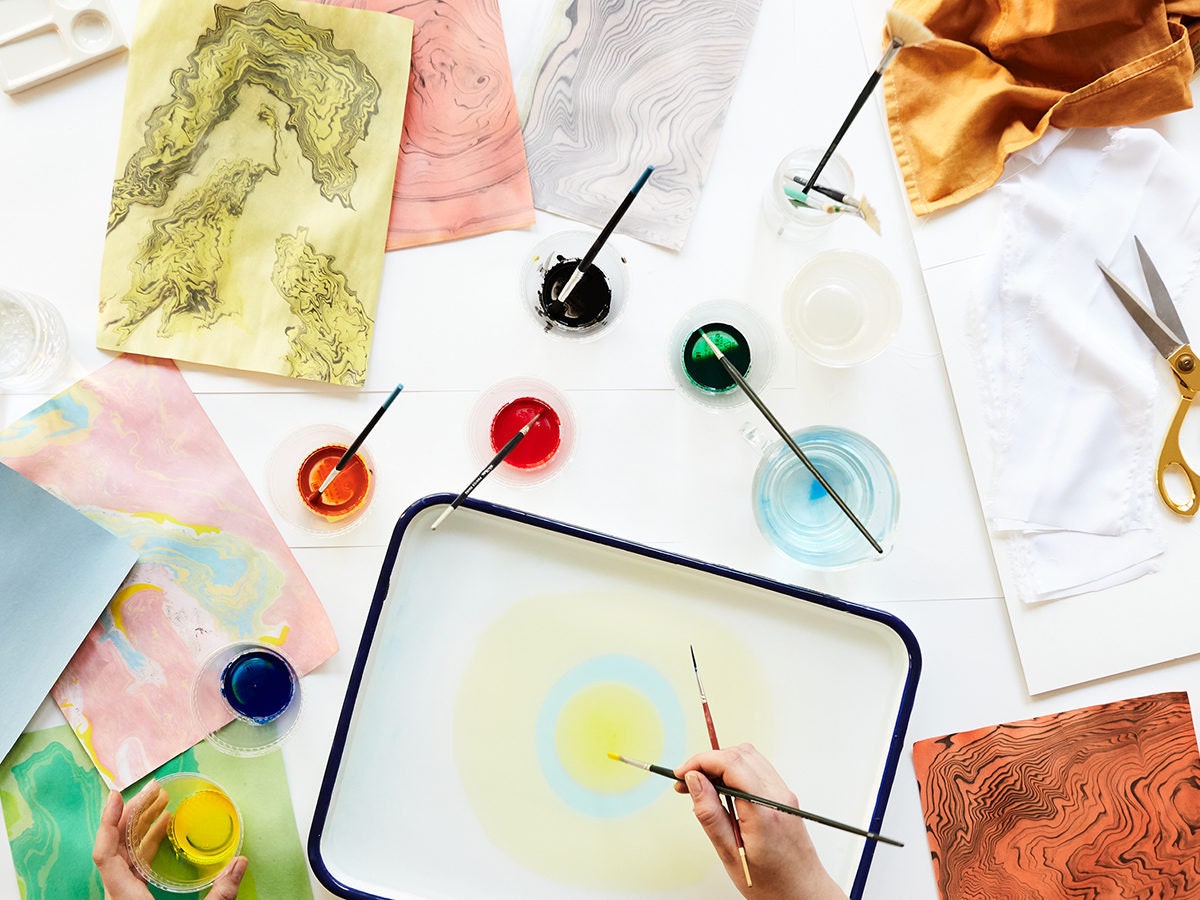 "These beads are so gorgeous; I want them in my life."
"The blue of this dye kit is like a dream!"
In a craft closet in Etsy's Brooklyn headquarters, bead-inspired exclamations are a regular occurrence. Step inside and you'll see 20-foot-high shelves lined with organized supplies of every color, shape, and texture: skeins of hand-spun yarn, reams of embroidered ribbon, and enough indigo dye to color a swimming pool. Inside this tiny technicolor canyon, three DIY geniuses recently assembled for a brainstorming session. The goal? A fresh DIY project for
Etsy Studio
, our new market for inspiration and unique craft supplies. Etsy Studio represents something truly exciting in the craft-supplies space: a single destination for everything DIY. Yes, there are 
millions of supplies
 to choose from—everything from hand-dyed yarn and custom-made beads to vintage materials and ready-to-go kits. But the real secret sauce is in the inspiring projects peppered throughout: Etsy Studio's
original tutorials
help crafters seamlessly connect creative ideas with the supplies to bring them to life.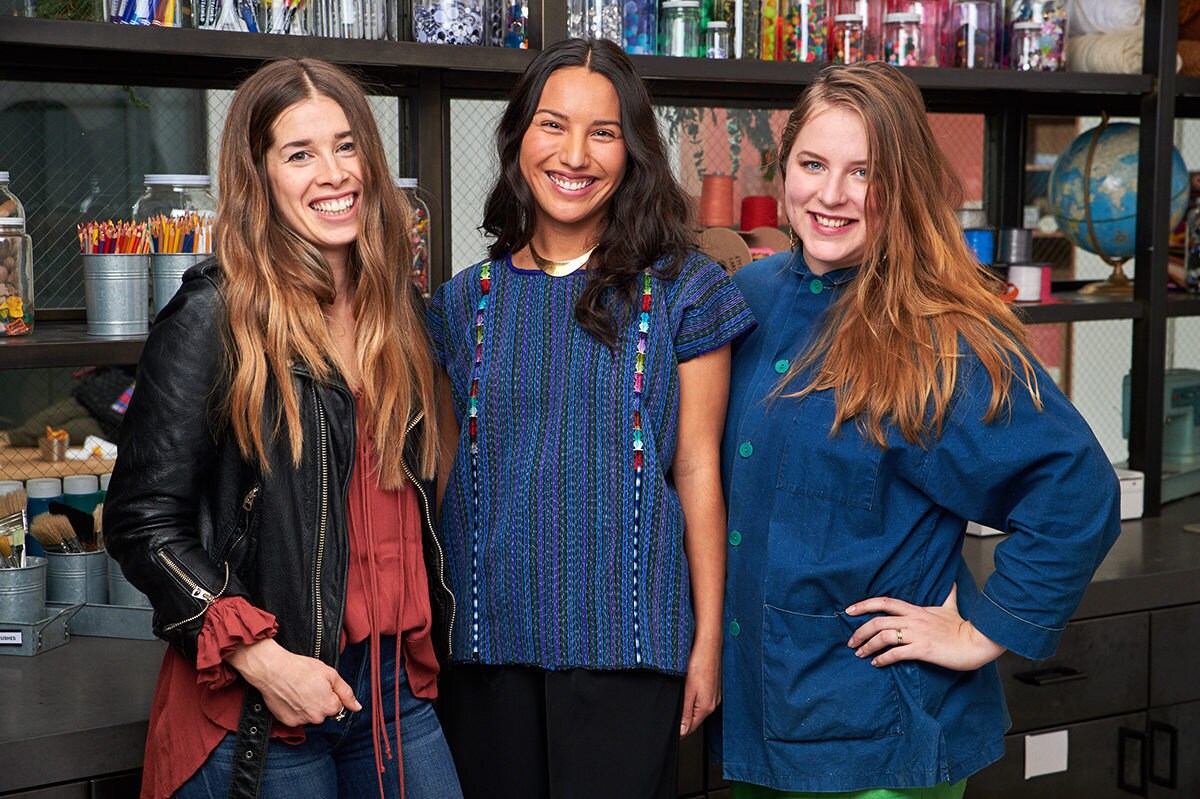 From left: Julie O'Boyle, Aleksa Brown, and Clare McGibbon. Photo by Erik Valind.
That's where DIY experts Clare McGibbon, Julie O'Boyle, and Aleksa Brown come in. The driving force behind Etsy Studio's eye-catching, shoppable craft projects, they've spent the last year conceiving, refining, and producing how-to's of all kinds. Today, we're getting a behind-the-scenes look at their approach to creating the original DIYs that make Etsy Studio so addictive.
The making of an Etsy Studio DIY
All creative projects require a catalyst, whether it's a length of luxe velvet ribbon or a scrap of holographic snakeskin leather
(yes, it exists)
. When asked where they find inspiration for new projects, the team cites Etsy Studio itself as the mother lode of DIY ideas. "You can find an incredible variety of supplies that you didn't even know were out there," says Julie, who can be found plotting out the team's editorial calendar and post-production schedule when she's not on the hunt for the perfect neon paracord for a
coiled DIY coaster
. "It really sets the site apart. And knowing you're purchasing from a real person, supporting a small business—that's the icing on the cake for me."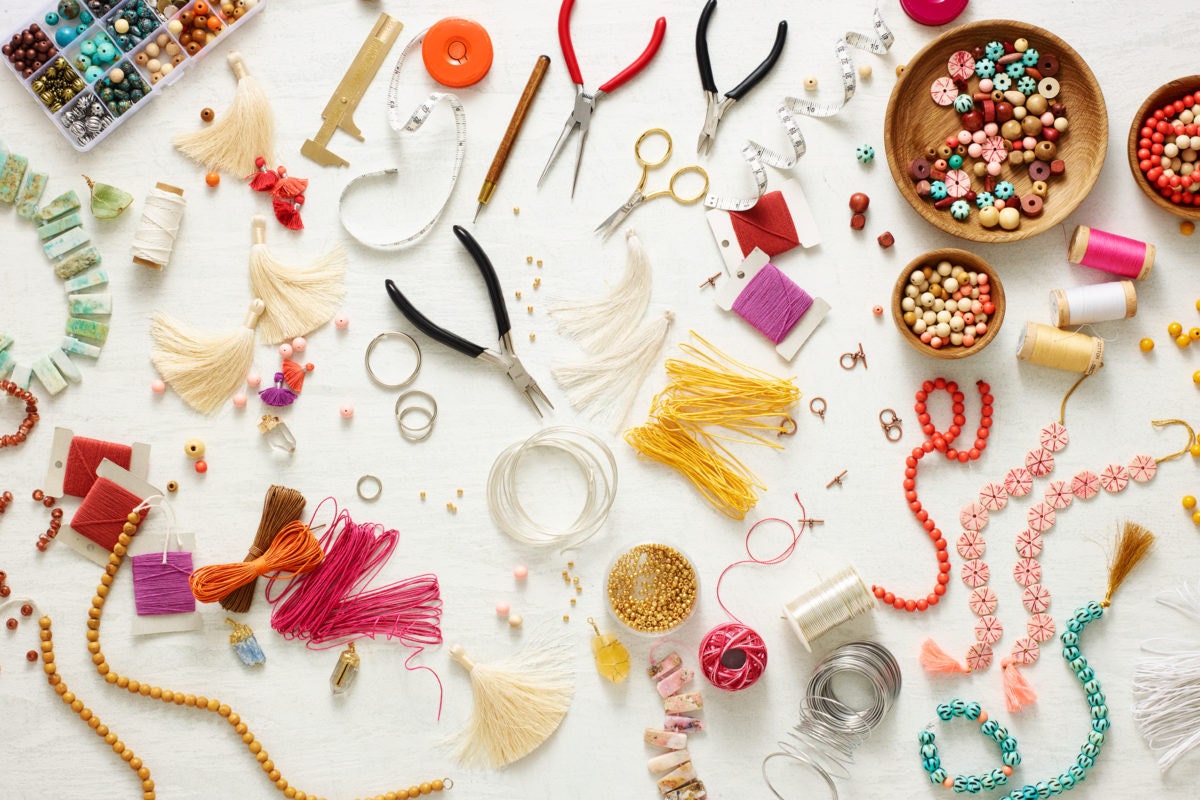 A craft closet explosion.
Inspiration for the next DIY is never far away with this crew: A simple amble down the street can result in an
aha
moment. "I have a never-ending curiosity about how things are made, so when I see something out in the wild, I have a tendency to analyze it so I can put my own spin on it," adds Clare, whose instantly identifiable visual aesthetic has made her the de facto art director of the team. "It's very much about adding that personal touch to something you see in the world." So how does the team narrow down their many ideas and decide which projects make the cut? "What people are searching for online definitely plays a part in the DIYs we choose to create," Clare reports, "but it's equally important to create a project that's adaptable and relevant for a wide audience."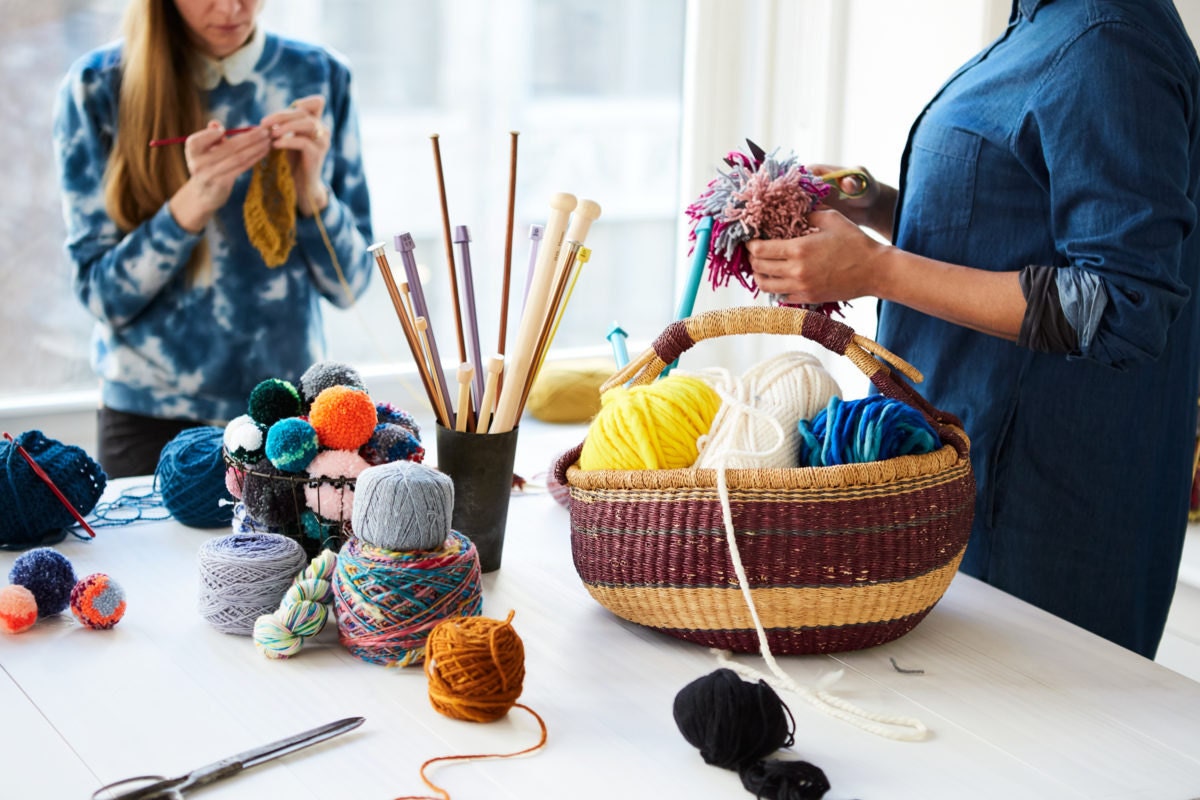 Prototype, prototype, and prototype again
Every project is the culmination of many hours spent combing Etsy Studio for unique craft supplies, experimenting with new materials, creating and refining prototypes, and then recreating the making process for the camera. "Our team is incredibly thoughtful in our approach," says Julie. "Each project is prototyped as many times as necessary to ensure that it can be easily replicated or customized by a crafter, and that the supplies shown are going to be the correct ones to create it."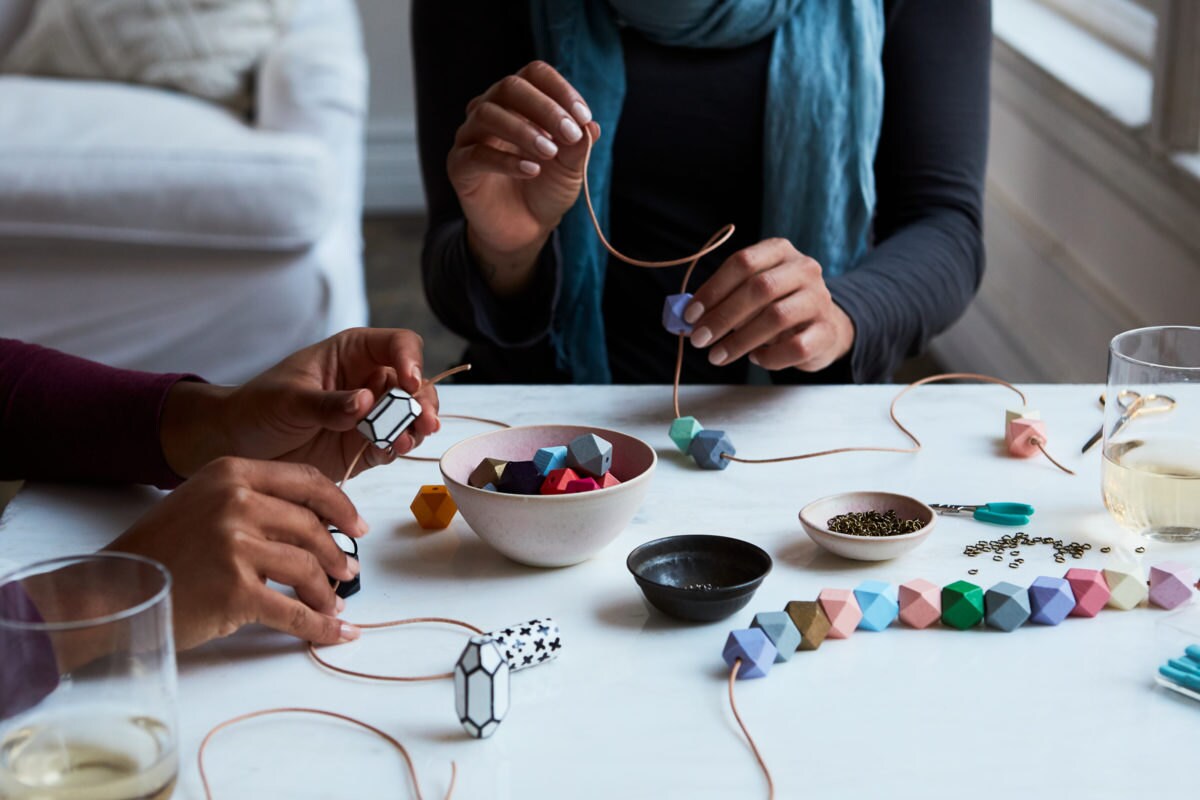 Hand models at work.
Bringing the project to life
Next, it's time to photograph the step-by-step process. Clare's photography background and stop-motion animation skills have proven particularly useful in the production of the many videos and GIFs found on Etsy Studio. "When we're working on project photography, the most important aspect is clearly communicating a step," Clare says. "That's where hand models come in: The placement of hands is really important for conveying how to make a craft at home. Movement is also a big part of our visual style, so when we have an opportunity to animate a still photo or a step, it adds that much more to the educational process."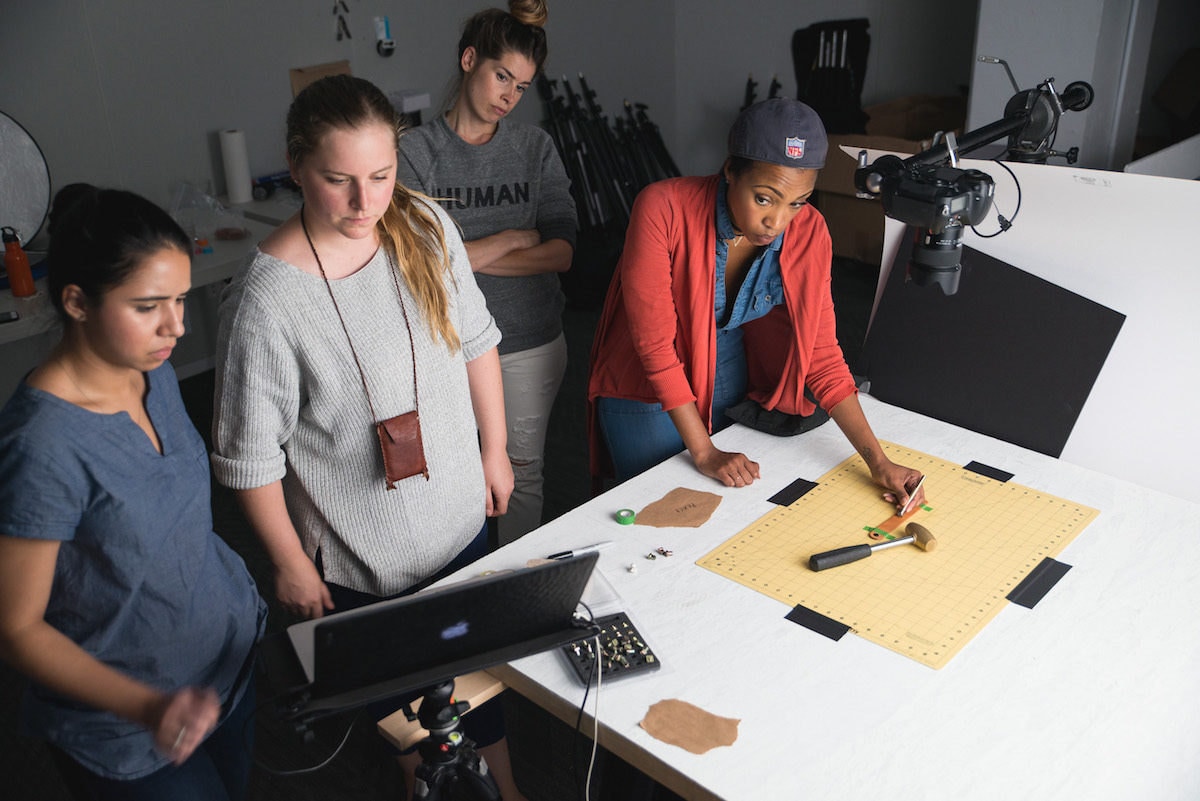 Behind the scenes of a project shoot. Photo by Erik Valind.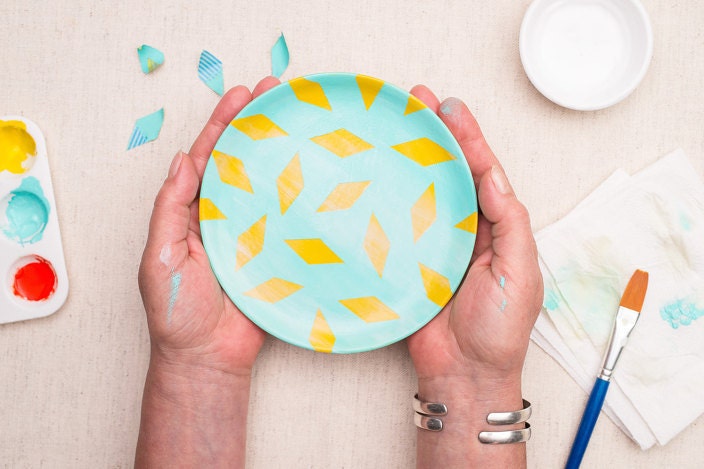 Sharing creativity with the world
After recreating the making process for the camera, it's time to put the whole thing into words. Aleksa spent years as a DIY editor for the Etsy Blog and has honed her expertise writing easy-to-follow step-by-step instructions for hundreds of projects. Finally, each original DIY is published on Etsy Studio, where it can ignite the creative spark of craft supply shoppers.
Today, Etsy Studio is officially open for business
, and a world of DIY inspiration awaits. And this is only the beginning. New projects will be added regularly, so
follow Etsy Studio
 to get inspired and see what the team's making—then share what you create with #keepmaking.