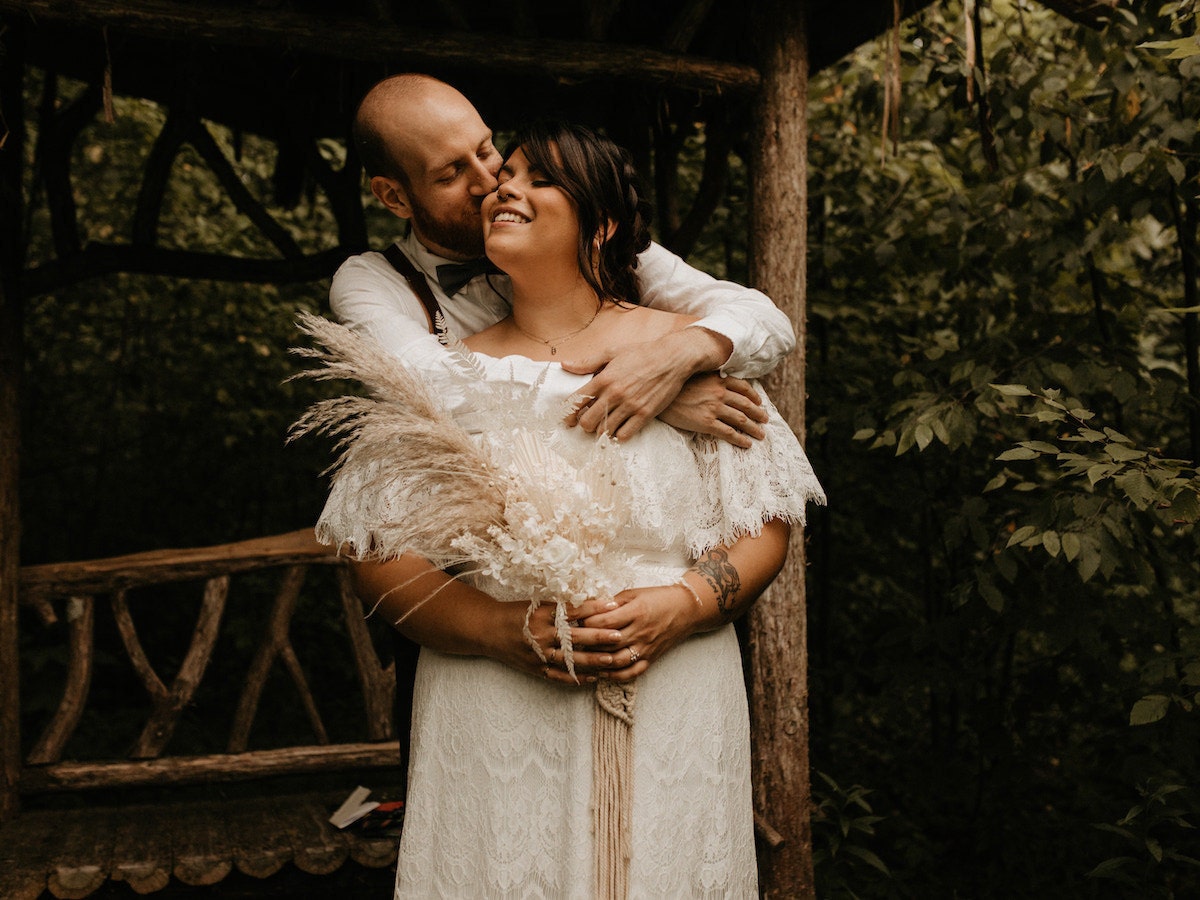 In our Real Weddings series, we share stories of recently wed couples who used Etsy to source items for their celebration, and learn more about how they planned the day they said, "I do."
Magical, memorable, masked. True, they weren't exactly the "I do's" these Etsy staffers originally had in mind—but with a little imagination, a sprinkling of custom touches, and the promise of a forever to look forward to, these three creative couples dreamed up intimate minimonies filled with enough heart and happiness to last a lifetime. If you, too, have had to tweak your wedding day plans this year, let the meaningful details of these modified celebrations inspire you. Read on to discover how each set of newlyweds simplified their special day to focus on what matters most: their own personal love story. 
An enchanting elopement
"This year really changed our perception of what was important to us," says Retention Marketing Manager Sarah Schalago, who recently got hitched to her partner Chris. In lieu of holding a large reception with friends and family, the couple opted to elope in the middle of a meadow with just two witnesses. 
Keeping things laid-back and natural was key for the lovebirds, and once they put a pin in their party, their scaled-back ceremony came together quickly. "Within two weeks we got our marriage license, contacted our photographer, and gathered all the things we needed," Sarah says. Just one day before tying the knot, the couple finally found the perfect spot: a New Jersey nature reserve where they could frolic freely. "It was magical," she says. "We exchanged vows in a tiny gazebo overlooking a field of wildflowers." 
To let the surrounding rows of pink and yellow blooms really pop, Sarah stuck with soft neutrals and natural textures for the boho-chic ceremony—details that felt true to the couples' down-to-earth personalities. Accordingly, her flowy, off-shoulder dress allowed for easy, breezy movement, while Chris's suspenders-sans-suit jacket kept him cool and dapper-casual in the August heat. 
"We also really wanted it to feel personal to us, so we worked in as many custom details as possible," Sarah adds. "Little trinkets and keepsakes, that sort of thing." For example, to preserve the mood of the moment, they penned their vows in sweet little handmade books. "We took the time to write our own words, and both sobbed while reading them," she says.
Sarah tied the whole look together with a macrame-wrapped bouquet of dried pampas grass, which now sits on display in their bedroom at home. "I get to wake up to it every morning," she says. "It's a nice, quiet reminder of our wonderful day." 
Romance right at home
If you'd asked them earlier this year, Diversity & Inclusion Senior Program Manager Adetoro (Addy) Adegbola and her fiance Joel Ceballos would've said a destination wedding in sunny Mexico surrounded by family and friends was hands-down the ultimate "I love you." But once the pair (and all 140 of their guests) had to table their trip, they set out to make an equally swoon-worthy splash here in the states. 
Turning to options a bit more local, the Brooklyn-based couple decided to host an intimate October ceremony in nearby Queens, New York with a largely pared down list of loved ones. The setting? The Foundry: an airy event space ideal for a seasonal, socially distant celebration. Then, it was time to dial up the drama in the details.
"Our vision was to put our own spin on a classic red and white wedding," Addy says. "We wanted to create a super-romantic, glowy space tied together with crimson roses, lush greenery, and blush tones all around us. And we wanted it completely lit up by candlelight."
To complement the glam vibe, Addy set about accessorizing. Sparkly rose gold chandelier earrings danced in the soft light, and a delicate crystal-encrusted headband perfectly topped off the bride's intricate pin curls. Coupled with a few extra getting-ready perks—like a luxe robe and plush "Mrs." slippers—each little embellishment thoughtfully upped the opulent-factor. Meanwhile mod touches, like a custom acrylic clutch and coordinating card box, playfully reflected the pair's clear connection. 
As thanks to their loved ones who attended, Addy and Joel supplied masks for the festivities, and assembled extra-personal gift bags for their wedding party filled with everything from mini champagne bottles to Addy's favorite scented candles from Pontie Wax.
A family affair
After canceling their 55-person indoor wedding back in June, high-school sweethearts and life-long besties Megan Oppenheimer, an executive assistant, and Imran Hoosain, a payments engineer, began to reimagine their entire event. "We were going to wait to see what 2021 would hold," Megan says, "but by July we'd decided we just wanted to get married and started looking at every possible option." Determined to bring their parents together safely, the engaged Etsy employees sourced an outdoor setting they could reserve for just the six of them, ultimately landing on Glenmere Mansion in upstate New York. 
"We're both very close with our families and pretty introverted people, so in a way, having it with just our parents was extra-special," Megan says. To limit outside contact, she chose to do her own hair and makeup (but treated herself to a beautiful new bathrobe to still feel fancy), and as an added layer of protection, the couple purchased satin masks to match everyone's outfits, so they could all stay safe and chic while sharing common spaces. 
To top off her own look, Megan wore a Liesel Love necklace that Imran had made to replace a sentimental piece she'd lost a few years back. "It's similar but not identical by design, and makes me feel so loved," she says.
The undisputed highlight of the day? Having Megan's dad perform the ceremony as originally planned. "At that point, we were so ready to be married that hearing, 'I now pronounce you husband and wife' was the best ever," she says. "Plus," she adds, "my dad had some pretty impressive quarantine hair going on, and frankly it gave us all a good chuckle." 
After the "I do's," the family celebrated with a champagne toast and dinner on the terrace overlooking the lake, followed by cake complete with custom-stamped "I love you" forks for the couple. "All in all, we wanted to create a vibe that was elegant, but also relaxed and full of happiness," Megan says. Mission accomplished.