by Julie Schneider
Pack your lucky scissors and hit the road: There's an art adventure in the making.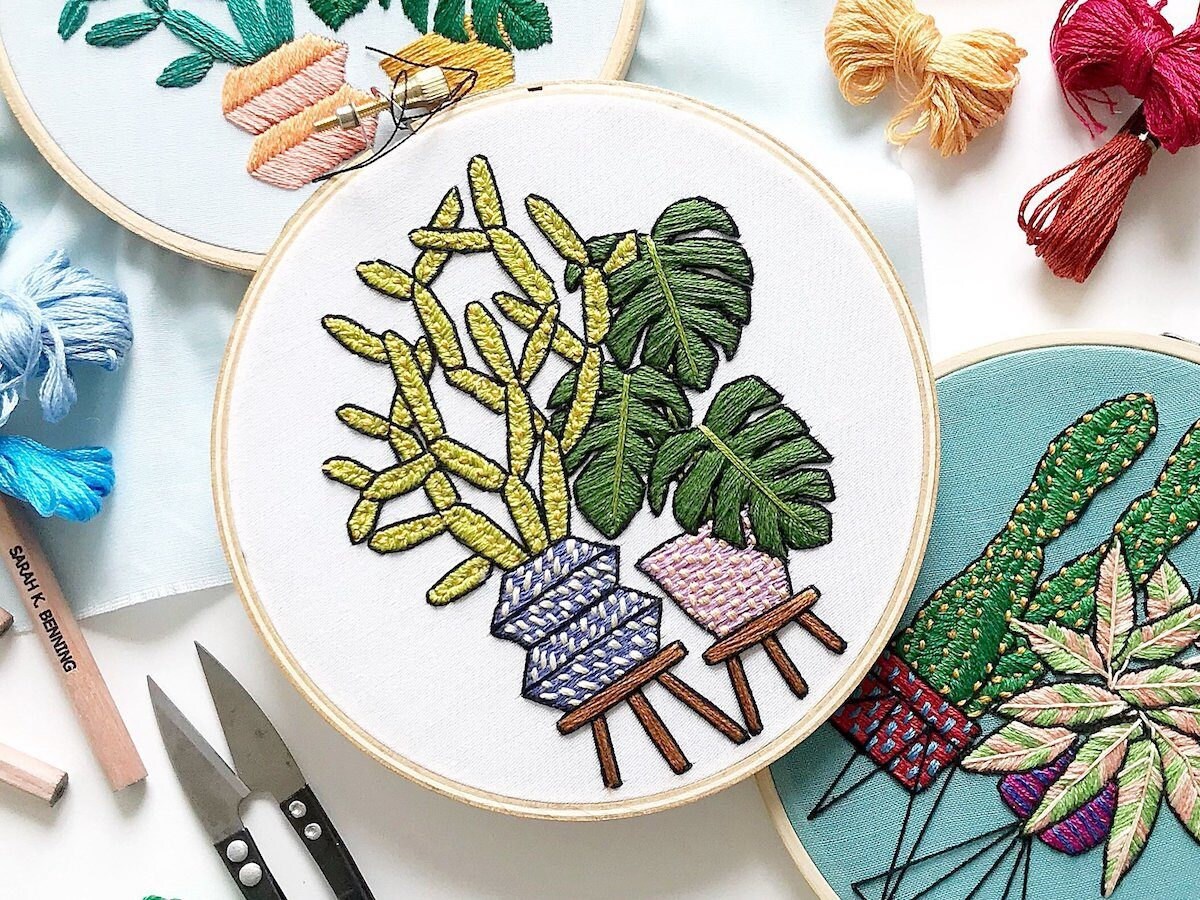 To
deepen your knowledge
of the world's cultures. To toast milestones with loved ones. To tap into
fresh inspiration
in a place far away from your everyday. The motivations for traveling are boundless, so why not add learning
a new creative skill
to your list of vacation goals? More and more Etsy sellers around the globe are throwing open their studio doors to lead hands-on education sessions for aspiring makers, sharing their time-tested wisdom, go-to techniques, and expert-approved
craft supplies
along the way. Whether you want to pick up
watercolor
tips from a painter in London or explore
macramé
's many modern applications in Toronto, consider this the nudge you need to stretch your creative muscles, expand your know-how, and learn straight from the source.
Read on to find an upcoming workshop worth traveling for, and add a (hand-carved) stamp to your craft passport.
Where: Denver, CO; Ojai, CA; Portland, OR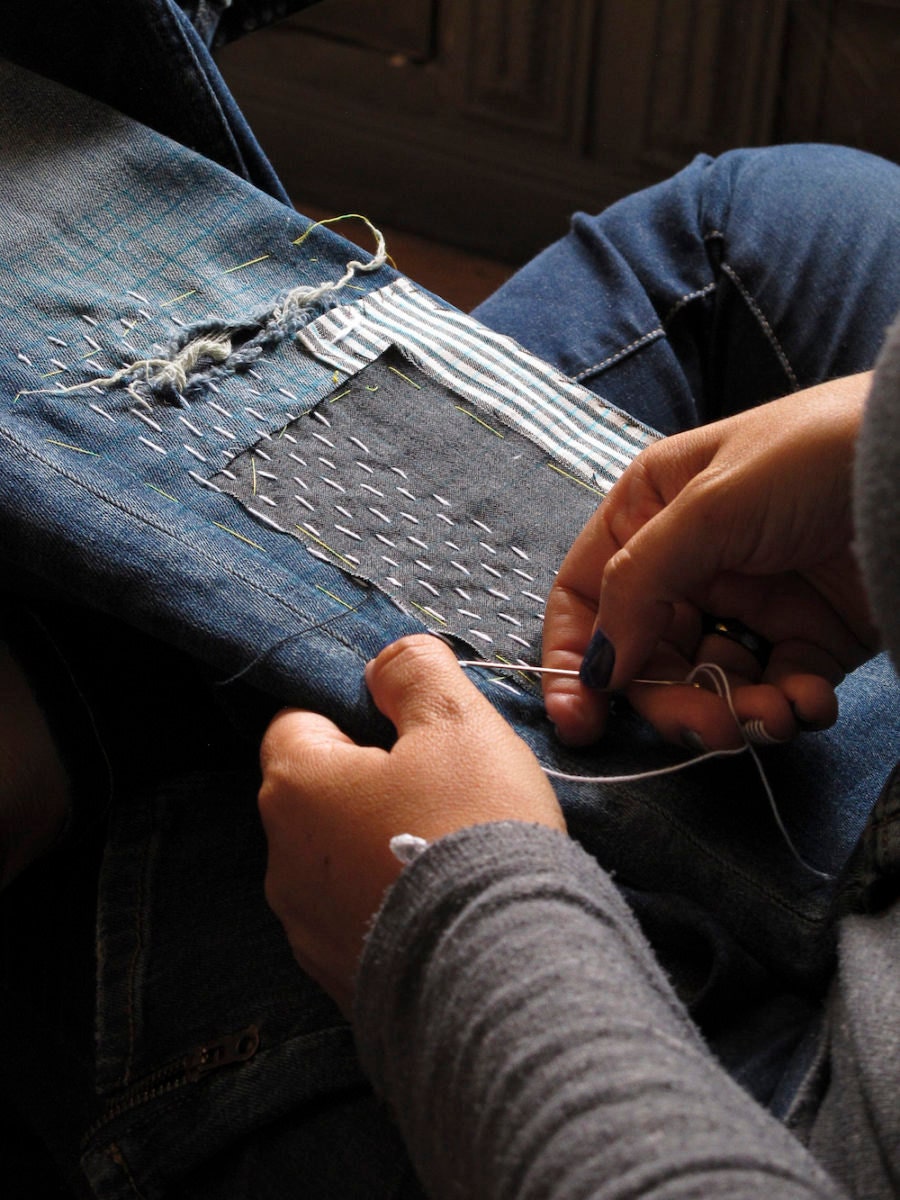 Stitching in progress at Garash Galeria in Mexico City, the first stop on Jessica's recent book tour for "
Make + Mend
" (Watson-Guptill, 2018)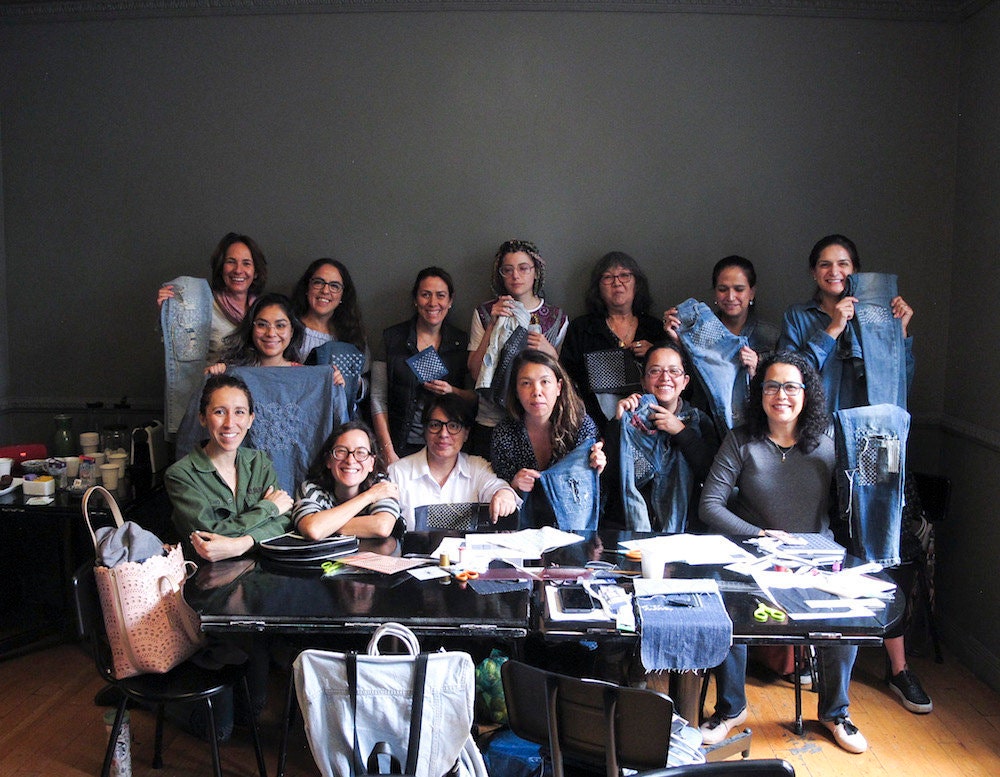 Students at Jessica's 2018 Mexico City workshop session, hosted by
Madejajaja
Since her new book
Make + Mend
landed in bookshops in August, Jessica Marquez, the veteran Etsy seller behind
Miniature Rhino
, has been taking her hand-stitched show on the road with workshops dedicated to the book's featured technique,
sashiko
mending. With a rich history in Japanese culture, sashiko is a method of repairing and reinforcing textiles using striking geometric stitch patterns that intentionally contrast with the base fabric below. Students are encouraged to bring their own garments to mend or embellish during each session. Look for her
workshops
across the United States this fall, including at Denver's 
Fancy Tiger Crafts
and
Lisa Congdon
's new Portland, Oregon space.
Can't make the trip? Check out Miniature Rhino's collection of sashiko and embroidery kits on Etsy.
What: Block printing with Jen Hewett
Where: Jaipur, India; El Cerrito, CA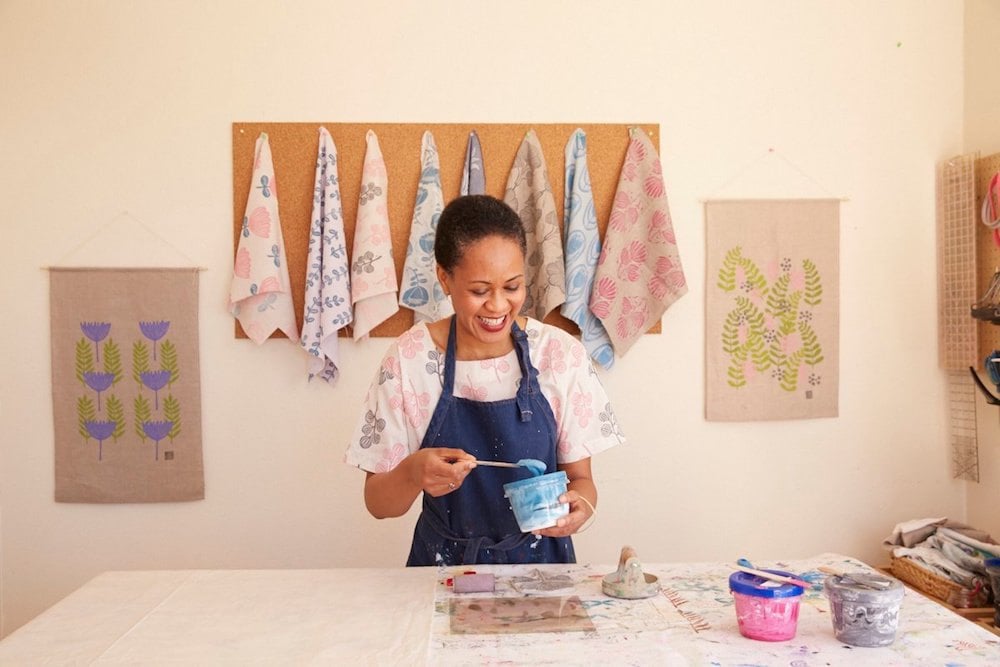 Block printer and artist Jen Hewett at work; photo by 
Jen Siska
 for Hewett's new book, "
Print, Pattern, Sew: Block-Printing Basics + Simple Sewing Projects
" (Roost Books, 2018)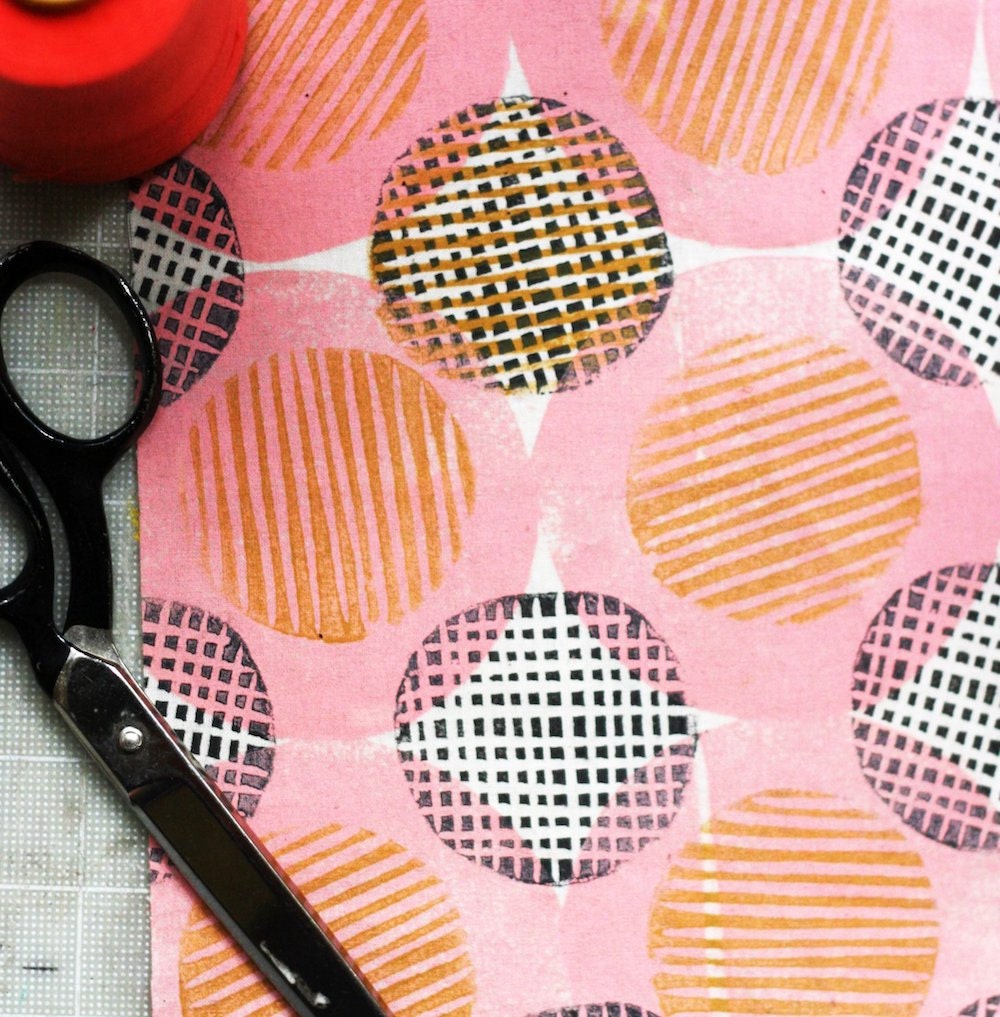 One of Jen Hewett's original prints
It was in a tiny, 
54-square-foot sunroom studio
 that Jen Hewett built the foundation for her big career—block printing fabrics for her successful 
Etsy shop
and launching ambitious projects like Print, Pattern, Sew, a yearlong garment-construction challenge that combined her love for hand-printed fabrics with her love of sewing. In the process, she grew as an artist and also developed the bones for a 
Print, Pattern, Sew
book that was published in May of this year. She teaches regular surface printing
classes
in California and online, and in October, she'll be leading a rare destination 
block printing workshop
in Jaipur, India—one of the few opportunities to catch Jen in action outside of her Cali home. Don't miss it, if you can. (
Registration
opens in November for 2019 classes.)
See more of Jen's work on Etsy. 
Where: Toronto, Canada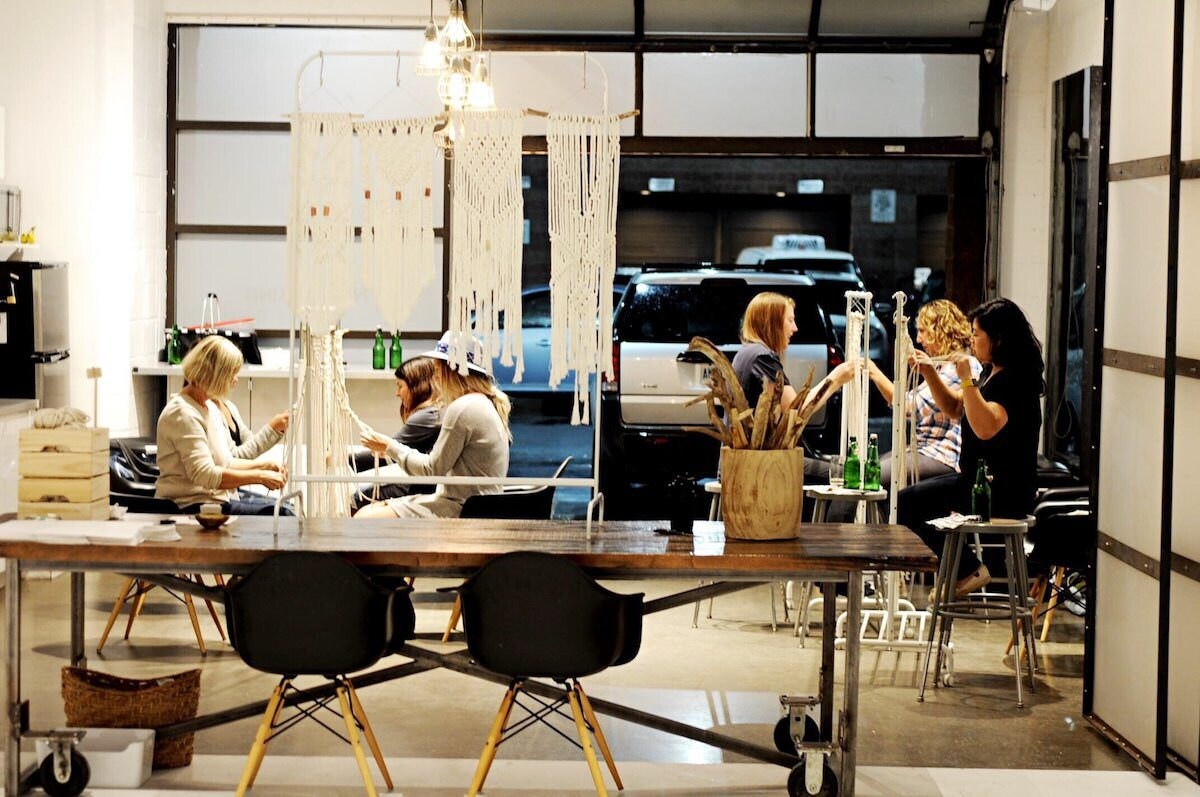 Crafters work side by side at a recent macramé session with
Indie Boho Studio
in Toronto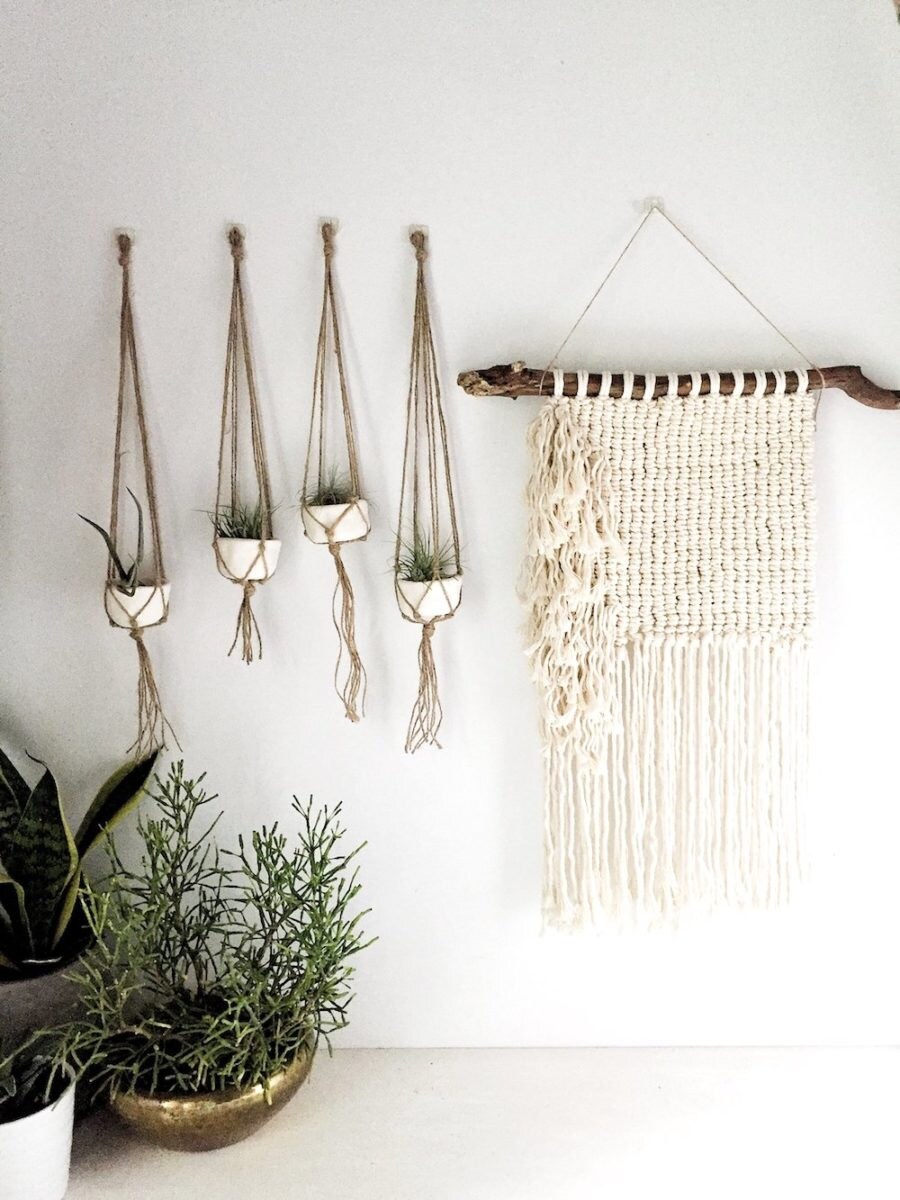 Finished works for sale from
Indie Boho Studio
Knots are the name of the game at
Indie Boho Studio
's social crafternoons, held in a variety of locations across Toronto. Each
workshop
is BYOB, because, as owner Lidija Jerant's class motto goes, "Crafting is made better with a good drink in hand." Light snacks and non-alcoholic beverages are also served to fuel creativity as Lidija guides students through the steps necessary to turn cotton rope and accent beads into retro home decor. At the end of each session, students can expect to leave with a finished piece of wall art or a 
plant hanger
—complete with a plant to put in it.
Explore Indie Boho Studio's current workshop offerings. 
What: Abstract watercolors with CreativeIngrid
Where: London, England
Ingrid's students attending to watercolor works-in-progress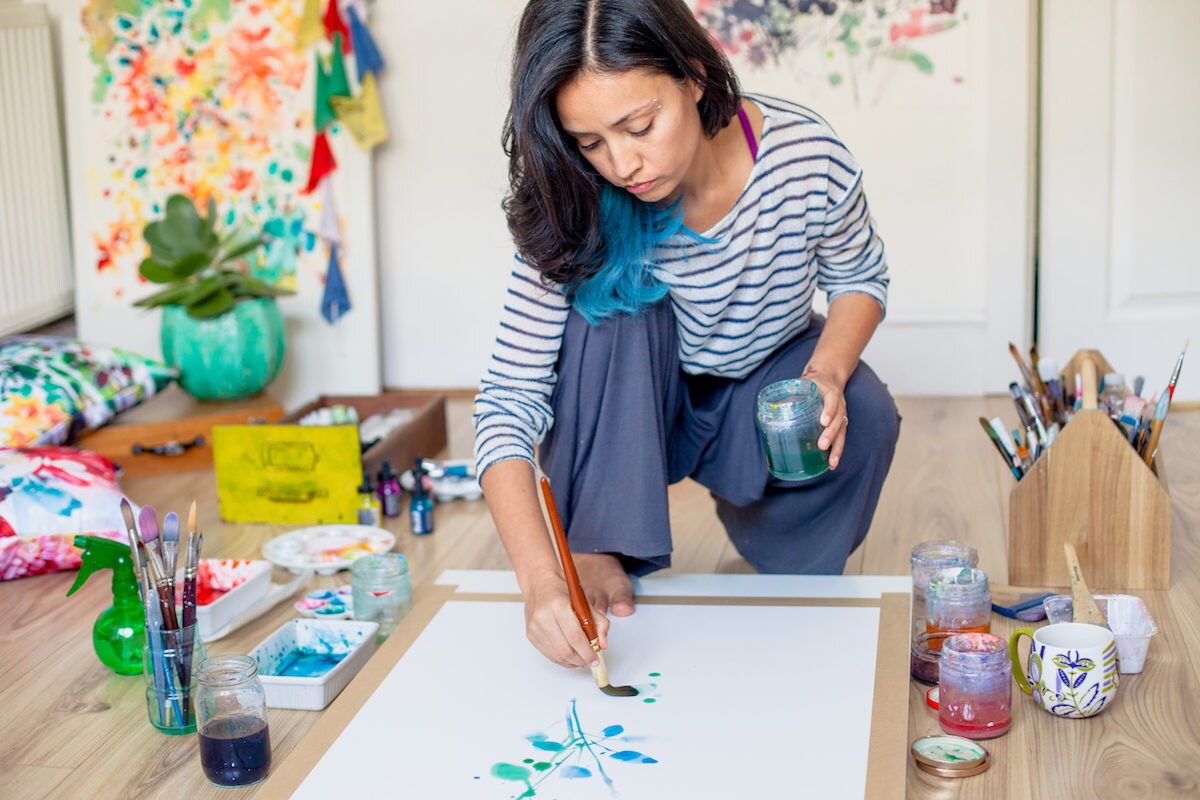 Ingrid painting in her London studio
Whether you're diving into the process of painting abstract florals and glimmering galaxies or simply absorbing the basic mechanics of working with paints and brushes, Ingrid Sanchez's London 
watercolor workshops
promise to be as transporting as the vibrant, color-soaked canvases she creates for her Etsy shop, 
CreativeIngrid
. Driven by a desire to live a life that inspires others, her workshops are designed to help students open up to the possibilities of paint. As she says, "Be prepared to paint without limits. It is fun, liberating, and, in my experience, the best way to find your own voice as an artist."
Browse Ingrid's original works and get inspired.
Where: New Hampshire; Portland, OR; San Francisco, CA; Joshua Tree, CA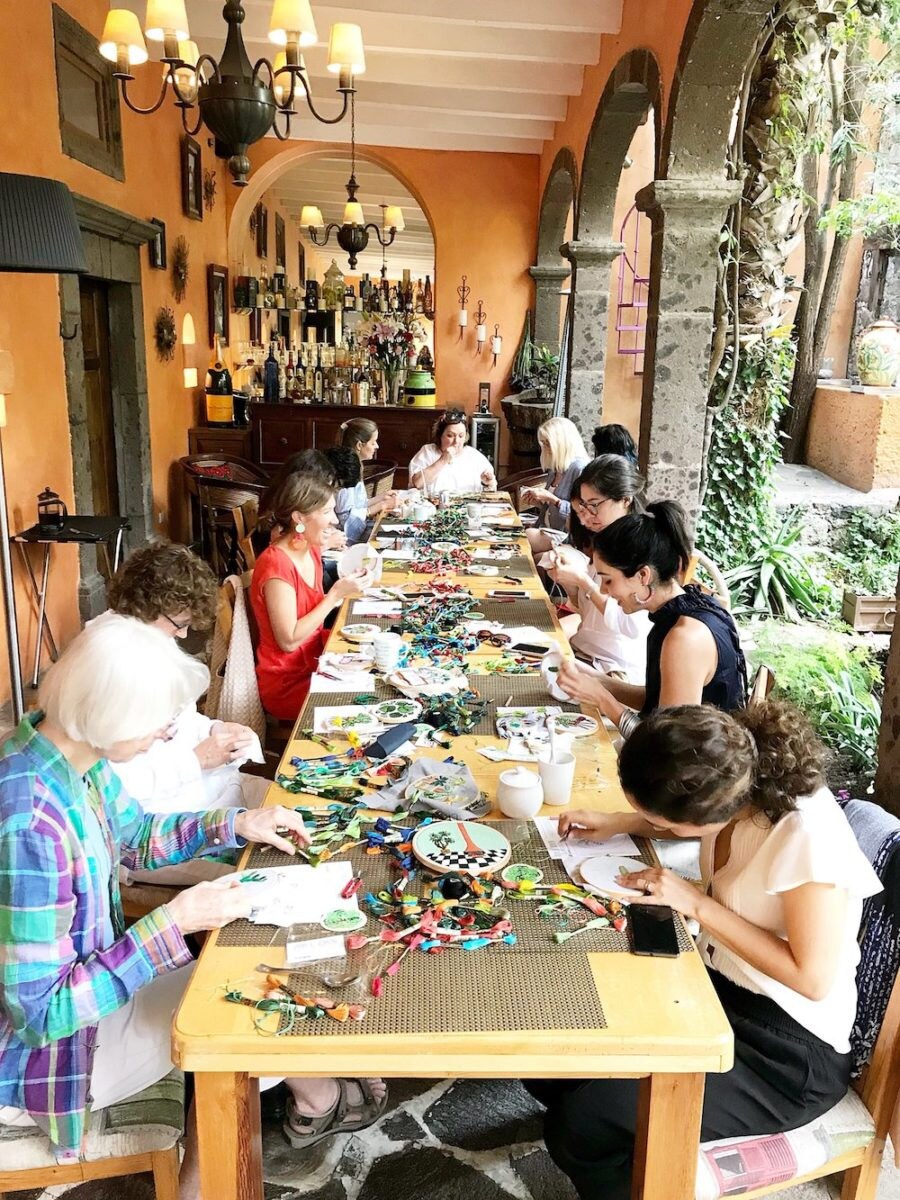 Participants at a spring embroidery workshop in San Miguel de Allende, Mexico, led by embroidery artist
Sarah K. Benning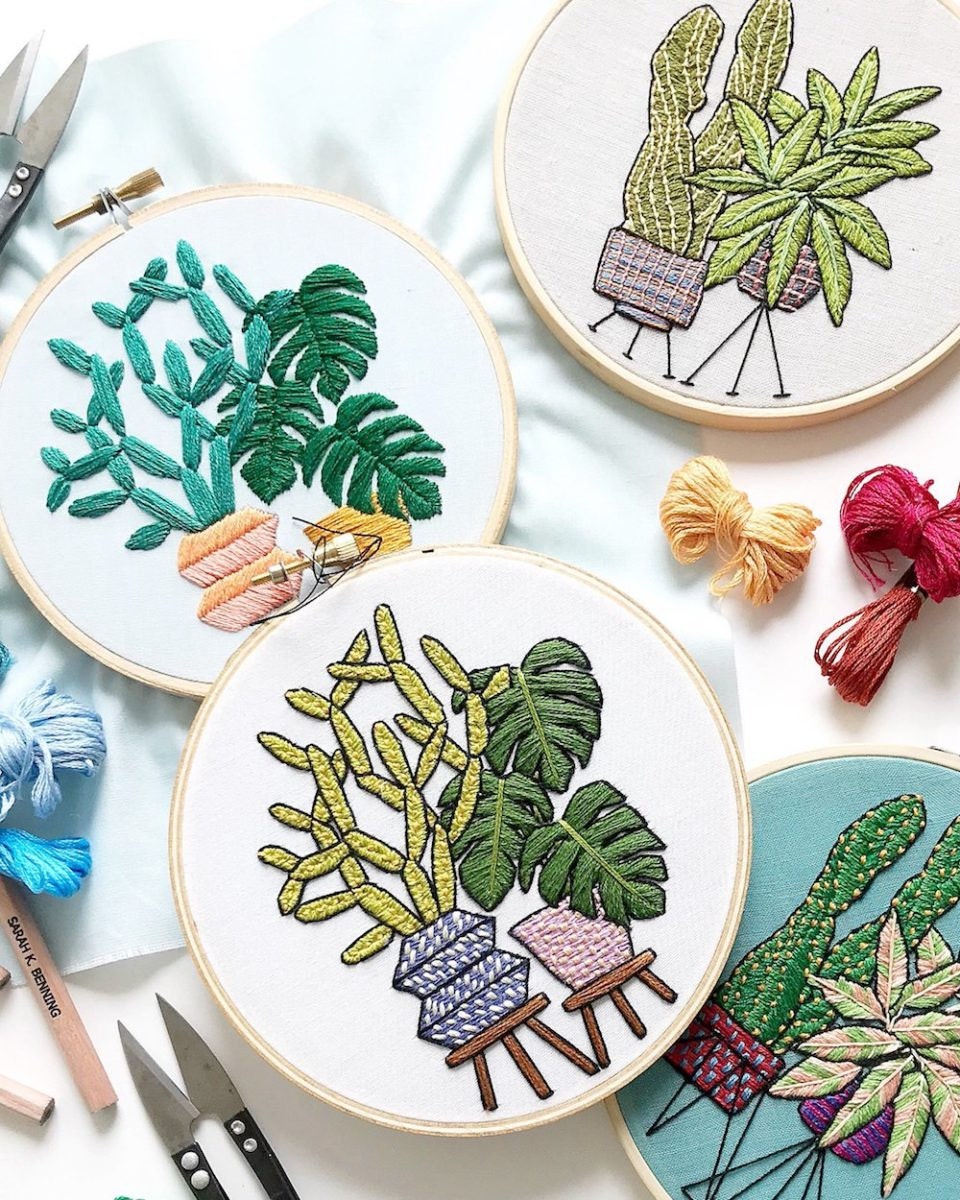 Sarah K. Benning's embroidered flora
Lush with houseplants,
Sarah K. Benning
's textural stitched artworks are so verdant it wouldn't be surprising if they had the same air-purifying effects as the living specimens they emulate. They've earned the New Hampshire-based artist a devoted following that would happily pack their bags and hop a plane almost anywhere to learn at her hands—which is exactly what will be happening at a series of contemporary embroidery workshops she's leading this fall in New Hampshire, Oregon, and California. The undisputed star of this season's lineup? A special cactus-themed
workshop
in the arid landscape of Joshua Tree, California, known for its spiky yucca trees. Participants will learn about native cactus species and make sketches and embroideries inspired by these prickly, resilient rulers of the desert with the expert guidance of the queen of botanical embroidery herself.
For ongoing inspo, check out Sarah's pattern subscriptions on Etsy.
Where: Nicosia, Cyprus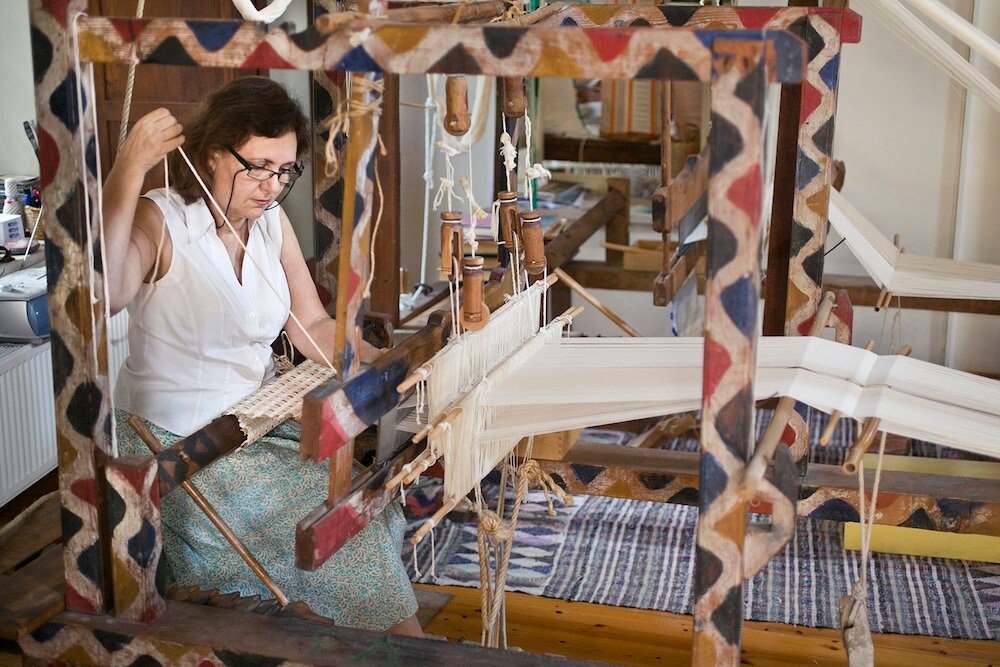 Weaver
Julia Astreou
at work in her studio in Cyprus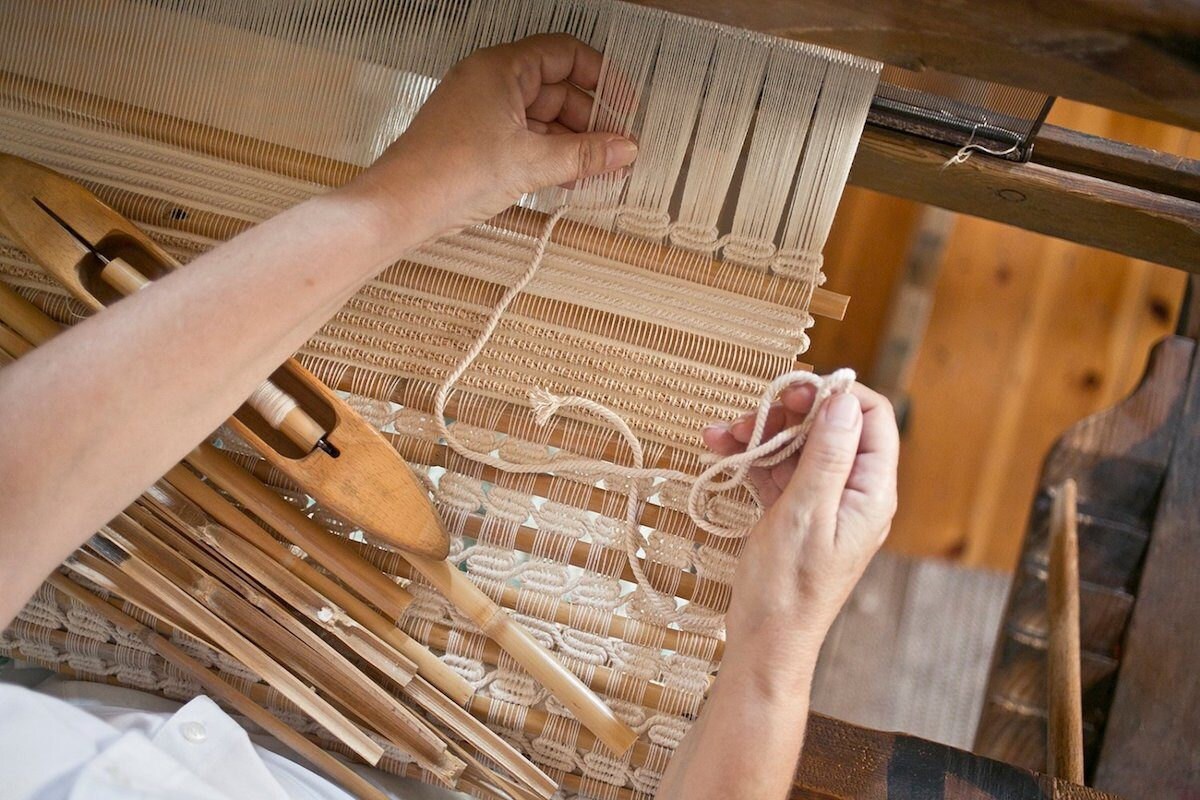 An up-close glimpse of Julia Astreou's process
Inside a nineteenth-century home that has been in her family for six generations,
Julia Astreou
runs a weaving studio and showroom where she makes shawls, cushions, and homewares on her four traditional Cypriot looms. Her work is rooted in local weaving and embroidery traditions, but doesn't stop there. "By utilizing unorthodox materials such as cane, raw wool, sisal, copper wire, and plexiglass," Julia writes, "I give my fabrics a contemporary twist with intriguing patterns, textures, and transparencies." Discover how she does all this and more at one of her 
in-studio workshops
 in Cyprus. 
Shop Julia's finished woven home goods and accessories on Etsy. 
Where: Oakland, CA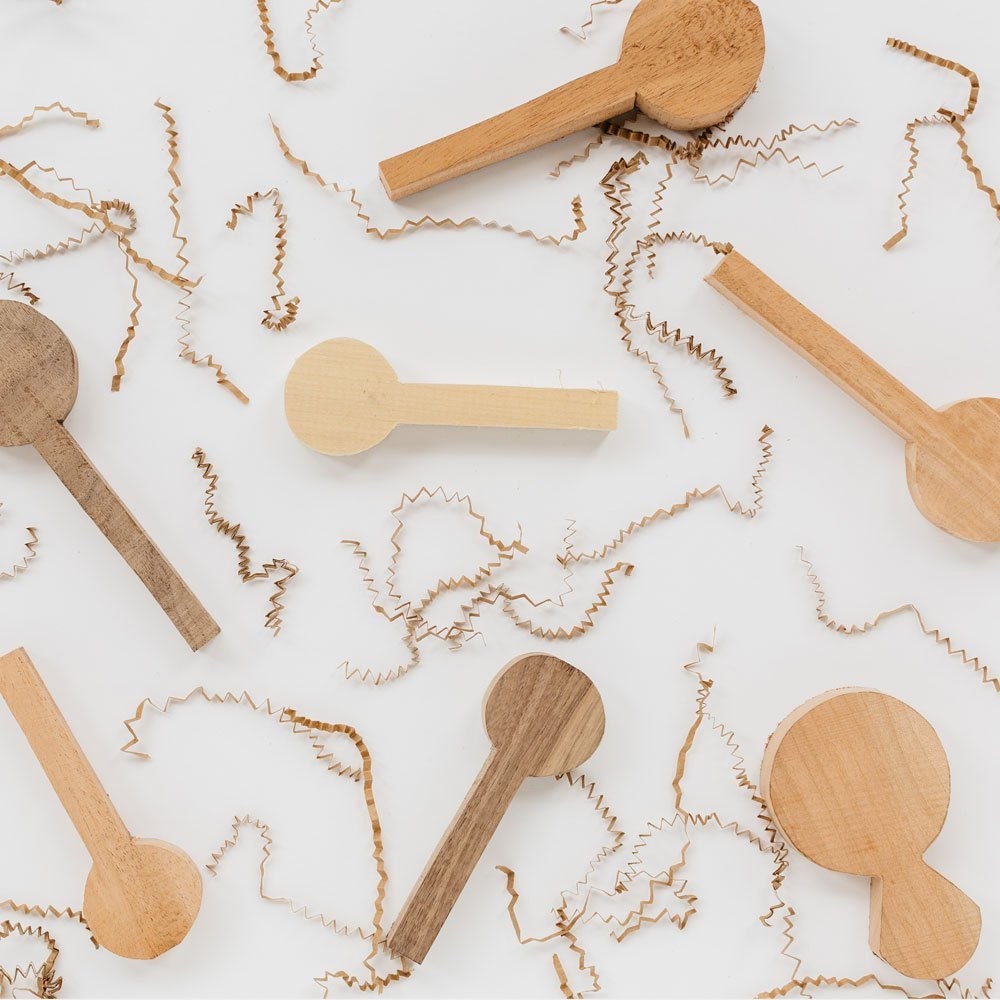 Wooden spoon blanks from one of Melanie Abrantes's
carving kits
awaiting refinement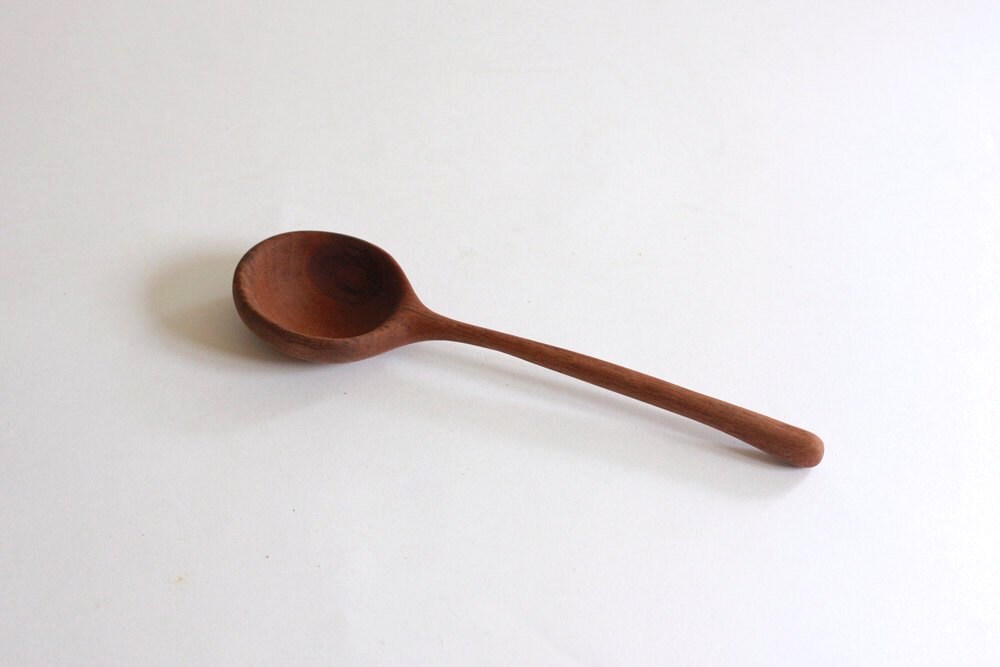 A completed spoon
Wanna spoon? Designer and author of the book
Carve: A Simple Guide to Whittling
,
Melanie Abrantes
will teach you how to carve your very own wooden spoon in the afternoon
workshops
she hosts at her studio in California. Students can expect to learn how to use the requisite tools—including a spoon gouge, carving knife, and rasp—to design, whittle, and finish a custom wooden spoon. The completed piece makes a beautiful addition to any kitchen collection or a great gift for an avid cook.
Bonus: Autodidacts can always snag a spoon-carving kit from Melanie's shop and practice at home.
What: Punch-needle embroidery with Bookhou
Where: Montreal and Toronto, Canada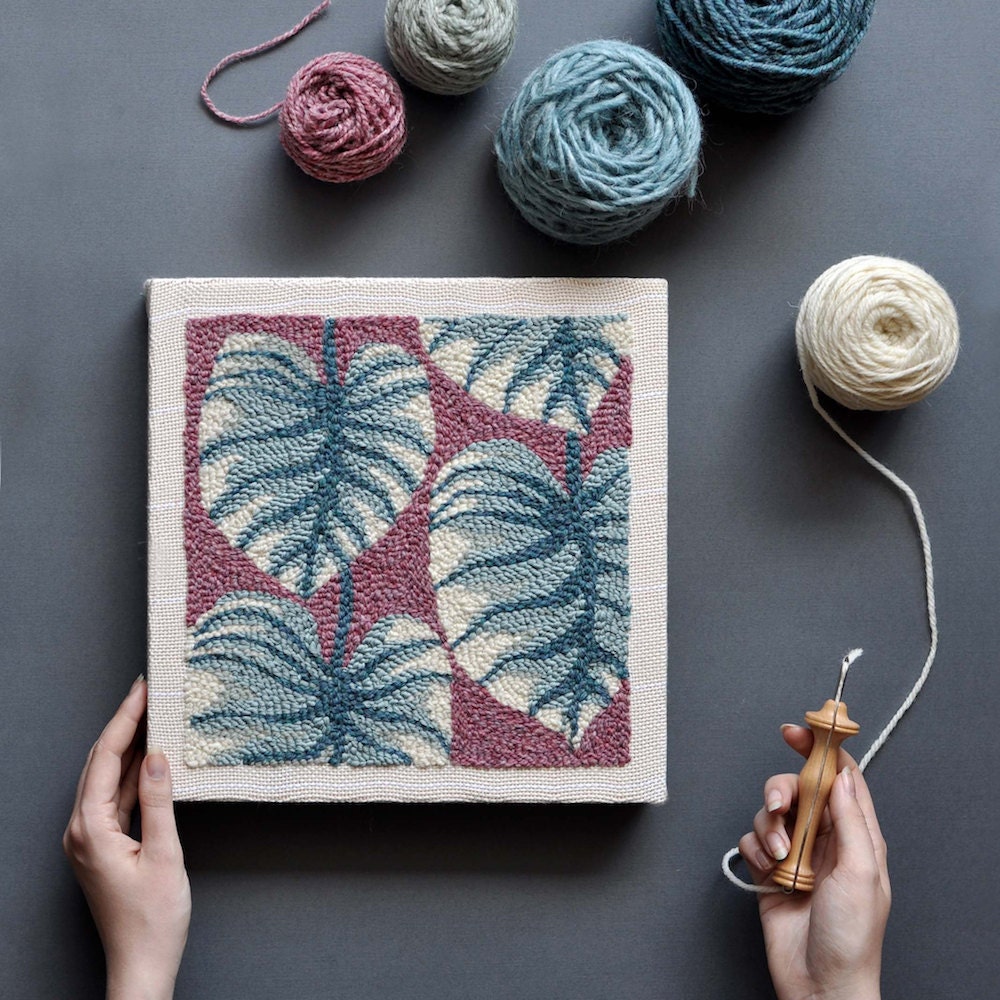 Completed punch-needle art by Arounna Khounnoraj of
Bookhou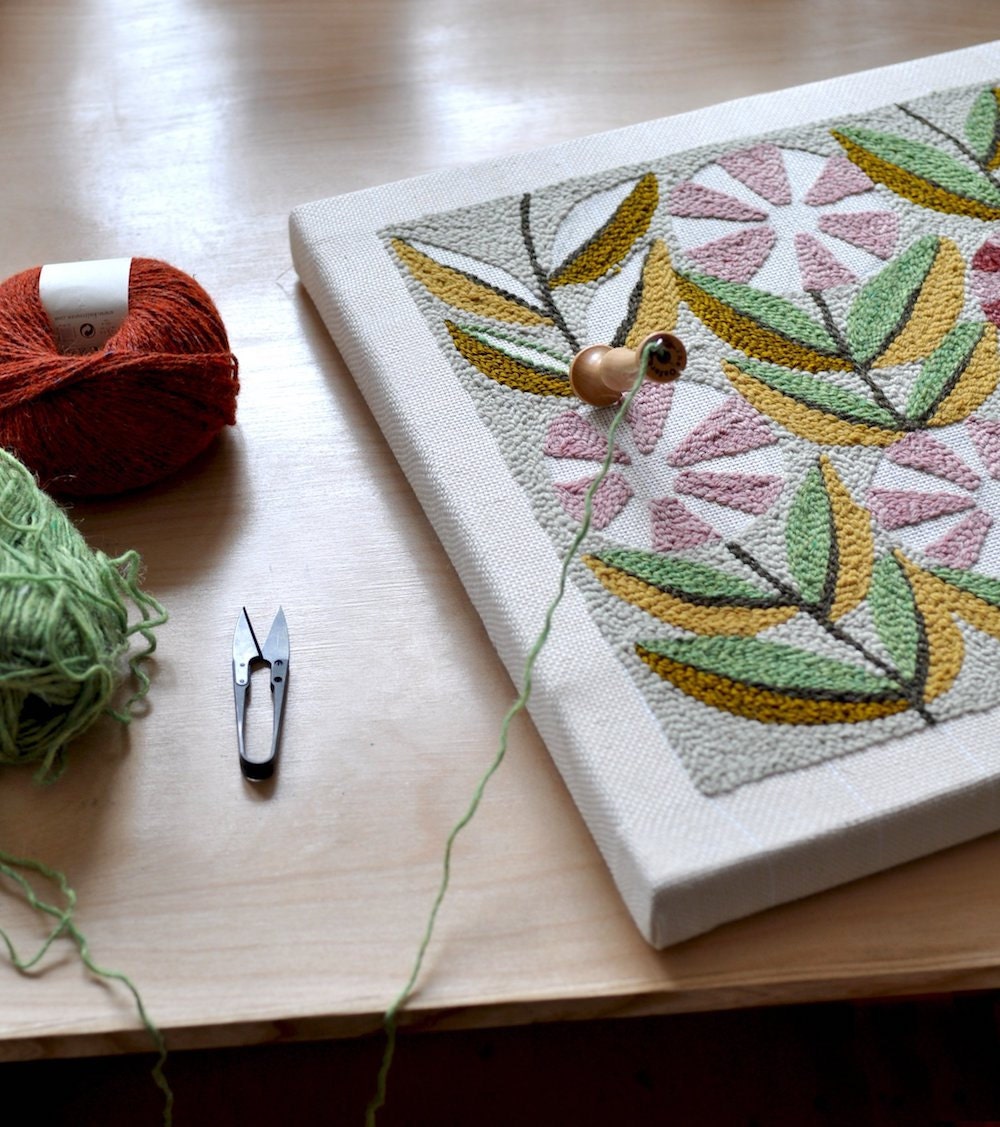 Punching in progress
Bookhou
's Arounna Khounnoraj is helping to bring punch needle, a technique and tool traditionally used by rug hookers, into the limelight with her modern spin and fresh imagery. In her popular
punch needle workshops
, the multidisciplinary textile artist teaches students how to design and make fiber art for the wall using this satisfyingly meditative process that's akin to embroidery, but with chunky wool yarn and a tool that fits comfortably into the palm of your hand. Students get to keep a kit that includes an
Oxford punch needle
, a wood frame pre-stretched with fabric, and a selection of yarns.
Check out some of Arounna's screen printed goods in her Bookhou Etsy shop.