From blush pink stones and new alternatives to turquoise to glittering pyrite and Pantone-approved peridot, these are the gems and minerals to watch.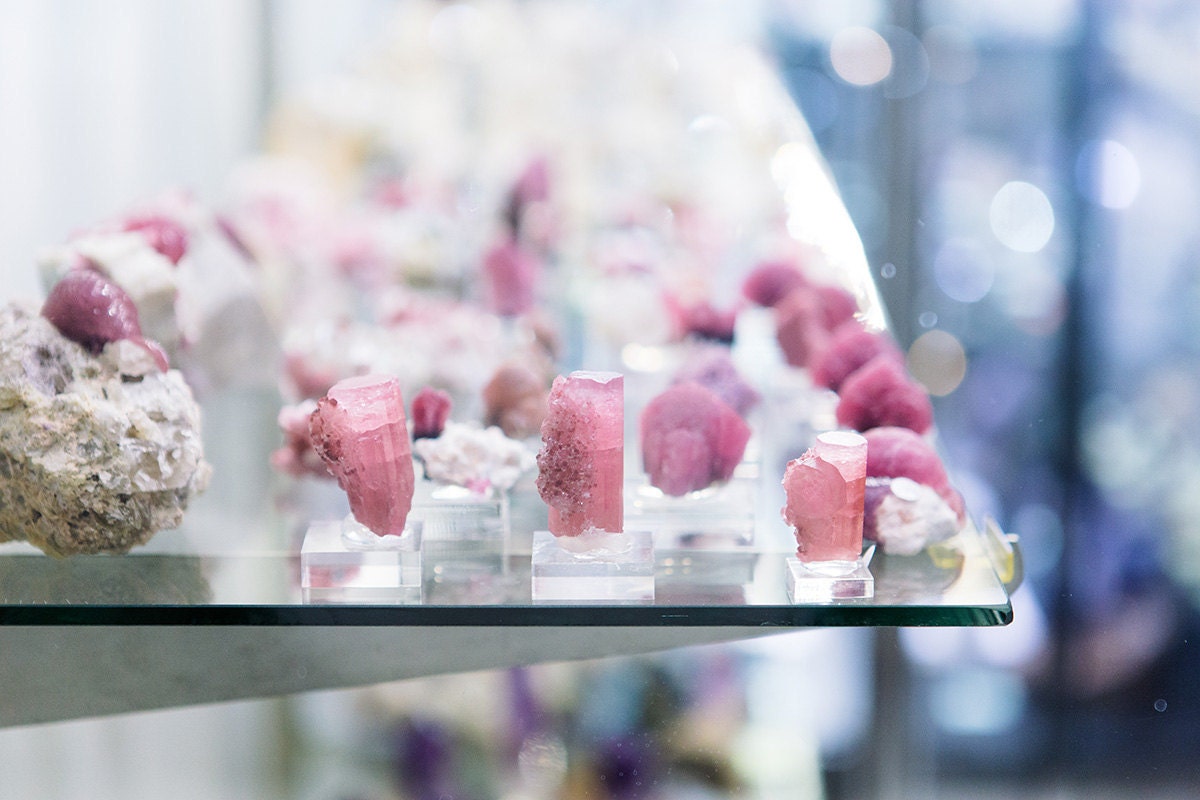 Whether you believe
crystals
and
gemstones
are meant for display or adornment, for wearing or for wishing on, there's no denying their powers of attraction. For proof, look no further than the 50,000 folks who flood the streets (and parking lots, and hotels, and convention halls) of Tucson, Arizona, every year for the
Tucson Gem, Mineral & Fossil Showcase
. In addition to being a wonderland of raw and cut stones, just-unearthed minerals, and even dinosaur bones, the shows—all 40-plus of them—are also a prime environment for spotting jewelry and home styles for the year ahead. Here are eight gem and crystal trends that shone brighter than the rest on our recent scouting mission—and dozens of ideas to get the look. Which one catches your eye?
1. Iridescents of all kinds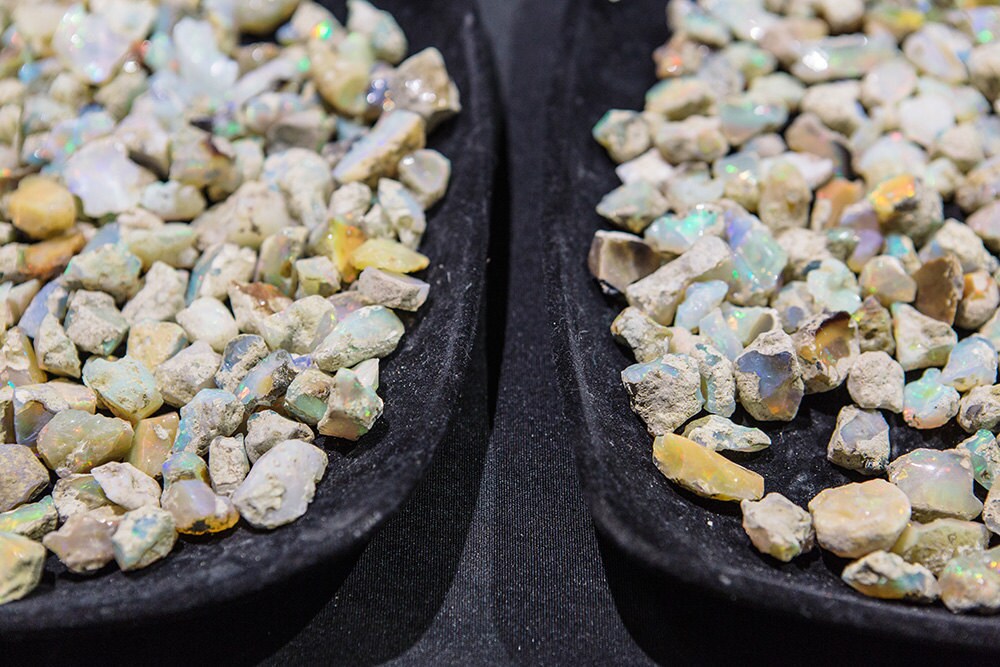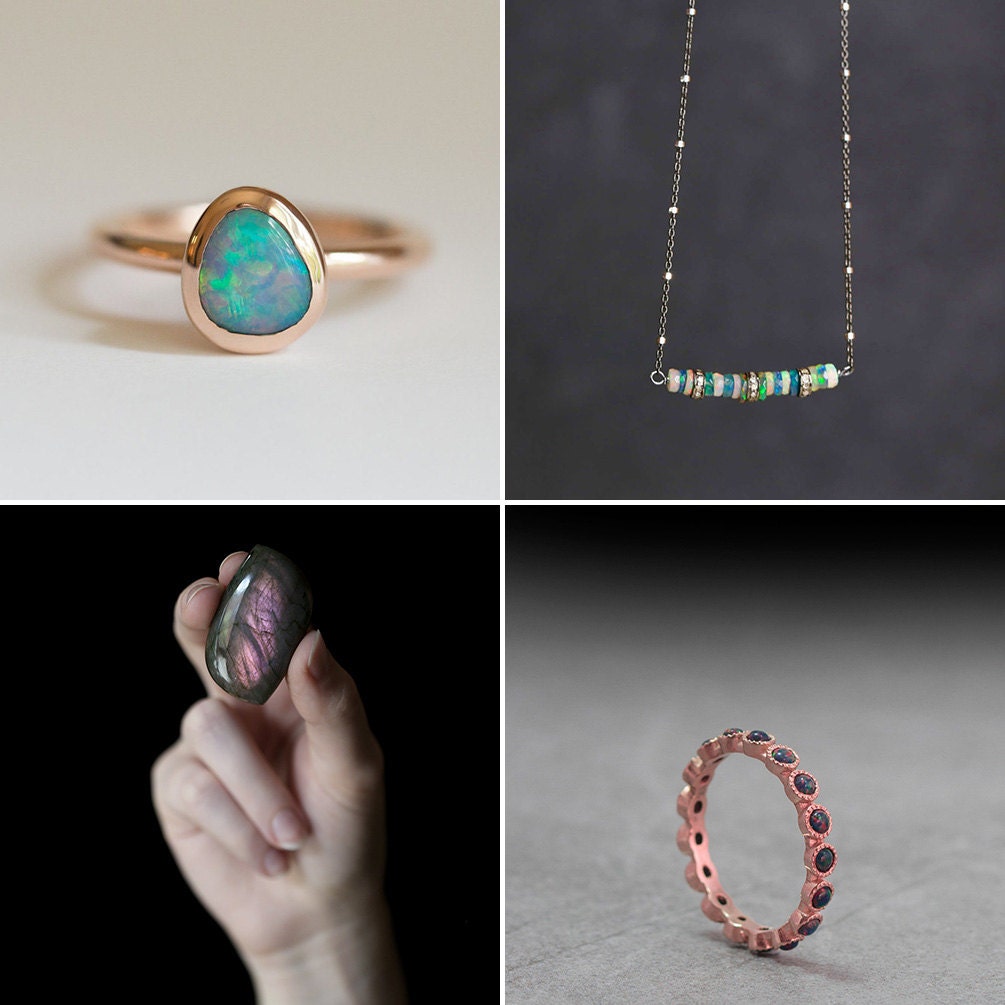 White opals
won us over first. Then we went mad for
moonstones
. Now we see the (rainbow-colored) light: that there's a vast range of iridescent stones spanning the spectrum from pretty and pale to mystical and dark, and it's the latter that are filling our wish lists (and tastemakers' Instagram feeds). If you haven't already fallen for fire opal, black opal, or gently flashing labradorite, prepare to be charmed.
2. Blush pinks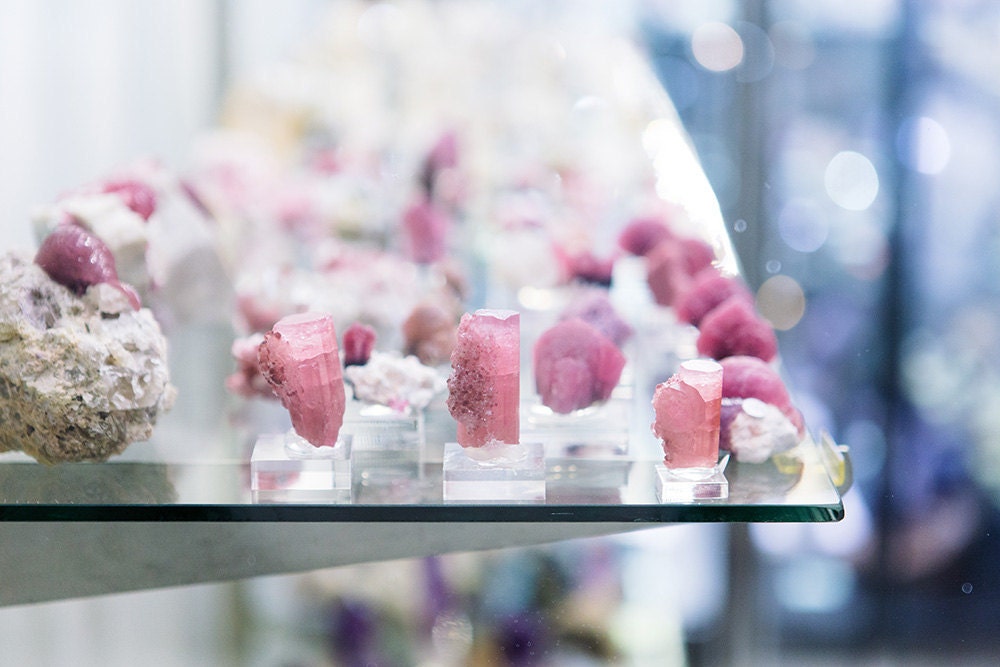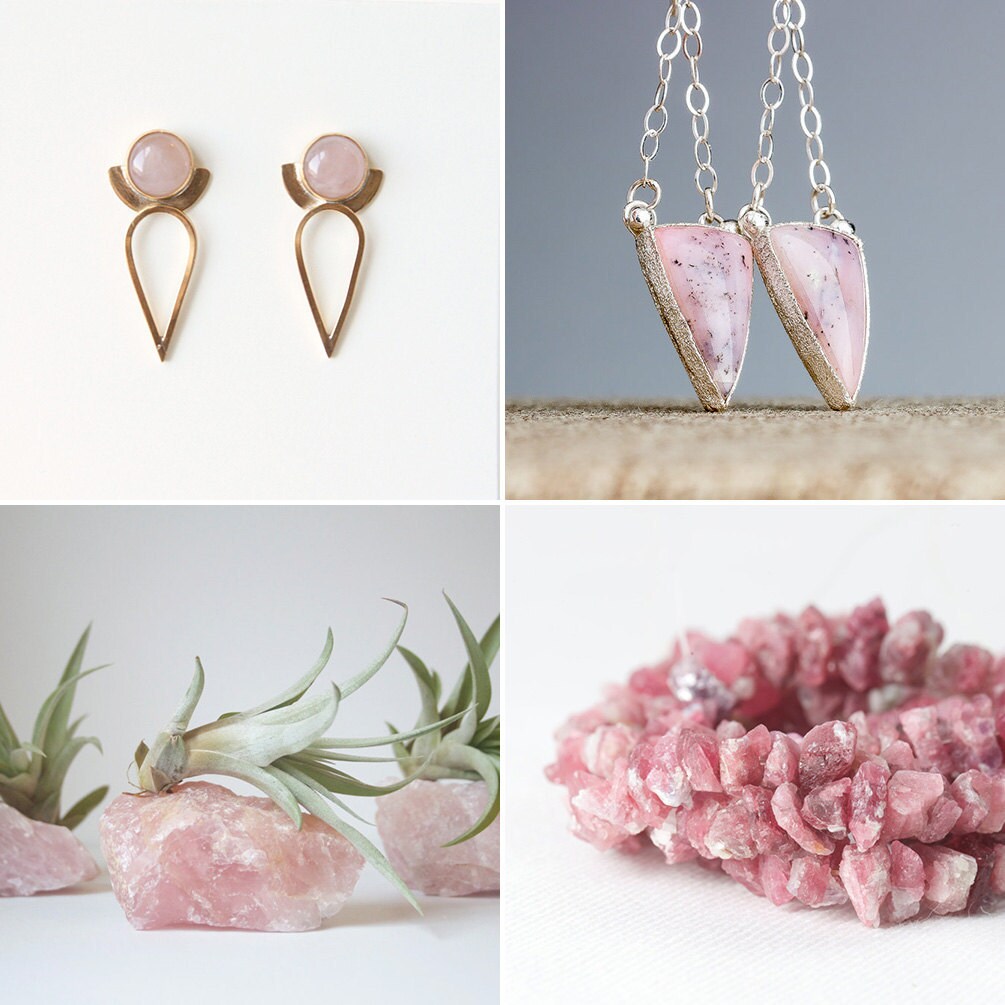 Before it was a Pantone (co-) color of the year in 2016, rose quartz was a stone prized for its association with calmness, heart healing, and unconditional love. In 2017, the newly ubiquitous hue is poised to make an even bigger impact, edging its way forward in the fashion world. Modern, monochrome looks in "millennial pink" featured heavily in the latest runway shows from influential designers like
Phillip Lim
 and buzzy newcomer
Sies Marjan,
 while the emphasis for jewelry is on not-too-girly iterations: rough pink tourmaline nuggets, opaque cabochons of gray-streaked Peruvian opal, and milky masses of rose quartz.
3. The next turquoise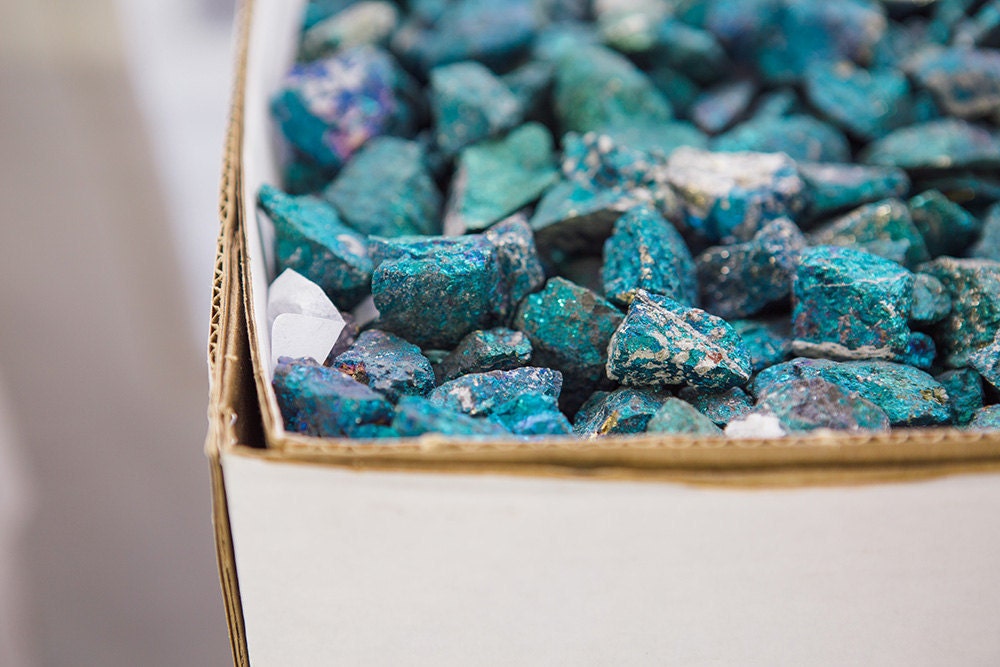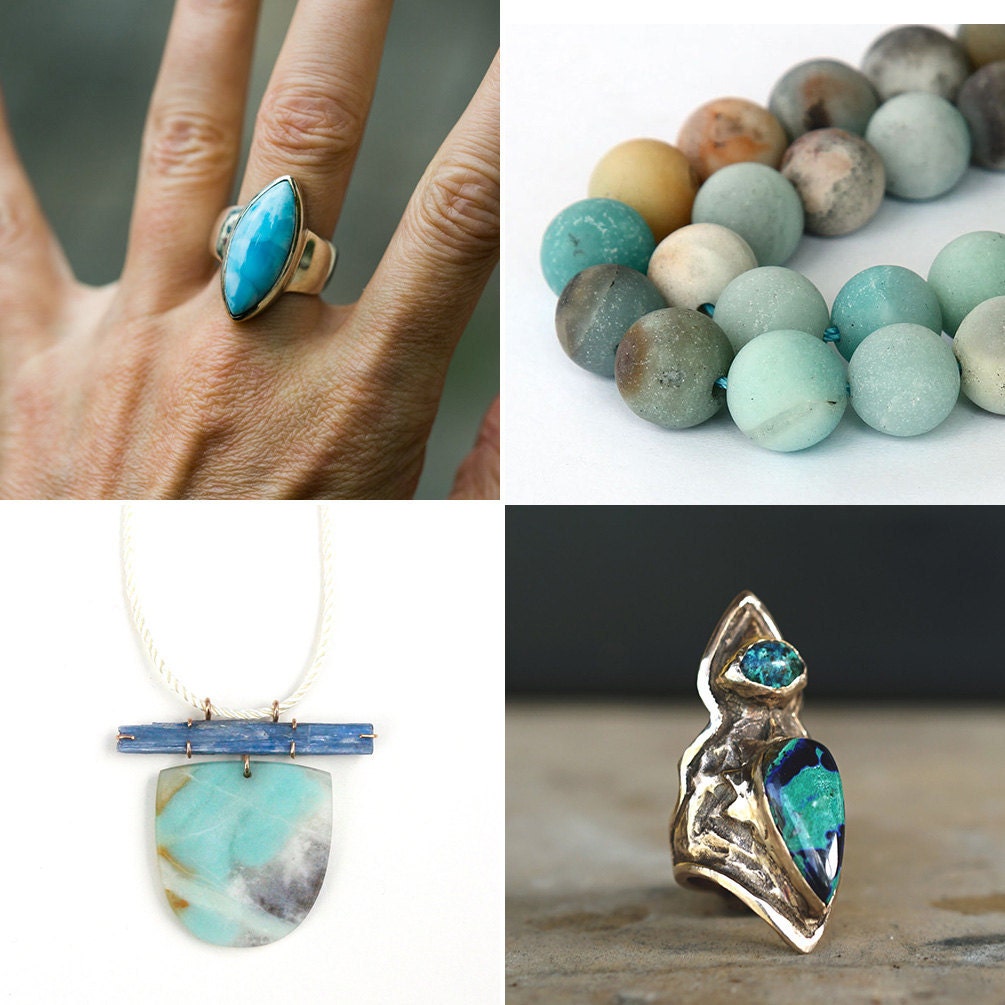 We may never tire of traditional 
turquoise
 jewelry, both vintage and new, but there's room in our hearts for even more Southwest-inflected stones in dappled aqua hues. A few that made a big splash at the shows this year: Larimar, a white-streaked stone mined only in the Dominican Republic; chrysocolla, an acid-bright mineral sometimes covered in a
druzy
layer; and green Amazonite, which crystal enthusiasts use to boost communication. More of a lapis lazuli girl? Consider giving vibrant, two-tone azurmalachite a spin.
4. Super shiny metallics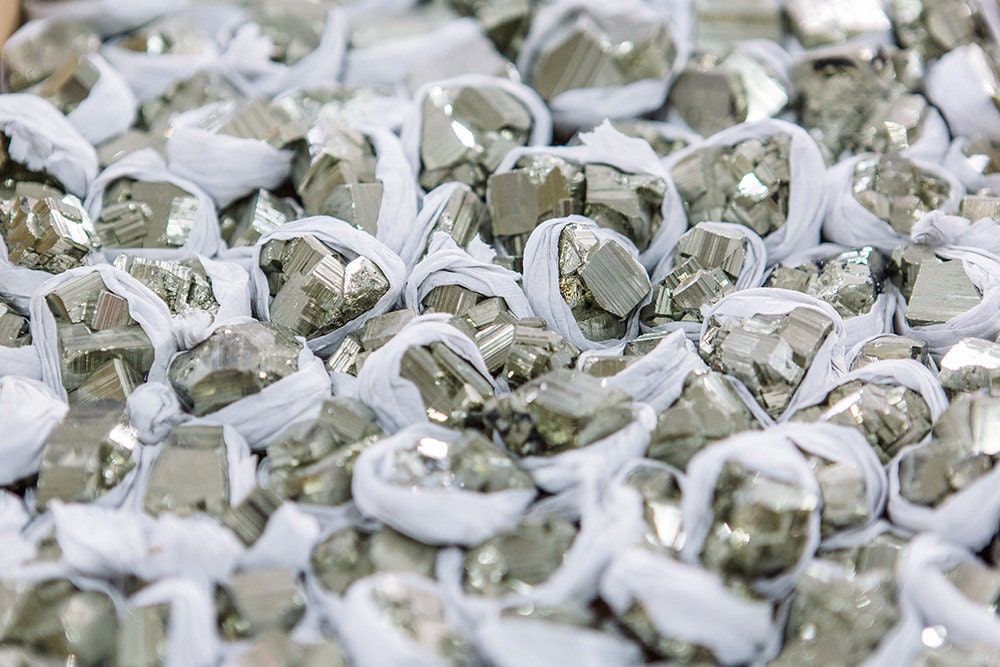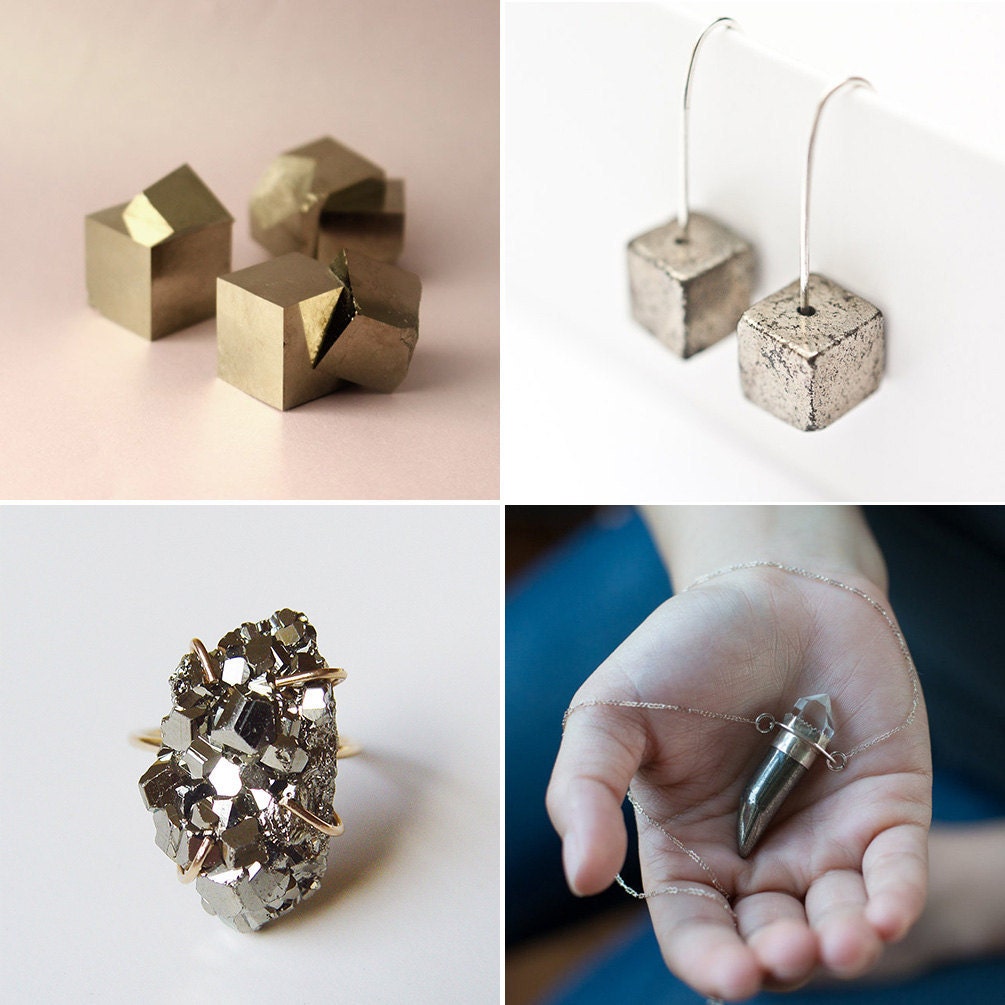 We've been snapping up gleaming brass and copper bar carts, coat hooks, fixtures, and figurines for a little while now, so it only makes sense for the
mega-reflective metallics trend
to make its way to the gem and mineral realm. Enter pyrite (aka fool's gold): Whether it's clasped in a simple setting as the centerpiece of a flashy cocktail ring or displayed on your desktop in its natural state—perched on a hunk of rock like some miniature modernist cliffside mansion—pyrite has never felt more right than it does right now.
5. Shades of greenery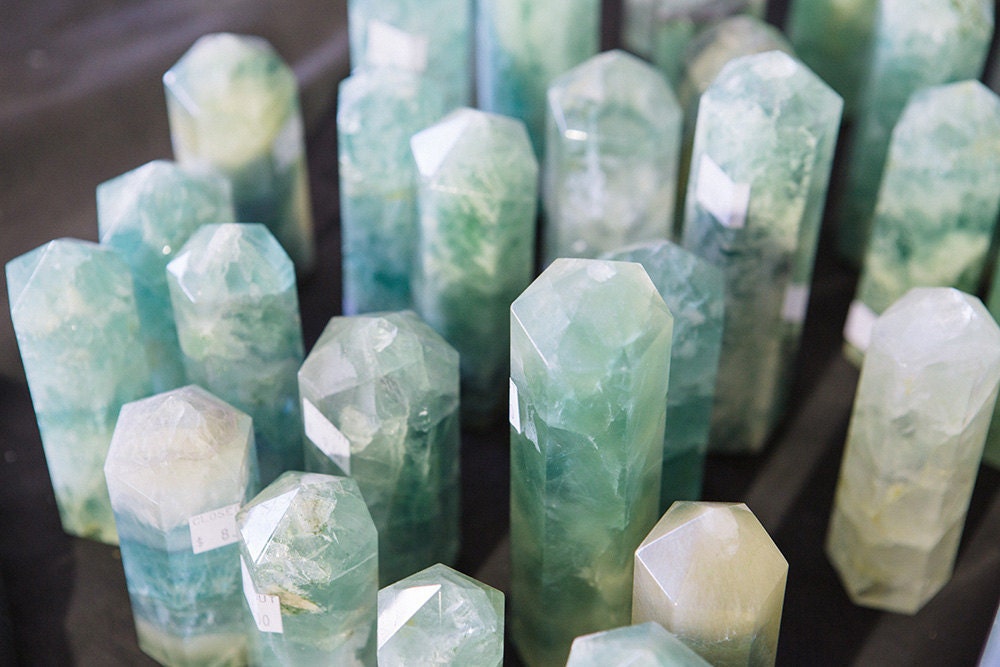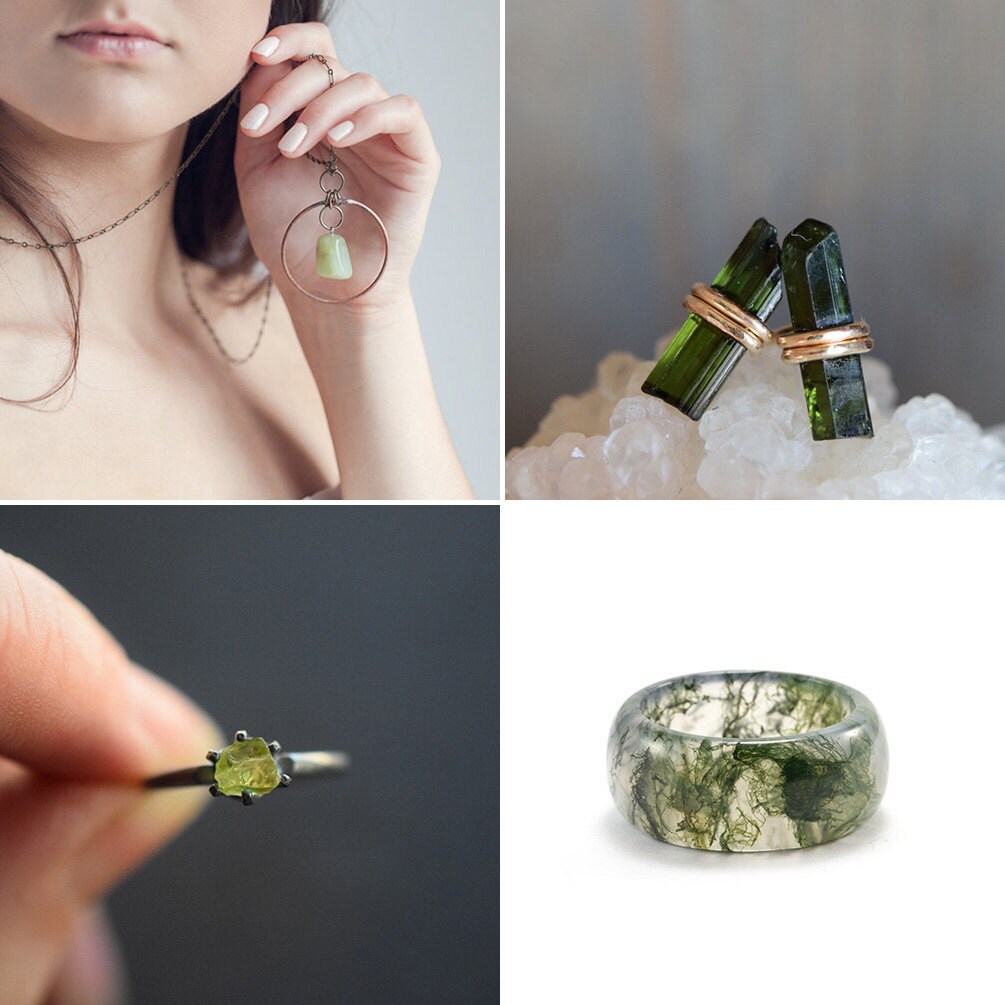 Jewelry lovers with August
birthdays
are probably already acquainted with peridot's yellow-green glow (and its purported ability to bring prosperity). But now that Pantone has put greenery in the spotlight for 2017, a whole range of stones within that "
nature's neutral
" color scheme are flourishing. From moss agate's plant-like patterns to smooth, speckled nephrite, the possibilities abound.
6. The dark side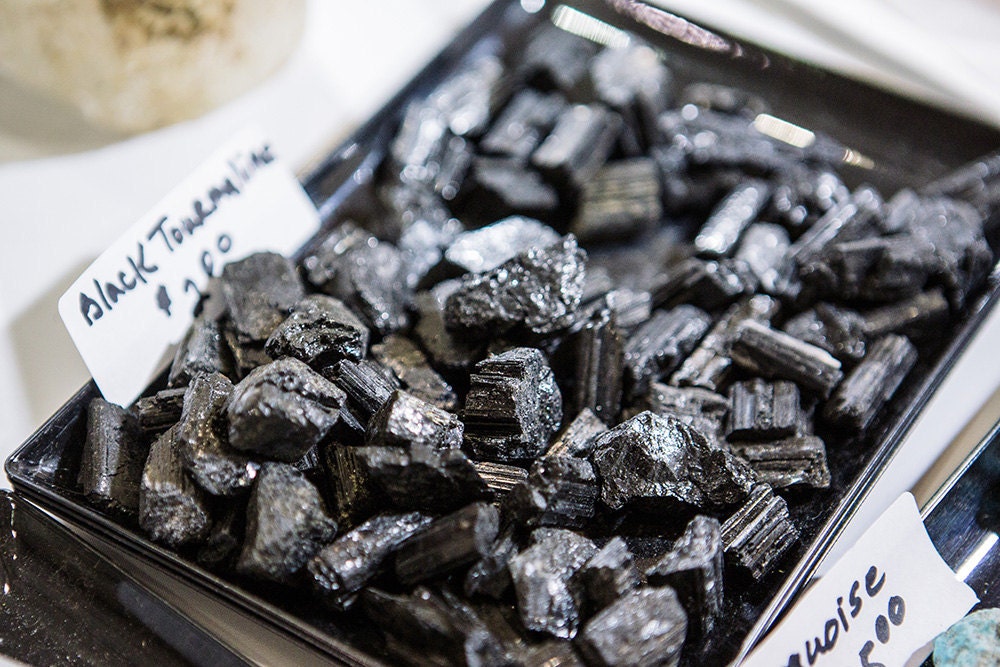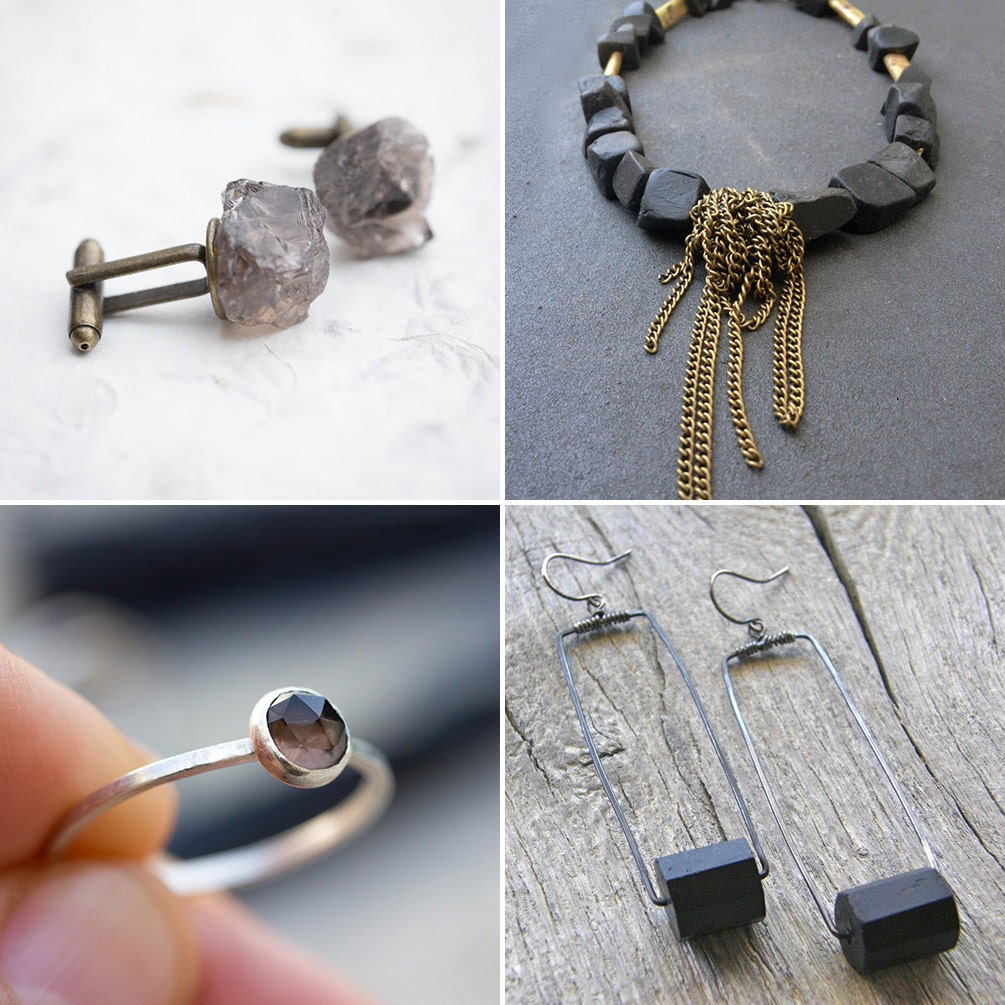 There are two ways to win with this edgy trend: Go for something chunky, matte, and Flintstones-esque (like a rough-onyx statement necklace, black tourmaline studs, or beads of black jade) or pick up a crystal with a little more depth and complexity, such as smoky quartz, in rough or faceted form. (Note: The look works best when paired with antiqued or oxidized metals.)
7. Colorless crystals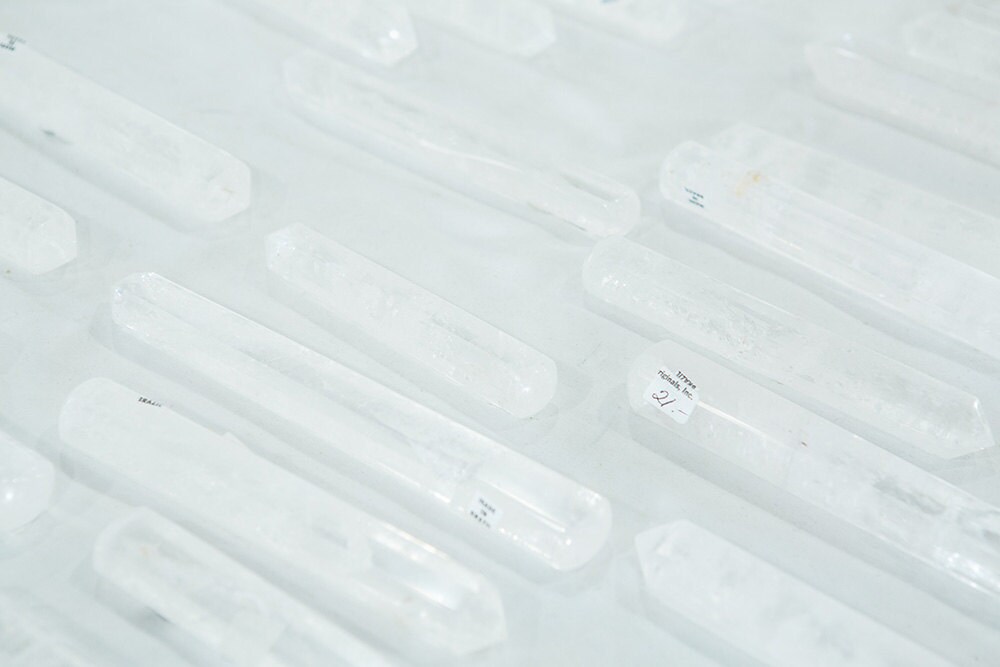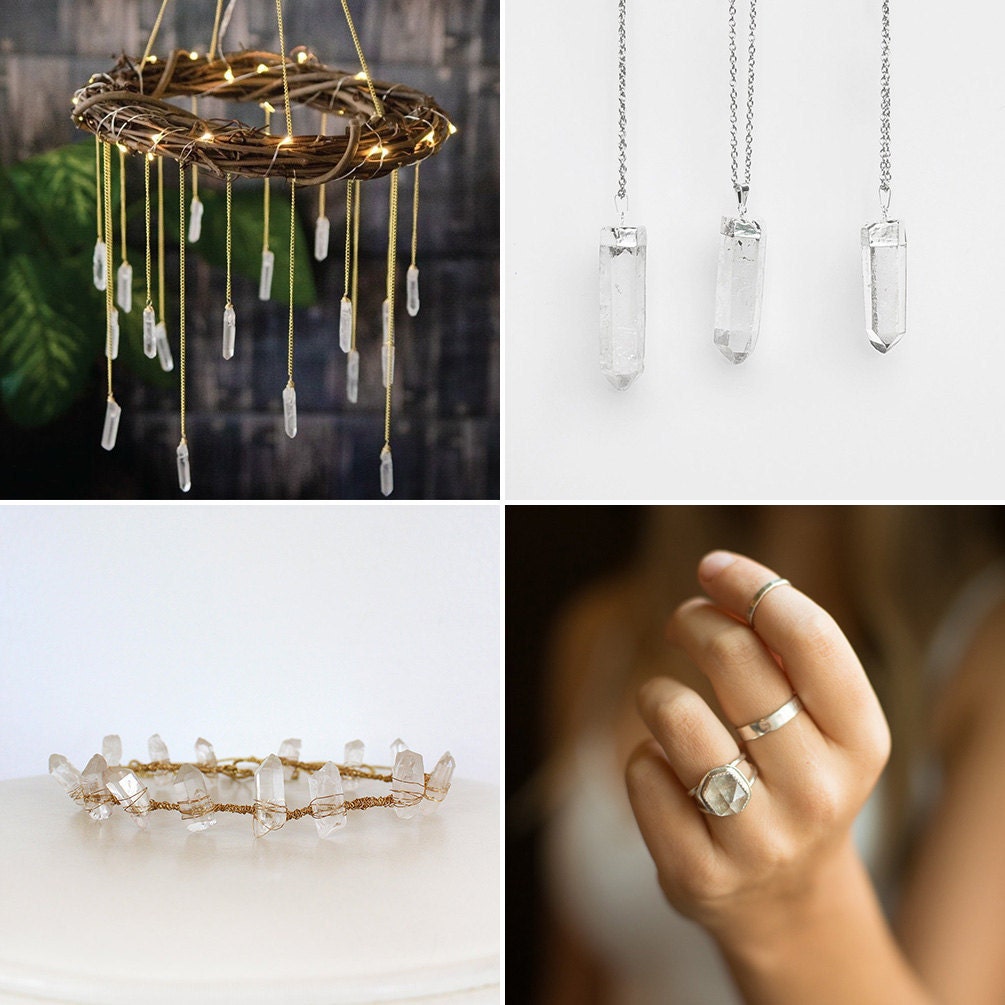 From lucite jewelry and home accessories to
minimalist stained glass art
, this trend is, ahem, crystal-clear. Find it in boho wall hangings with dangling tiers of quartz crystals, double-pointed Herkimer diamond studs, and wand-like selenite pendants. The best part? There's no color scheme they can't complement.
8. Warm tones and geodes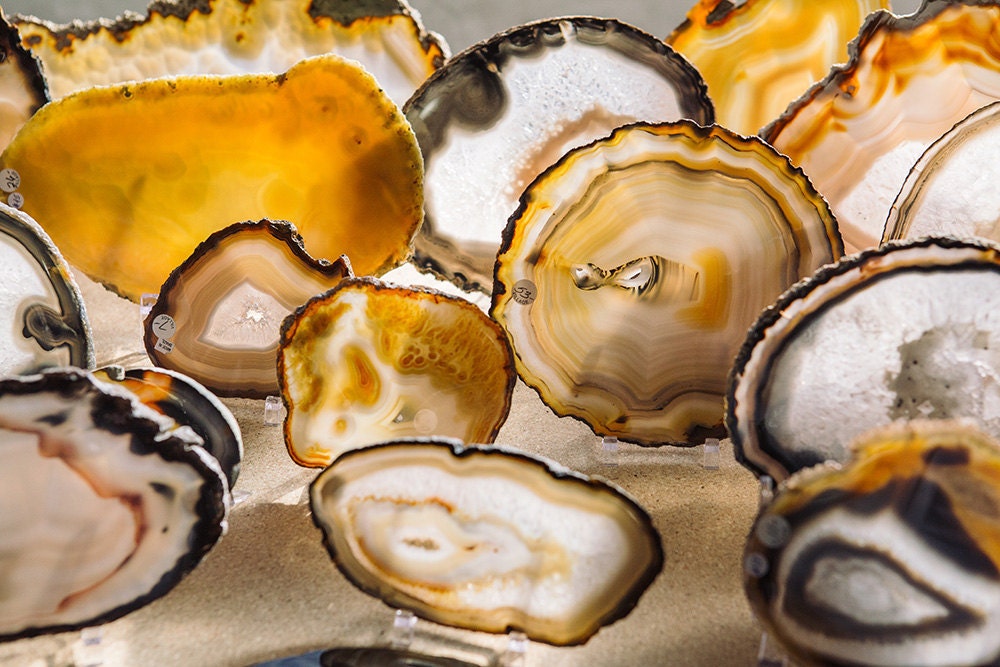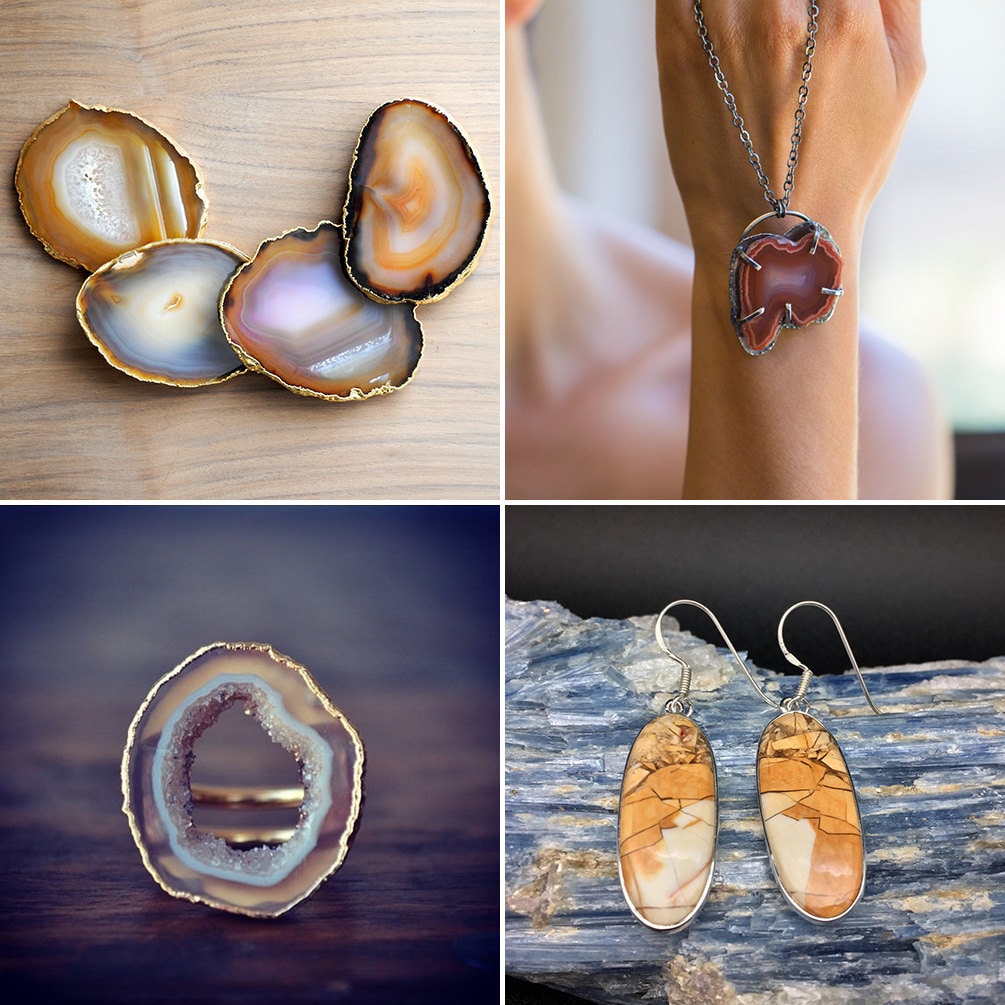 Vendors at this year's show saw an increased demand in the home decor market for warm-toned and polychrome stones such as desert jasper and agate, particularly in '70s-era color palettes of ochre, onyx and oxblood. But the appeal of earthy stones doesn't end there. See also:
Givenchy's Spring 2017 collection
, where dessert-plate-sized agate slice pendants dangled from navel-length tortoiseshell chains.
Location photographs by Grace Stufkosky.