The biggest Sales Event of the year is here! See the deals we're eyeing, and find something extraordinary for you and your whole crew, up to 60% off.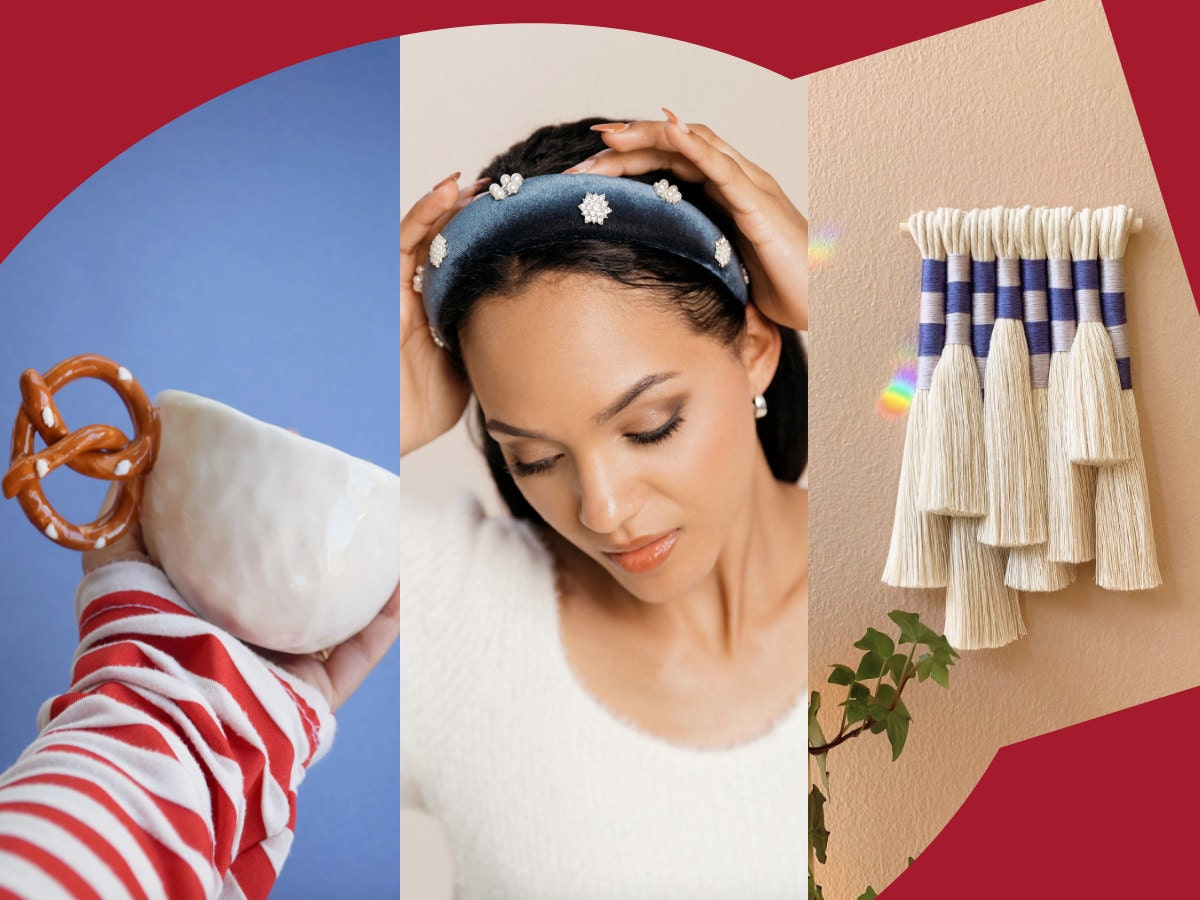 Here at Etsy HQ, we spend our days marveling at the distinctive designs of our endlessly talented seller community—so it's only natural that on the extra-special occasions when some of the pieces we've been eyeing go on sale, we're on it faster than you can say "add to cart." A pretty new pair of cozy pajamas? Yes, please! A playful pretzel-handled ceramic mug for a snack-obsessed loved one? Sign us up. A purr-fect pet portrait starring our favorite feline friends? Mew bet! What can we say? The Cyber Week Sales Event has officially arrived and we, the Etsy employees, are just as excited as everyone else. Keep scrolling to discover the items Etsy staff are scoring at up to 60% off*—and hear why they love them in their own words.
A cheerful necklace
Picked by: Hannah Album, Senior Manager, Consumer Communications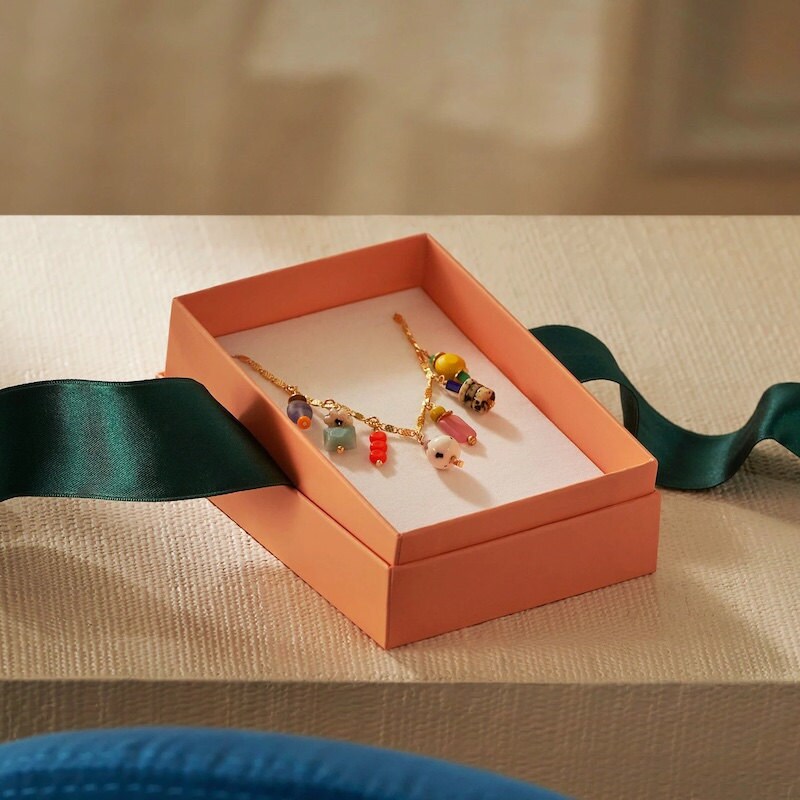 SHOP: Colorful charm necklace from Jill Makes, on sale for $36 (originally $45)
Why Hannah loves it: "I'm going through a serious necklace phase, and this feels like the perfect next piece for my collection. I love how all the different charms play off one another, and both of the color schemes are stunning—I've been going back and forth, but I think I'm going to go with the bright version for a little extra oomph."
A self-care gift box
Picked by: Mandee LoFurno, Senior Operations Manager, Seller Services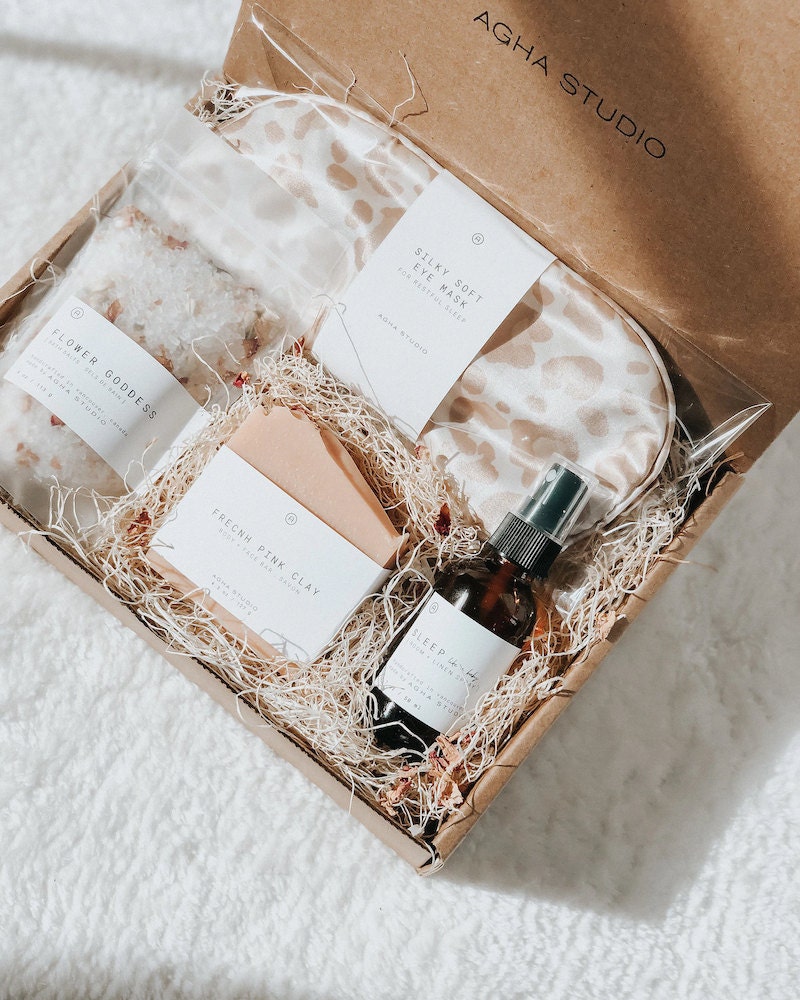 SHOP: Customizable self-care gift box from Agha Studio, on sale for $48 (originally $60)
Why Mandee loves it: "Having four nieces between the ages of 12 and 15, this spa gift set is a perfect holiday gift to give. It's fun to customize each box to match their likes and personalities, and the sleep mask will be a big hit when they travel for sports, dance recitals, and family trips!"
A set of stylish pajamas
Picked by: Sneha Sharma, Senior Engineering Manager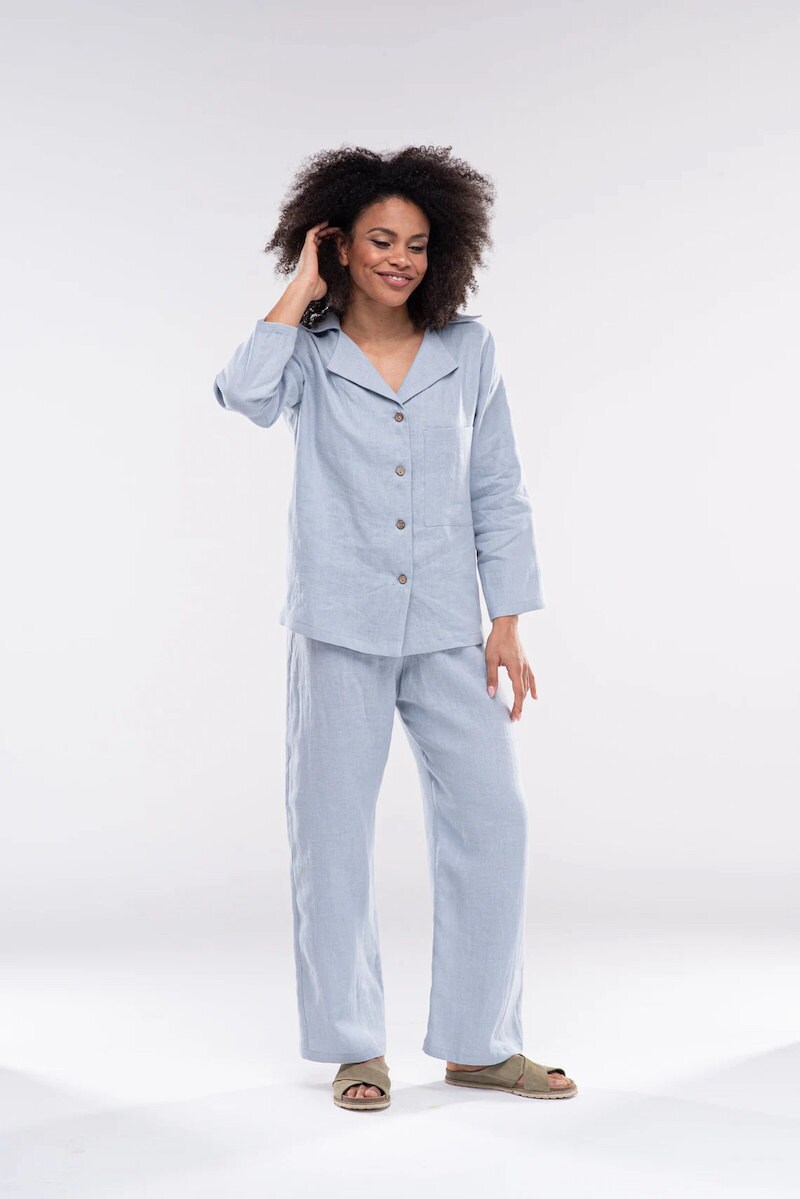 SHOP: Linen pajama set from Linen Fairytales, on sale for $100 (originally $125)
Why Sneha loves it: "Holidays mean family time for me—so I'm treating myself to a set of soft linen PJs to wear while I enjoy staying in and sharing large portions of delicious meals with my loved ones!"
A cozy throw blanket
Picked by: Jen Hsieh, Senior Project and Production Manager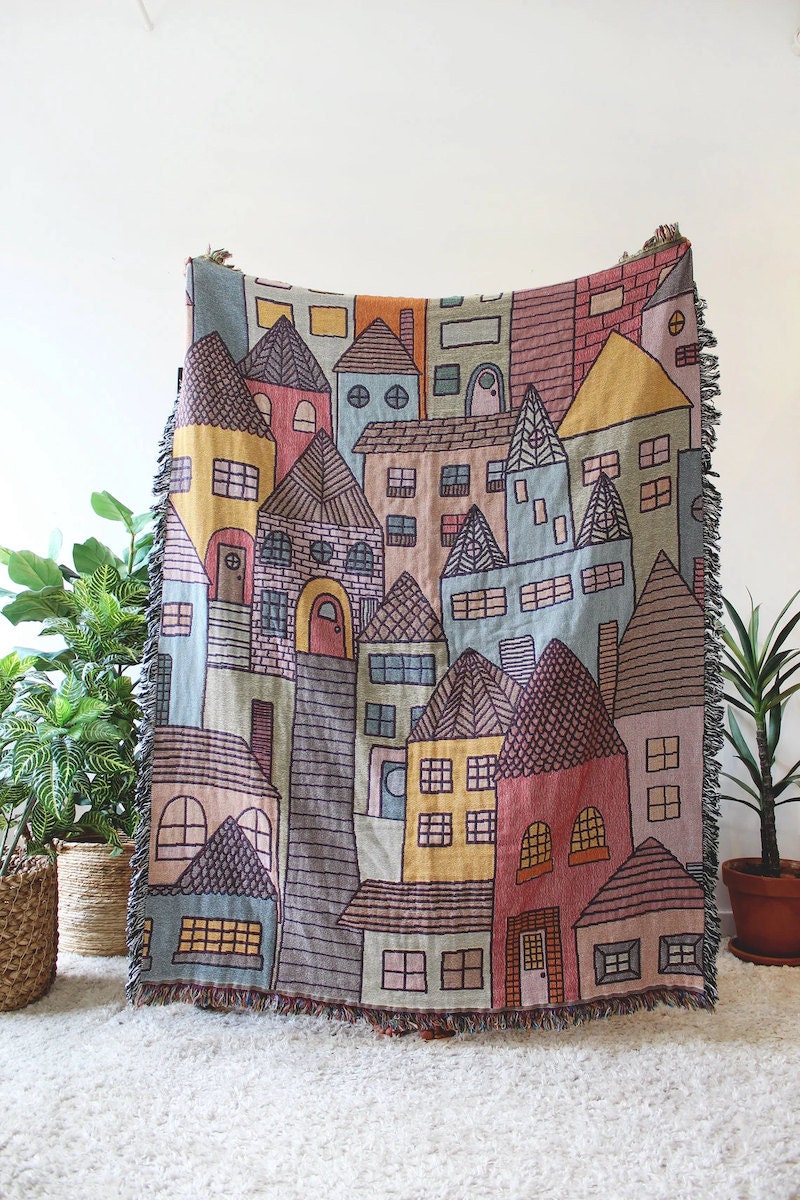 SHOP: Reversible hillside village throw blanket from Calhoun & Co., on sale for $99 (originally $124)
Why Jen loves it: "My mother-in-law's haven is her bedroom, so this Hanukkah I'm adding in a little bit of extra coziness to her space with this blanket that screams 'Home Sweet Home'!"
A playful mug
Picked by: Anja Opie, UK CRM Manager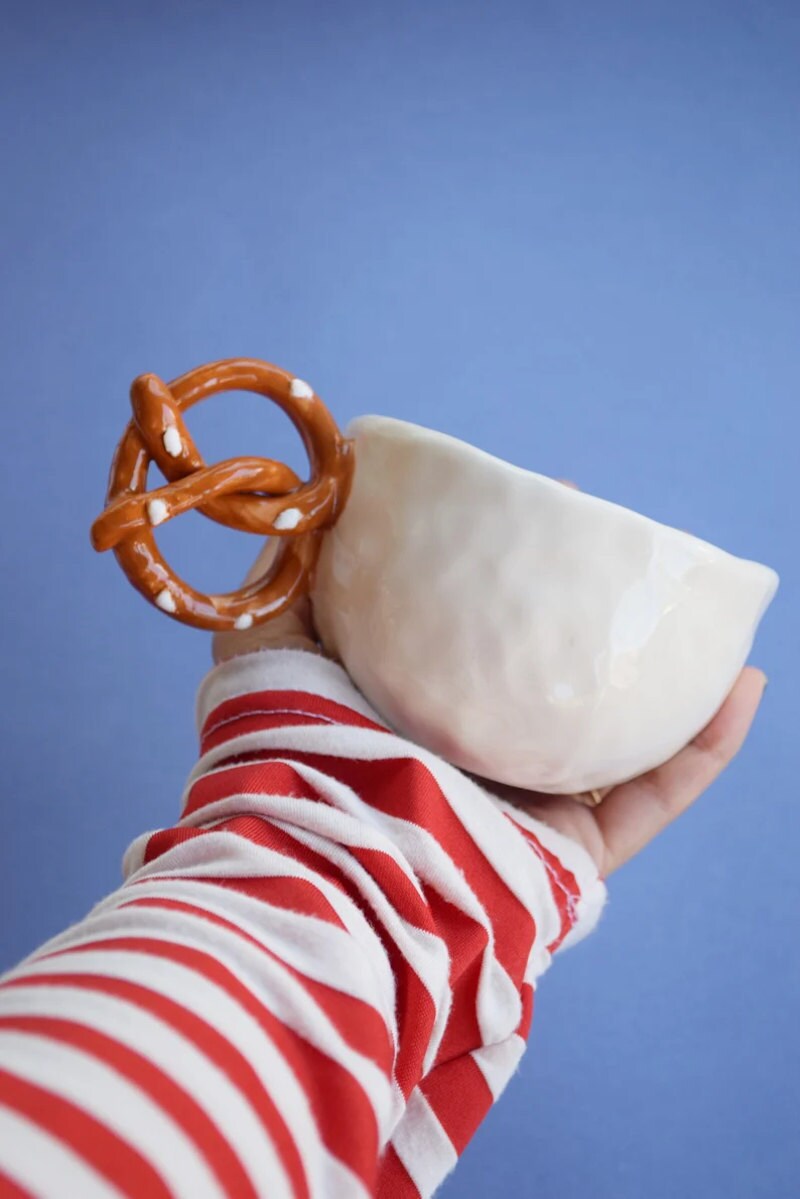 SHOP: Ceramic pretzel-handle mug from Kiwi Poca, on sale for $77 (originally $96)
Why Anja loves it: "My flatmate loves her coffee every morning, so I'm getting her this cute mug to brighten her day!"
A personalized set of crayons
Picked by: Felicity Lilley, Senior Software Engineer II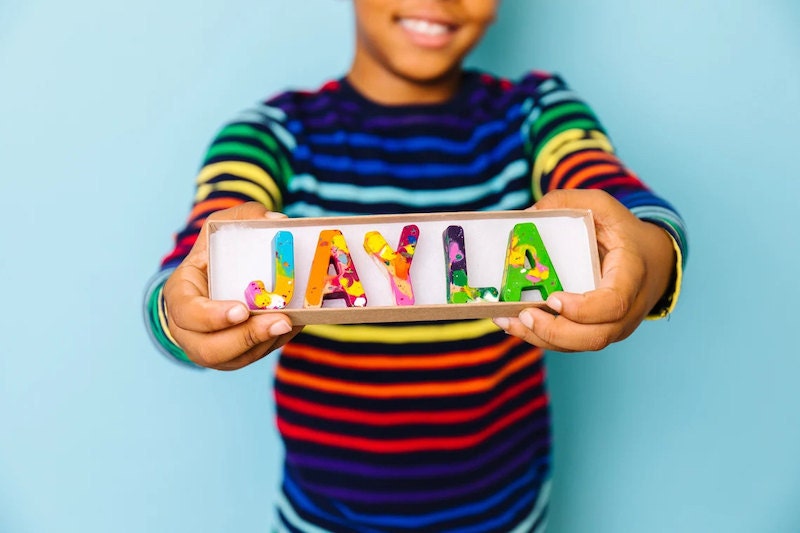 SHOP: Personalized name crayons from Art 2 the Extreme, on sale from $16 (originally from $20)
Why Felicity loves it: "My daughter's three favorite things are drawing, naming colors, and seeing her own name. She's going to LOVE these colorful personalized crayons and I'm going to love the art she makes with them."
A stunning wall hanging
Picked by: Jena Battaglia, Partner Operations Manager, Payments Operations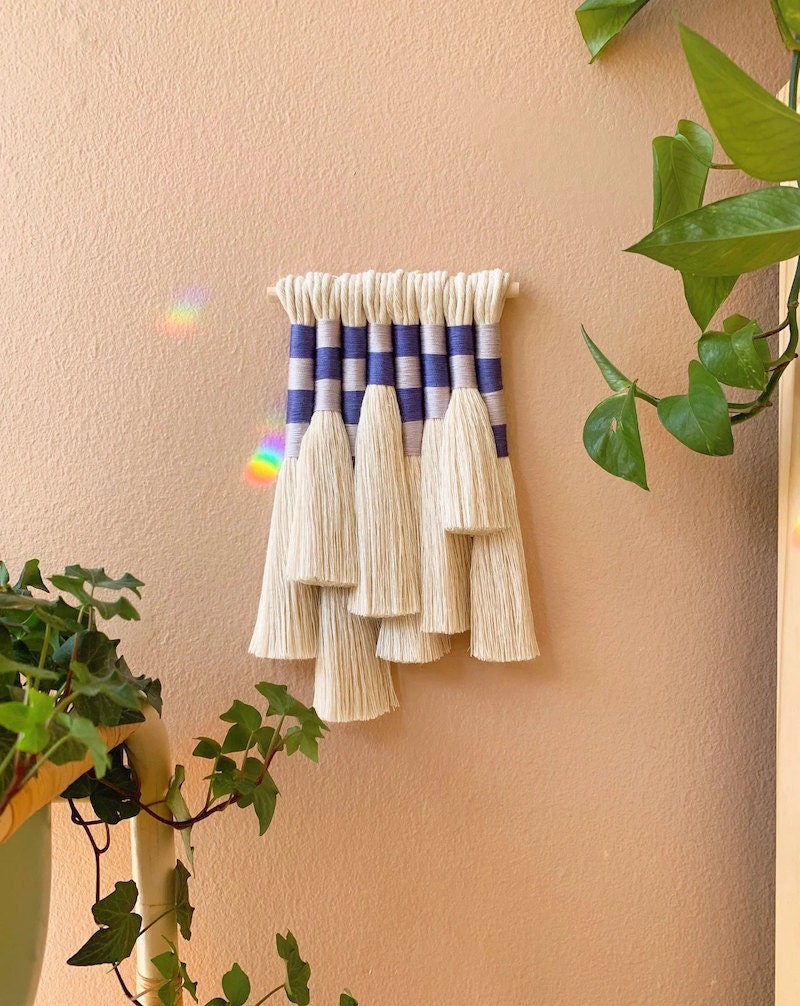 SHOP: Textile wall hanging from The Little Avocado, on sale for $54 (originally $68)
Why Jena loves it: "I've been loving the checkered trend lately, and macramé wall hangings never go out of style. It's an easy way to bring a little bit of fun to a room and I'm excited to gift this to one of my friends this holiday season!"
A pretty party headband
Picked by: Jackie Buddie, Senior Editor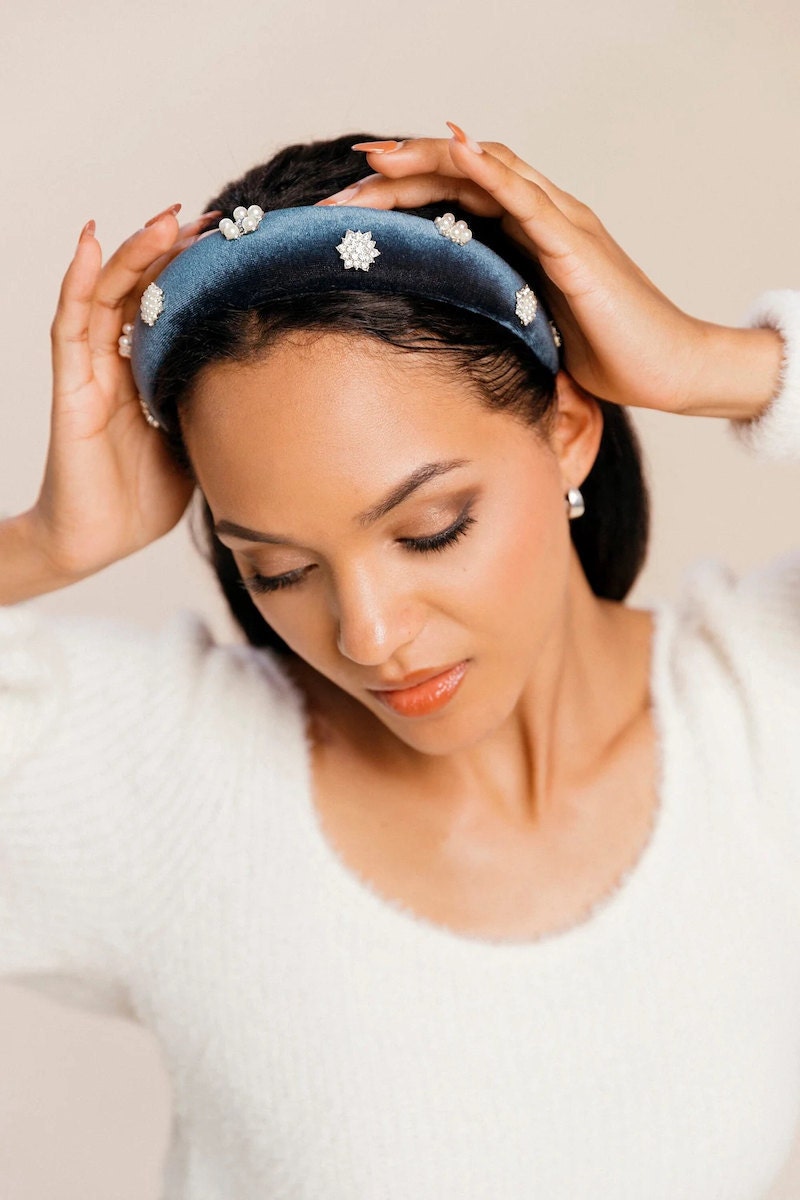 SHOP: Velour crystal snowflake headband from Bardot Bow Gallery, on sale for $38 (originally $48)
Why Jackie loves it: "Confession: I'm not normally the type to get glammed up on your average Tuesday. But you know what? I've decided 2023 is going to be all about celebrating me in lovely little ways, starting with some fun accessories. This headband—with its plush, velvety texture and pretty pearl embellishments—is going to be the perfect festive finishing touch for my glitzy New Year's look (I'm going for snow-queen chic), and I guarantee it'll continue to get tons of oohs and aahs when I pop into video calls sporting this stunner!"
A hand-painted ornament
Picked by: Myriam Bastian, Buyer Escalations Specialist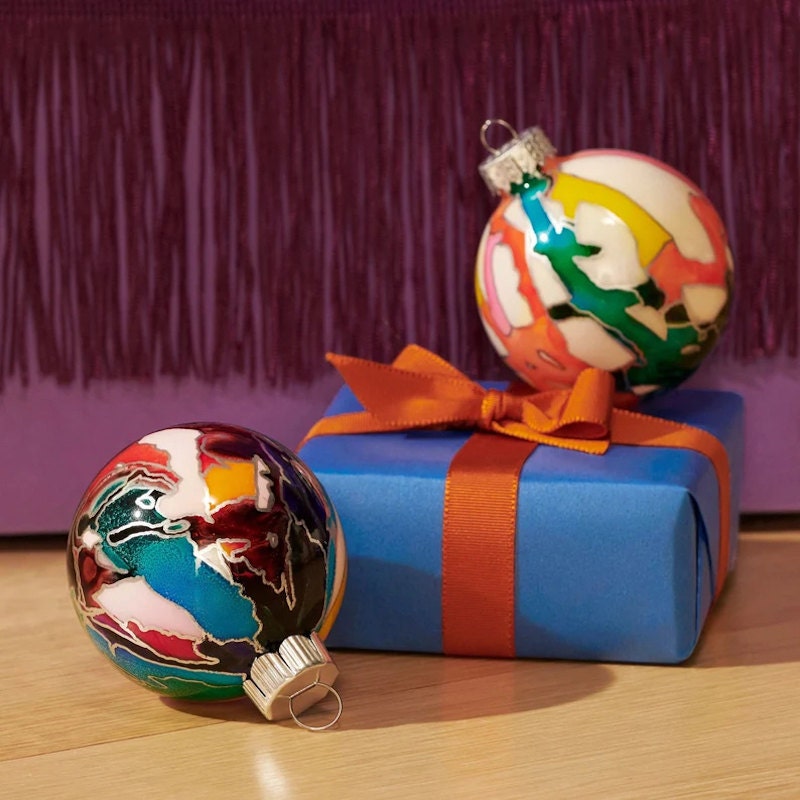 SHOP: Colorful hand-painted ornaments from Schemata, on sale for $24 each (originally $31 each)
Why Myriam loves it: "Who would have thought it was possible to revamp the classic Christmas tree bauble so beautifully? This seller sure did, by adding fresh colors to a Christmas classic! Love it!"
An inviting scented candle
Picked by: Stefanie Whitty, Senior Manager, Performance Marketing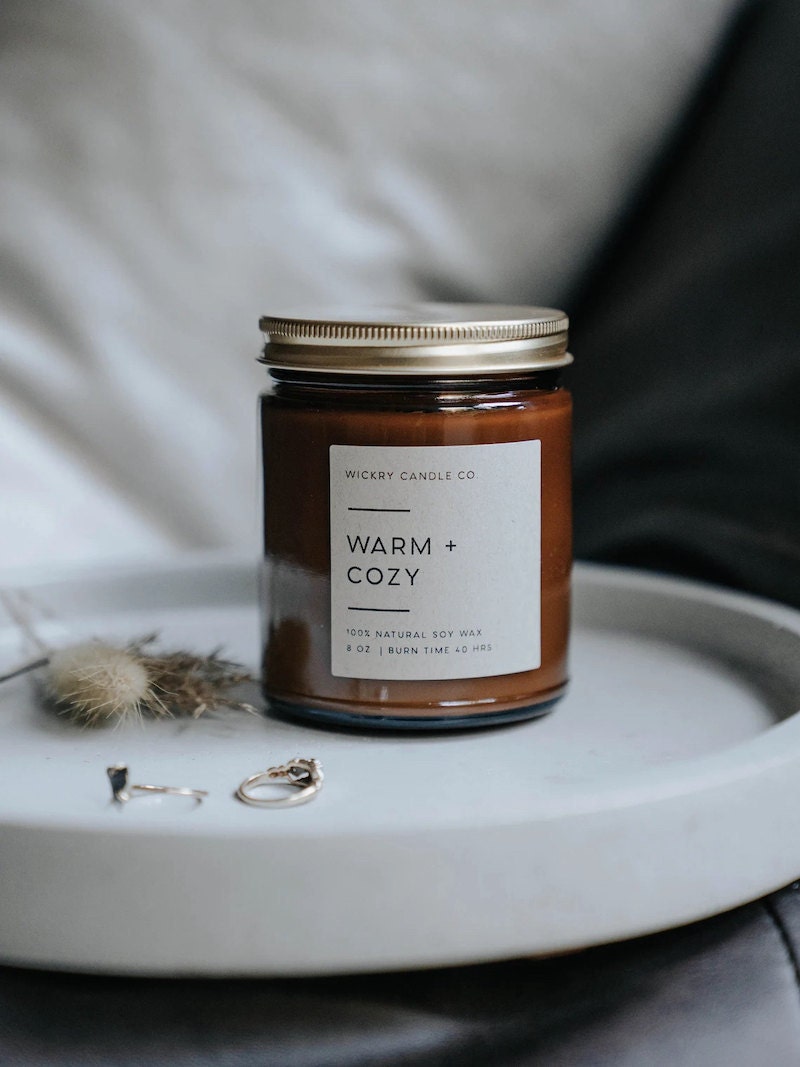 SHOP: Warm + Cozy scented candle from Wickry Candle Co., on sale for $14 (originally $18)
Why Stefanie loves it: "I can't wait to get in the festive spirit by lighting this candle combined with a night on the couch with my husband, our puppy, a cup of hot chocolate and a cheesy holiday movie!"
An oversized charcuterie board
Picked by: Larissa Tapler, Technical Support Manager, Member Services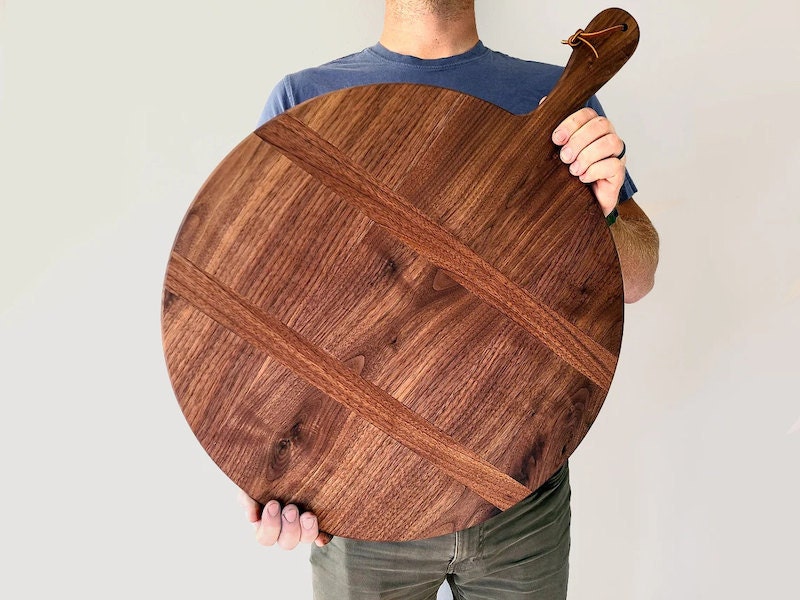 SHOP: Large walnut cutting board from Farmhill Woodshop, on sale from $109 (originally from $136)
Why Larissa loves it: "I've spent the better part of the last six years watching my future brother-in-law go from 'interested in cooking' to 'man with a pasta maker that actually gets used.' He's got the tooling side of things handled, and now he'll have a beautiful board for whatever delightful bites he whips up in the kitchen to be presented on."
A handcrafted skateboard
Picked by: Kelsey Taylor Hunt, Global Merchandiser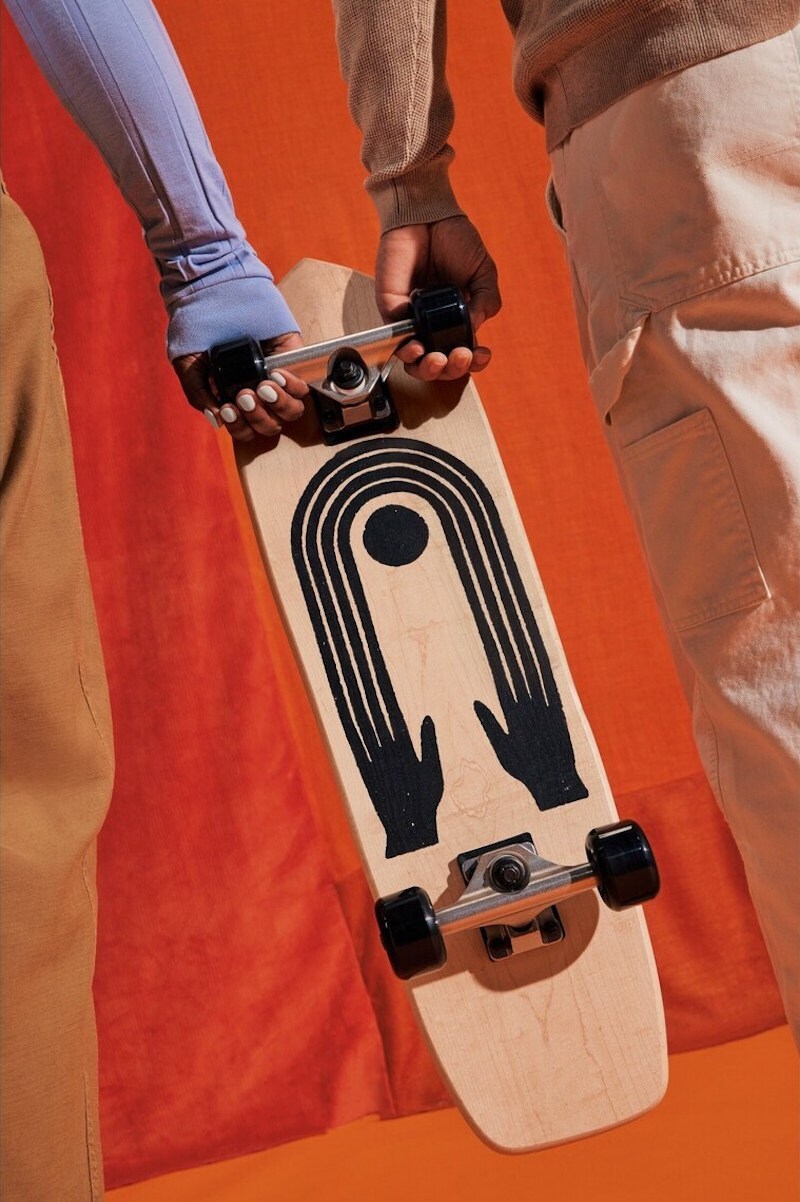 SHOP: Handcrafted skateboard from Southpaw Board Co., from $159 (originally from $199)
Why Kelsey Taylor loves it: "I have been eyeing this skateboard for a while. The design! The quality! It's the perfect tropical Christmas gift for my husband and myself to cruise around our neighborhood all year round. Ordering from Etsy always makes the gift feel extra special."
A textured knit scarf
Picked by: Aaron Rodriguez, Senior Content Strategist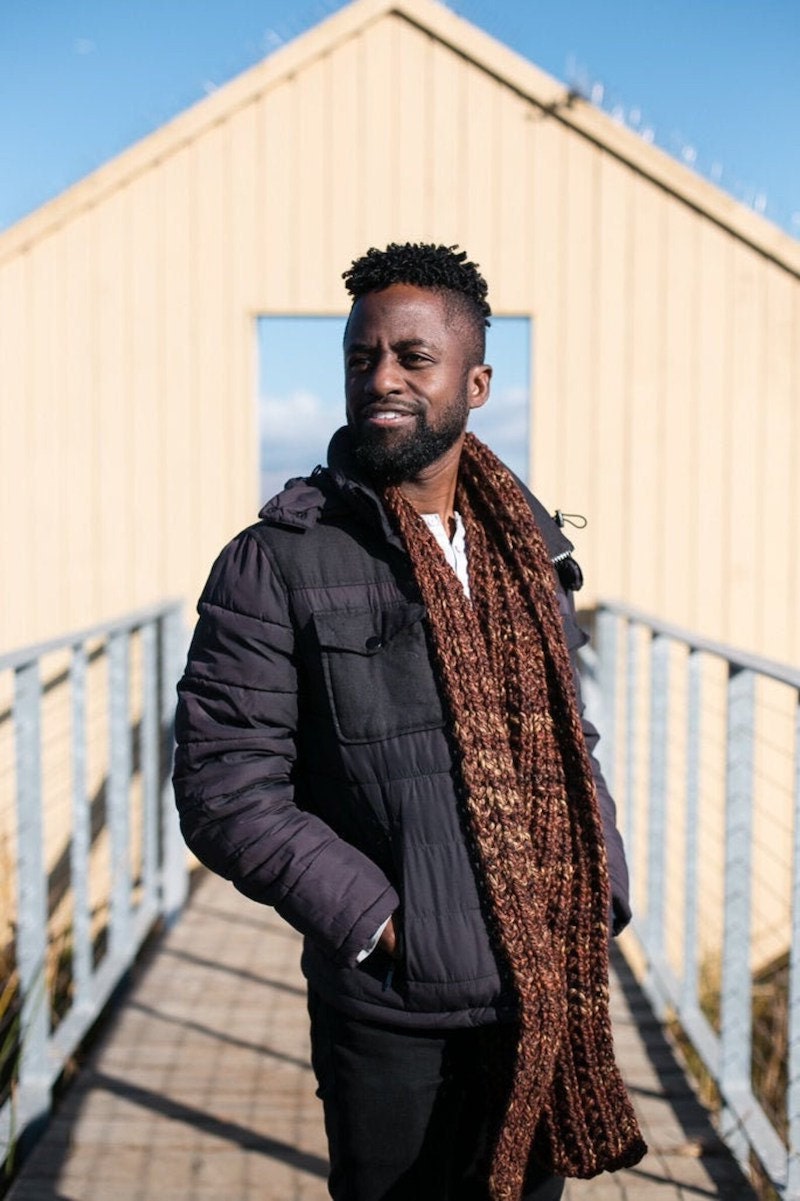 SHOP: Textured knit scarf from Nisey Knits, on sale for $42 (originally $60)
Why Aaron loves it: "I would love to make gifts for all my loved ones, but I've got a long way to go before my crafting skills are worthy of a spot under the tree. So I love that I can still get them something handmade that feels more special than a present from a big box store."
A leather crossbody bag
Picked by: Valerie Rains, Senior Editorial Content Manager
SHOP: Leather crossbody bucket bag from Boejack Designs, on sale for $107 (originally $134)
Why Valerie loves it: "Not too big, not too small, with plenty of useful pockets and no flashy, distracting hardware: This simple, pebbled-leather bucket bag is just the upgrade I need from my go-to rotation of canvas totes. The only question now is whether to get it in black, gray, or burgundy?"
An long, slouchy cardigan
Picked by: Adam Halvorsen, Senior Category Manager, Merchandising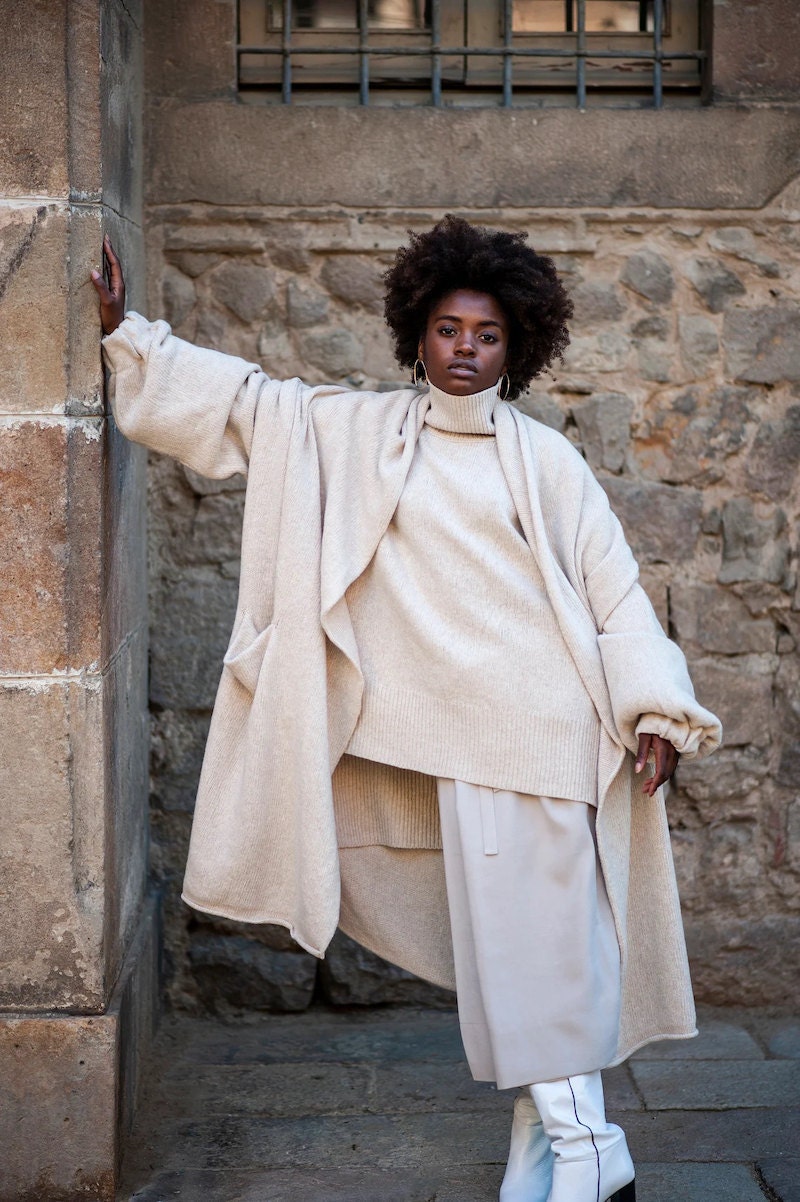 SHOP: Oversized wool cardigan from ATUKO, on sale for $296 (originally $422)
Why Adam loves it: "This cardigan feels like the perfect way to keeping my mom feeling hip and cozy this Christmas. I know she'll be sipping tea by the fireplace in this."
A seasonal wreath
Picked by: Rachel Refo, Senior Merchadising Manager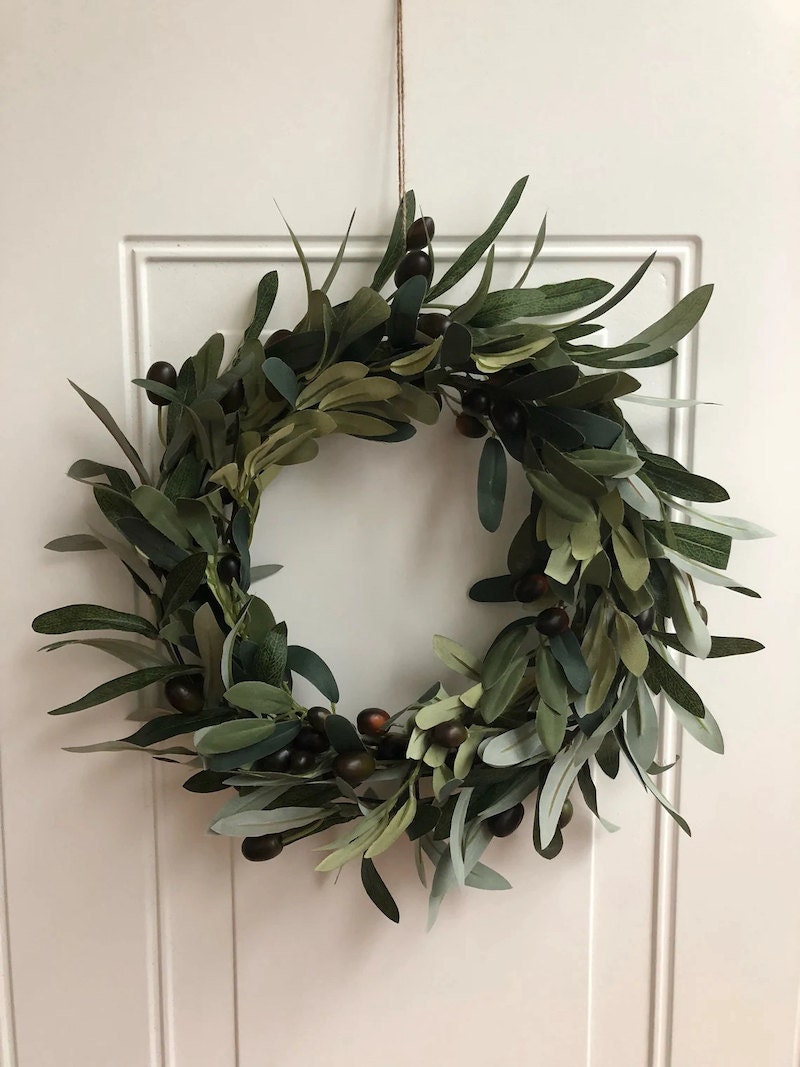 SHOP: Artificial olive leaf wreath from Dilly Bean Design, on sale from $34 (originally from $42)
Why Rachel loves it: "We just moved into a new home this year, so I need to stock up on new holiday decor. I'm totally in love with this wreath!"
A custom pet portrait
Picked by: Lyle Phillip, Email Marketing Specialist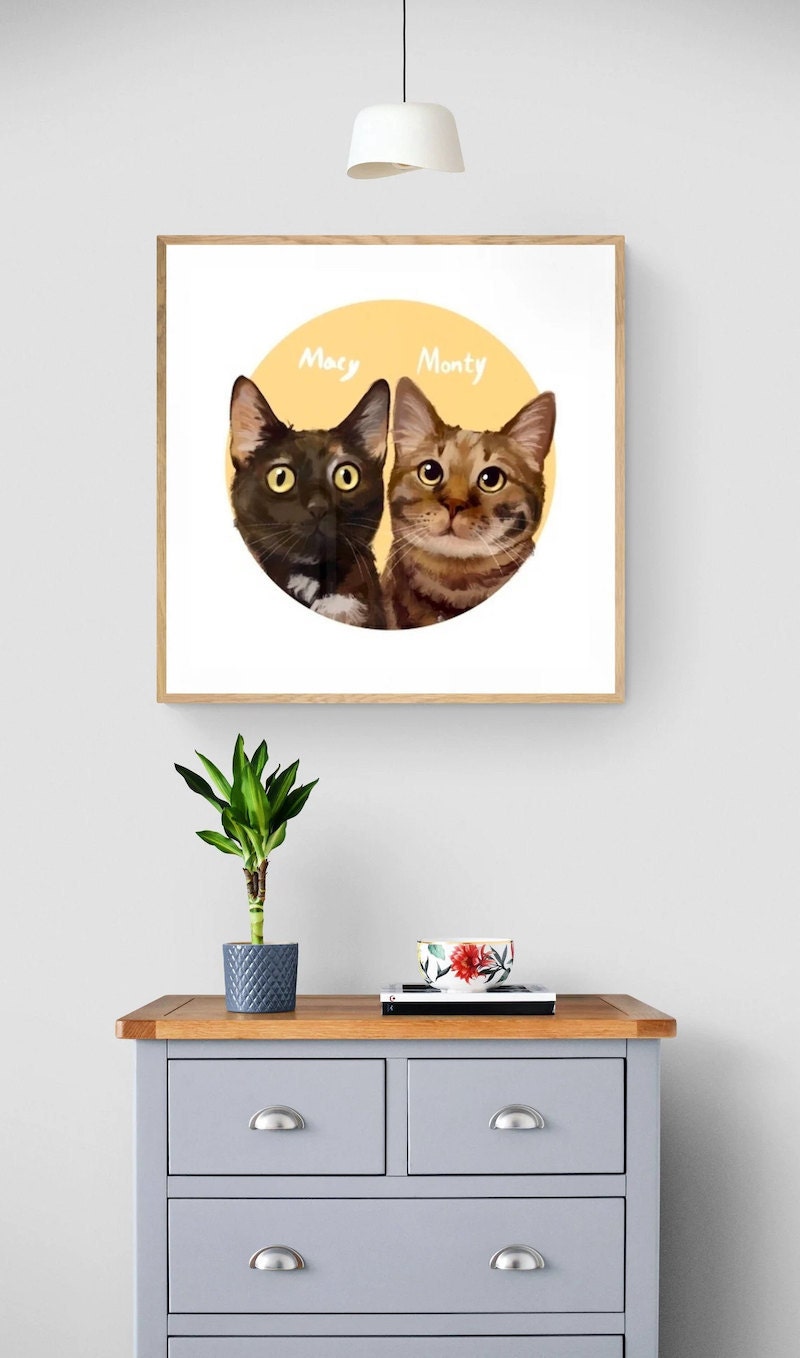 SHOP: Custom pet portrait from Ink and Lovers, on sale from $34 (originally from $43)
Why Lyle loves it: "My pup CJ has a ton of personality packed into a 20-pound frame and this is the perfect portrait to display it all—especially his eyes, full of curiosity and a demand for a treat."
A dazzling birthstone ring
Picked by: Marcia Trip, Global Program Manager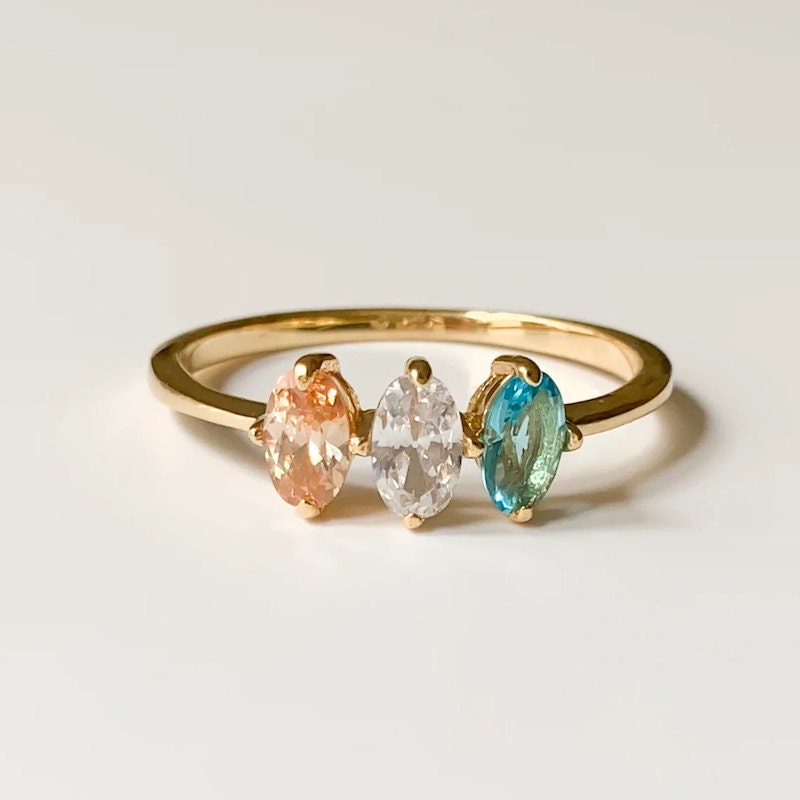 SHOP: Personalized multi-stone birthstone ring from Miela Jewelry, on sale from $42 (originally from $52)
Why Marcia loves it: "Creating a piece of jewelry that is not only beautiful but also meaningful—what's not to like? I can personalize this ring to have the birthstones of my loved ones so I always carry them with me."
A personalized dog bed cover
Picked by: Dayna Isom Johnson, Etsy Trend Expert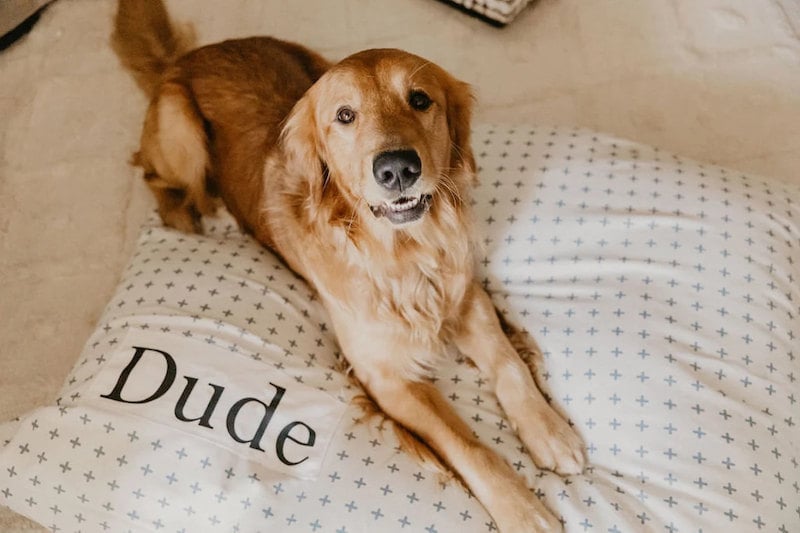 SHOP: Personalized pet bed cover from Wren Bird Lane, on sale from $38 (originally from $47)
Why Dayna loves it: "I can never resist a personalized find, especially on sale—whether it's for me, or my beloved pup. Adorable and affordable? Sign me up!"
A handmade doll
Picked by: Stephanie Moise, Senior Copywriter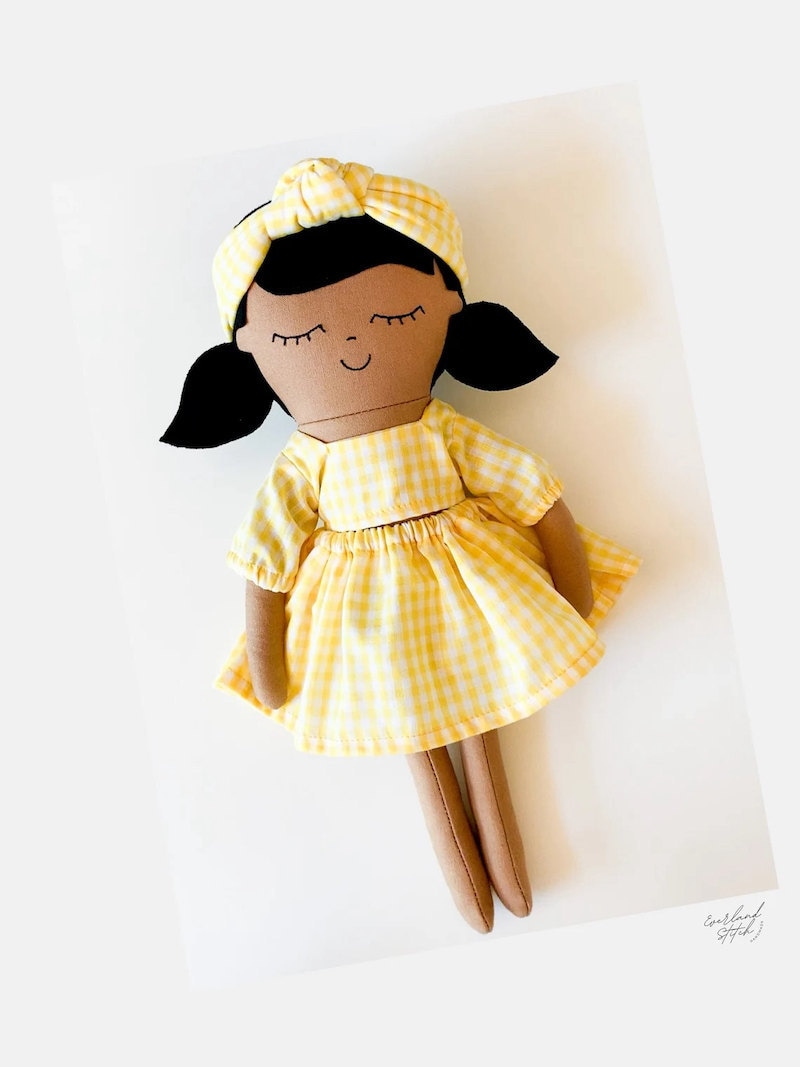 SHOP: Handmade cloth doll from Everland Stitch, on sale from $52 (originally from $65)
Why Stephanie loves it: "Every detail is adorable! I love that you can embroider a name or customize it to make it even more personal. I'm eyeing this as a new friend for my BFF's daughter."
A pair of statement earrings
Picked by: Patricia Chang, Compliance & IP Counsel - Legal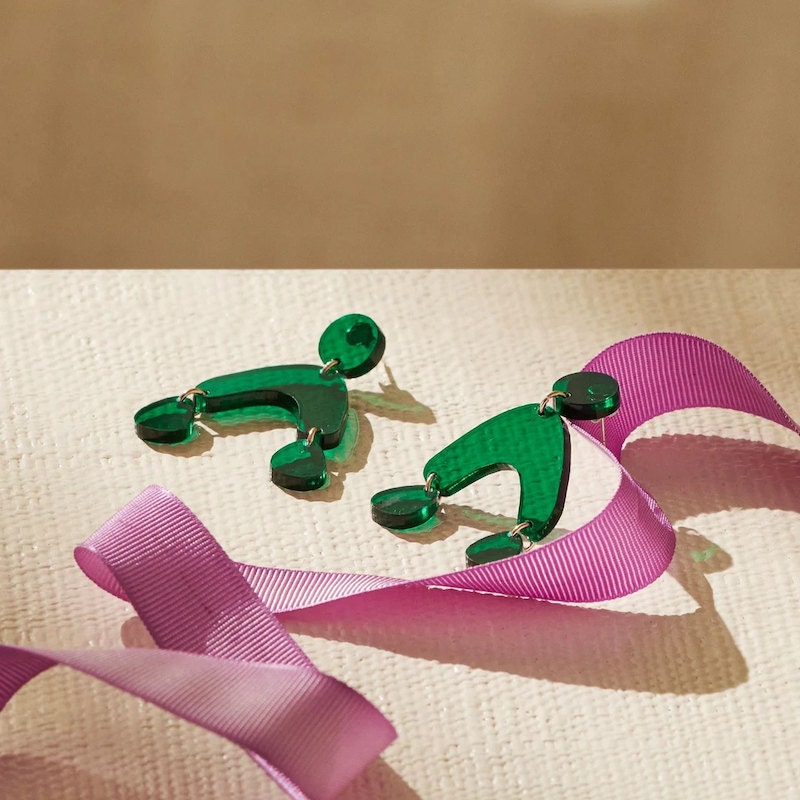 SHOP: Acrylic dangle earrings from AyrTan, on sale from $32 (originally from $40)
Why Patricia loves it: "The holidays are a great time to find a special something (like these big colorful fun earrings) to re-inspire your fashionable friend to keep dazzling everyone around them, whether it's at a New Year's party or just shopping at the grocery store in sweats and a puffy jacket."
Beat the holiday rush and discover even more extra-special, on-sale delights: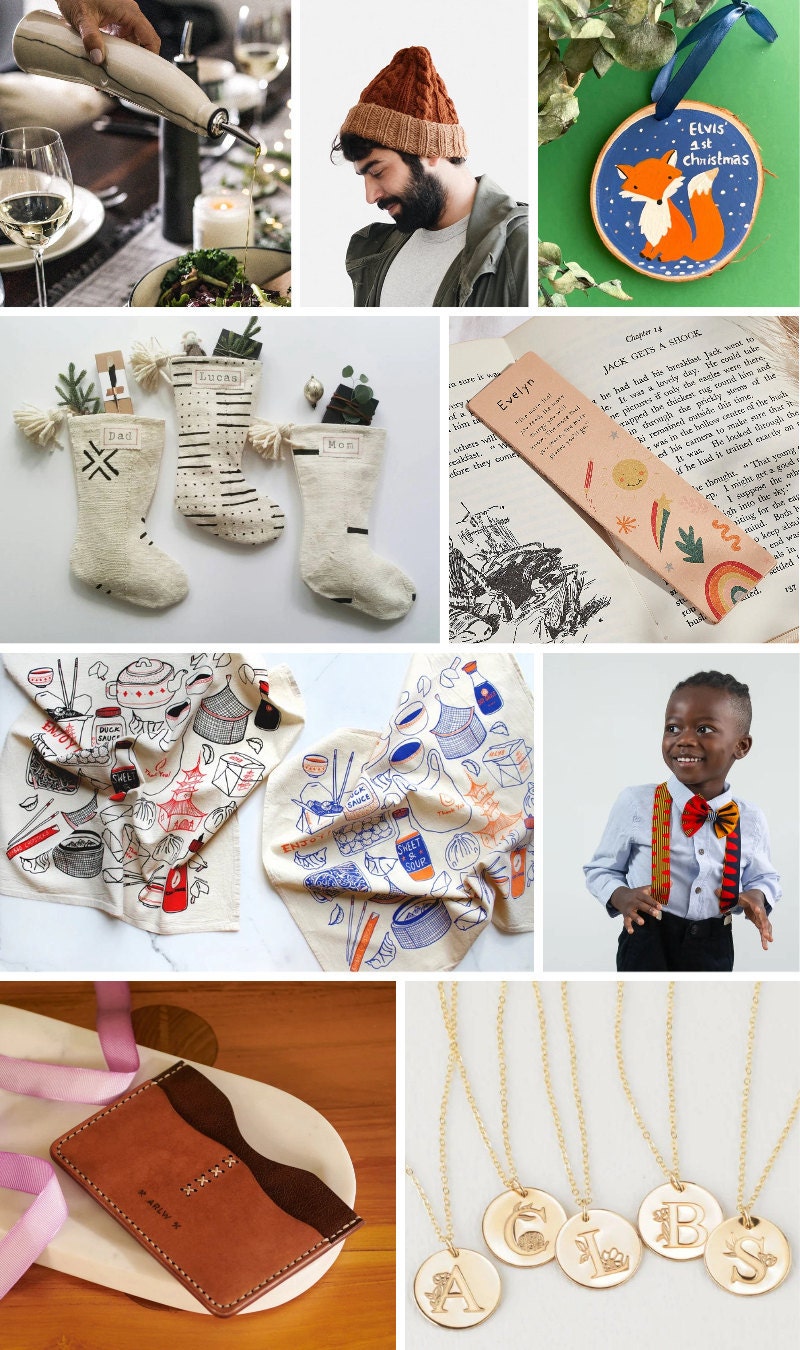 SHOP (clockwise from top left): Ceramic oil bottle from Julie Duguay Ceramiste, on sale for $38 (originally $47); custom color block beanie from Plexida, on sale for $45 (originally $56); personalized first Christmas ornament from Nabeela Rumi, on sale for $26 (originally $35); personalized leather bookmark from Create Gift Love, on sale for $16 (originally $20); Ankara print bow tie and suspenders set from Simply Eli Fab, on sale for $16 (originally $20); botanical initial necklaces from Femina Handmade, on sale from $51 each (originally from $64 each); personalized leather card holder from Arlw Gear, on sale for $64 (originally $80); takeout-inspired tea towels from Calhoun & Co., on sale for $14 (originally $18); black and white personalized stockings from Habitation Boheme, on sale from $48 (originally from $60)

*Ends November 30, 2022, 11:59 PM EST. Participating shops only. Offer and pricing subject to availability and change by sellers. See individual shops for details and up to date pricing.