by Linzee McCray
Though she's been called the mother of modern quilting, Denyse Schmidt's new book pays homage to quilts of the past.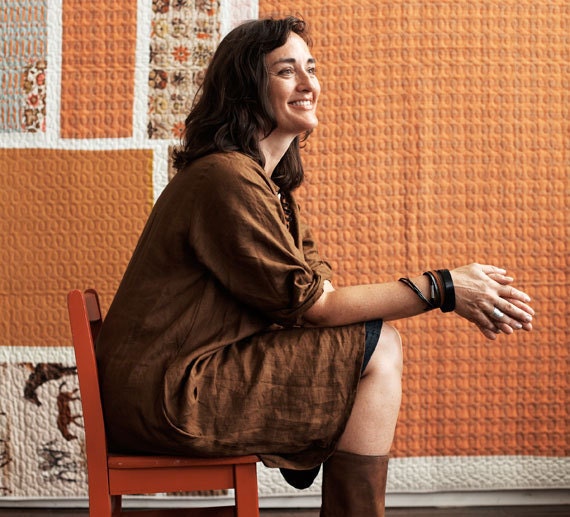 Trade shows are all about garnering attention, and if booths could talk, you'd hardly be able to hear yourself think as you cruised the aisles. "Pssst. Hold on! You, yeah, you. Hey, buddy! Over here!" The booths at last month's International Quilt Market in Kansas City were no exception. Quilts and fabric in colors from taupe to turquoise to tangerine, pleated and ruffled, in prints and solids demanded attention at booth after booth. There were displays that put rooms from Apartment Therapy to shame, concocted from hand-painted walls, stacks of mid-century modern chairs upholstered in designer cloth, and fabric-covered everything — lampshades, hassocks, bulletin boards, and books. In the midst of this textile abundance sat quilter and designer
Denyse Schmidt
, hand-sewing quilt blocks. Though she's been on the quilting scene since 1996, this was the first time she's had a booth at the bi-annual Market. Her display was low-key; a simple, white wall tacked with the images that inspired her new fabric line, Chicopee — a vintage map, line drawings, photos of the Brady Bunch and Sonny and Cher. Her quilt patterns rotated in a wire rack and quilts from her new book were folded on a rustic ladder or stacked on chairs. The booth resisted braying, "Hold on now! Take a look!" Even so, everyone did. In part, that's because Schmidt is something of a legend in the quilting world. That lofty status came after years pursuing other careers — she's been a modern dancer, sewed ballet costumes and religious garments, and after graduating from the Rhode Island School of Design (RISD), she worked as a graphic designer.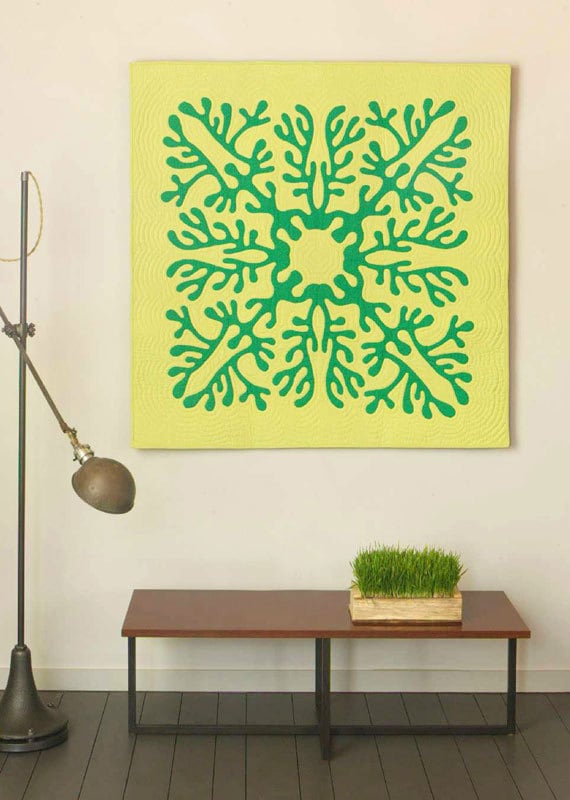 Along the way, Schmidt found herself attracted to old quilts. "They're so full of stories and you wonder about the person who made them," she says. She was especially drawn to those stitched with random fabrics, whose seam lines don't meet exactly. "There is so much beauty and personality in the wonkiness— there's a kind of looseness in them, like a hand-drawn line," she says. Mingling her own clean aesthetic with these off-kilter coverlets, she created a line of quilts and began selling them through interiors shows. She described her work as "modern quilting" to overcome assumptions interior designers might have about what constitutes a quilt.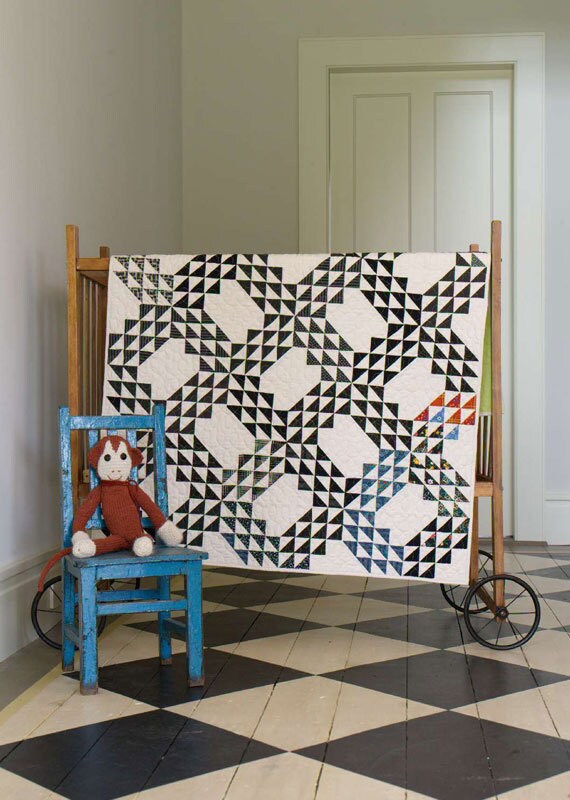 That term has since taken on
a life of its own
, and Schmidt is sometimes referred to as the mother of the modern quilting movement. While she appreciates the progressive outlook of its enthusiasts, she hopes that her new book,
Denyse Schmidt: Modern Quilts, Traditional Inspiration
, will be a gentle reminder of quilting's roots. "The book gives me the opportunity to pay homage to the quilts that inspired what I'm doing today," she says. Along with simple patterns for new quilters, she wants to provide a challenge for those with more experience. "I hope people will attempt something beyond their usual range but I've consciously designed the patterns so there's some fudge room," she says. "Things don't have to be perfect, and I want people to be okay with the results." For Schmidt, those results frequently include adding a bit of the unexpected. In the spirit of quilters who pieced tops from whatever old clothing was on hand, whether it matched or not, Schmidt's Ocean Waves pattern includes several blocks where prints and colors vary subtly from the rest. "It's hard to relate to using up what you have in a day when we can buy more, more, more," she says. "But I love that. Quilting is the original sustainable thing, making something new from the old."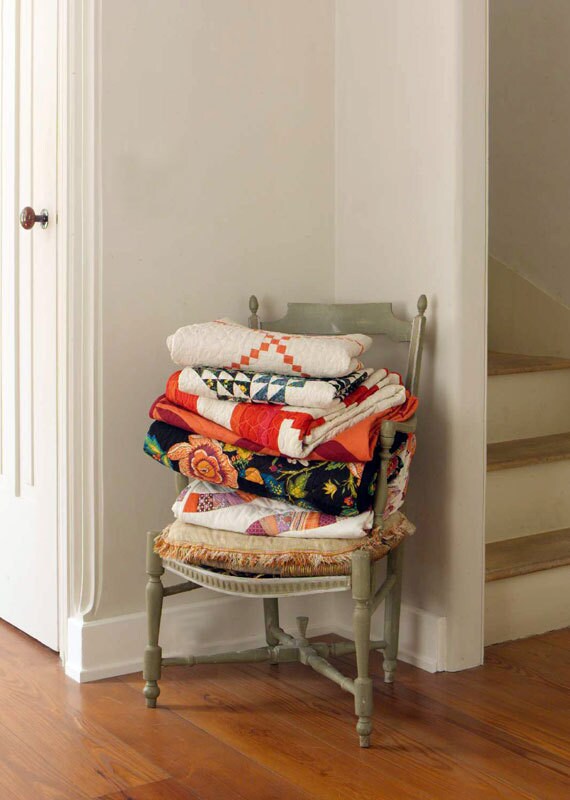 In addition to embracing limitations, Schmidt gravitates toward taking things slowly. While the industry often touts quilts that are fast and easy, she believes there's a place for stitching at an unhurried pace. "A quilt can be something you work on little by little and come back to," she says. "I don't have that much free time and I understand the desire for speed, but I want to balance that with thinking about the process. More and more, partly as an antidote to the fast pace of our culture, people are willing to work steadily on something they're going to keep around for a long time." Schmidt admits that these viewpoints might seem counterintuitive for someone whose livelihood includes selling fabric and patterns.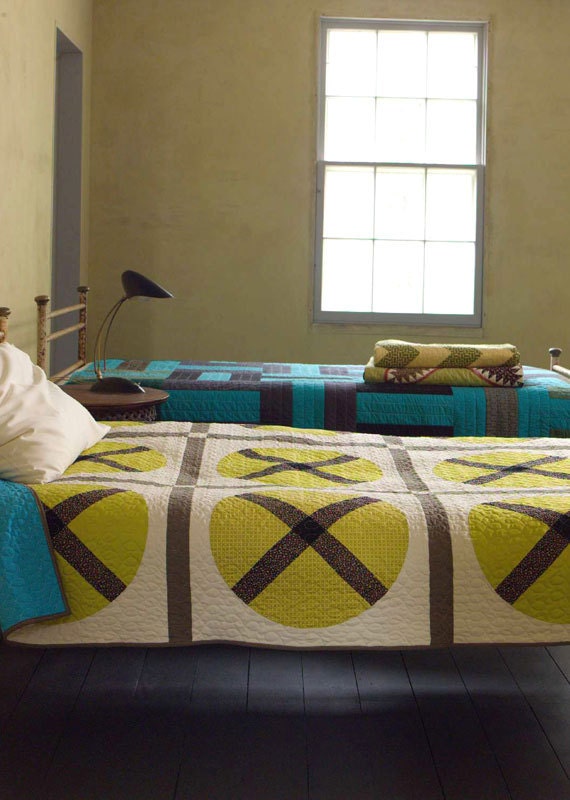 "It's not always profitable, but I have to be who I am," she says. She also produces made-to-order couture quilts that often contain blocks stitched from beloved ties or childhood dresses, and Works quilts, machine-quilted modern quilts made in her Bridgeport, Connecticut, studio. In addition, she teaches quilting at her studio and across the country and lectures on quilt and design topics — she'll be the keynote speaker at QuiltCon, the inaugural conference and show of the Modern Quilt Guild, to be held next February in Austin, Texas. "At its best, quilting is an open forum that welcomes people at all levels, making all kinds of quilts," she says. "Every person is going to bring something different to the process — you can take a single pattern and make an infinite number of variations. That's what I love about quilts."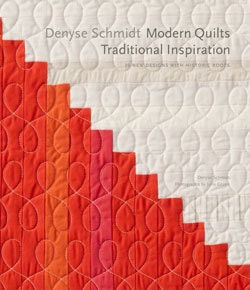 For more information about Denyse, visit her
website
, or check out
Denyse Schmidt: Modern Quilts, Traditional Inspiration
, available from 
Amazon
or an
 independent bookstore near you
.