Swoop into Halloween with this easy-to-make, oh-so-creepy DIY bat costume that's made by altering a simple knit shirt.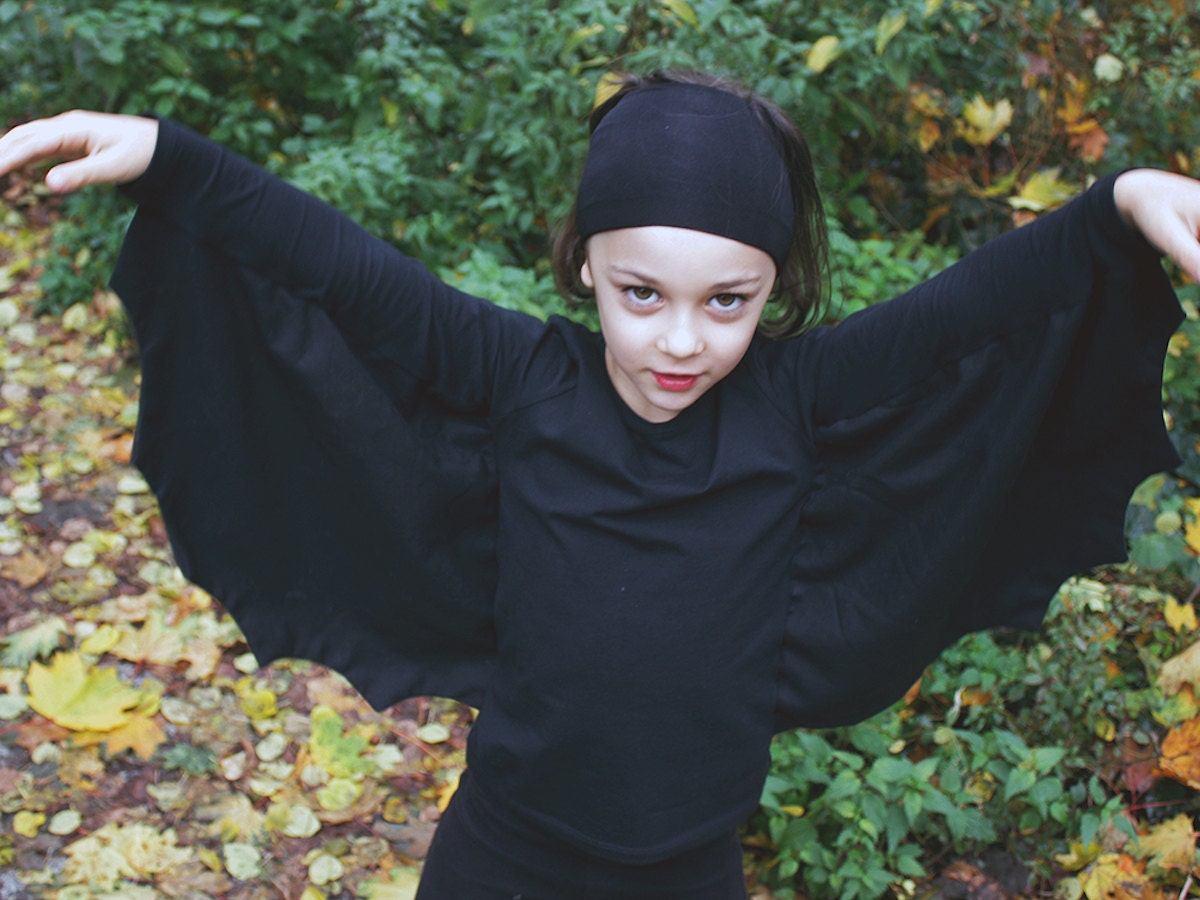 As the proud mama of a kindergarten-aged daughter, I operate in a universe of peer-influenced taste that runs the wide, wide spectrum from pink to princess to unicorn to pink. Needless to say, when my kid announced out of nowhere—with a ferocious snarl—that she intended to be a VAMPIRE BAT THAT DRINKS BLOOD for Halloween, I was pretty much thrilled. DIY bat costumes are on the easy end of the possible kids' costumes your littles could ask for. And a group of these pint-sized bats flying around the neighborhood Halloween party, chowing on spooky Halloween treats is quite the sight to see.
After confirming several times that she didn't actually mean a pink princess unicorn vampire bat, I got to work making an easy DIY bat wing costume that will not only see her through this season's Halloween activities, but dress up time for months to come.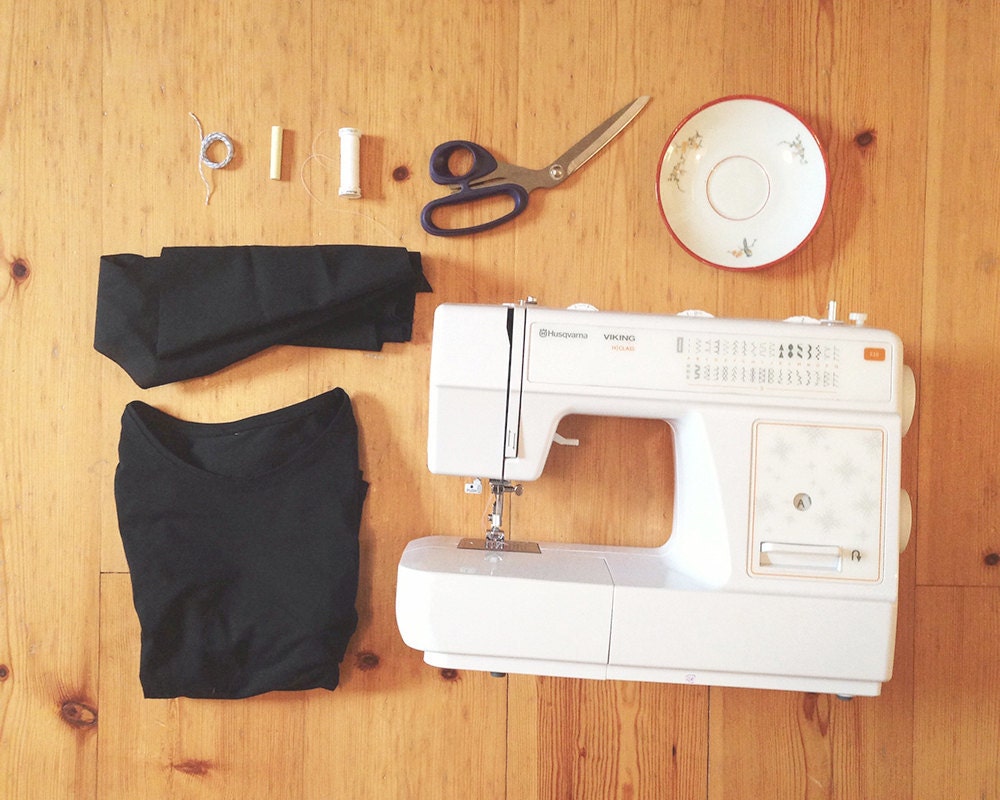 Making a DIY bat wing costume
Time: 1.5 hours
Difficulty: Beginner
Materials needed for a DIY bat wings costume:
Long-sleeve knit shirt that fits your child
1 yard lightweight woven fabric for the bat wings
Chalk and about 2' of string or yarn, for marking fabric
5-6" diameter saucer
Scissors, thread, and your sewing machine
Complete your DIY bat wings costume by adding black leggings or pants, a touch of fun Halloween makeup, and either a black headband or a pair of no-sew bat ears.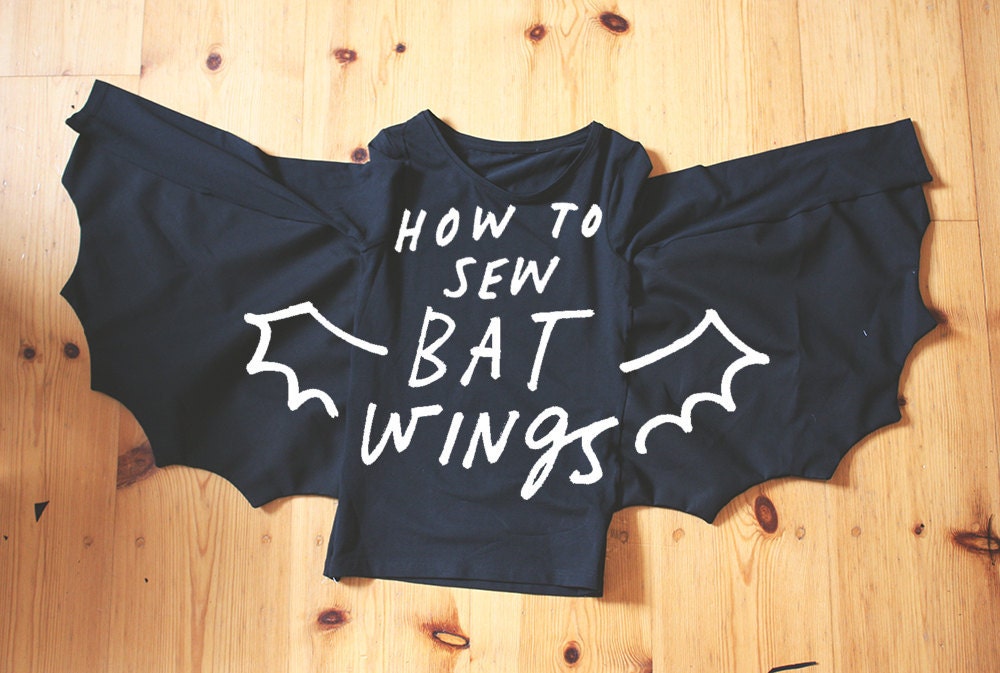 DIY bat costume directions
Step 1: Prepare the bat wing fabric for cutting
Fold your bat wing fabric in half and lay the shirt next to it flat, with the arm slightly raised and extending over the fabric.
Tie one end of the string to your chalk.
Place the chalk at the cuff and pull the string taut to the armpit of the shirt. Hold down that end of the string as you arc the chalk across the fabric from cuff to bottom hem of the shirt, drawing a curved line. Use the chalk to trace the shirt seam and sleeve onto the fabric.
Easy DIY bat wing tip: Some moms report that using a soft knit jersey fabric prevents the need for hemming for an even faster no-sew DIY bat costume option. In this case you would not fold the fabric before cutting, and you could attach the wings with glue instead of stitching them.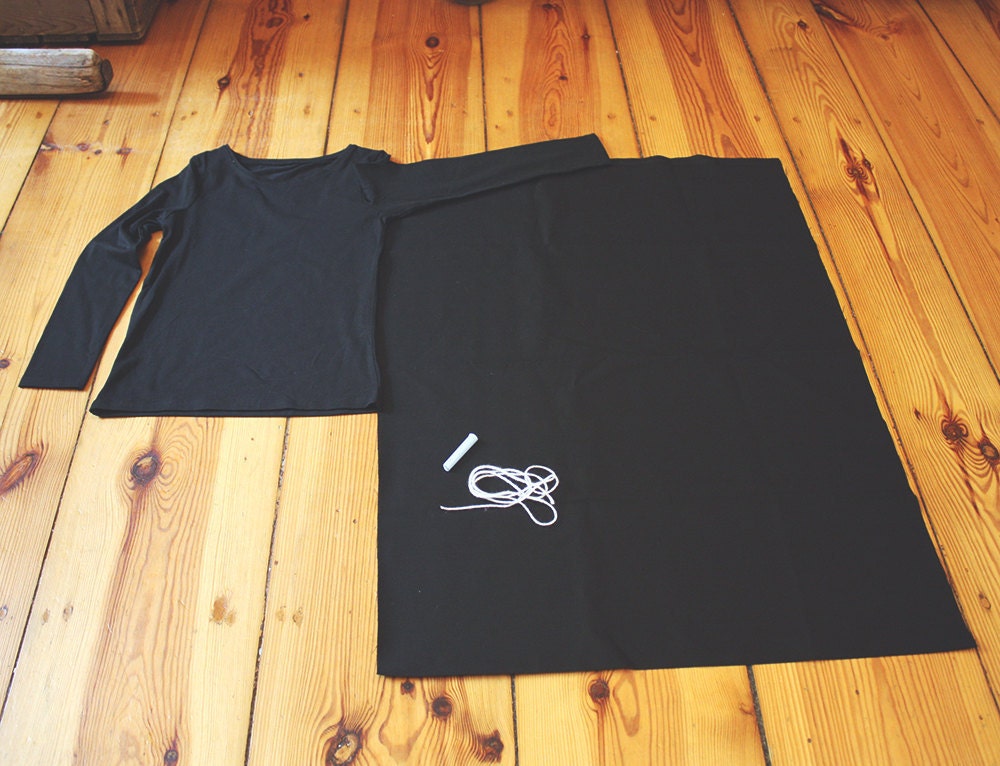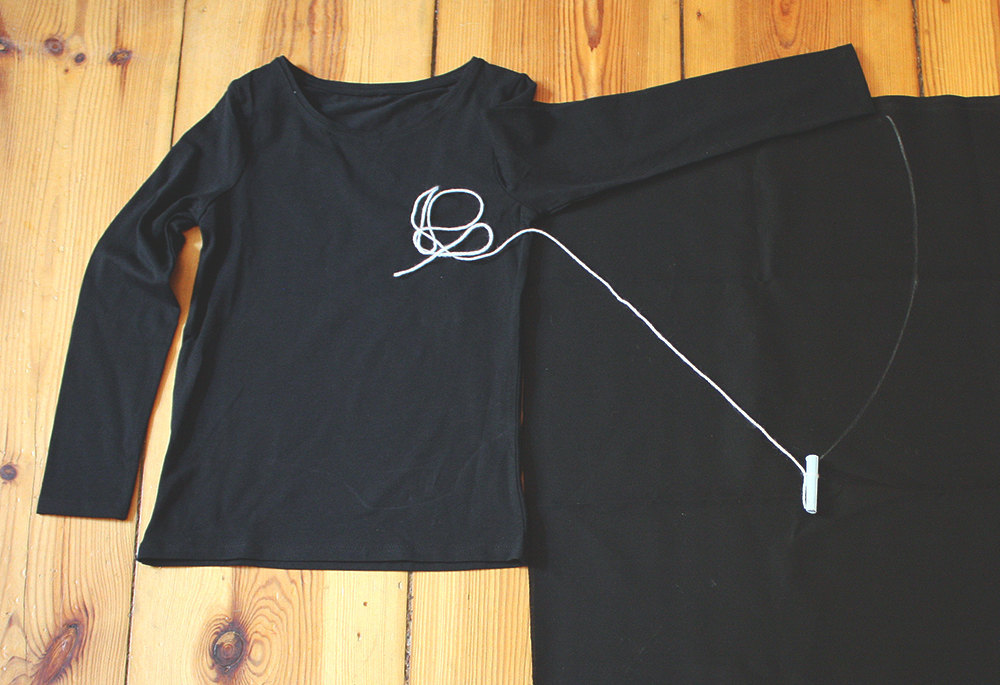 Step 2: Cut bat wing along chalk line and repeat for second wing
Cut out the resulting shape—since the fabric is folded, you'll have two pieces. Repeat on the opposite side of the shirt to create the second wing. You should now have four total wing shapes, two for each side of the shirt.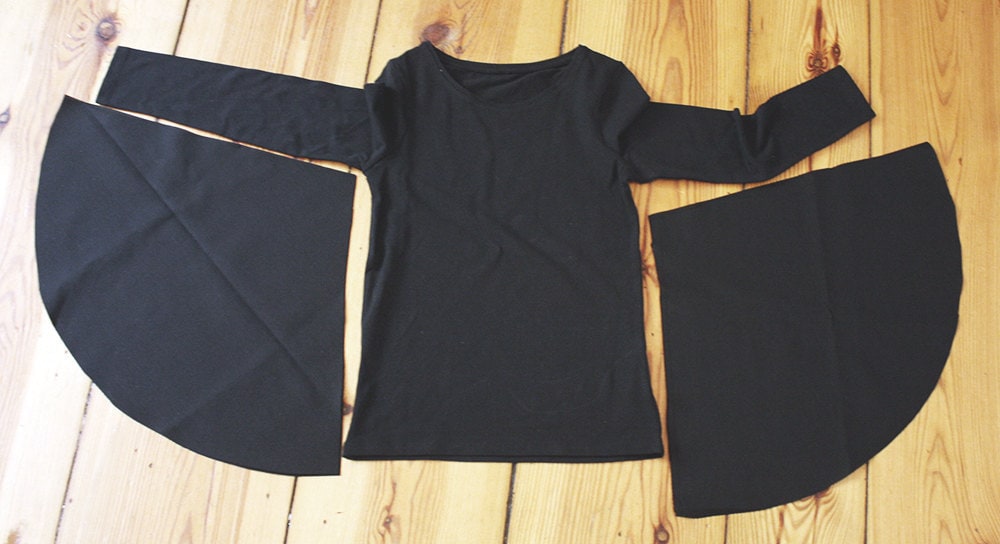 Step 3: Trace and cut inverted scallops on the diagonal
Grab a plate and trace half-circles along the curved edge of each pair of bat wing pieces and cut out.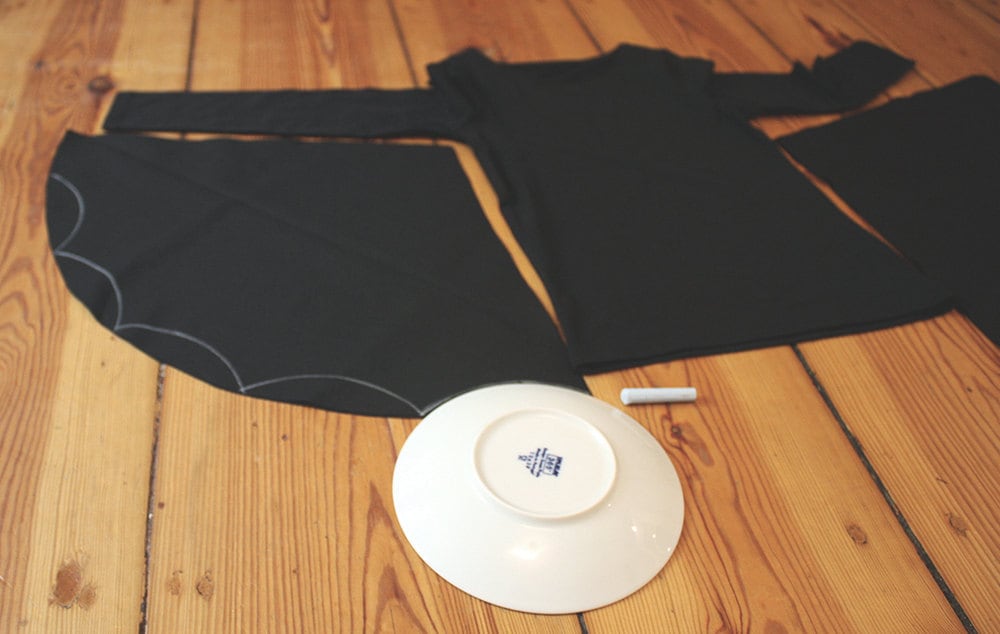 Step 4: Sew scalloped edges of bat wings
With right sides together, sew a straight stitch along the curved edges of each bat wing.
Notch fabric along this side and clip the corners.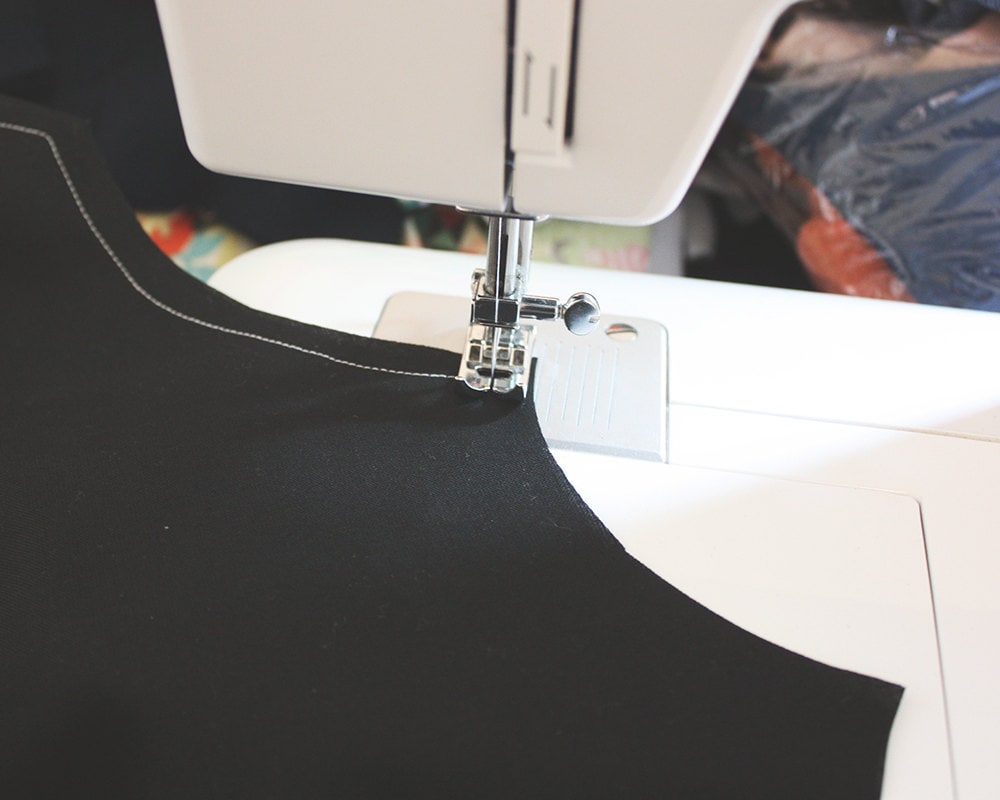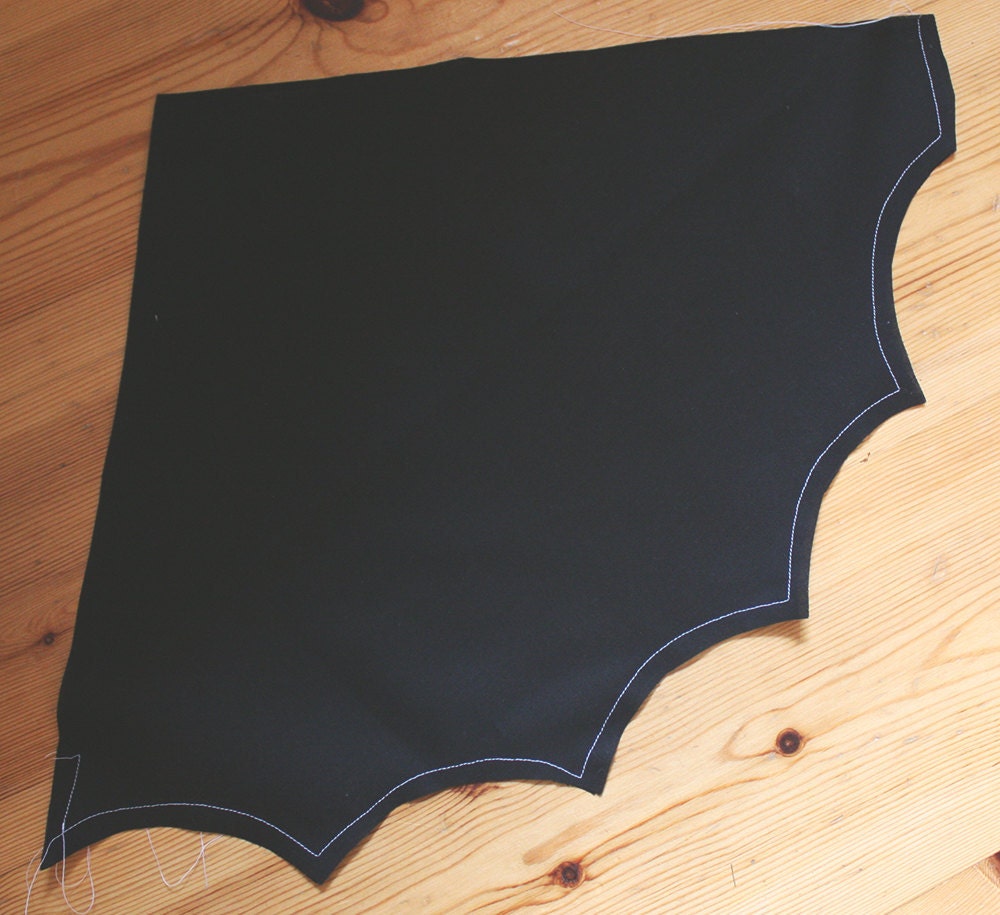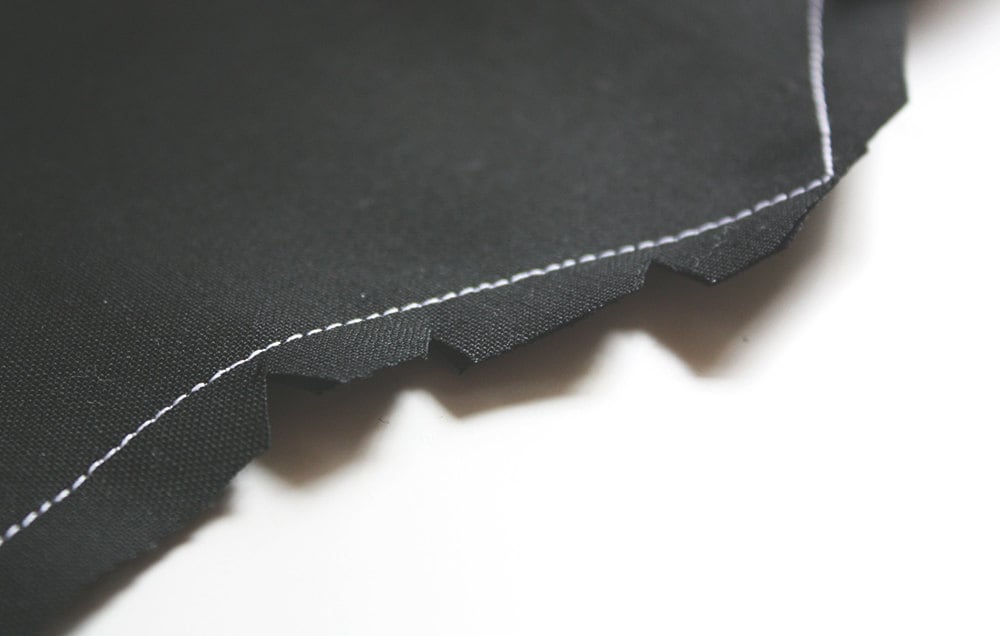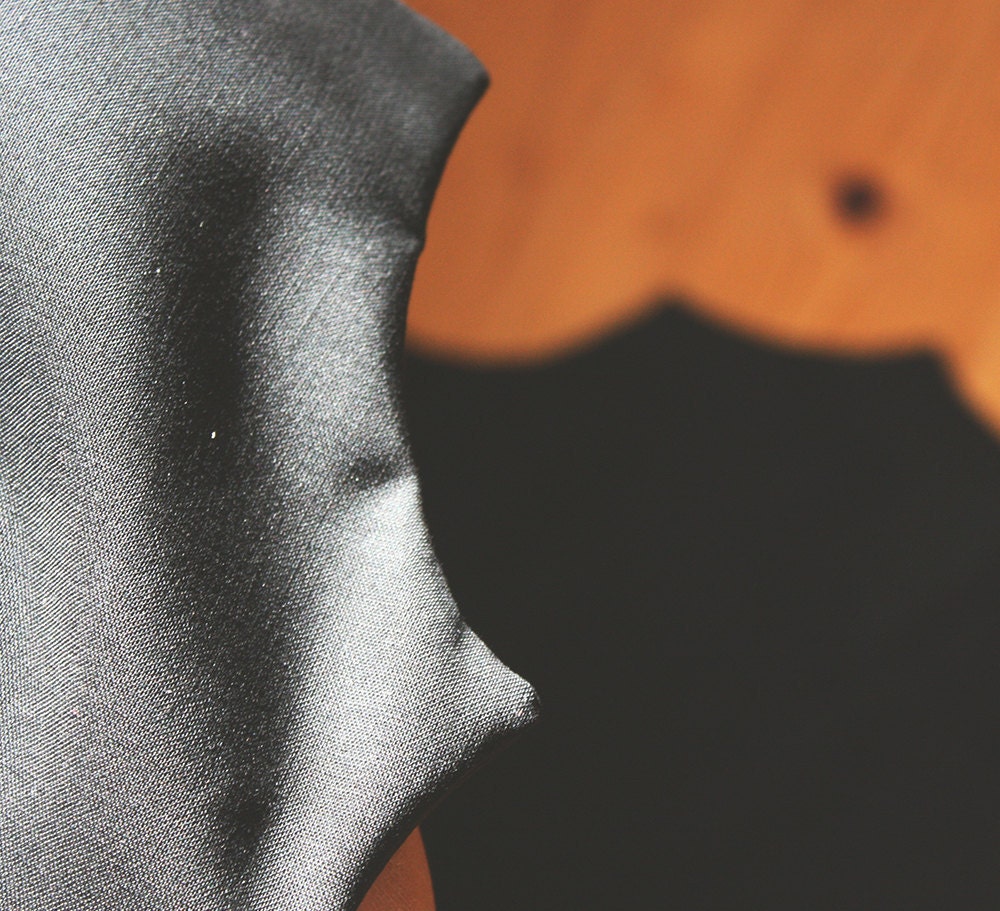 Step 5: Attach bat wings to black shirt
Turn the shirt inside-out. Carefully open up the seams of the shirt along its sides and the underside of the sleeves.
Insert the wings, lining up and pinning the two unsewn sides of each wing along the seams you've just opened on the shirt. It will look pretty bunched up, especially in the arms, so pin and then sew one side at time to make it easier to handle.
Sew a straight stitch along where you've pinned, essentially re-closing the seams of the shirt. When you turn the shirt right side out again, it will look like the photo. But don't turn it yet—repeat with the opposite side first.
Alternately, to make a no-sew bat costume, you can use a fabric glue to attach your wing shapes along the seam of the T-shirt.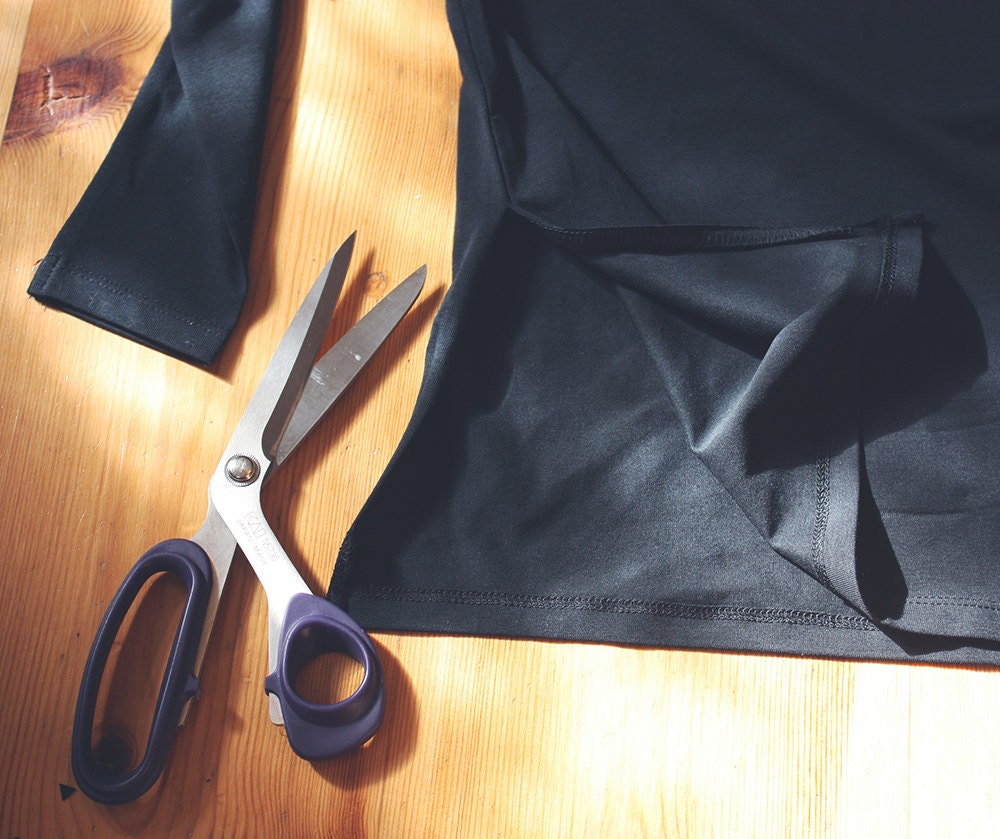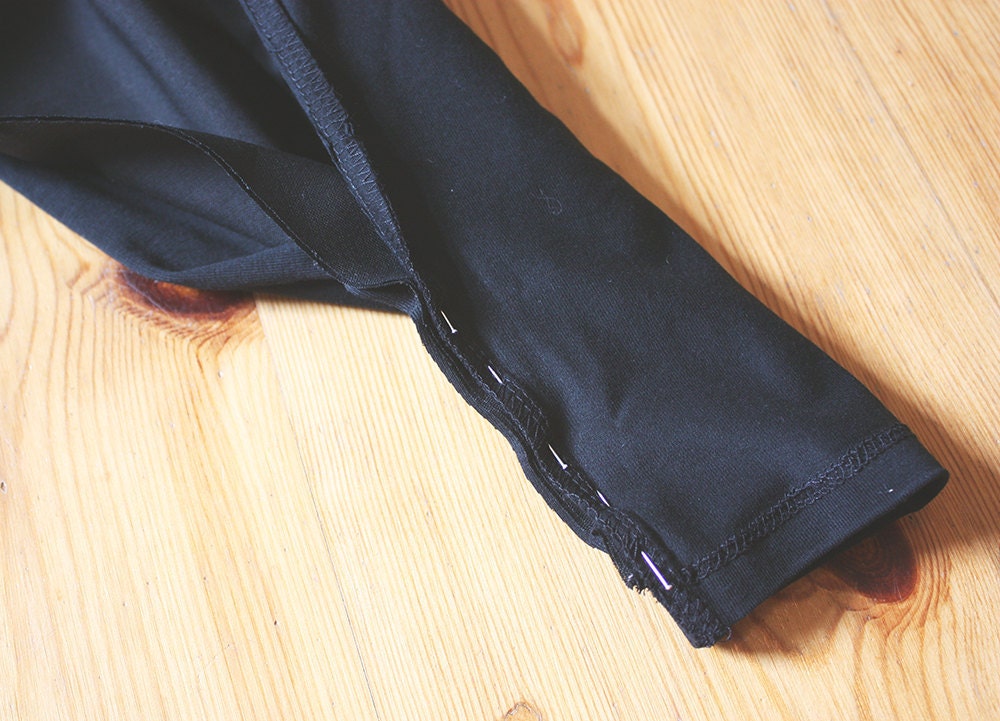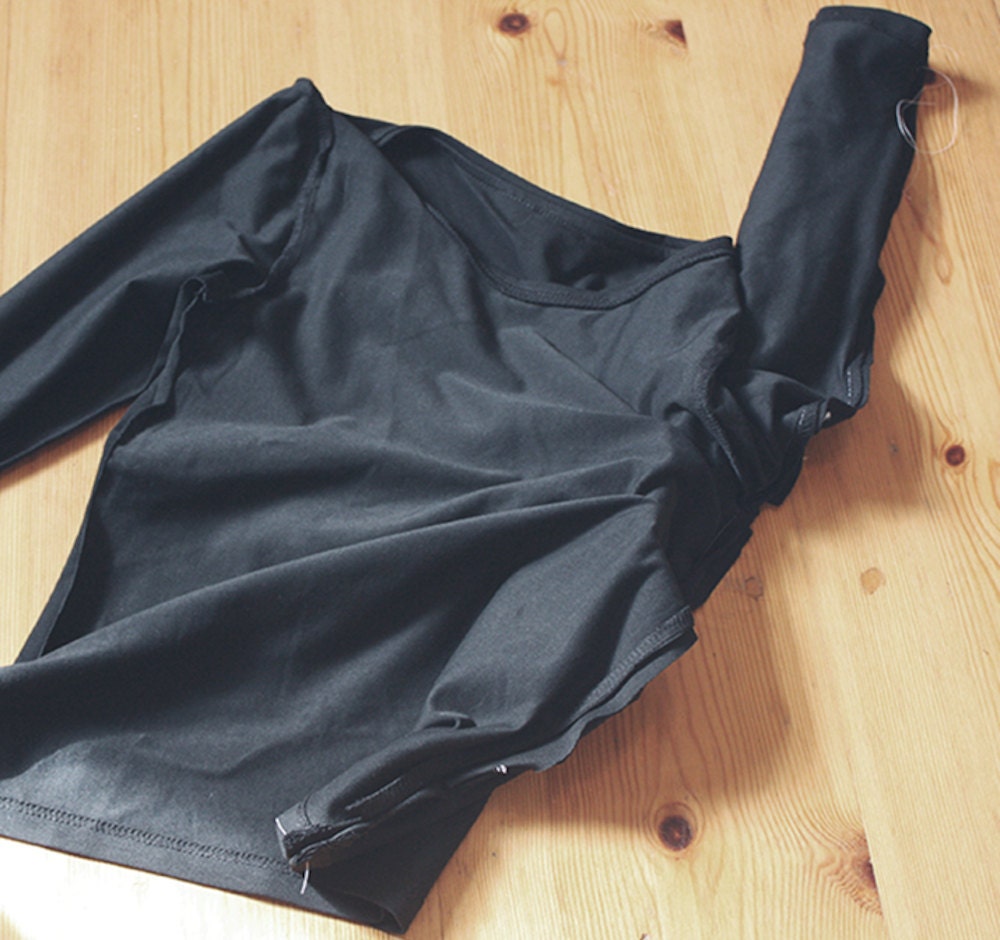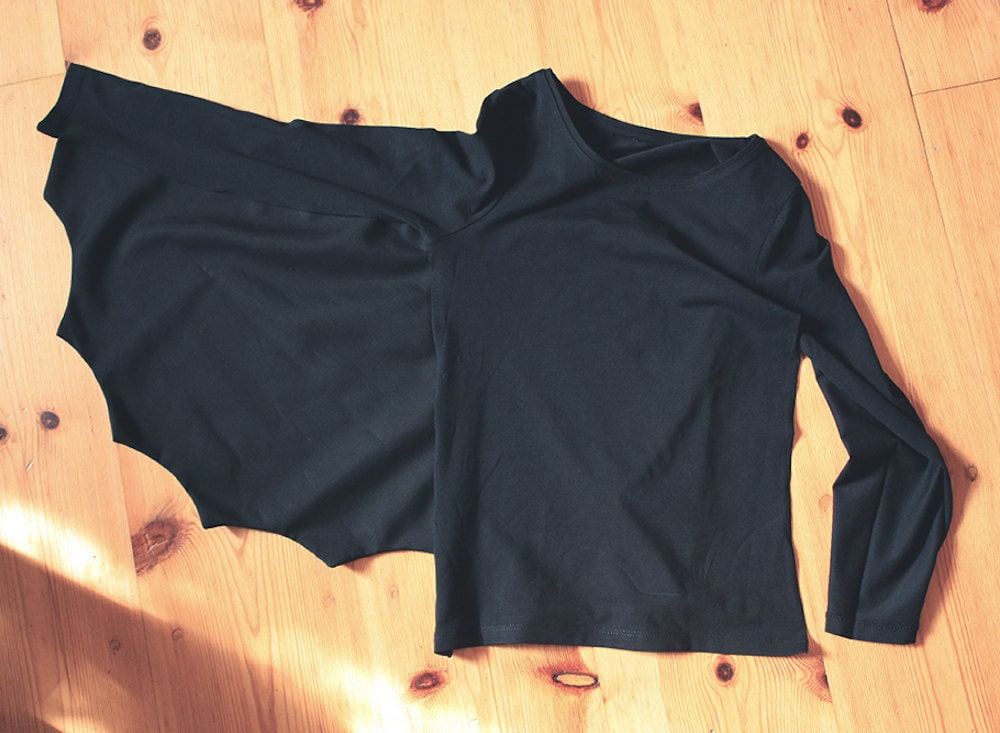 And then you're all done! A DIY bat wings costume ideal for a halloween party, or even just for a true bat-lover. Put the shirt on your kid and watch them fly all over the house.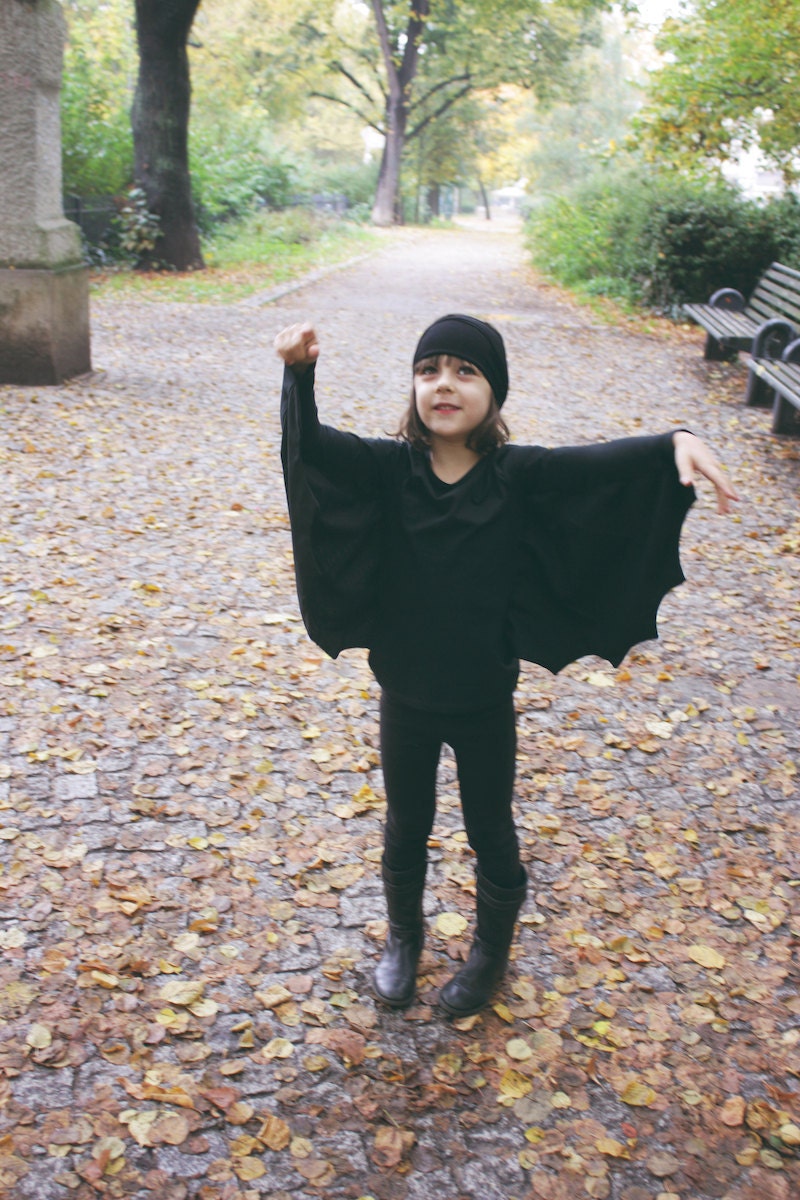 Plus more scary-good Halloween finds: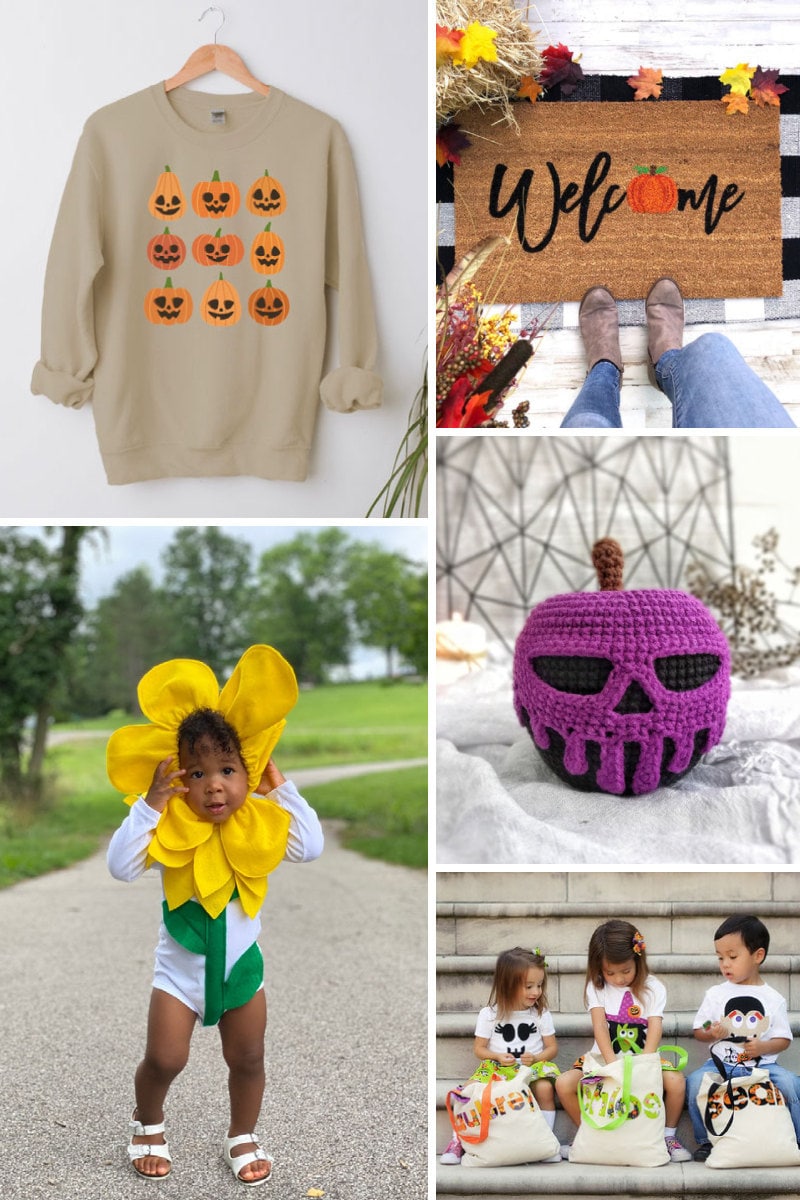 SHOP (clockwise from top left): Pumpkin sweatshirt from Symbolic Imports, from $28; pumpkin welcome mat from Endie Co, from $25; poison apple downloadable crochet pattern from Fayni Toys, $6; personalized trick-or-treat bags from Aidille, $32; buttercup flower costume from Dino Rawr, from $28
All photographs by Anda Corrie.