Surprise your favorite shutterbug with a custom fabric camera strap.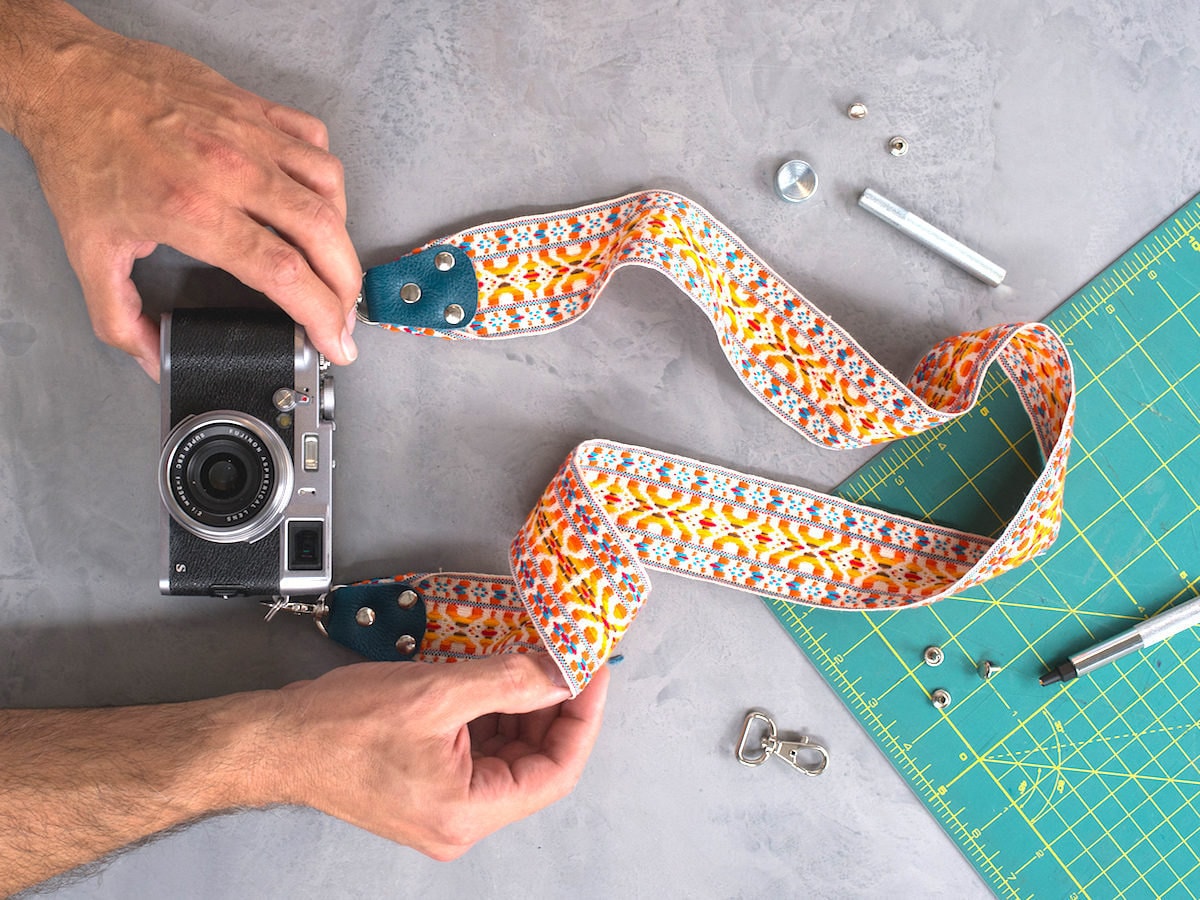 This camera strap makes the ultimate photographer gift—and making it is easier than you think.
Every family and friend group has its resident shutterbug: a designated or self-appointed someone who shows up to every backyard barbecue with their camera in tow and spends much of the day stealthily shooting away. For a foolproof photographer gift to help show your appreciation for the priceless memories they capture, consider a stylish camera strap to keep their most prized possession safe and secure—and within arm's reach. 
There are tons of great options available on Etsy of course, but if you're up for a simple hands-on project, you can create a DIY camera strap at home in a snap. Using a length of vintage-style trim, a couple scraps of durable leather, and a few hardware pieces to hold it all together, we'll show you how it's done.
DIY camera strap at a glance
Time: 2 hours
Difficulty: Intermediate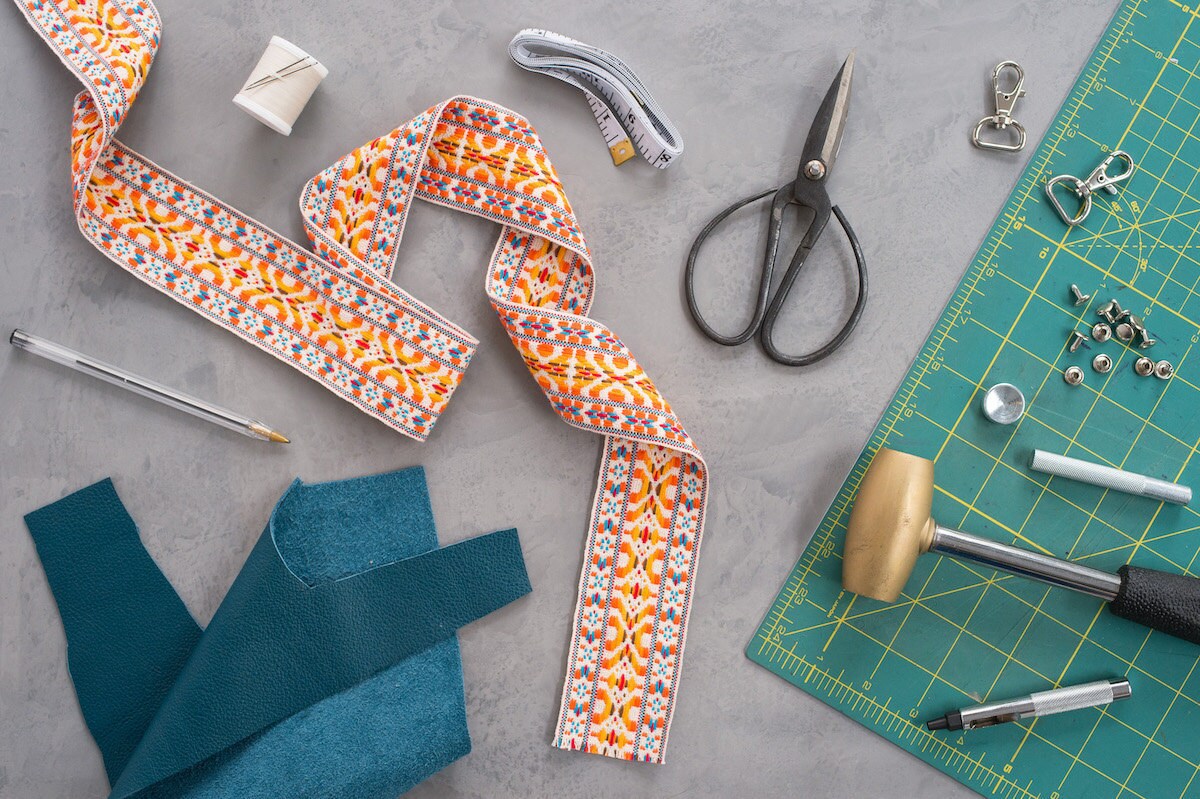 DIY camera strap supplies
3-inch-wide fabric trim (at least 1 1/2 yards)
tape measure
sewing needle
thread
scrap leather in color of your choice
pen
cutting mat
leather hole punch
6 rivets
rivet setter
Step 1: Determine length of strap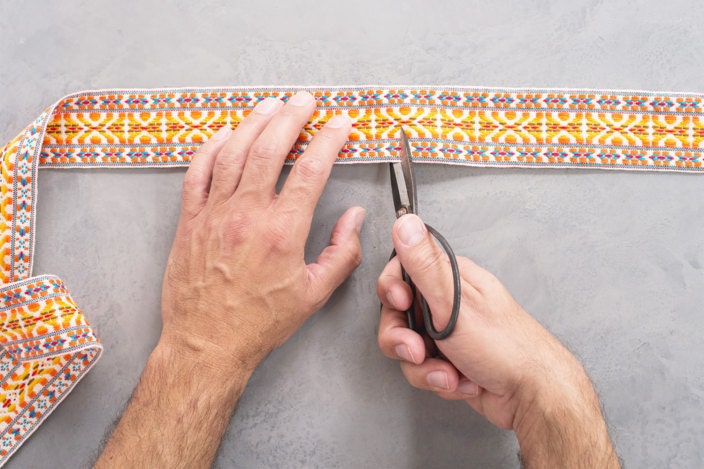 Drape the fabric trim around your neck to determine how long you want to make your strap. Add 4 inches to this length and cut.
Step 2: Slide trim through swivel clasp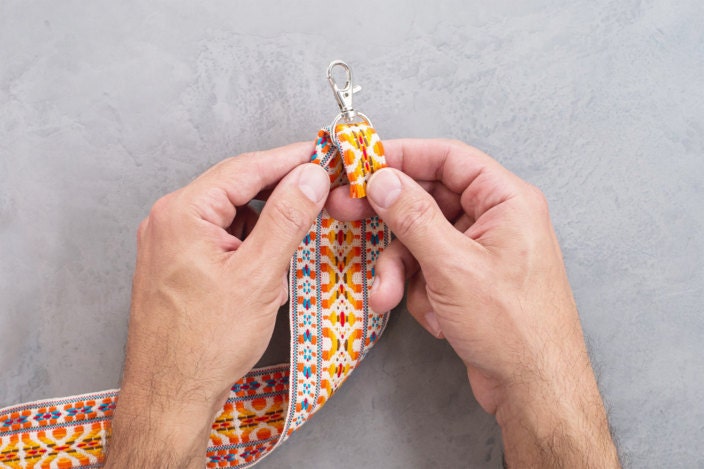 Take one end of your length of trim and fold the corners in, toward the center. Slide the folded end through one of the swivel clasps so about 2 inches of trim are poking out.
Step 3: Stitch end in place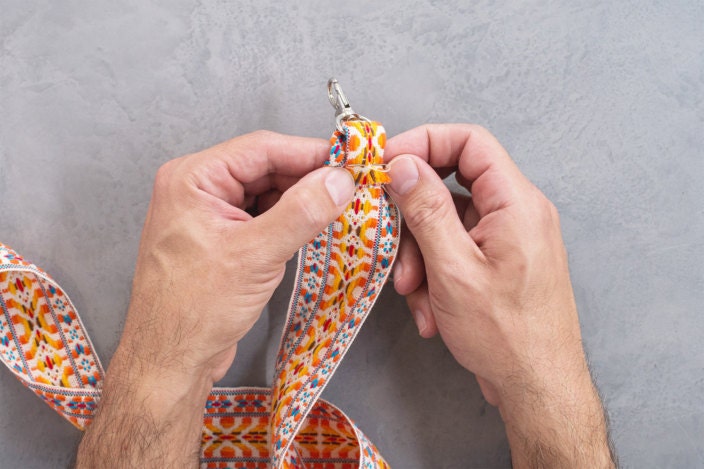 Fold the short end of the trim onto the backside of the strap and baste stitch near the edge to secure it in place. Repeat all three steps for the other end of the strap and set it aside.
Step 4: Cut leather strip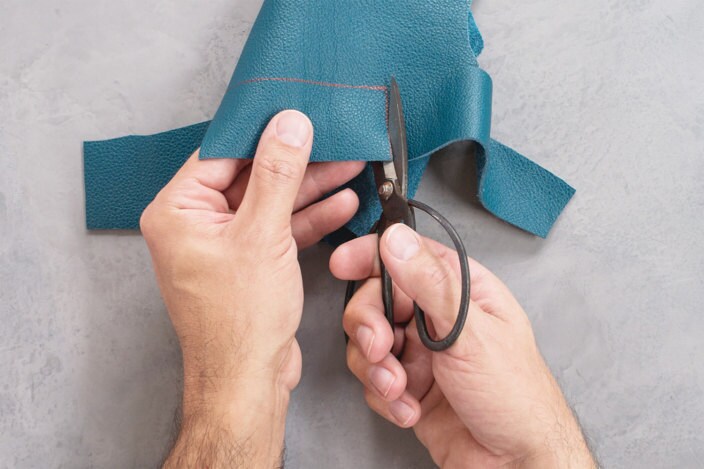 Cut a rectangular strip of leather that's about 3 inches long and 1/2 inch narrower than the width of your trim.
Step 5: Measure and trim leather to size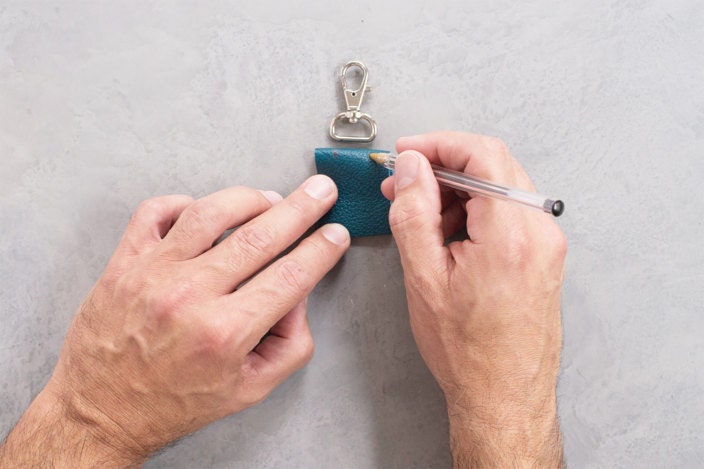 Fold the piece of leather in half. Center your second swivel clasp above the folded edge and use a pen to mark the width of the D-ring on both sides of the leather fold.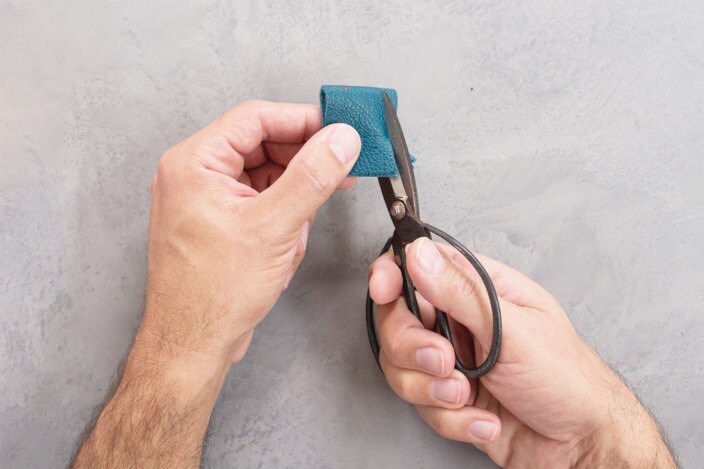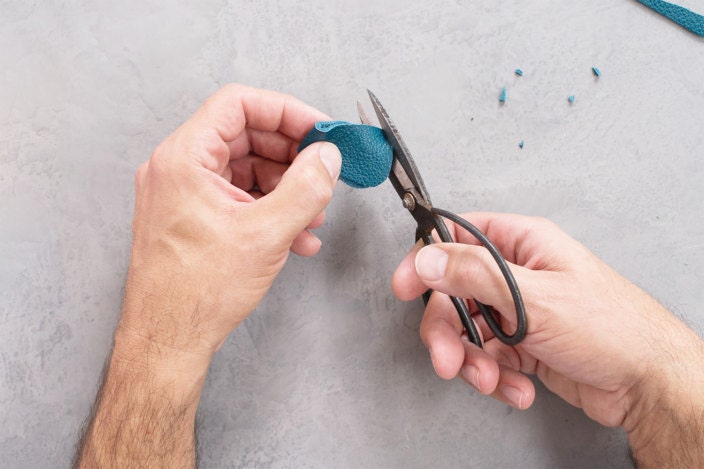 Keeping the leather folded, cut an angled line from one bottom corner of the strip to the pen mark you made on the nearest folded edge. Repeat on the other side, then use scissors to round the outer edges.
Step 6: Trace and repeat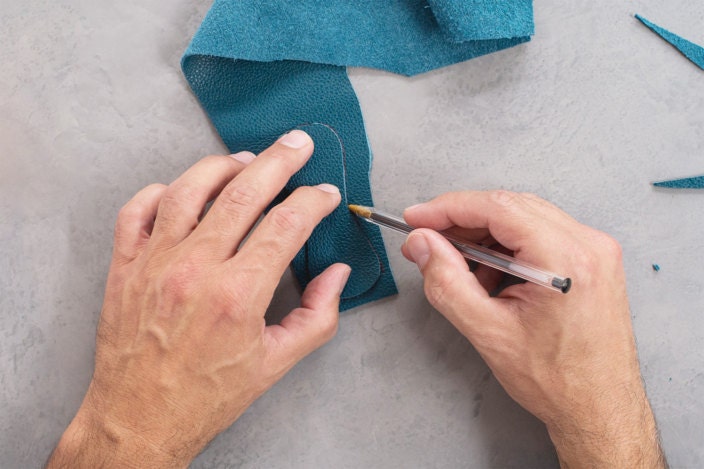 Trace the cut leather shape onto a second piece of leather and cut an identical piece for the other side of your camera strap.
Step 7: Add leather to trim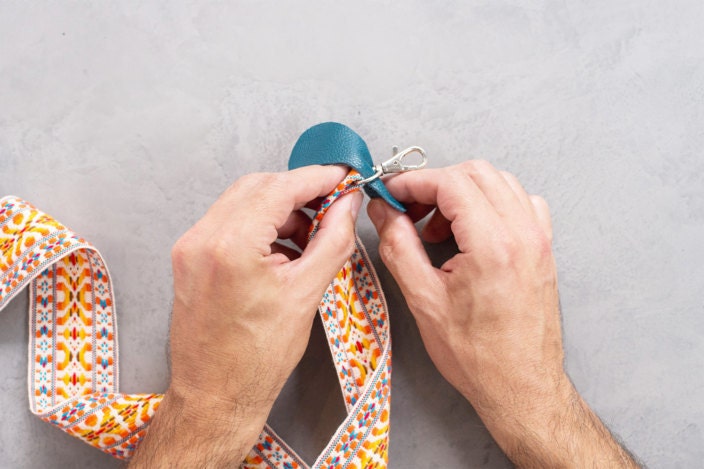 Grab your strap and, holding one of the sewn ends, slide one of the cut leather pieces through the D-ring and fold it over the trim.
Step 8: Punch holes for rivets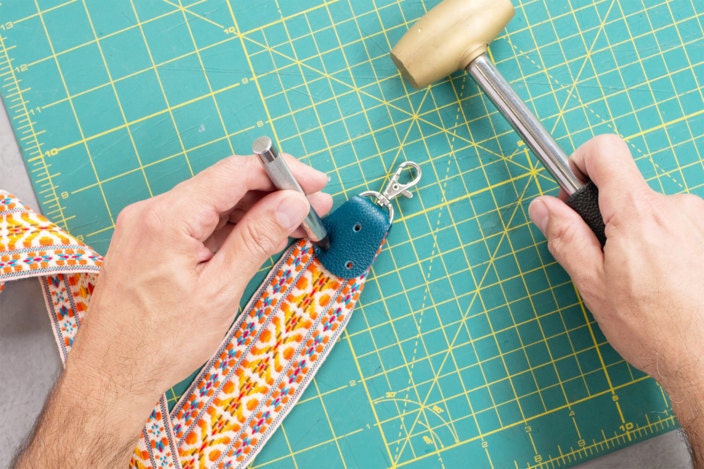 Use the mallet and leather hole punch to punch three holes through all the layers of the folded leather and trim near each end of the strap: one in the center near the D-ring, and one near each bottom corner.
Step 9: Set rivets and repeat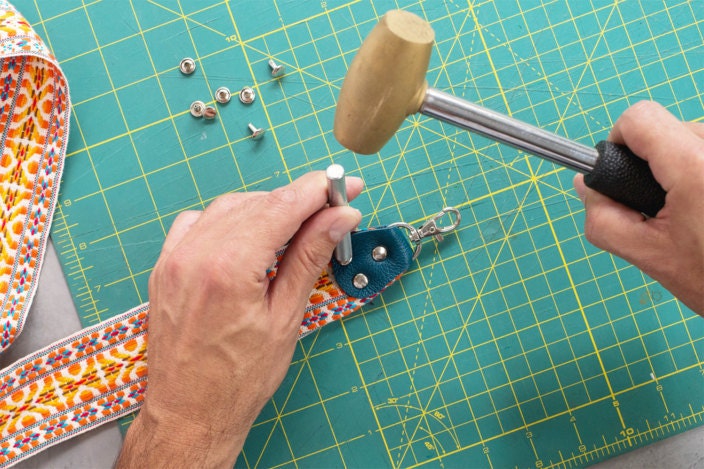 For the final step in this DIY camera strap, position a rivet in each hole and use the mallet and rivet setter to set. Behold: the most beautiful photographer gift in town!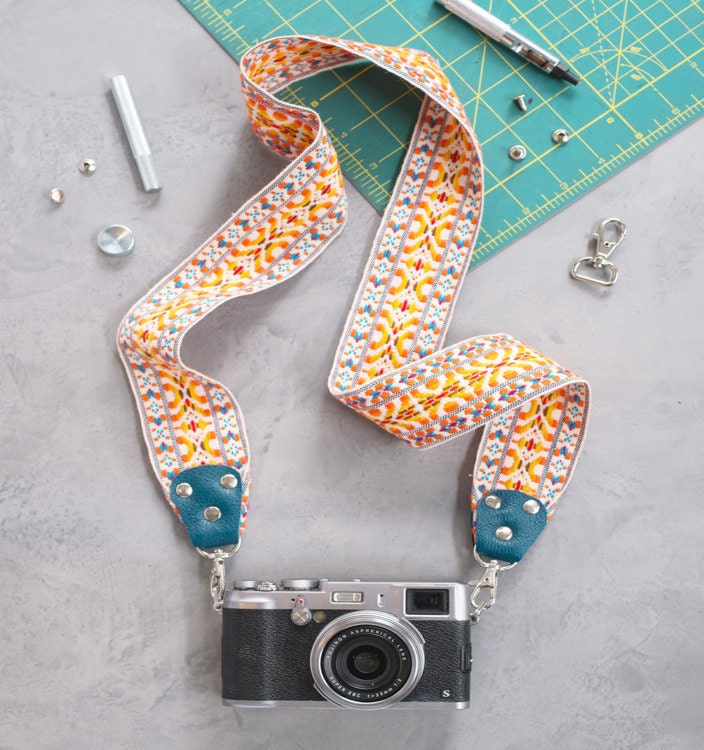 Project by Julie O'Boyle, Aleksa Brown, and Clare McGibbon. Photographs courtesy of Erik Valind.