by Etsy Staff
Lean into the popular back-to-nature aesthetic with a dried flower bouquet that exudes effortless beauty. We'll show you how, here.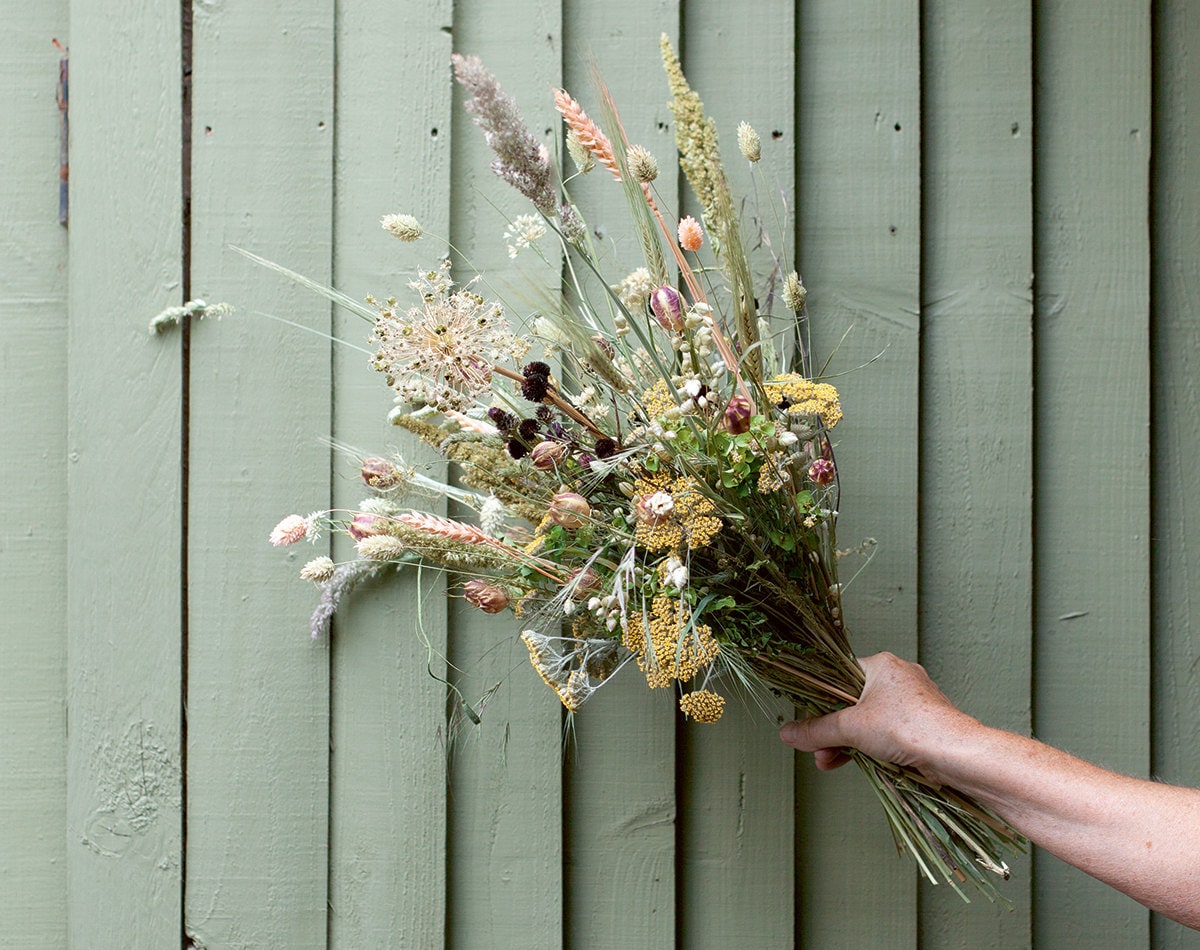 When it comes to selecting a bounty of blooms for your living room or assembling a bunch for a loved one, dried flowers are as long-lasting and beautifully low-maintenance as it gets. And while preserved petals have long been a popular pick, this spring, we're falling extra hard for romantic arrangements that appear to have been foraged straight from a sunny field, then dried upside down somewhere gorgeously scenic and styled to effortless perfection. (Side note: Swoon!) In that spirit, today we're excited to share a hand-tied dried flower bouquet project plucked from the forthcoming CUT & DRY: A Modern Guide to Drying and Styling Flowers (out May 18) by Carolyn Dunster, which features tips and tricks for nailing the natural look by preserving and displaying your own blooms—picturesque setting not required. 
Scroll on for the full excerpt, then be sure to place your dried flower order in time to remix your space for spring, or to assemble with mom on Mother's Day.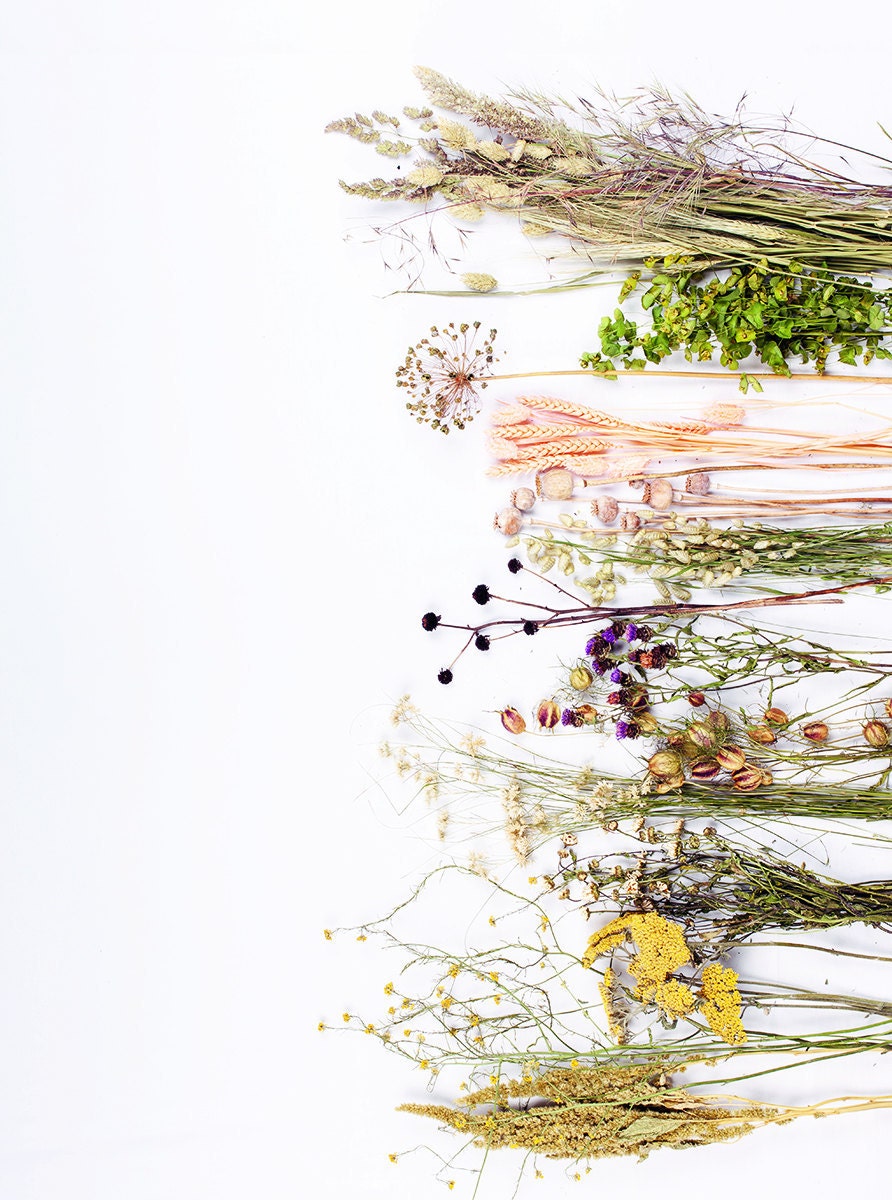 You will need
Mix of dried foraged grasses, such as moor grass (Molina), Persian rye grass (Lolium persicum) and flowering rye grass (Lolium)  
Mix of dried foraged flowers, such as yarrow (Achillea), field scabious (Knautia arvensis), ox-eye daisies (Leucanthemum vulgare) and rapeseed (Brassica oleracea)
12 stems of dried spurge (Euphorbia wulfenii)
1 dried ornamental onion (Allium) head
15 stems of dried barley (Hordeum vulgare)
18 stems of greater quaking grass (Briza maxima)
18 stems of dried canary grass (Phalaris canariensis)
3 stems of coneflower (Echinacea) seed heads
12 stems of love-in-a-mist (Nigella damascena) seed pods
12 stems of dried snow-white wood-rush (Luzula nivea)
3 stems of dried love-lies-bleeding (Amaranthus caudatus)
1 pair sharp flower snips 
Step 1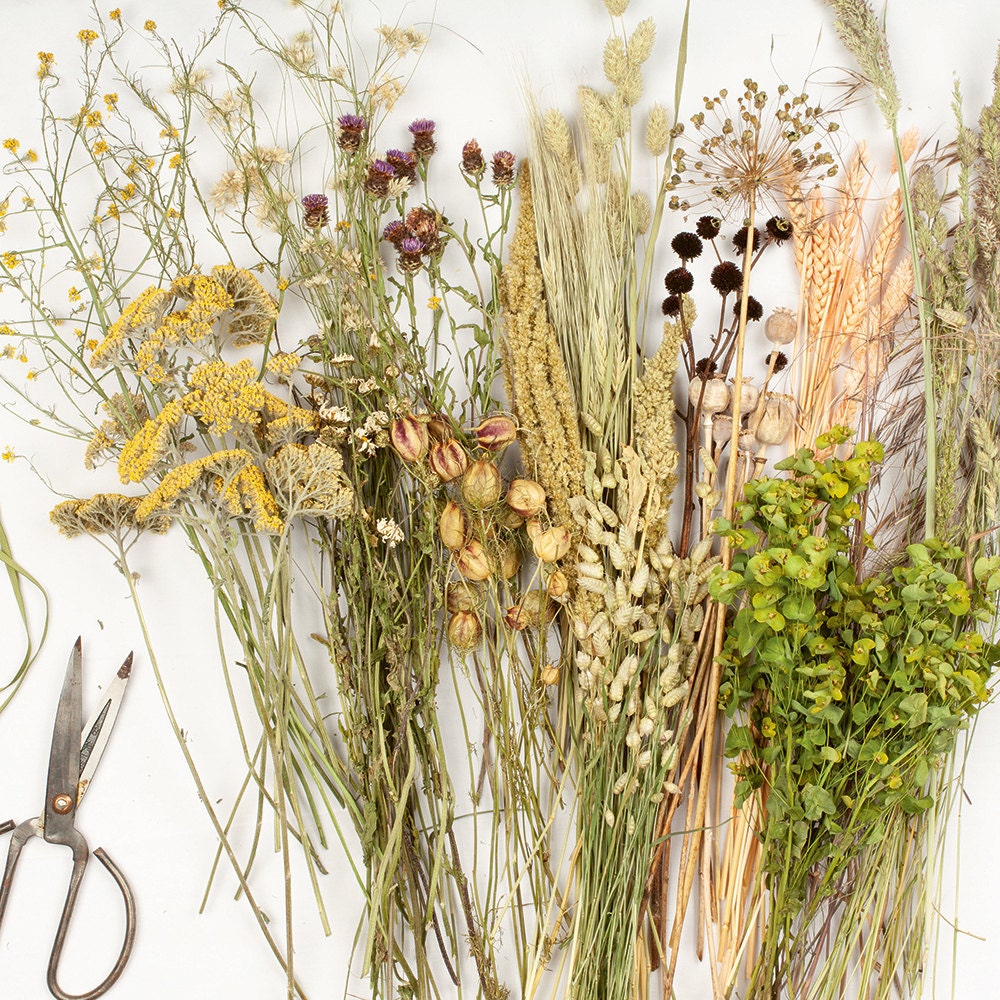 Lay your ingredients in groups on a flat surface in front of you.
Step 2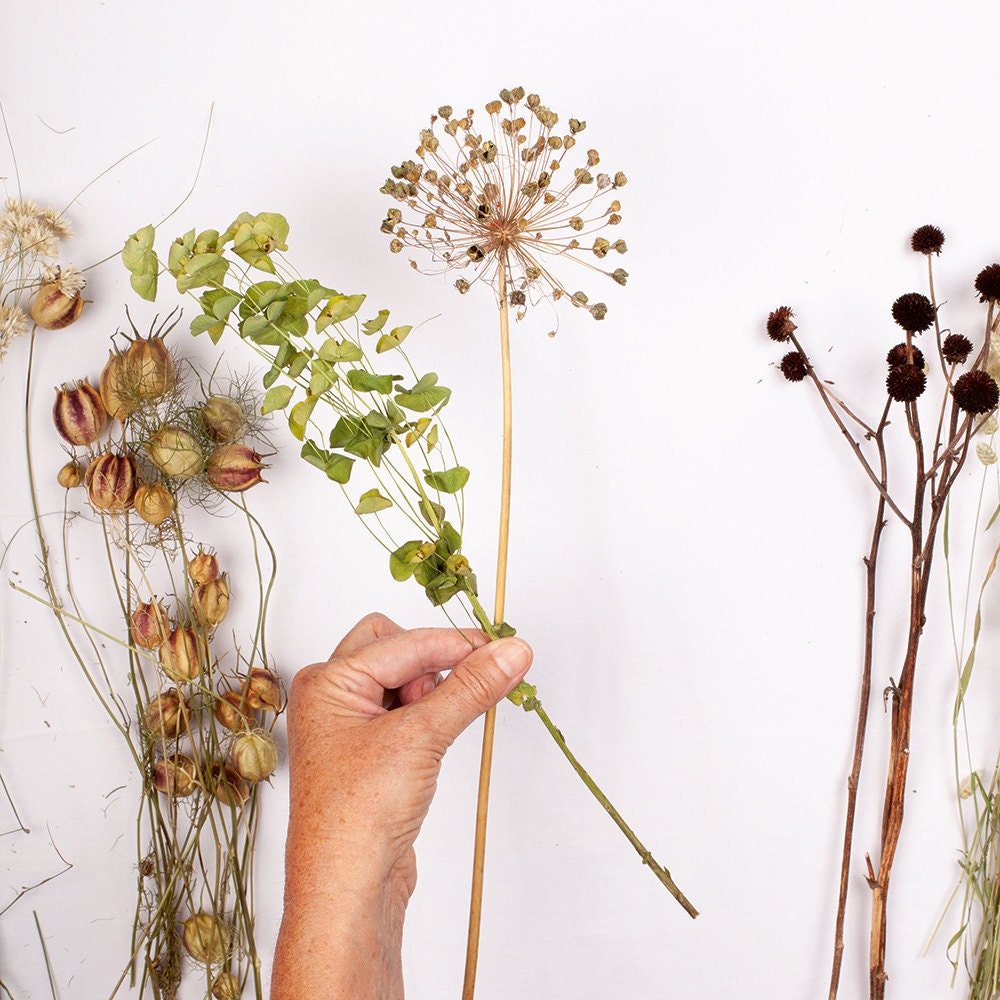 Start with your single Allium head, or another large round-headed flower, and keep this as your central point. Position the stem between the thumb and forefinger of your left hand if you are right-handed, or vice versa if you are left-handed. Add a spurge stem to cross over the Allium stem at a slight angle using your right hand. Take hold of it with your left hand and twist clockwise.
Step 3
Gradually add a few stems from each of your plant groups in rotation, twisting in the same direction as you go. You are holding them at what will be the binding point. Loosen your grip and hold midway down the stems for natural-looking results. The higher your binding point, the tighter your bouquet will be.
Step 4
Aim for an even, circular distribution of flowers, grasses and seed heads, and keep checking by holding it up. It's easier to remove anything at this stage than when it is tied.
Step 5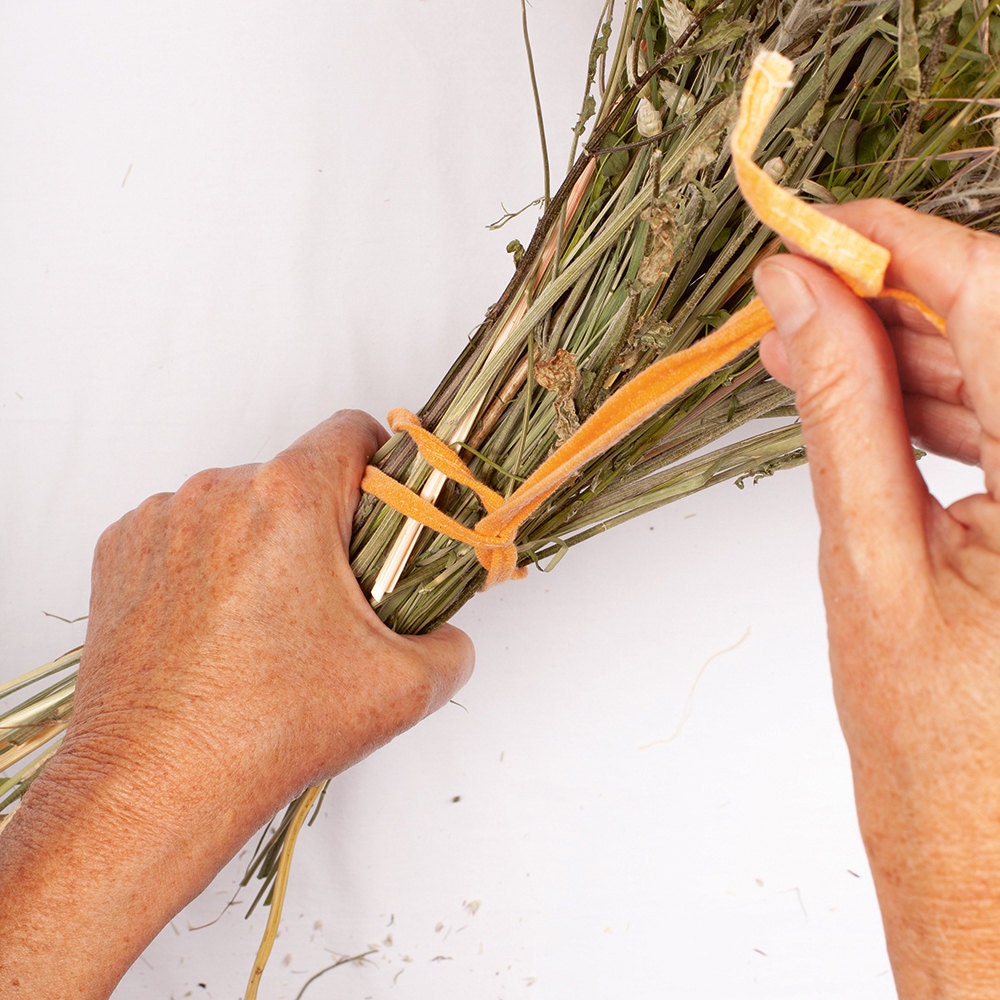 When you are happy with your shape, bind the stems with your twine or ribbon using a lasso-style knot. To create a naturalistic look, pull up some of the taller grasses and seed heads so they tower above the flowers.
Step 6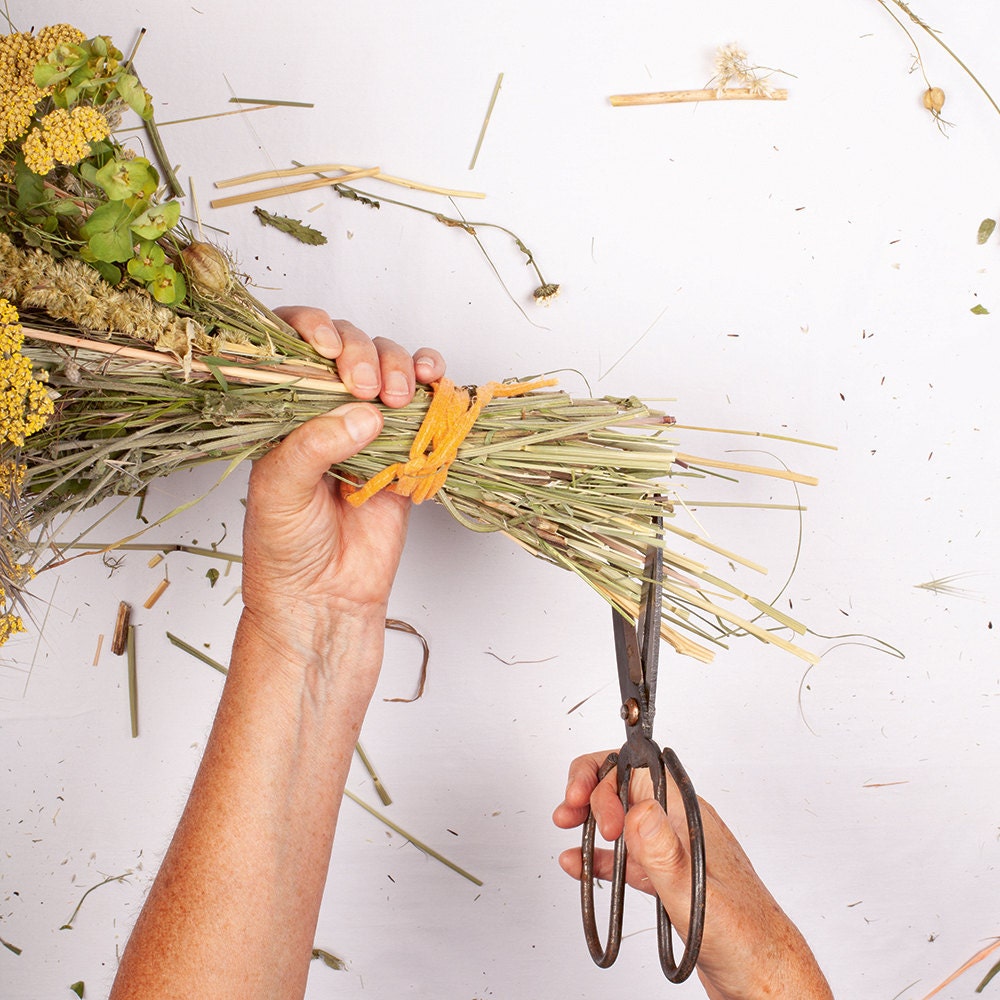 Finally, cut the stems to the same length on the diagonal. If you plan to display immediately in a vase, check the required height by holding your bouquet against the vase before you cut anything.
Feeling floral? 
Peep more blooming beauties to brighten up your day: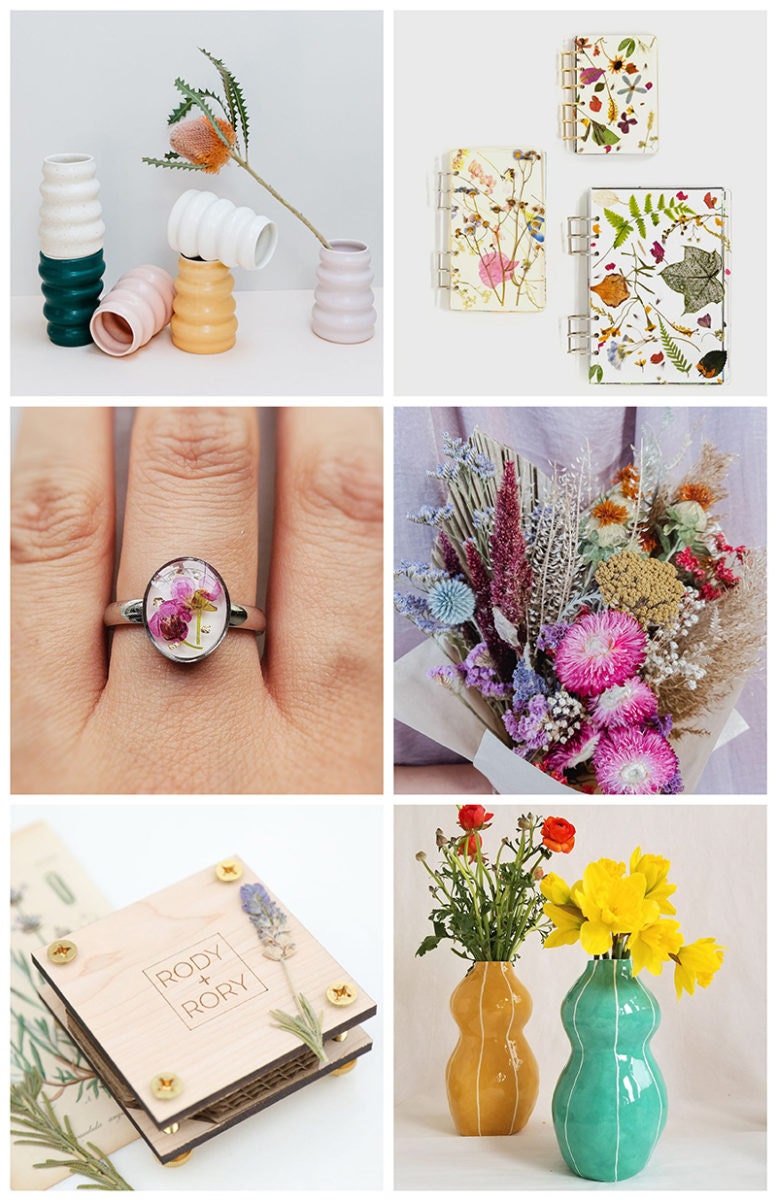 DIY photographs by Ida Riveros.
DIY project excerpted from Cut & Dry: The Modern Guide to Dried Flowers from Growing to Styling by Carolyn Dunster Copyright © 2021 by Carolyn Dunster. Excerpted by permission of Laurence King Publishing Ltd. All rights reserved. No part of this excerpt may be reproduced or reprinted without permission in writing from the publisher.