These polymer clay galaxy magnets will add joy to their home, school, or office. Here, we'll show you how to make them.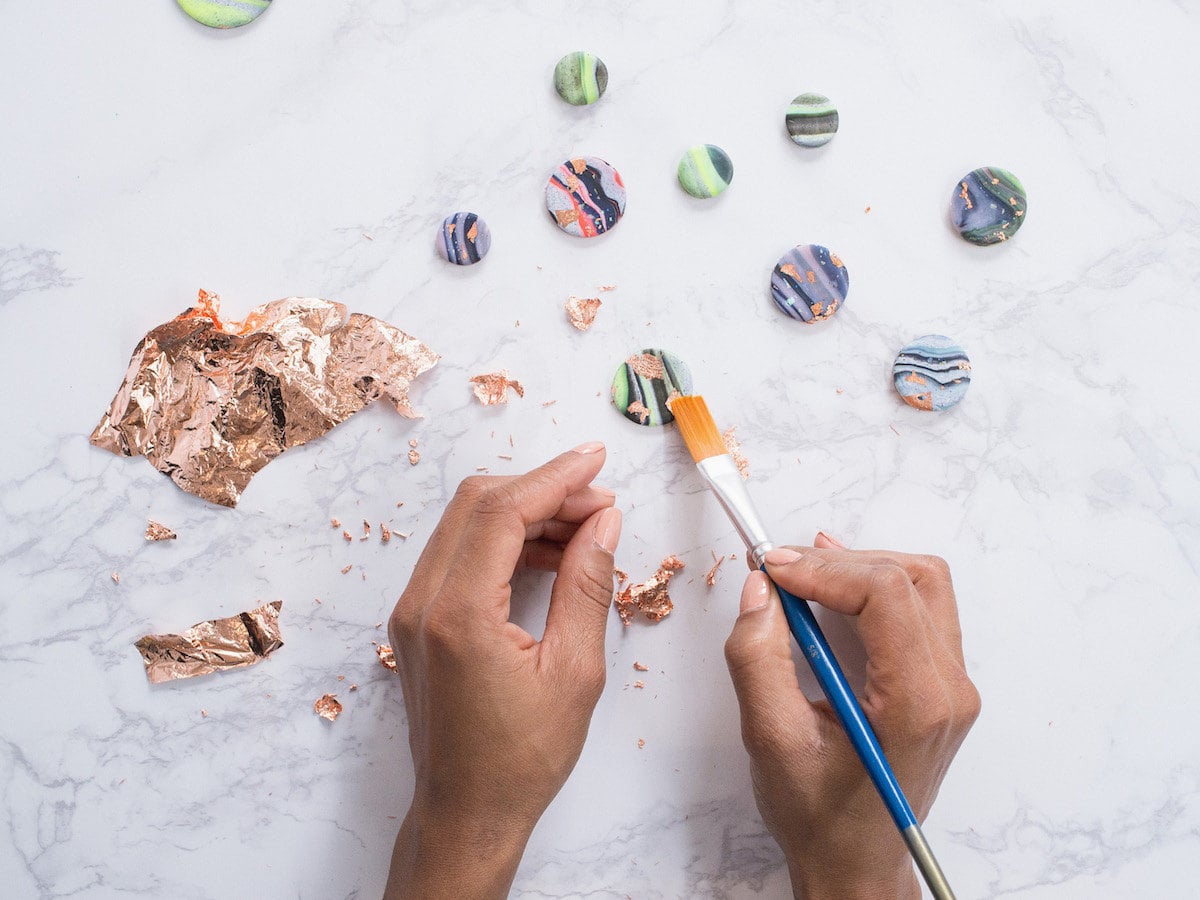 Looking for an out-of-this-world gift you can whip up quick? These DIY metallic, marbled galaxy magnets are just the thing to put a sparkle in their eyes. Crafted with oven-bake polymer clay and a little copper, gold or silver leaf, they're easy and fun to make—and they'll delight your recipient, whether they're using them to decorate their fridge, locker, or filing cabinet.
We made ours with neon clay and circle cookie cutters, but feel free to get creative. Try butterfly or mushroom cookie cutter shapes for more of a '70s vibe, or opt for star cookie cutters and clay with navy and silver swirls for something more celestial. Timing-wise, be sure to give yourself a few hours to complete this project since the magnets will need to bake and cool before you package them for gifting. Ready to begin?
Skill level: Beginner
Time: 1–4 hours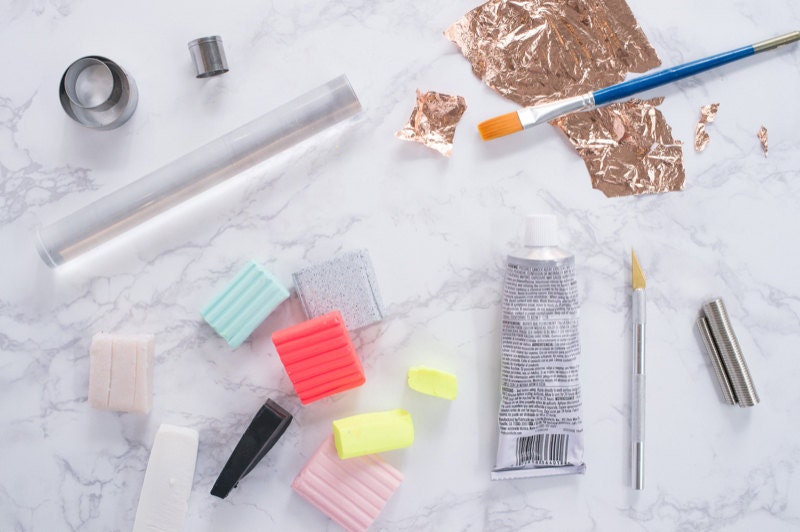 Materials:
Oven-bake polymer clay (in 3-4 contrasting colors)
Rolling pin
Hobby knife
Magnets
Industrial-strength adhesive
Step 1: Knead clay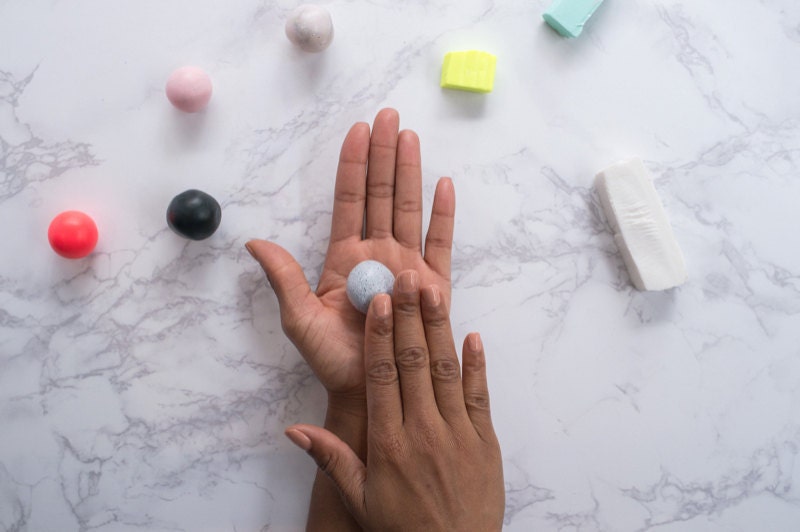 Remove polymer clay from packaging. Break off a small piece of each color and knead with your hands to soften (about two minutes). Tip: Wash your hands between colors to avoid color transfer.
Step 2: Roll clay into long strands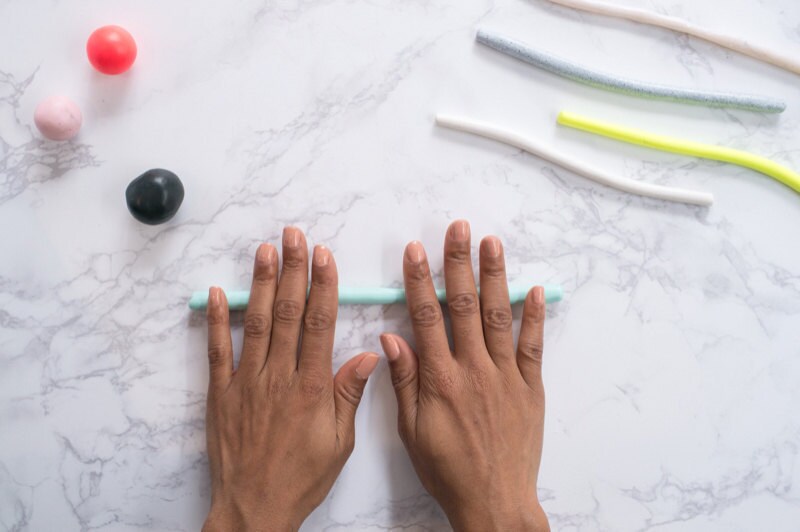 Once clay has softened, roll each color into long strands. These don't have to be equal in size; some can (and should!) be thicker than others.
Step 3: Combine strands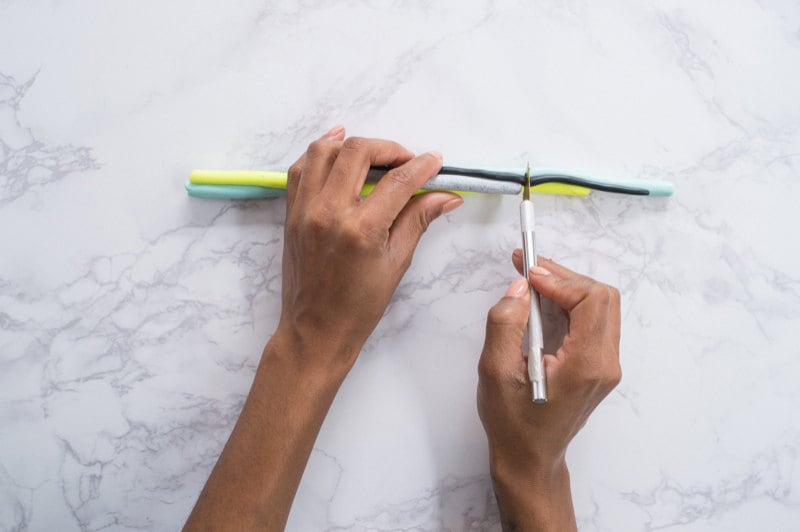 Line up your clay strands side by side and combine to make one giant strand. Trim the edges if needed.
Step 4: Twist, roll, fold, repeat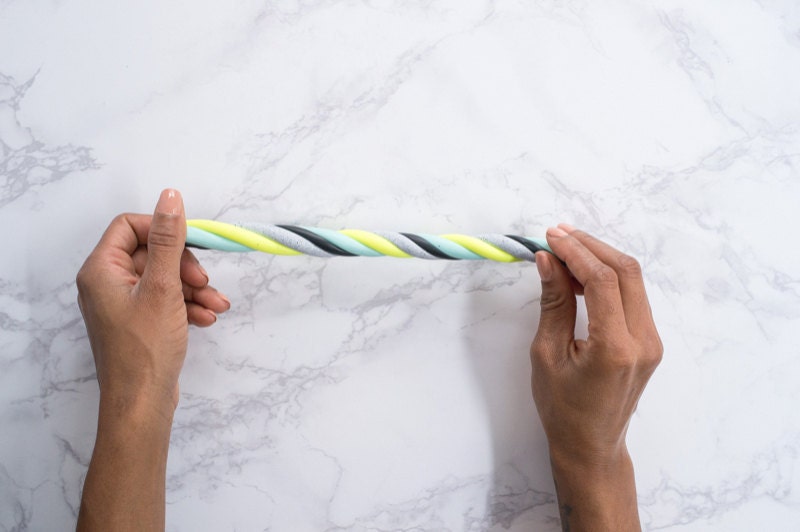 Twist your giant clay strand until a swirl pattern results.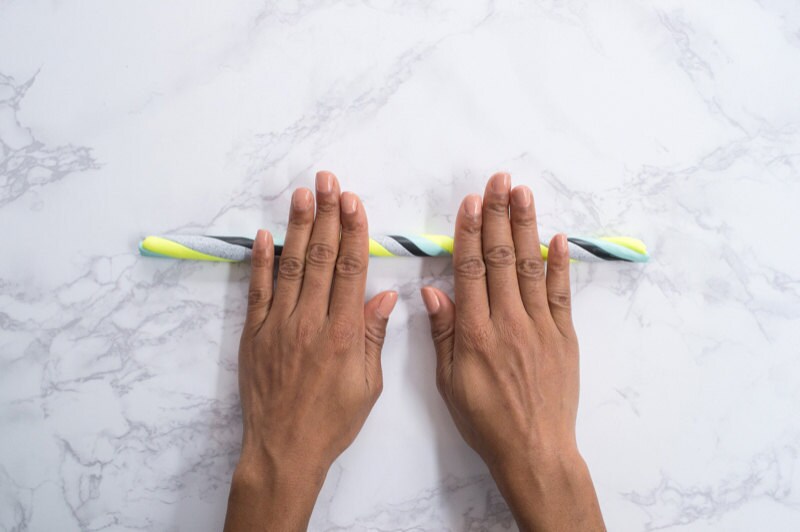 Roll out the twisted strands with your hands until it's twice as long as when you started.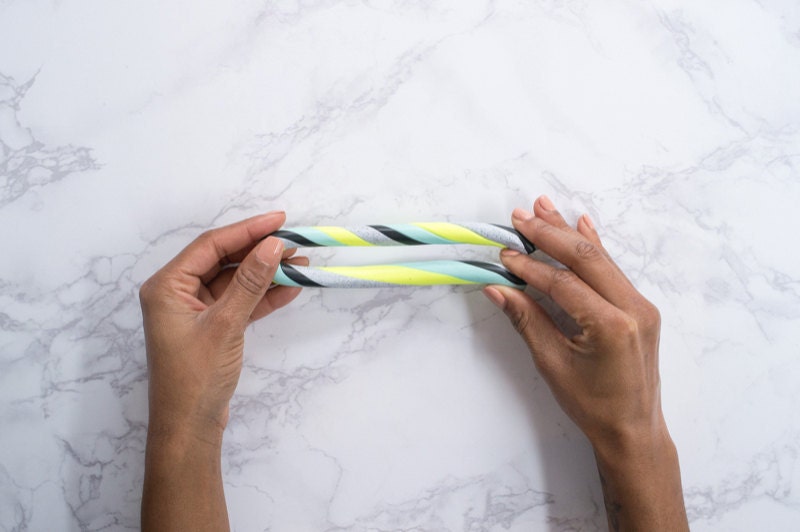 Fold the strand in half.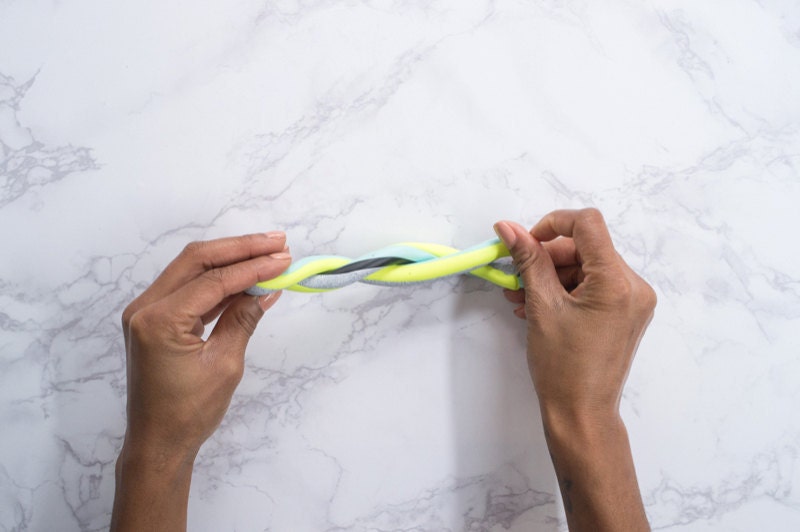 Twist again. (The more you twist and combine colors, the more marbled your magnets will appear.)
Step 5: Roll out clay with a rolling pin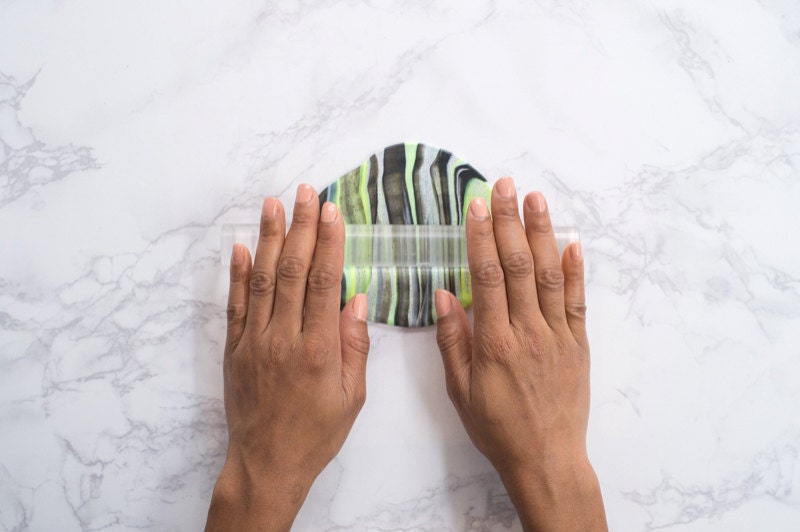 Next, use a rolling pin to roll out the clay strand to an even thickness.
Step 6: Cut out shapes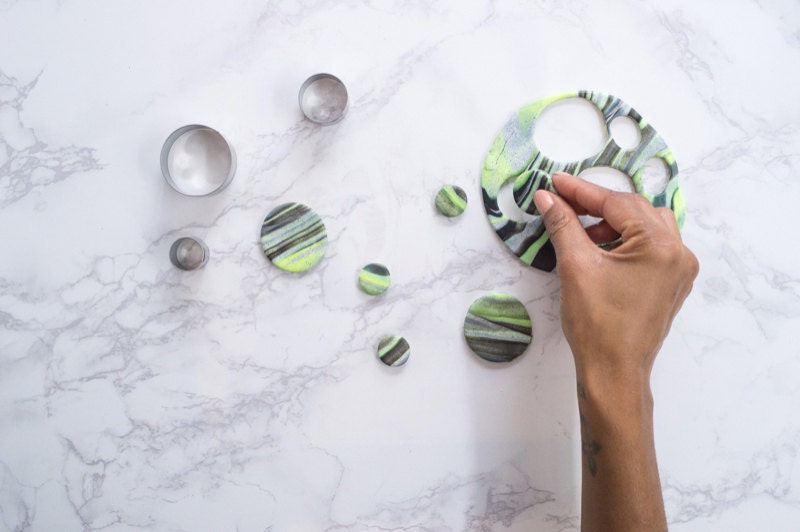 Use cookie cutters to cut out shapes.
Step 7: Add gold leaf and bake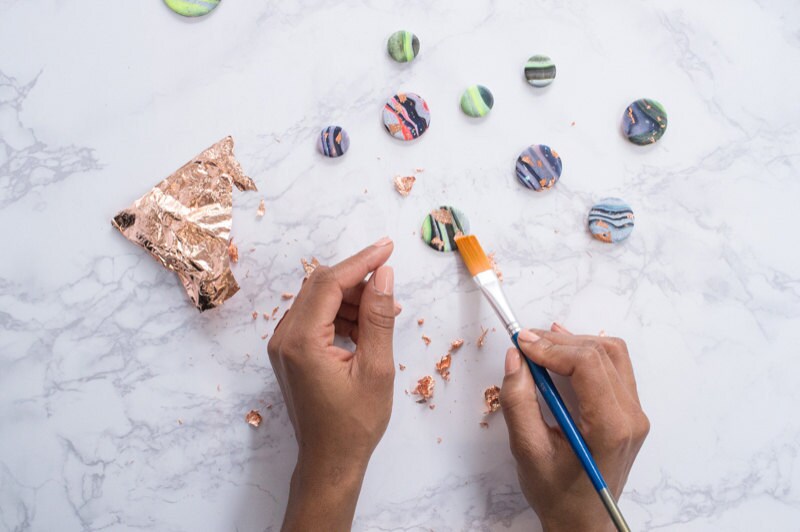 Use a small paintbrush to add gold, copper, or silver leaf to your shapes. Set finished shapes on a cookie sheet and bake according to package instructions.
Step 8: Glue on magnets and let dry, then package for gifting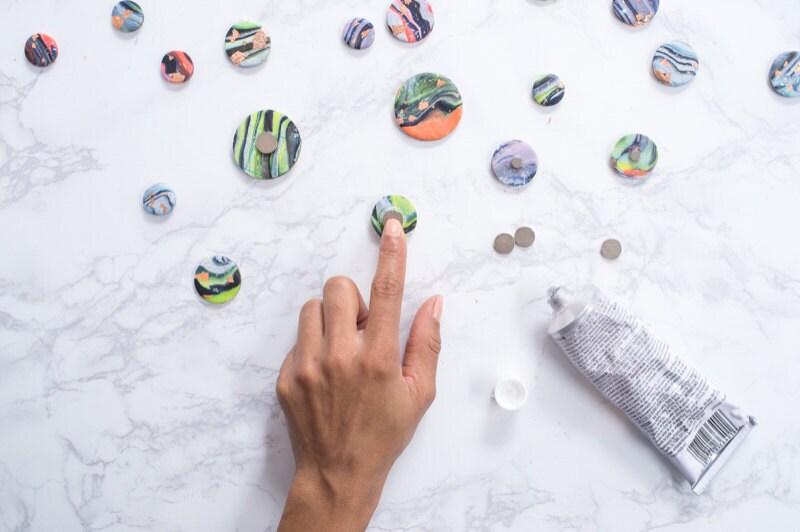 Once the shapes have cooled, use an industrial-strength adhesive to add magnets to the backs of your shapes. Let the glue dry, then package for gifting!