Learn how to make beautiful one-of-a-kind patterns on paper and fabric with these tried-and-true marbling tips from Etsy makers.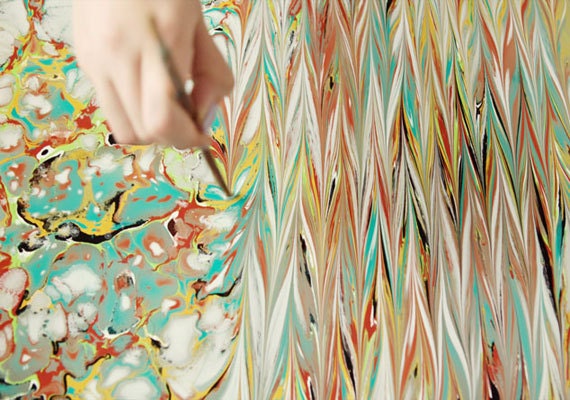 Whether you're an experienced crafter looking for a fresh outlet or a novice hoping to find the best avenue to channel your creative urges, there's no time like the present to pick up a new craft. In the Learn From the Experts series, we poll some of the most skilled and inspiring sellers on Etsy for their top beginner tips. 
"Marbling is a very expressive art,"
says New York-based fiber artist Natalie Stopka, the owner and designer behind the shop 
Natalie As Is
. "Each print is the culmination of a tiny performance in which the artist interacts with a fluid medium, revealing their personality." That expressive, interactive aspect of the art form — and the inevitably one-of-a-kind results it produces — are precisely what appeals to artists like Natalie, who stocks her shop with swirl-patterned silk ribbons, scarves, journals, guest books, and table linens. It also accounts for marbling's centuries of use as a watermark and counterfeit deterrent (since no two designs are exactly alike); an embellishment for the end pages of rare and precious books; and, later, as a welcome decorative flourish for dressing up the insides of drawers, chests, and more.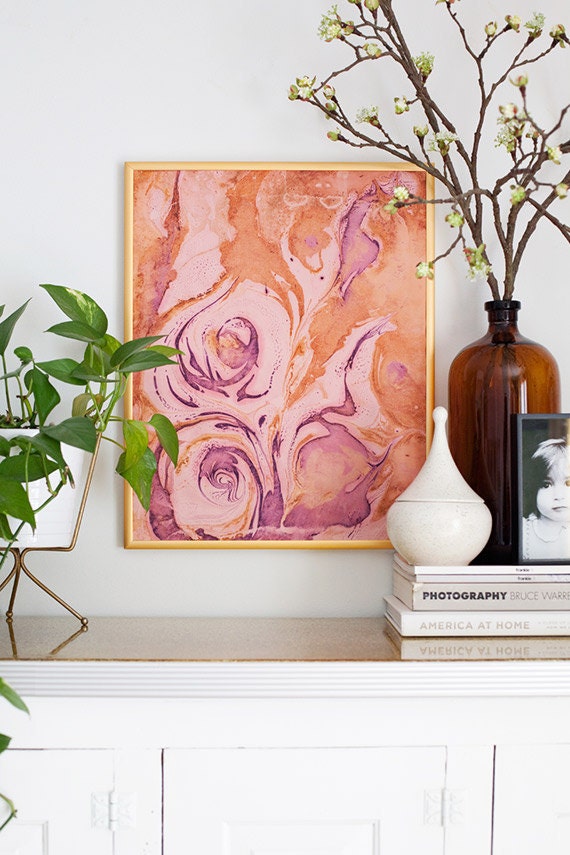 A Beautiful Mess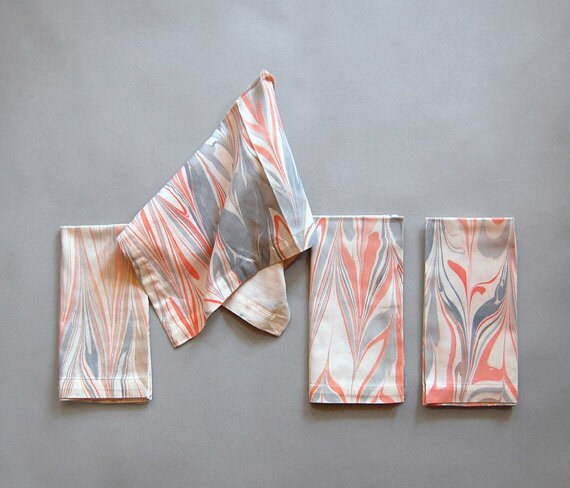 NatalieAsIs
While the process varies from tradition to tradition (and according to the materials used), the
basic idea is to create patterns
with paint or other pigment on the surface of a trough of water (often treated with a thickening agent), and then to transfer them onto the surface of a piece of paper, fabric, or any other object whose exterior has been prepped to receive and hold the pigment. It's an inherently experimental pursuit, and one with almost endless potential for increasing complexity — as well as for happy accidents. "Marbling is well suited for many personality types — those who are spontaneous, improvisational, super-patient, abstract, random — but it's definitely not a craft for the detail-oriented," says
SilksByLucia
designer Lucille Scelfo, a self-taught marbler with two decades of dabbling under her belt. "
Marbling has a mind of its own and can be controlled only to a point
," she says. Are you ready to give marbling a whirl? Then read on for advice on picking a project, buying supplies, and avoiding common pitfalls of the process.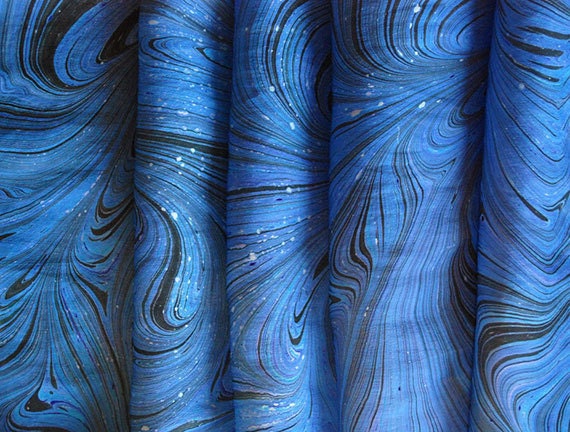 LucidOpticLab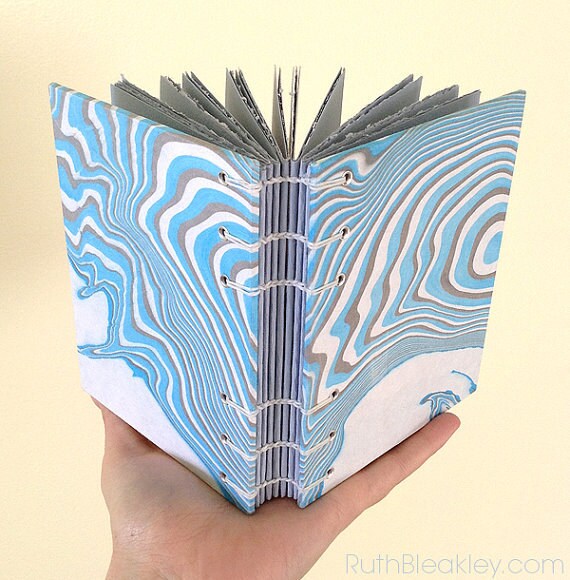 RuthBleakley
Picking a Project
While advanced crafters can tackle marbling on garments, home accessories, and even guitars (!), you'll want to set yourself up for success with an easy project in the beginning. "Marbling on paper is the simplest place to start," says Heidi Reichenbach Finley of Marbling Supplies. "It's easy to make bookmarks, placemats, and papers for origami and scrapbooking — whatever tickles your fancy." Plus, working with paper is easier, less expensive, and less time-consuming than working with fabric, says Etsy Admin (and resident marbling expert) Clare McGibbon. "You can experiment with colors and patterns you like on paper, and then move on to fabric or other materials," she says.
Still, since even basic paper projects require some investment of time and materials, you'll get the most bang for your buck (and your setup efforts) by inviting some friends to marble with you. "There are many steps to setting up the marbling process, so if you have less than 12 projects to marble, it's not cost-effective," Lucille says. You know what that means: Marbling Party! It's a piece of cake to find inspiring paper-based tutorials: A Beautiful Mess, Martha Stewart, DesignSponge, HonestlyWTF, and Food52 have all published great-looking projects with plenty of detailed description. And once you're ready to tackle marbling on fabric, check out Etsy's own step-by-step tutorial for making a back-and-forth-patterned silk scarf.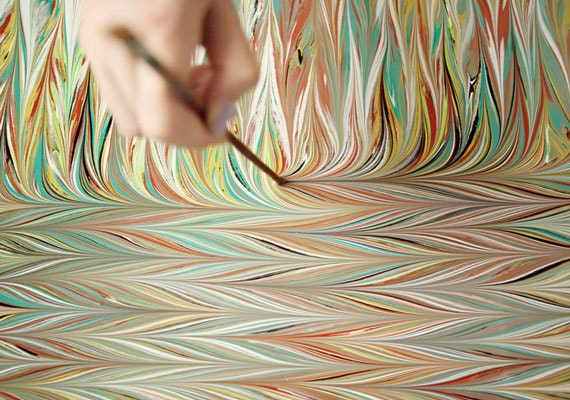 Romain Laurent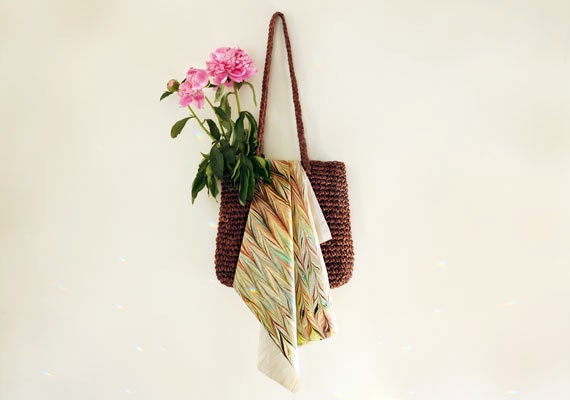 Learn to marble fabric with this Etsy-exclusive how-to.
Choosing Your Materials
Before you buy your first bottle of paint, read the instructions for your chosen project carefully to ensure you're bringing home everything you need (and nothing you don't). That said, our pros have a few general tips for sourcing the supplies most beginners will encounter.
Go basic with paper.
 "The best paper to start with is regular construction paper," Clare says, which you can prep with a quick-drying alum spray before beginning the design process. A variety pack that includes some light colors will come in handy, since the hues that contrast most with the paper are the ones you'll see most vividly.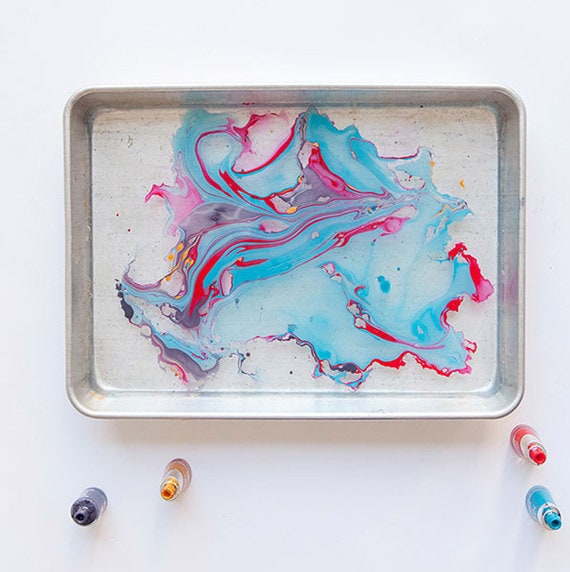 Oh Happy Day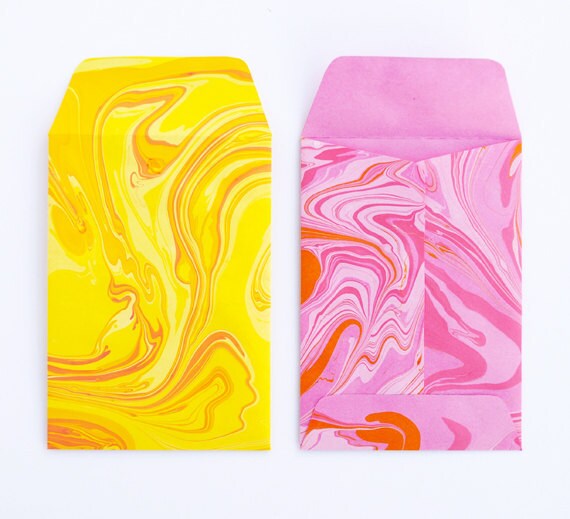 Minieco
Thin is in (with paint, that is).
 "Do some research online to find acrylic paint that's on the thinner side," says Clare, who prefers the
Apple Barrel brand
. "You want it to be the consistency of whole milk." (Paint that is too heavy will break the surface tension on the water and sink to the bottom of the trough.) If you do end up with a thicker formula, don't fret: you can mix acrylic paint with water to achieve the right density.
Consider a kit.
 "Since marbling is not as commercialized as, say, knitting or beaded jewelry making, I suggest buying a kit,"' Heidi says. "A $15 set from the craft store will offer a general introduction — sort of like one of those pot holder looms if you want to learn how to weave." Clare concurs: "When you're starting out, individual supplies can be pricey, and they all add up — I would recommend going in with friends and working on projects together or buying a kit to save money."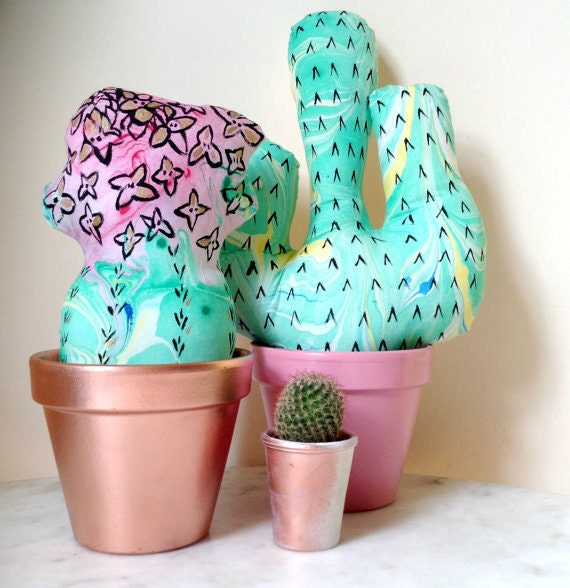 PupTartHandmade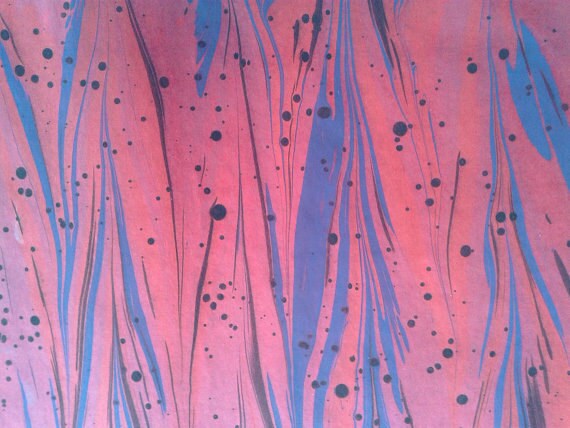 cartevenezia
Choose your container wisely.
 "The size of the piece you want to marble will be limited by the size of the container you use," Clare says. Select a vessel whose opening (and therefore, the surface area of the water you'll fill it with) is at least as large as the paper or fabric you plan to marble on. A good multipurpose option is a large plastic storage container like the kind you can slide beneath a bed, with a depth of about six inches. "And use a light-colored style so you can see the colors in your design as you work," Clare says.
Experiment with extras.
While marbling supply shops sell brushes, combs, and other tools for making more intricate designs in the paint, it's also easy to make some instruments of your own. "Some people like to create their own brushes," Clare says. "One common brush is like a little broom that you make by tying some natural bristles together. You can also create a custom comb that's the width of your container by attaching toothpicks to a ruler or another piece of wood," she says. Even a toothbrush can be called into service: Just dip it in paint and run a finger across the bristles to produce a speckled effect.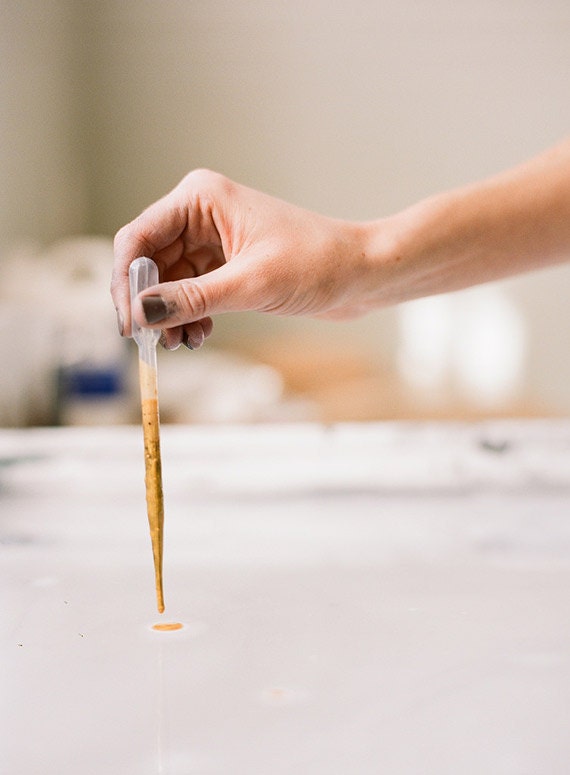 Food52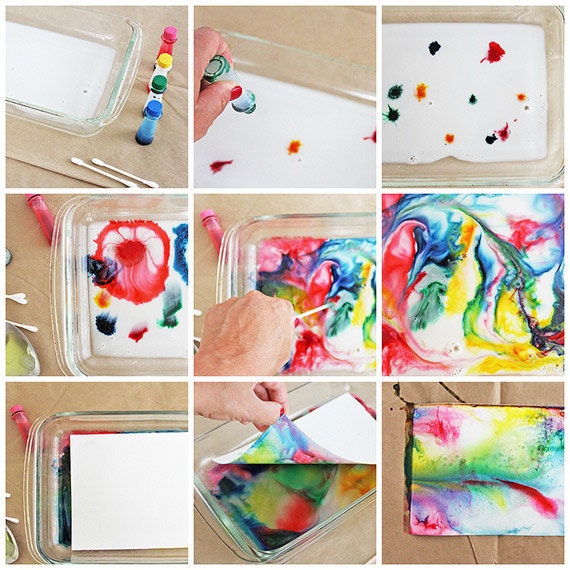 Babbledabbledo
Rookie Mistakes (and How to Avoid Them)
Learn the basics.
"I've noticed two main pitfalls: Expecting magic from poor-quality materials and expecting to be an expert immediately," says Heidi. "To avoid these, first learn the basics. This means reading (
How to Marbleize Paper by Gabriele Grunebaum
 is my favorite book for beginners), finding a good instructor or mentor to teach you, and/or investing in good-quality marbling paint and materials that come with instructions. YouTube is also an amazing resource: There is always someone using new tools or coming up with a new technique and sharing that information," Heidi says. And mine the whole range of expertise, Lucia says: 
"Discovering the science and history behind marbling in older books will give you a better perspective and appreciation of the craft and how it developed, while newer books and YouTube videos are good for modern techniques." 
It may seem like a lot of studying for such a free-form craft, but the investment pays off. "Learning the fundamental skills and chemistry underpinning the craft freed me from the frustration of my early attempts — most of the time at least," says Natalie. "Since then, I've been able to develop my own aesthetic and experiment more boldly."
Get close and work fast. 
"If you add paint colors too slowly, they will start to sink — you want to be quick and decisive," Clare says. "And stay within a couple of inches of the surface of the water as you add paint, or it can break the surface tension and sink as well. Instead of dropping paint from high above, get some paint on a brush and drip, tap, or flick it onto the water's surface," she says.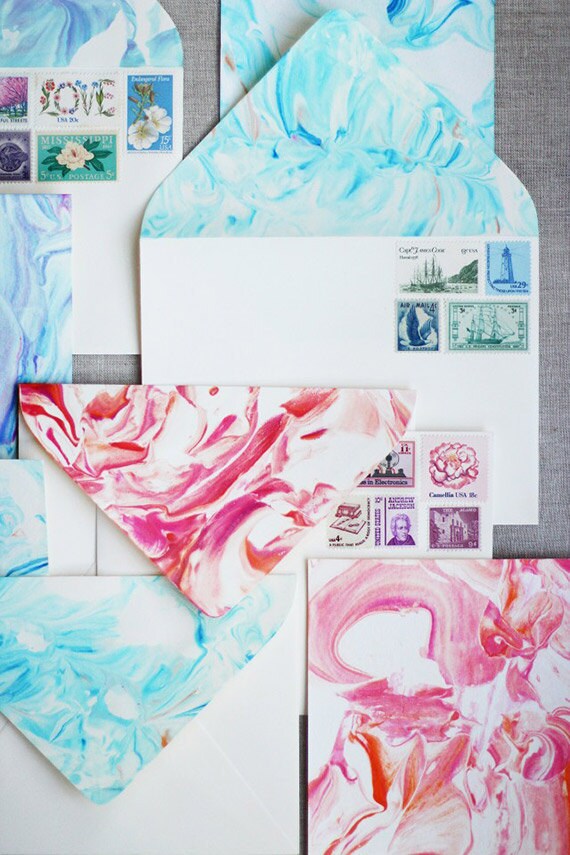 HonestlyWTF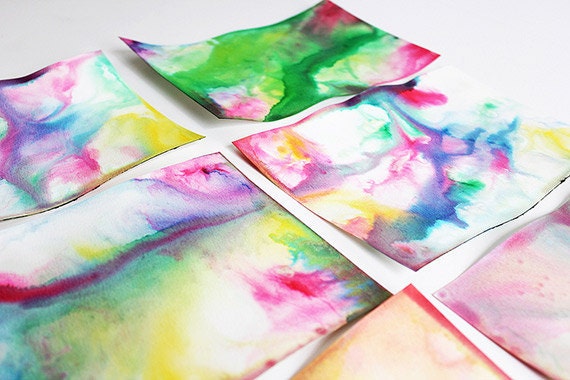 Babbledabbledo
Find the balance
. "It's very easy to add either too little or too much paint," Clare says. "If you have too little, you'll see that your colors are really pastel or dull. A lot of people underdo it — and then shift to the total opposite and overdo it. You have to learn through practice what the balance is."
Don't use every color in the rainbow at once.
 As tempting as it may be to incorporate your whole range of paints into your early projects, showing restraint yields big rewards. "People often want to overdesign a print, but too many intricate designs and patterns makes the print look murky," Clare says. "When you're starting out, work with just two to four colors until you get the hang of it, and then repeat some of those same colors if you decide you want more pattern in a piece," Clare says.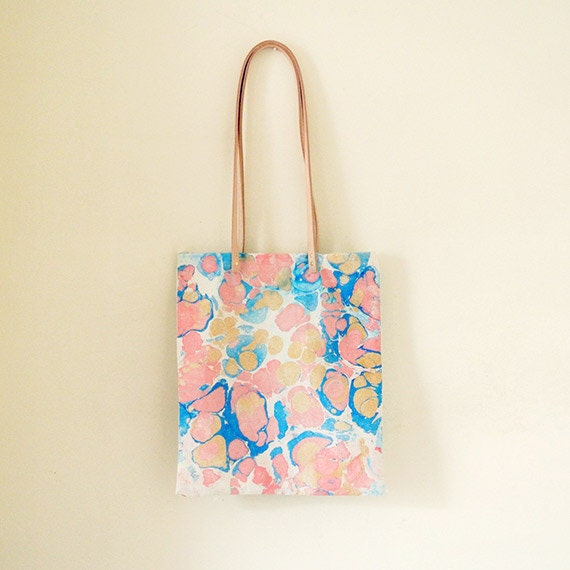 PupTartHandmade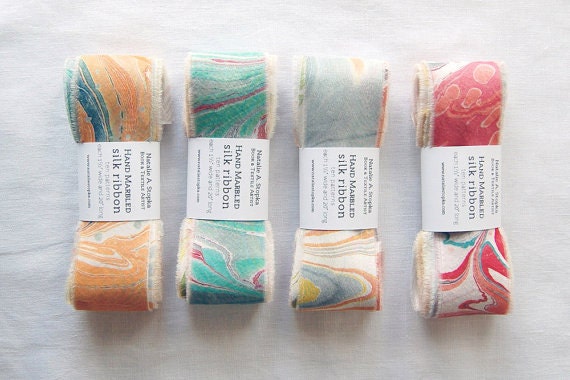 NatalieAsIs
Dip from the middle.
When lowering the paper onto the water's surface, picture a happy face, not a rainbow.
"Hold the two ends of the paper in your hands and make a U shape, then start dipping from the middle," Clare says.
Prep a place for prints to dry.
Whether you plan to lay your projects flat or hang them up to dry, you don't want to be scrambling around with a wet work of art in your hands and nowhere to put it. Since marbling materials can be messy (and slippery), you'll want to protect both your work area and the drying station with a plastic tarp or large sheets of thick kraft paper that you can easily clean up afterward.
Extra Credit
"After studying marbling in the European tradition, with its formal pattern-making, I returned to Japanese
suminagashi,
which I was first introduced to in high school," Natalie says. "Because suminagashi developed within the framework of Buddhism, the artist's role is relatively passive. Rather than fix your mind on the pattern you will achieve, as in the Western tradition, the suminagashi artist
gathers all the marbling materials and creates conditions in which they can express themselves
. For me, this frame of mind is conducive to greater freedom and less vexation in the studio, regardless of what pigments and style I am working in."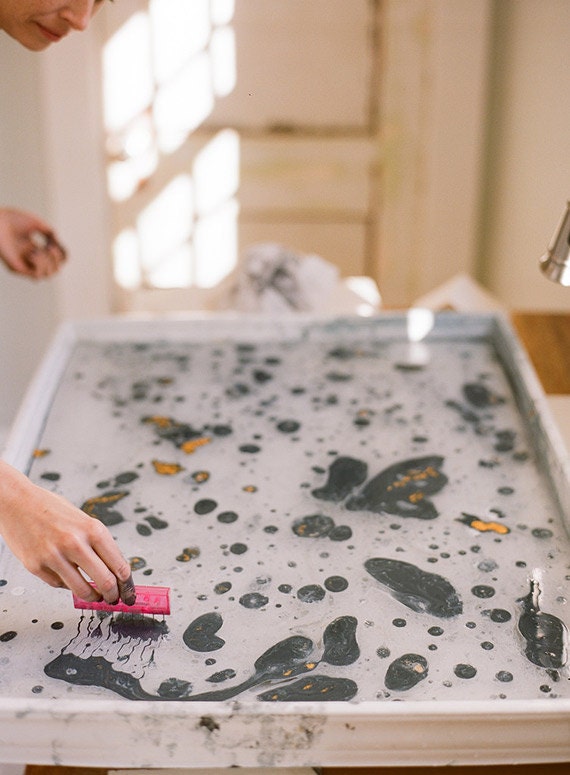 Food52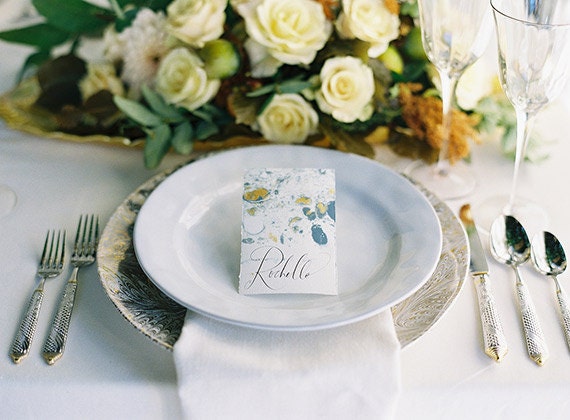 Food52
"One of the greatest things about marbling is that you can't control it," Clare says. "It's amazing to watch how the paint moves on the surface of the water, and no matter how hard you try to control it, you can't — which is almost a good life lesson.
It's about learning how to let go and learning when to stop
. You can't push it too far; you have to get to know it and know its limitations, as well." "In marbling, I have learned
never to ignore my creative heart
," Heidi says. "That is, the little voice inside that interrupts at inopportune times and says, 'What would happen if you added yellow instead of blue?' Realizing that, after learning the basic process, there are no rules has set me free to make amazing discoveries."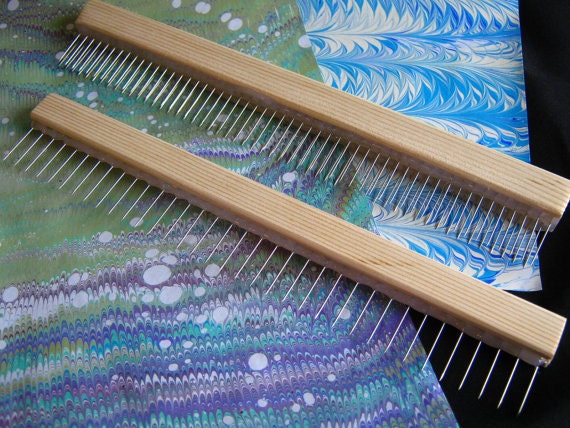 MarblingSupplies

Valerie Rains is an editor at Etsy.