Need a heartfelt little treat to fill some stockings? These easy DIY tassels jazz up everyday objects, delighting decor and accessories-lovers alike.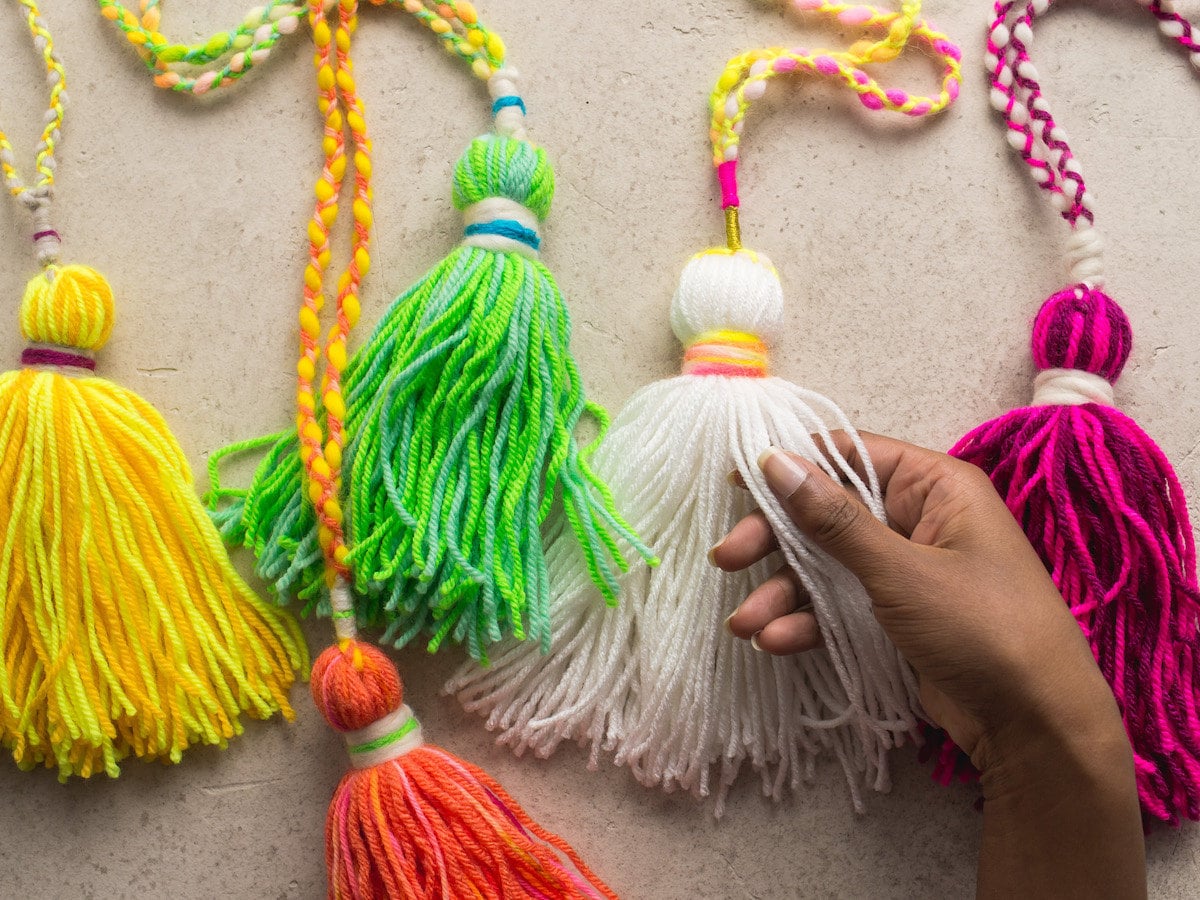 Still putting the finishing touches on your holiday presents? Now's the perfect time to put your yarn stash to good use (and save some money too!) with colorful DIY tassels you can tack onto gifts and tuck into stockings. The best part? In addition to being handmade by you, these decorative little extras are super versatile—from doorknobs and drapes to purses and planter baskets, there's no shortage of places to hang them and ways to style them.
In this tutorial, we'll show you how to make your own using chipboard (aka extra-sturdy cardboard) and a mix of hand-dyed and acrylic yarn. You can make yours as colorful as ours, or go monochromatic for loved ones who are more minimalist. Ready to learn the process? Let's get started!
Skill level: Beginner
Time: 1 hour or less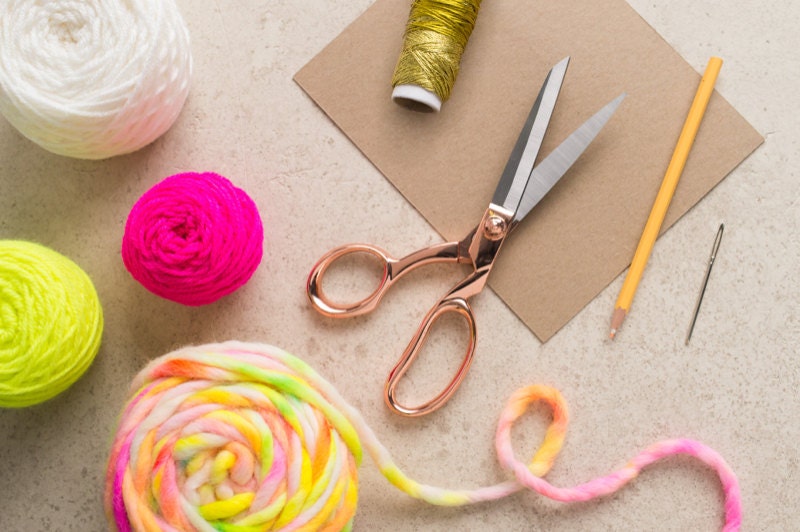 Materials:
Step 1: Cut chipboard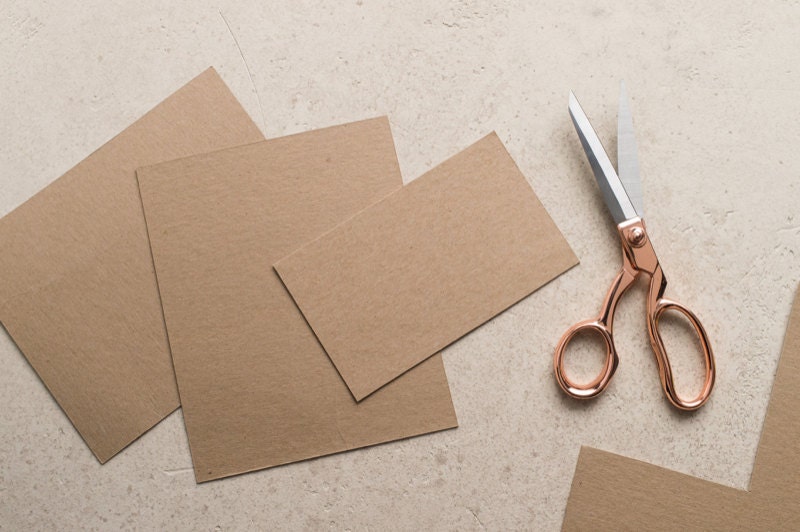 Decide how long you want your tassel to be. Next, cut a piece of chipboard that's 1 inch longer than your desired length. (For example, the tassels pictured in this project are 7 inches long; to make them, we used a piece of chipboard that was 8 inches long.)
Step 2: Braid yarn for tassel top string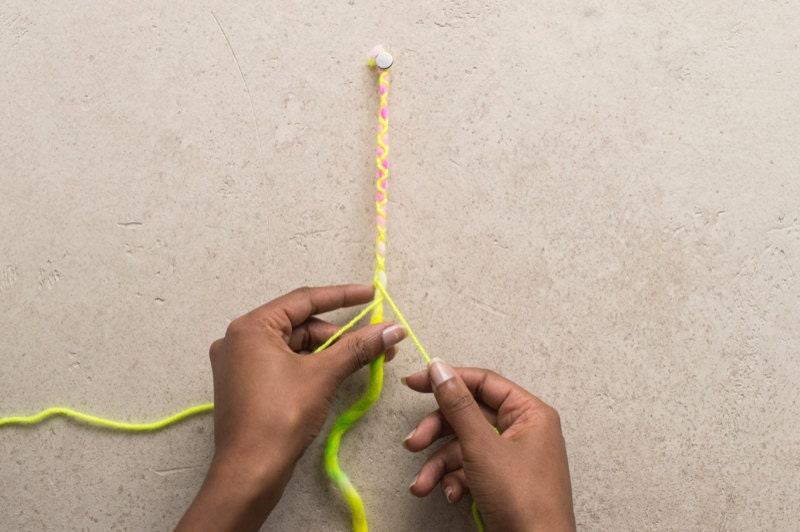 Decide what color(s) you want your tassel's top string to be. Knot together three strings of yarn in the corresponding colors and secure them to your workspace. Next, braid them together until you have a generous length to work with. (For reference, we used about 3 feet of yarn to make our top string.) When you're done braiding, knot the end and set aside.
Step 3: Wind yarn around chipboard to create the tassel body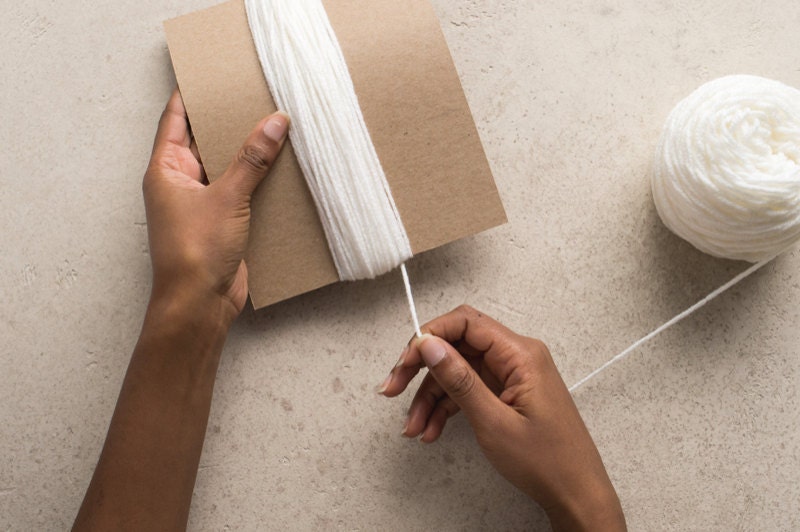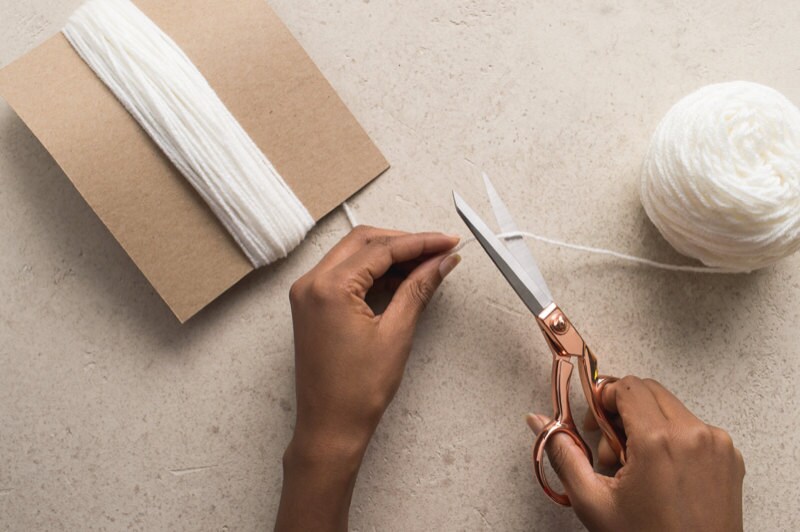 Now it's time to make your tassel body. To do this, wind yarn around the tall side of your chipboard. Continue winding until you reach your desired tassel thickness. (We wound thin acrylic yarn around our chipboard about 80 times to get our chunky boho style.) To make a multi-colored tassel, double up yarn colors and wrap at the same time. Tip: Avoid wrapping the yarn too tightly around the chipboard as this will make it difficult to remove in the next step.
Step 4: Loop your top string underneath the tassel body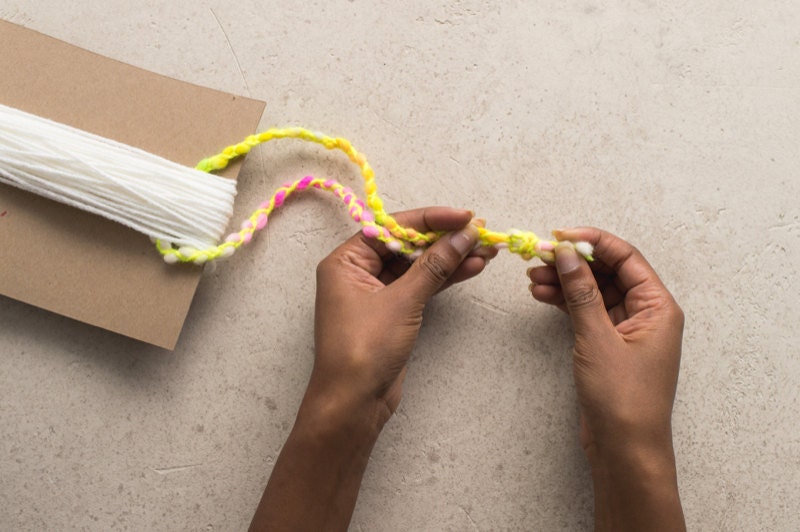 When you reach your desired thickness, slide your braided top string between your chipboard and yarn. Tie the braided piece in a knot to create a loop. Next, hide the knot under the yarn of your tassel body.
Step 5: Finish top string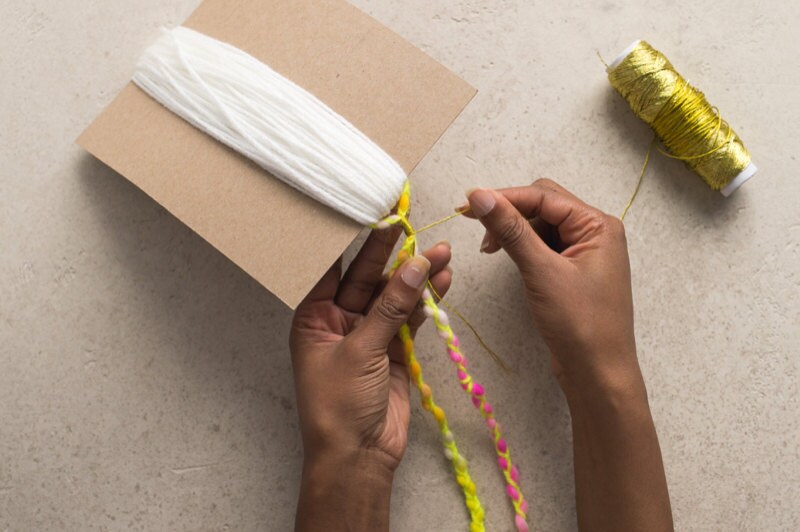 Using yarn or metallic embroidery floss, wrap the bottom inch or two of your top string (which is now a loop). Use one color to keep it simple or several colors for more decorative flair. When you're done wrapping, cut the yarn or floss and use a tapestry needle to tuck the ends underneath so they aren't visible.
Step 6: Remove tassel body from chipboard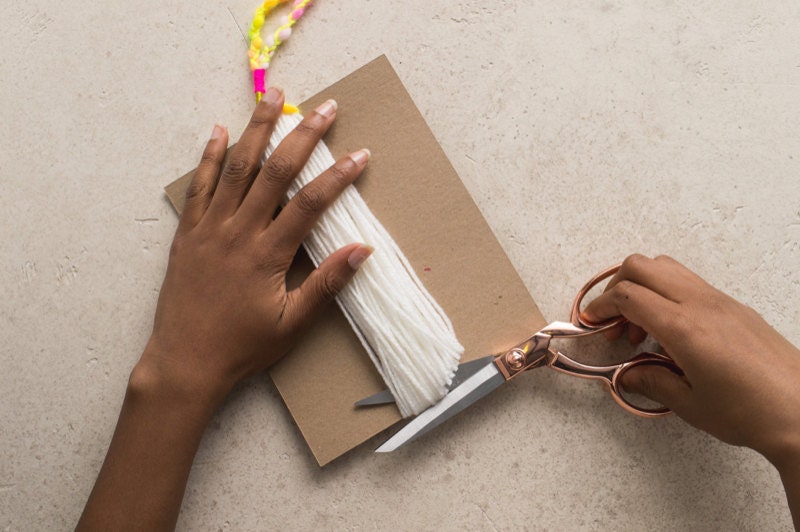 Cut the bottom of your tassel to remove from chipboard.
Step 7: Wrap the top of the tassel body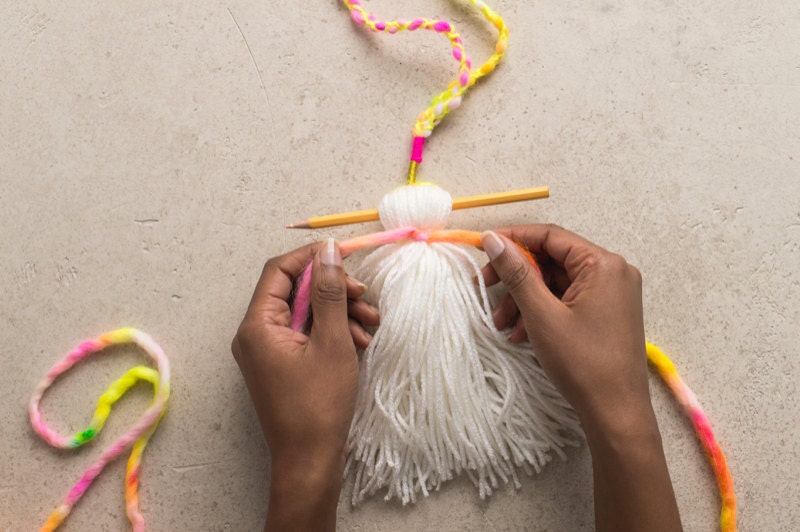 Divide the tassel body in two with a pencil, moving the pencil up as high as it will go. Wrap yarn around the tassel body (just below the pencil) about 10 times. Tie in a knot and cut. Hide the ends by tucking them in with a tapestry needle, as you did in Step 5.
Step 8: Trim the bottom as needed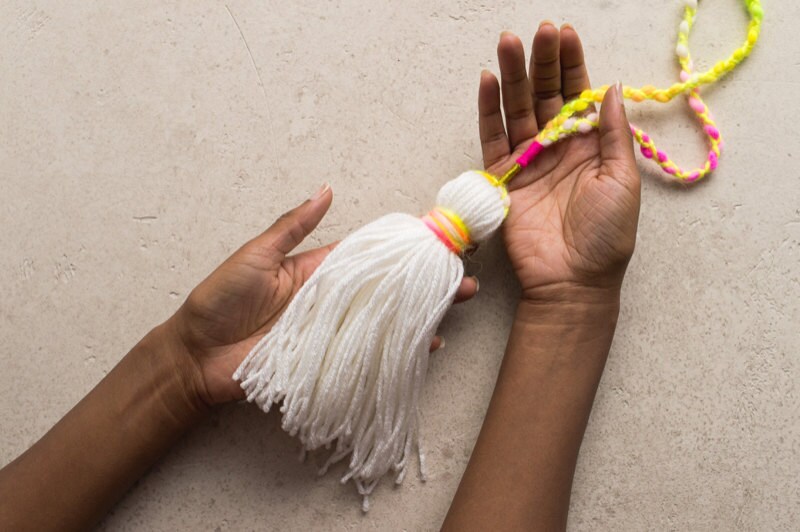 Trim the bottom of your tassel so the edges are even. Nice work! Now you're ready to get gifting.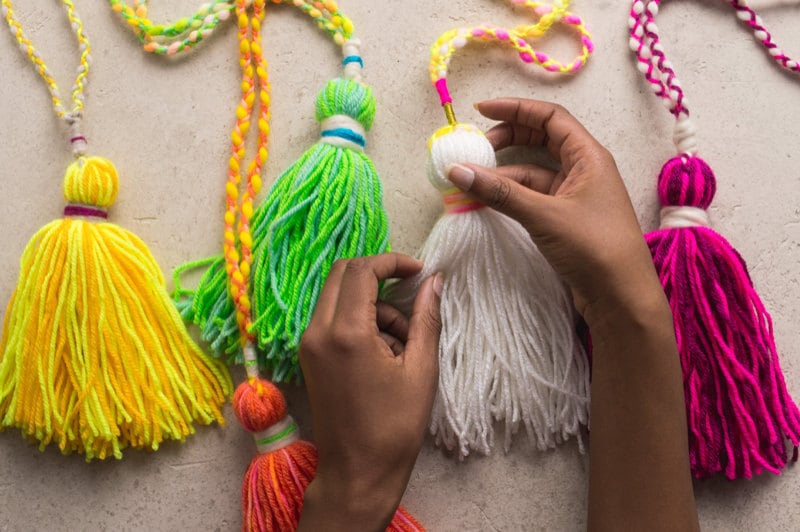 Plus: For more stocking stuffers with serious style, check out these playful picks from Etsy sellers.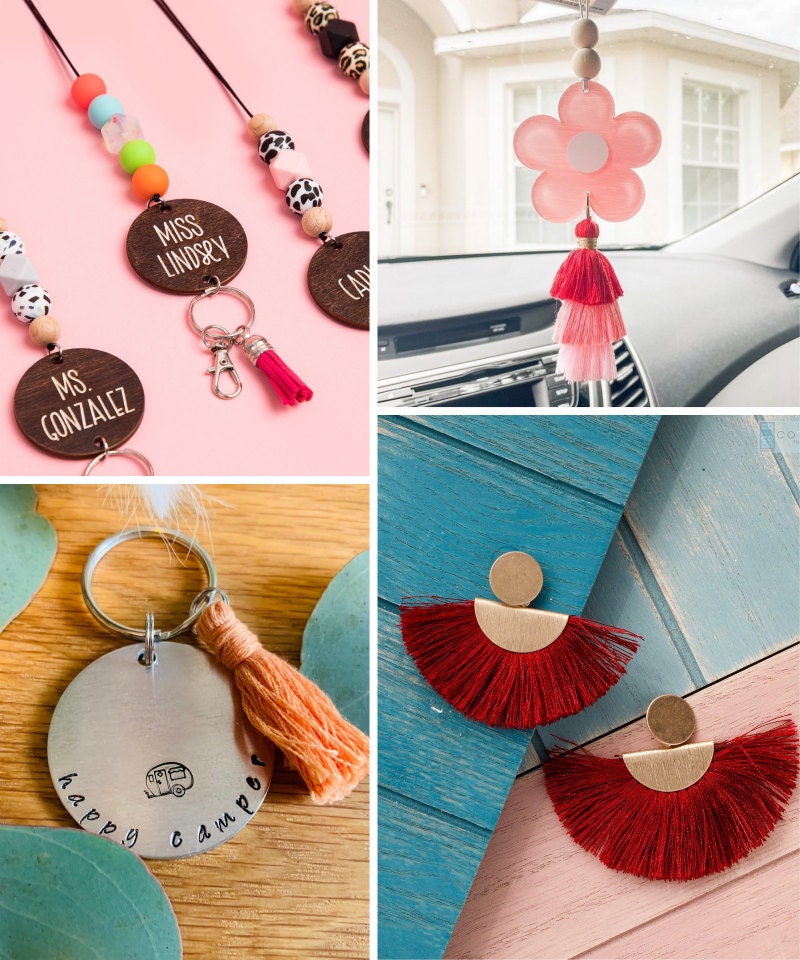 SHOP (clockwise from top left): Personalized beaded lanyard from By the Graces, from $23; daisy car tassel from Hey Maia Leigh, $17; tassel earrings from Cotacoco, $17; "happy camper" keychain from i the bison, from $10