Create beautiful hats, blankets, and sweaters with these oh-so-simple yet oh-so-cute and easy crochet patterns for beginners.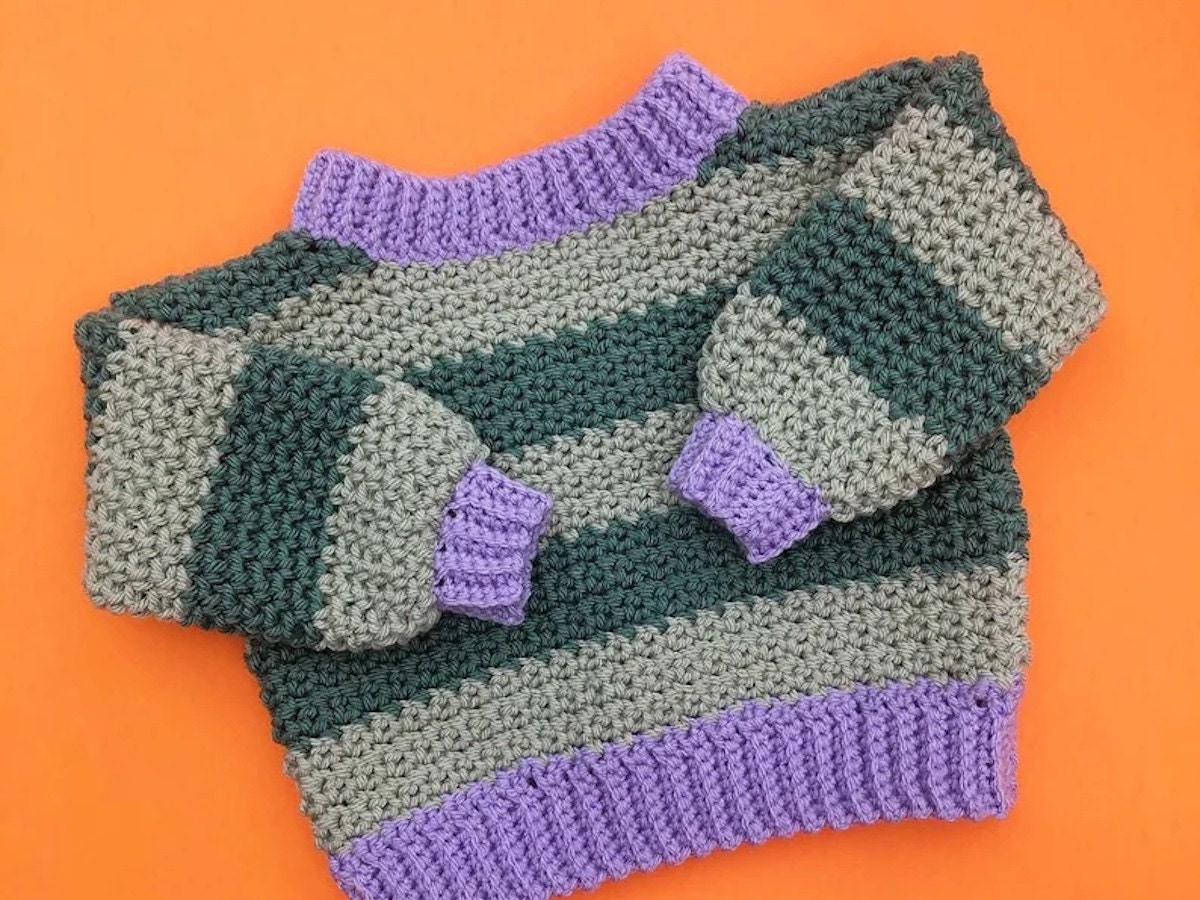 Learning to crochet is a fun and inexpensive hobby that doubles as a handy skill you can use to make beautiful gifts and other items for your home and wardrobe. Whether it's an oversized afghan for snuggling on your living room couch or a unique sweater for that upcoming holiday party, here are the top picks for the best easy crochet patterns to try this season, perfect for beginners and confident beginners alike.
Easy crochet hat patterns
Hats are the ultimate approachable project for beginners, and these easy crochet hat patterns are as stylish as they are simple to complete. We can't decide what's more fun, working on your hat, or wearing it when it's done.
1. Easy crochet hat pattern with video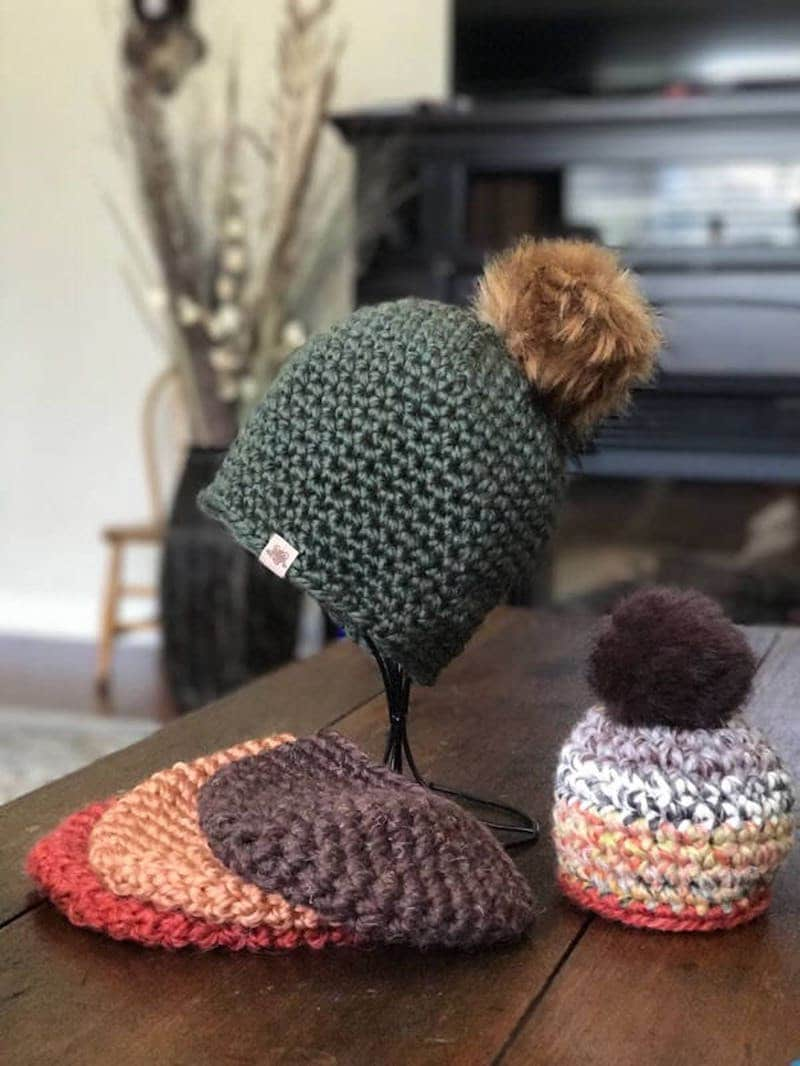 SHOP: Easy crochet hat pattern from Pretty Darn Adorable, $4
Fans of this easy crochet hat love the level of detail and easy-to-follow directions that come with this pattern. You even get access to a bonus instructional video from the seller with step-by-step instructions and helpful tips. This is a great pattern to use with very chunky yarn, creating a super cute beanie-style hat that will keep you warm and snug all winter.
2. Kids matching hat and tunic pattern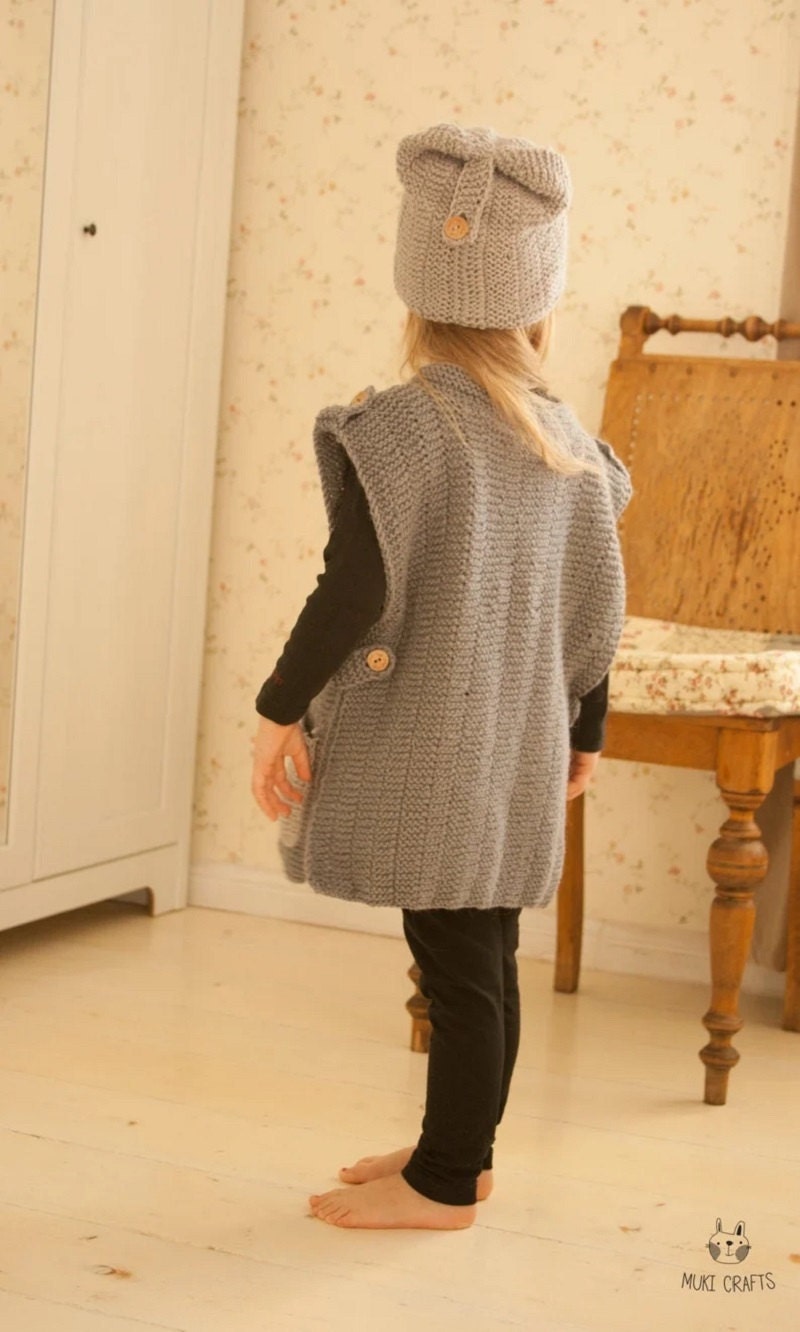 SHOP: Kids hat and tunic pattern from Muki Crafts, $6
Moms and grandmas can't stop talking about how happy they are with this easy kids hat pattern, or how many compliments their kiddos have gotten! The pattern is simple to follow and results in a beautiful crochet hat that is comfortable to wear. This pattern also includes instructions for a bonus tunic to complete this textured and cozy gender-neutral outfit for kids.
Easy crochet blanket patterns
Warm and super inviting, crochet blankets are an easy way to bring in color and texture into any room. They're also comfortable and cozy, so they're perfect for cuddling up on the sofa or your favorite chair on a chilly day. Whether you're ready to add another throw to your living room blanket ladder or looking for a chunky blanket for the foot of your bed, these picks for the best crochet blanket patterns are beautiful and easy to follow.
3. Chunky ribbed afghan pattern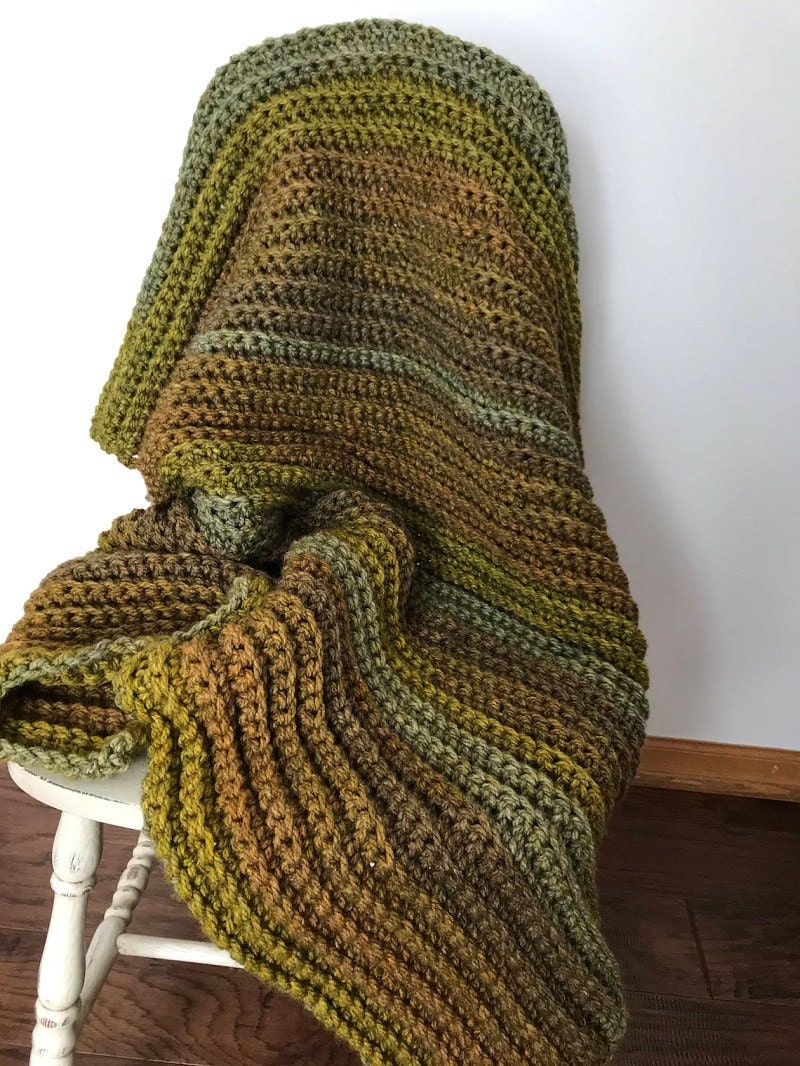 SHOP: Chunky ribbed afghan pattern from CdCk Design, $5
What's better than welcoming the colder months with a deliciously cozy new blanket? Saying "Hello!" to those cooler temps with a chunky throw that perfectly matches your space's aesthetic because you made it yourself with your choice of yarn and color palette. This afghan pattern for beginners is about as simple as it gets–but the end result will surely impress. In their reviews, newbie crocheters love how fun, fast, and easy to follow this pattern was.
4. Afghan with tassels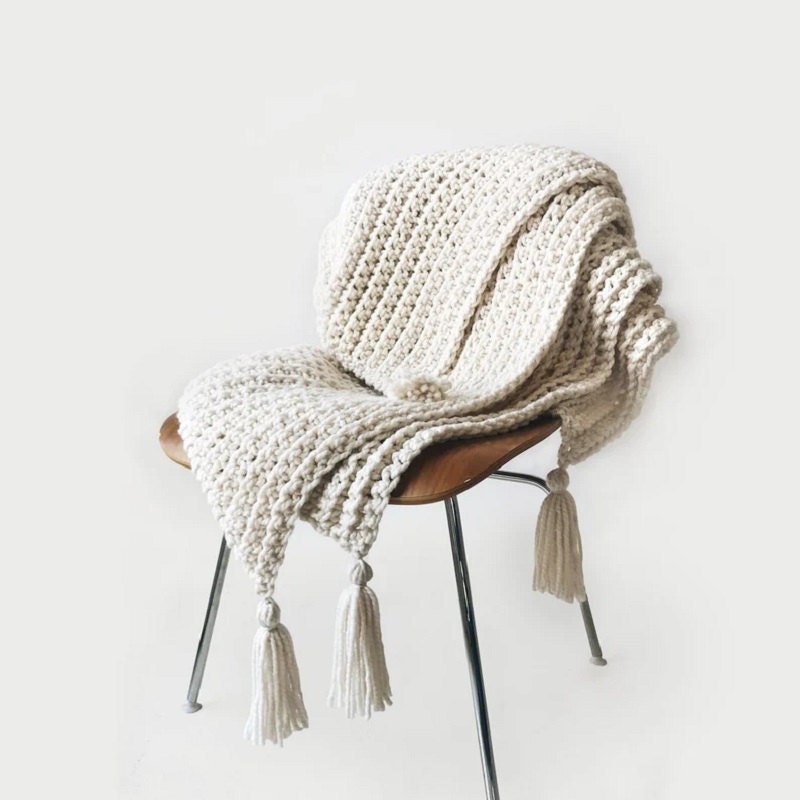 SHOP: Afghan with tassels from De Brosse NYC, $5
A top pick for easy crochet blanket patterns, fans of this tassel-adorned afghan love that this throw provides big textural impact with a quick and easy work-up time. The ribbing creates beautiful draping and shows up the same on both sides, so you won't have to worry about picking things up on the wrong side when working across multiple crochet sessions. The step-by-step instructions for the easy crochet tassels are also simple to follow, even for those who had never picked up a hook before.
Easy crochet clothing patterns
With their unique textures and light and airy aesthetic, crochet clothing invokes retro-inspired vibes that we can't get enough of. Whether you want to show off your breezy bohemian style or give a nod to the vintage fashion of the '60s and '70s, these easy crochet clothing patterns will result in pieces that are as unique as you are.
5. A size-inclusive crochet top pattern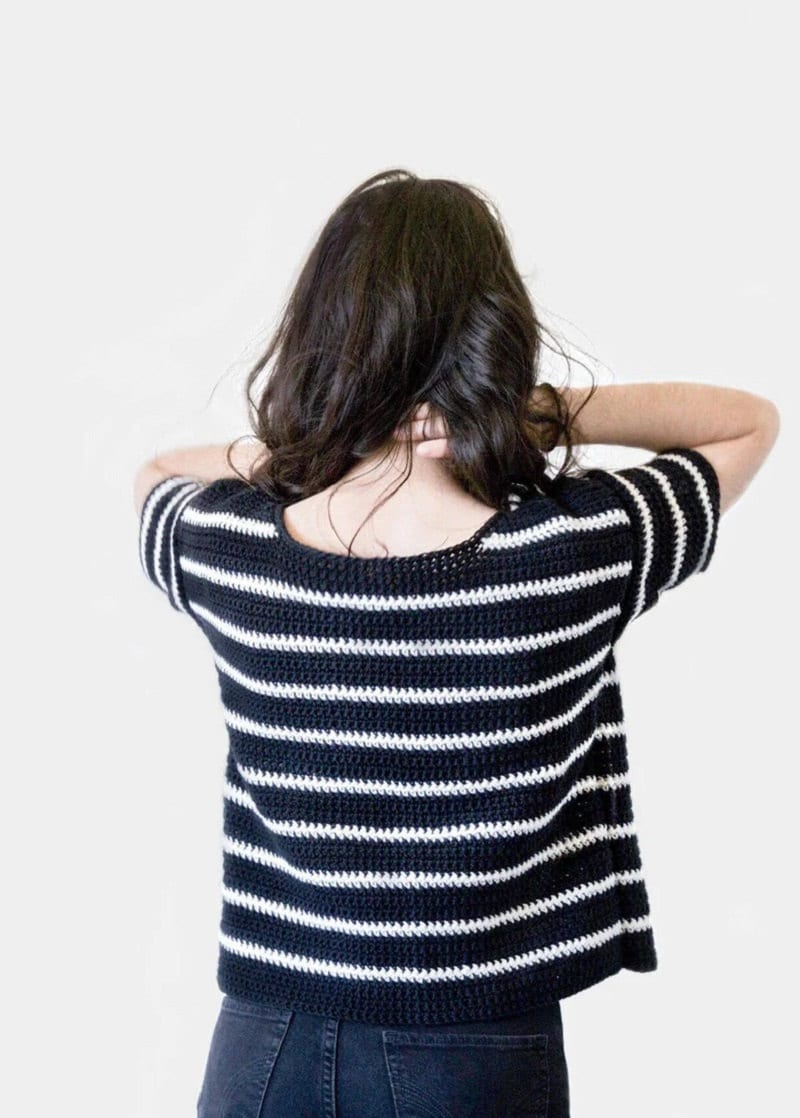 SHOP: Easy crochet top from Misskunn, $5
A contemporary stitched version of a classic striped tee, this beginner-friendly crochet shirt pattern boasts relaxed stitches and simple color changes. Fellow crocheters love the clean and uncomplicated instructions, as well as the variety in size options to accommodate different body types.
6. Crochet bralette pattern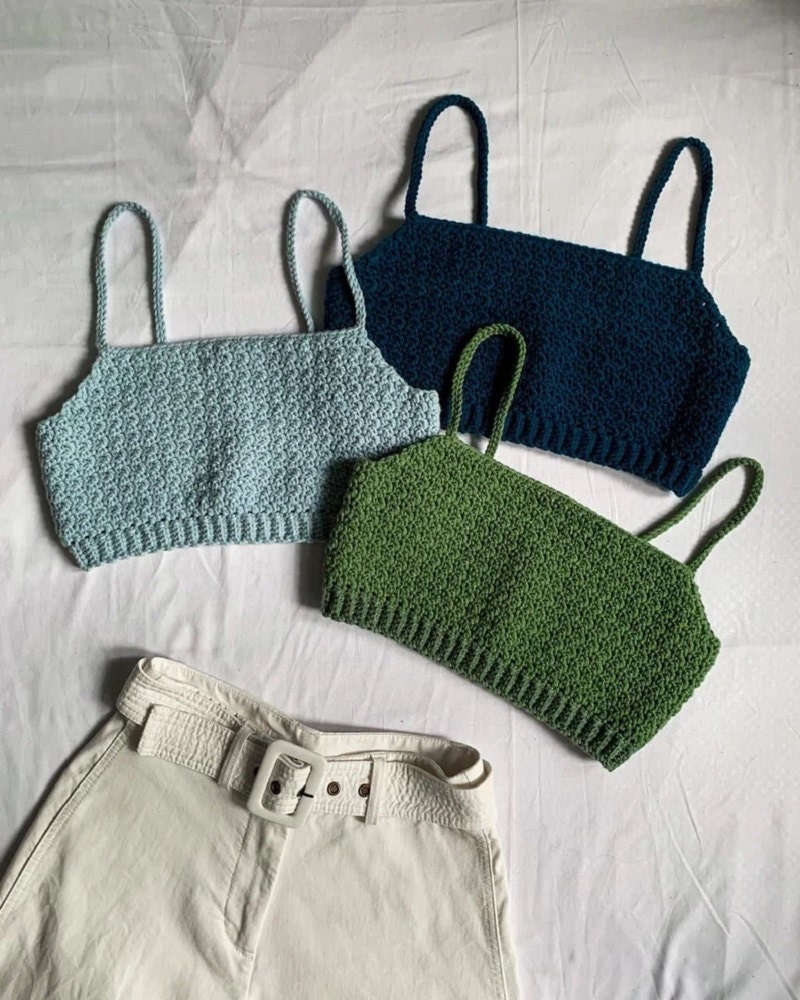 SHOP: Bralette pattern from Hey Faustine, $6
A festival fashion must-have, this unique crochet bralette adds a touch of bold bohemian style to any outfit. Ideal for beginners, this easy bralette pattern uses basic crochet stitches and can be completed using a single-sized hook. With endless color possibilities to choose from, you might end up making yourself a few.
7. Multi-size kids sweater crochet pattern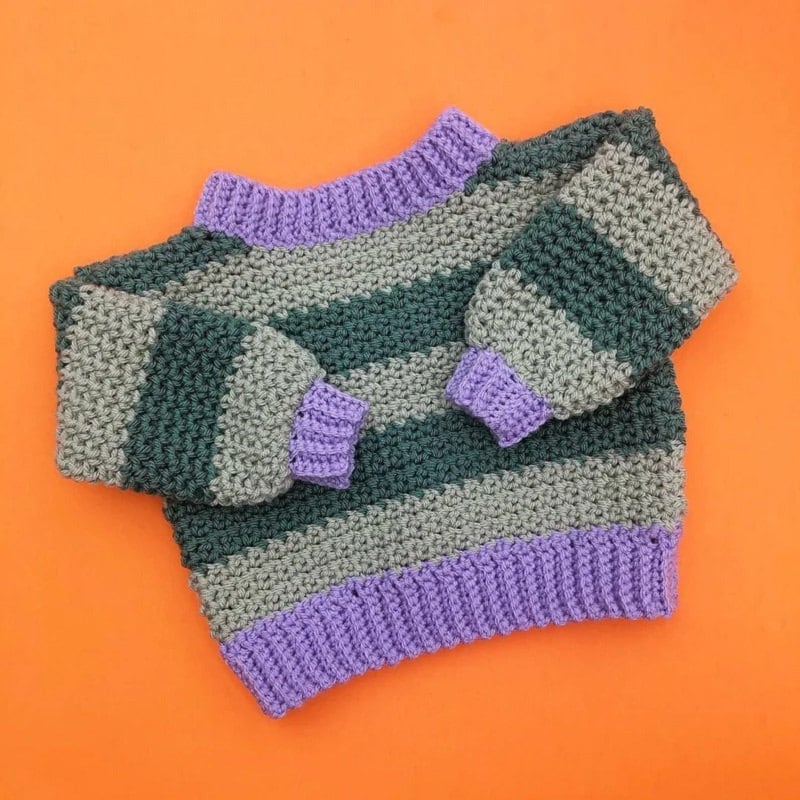 SHOP: Kids sweater crochet pattern from Miny Mavety, $7
If you're looking to crochet matching sweaters for the kids this season, search no further! Show off your unique style with this easy kids crochet pattern that can be adapted for different sizes and color combos. This easy crochet pattern was designed for beginners and can be used across a wide range of yarn types. Fans love that there are specific measurements for each part of the sweater, length adjustments, and very clear instructions for each size.
8. Crochet slippers pattern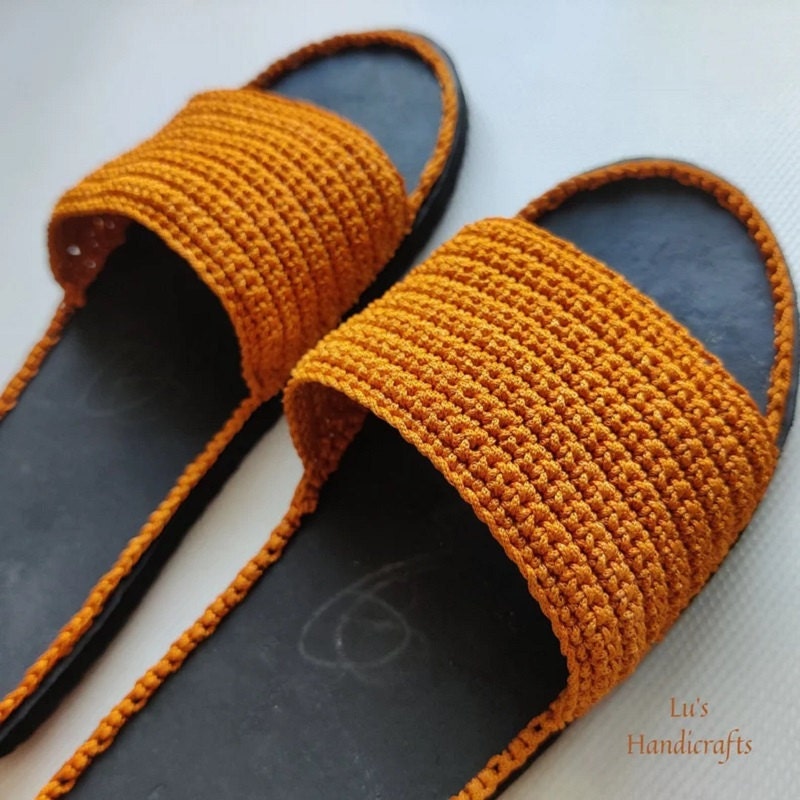 SHOP: Crochet slippers pattern from Lus Handicrafts, $5
If you live in a climate where a chunky crochet sweater won't get much use, this crochet slippers pattern is a great alternative. This easy crochet pattern is beginner-friendly and designed to be a super quick workup. One buyer said she had already created five pairs of crochet slippers from this single pattern. With your purchase, you'll get written detailed instructions, accompanied by photos to guide you along the way. There are also charts for various sizes, making it simple and convenient to create multiple pairs of slippers
Easy crochet bag patterns
Stylish and versatile, crochet bags are perfect for carrying those everyday grab-and-go items like your keys, phone, or favorite yoga mat. Whether you want to create a stylish gym bag or a unique piece to wear on an upcoming trip, these easy crochet tote bag patterns have got you covered.
9. Crochet tote bag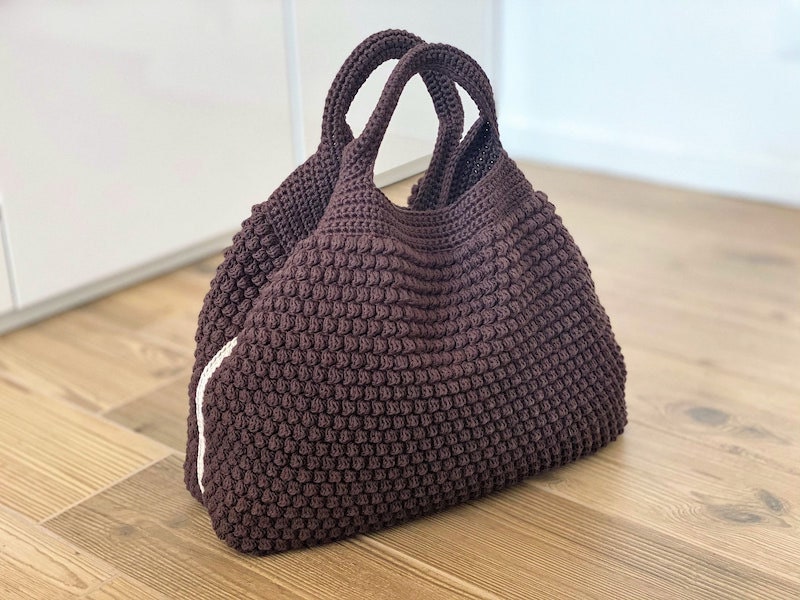 SHOP: Crochet tote bag from isWoolish, $3
If you're looking to test your crochet skills on a new accessory, this crochet tote bag might be the perfect project. This easy crochet pattern boasts a beautifully intricate design that's also beginner-friendly. The pattern includes all the information you need to guide you through the bag-making process, including creating a liner. Steps are outlined in clear detail and there are plenty of photos for additional support. Fans of this pattern also loved that, once complete, this crochet tote bag holds its shape very well.
10. Festival bag pattern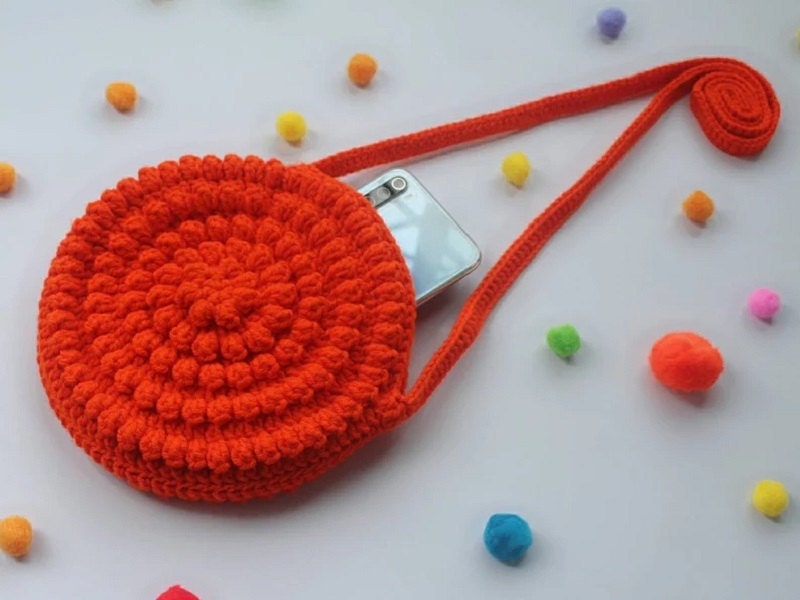 SHOP: Festival bag pattern from My Designs by Komall, $2
Complete with written instructions, a step-by-step photo tutorial, a crochet chart, and a video tutorial, this festival bag pattern will help you create a pretty and trendy circle bag for the season. Plus, you get tons of tips on what yarn, hook, and stitches to use so there's no second-guessing along the way.
Easy crochet patterns for gifts
A handmade item is a thoughtful gift you can give on any occasion. It's a unique way of showing someone you love just how special they are when you select colors and patterns you know they'll love. And talk about a unique gift idea! You'll never have to worry about them receiving the same gift from someone else. These easy crochet patterns for gifts will help you create meaningful presents for all the special people in your life.
11. Crochet baby rattle pattern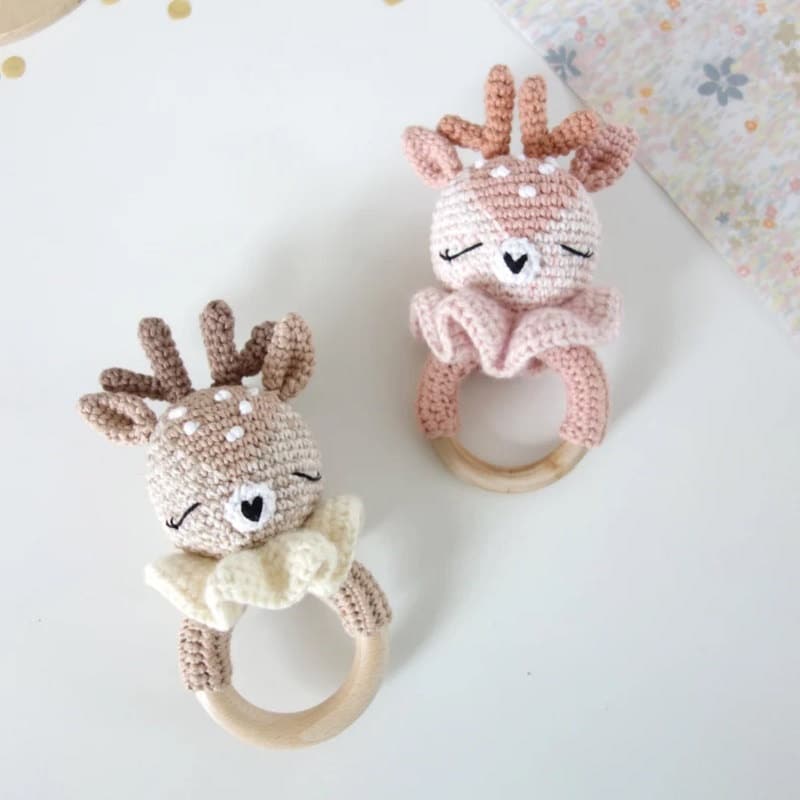 SHOP: Crochet baby rattle pattern from Pense Bonheur, $4
This crochet baby rattle pattern will help you create an adorable baby shower gift idea for the special new mama in your life. You'll get a well-detailed and illustrated tutorial that is very simple to follow and a pleasure to achieve. This result will be a beautiful keepsake to celebrate a special new arrival.
12. Sunflower crochet coaster pattern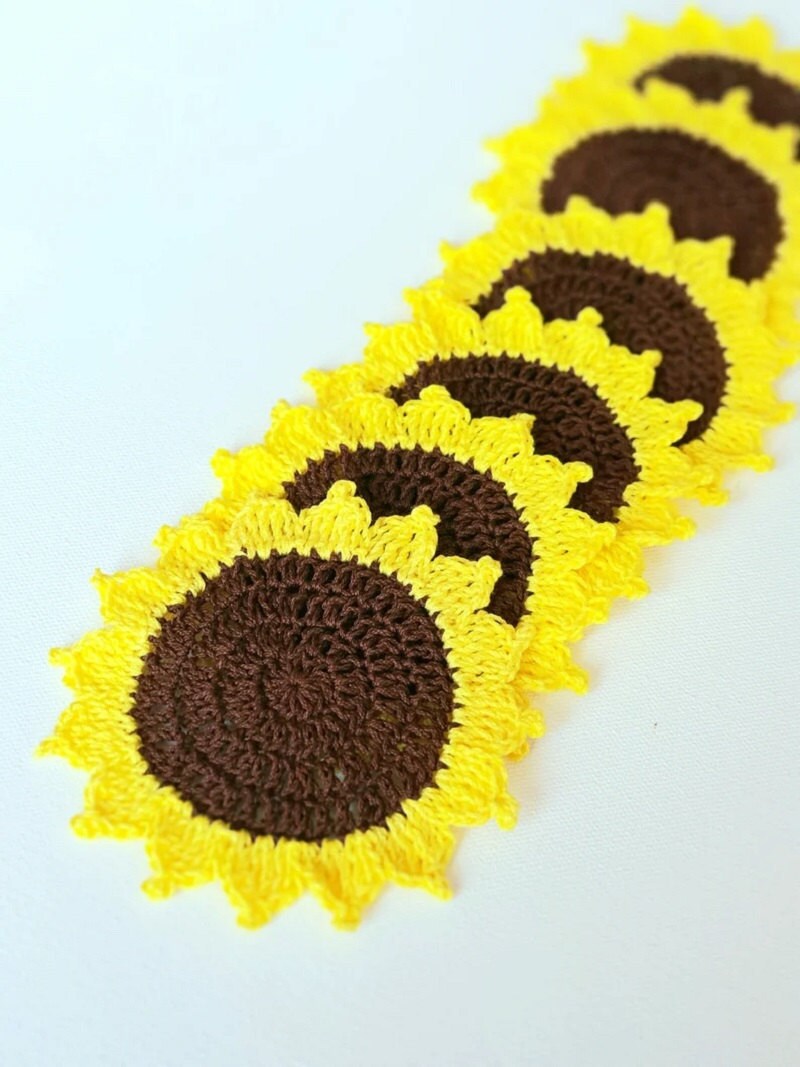 SHOP: Sunflower crochet coaster pattern from My Creative Butterfly, $5
Buyers love how easily this sunflower crochet coaster pattern comes together to create a cheerful home accessory that makes a great housewarming present. The beginner-friendly pattern comes with clear instructions and great visuals of each step throughout.
13. Cat granny square pattern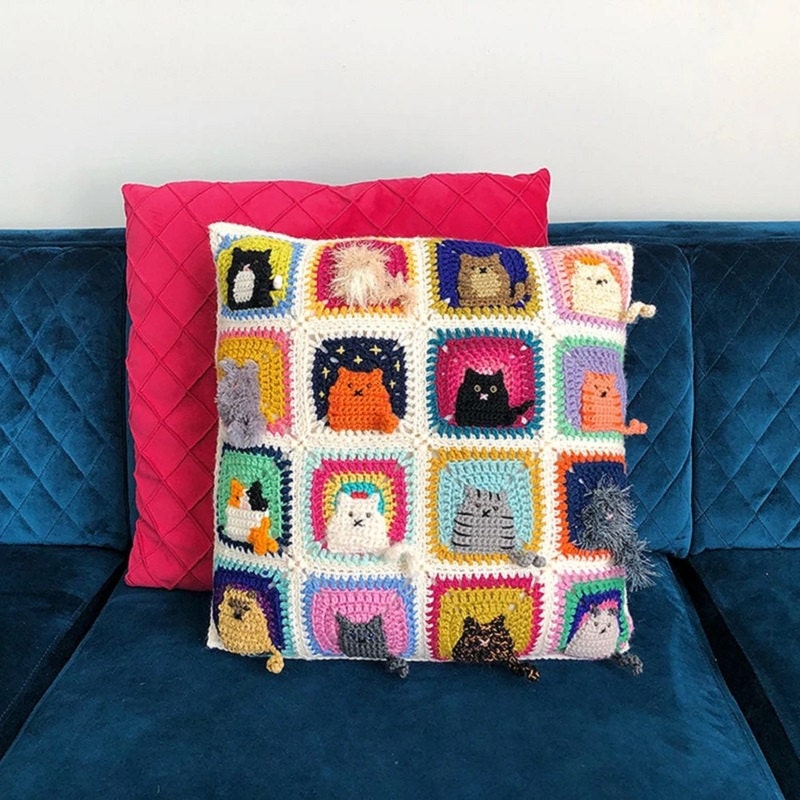 SHOP: Cat granny square pattern from Pony MC Tate, $4
Need a gift for the cat lover in your life? Then this pattern is for you. Quick and easy, this playful–and beginner-friendly–crochet square is a fun way to test your granny square skills while creating a unique way to memorialize your favorite feline.
14. Mittens crochet pattern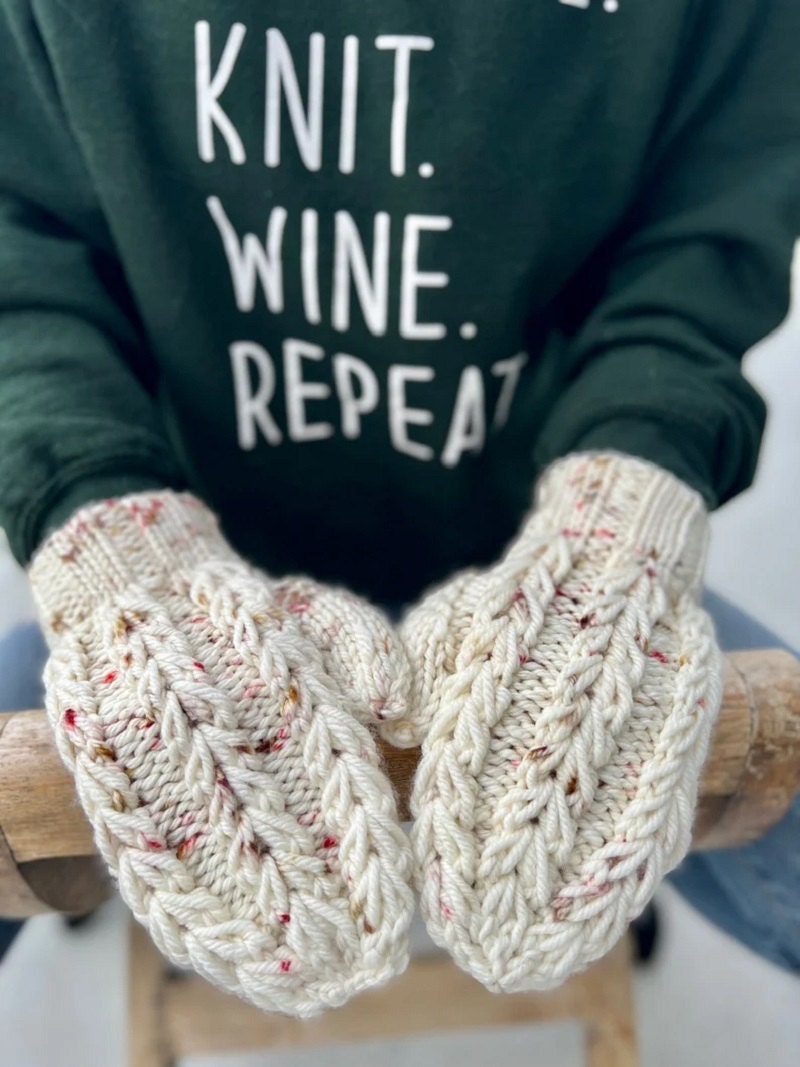 SHOP: Mittens from epiphany Knitwear, $4
This easy crochet pattern will help you create thick and fluffy cable knit mittens that also make a unique holiday gift. We also love that this is a 2-for-1 pattern with instructions for fingerless or regular mittens so you can customize this gift to its recipient. Newbie crocheters love that both styles were fun and simple to create with guided instructions for every step, including the heart stitch used in this design.