Make pumpkin decorating easy this year with no-carve ideas, templates, stickers, and spook-tacular accessories.
Looking for fun and easy Halloween pumpkin decorating ideas that won't carve out all your time? Whether you're in search of a creative pumpkin carving pattern, or you'd rather skip the sharp objects in favor of a lower-maintenance technique like a creative no-carve pumpkin decorating kit, there's no shortage of clever, convenient, and utterly irresistible options for upgrading your Halloween pumpkins on Etsy.
As we get boo-ted up for spooky season, we've rounded up fun and easy pumpkin decorating ideas for kids and adults, from our favorite carving templates to personalized pumpkin decals to no-carve pumpkin decorating ideas—all in favor of creating downright glamorous gourds. Get ready for the pumpkin-palooza and dial up your Halloween porch decor just in time for the holiday.
No-carve pumpkin decorating ideas
Avoid the muss and fuss that comes with pumpkin carving with easy pumpkin stickers and vinyl decals—a completely hassle-free way to prep your pumpkin for the season. Make a sophisticated statement with a friendly greeting in elegant script, boogie with some googly eyes, pop your pumpkin on a fun platform, or even bedazzle your glamorous gourd. These no-carve pumpkin ideas are an easy option for last-minute Halloween decor.
A no-carve pumpkin decal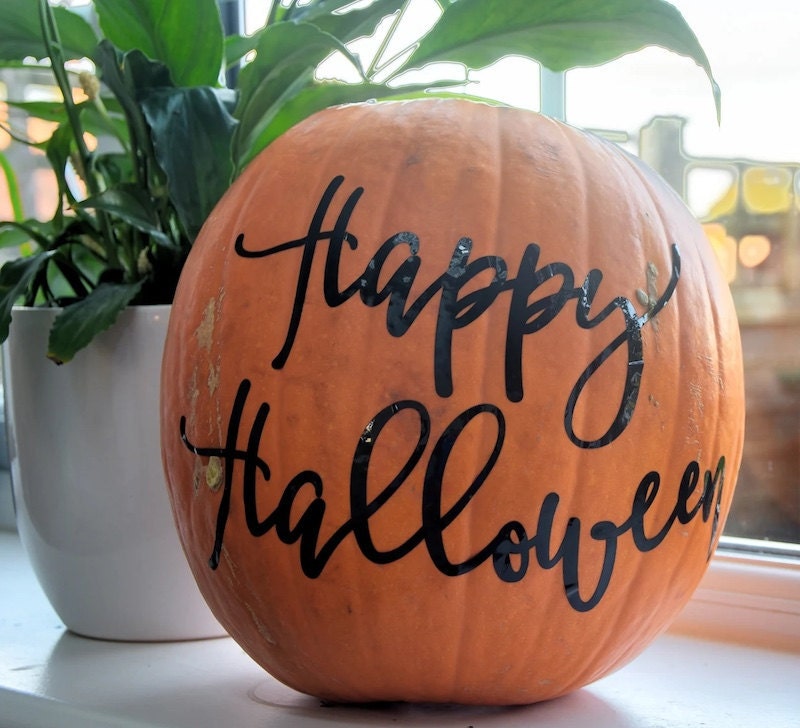 SHOP: Custom pumpkin decal from Magic Decals, $6
Wish your neighbors a very happy Halloween with an easy pumpkin decorating idea like this one at your doorstep. Customize your phrase and font to make your entryway the most festive on the block.
A monstrous pumpkin perch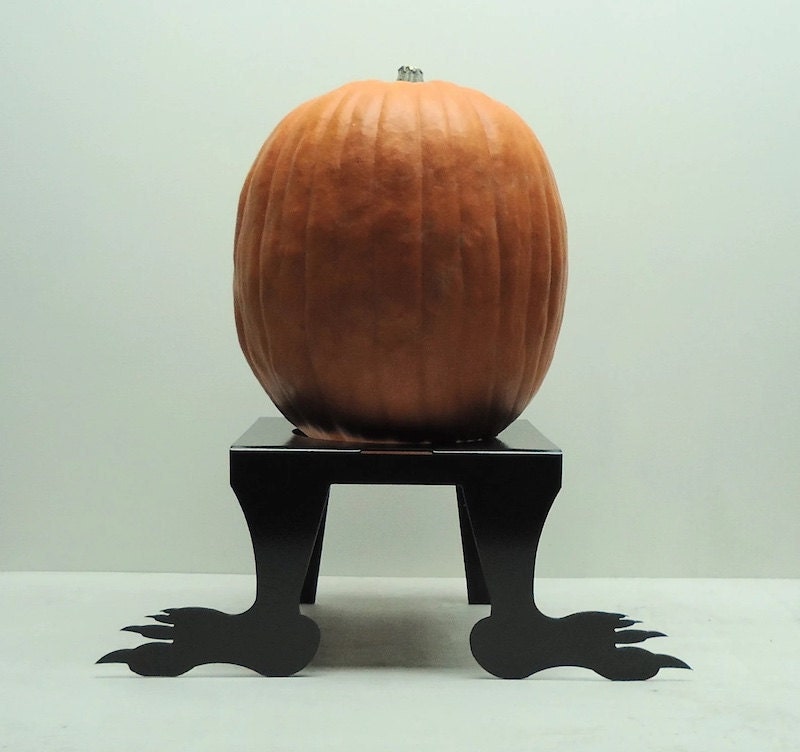 SHOP: Monster feet pumpkin perch from Knob Creek Metal Arts, $45
Want an easy Halloween decor trick that takes exactly 30 seconds to achieve? Pop your pumpkin on a perch like these monster-inspired legs.
A cute pumpkin decorating idea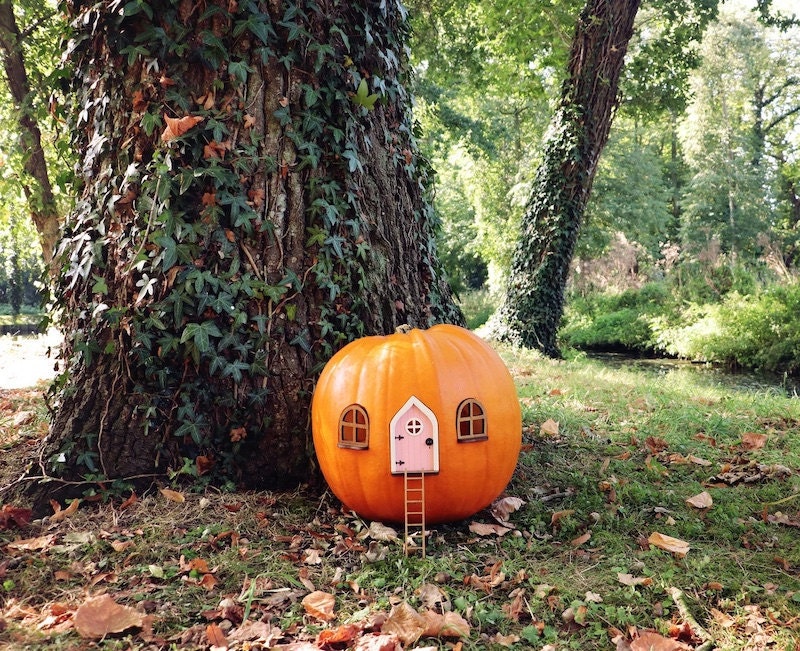 SHOP: Fairy house pumpkin decorating kit from My Fairytale Doors, $40
Halloween doesn't have to be all ghosts and ghouls. Sometimes, especially for the kiddos, it can mean magic and pretending and playing dress up. Invite the spellbinding energy of Halloween to your doorstep with these charming, handmade fairy doors embellishing your gourd decor.
An out-of-this-world pumpkin decorating idea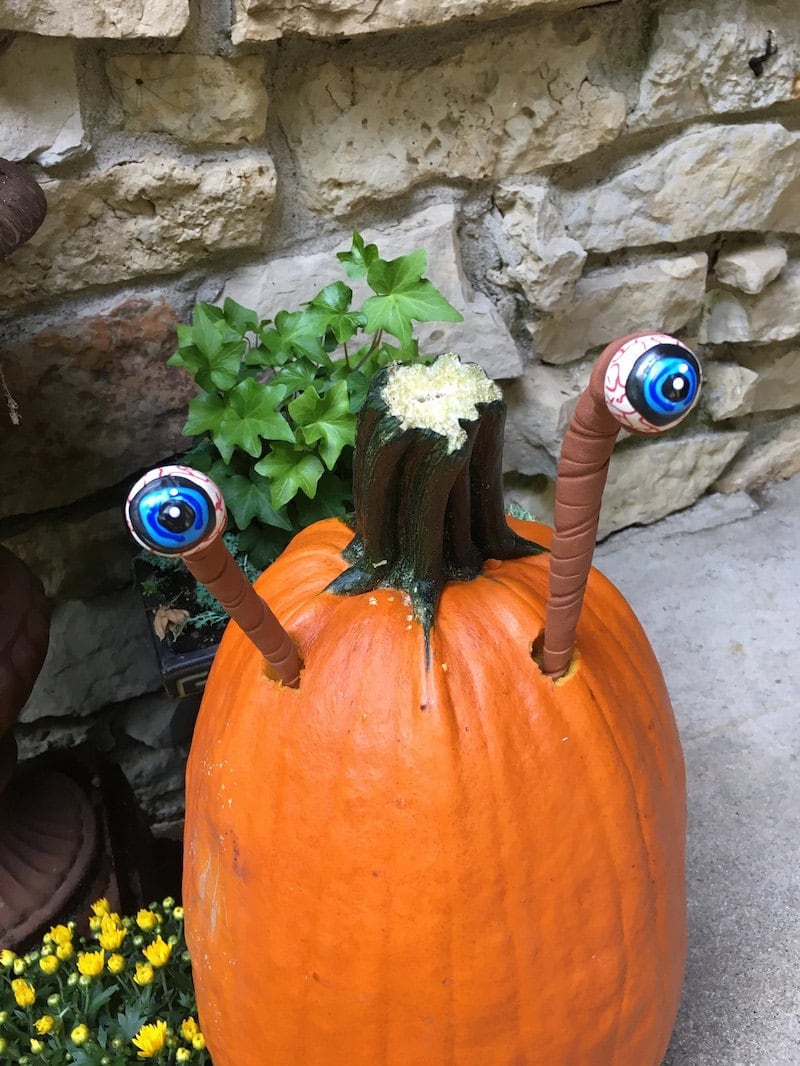 SHOP: Jack-o-lantern alien eyes from Pond Scum Ceramics, $18
Do you want to believe? This funky alien accessory will turn your pumpkin into a bonafide extra terrestrial. Use a drill to poke two holes into your gourd and your front porch will be in ship-shape before you can say "Beam me up."
Easy pumpkin decorating ideas for kids
Plan a spooky (but not too scary!) Halloween with the kiddos with these easy pumpkin decorating ideas for kids that are so cute and crafty, you'll want to make one (or three) of your own. Paint your pumpkin or enjoy a sticker frenzy: Either way, these fun Halloween activities are a real treat—no tricks!
An easy pumpkin painting craft for kids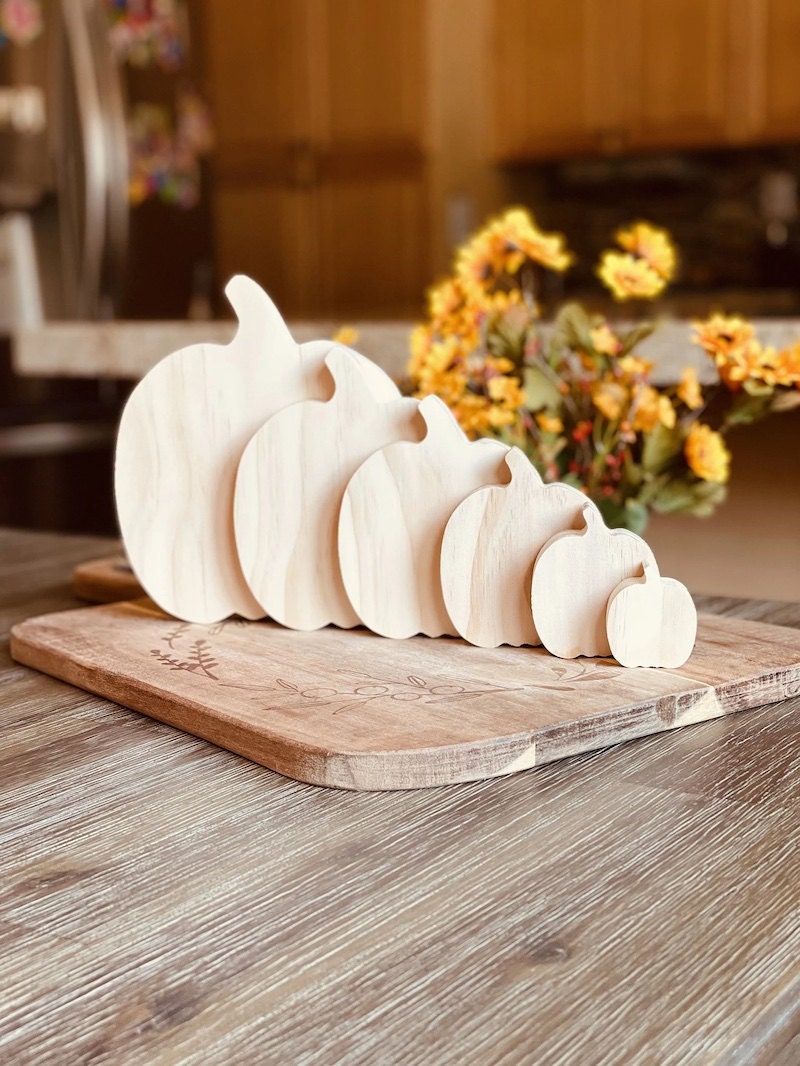 SHOP: Pumpkin-shaped craft wood from Debs Craftroom Shop, from $2
Help them channel their creativity with these pumpkin-shaped craft wood. Break out the markers, paints, glue, and whatever else their imagination desires to make their pumpkin crafting vision come to life. These keepsakes will remind you of their artistic prowess every Halloween season!
An easy pumpkin decorating kit for kids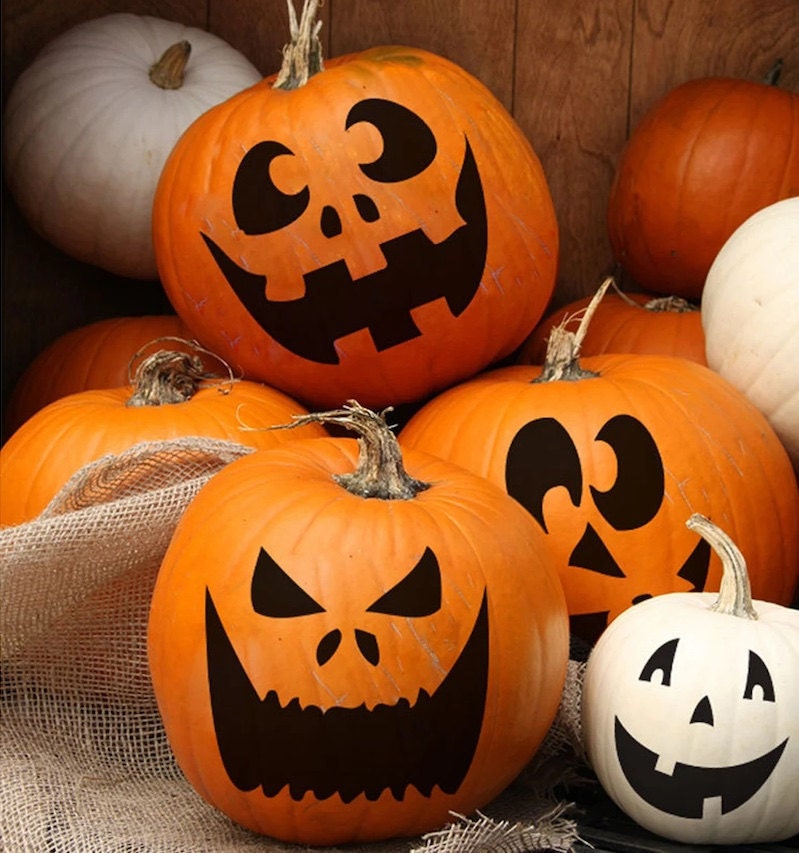 SHOP: Jack-o-lantern pumpkin decal from Abby's Vinyl Wall Art, $6
A no-carve pumpkin idea that's perfect for kids, you can skip all the sharp knives and mess that comes with a traditional jack-o-lantern and have the little ones choose their favorite facial expression with these silly decals. Simply apply the decal to the pumpkin (or craft or window) of your choice and get ready for the toothy smiles—from your pumpkin and your little!
Easy pumpkin carving templates
Love the idea of good old-fashioned Halloween pumpkin carving, but need a little help getting started on the design? These easy pumpkin carving templates, stencils, and patterns, both physical and downloadable to print at home, are a great way to take your handiwork to the next level. Carve a pumpkin with a template by taping the stencil to your gourd, then trace the design by slowly poking holes with a toothpick around the outside of the stencil design. Remove the stencil, and use your holes as a guide for carving.
A pack of easy pumpkin carving templates for the family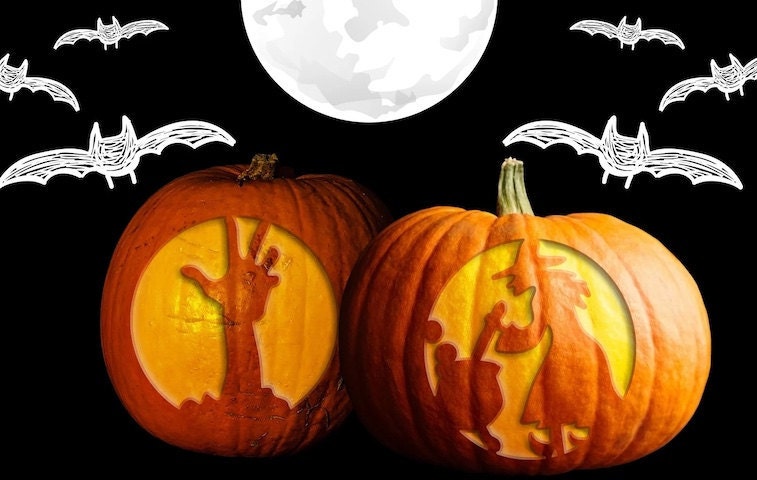 SHOP: Set of 5 printable pumpkin carving templates from LBC Printables, $4
Try these traditional, easy-to-carve jack-o-lantern designs from a ghastly ghost to an illustration perfect for the witching hour to add some terror to your terrace. These pumpkin carving stencils are made to print right at home so you can purchase and carve right away!
A printable pumpkin carving template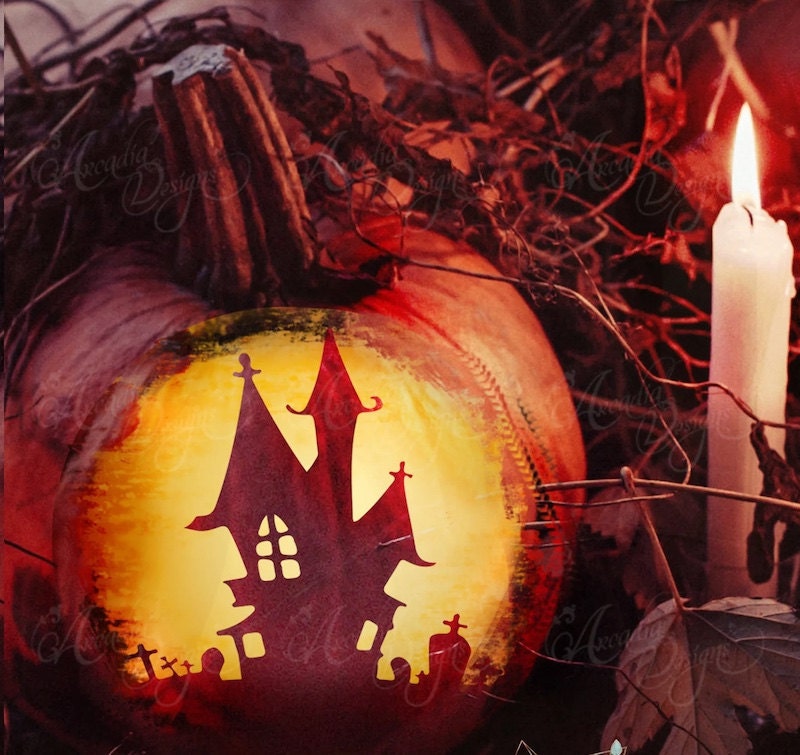 SHOP: Haunted house pumpkin carving stencil from All 4 Party Time, $4
Need a frightful front porch for hosting your Halloween bash? Try this haunted house pumpkin carving template to illuminate your stoop—literally. Even better: This stencil is downloadable, so you can instantly print the template and get carving.
Personalized pumpkin decorating ideas
Here's a way to make a truly one-of-a-kind Halloween statement: Go for a custom pumpkin. Etsy artists will deck out foam, ceramic, or real pumpkins with personalized info like your family name or initials, or a significant date you'd like to honor. Or commission a custom decal with a seasonal motif for a simple, stylish, and totally singular statement.
An easy personalized pumpkin for kids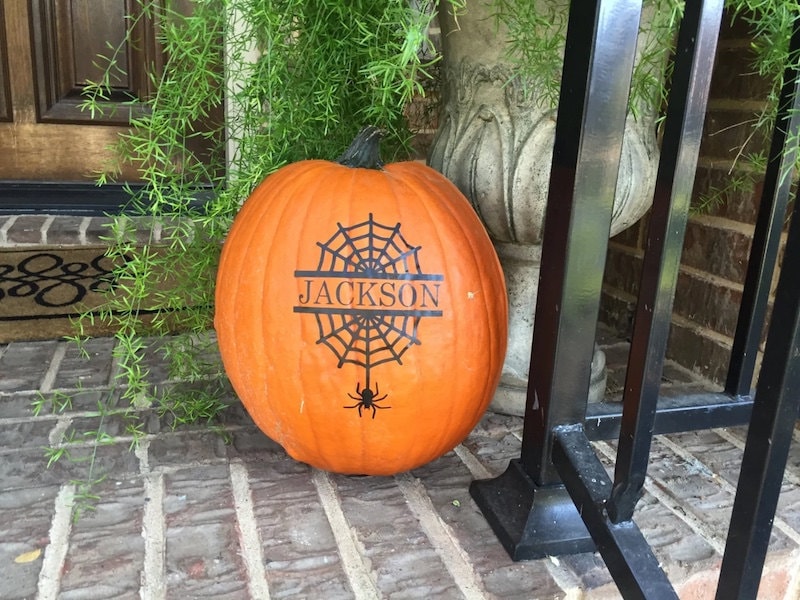 SHOP: Personalized name pumpkin decal from Fussy Mussy Designs, $9
Your little ones will love having a pumpkin with their name all over it. Personalized pumpkin decals (no carving needed!) like these can be both ooky-spooky and extra-special for the whole fam.
An elegant fall pumpkin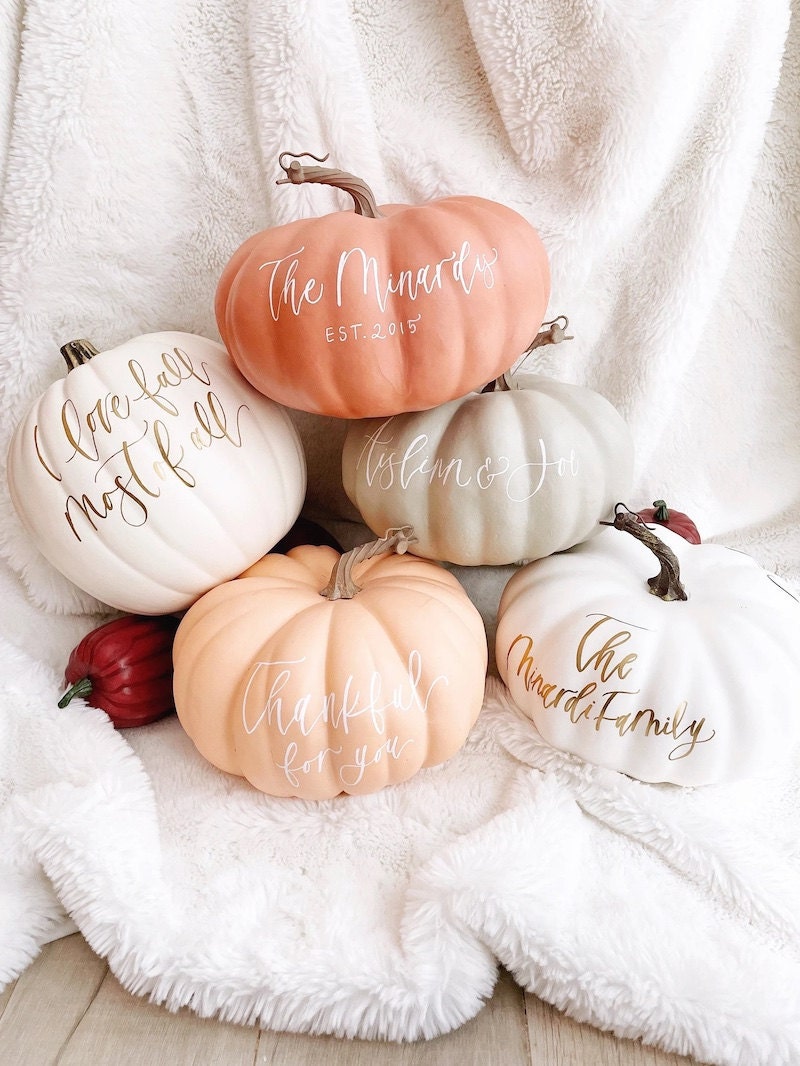 SHOP: Personalized fall pumpkin decor from Proper Letter, from $34
Elevate your fall aesthetic with an unexpected take on pumpkin decoration. These personalized painted pumpkins come in pastel colors and feature an elegant, seasonal script that will help shift from spooky season to turkey time.
Pumpkin crafting ideas
These Halloween craft ideas will last through multiple spooky seasons, so you can spend an afternoon creating and stash them away for next year, and the next, and the next—no pumpkin required.
A felted fall activity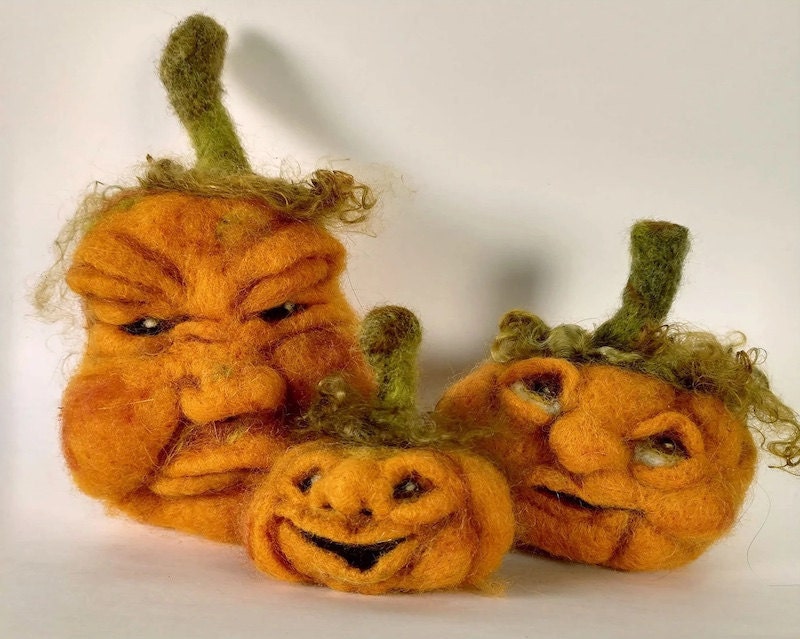 SHOP: Needle felting pumpkin DIY kit from Cupid Falls, $22
Get cozy with some wool and felt some seasonal produce with personality with a pumpkin needle felting kit like this one. What kind of face should your woolen pumpkin have? A cheerful, chipper grin? A spooked, surprised look? Choose the expression that suits your Halloween style and enjoy these me-made decorations for a lifetime.
An artful pumpkin decor craft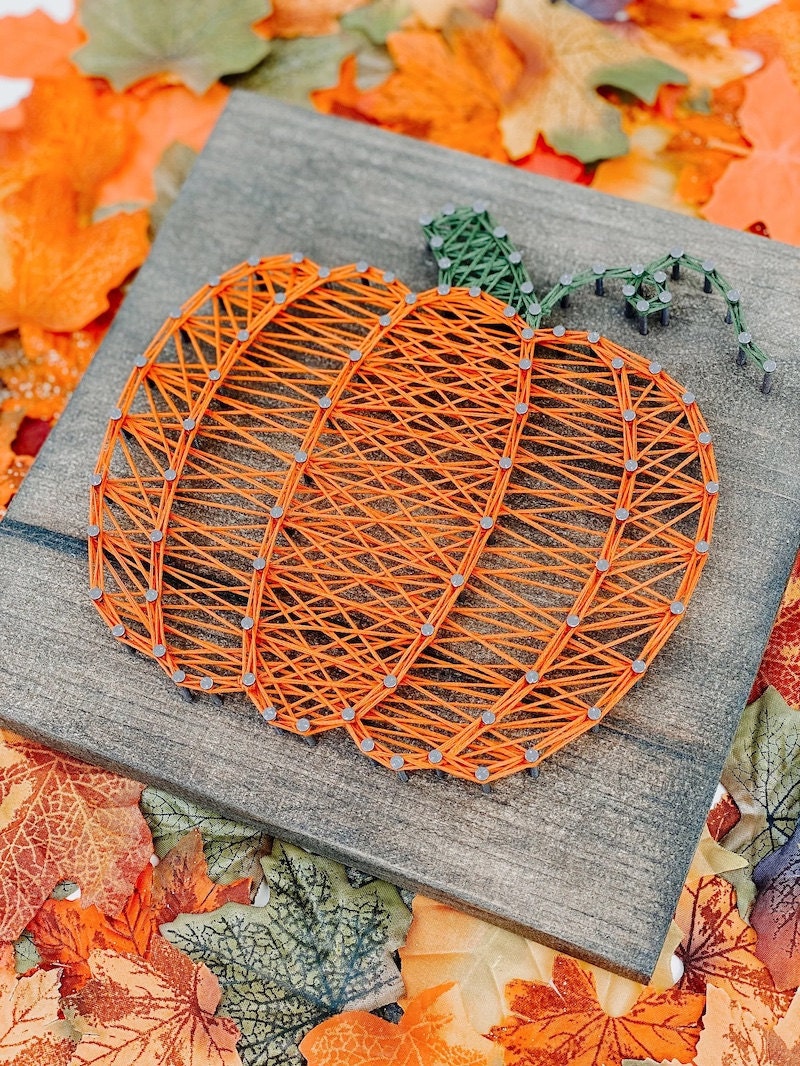 SHOP: Fall string art DIY kit from Knot Really Art, $41
Recommended for artists ages 10 and up, this winding and meditative activity is the perfect pick for an autumn craft night with your friends. From hammering the nails into the marked wood to wrapping the colorful string into a beautiful design, this perennial pumpkin craft is a wall-worthy piece and a memory-making activity best shared with loved ones.