by Amy Schroeder
In search of some fresh pumpkin decorating ideas to make your front porch pop? These pumpkin carving templates, stickers, kits, and DIYs are for you.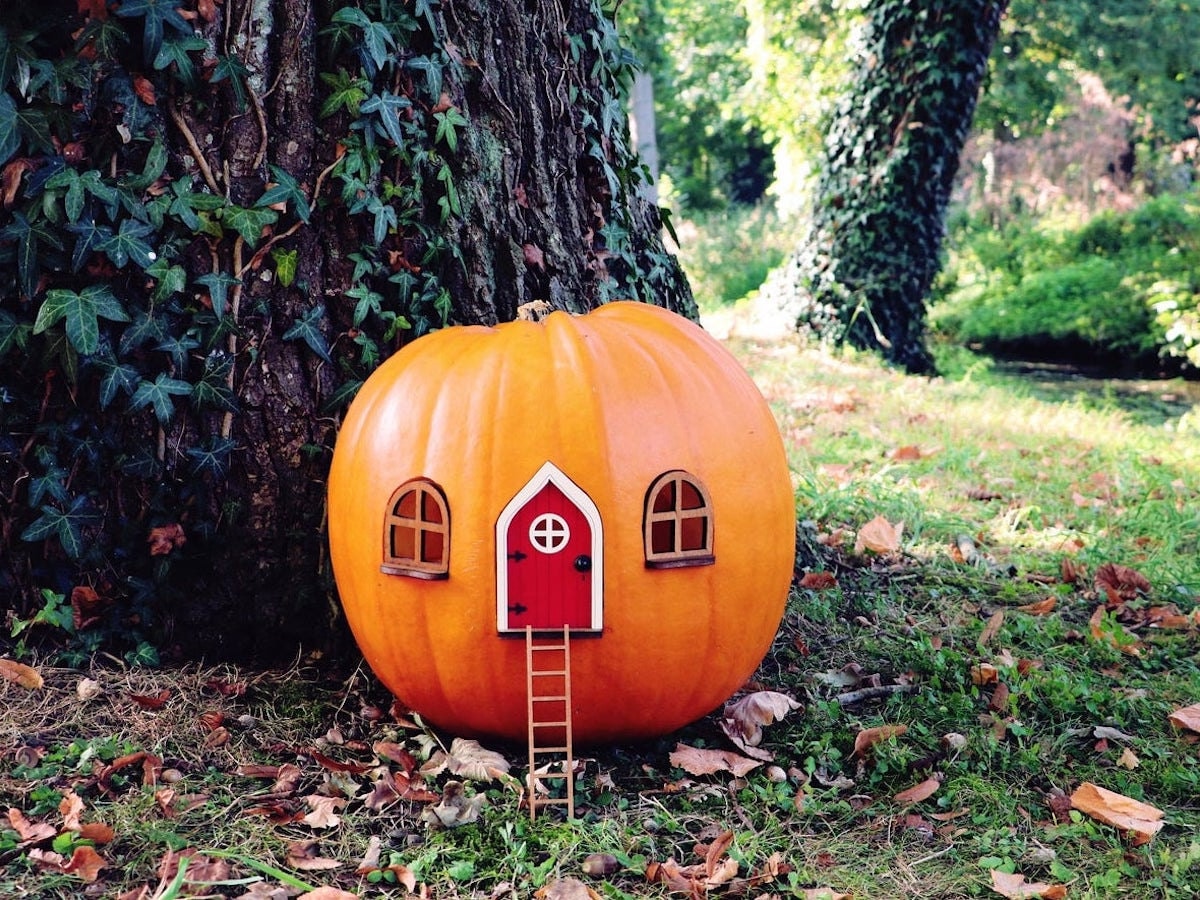 Looking for fun and easy Halloween pumpkin decorating ideas that won't carve out all your time? Whether you're in search of a creative jack-o'-lantern design, or you'd rather skip the traditional carving in favor of a lower-maintenance technique, there's no shortage of clever, convenient, and utterly irresistible options for upgrading your Halloween pumpkins on Etsy.
See more Halloween decorating ideas
As we get boo-ted up for spooky season, we've rounded up 10 artful approaches to pumpkin decorating, from our favorite carving templates and jack-o'-lantern door decals to step-by-step DIYs and downright glamorous gourds. Read on to get endless inspiration for a pumpkin-palooza that will dial up your Halloween porch decor just in time for the holiday. Let the trick-or-treating begin!
Jazz up a classic carve with a snazzy stencil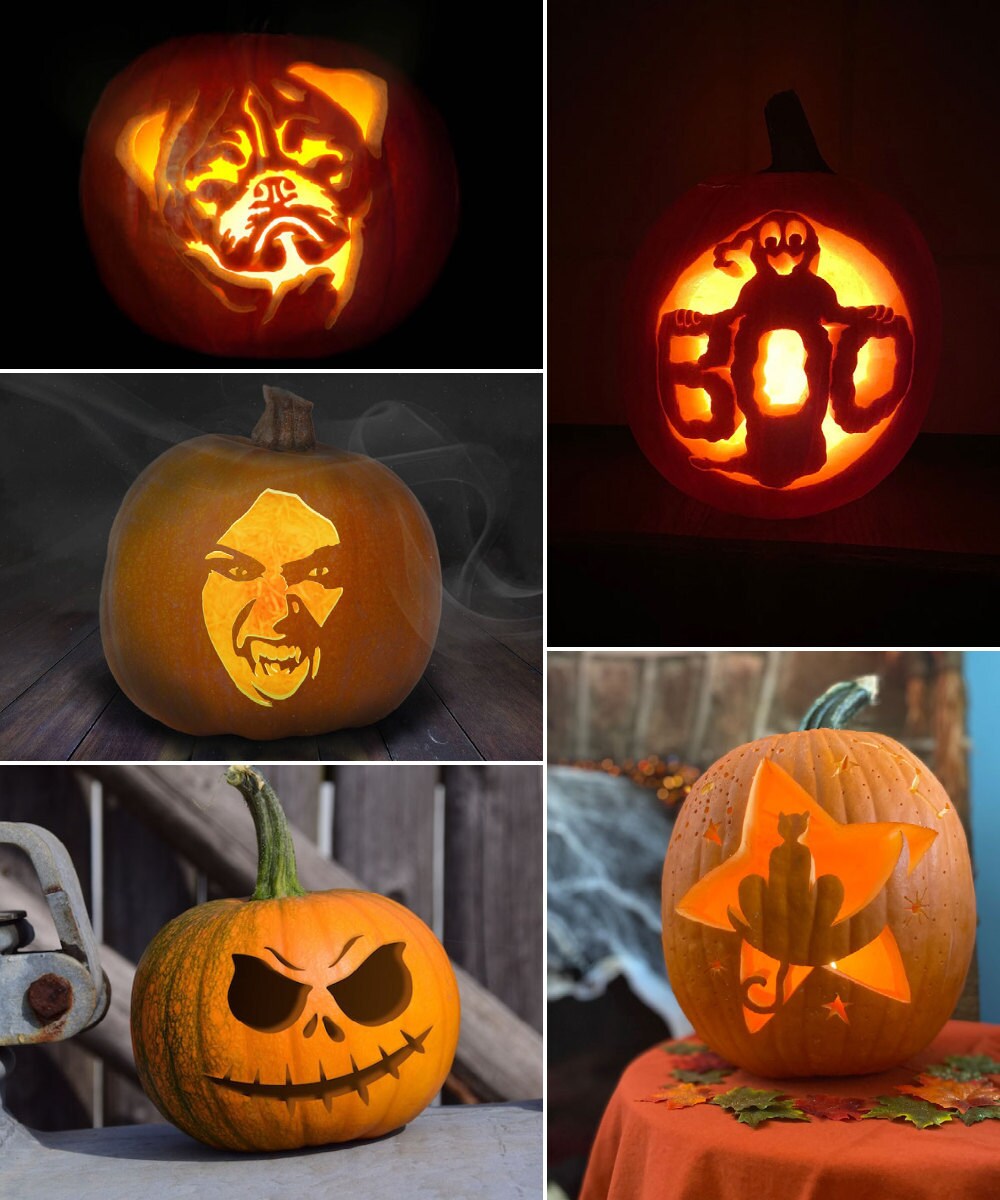 Love the idea of good old-fashioned Halloween pumpkin carving, but need a little help getting started on the design? Pumpkin carving stencils, templates, and patterns, both physical and downloadable, are a great way to take your handiwork to the next level. Classic jack-o'-lantern grins, spooky ghouls, or cuddly critters—whatever you're into, you're in luck. Just tape your stencil to your gourd, trace the design, and let the carving commence!
Need a quick refresher on how to use pumpkin carving templates? Brush up on the best practices (and download some Etsy-exclusive templates designed by artists and illustrators we love) with our step-by-step guide.
Spruce things up with a sticker or decal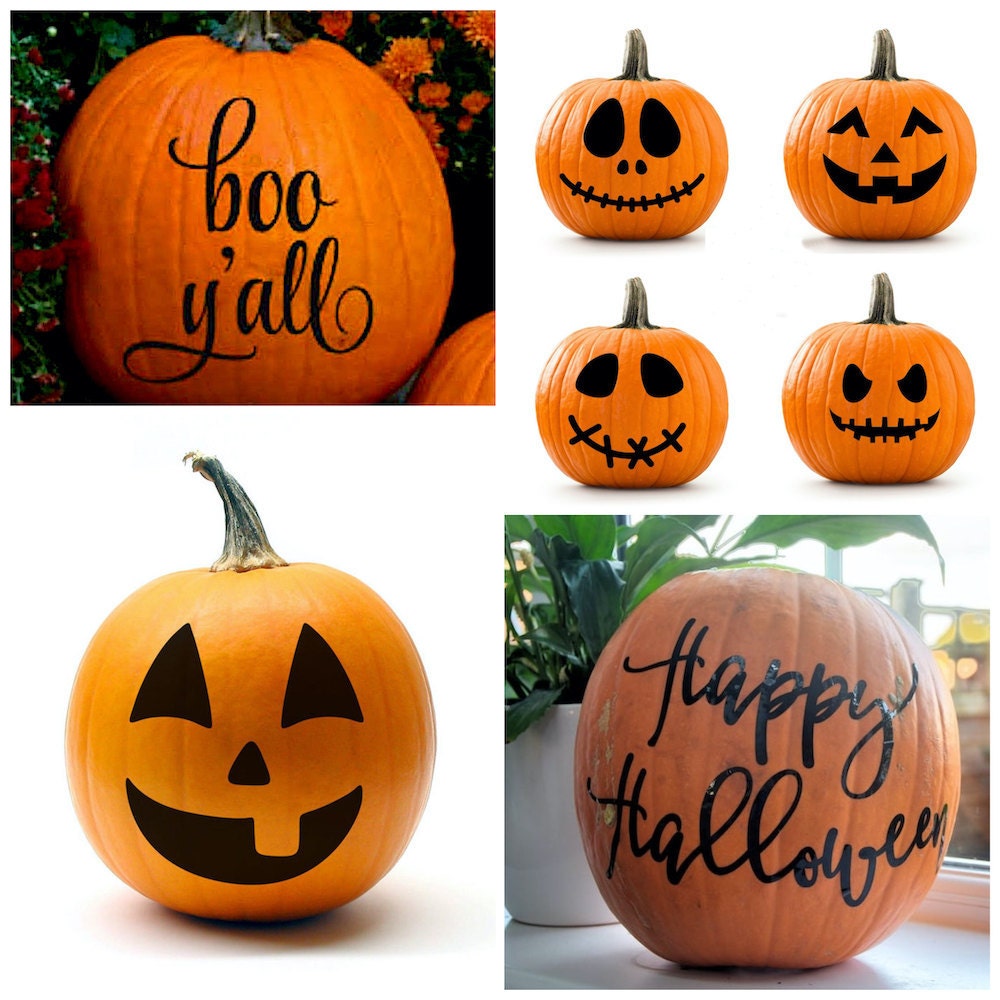 Avoid the muss and fuss that comes with pumpkin carving with nifty pumpkin stickers and vinyl decals—a completely hassle-free way to prep your pumpkin for the season. Make a sophisticated statement with a friendly greeting in elegant script, or deck out your jack-o'-lantern to greet trick-or-treaters with an iconic toothy smile. In any case, this decorating hack is a dream for last-minute Halloween efforts.
Get the whole kit and caboodle with a push-in set or decorating kit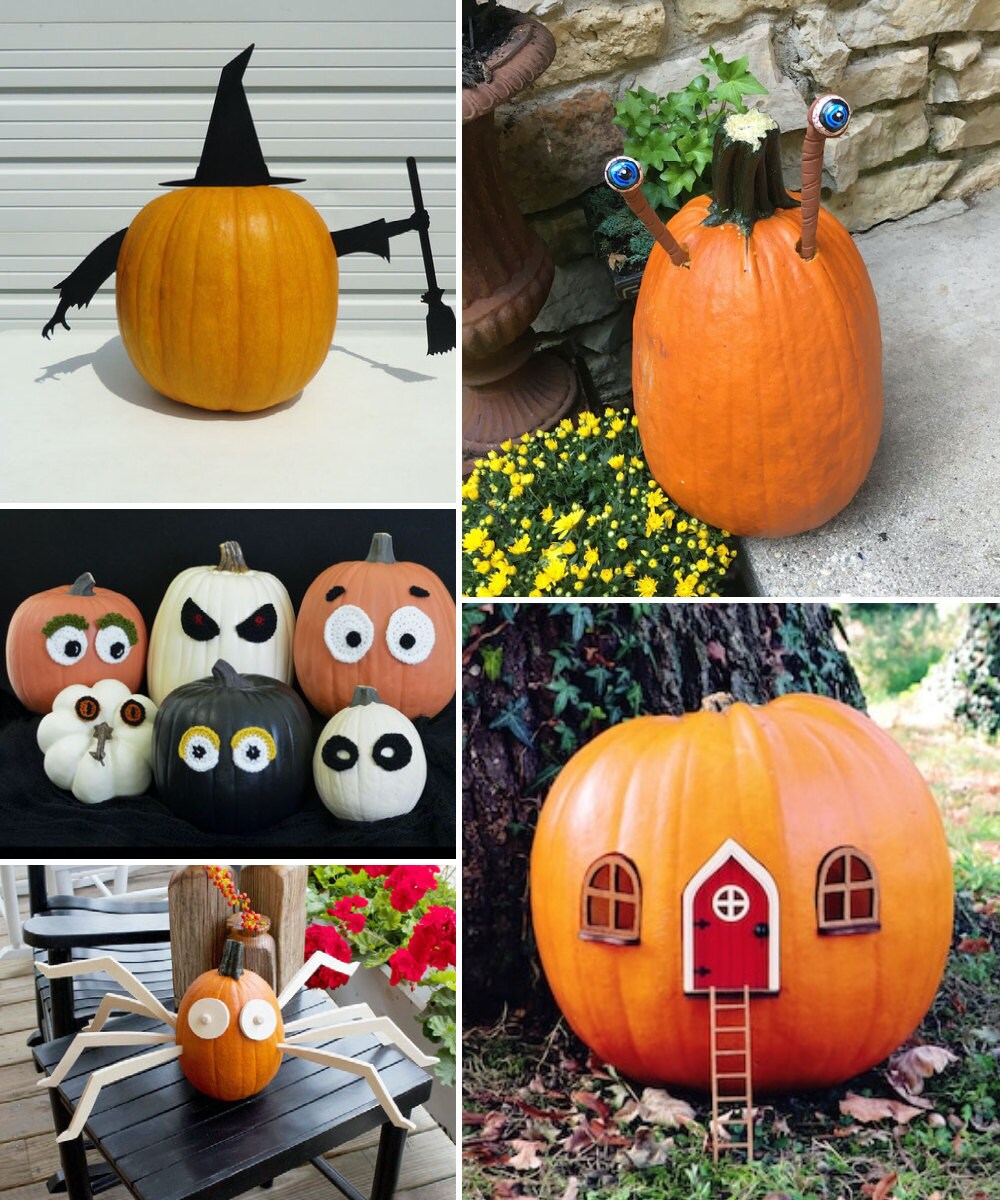 From playful googly eyes and mini costumes to whimsical dollhouse-style trimmings, push-in accessories and all-in-one decorating kits bring pumpkins to life in an instant with three-dimensional detailing. Try a one-and-done option with a metal or plastic insert, or get your creative juices flowing with a wood decorating kit that you can paint or stain to suit your aesthetic.
Get your pumpkin personalized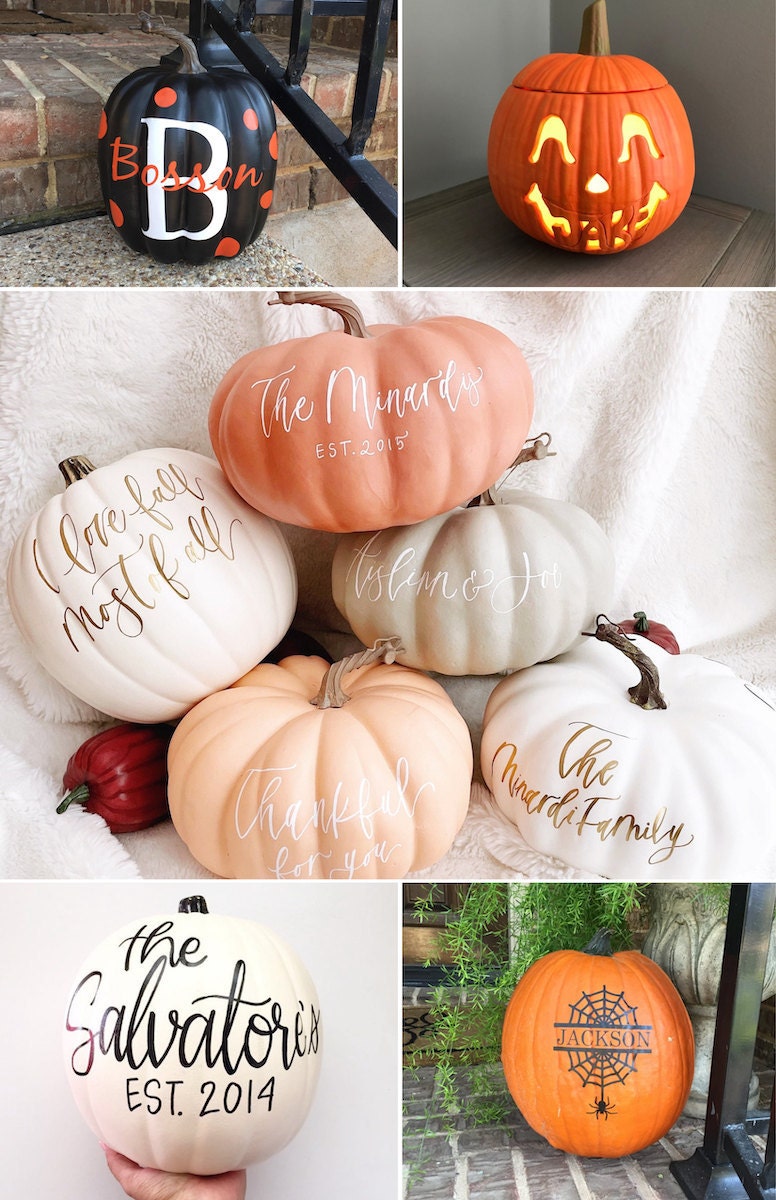 Here's a way to make a truly one-of-a-kind Halloween statement: Go for a custom pumpkin. Etsy artists will deck out foam, ceramic, or real pumpkins with personalized info like your family name or initials, or a significant date you'd like to honor. Or commission a custom decal with a seasonal motif for a simple, stylish, and totally singular statement.
Bedazzle your jack-o'-lantern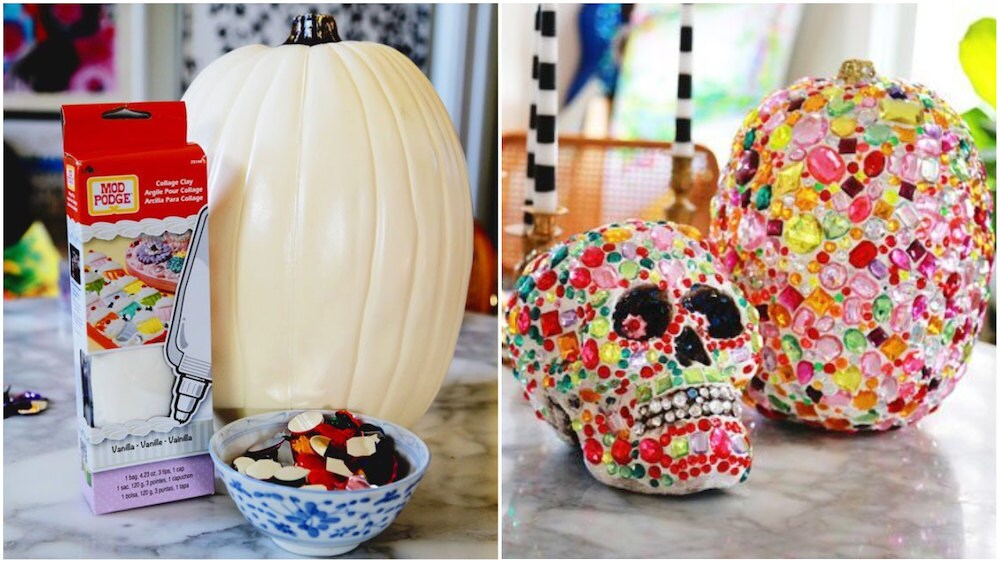 This glam gourd is an ideal way to set the mood for a Halloween bash, or to add some ambience for anyone who likes a bit of bling. And the haute look is surprisingly easy to achieve with just a handful of supplies, including a foam pumpkin, clay, glitter, glue, and lots (and lots) of faux gemstones. Learn how to make this bejeweled beauty with this step-by-step guide from the Etsy Blog.
Pop your pumpkin on a perch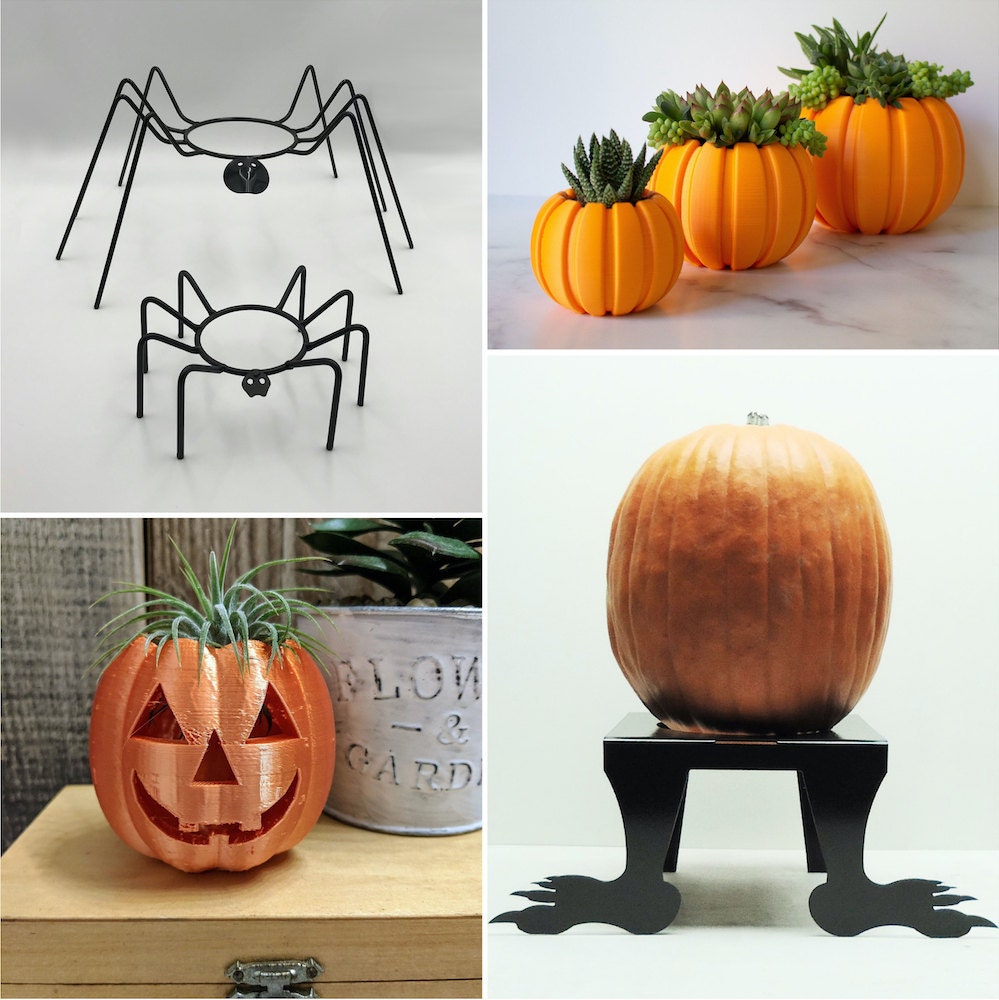 When it comes to pumpkin decorating, it doesn't get much easier than this trick. Simply place your pumpkin atop an appropriately spine-tingling stand, and voila: You've got an eye-catching addition for your entryway, or a convenient candy stand for your stoop. Or, as a cheeky alternative, pop a succulent into a jovial jack-o'-lantern planter that lets the greenery stand in for the pumpkin's stem.
Craft a perennial pumpkin from scratch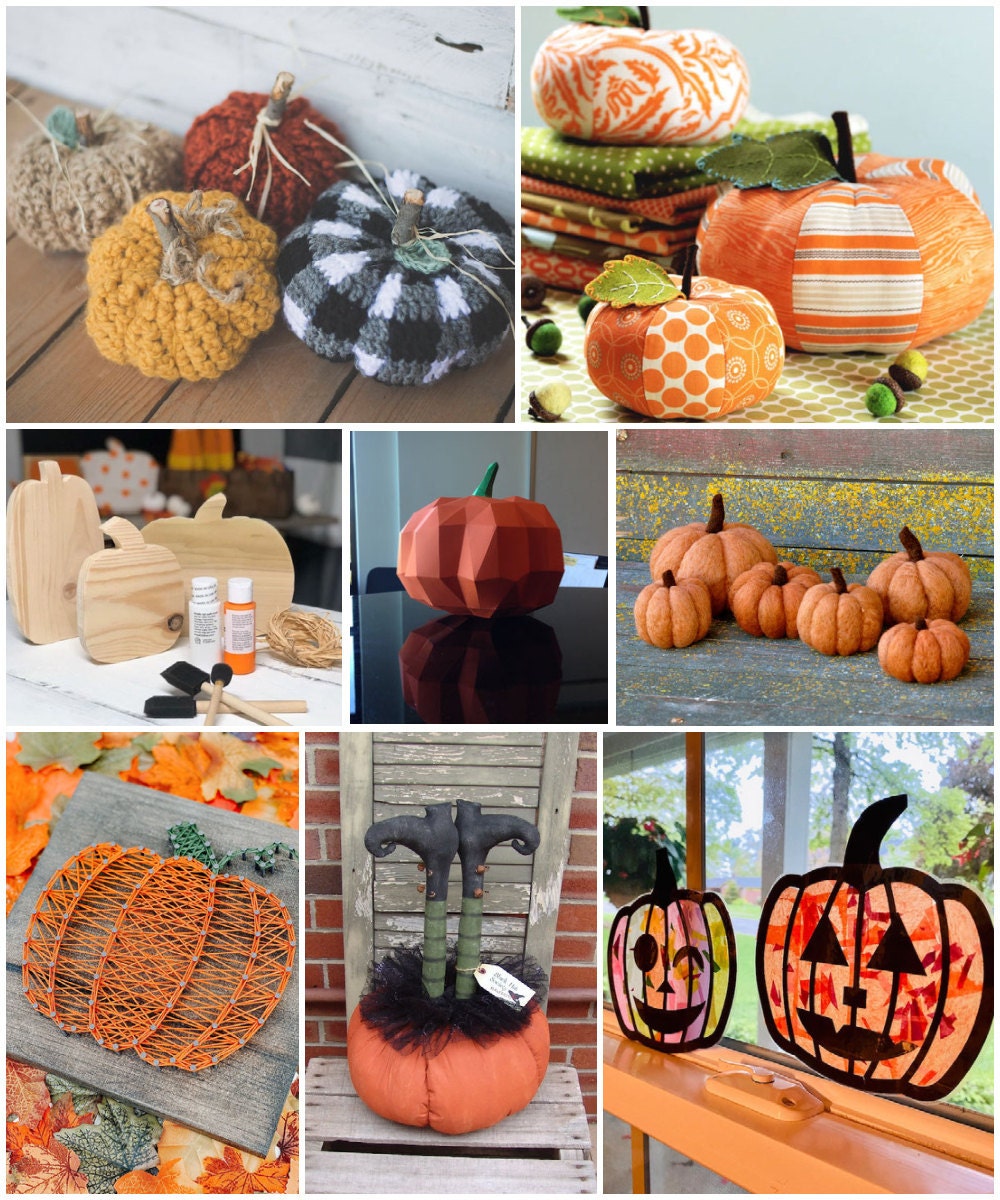 For those who have a specific vision of their Halloween scene (and crafting chops to boot), the best way to guarantee your pumpkin pleasure is to whip one up yourself. From plush pumpkins made from just about any textile you can dream of, to kid-friendly craft projects that produce pumpkins that are painted, made of paper, or do double-duty as suncatchers, the moonlit sky is the limit when it comes to completely DIY pumpkin ideas.
Pumpkin decorating ideas that require no hands-on effort at all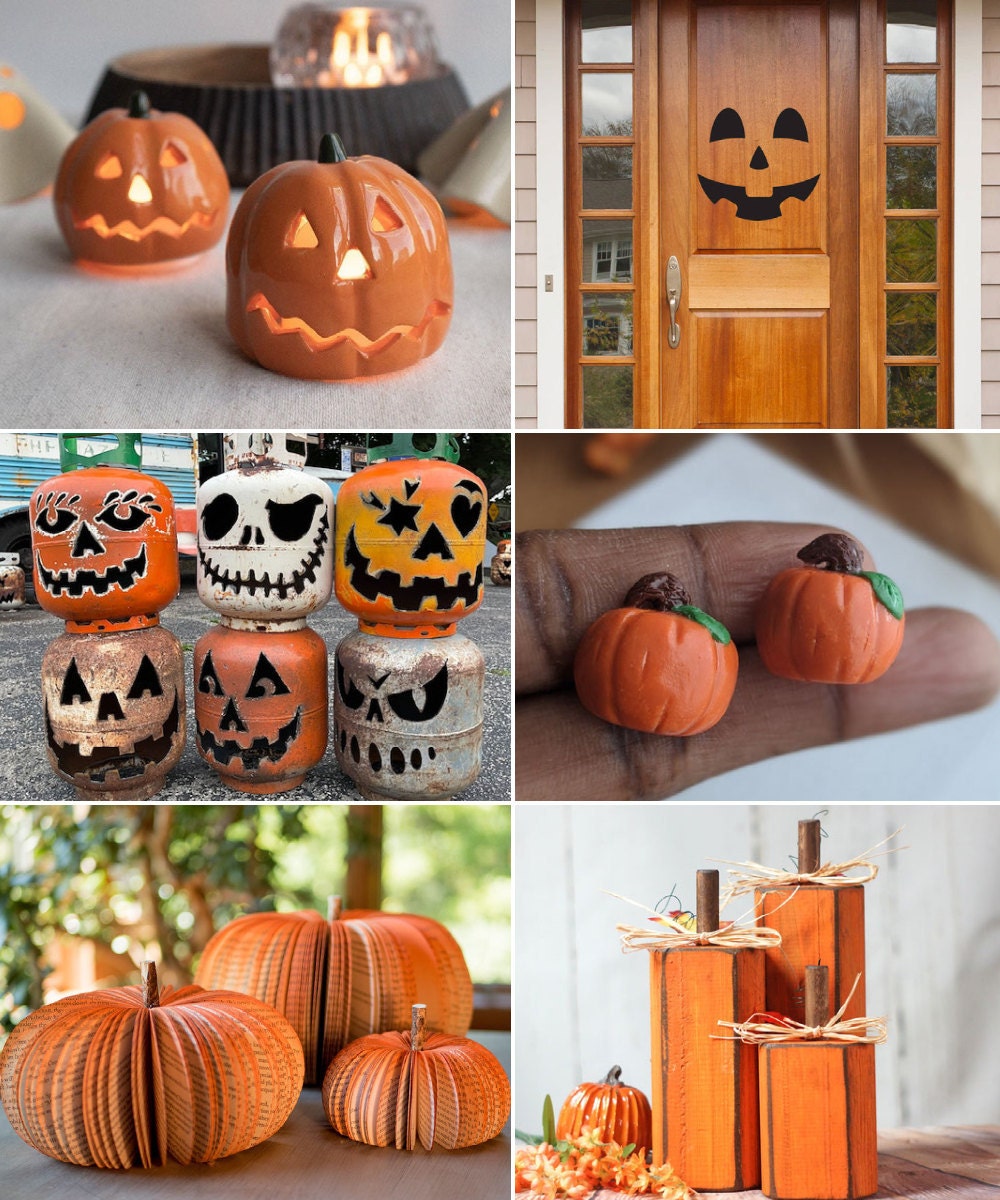 Want to make a festive impression on trick-or-treaters, but can't stand the idea of post-carving cleanup (or tossing a pumpkin once all the candy's been devoured)? Fear not: There are scads of choices for mess-free, reusable decor. Think one-step Halloween decals for doors, walls, and windows; rustic-chic wooden "pumpkin" posts; playful jack-o'-lanterns fashioned out of propane tanks; and tiny ceramic tea lights. 
Do fright night right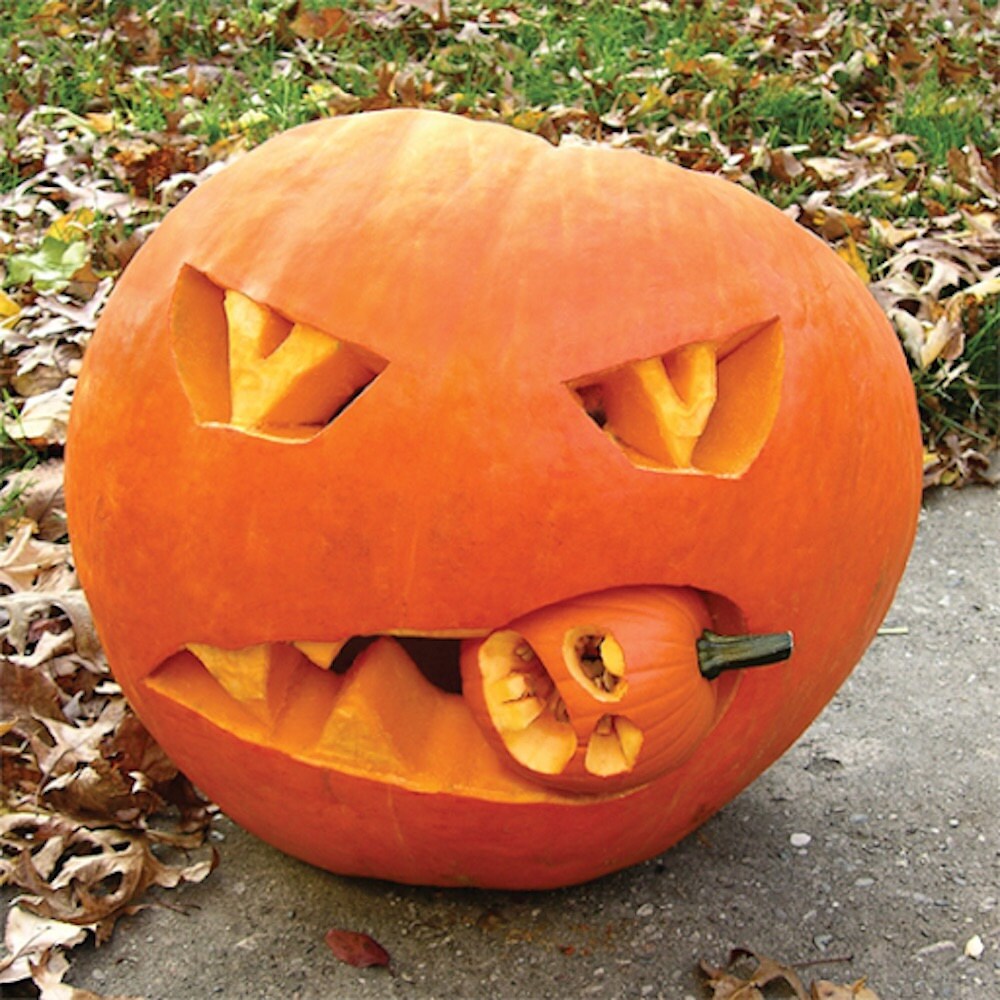 Is your Halloween vibe more haunted house than bobbing for apples? This clever—and delightfully diabolical—cannibal jack-o'-lantern is guaranteed to give trick-or-treaters the shivers (or or at the very least, a good chuckle). Learn how to create this impressively ghoulish gourd design in a tutorial by Tom Nardone, author of Extreme Pumpkins, on the Etsy blog. 
Keep your gourd going through Thanksgiving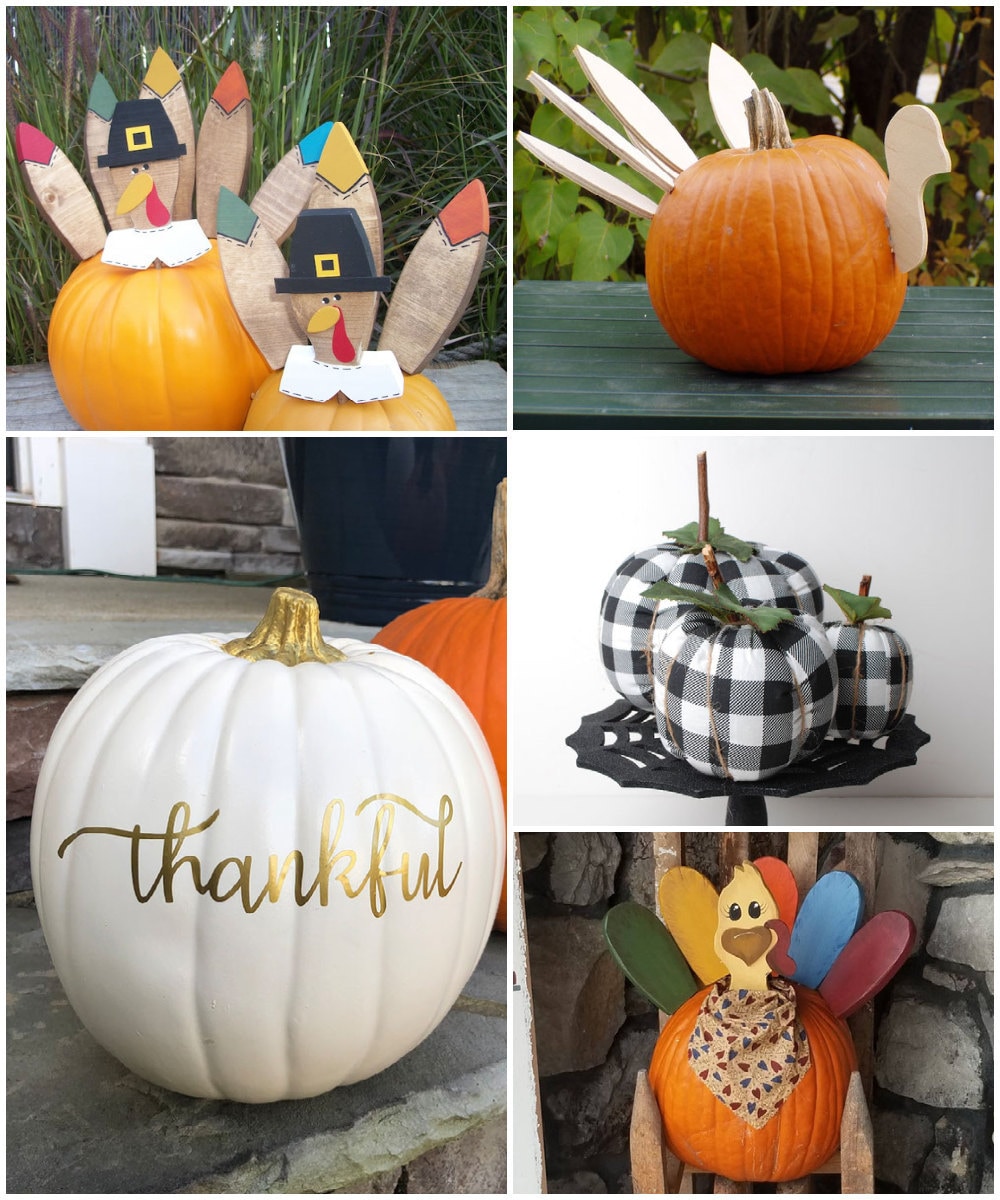 Who says pumpkins are just for Halloween? Stretch your gourd's mileage with decorating touches that take it into Thanksgiving territory. Colorful turkey feather add-ons make a charming pumpkin centerpiece for harvest season, while versions painted with a chic Thanksgiving-ready sentiment or wrapped in a cozy autumnal print fabric sit pretty well into November.