by Katie Hawley
These unique, beginner-friendly Etsy embroidery kits will help you jump-start a hand-stitching hobby. Bonus: they come with rave reviews.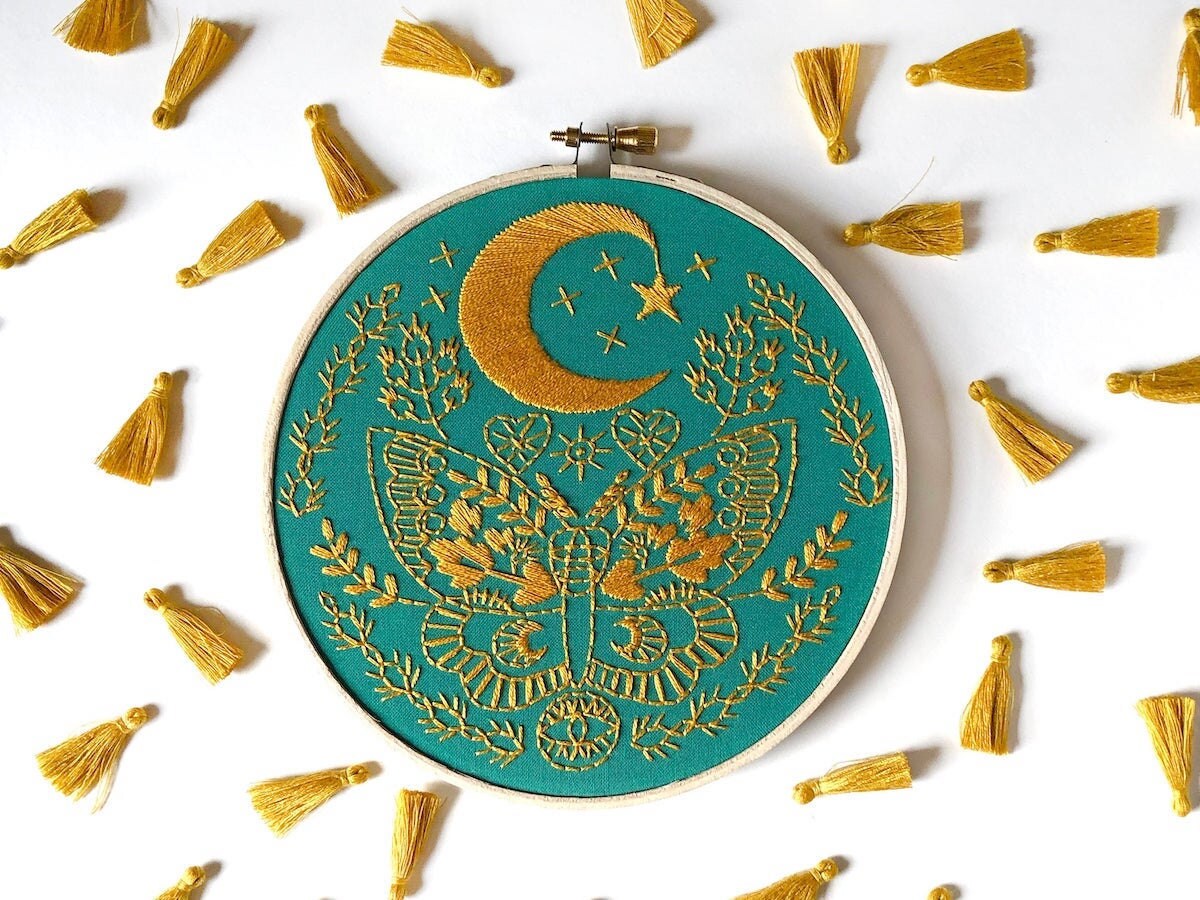 We turned to savvy shoppers—and their glowing reviews—to find the best Etsy hand embroidery kits for beginners and experienced needleworkers alike.
When it comes to activities that will help you pleasantly pass the time, quiet the mind, and generate a totally one-of-kind piece of home decor, it's hard to beat embroidery. And on Etsy, there are oodles of gorgeous and approachable hand embroidery kits, thanks to talented, creative sellers offering sets conveniently stocked with all the materials you need to get started. From perky plants and friendly critters to motivational mantras and dreamy hot air balloons, Etsy's embroidery kit options are as unique and varied as they are delightful to complete. To get the needles flying, we've rounded up obsession-worthy hoop art sets shoppers can't stop talking about. Who's ready to start stitching?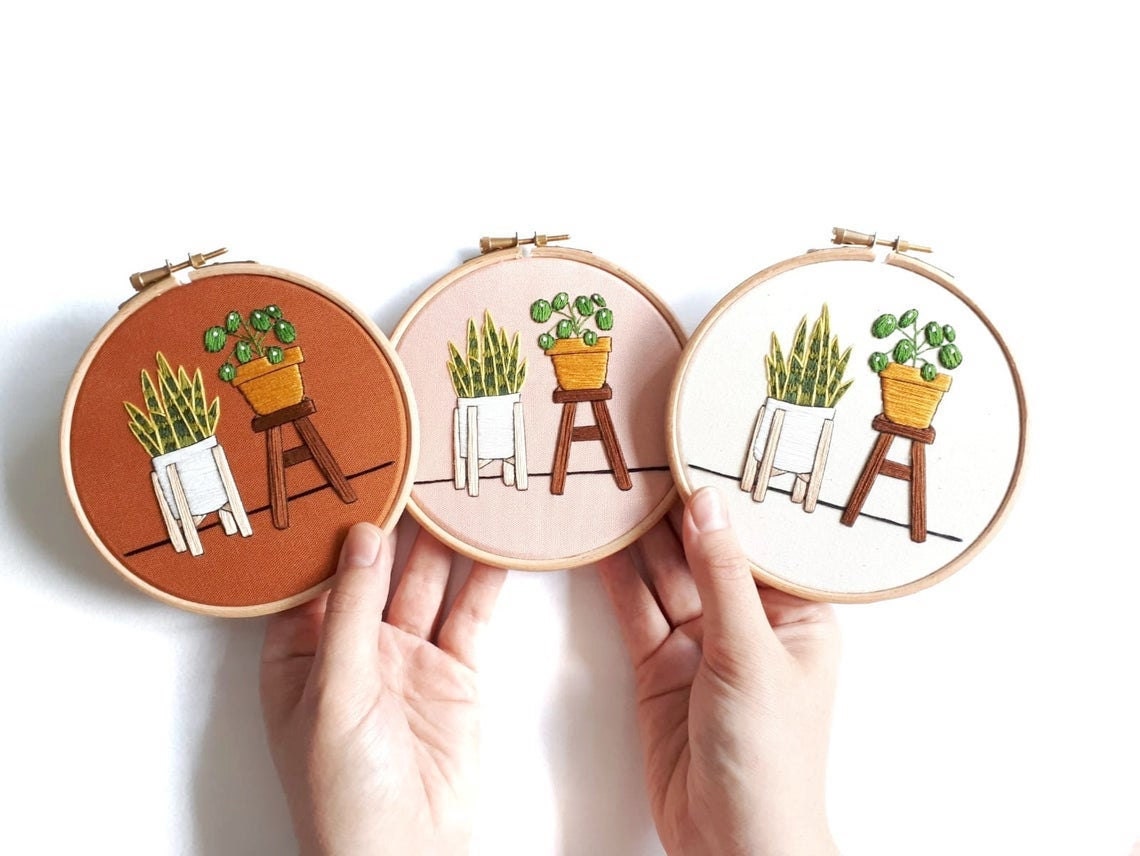 Why we love it:
This charming kit from Sew Botanical is based on a hand-drawn sketch of two of our favorite house plants, pilea peperomioides and snake plants, and expertly introduces novice crafters to a smattering of stitch types through a comprehensive step-by-step guide. 
Why shoppers love it:
"This was so much fun and I'm so happy with how it turned out! The instructions were clear and the kit had everything I needed." — EB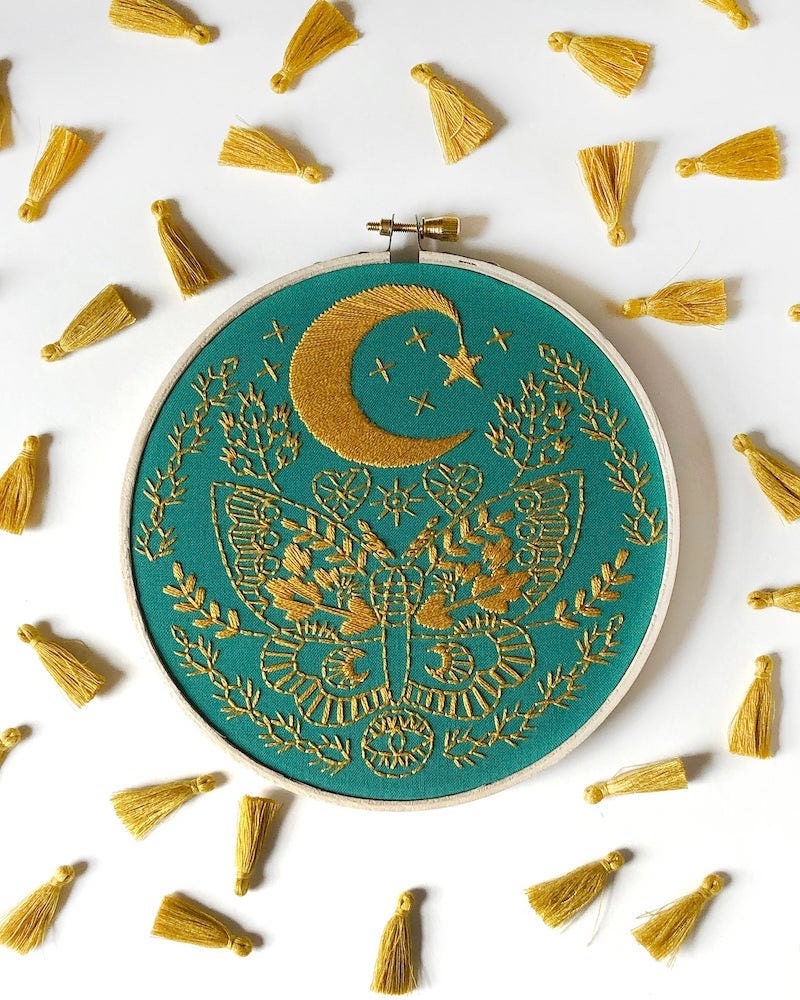 Why we love it:
We're crushing hard on the saturated teal fabric background of Rikrack's bestselling hand embroidery kit, not to mention the on-trend design featuring a magical moth and dreamy celestial accents.
Why shoppers love it:
"Fantastic kits—I opened it and five minutes later, I was stitching away. Great guides on the website and lightning-fast shipping. Very happy with this purchase!" — VG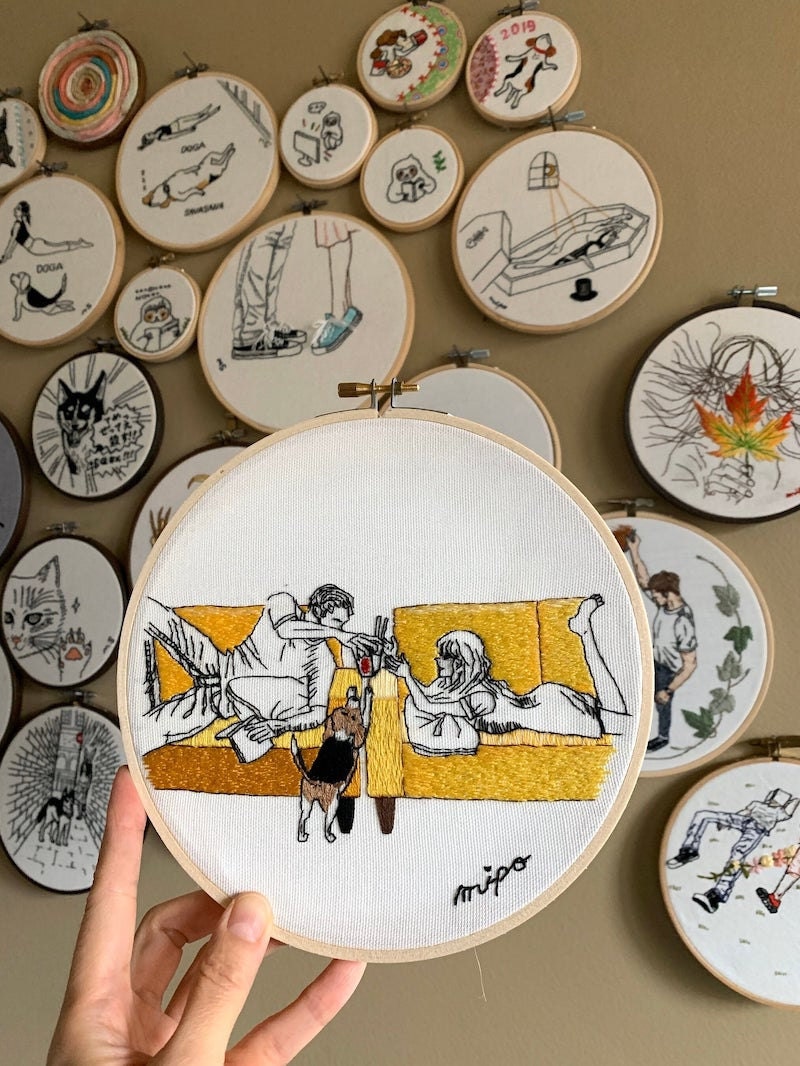 Why we love it:
Unconventional subject matter for an embroidery kit, maybe, but who doesn't love takeout? The pattern for this comics-inspired kit from mipomipo handmade is printed right on the fabric for ultimate execution ease. Plus: that beagle!
Why shoppers love it:
"This is my second purchase from this seller. As expected, I received the kit promptly. The accompanying instructions were color-printed and the printed cloth was of good quality. One of my favorite shops." — HAJ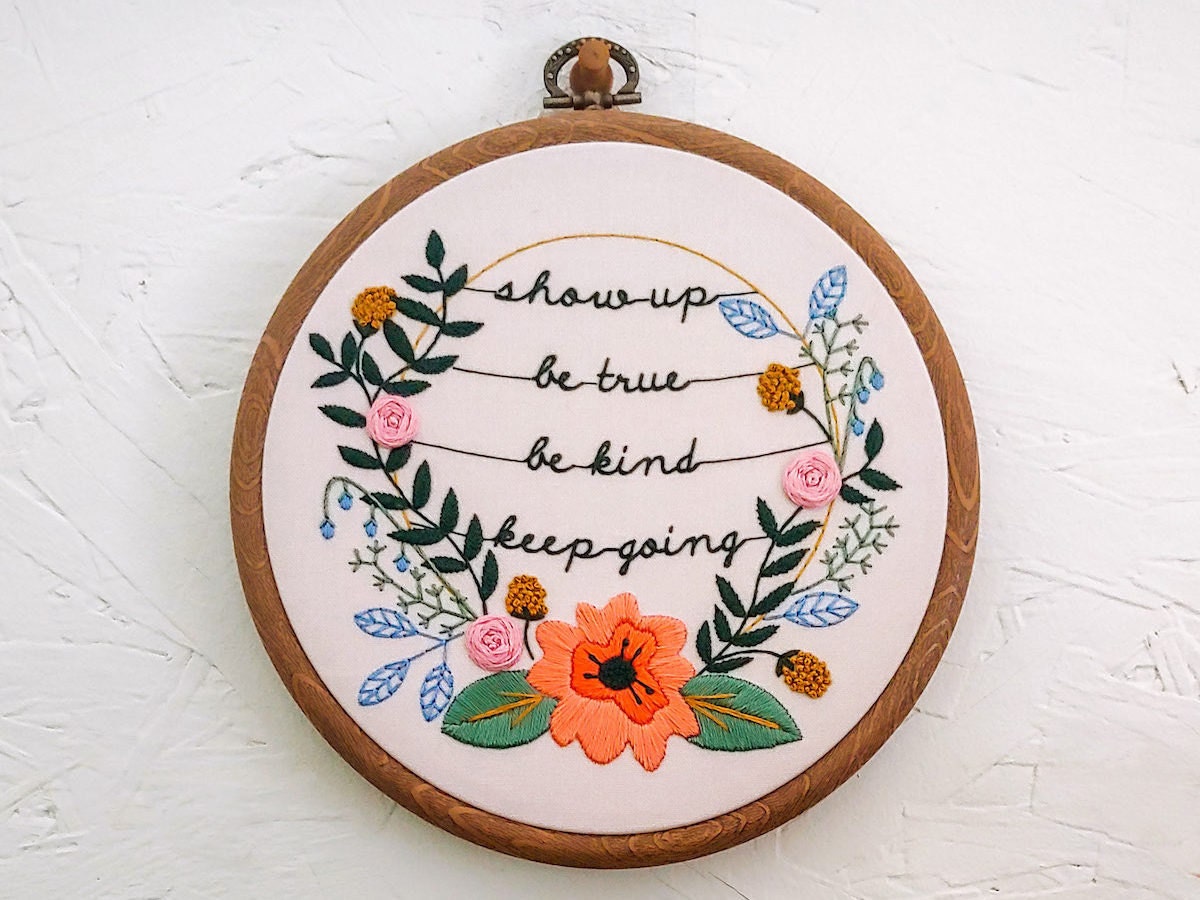 Why we love it:
Words worth remembering offset by Cozy Blue's gorgeous floral pattern and the sweetest pastel palette we ever did see? Yes, yes, and yes, please! 
Why shoppers love it:
"Perfect kit. Had everything I needed, and everything was so lovely and pretty. The little artistic and personal touches made a big difference. There's even a note about how embroidery can be a really mindful and relaxing practice. Loved it!" — MM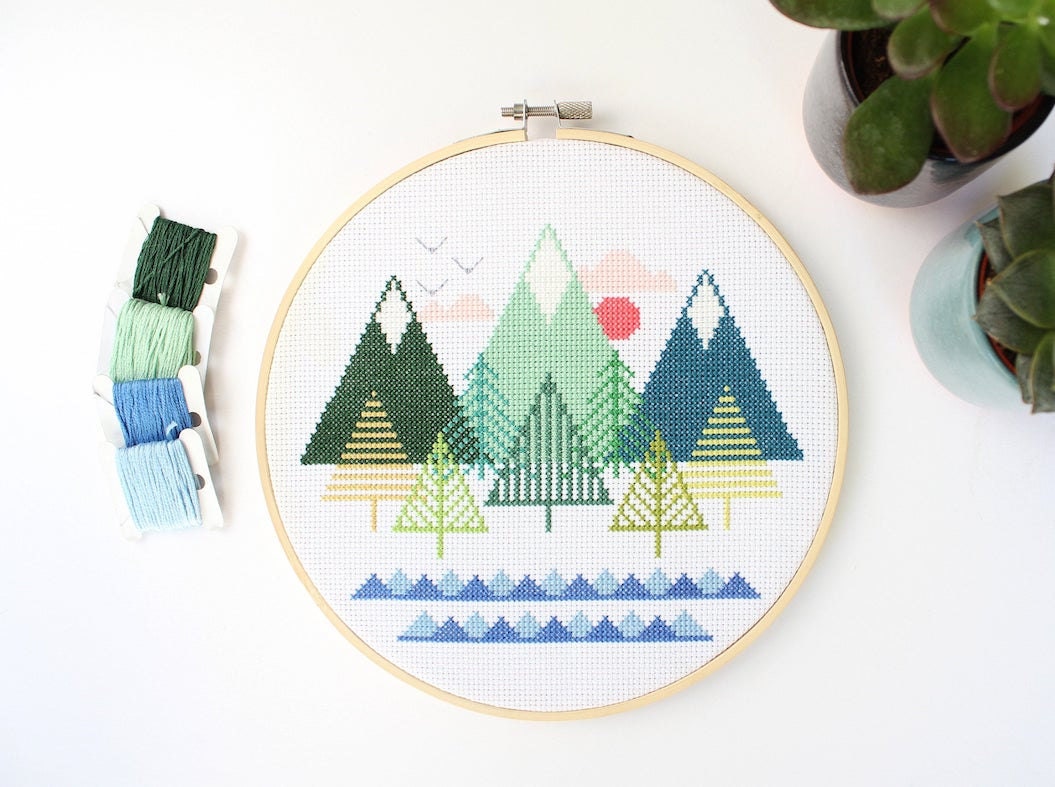 Why we love it:
There's something undeniably soothing about this streamlined cross-stitch pattern, inspired by the sea-meets-mountains landscape of British Columbia and exquisitely brought to life by Diana Watters Handmade. Bonus: All the thread you need arrives pre-cut so you can skip the snipping and get straight to stitching. 
Why shoppers love it:
"Prior to this, I had never cross-stitched anything but I wanted to have a piece of decor in my daughter's nursery that I made myself. I'm a little over halfway done and I'm impressed by how easy this kit has made the experience so far! Everything you could need is included, and the diagram and color chart are so easy to follow. If you've ever wanted to try cross-stitching something, I'd highly recommend buying a kit from this shop!" — ASR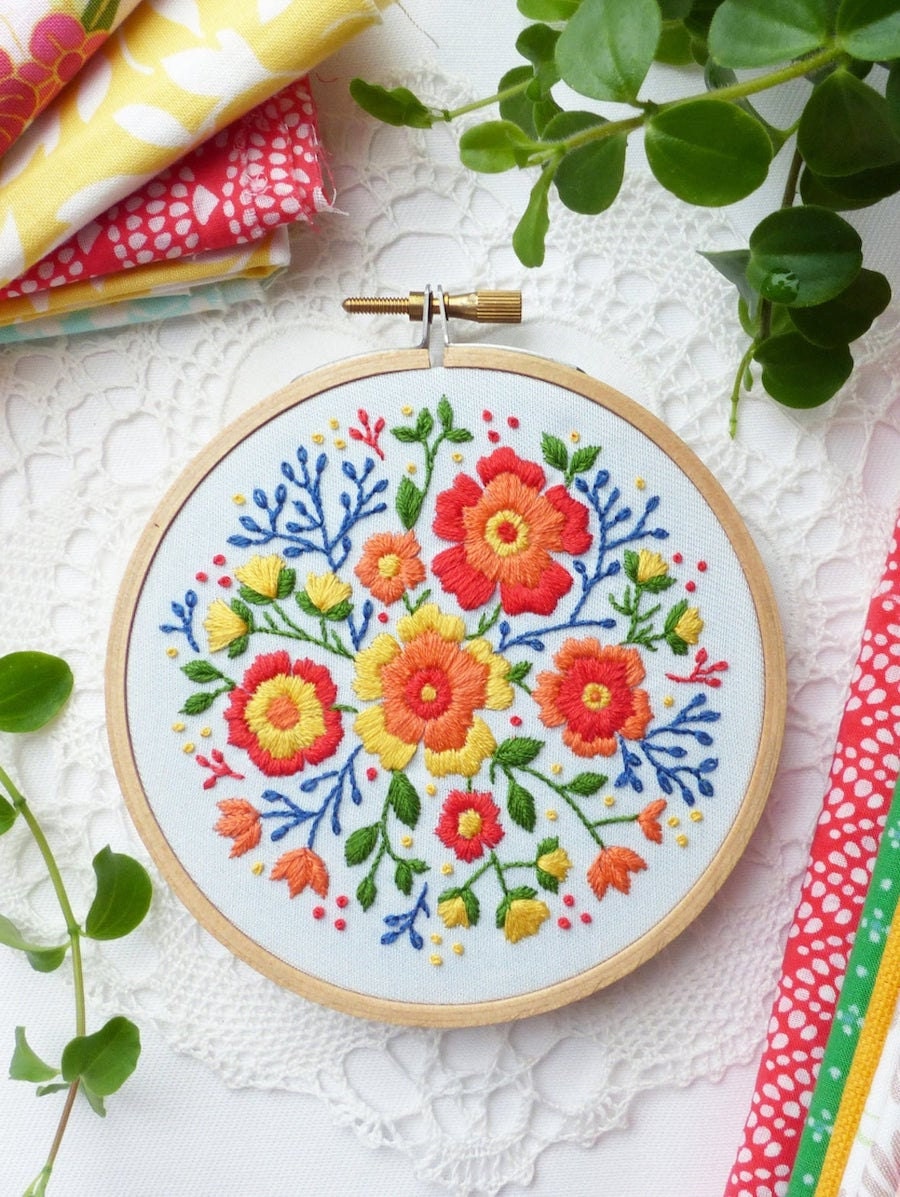 Why we love it:
This crowd-favorite design from Tamar Nahir Yanai can be purchased in three versions: a printed fabric pattern only; the printed pattern with needle and thread; or all those elements plus a hoop for hanging, so there's something to suit every kind of crafter.
Why shoppers love it:
"That was my first embroidery project ever and I'm in love! The kit was so cutely packaged and shipping was faster than expected. Everything I needed was right there and the instructions were clear. Feels like a lot of care went into this product and I'm extremely happy with my order. I will be recommending this shop to my other crafting friends! Thank you!"  —SC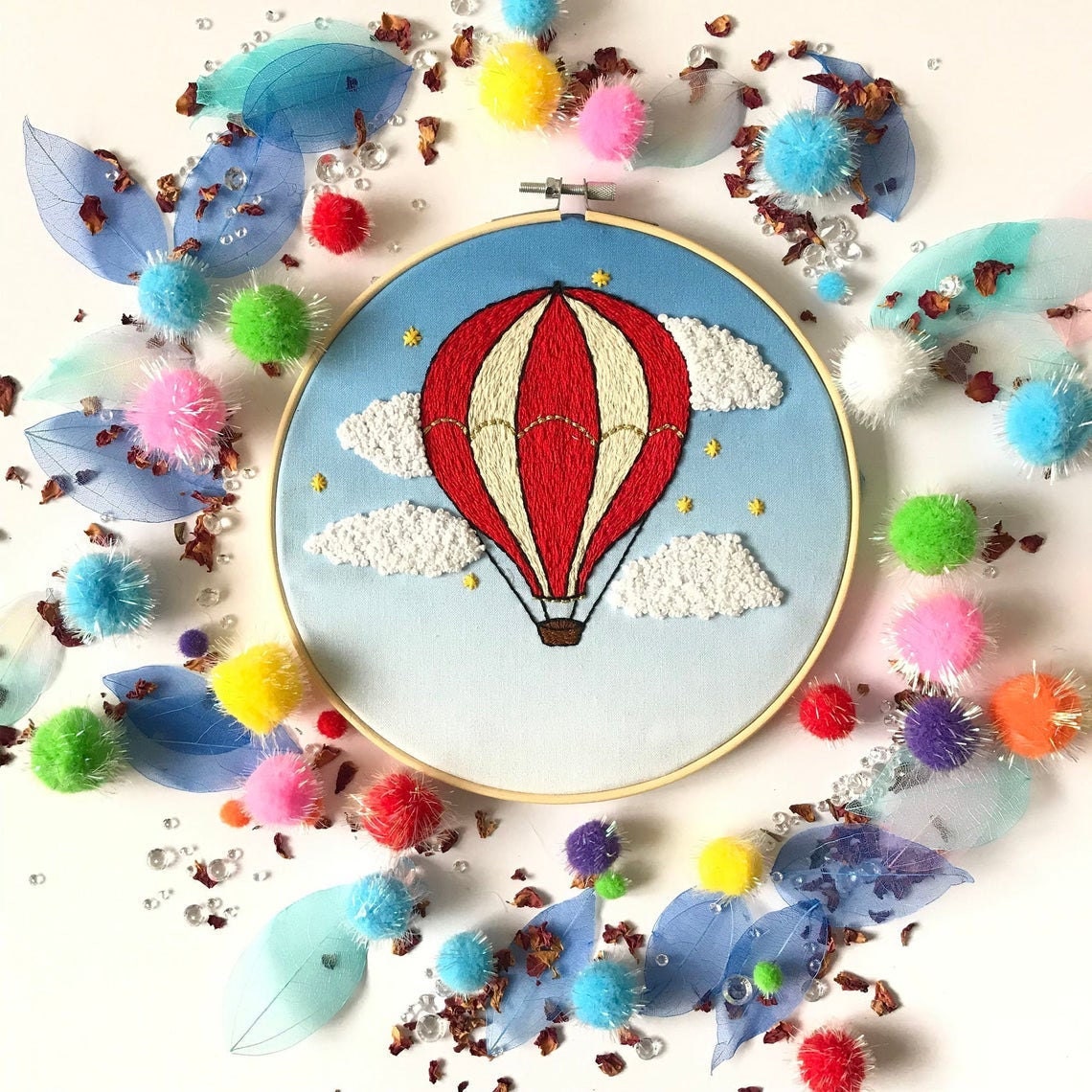 Why we love it:
A bonus needle, an illustrated stitch glossary, and a practice fabric swatch are just three of the many reasons we can't get enough of Nelly Makes Embroidery's thoughtfully assembled kit featuring a classic hot air balloon floating calmly among the clouds. 
Why shoppers love it:
"This is probably the best embroidery kit I've bought on Etsy. You can see how much care is put into this. It's beautifully packaged, the instructions are very clear, and the materials are fantastic quality. You really get your money's worth. Thank you so much for the love you've put into your work." — SN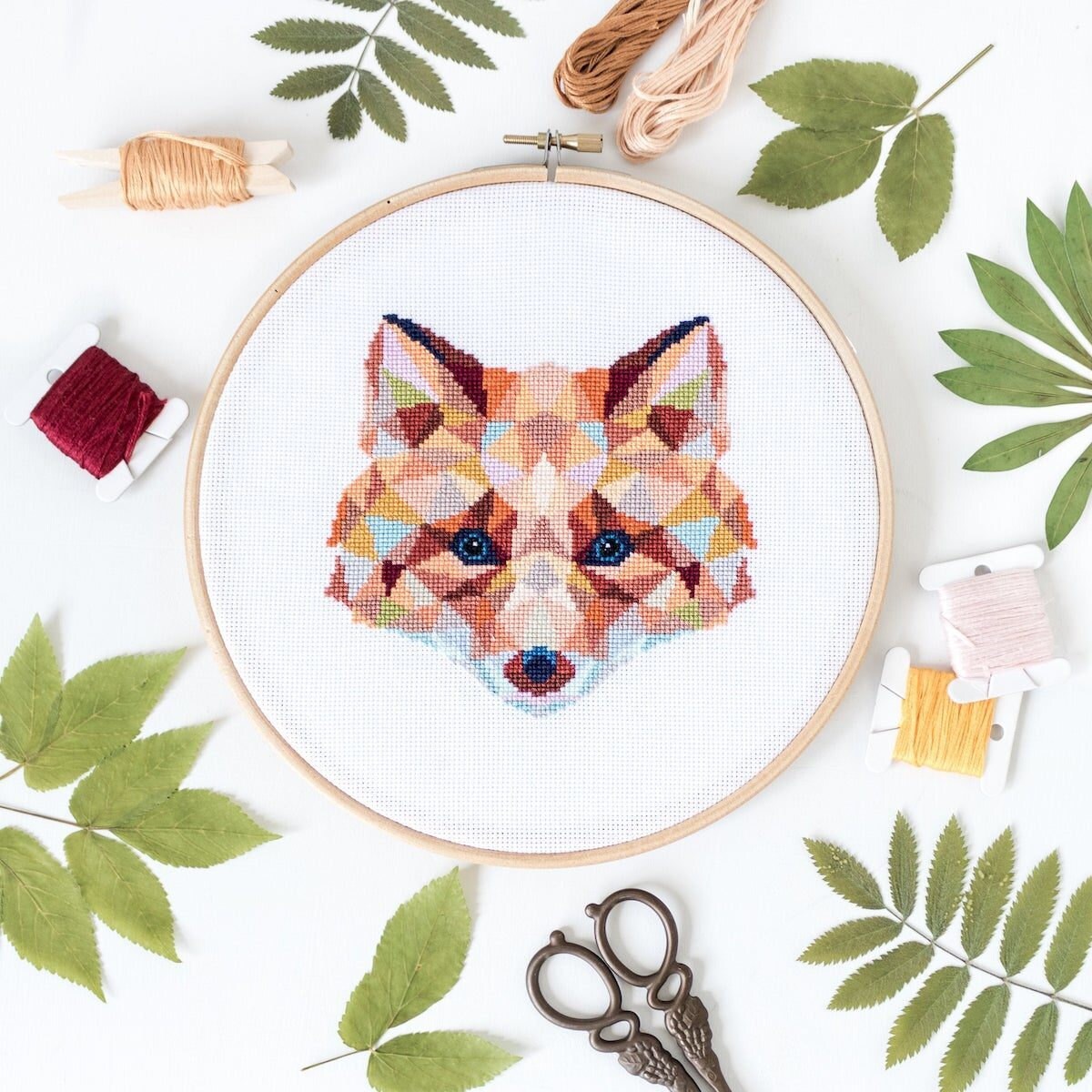 Why we love it:
This clever geometric pattern from Velvet Pony comes together to reveal one fully adorable pointy-eared fox who almost looks ready to prance out of the hoop.
Why shoppers love it:
"This kit is fantastic! It was my first try ever at embroidery and it got me hooked right away. It contains all the necessary equipment and supplies and the included threading system is hassle-free and easy to use. I highly recommend this artist!" — MB 
From crochet ideas to fall crafts, get more DIY patterns and kits for all skill levels.