One woman's passion for collecting created an unexpected opportunity when her family faced dire financial hardships.
MP4 | YouTube | Vimeo | Blip.tv | Subscribe in iTunes
(Music by Lineland)
Nancy Roberts has been collecting
English transferware china
 — the evocative pottery and dinnerware adorned with narrative illustrations such as "Liberty Blue," "English Scenery," and "Rose Chintz" — for almost twenty years. Over time, Nancy has become an expert on the history and patterns of
transferware's
heyday. However, what started as a lighthearted hobby actually helped save her family from financial ruin. As Nancy recalls:
 I started collecting transferware to decorate. I would buy a few plates here and there, but I really never started selling until my family and I were going through a home foreclosure and trying to make ends meet.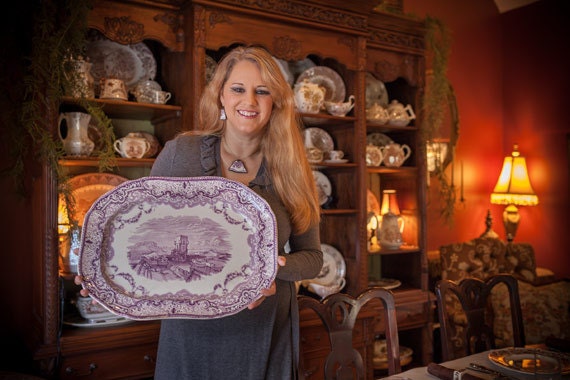 Shane%20Brown
One day, I was just feeling sorry for myself, mad and angry at the whole world for what was going on, so I got online and bought a red English transferware plate. I knew I shouldn't have bought anything for myself, so I started looking at all of my transferware — maybe 20 or 30 different pieces — and I decided to sell them online. I took a few dollars from each sale to buy myself another piece, and continued to sell the pieces I had. I started to realize that I was actually earning a little bit of money. Ultimately, we did lose our home and my husband's business, but I kept buying and selling, buying and selling, and before long, it turned into a new business for us. It was our sole source of income, and it wasn't a lot, but we managed to get by. I feel so fortunate that I've found something that I love that also allows me to support our family.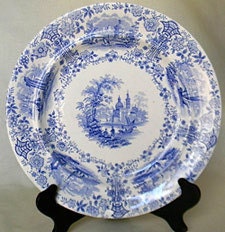 Enter for a chance to win a piece of blue and white transferware. On Monday, November 19th, 2012 at 12 p.m. ET, we will choose a commenter at random. (We apologize in advance that this sweepstakes is only open to US folks over 18. Void where prohibited. Download a PDF of the full Rules and Regulations.)