by Valerie Rains
Eric Gorges travels the country visiting artisans' workshops for the Create TV series "A Craftsman's Legacy." Here's what he's learned along the way.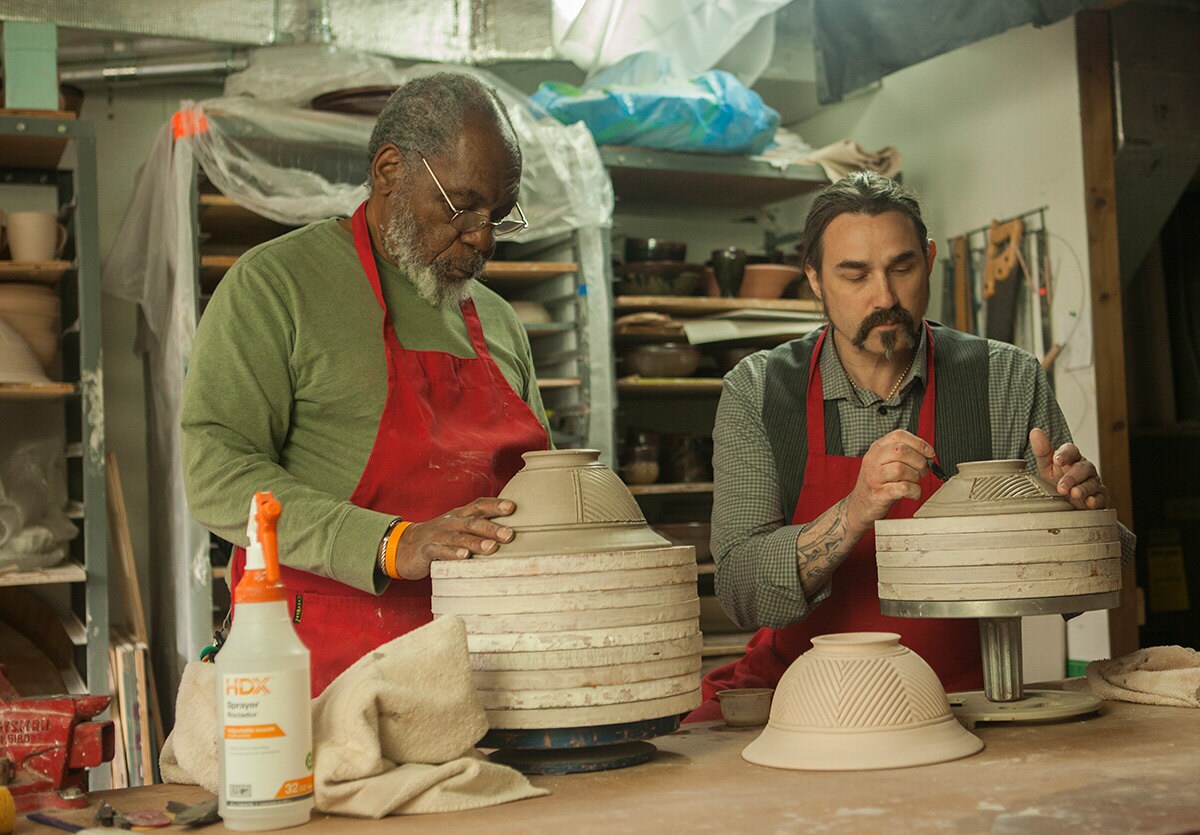 Splitting one's time between building motorcycles in a garage outside Detroit and, say, learning to spin and dye
yarn on a family-run alpaca farm
 may sound like an odd combo, but it's not as much of a divergence as it seems — at least not to Eric Gorges, the founder of Michigan custom-motorcycle company Voodoo Choppers and the host of the public television series
A Craftsman's Legacy
. "I grew up in a family of craftsmen, where hard work was appreciated and respected, and working with your hands was something that was very normal," Eric says. Eric knows that working with your hands doesn't just mean manipulating metals and wielding power tools, and with the third season of his maker-centric series (debuting December 2016), he intends to keep spreading the word. In each of the season's 13 episodes, this lifelong DIYer (and now, full-time dabbler) visits a different artisan in workshops and studios all across the country — from a duck decoy carver in North Carolina to a rural Nebraska master cooper — delving into their creative journeys and observing these modern masters at work. "For me, it's not just a job; it's really a life," Eric says. And because his ultimate goal is to get even more folks interested in picking up a craft, Eric offers himself up as the go-to on-camera apprentice, gamely trying his hand at a new technique in each studio he visits. "I believe in everything we're doing so much and I really want people to learn from it," Eric says. "I want our show to inspire people."
Read on to learn more about the making of A Craftsman's Legacy; the series' third season airs on PBS stations nationwide now.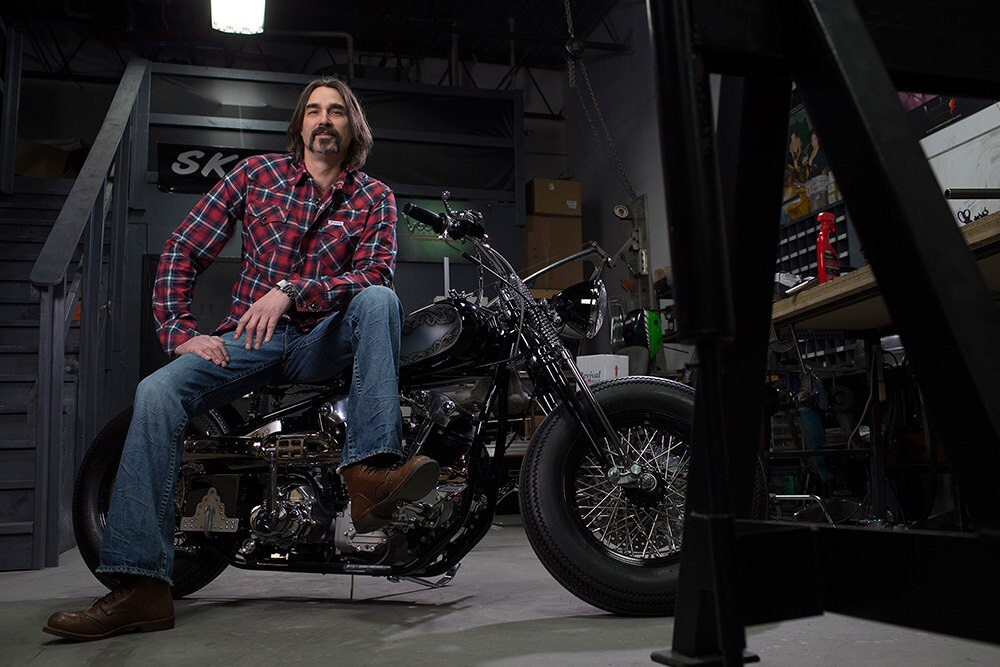 Eric Gorges, host of "
A Craftsman's Legacy"
; photo by John Roe
You've visited such a wide array of makers over the course of this series. What is a common thread that unites all the artisans you feature on the show?
I think there are quite a few things that tie everybody together. All the people we feature have a common arc to their lives — common principles and characteristics that are very important to them that they use to drive their lives forward. The ability and the drive to share their knowledge is very common among everybody. And the experience of losing yourself in your work — that feeling and that energy you get when you're working and have no sense of time at all — that point of discovery is pretty common among everybody, and that's always something fun to talk about.
What have you discovered about creativity in general while putting this series together?
Oh, I've learned a ton; I've learned something from every single person that I've worked with, and not just the entry-level skills you would expect to learn in one day with a shoemaker or a blade smith or something like that. Personally, I've always felt that there's no magic powers here — pretty much anybody can [make something]. It's really just finding the key within and having the wherewithal to push yourself and keep moving forward. You find the thing that interests you and you keep doing it and go down the rabbit hole. To me, creativity goes hand in hand with that. We're all creative. Everybody is. A lot of people have a hard time finding that creativity, so it's interesting to see, in talking to all these different people, how they found that creativity for themselves. What inspires them? At what point in their life did they discover that, 
Man, I love this
? In Season 1, I worked with a potter named Akira Satake in Asheville, North Carolina. He was a professional musician from Japan — he played the banjo. I've never heard anybody play the banjo like this man does; it's just so beautiful. He put his whole life into music — he even had his own label — but when he was in his 40s, he realized he needed a release from that. To get that release, he went into ceramics. That opened up a whole new world for him, and now this gentleman is not only world-renowned for his music, he's also world-renowned for his craft as a potter. The people we feature all have these enlightenment stories.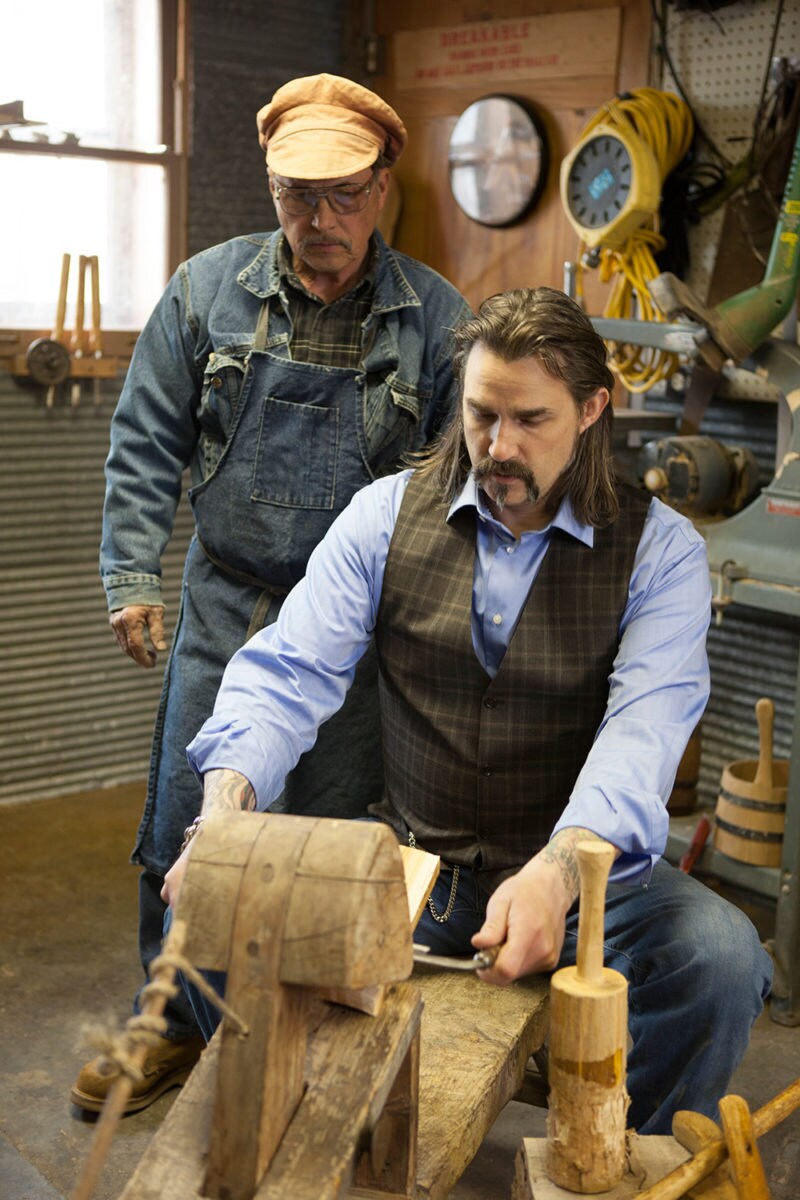 Eric explores barrel making with master cooper Jim Gaster, whose buckets were used in the film "
The Revenant"
; photo courtesy of
 "A Craftsman's Legacy"
In each episode, you get to try your hand at the featured craft and step into an apprentice's shoes for a bit. Have you ended up picking up any of these pursuits after you finished taping?
Absolutely. I've been into woodworking since I was a kid, and then I got into metalworking later, but I've always wanted to get into working with leather more. That's something I enjoyed picking up and moving forward on and doing more work in. I also worked with another ceramist out of New York in Season 3 and he taught me on a basic level how to use a wheel, and I really enjoyed that a lot. I could see myself going down that road also.
I loved that episode — it looked really fun. And it was so cool to watch him show you how to make a bowl, and then to see him show the right way and the wrong way to fix your early mistakes. You really get a feel for it from seeing the video, much more so than from looking at a photo or reading a description.
I agree with you. I think there are some times you need to see something happening — you need to see that process flow to really understand it. It's like trying to explain a capillary reaction to somebody when you're fusing metals; without actually seeing it happen, it can be hard to understand in writing. With David, everything triggered for me when he put his hands on my hands at the wheel, because at that moment I instantly knew what kind of pressure I needed to apply. It was amazing. The crew saw it — everybody witnessed it right then and there. I was really struggling with it because I didn't know the limits of the material at all. But when he put his hands on my hands, immediately I understood, and then I made, like, eight bowls. I was spinning bowls the whole day. While they were filming close-ups of David, the crew picked up the wheel and took it to a different area and I sat over there by myself working. I just get really into everything; I love learning these different things. And to have that time with each individual person, for me, it's such a humbling feeling. I have so much respect for them as people. And for them to allow us to come there and work with them for a few days, it's very personal.
Awesome. And did David let you keep any of the things that you made?
You know what, he did. He actually just shipped them to me recently. That was so nice of him. He was such a gentleman, and everybody that we've worked with has just been wonderful human beings to work with. I don't know, people that work with their hands often tend to have good souls. Not that people that don't work with their hands are bad people...
No, but maybe it brings out the good person that's inside of everyone? Maybe it helps you access the good part of you that is not getting out often enough otherwise.
When I do an interview or somebody asks me about the series — especially with people who say they're not creative or artistic — I'll always tell them, I know when you were younger, in kindergarten, first grade, probably up to fourth grade, you did projects in school. You made cards, you made a garland at Christmas time, you made Father's Day gifts, and when you made those items, you put everything you had into it and it didn't matter. The perfectionism wasn't there. It was your creativity. It was your vision, and you put that in there. And you were so excited; you'd be working on this thing in November and you couldn't wait until Christmas to give your parents this thing you made. That's still in us. We've just beaten it down so much. We forget that feeling, but it's still there. You just have to find your way back to it.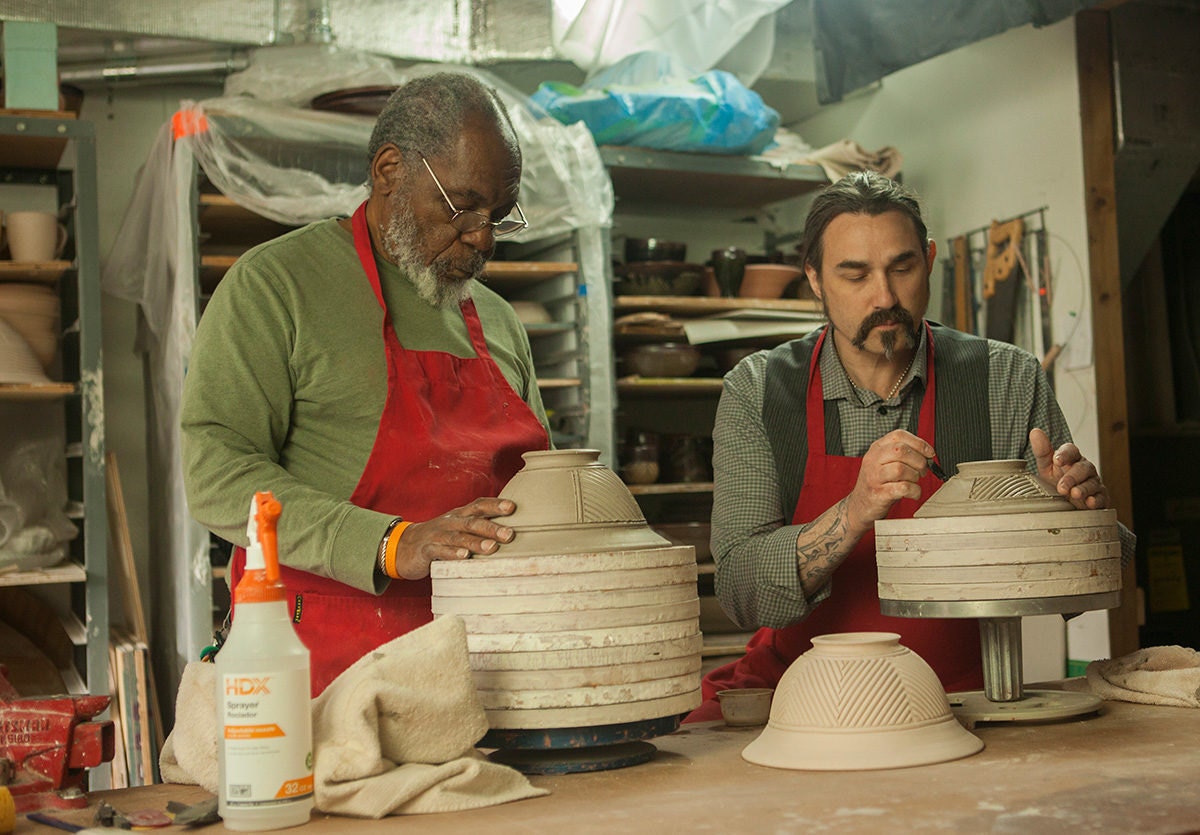 New York ceramist David MacDonald shares his expertise with Eric in Season 3 of "
A Craftsman's Legacy"
Are there any crafts or traditions that you haven't featured on the show yet that you would really love to one day? Like an artisan wish list?
There's a ton of stuff on the list that I want to do. I enjoy working with metals a lot, and I enjoy working with wood a lot. Using different types of wood together fascinates me, and joinery fascinates me a lot — especially the Japanese-style joinery and really fine dovetail joinery. I also really want to go back to things like thatching and some of these older skills that are almost to the point of extinction now. There's just so few people left that do it — at least in the US, anyway. To me, one of the coolest things about working with your hands is the history behind it. That's why every episode we do a little water-cooler history lesson: where the craft came from, why it's important, how it got here and things like that.
A lot of the things that you're exploring on the show are things that you had no prior experience with; what are some things that have really surprised you in the course of working on the series?
Every time I work with somebody I'm surprised by something they're doing — either the way they're doing it or how they got into it or the history behind it. One specific example was in Season 1, when I worked with a knife maker in Northern Michigan. He was an amazing gentleman, very intelligent and very scientific. We smelted some steel together and made a knife from the steel, and then when we were going through the hardening stages, we were quenching in a salt bath — salt that was in a liquid state, basically. First of all, I'd never thought of salt in a liquid state before that point. I'd heard of a salt quench, but I'd never really understood it. That whole process was fascinating, but there was nothing magical about it — and that's super important to me. I believe so many people are their own worst enemies. We're all our own worst critics, but we're also our own worst enemies because we put these roadblocks up immediately, like: 
Oh, I can never do that
. Like glass blowing or something — 
there's no way in hell I could do that
. Dude, you totally can. It's going to take time to learn, but I guarantee that within just a few hours with the proper mentor and the proper hand-holding you could be making something.
What's your favorite part of putting the show together?
My favorite part is being there with the makers and filming the interviews. I love the interviews, because being able to talk with somebody like that and connect with them and find that common ground is really fun. Getting hands-on is pretty amazing too. The hard thing about hands-on is that I always want to be there longer than we can, and it's always taken away from me. It happens everywhere we go — the producer's coming back, like, "We're loaded. Crew is done. There's nobody in here, dude. Crew is wrapped. Everybody wants to eat. You have to get in the truck now. We're going."
And you're just over there on the wheel in the corner trying to make six more bowls.
Oh yeah. And it's like that everywhere. It's important to me to at least try to succeed at whatever we're doing. I like to go through that failure and try to get past a little bit of it. Sometimes I can and sometimes I can't; sometimes it's like,
Dude, you just don't get it.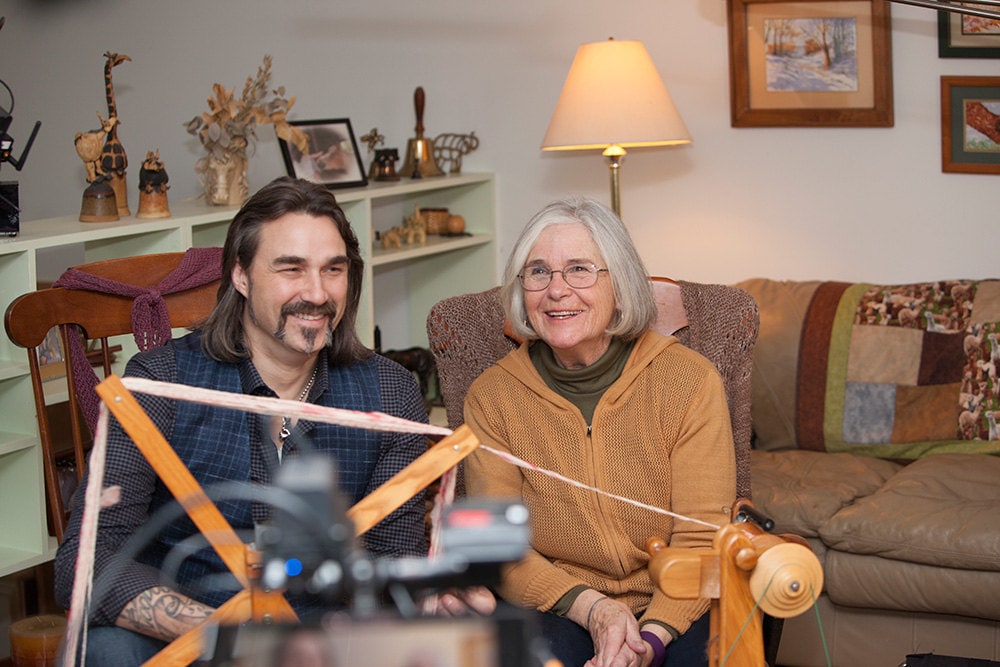 Eric with guest Maple Smith, the spinner and knitter behind the Etsy shop North Star Alpacas; photo courtesy of "A
Craftsman's Legacy"
What is the one thing you hope people would walk away from the show thinking or doing? What's your ideal takeaway for viewers?
I would hope people would walk away from the show thinking, 
I could do that
. That's the whole point of me doing it. I work with my hands every day, and I love working with my hands, but the reason I'm trying all these different things for the series is to show people that they can do it, too. There's nothing special. There's no super powers here, man, you just have to get in and give it your all. And be excited.