by Jackie Buddie
From handcrafted tableware to luxurious bed linens, find everything you need to start a life together in this curated collection of standout Etsy shops.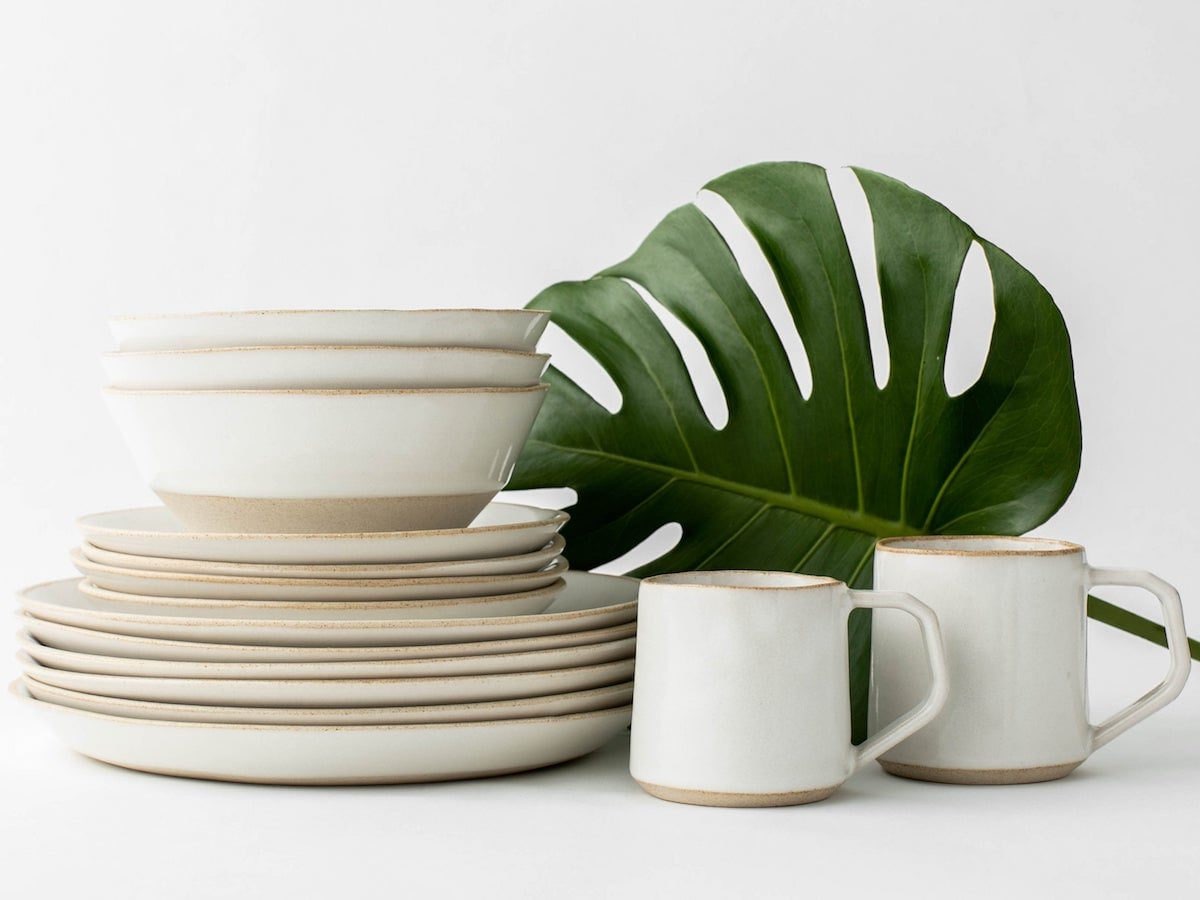 It's official. You've ordered your custom cake topper and mailed out the hand-painted save-the-dates, and thanks to a small force of designers and makers, your completely personalized "I do" is starting to take shape. Finally, you and your partner are free to think beyond the big day and focus on the forever you want to build together, beginning with your registry.
Explore registry essentials on Etsy
Here's your opportunity to really get creative, because, much like your wedding, your home can be a perfect reflection of who you are as a couple, depending on the items you choose to outfit it. And lucky for you lovebirds, when it comes to sourcing totally unique designs for everyday living, no one does one-of-a-kind quite like Etsy's talented seller community. To prove it, we've rounded up 40 must-see shops that are known for their elevated home essentials and wildly original accent pieces, from handcrafted tableware to luxurious bed linens. So join us as—room by room—we walk you through our go-tos for an Etsy-inspired registry that feels intentional, special, and 100 percent you.
For the bedroom
1. Bespoke bedding from Magic Linen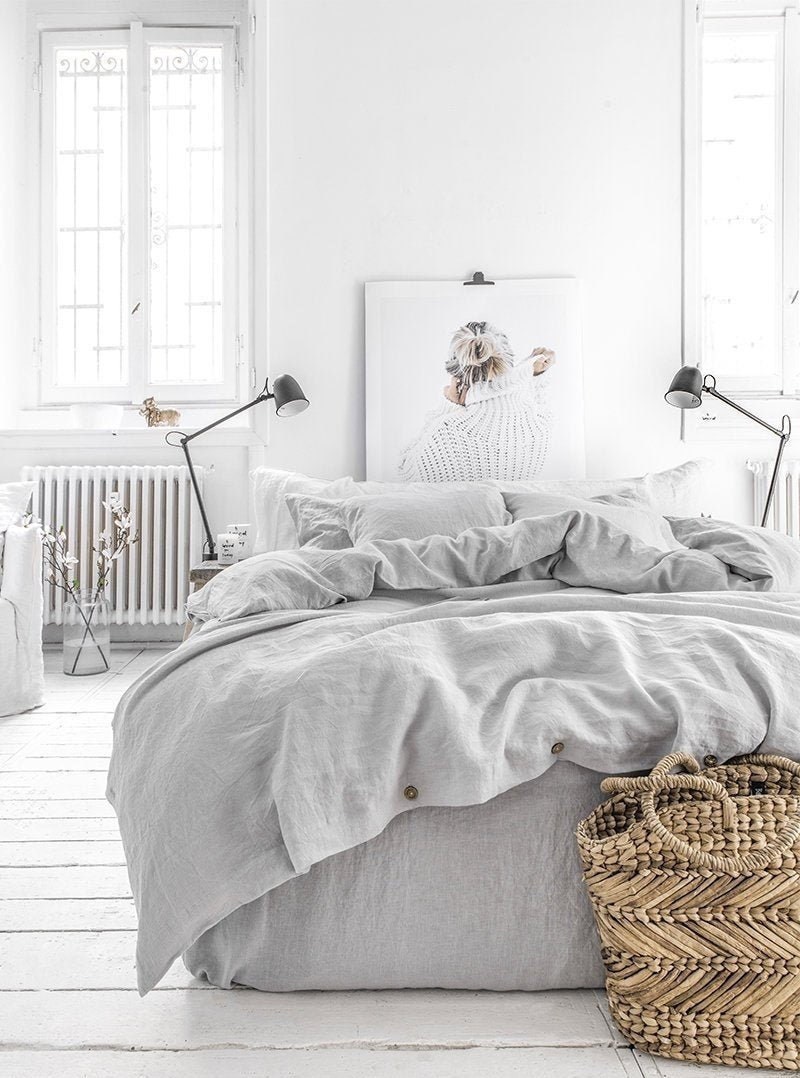 >
The first thing you'll want to do as newlyweds? Upgrade that old sheet set. For the ultimate good night's rest, there's nothing more luxurious and inviting than a bed made up in Magic Linen. "Linen has its own distinct texture and appearance that makes a room feel cozy and relaxed," says textile expert and shop owner Vita Murauskienė, whose tranquil designs are inspired by her youth spent on the shores of the Baltic Sea. "It's lightweight, breathable, moisture-wicking, and thermoregulating," she adds—which means you'll be sleeping in comfort year-round. Plus, each pillowcase, sheet, and duvet is stonewashed to maximize softness, and can be made to order in the colors and dimensions of your choice.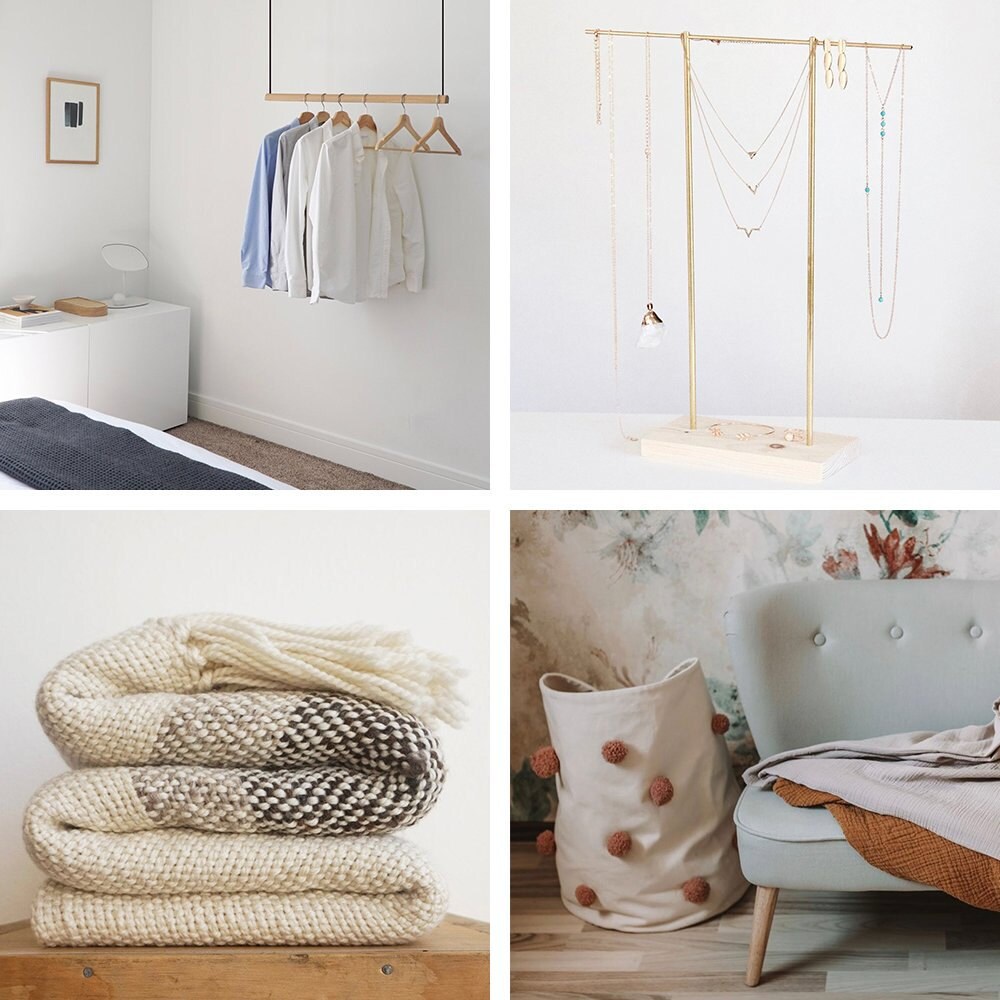 >
Plus four more ideas for dreamy digs:
2. For those of us not blessed with bountiful closets, suspended clothing racks, floating shelves, and valet wall hooks from KROFT offer simple, stylish solutions for hanging your freshly pressed Oxfords and your hat.
3. With minimalist wood and brass jewelry displays from Makk Design, neatly organizing your necklaces, earrings, and rings has never been so easy, or so aesthetically pleasing.
4. Try to resist snuggling up among hand-woven throw pillows and pebbled wool blankets from eco-minded designer Texturable Decor, whose neutral, un-dyed hues put an earthy spin on trendy chunky knits.
5. Doing the wash hardly feels like a chore when your laundry's stashed in cheerful cotton pom-pom baskets from hjartslag—which, depending on your future plans, could one day transition to toy storage.
For the bathroom
6. Elevated lucite hardware from Lux Holdups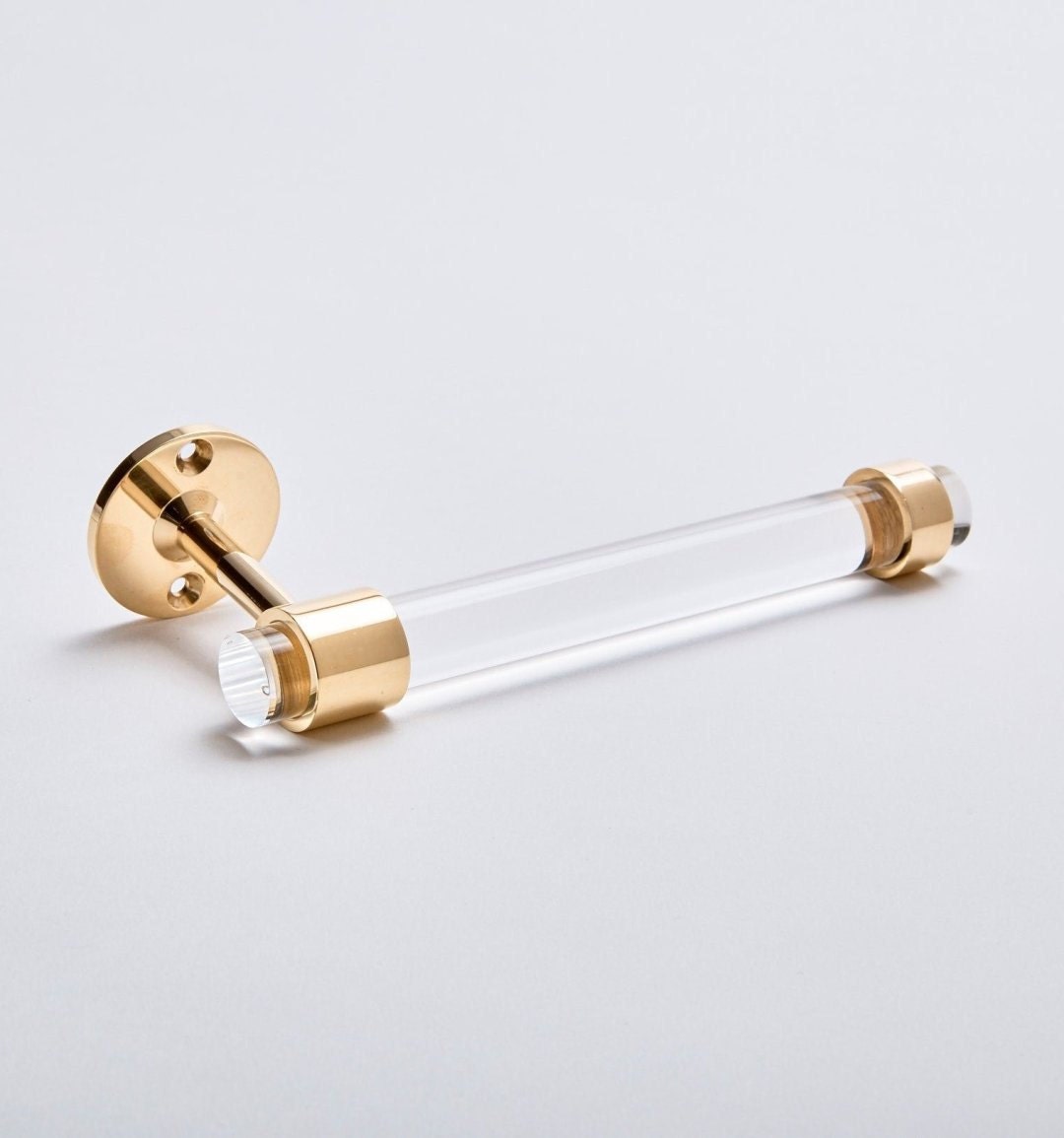 >
"I like to say we make hardware the hard way," says Lux Holdups owner Ashley Platt, mastermind behind the sleek and stylish line of lucite towel bars, drawer pulls, robe hooks, and door handles that are taking the design world by storm. "We not only hand-cast, but also hand-polish every piece of lucite and brass." Uncompromising when it comes to quality, Ashley works only with the finest acrylic, formulated to resist scratches and retain its translucency over time. The result is a collection of crystalline fixtures glam enough for a high-end hotel, but accessible enough to add to the list for an easy master bath upgrade. "Our clients aren't the type to pick out hardware in a national retailer," Ashely explains. "They're storytellers and tastemakers, and they know how to do a lot with a little update."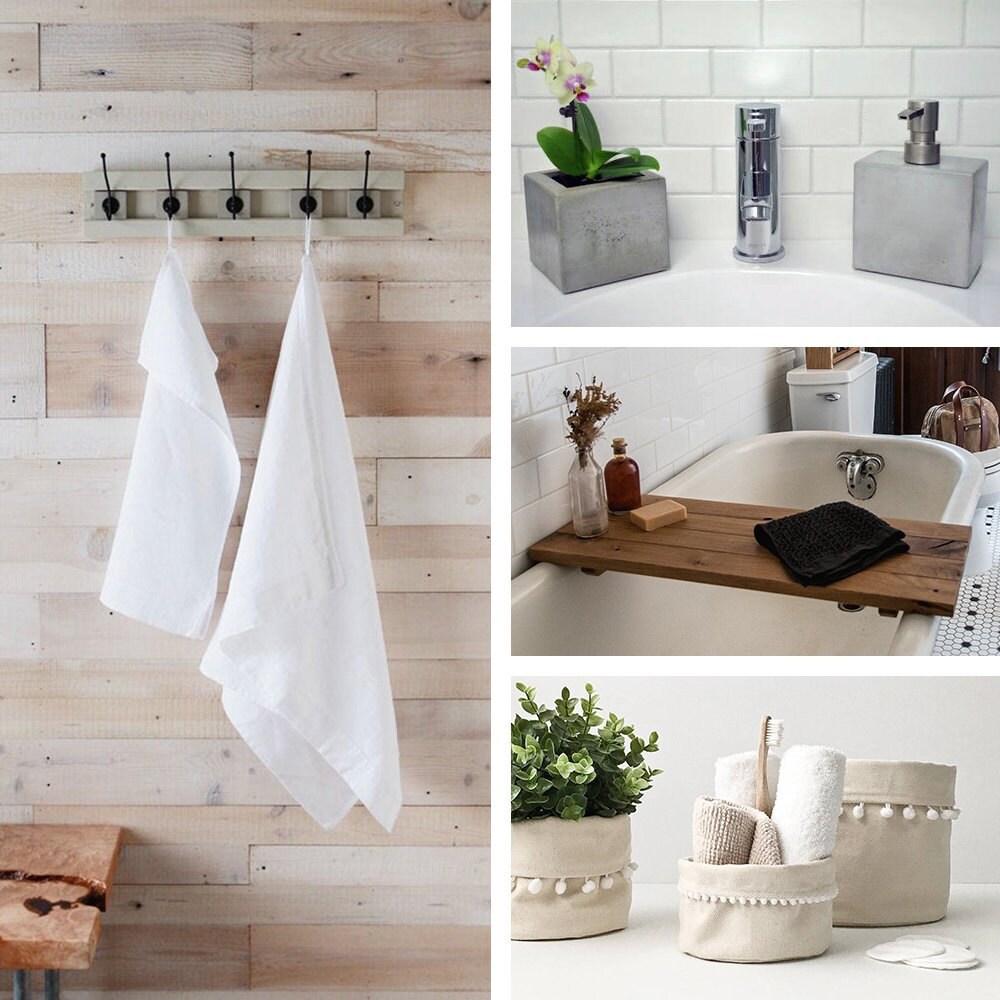 >
Four more selections for your at-home spa:
7. Unlike the ordinary plush kind, Pure White Spa's linen bath towels, available in medium- and heavy-weight flat-weaves and waffle-textured styles, actually get better with time.
8. Streamline your morning routine with sophisticated (and topple-proof) concrete accessories from FMC Design, covering every sink-side necessity from toothbrush and tissue box holders to soap dispensers and Q-tip jars.
9. Each of Peg and Awl's reclaimed wood bath caddies comes with a word of warning for tub worshipers: May cause pruney skin from indulging in your evening soak for hours on end.
10. It's no wonder La petite boite co.'s whimsical, all-purpose cotton baskets are available in earthy shades like terracotta and rosewood: They're designed to complement the brand's equally functional zero-waste range of reusable toothbrush pouches and tote bags.
For the dining room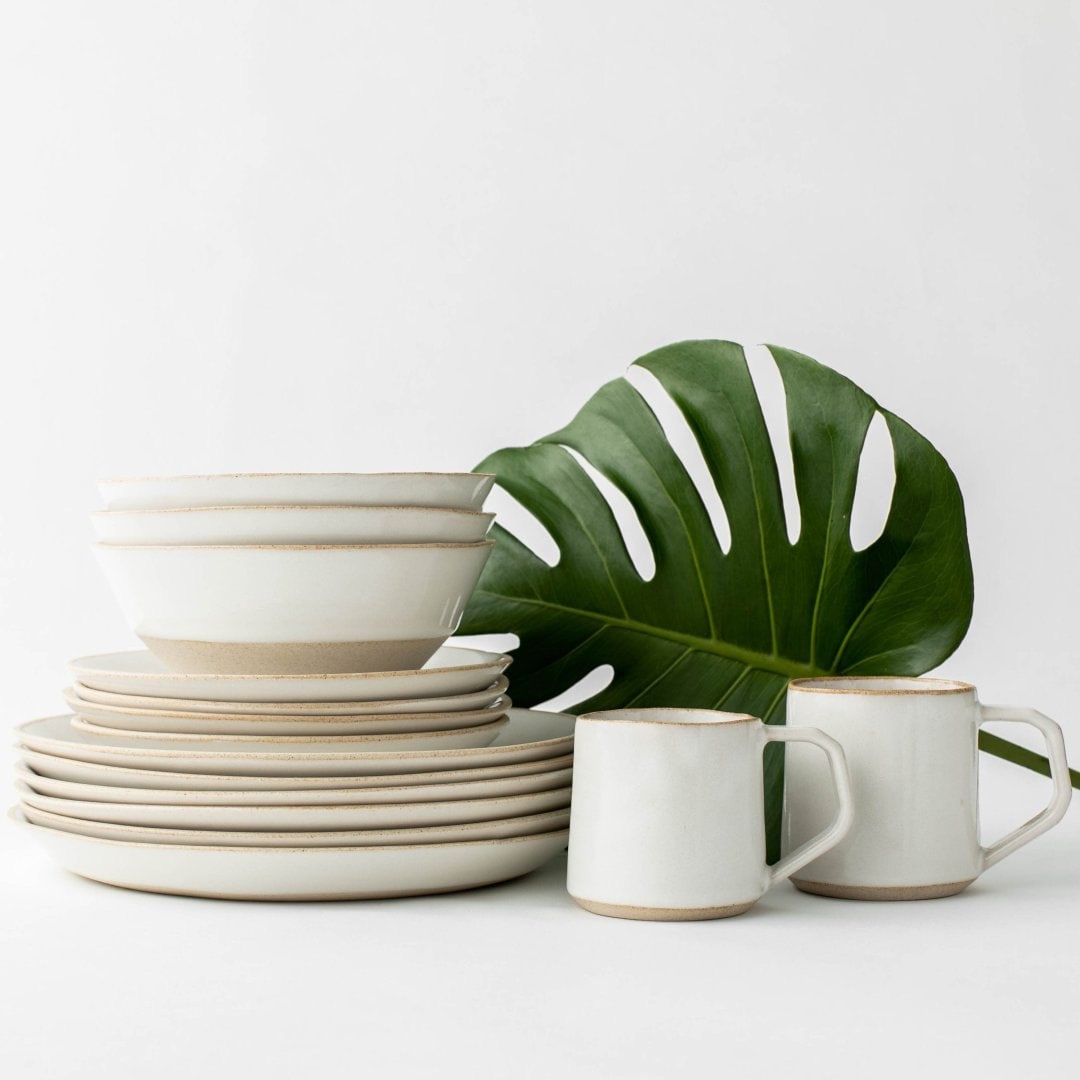 >
It's functionality first for ceramicist Chentell Shannon, whose understated line of handmade tableware is ideal for everyday cooking, serving, cleaning, and storing. "We have seven different quality check points, and we've gone through third-party testing to ensure our products are safe for use—an extra step that's very uncommon in the ceramic world," explains the Missouri-based owner of Convivial Production. Her second consideration? Stackability: "When not in use, we love the idea of our tableware serving as display pieces in open shelving kitchen concepts, so it's important that our dishes stack well and look organized when stored." And whether you're drawn to the elegance of her work's simple, crisp aesthetic or the organic, personal feel of a handmade dish, there's one more reason to add a Convivial set to your list. "When we commit to a design, we commit," Chentell says. "Meaning, if you collect a set of dishes and two years later one breaks, we'll still be making them, so you can keep your set full and consistent."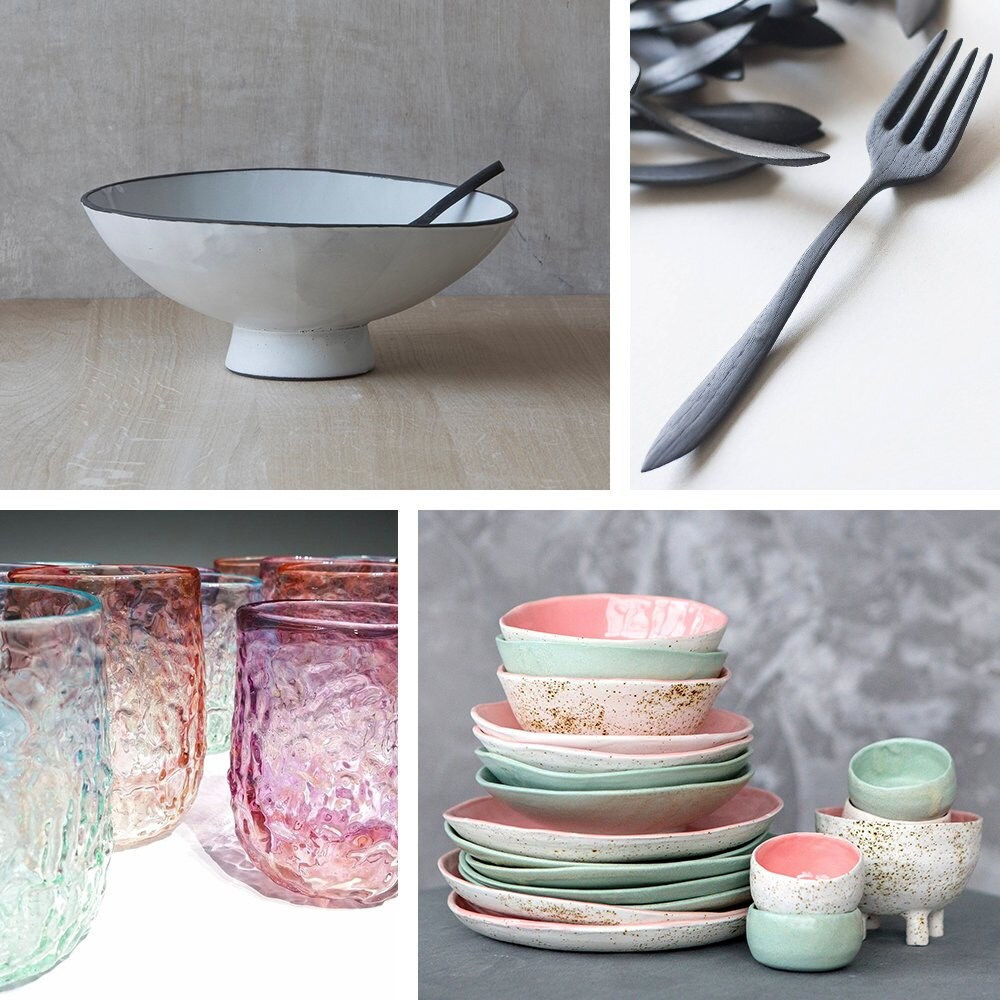 >
Plus four more ways to set a stunning table:
12. A beautiful blend of rustic charm and modern simplicity, 1220 Ceramics Studio's display-worthy serving bowls, trays, and platters are functional works of art that would look equally appropriate holding a salad or serving as a centerpiece.
13. Each wood-carved spoon, fork, and knife in Belaya Hvoya's artisanal utensil line is consciously crafted to be preserved, enjoyed, and admired 'til death do you part.
14. Whether it's a piña colada or a coconut water, every time you sip your drink from Avolie Glass's two-tone, hand-blown tumblers you'll feel like you're back on your honeymoon, relaxing oceanside.
15. The "good china" doesn't have to mean the kind that never sees the outside of a cupboard; just ask the duo behind Mr. Bowl Ceramics, whose playful, wabi-sabi dinner sets are perfect for encouraging lighthearted conversation among guests.
16. Mid-century bar carts and classic accents from Mighty Vintage
>
If you ask Timea, owner and curator of Berlin-based shop Mighty Vintage, incorporating a few pre-loved pieces into your new home as a married couple is always a classy move. "When you're registering for wedding gifts, it's nice to include a piece with history that can easily become a meaningful heirloom," she says. "Vintage is perfect for that. If a piece has lasted 60 or more years, the chances are high that it will last—and remain stunning—for the next 60 years, too." For a super-swanky addition to your dining room, we're partial to her ever-changing rotation of stylish 1960s bar carts, accessorized with elegant brass candlesticks and crystal carafes. "I have one at home: It's a teak piece from Denmark with clean lines. Very elegant," Timea says.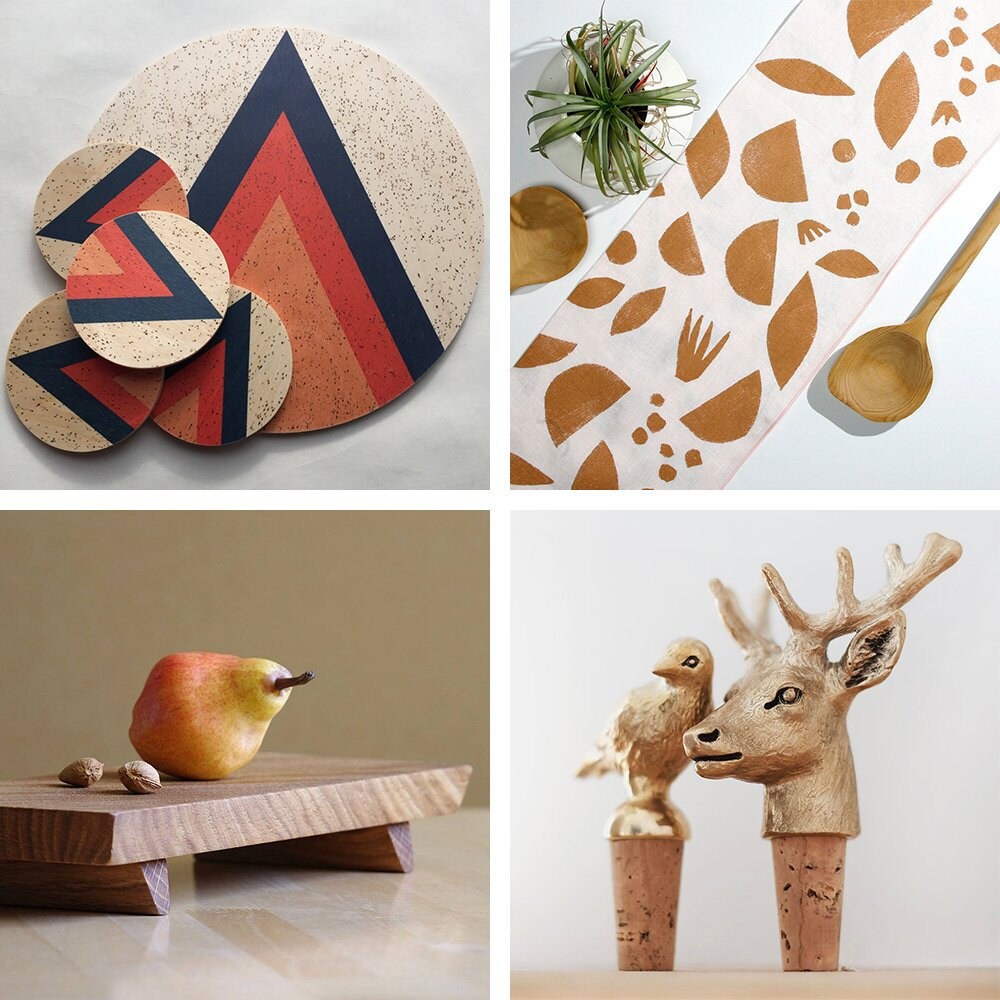 >
And four more ideas for successful soirees:
17. Mod wooden trivets and matching coasters from Tramake will dutifully protect your precious tabletops from years of heat stains and water rings (and look good doing it, too).
18. Trendy cutout shapes are the hallmark of Willowship's block-printed napkins, placemats, and table runners, which add a playful graphic pop to your tablescape.
19. One easy way to instantly elevate your party spread? Arrange it on chic Japanese-style serving trays, fruit stands, and bread boards from Michael Vermeij.
20. Couples who like to keep the spirits flowing can preserve the good vibes with gilded bottle stoppers from Masterskaya1717, and collect all seven of their magnificently handcrafted animal heads over time.
For the kitchen
21. Cooking essentials with character from Sarit Ceramics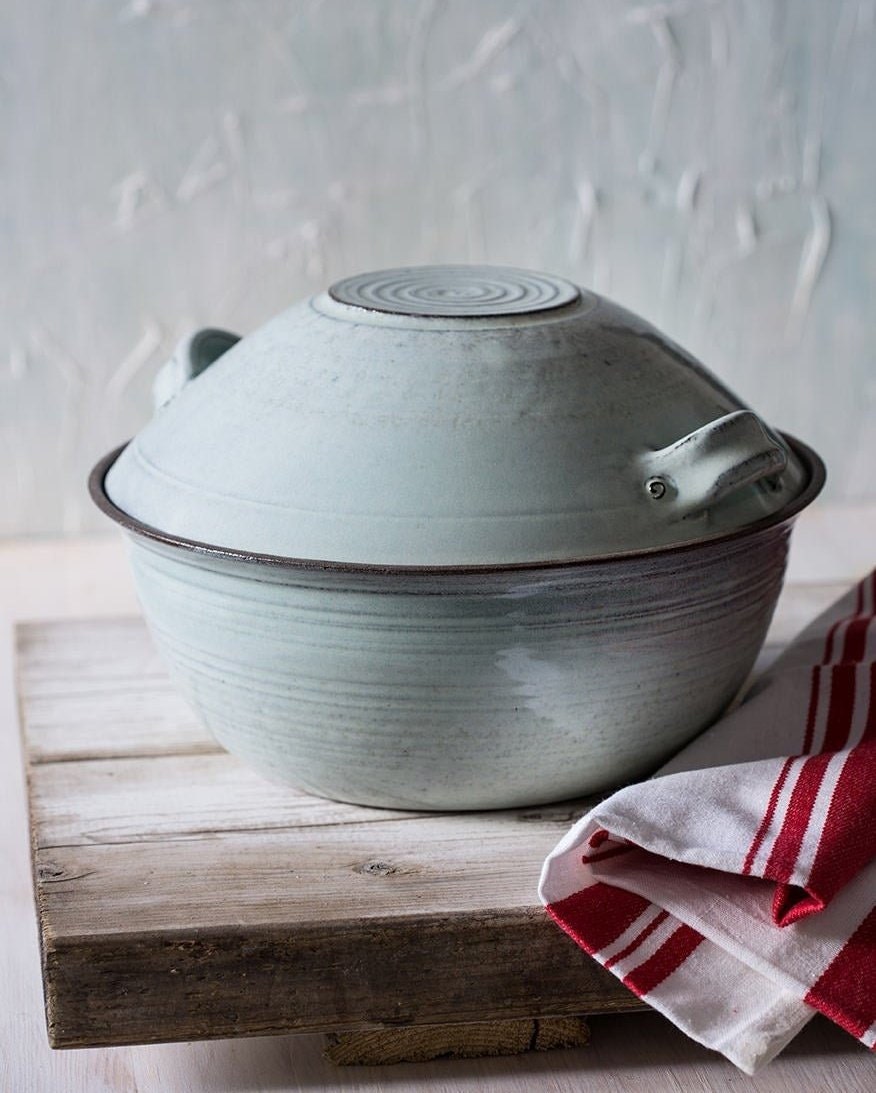 >
No one knows better than pottery pro Sarit Reshef that there's nothing like a home-cooked meal to feed the soul, and that begins with the vessel you cook it in. "I believe that good ceramicware is necessary for our well-being," says the Israel-based owner of Sarit Ceramics. "My pottery is made with a lot of love, and that warm and cozy feeling is transferred to my products through touch." Perfect for cake makers, chefs-in-training, and dedicated party hosts, each beautiful rustic baking bowl, casserole, and textured serving dish tells a story of the simple comforts of home. Durably handcrafted to be microwave and dishwasher safe, these hardworking essentials will carry you through many happy years of bread-breaking.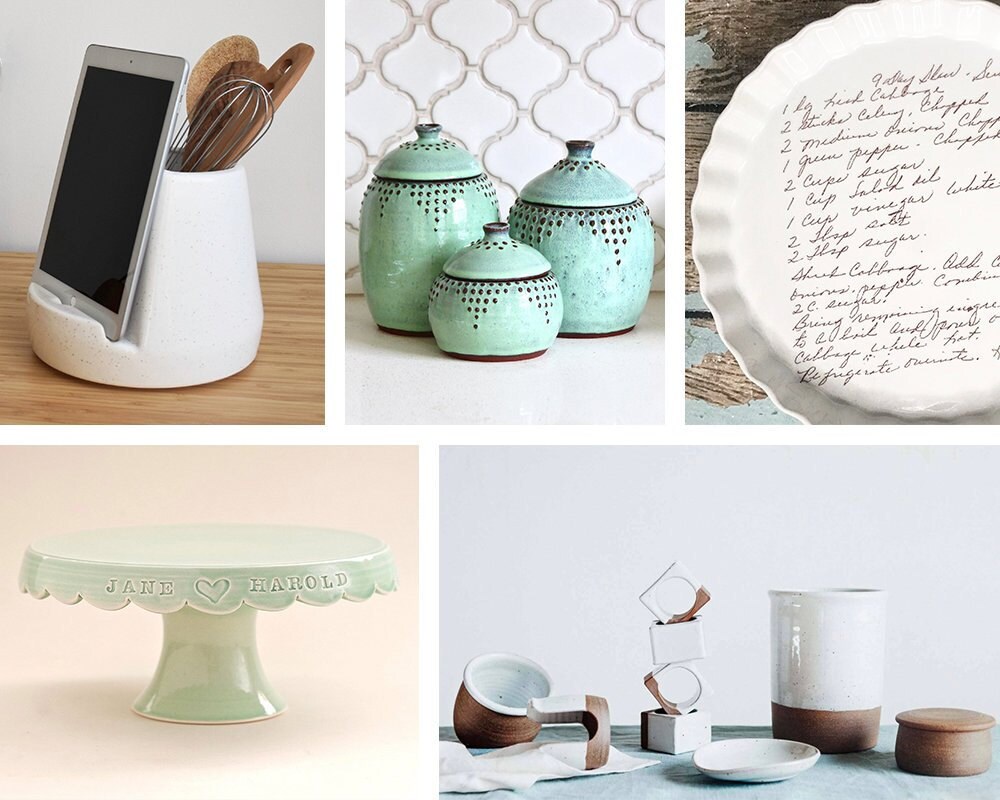 >
Five more one-of-a-kind kitchen finds:
22. For couples who cook up romance by trying new cuisines, the ultimate accessory for following a recipe comes from STAK Ceramics, whose brilliant yet simple design is one part tablet dock, one part utensil crock.
23. Each spice jar, sponge holder, and spoon rest from Back Bay Pottery is hand-thrown, dotted with an organic textured trim, and colored in a rich glaze to give it that signature rustic flair.
24. When printed with the original, handwritten recipe of your grandma's famous cobbler or your mother-in-law's crowd-pleasing quiche, a personalized pie plate from Prairie Hills Pottery is an heirloom in the making.
25. Not to say marriage will be a piece of cake, but why not commemorate your newly wedded bliss with a custom dessert stand from Jeanette Zeis? It's a sweet keepsake that'll take you all the way to your golden anniversary.
26. If your tastes tend toward the simple and refined, spring for Sawyer Ceramics' stoneware kitchen set in white, complete with a beautiful French butter keeper, salt cellar, and four coordinating napkin rings.
27. Illustrated aprons and kitchen linens from Softer and Wild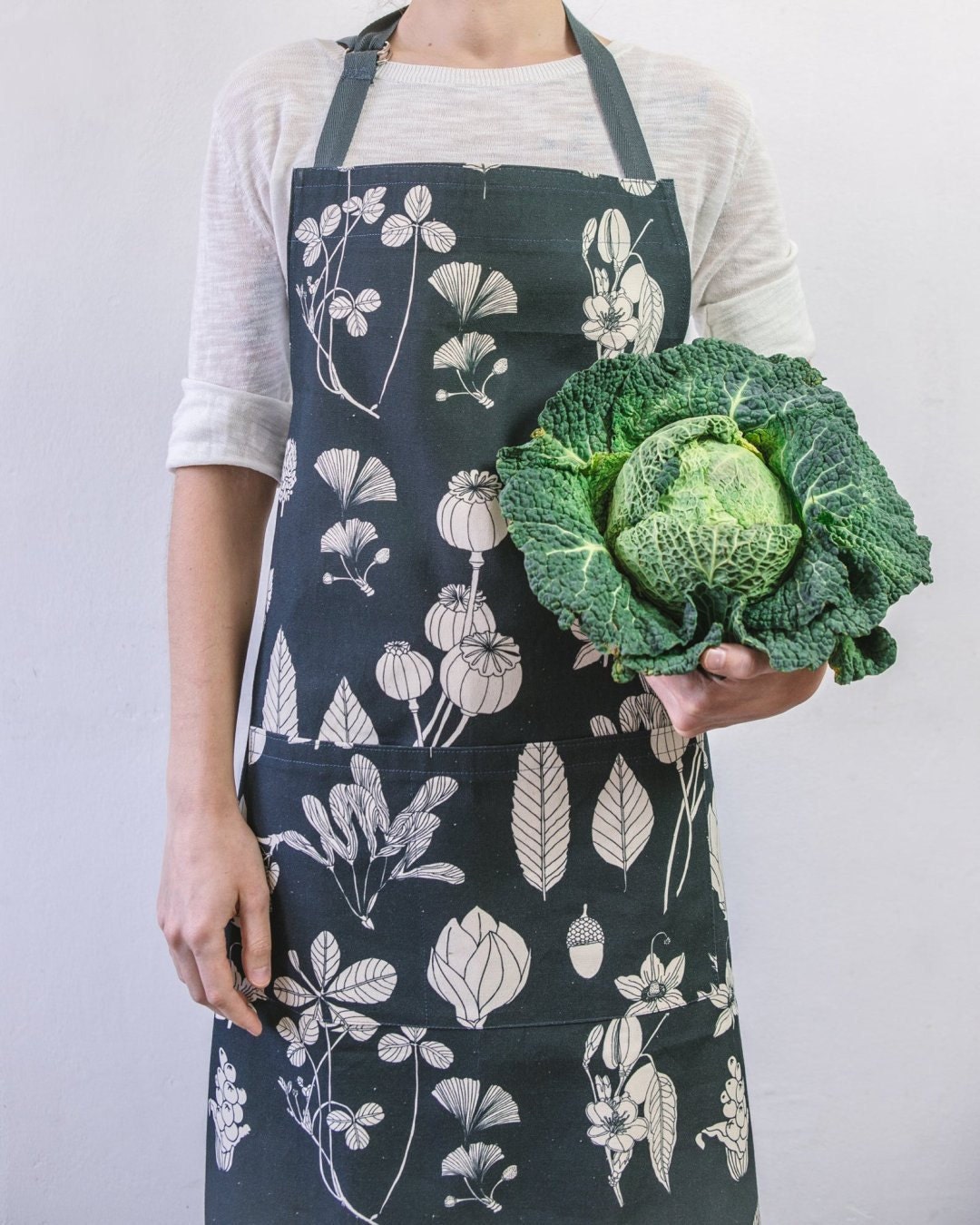 >
With kitchen textiles as vibrant and cheerful as the screen-printed styles from Softer and Wild, you'll be finding lots of extra excuses to spend time at the stove. "We aim to give a modern and contemporary look to functional everyday objects," says designer Tatiana Nedialkova, who hand-draws botanical illustrations and Scandinavian-inspired patterns to suit each particular product—be it apron, tea towel, or oven mitt. "The approach is similar to creating an artwork." Her customers couldn't agree more. "Often clients have written back to us to say that a tea towel they purchased has ended up being framed instead of used in the kitchen," she says.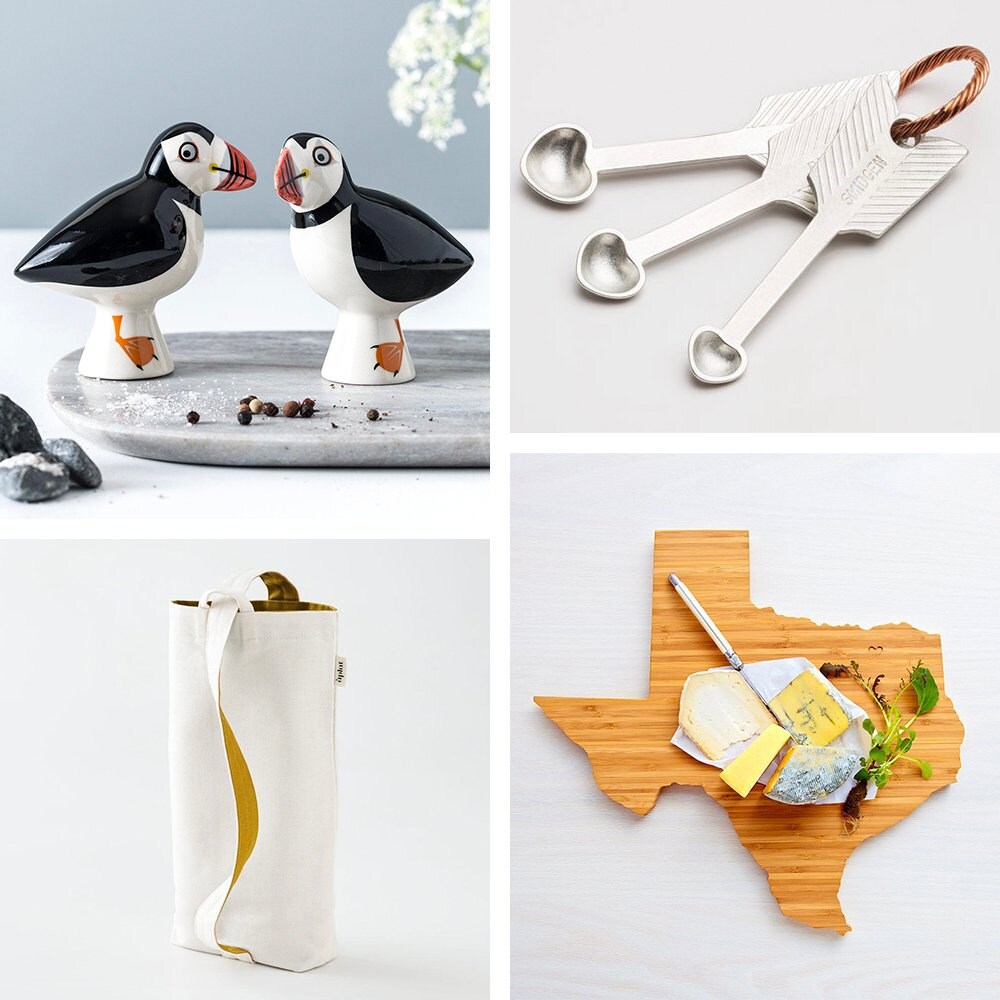 >
Plus four more chef-inspired selections:
28. Of all the playful pieces in Hannah Turner's emporium of quirky animal-motif homewares, our favorites might have to be her collection of salt-and-pepper shakers—a colorful countertop parade of peacocks, puffins, tigers, and toucans.
29. Perfect for whipping up warm memories in the kitchen, Beehive Handmade's heart-shaped spice spoons and embellished pewter spreaders and scoops add a dash of whimsy to all your home-cooked meals.
30. Reusable cotton carryalls from Aplat Tote make an eco-chic alternative to tossing your wine bottle in a plastic bag—or worse, lugging a steaming casserole dish to and from the picnic between two sauce-stained oven mitts.
31. Whether it's the unforgettable place you got engaged or the beautiful state where you've chosen to put down roots, a laser-engraved bamboo cutting board from A Heirloom makes a solid tribute to the locations that have left a lasting mark on you.
For decoration
32. Modern mirrors and stained-glass decor from Szklo Glass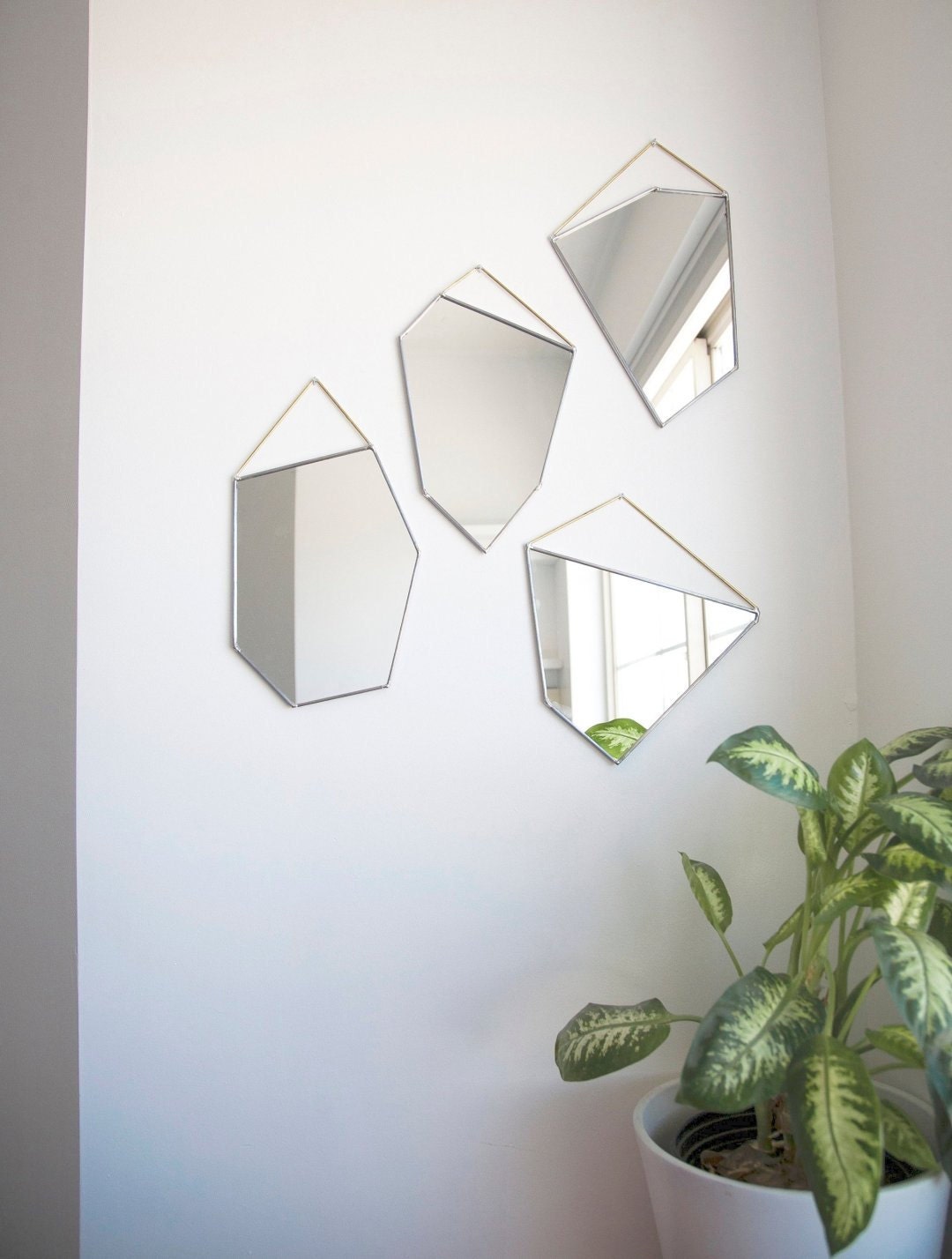 >
When you gaze into a mirror from Szklo Glass, chances are it's good vibes you're going to see reflected back. Handcrafted in simple geometric shapes and embellished with fringe, chain, and brass, this is grown-up wall decor with a flirty twist. Says Nevada-based designer Lauren Earl, "The biggest thing I consider when designing my mirrors is asking the question, 'Do I want this in my home?' I seem to design mirrors that I want but can't find anywhere." For a first-time buyer, Lauren's geo rock mirrors are a foolproof pick. "They're consistently very popular," Lauren says. "The asymmetrical shapes are fun to mix and match."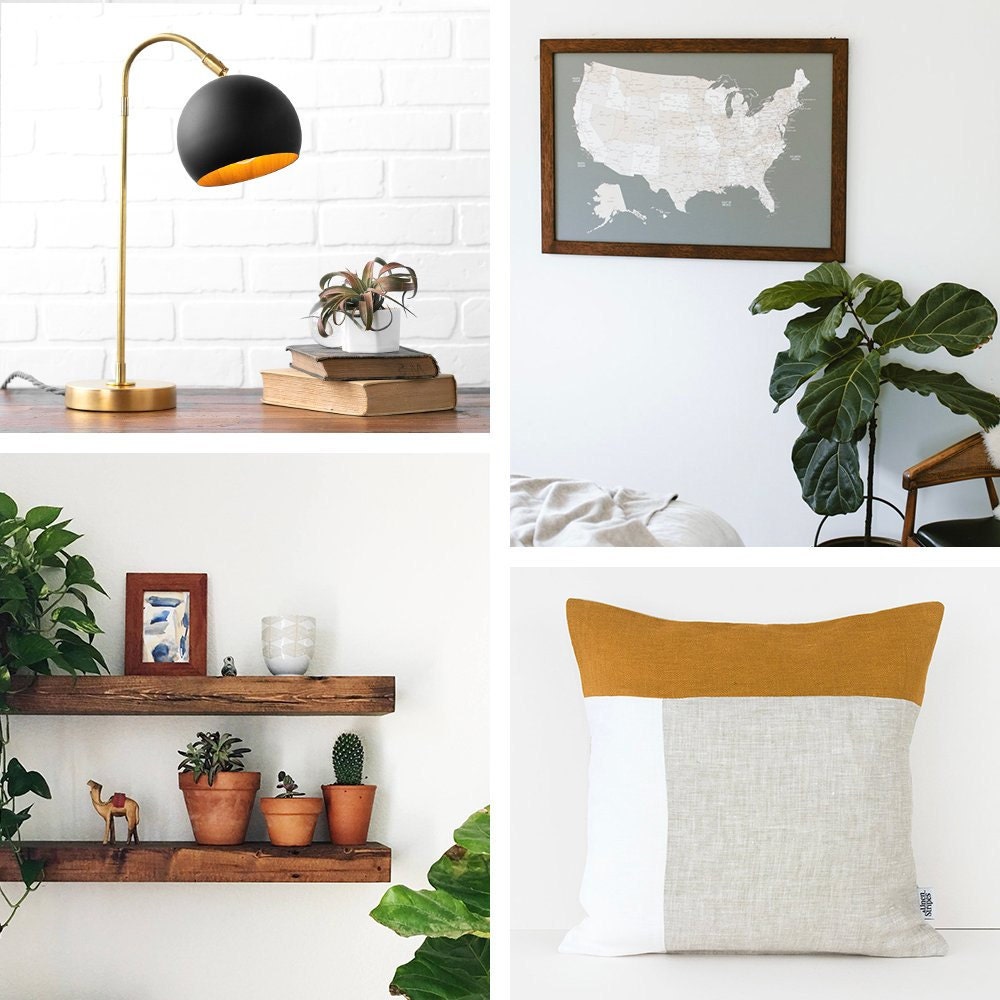 >
And four more decor ideas to explore:
33. From sleek matte black sconces to adjustable brass task lamps, Mod Creation Studio's mid-century-inspired statement lighting adds a touch of brilliance to any room.
34. Your wedding day mementos will look particularly charming displayed atop a rustic set of reclaimed wood shelves, sustainably handcrafted by the husband and wife team behind Hurd and Honey.
35. Linen & Stripes is your one-stop-shop for modern geometric accent pillows in solids, stripes, and color blocks.
36. What better way to commemorate embarking on the adventure of a lifetime together than hanging a handsome interactive travel map from Wayfaren and placing the first pin?
For the outdoors and garden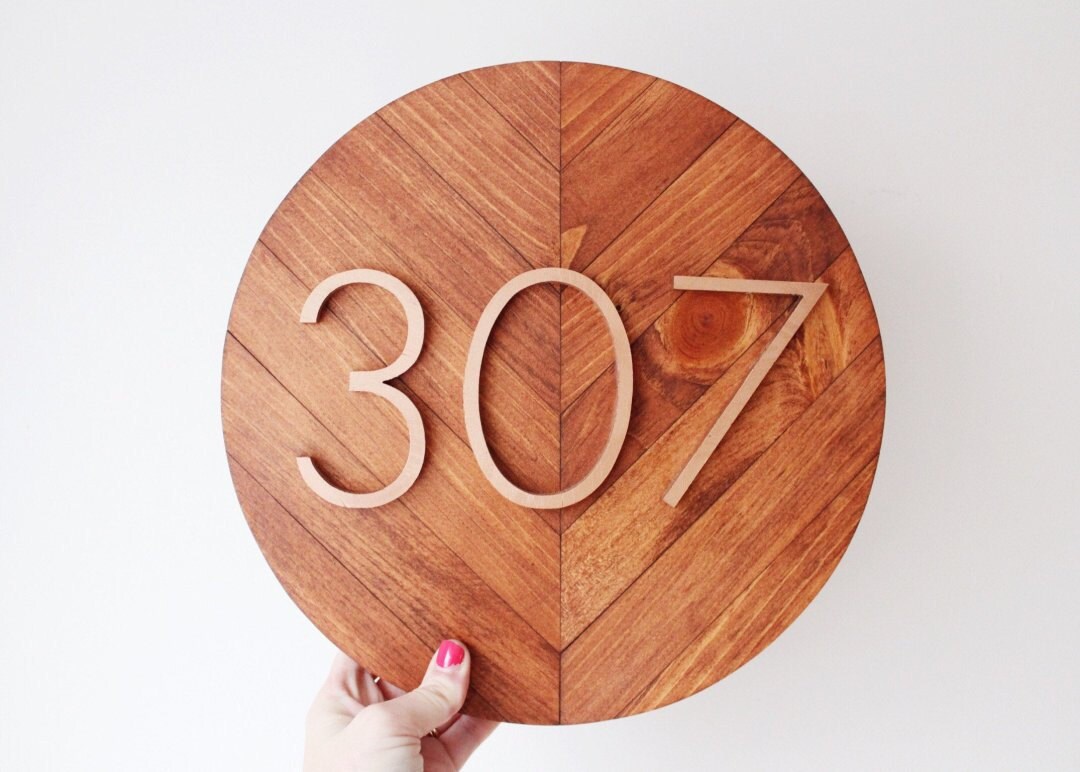 >
There's no clearer way to announce your recent life change than by commissioning a sophisticated address plaque from The Woods Collective, personalized with your newly minted family name. From their Rhode Island woodshop, husband and wife team Zach and Sheena Gencarelle hand position each plank in their signature chevron designs, checking for character and charm. "We want each item we make to be truly unique," Sheena explains, "That means taking time with each one, making sure that not only is the wood high-quality, but also that it includes just the right amount of natural variation."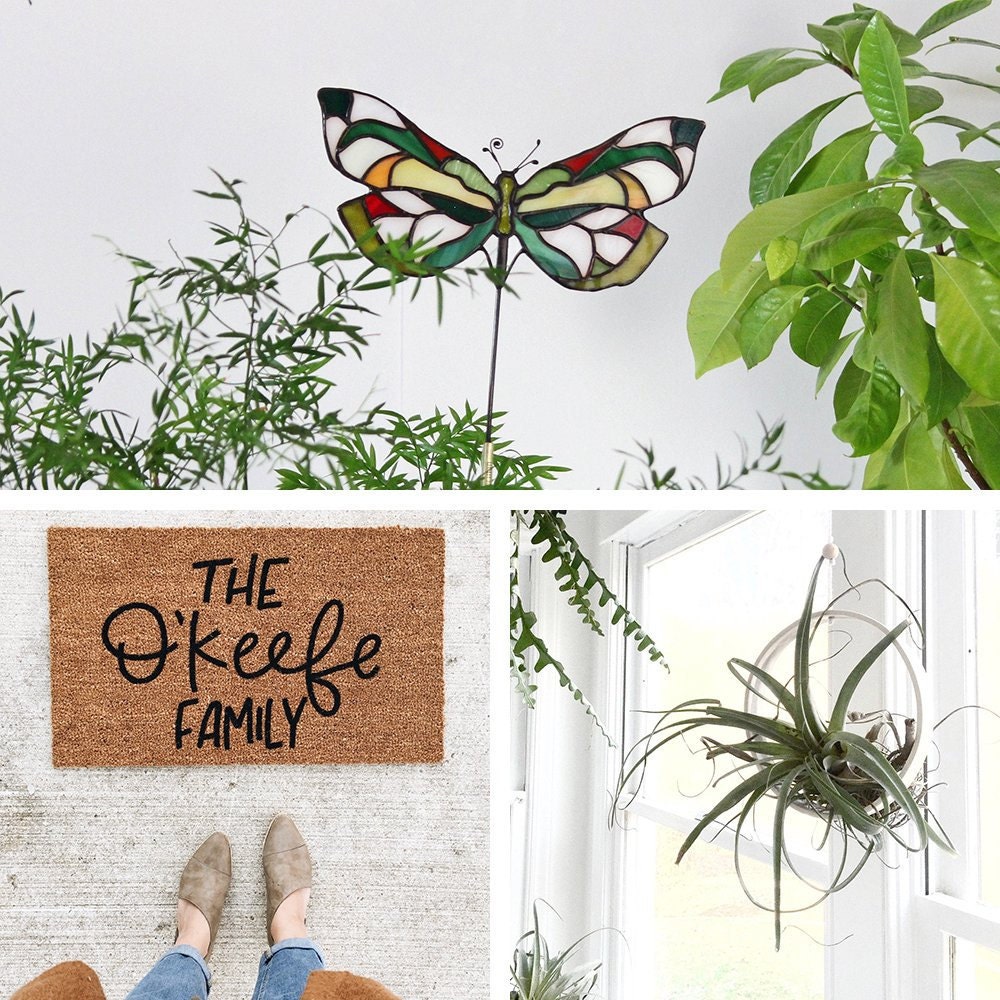 >
Three more outdoorsy options:
38. Exquisitely assembled from prismatic stained glass, Elena Zaycman's giant moth suncatchers and butterfly plant markers are the only insects you'll always be delighted to see floating about your ficus tree.
39. Even if you're a little "peopled out" post-honeymoon, a cheery doormat with a custom message from Olive Creative Co. will lay the groundwork for when you're ready to welcome the first guest.
40. Because air plants and cactuses deserve nice homes, too, create your own living wall of greenery with an assortment of hanging planters and cradles from earthy stoneware shop Muddy Heart.