by Lisa Butterworth
An ancient maker culture offers endless inspiration to Japan's Etsy shop owners.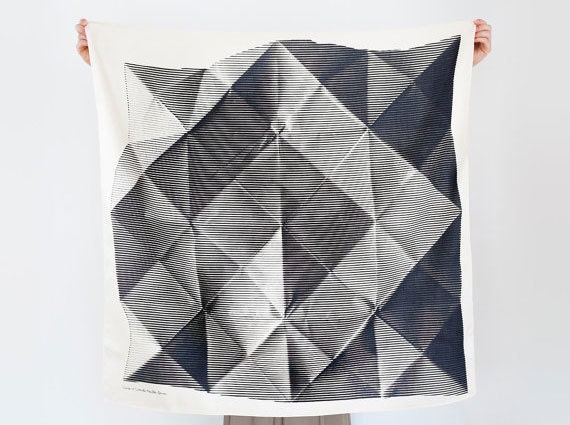 Etsy is an international community of designers, creators, artists and entrepreneurs that grows every day. In this series, we're spinning the globe to take a closer look at country-specific maker scenes around the world. Check out our other posts on the Etsy community in Israel and Latvia.
Japan's handmade history goes back tens of thousands of years, so it's no surprise that Etsy's community there is thriving. Sellers from
Tokyo
to
Sapporo
feature an overwhelming array of items that speak to the country's creativity and heritage — colorful
furoshiki
, handmade wooden stamps and vintage prints are just a few of their offerings. Read on for a glimpse at this incredibly varied community.
The Harmony of Tradition and Innovation
The maker culture of Japan has been in existence as long as the country's history has been documented— the weaving of elegant fabrics began in the 15th century, papermaking in the 6th century and metalwork, particularly samurai swords made by Japanese artisans, dates back to the 1st century BC. The influence can be seen in the Etsy community of today. "Japanese culture is an effective harmonizing of traditional arts and skills with modern techniques," says Fumihito Umei of
Hitonari Works
, who was inspired by the time-honored tenets of Japanese woodworking to create contemporary pieces including spice containers and salt cellars.
Yuko Machida's wire-wrapped, hand-engraved jewelry
is also proof of this. "I'm inspired by Japanese traditional art and have been learning traditional Japanese engraving methods for metal," says Machida, who has a 
choking 
— the ancient Japanese practice of engraving — mentor. (Even her mentor has
an Etsy shop
!) The country's long-standing customs influence vintage Etsy sellers as well. "With such a strong cultural identity that reaches back to a more traditional era before the influences of the West, 'Japaneseness' is often expressed through vintage clothing, arts, and crafts," says Stephanie Hannon, a UK transplant in Tokyo who sells antique Japanese textiles, including rare
boro
items (utilitarian clothing handmade by peasants of the Edo to Showa era) in her shop
FurugiStar
.
Sofia Molnar
, a Canadian now living in Fukuoka, sells vintage Japanese goods with the idea that other makers will give them a modern twist. "When I have explained to Japanese people here that people turn old typewriter keys into jewelry in the US, or frame the
katagami
stencils as art for their walls in Brazil, or use the door pulls on a hand built bookshelf in France…people are surprised and delighted that these items are being used in an entirely new way." Most of Molnar's sales come from buyers outside of Japan, but the country's contemporary maker community fosters its own creative melding of new and old. "One of the things I have been noticing more and more lately is that modern designers are collaborating with Japanese traditional artists and makers, or vice versa," says Riyo Kihara, who sells handmade rubber stamps in her shop, 
Talk to the Sun
. It seems natural that generations would come together over craft; in Japan, creativity is endemic to the country's daily life. "In general, we like to do something with our hands," Kihara continues. "One time, someone from overseas asked me, 'Can everyone in Japan fold origami paper cranes?' And my answer was, 'Yes, I think so.'" Kyoko Bowskill, who collaborates with designers to hand-print
furoshiki
textiles for her shop, 
The Link Collective
, agrees: "Creativity's not something special, or reserved for 'creatives,'" she says. "For example, mums make creative bento lunch boxes for their kids, and everyone loves reading and drawing manga, so there's a strong visual culture everywhere. Even boring things like road signs and municipal pamphlets are made fun with manga." A closer look at Japan's Etsy community makes the artisanal through-line from Japan's earliest days to the country's current state of constant creativity obvious. As Umei succinctly put it, "It's the harmony of tradition and innovation."
A selection of items made and curated by Etsy shop owners in Japan.
What countries would you like to see featured in future blog posts? Let us know in the comments!