by Lisa Butterworth
Discover the large creative community in one of Europe's smaller countries.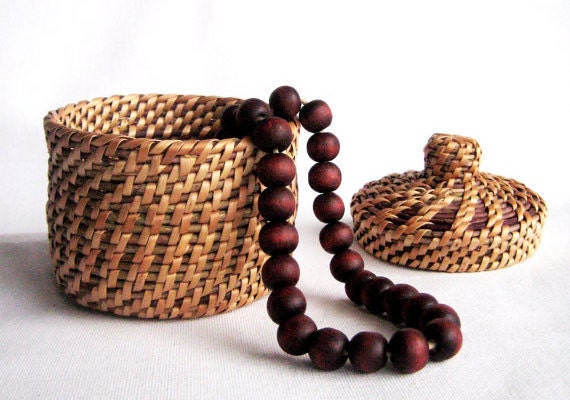 Etsy is an international community of designers, creators, artists and entrepreneurs that grows every day. In this series, we're spinning the globe to take a closer look at country-specific maker scenes around the world.
Check out our first post on Israel's maker culture.
Latvia boasts a booming DIY community. The proof is in the amazing array of items offered by Latvian Etsy shops — intricate knits, expertly woven housewares, unique toys, and jewelry both subtle and statement making — made using both traditional and modern techniques. Read on for a look into this large creative community in one of Europe's smaller countries.
Craft is a Way of Life
"Latvians have always been good artisans and craftsmen," say Lidija Hlinova and Jane Dorosenko, the fashion-forward duo behind 
Yayoi
 jewelry. Making things by hand is a given in this small country on the Baltic Sea. Alise Grauduže of 
DinDinToys
, a shop full of wooden blocks and games made from birch wood harvested by her husband, notes that DIY starts at a very young age. "Girls learn how to knit, sew, crochet, embroider, and weave. Boys learn how to work with wood," she says. "When they become adults, they continue to do what they have learned at school." Anna and Ilze Zurina, the mother-daughter team behind 
SmArtAnna
 jewelry agree: "For us, creative culture is a common part of life — it is present in our work, hobbies, and family."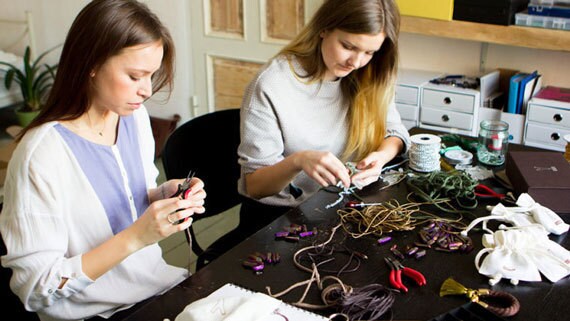 Lidija%20Hlinova%20and%20Jane%20Dorosenko%20at%20work%20making%20jewelry.%3Cp%3E%3Ca%20href%3D%22https%3A%2F%2Fwww.etsy.com%2Fshop%2FYAYOIjewelry%22%20target%3D%22_self%22%3EYAYOIjewelry%3C%2Fa%3E%3C%2Fp%3E
The Republic of Latvia was founded in 1918, but in 1940, after the start of WWII, it was forcibly incorporated into the Soviet Union, which, after a short reign by Nazi Germany, kept control of the small country until it regained its independence in 1991. "My generation remembers the time of Soviet Union occupation, where there was a deficit of different goods and products — shop shelves were half-empty, there was no choice," says 
Vija Petersone
, who expertly weaves baskets, trays, and frames from a rich palette of wicker. "We were knitting and sewing because of necessity."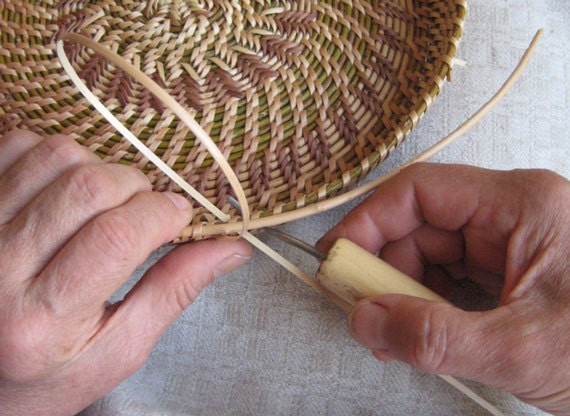 Vija%20at%20work.%3Cp%3E%3Ca%20href%3D%22https%3A%2F%2Fwww.etsy.com%2Fshop%2FViyaswickerworks%22%20target%3D%22_self%22%3EViyaswickerworks%3C%2Fa%3E%3C%2Fp%3E
The recent recession hit the country hard, contributing to its booming DIY culture. "More and more people [in Latvia] make things for themselves," says Elina Sidauga, who screenprints geometric designs on totes and notebooks and handknits mittens for her shop
MyLiveLove
. "Salary level is not as high in Latvia as in other countries, but we have such excellent taste. So it brings us to the necessity of making things ourselves." With just over 2 million inhabitants, Latvia's population is very small, and as Anna and Ilke say, "Since so many people are DIY masters, it is not easy to start a creative business and make a living from it." That's where Etsy comes in. "It was my dream to sell my own handmade products but it seemed unreal until I found Etsy," says Sidauga. "So I can truly say that Etsy gave me a chance to make my dream come true."
Shop the Scene
Here's a selection of items proudly made in Latvia. For more wonderful stories about Latvian Etsy sellers, check out these features from our archives:
Featured Shop: Ergretta Garzetta
Featured Shop: yellOkids
Featured Shop: ZIB Textile
Handmade Portraits: Yevgeniya's Masks
What country's makers would you like to see featured on the blog? Let us know in the comments!