Feast your eyes on all the creative genius on display in this year's top designs, and discover the people—and the passion—behind the products.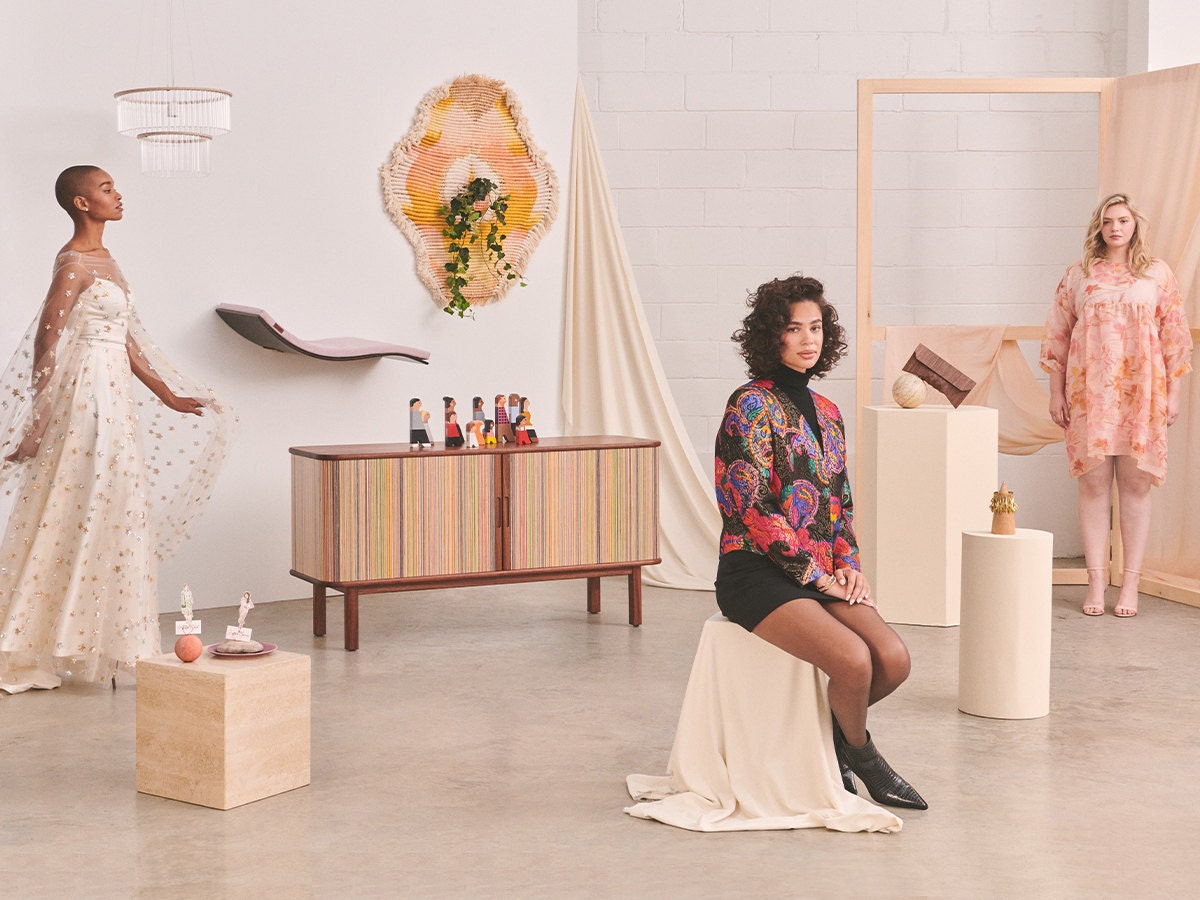 If there's one thing Etsy sellers have proven this year, it's that their talents know no bounds. Through unprecedented ups and downs they've kept on creating, driven by a desire to put something meaningful and positive out into the world. "As we announce the winners of our annual Design Awards, we couldn't be prouder to recognize all their dedication and skill," says Etsy Trend Expert Dayna Isom Johnson, who served as a judge of this year's competition alongside actress and entrepreneur Drew Barrymore. "These expertly crafted designs will be cherished for years to come, and they're brimming with that trademark Etsy personality you won't find anywhere else."
Shop the 2020 Etsy Design Awards Winners and Finalists
Handpicked by Drew and Dayna from thousands of entries, each of these winning items is a testament to how independent makers and curators enrich our everyday lives. "The Etsies are the ultimate way to highlight small businesses around the world and celebrate that special touch they put into bringing joy to their customers," Drew says. From the ombré stacking ring honored with this year's Peoples' Choice Award to the upcycled skateboard credenza that took home the Grand Prize, read on to discover the inspiration and artistry that went into these 12 outstanding designs—and get ready to shop your new favorite finds. 
Grand Prize Winner
Stackton Credenza by Adrian Pool, Martinus Pool, and Anne Tranholm of AdrianMartinus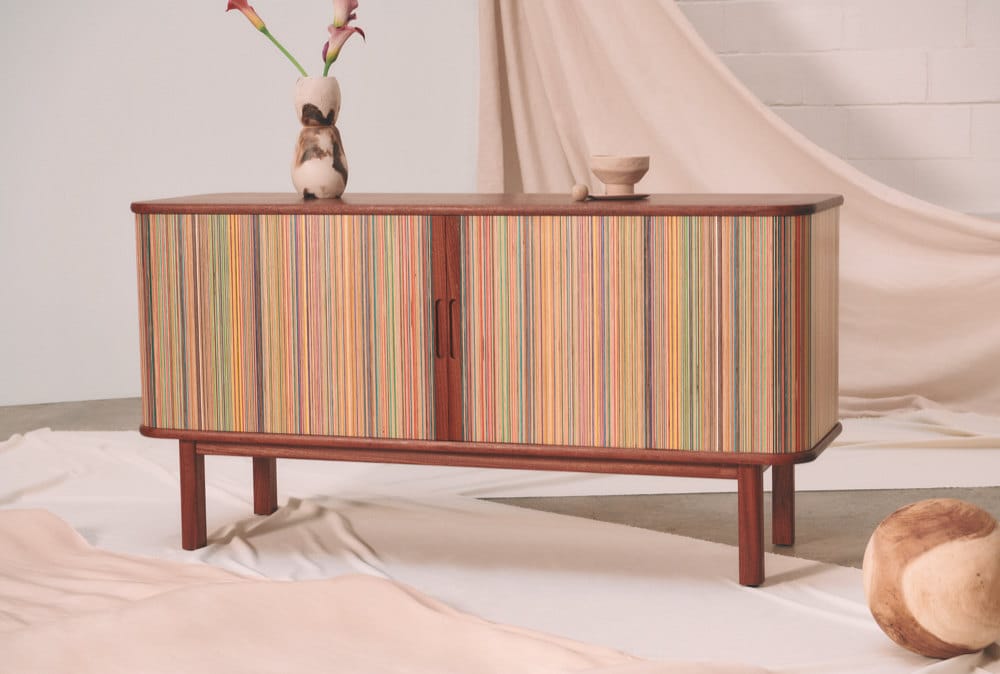 It's official: The talented trio behind Canadian homewares shop AdrianMartinus have mastered the art of the upcycle, transforming stacks of old skateboards into stunning pieces of modern furniture. Case in point? This year's Grand Prize Winner, the Stackton credenza. "This piece is so beautiful and at first glance, you would never know that it's actually made out of recycled skateboards—how cool is that?" Drew says. "The design is so sleek, and I really appreciate the functionality of the sliding doors and adjustable shelves." 
Combining a background in carpentry with a desire to make the most out of their surprisingly versatile source material, the eco-minded woodworkers behind this ingenious design have produced an entire homewares line ranging from bowls to tables. "We've refined our process so much that every piece of the skateboard has a use in our designs," explains Adrian, who sorts, strips, sands, and cuts skateboards alongside his brother Martinus and his partner Anne. Originally conceived as a record cabinet, the Stackton is the ultimate statement piece for audiophiles, mid-century lovers, or anyone looking for a colorful way to display their treasures. "The beauty of the tambour doors is you can leave them open to display your records or books, or simply close them and enjoy the look of the wood," Adrian says.
Winner: Clothing
Celine silk dress by Noémie Vaillancourt of noémiah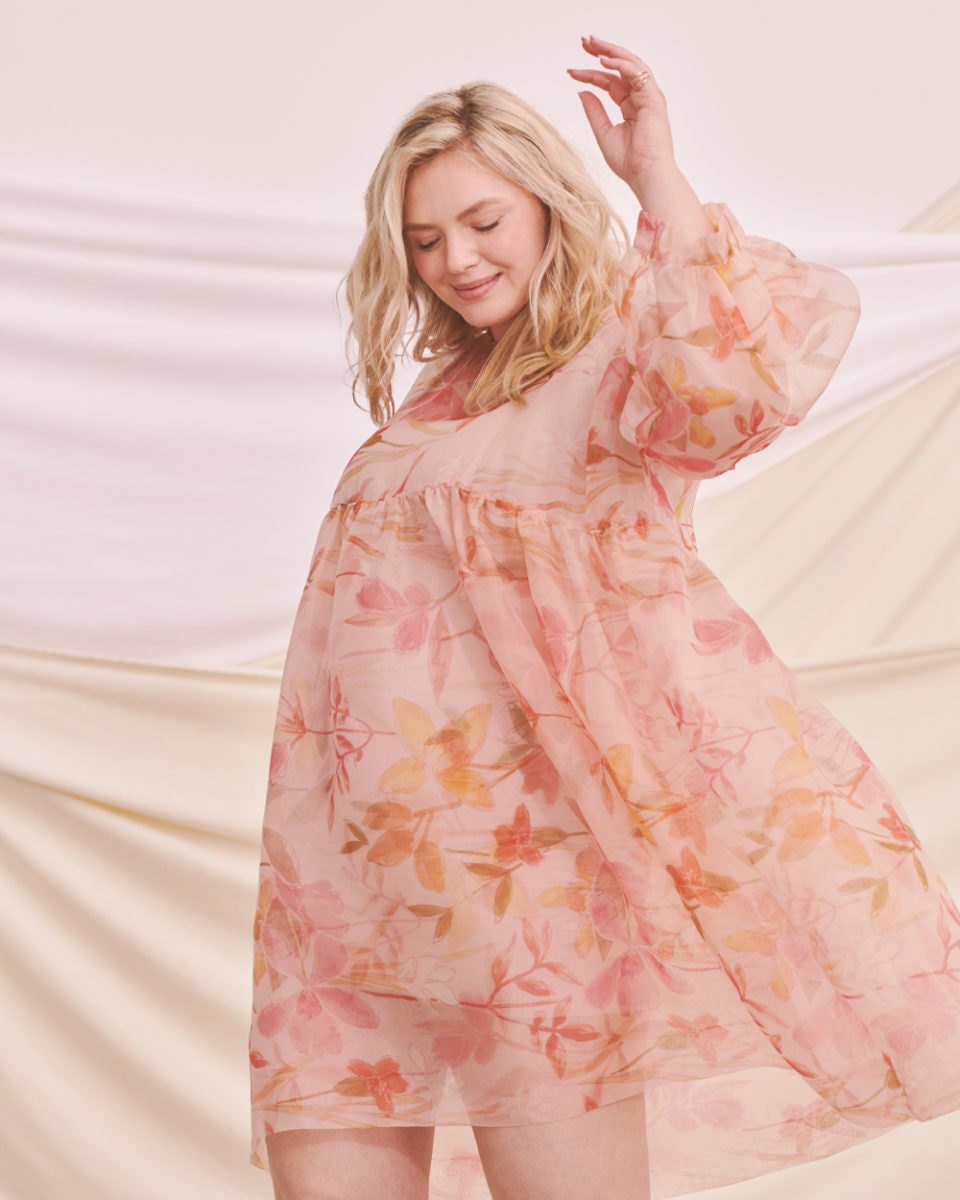 For Canadian clothier Noémie Vaillancourt, designing a garment is a highly collaborative process, whether she's building a bespoke wardrobe for a curvier customer or sketching out new styles for her repeat clients. "It's important to listen to their needs and feedback in terms of shape and silhouette," she says. So when concepting her Celine silk dress, the goal was to create a crowd-pleasing statement piece that would be flattering on a range of body types. "I had this vision of a dress built in a series of sheer, delicate layers," she says. Combined with a poetic floral print inspired by Emily Dickinson (and brought to life in collaboration with Montreal artist Paule T.B.) she delivered a dreamy organza dress with loads of easy, breezy appeal that stood out to Drew immediately. "I really love how the designer took the extra time to style the dress and take editorial-quality photos to showcase the versatility of the garment," Drew says.
Winner: Kids
Personalized wooden dolls by Aleksandra Berlinsky of My Mini Fam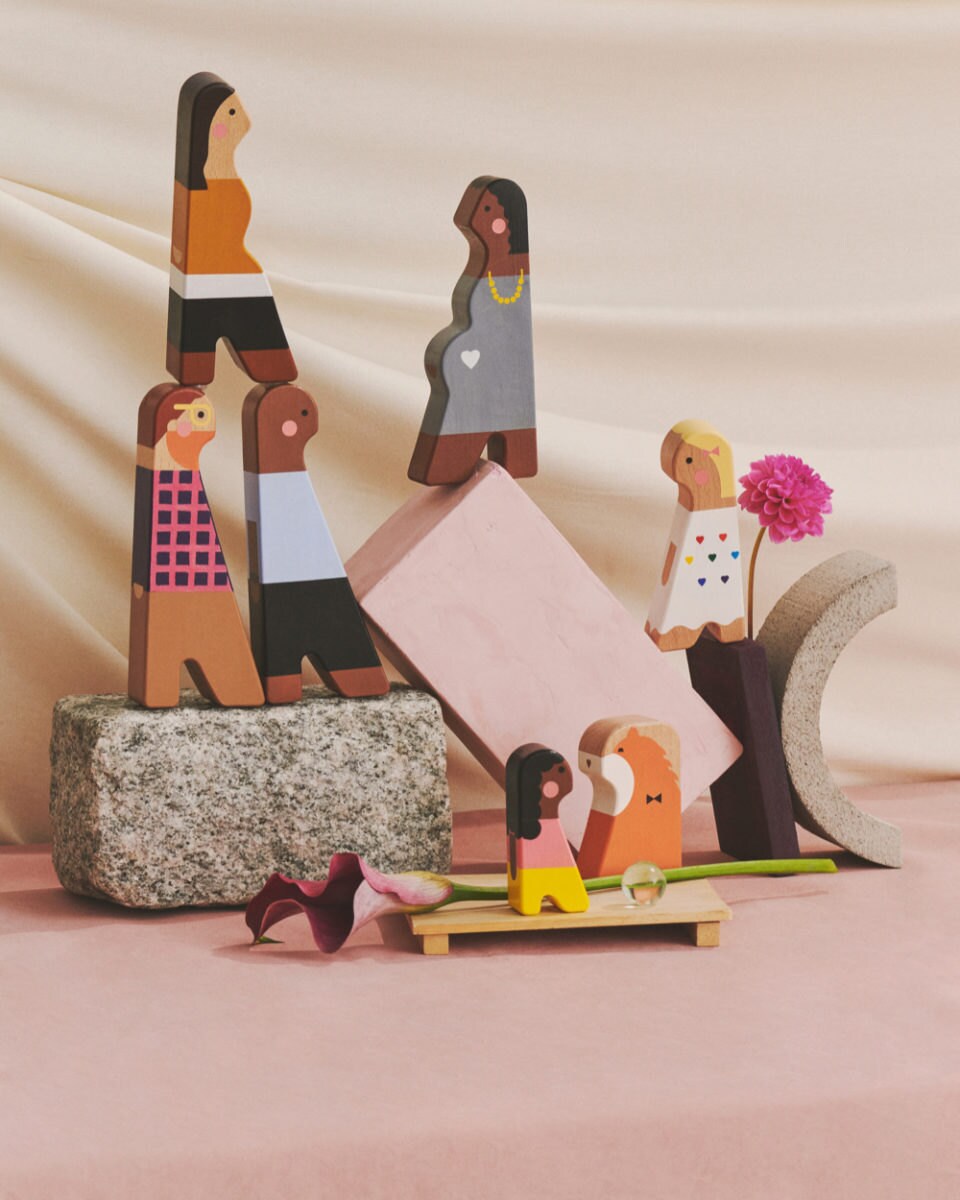 With a whimsical wooden family handcrafted by Lithuanian toymaker Aleksandra Berlinsky, you'll be asking yourself—doll or decoration? But that's precisely the beauty of these display-worthy playthings. Each lovingly painted figurine is personalized in simple Scandinavian style right down to the rosy cheeks, making these mini family members a meaningful choice to treat those you're closest to. "It's a unique gift that shows how much you care—and that you can keep adding on to as a family grows," Aleksandra says. The key to creating an unfussy yet uncanny resemblance? "The client is a co-author. When they submit orders, they don't just click a 'buy' button. They share their stories, activities, aspirations, hopes, hobbies, and dreams," Aleksandra says. 
Winner: Home & Living
Test tube chandelier by Magda Jurek of Pani Jurek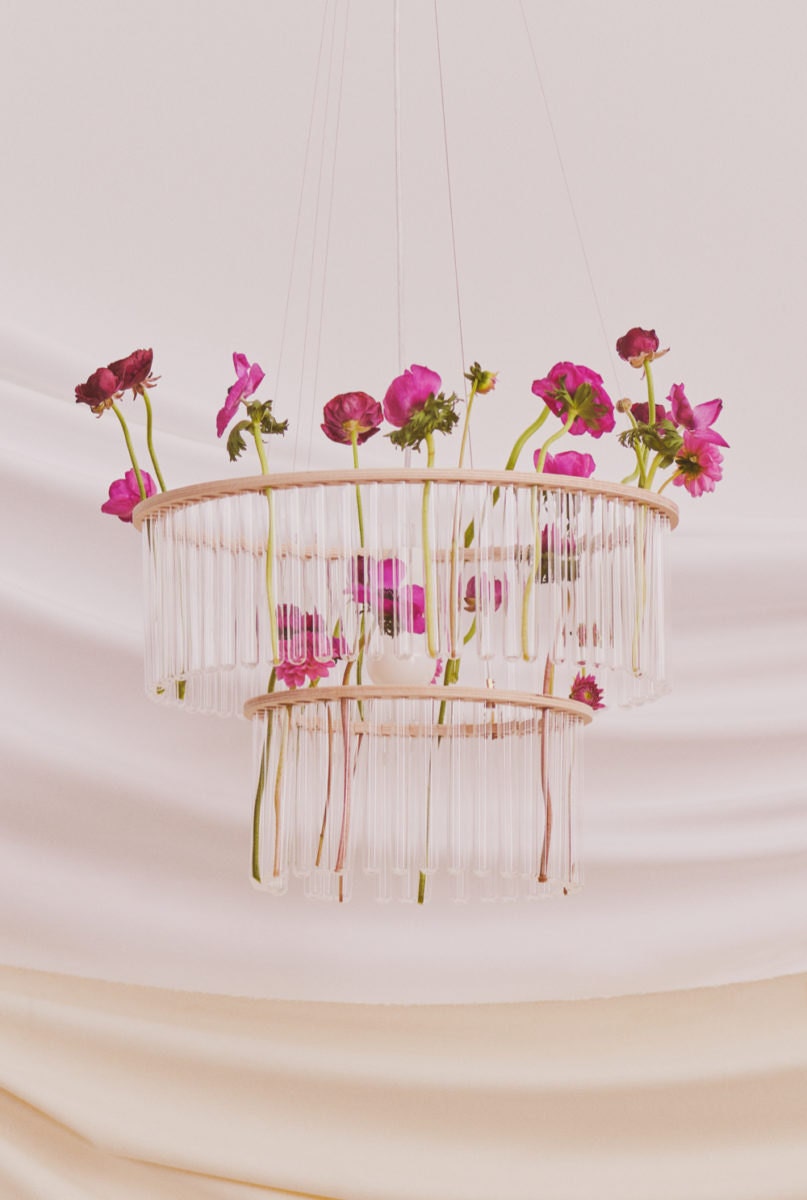 If you're the type who likes to switch up a room's vibe from time to time, then Magda Jurek's test tube chandelier might just be the fanciful fixture for you. Originally designed in 2011 as a tribute to Marie Curie for the 100th anniversary of her Nobel Prize in chemistry, this stunning chandelier empowers buyers to take decorating into their own hands, filling the hanging tubes with the contents of their choice. "You can quickly change a room's ambience by adding plants or colorful liquids," explains the Polish designer. Over the years, her customers have dazzled her repeatedly with their creativity. "I'm always surprised how different my lamps can look depending on the user's personal style," Magda says. And Dayna, for one, can't wait to give it a whirl. "My husband and I are gearing up to buy our first house, and I can definitely see us incorporating one of these into our home," she says. 
Winner: Weddings
Celestial wedding dress by Inge Stalyte of Wardrobe by Dulcinea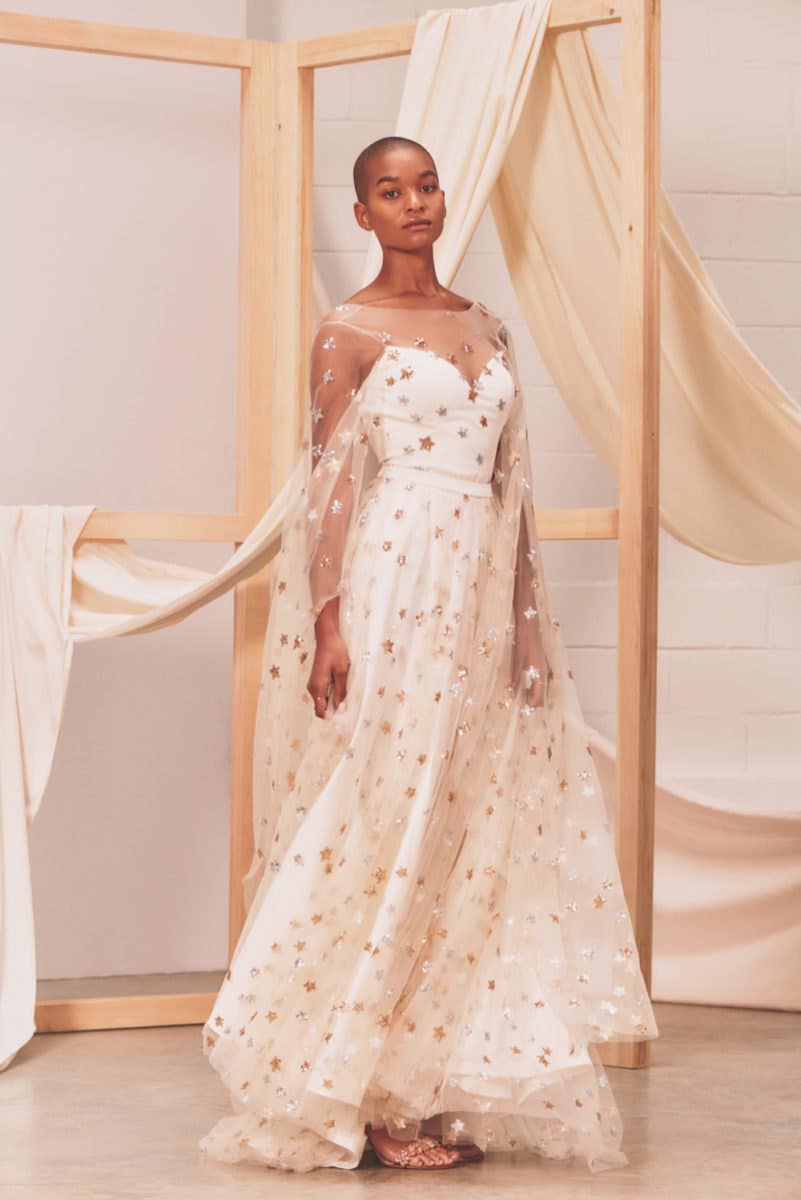 "My dresses are made for dancing, twirling, and breathing freely," says bridal designer Inge Stalyte, whose made-to-measure wedding separates come complete with body-positive labeling that simply reads, "size: yours." So when the Lithuania-based dressmaker set out to create the ideal two-piece for a celestial-themed ceremony, she knew that, in addition to being super sparkly, it needed to be comfortable and wearable, too. With its flirty open back, majestic cape sleeves, and generous smattering of gold and silver sequined stars, the planets aligned for this dreamy design with surprising staying power. "My hope is that my separates get worn after the wedding as well, to a festive New Year's Eve celebration, for example, or an extra-special anniversary dinner," Inge says. 
Winner: Art
Macrame wall hanging by Demi Mixon of Demi Macrame Designs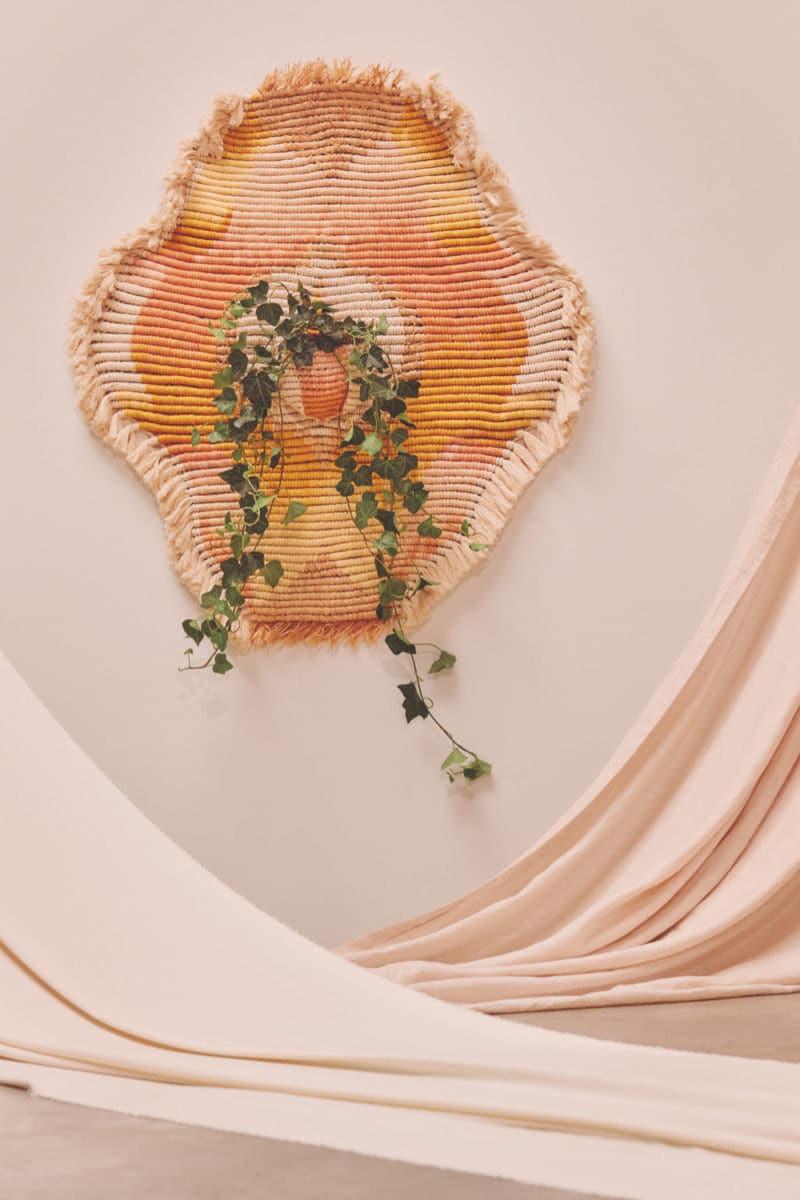 "This plant hanger is one of my favorites!" Drew says. "I love that it's called 'The Achieving Peacemaker,' and really enjoyed reading about what it stands for." An abstract interpretation of fiber artist Demi Mixon's Enneagram 9 personality, this macrame masterpiece represents her desire for oneness with the world and connectivity with nature—"all things I wish to achieve in my personal life," the US-based maker explains. Expertly knotted from hand-dyed strands of soft cotton, the piece's inviting texture and earthy hues will add instant calm and coziness to any room, while the hidden potted plant pouch artfully brings a soothing touch of the outdoors inside.
Winner: Pets
Wall shelf cat bed by Magdalena and Wojtek Zajdel of Cosy and Dozy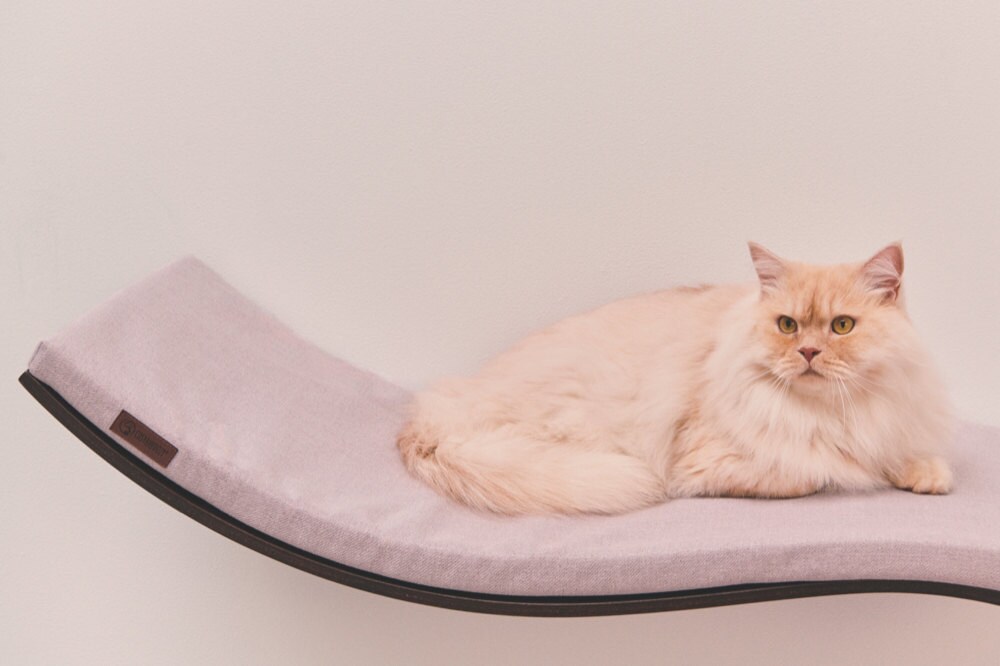 Accommodating your kitties with some fancy feline furniture doesn't have to mean sacrificing the cohesion of your decorating scheme. The proof? Magdalena and Wojtek Zajdel's sophisticated wall shelf cat bed. "For us, animals are family members, so we wanted to make sure our two adopted kitties had a place where they'd feel safe and at home," the Poland-based design duo says. Faced with a lack of attractive options, and knowing that cats love to spend time surveying their kingdom from on high, they decided to fashion their own curved wooden shelf and line it with a cushy mat that snaps securely in place. "Because of our focus on offering custom wood finishes and fabrics, our shelves can match practically any interior," Magdalena says—and the wall-mounted design is the cherry on top. As judge Drew can attest, "For those like me who have multiple pets and live in an NYC apartment, saving space is always a top priority. I think our family's felines, Peach and Lucky, would love this fun and innovative design just as much as I do!" she says.
Winner: Jewelry
Seed dangle bracelet by Mai Solorzano of Mai Solorzano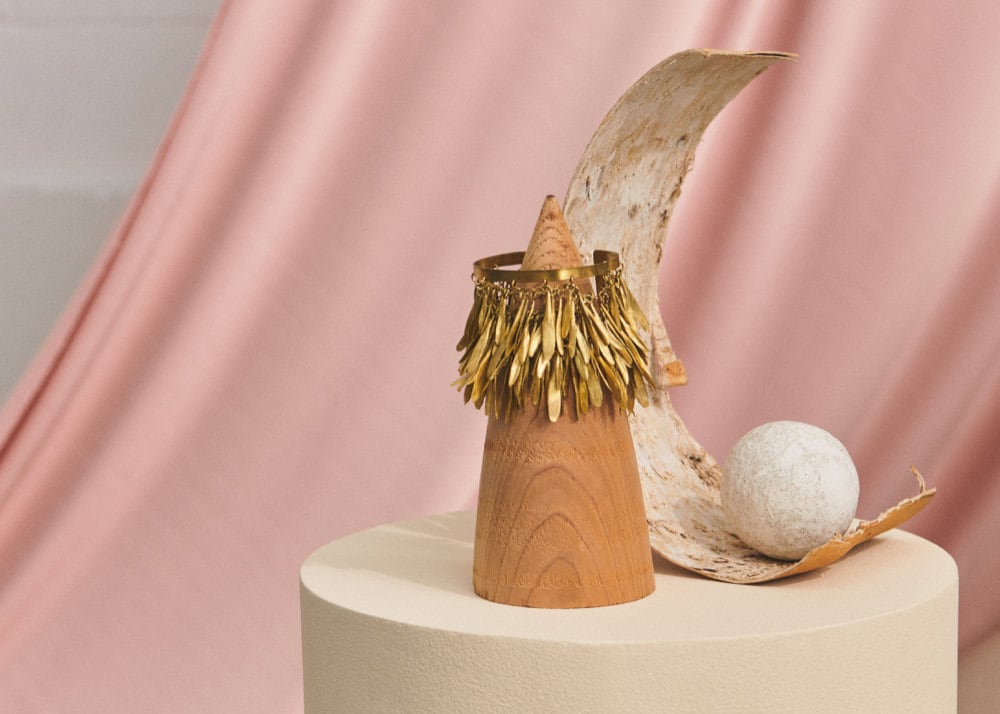 "As someone with a particular affinity for jewelry, I was especially impressed by Mai Solorazno's dangle bracelet," Dayna says. Bursting with playful movement and subtle symbolism, Mai's bold brass bangle makes more than just a stylish statement. "I love to create pieces that have a special meaning," says the Mexico-based jeweler, who channeled visions of seeds whirling in the wind when crafting each strand of golden fringe. To give each luminous leaf its unique organic texture, Mai filled individual molds cast from real helicopter seeds with recycled metals. "I like jewelry to have a human imprint, with little flaws that make it pretty, like in nature," Mai says. 
Winner: Paper & Party
Custom illustrated place cards by Josie Kyriacou of Kyri Design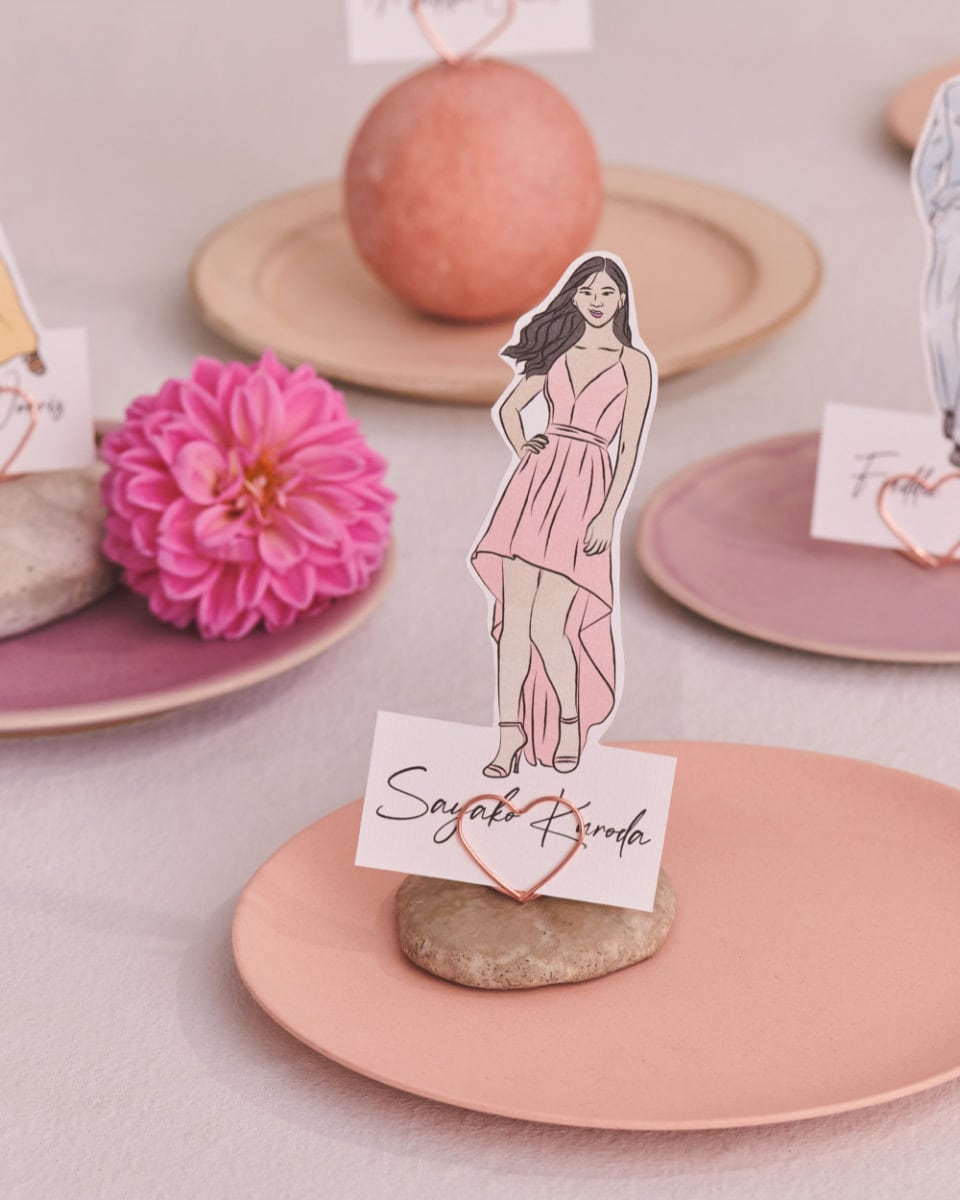 Featuring individually sketched portraits of family and friends all glammed up from head to toe, Josie Kyriacou's custom watercolor place cards make charming conversation-starters for any special event. "Place cards not only set the tone for a big day, they also play a part in making your guests feel special," the UK-based illustrator says. "My aim is to put a smile on people's faces as they approach their tables." And with likenesses this thoughtfully detailed and lifelike, at the end of the night, don't be surprised if you catch your guests slipping them into their purses as mini keepsakes. "They can even take them home and have them framed," Josie suggests.
Winner: Vintage
Embellished '80s blazer from Mary Brenda Akinyemi of Fashion for Fables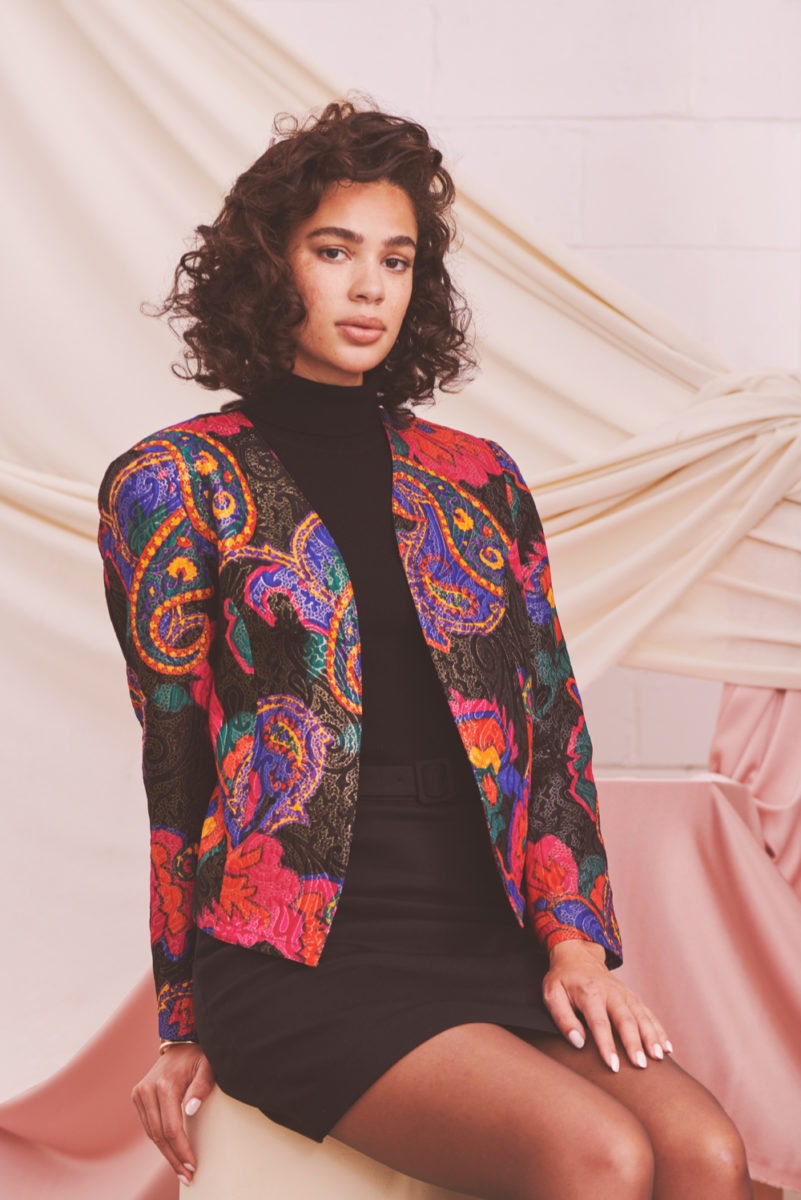 Stitched with a shimmery metallic thread, patterned with ornate florals and pops of paisley, and lined in a vibrant pink, this fabulously flashy '80s blazer sourced by vintage treasure hunter and fashion journalist Mary Brenda Akinyemi is more than just a jacket: It's the ultimate after-dark accessory. "My shop is very much about bold prints and color, and this piece embodies that," says the Germany-based curator of Nigerian-Dutch heritage, who grew up scouring flea markets and making up elaborate histories for her clothing finds. "That's one thing I love about Mary Brenda," Dayna says, "her passion for storytelling is part of her process." With each sale, Mary Brenda offers customers a poem inspired by the item, in addition to a few simple styling tips. As for this retro number? "Pair it with opulent fabrics like velvet for a festive look," Mary Brenda suggests. "Or for a more pared-back styling, wear with tailored separates in black and finish with your favorite heels." 
Winner: Bags, Shoes & Accessories
Geometric wooden clutch by Orli Tesler and Itamar Mendelovitch of Tesler + Mendelovitch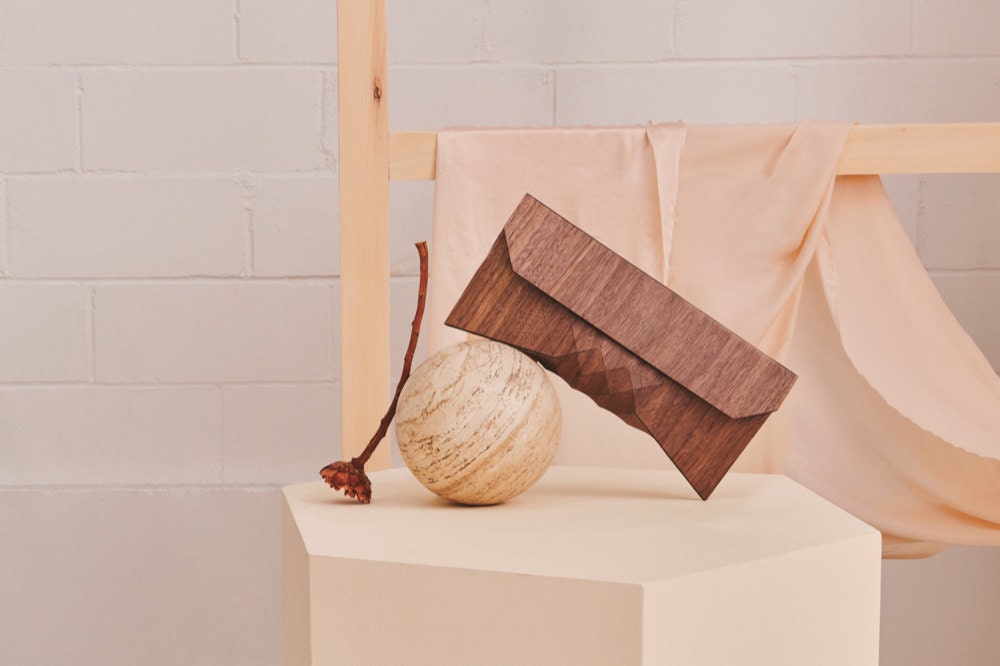 Given the elegant angled appearance of this wooden clutch (that's right—we said wooden!) it's clear that the Israel-based textile designers behind this special-occasion piece have—quite literally—begun to bend the medium. "We wanted to try to give wood a new context by challenging the rules and boundaries of the material," Orli says. Constructed from 100% American walnut and lined with vegan leather, each purse is surprisingly supple, with a geometric underbelly that provides the necessary flexibility for a comfortable grip. "We hope that the love and care we put into our designs can be felt when holding it," Orli says.
People's Choice Award Winner
Ombré gemstone ring by Dani Barbe of Dani Barbe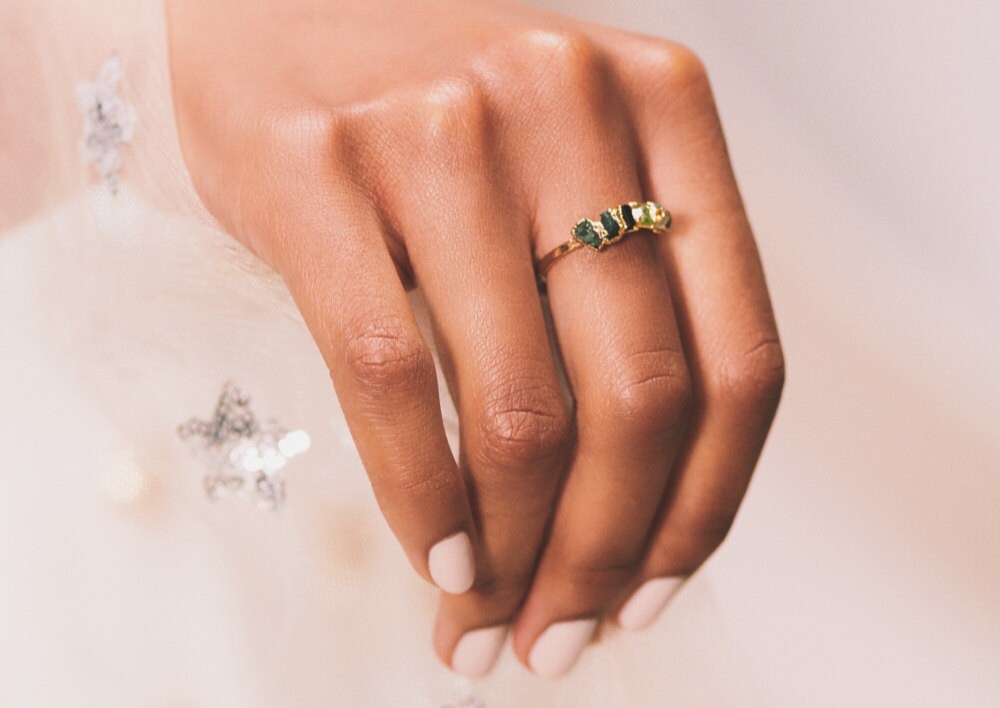 The people have spoken, and Dani Barbe's green ombré gemstone ring was voted 2020's favorite finalist! Studded with six sparkling raw stones ranging in shade from emerald to tourmaline, this stackable stunner is the perfect adornment for anyone who loves to stand out. "The gemstones I choose are valued because of their inclusions and flaws, and their unexpected shapes and colors," Dani explains of her heirloom-quality collection. "I hope customers use these designs to mark moments and milestones. Whether it's a modern friendship ring or a piece featuring your children's birthstones, my jewelry channels those emotions through a rainbow of colors."