Feast your eyes on a few of this year's vibrant creations, then vote for your favorite find from our top 100!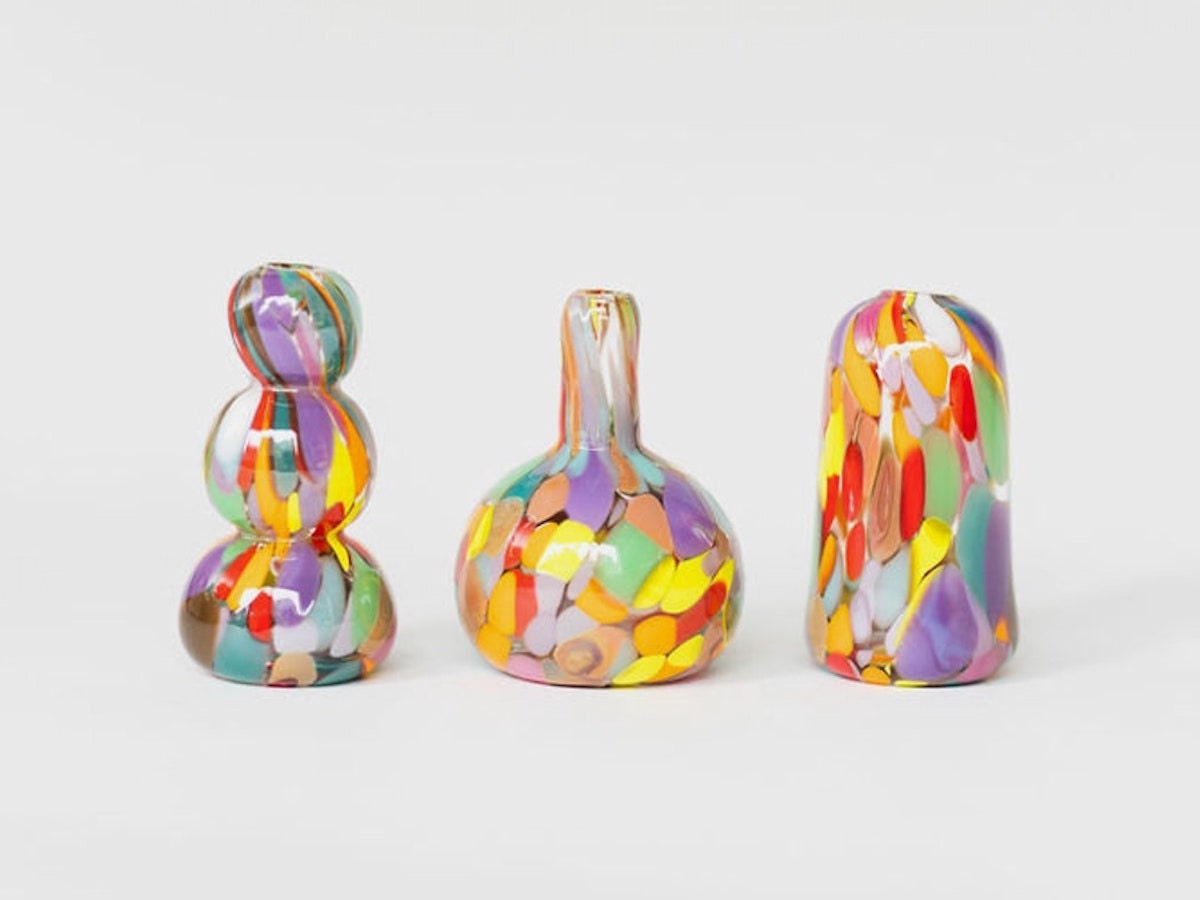 Talk about brilliant! Our highly anticipated list of Etsy Design Awards finalists just dropped, and it's not only full of shining stars—but quite a few rainbows, too. That's right: From prismatic patterned coasters to contrasting color-blocked bangles, if there's one thing this batch of Grand Prize Etsy Design Awards contenders proves, it's that a pleasing pop of pigment can do wonders for our mood.
So in the spirit of spreading joy, here are 10 eye-catching finalists that are sure to surprise and delight you with their colorful concepts and fresh points of view. What's more, these bold beauties are just a small sliver of the incredible kaleidoscope of craftsmanship represented in this year's competition. Be sure to explore the full lineup of all 100 finalists, and let us know which piece (colorful or otherwise!) speaks to you by favoriting your front-runners. Keep in mind: The seller whose listing gets the most favorites between now and June 21 will take home the People's Pick Etsy Design Award—a $5,000 prize.*
And now, without further ado, please enjoy a few of the brightest creations of 2022.
Cool tile coasters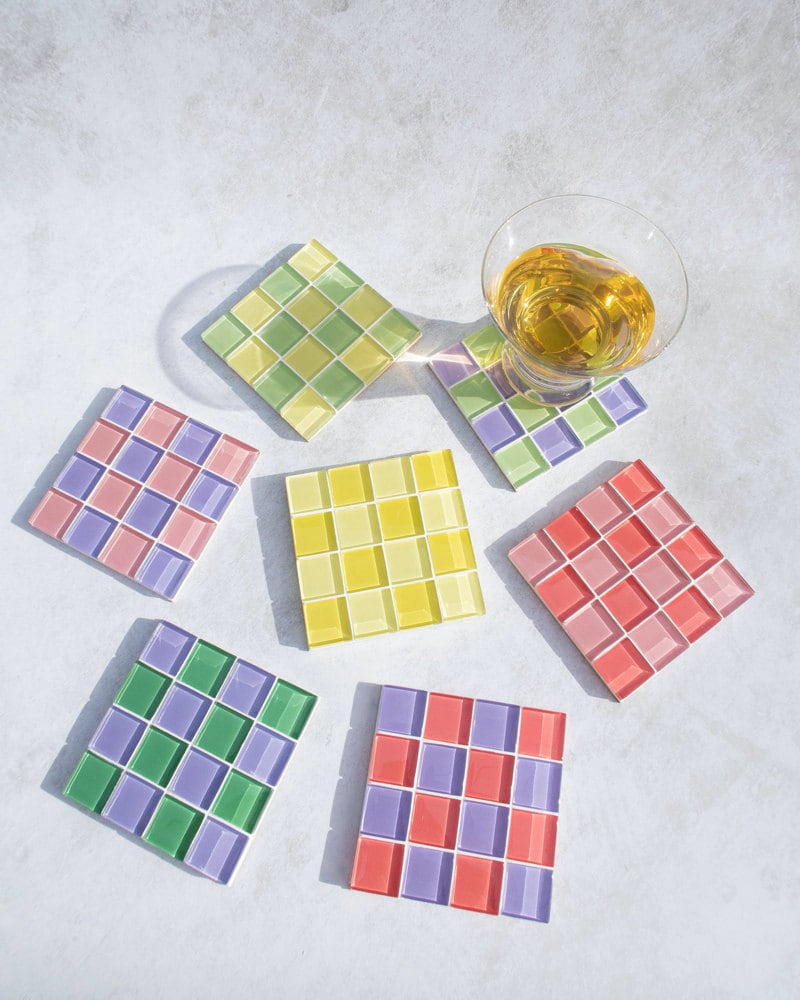 Glass tile coasters from Subtle Art Studios | 2022 Finalist: Kitchen and Dining
Come 5 o'clock, why not sip your pick-me-up punch in style with a classy glass tile coaster from Subtle Art Studios? Opt for a single square in the two-toned checkered combo of your choosing, or mix and match for a full set of four in tutti-frutti shades of lemon, lime, and cherry. Cheers to a tasteful tabletop!
Extra-expressive art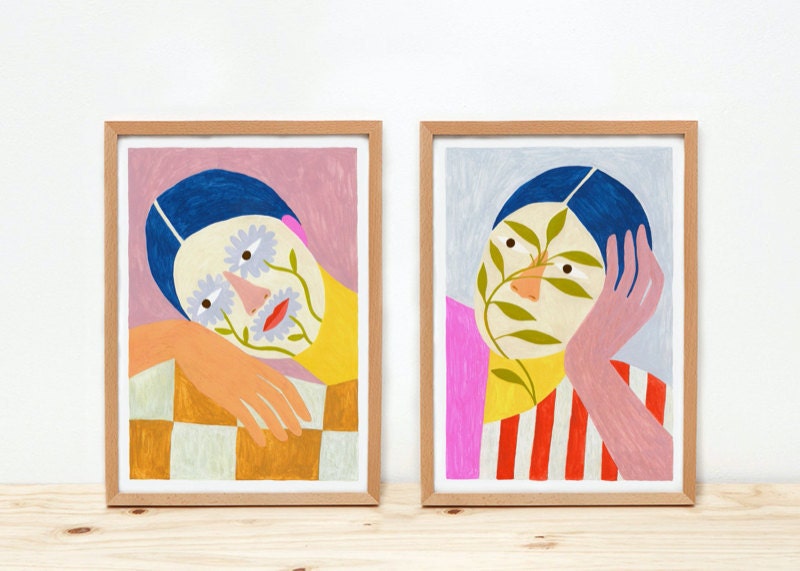 Feminine portraits from Depeapa | 2022 Finalist: Art
Foolproof decorating tip: Give your walls a modern facelift with a pair of vivid giclee portraits from Depeapa. Each carnivalesque composition is illustrated by hand with saturated inks to create a spellbinding set of sister prints whose pattern, color, and shape play off each other in a perfectly pleasing way.
A curvy coffee table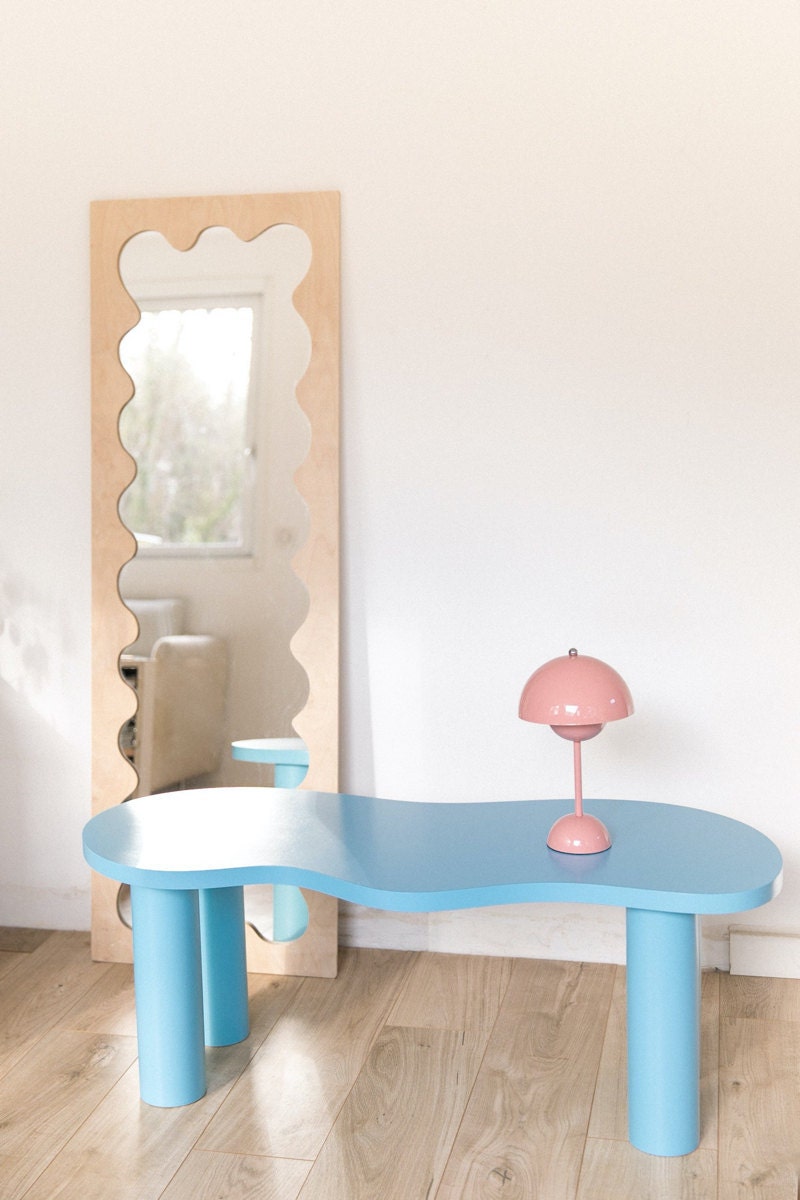 Haricot coffee table from Little Anana | 2022 Finalist: Furniture
Crafted from sturdy birch and available in ten hand-painted options ranging from a peppy party pink to a sunny sky blue, this playful squiggle-shaped table from Little Anana is guaranteed to make waves as the focal point of any well-furnished living space, and delivers a super-smooth swanky surface on which to display all your favorite objects.
A visionary vintage dress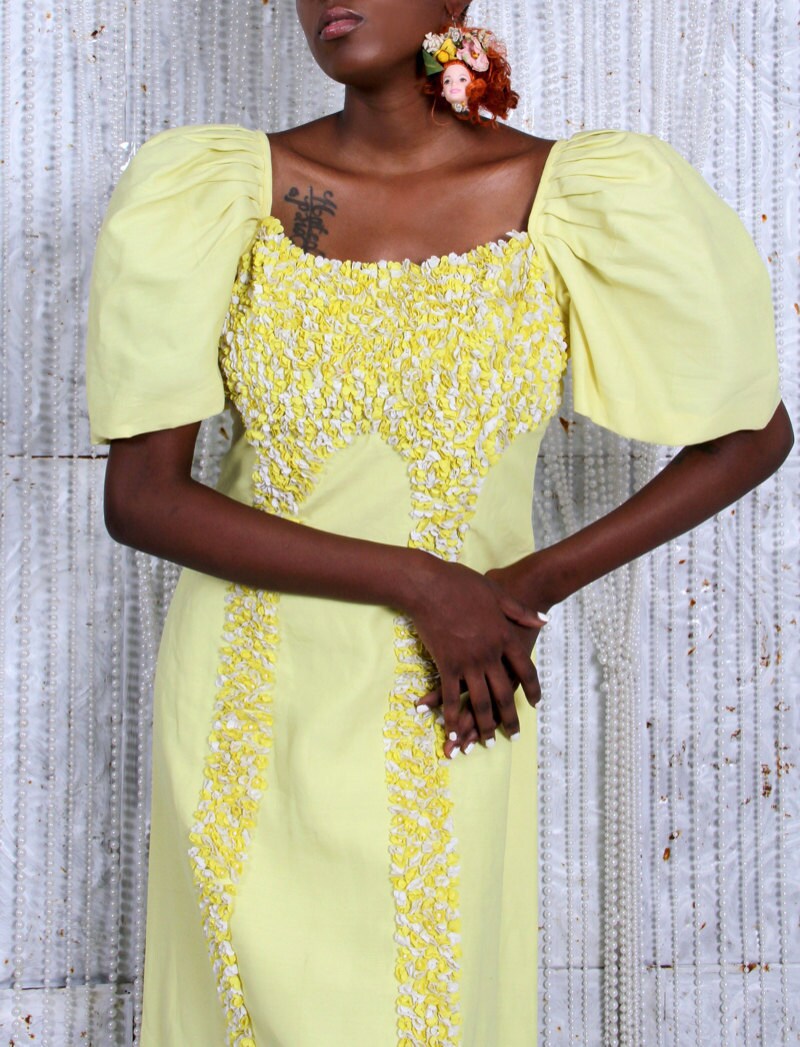 Ceremonial barong tagalog dress from Tati Tati Style | 2022 Finalist: Vintage
The pure vibrancy of this highly romantic vintage dress from Tati Tati Style—a traditional ceremonial gown in a nearly-neon yellow—is matched only by its equally eye-catching details, from its exaggerated pleated puff sleeves down to the textural hand-stitched flowers that cascade down its bodice. Positively radiant!
A multi-colored mini vase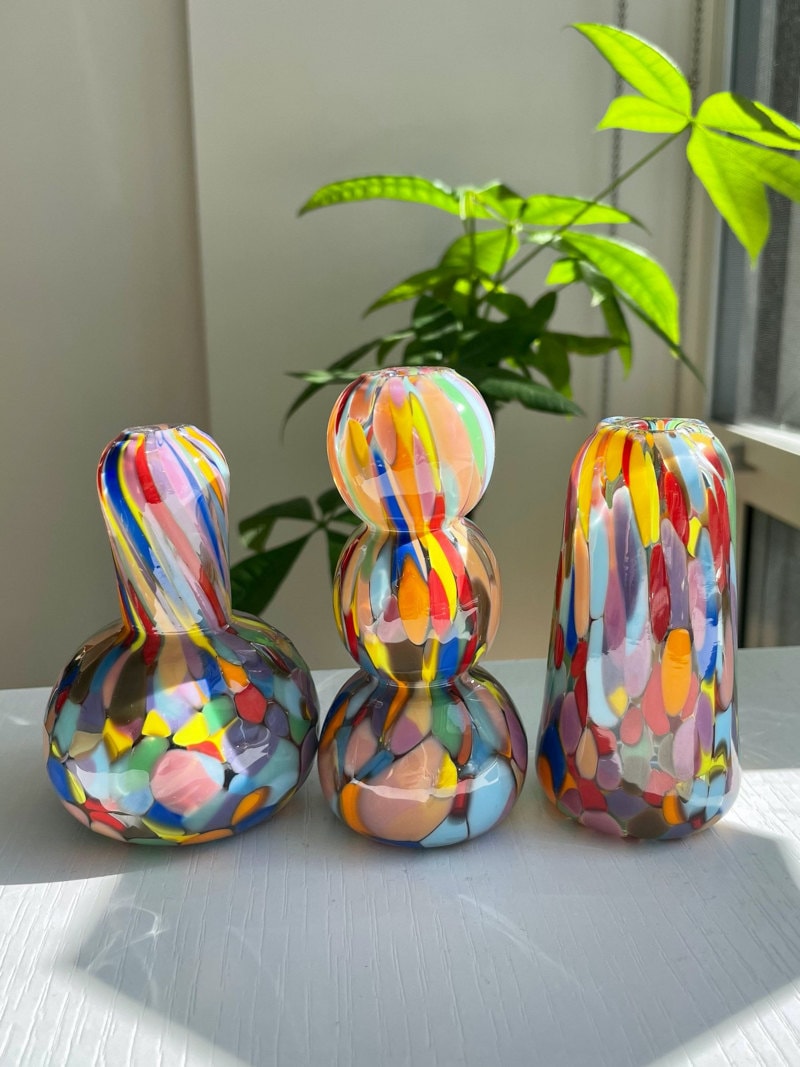 Hand-blown glass vases from Maria Ida Designs | 2022 Finalist: Home Decor and Lighting
What brings us more joy than fresh-picked flowers? How about an extra-special vessel in which to arrange their stems? These gorgeous bud vases from Maria Ida Designs are carefully hand-blown from glass for an all-over paint-splashed effect, and offered in three whimsical silhouettes that will instantly brighten up any windowsill, table, or desk.
Color-blocked bracelets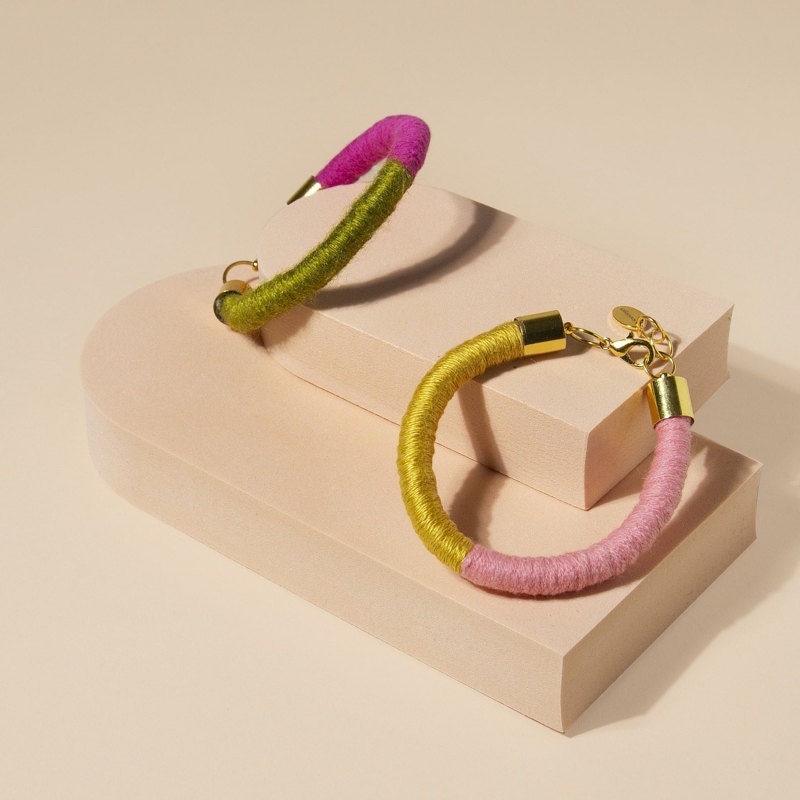 Macramé stacking bracelets from Knottinger | 2022 Finalist: Jewelry
Combining the structure and sophistication of a bangle with the versatile sizing of a clasp, these vibrant fiber-wrapped bracelets from Knottinger put an elevated, modern take on macramé, and look extra-chic when stacked. Try mustard paired with coral or fuchsia and chartreuse—the ideal color coupling is completely up to you.
Succulent sidewalk chalk
Handmade sidewalk chalk from TWEE | 2022 Finalist: Kids
Whether your littles choose to arrange each chalk piece into a tiny potted garden or race outside to draw imaginative scenes in the driveway, these succulent-shaped scribblers from TWEE are not your everyday art supply! Each 10-piece kit comes with a mix of cute cacti and multi-colored flower pots for a base—plus a sprinkling of glitter dirt for good measure.
Matching pet-shirts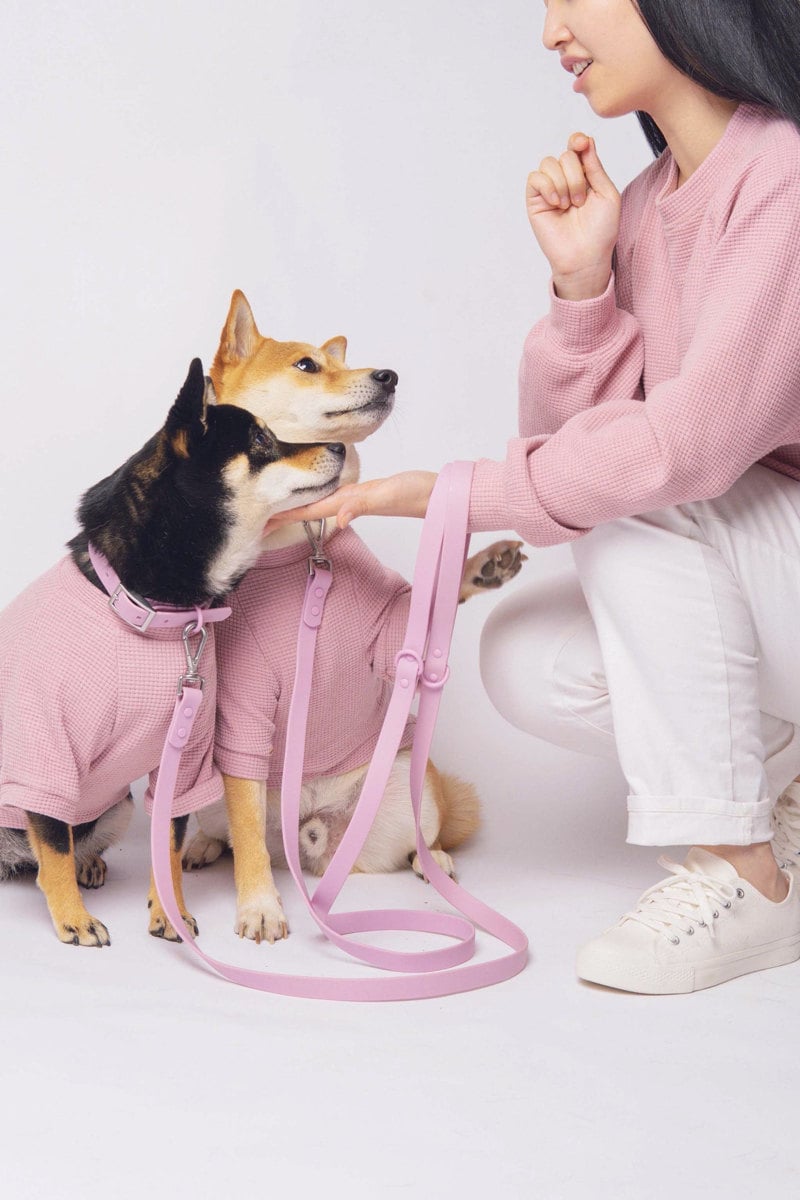 Matching dog and human sweatshirt set from Uni and Nori | 2022 Finalist: Pets
It's no secret that you and your beloved fur-baby always walk in step, so why not show it off with an identical set of sweatshirts in a paw-pular shade of pink? These waffle raglan tops from Uni and Nori offer the utmost in comfort and color coordination, with a snuggly slouchy fit for both canine and companion. Pro tip: Snag the matching leash for a seriously stylish stroll in the park!
A happy-hued hat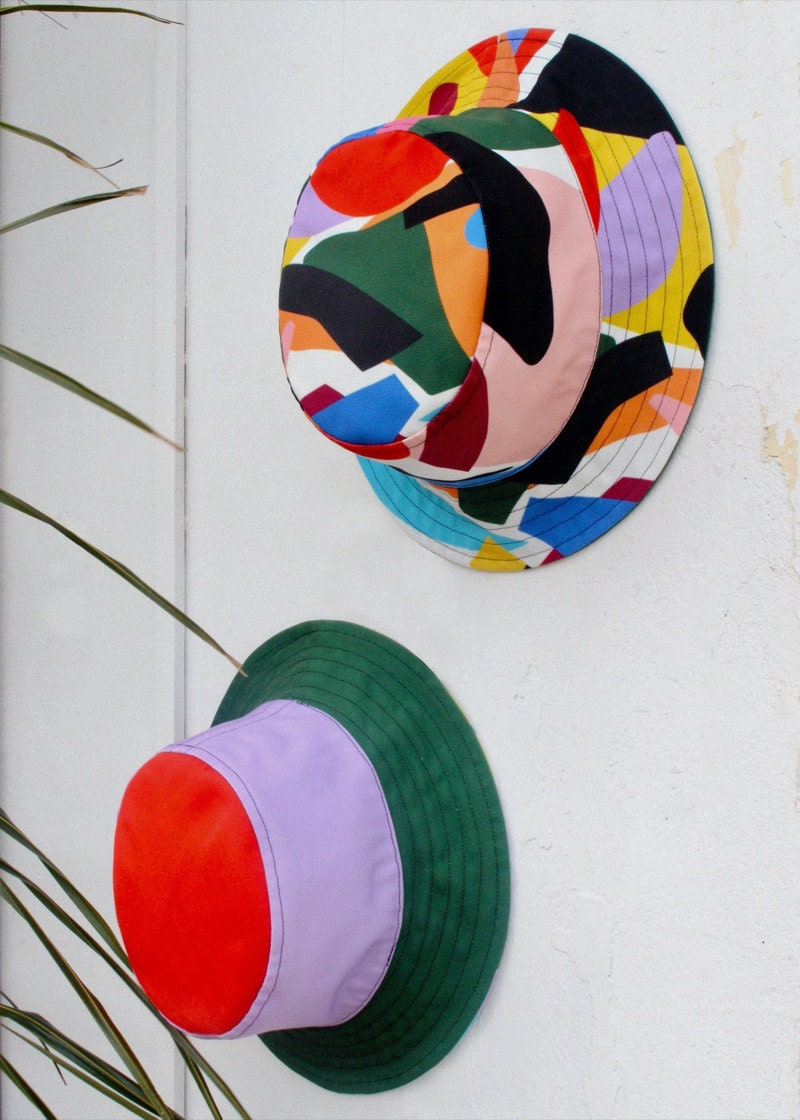 Reversible bucket hat from Josie Creas | 2022 Finalist: Clothing and Accessories
For a sunny-day accessory that's brimming with personality, look no further than this abstract-patterned bucket hat from Josie Creas. We love the bold, all-over print of irregular geometric shapes, but if you're feeling a little more low-key, simply flip the fabric inside out for a simplified, tri-color style that pairs well with an everyday ensemble.
A beautiful bridal topper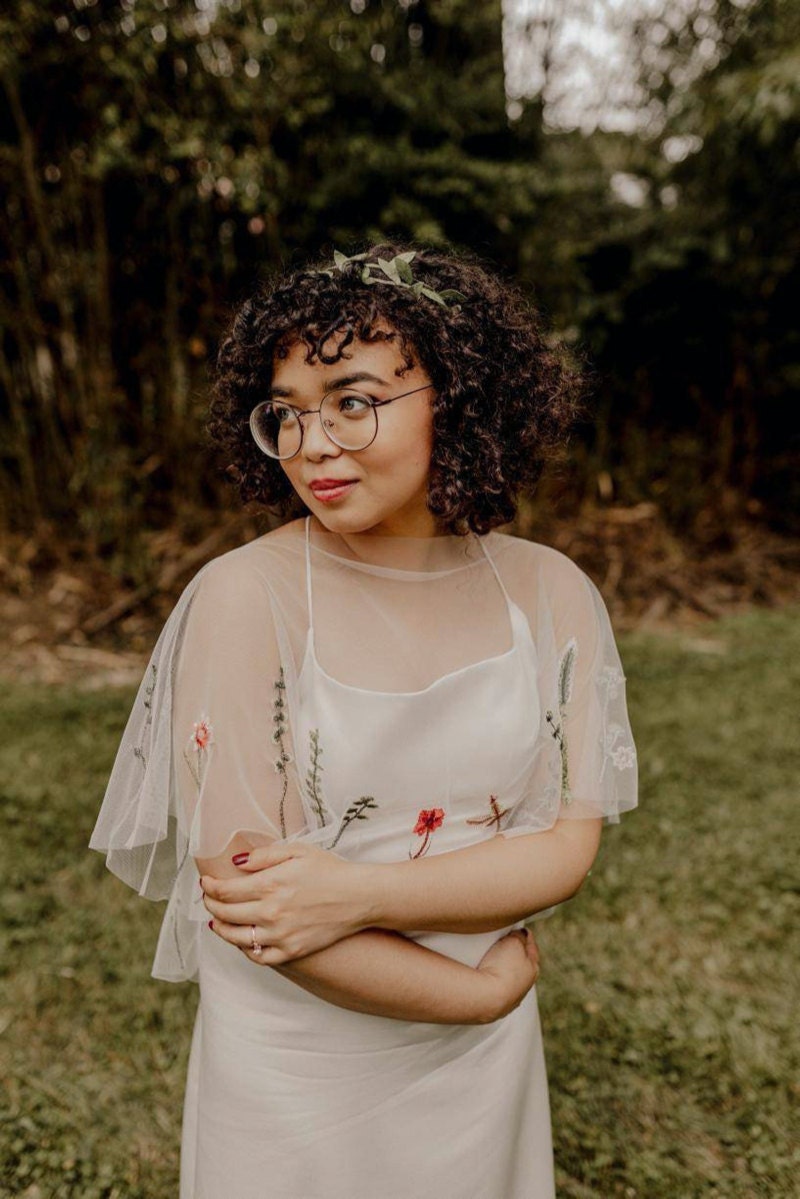 Embroidered bridal cape from La Voile Rose | 2022 Finalist: Weddings
With its intricately placed floral appliques blooming up from its bottom edge, this delicate tulle cape from La Voile Rose adds a touch of garden glamor to your special day, and just enough drama to your coverup game to take you from first look to first kiss in understated elegance.
Explore their one-of-a-kind creations and be sure to check back in July, when the winners—handpicked by Etsy's Dayna Isom Johnson and designers from The Expert, including Jake Arnold, Jenna Lyons, and Brigette Romanek—will be revealed.

*See the Submission Terms for more Etsy Design Awards information: https://etsy.me/3MIc9WH.