Explore (and shop) the 12 prize-winning pieces, and discover the stories that make them just so extraordinary.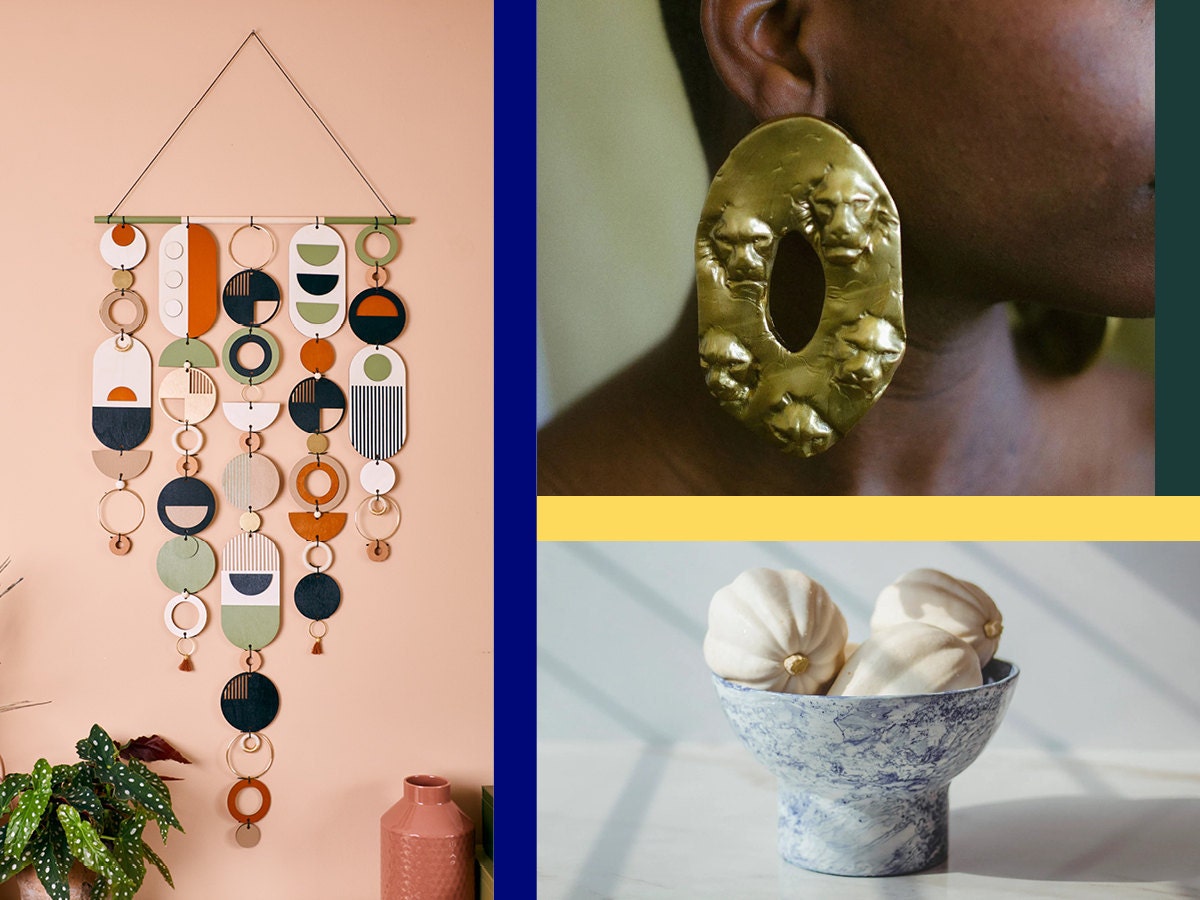 Spectacularly unique items. Impeccable artistry. Real people. Each year, when we announce the winners of the Etsy Design Awards, we're reminded that this is the magic of Etsy. "Trends come and go, but craftsmanship and creativity remain at the forefront of our community," explains Etsy Trend Expert Dayna Isom Johnson, who has judged the competition four years in a row. "Every time I come to Etsy, I find something new that you can't get anywhere else—something handmade with exceptional skill and love."
It's that inimitable special quality that caught the eye of this year's judges, a discerning team of designers from The Expert—including Jake Arnold, Jenna Lyons, Brigette Romanek, and dozens more—who partnered with Dayna to handpick their favorites. "These items really don't look like everything else out there," says fashion designer Jenna Lyons. "There's a sense of real interest and uniqueness that you don't always see when things are mass produced." From the wave-making mirror voted this year's People's Pick Etsy Design Award winner to the magnificent mixed media wall hanging that received the Grand Prize Etsy Design Award,
read on to see all 12 of this year's top-honored designs, discover the stories that inspired them, and maybe even take one home for yourself.
Grand Prize Award Winner
Large modern wall hanging by Tim Stevenson of We Are Lunarium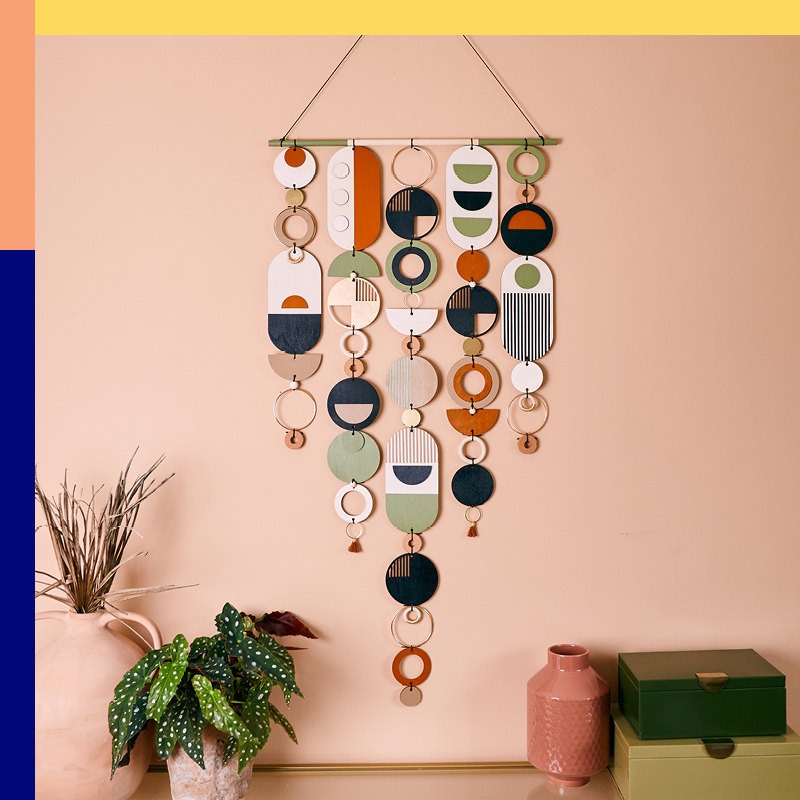 SHOP: Large geometric wall art from We Are Lunarium, from $189
Photograph by Ejatu Shaw.
For Tim Stevenson, the UK-based mastermind behind this year's Grand Prize-winning wall hanging, great design is all about finding a good flow. "I love just playing with materials and colors until it feels right," says the contemporary artist and owner of We Are Lunarium. The result—an artful composition of suspended geometric elements crafted from birch plywood, brass, ceramic, and fiber tassels—gives off its own sense of movement through the careful arrangement of colors, textures, and shapes. "Even though it combines so many different materials, its free-flowing nature is still quite calming and inviting," observes judge Jake Arnold of the dynamic design. "I could see it attracting many types of customers."
In fact, his customers were Tim's initial inspiration for launching his signature mixed media collection, which started as a personal project for a friend, and now comes in a range of sizes and palettes suited for different tastes. "Quite a few of my pieces have come from working with clients, using their color scheme to create something custom that's perfect for their needs," Tim says. Today, no matter your decorative vision, be it a boho-chic bedroom backdrop or a Scandi-style living room centerpiece, Tim's happy to create a multidimensional, modern-day tapestry tailored to your space. As judge Brigette Romanek says, "It's fun, beautiful, creative, and can fit in a variety of different environments. It also doesn't break the bank!"
Want to learn more about Tim's story? Click to watch our interview with the Grand Prize-Winning designer.
People's Pick Award Winner
Convex "Aura" mirror by Jonathan Hitchcock of SurreyWoodsmiths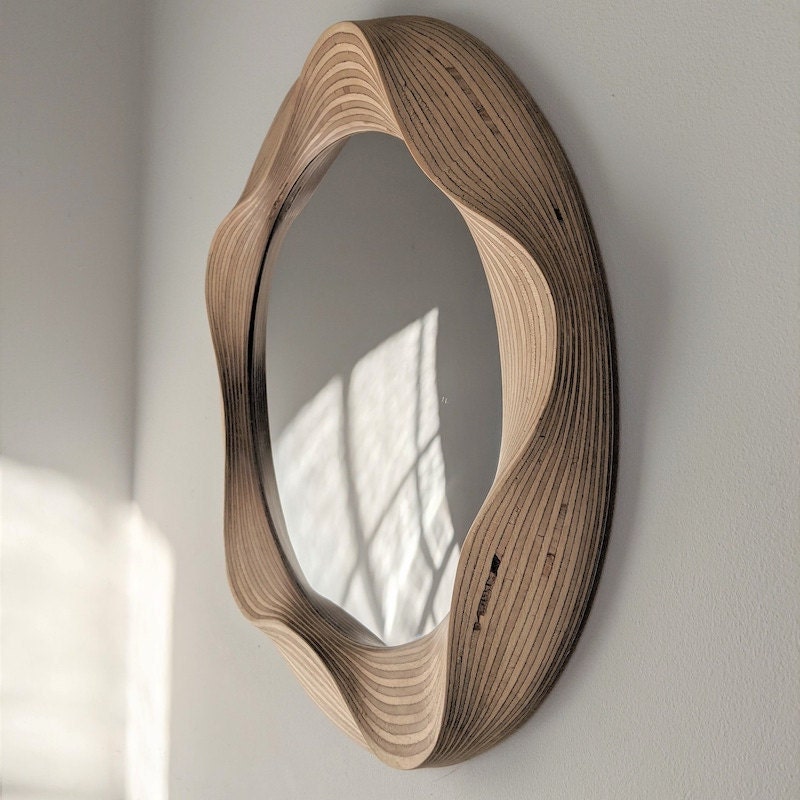 SHOP: Carved birchwood convex mirror from SurreyWoodsmiths, $496
It's no secret that wavy shapes have been having a major home decor moment of late, and shoppers proved they're all-in on the trend by enthusiastically voting for this stunning mirror from SurreyWoodsmiths with its undulating edge. But there's so much more to this piece than a curvy figure! Inspired by the geometry of nature, designer Jonathan Hitchcock carved its frame from a solid block of birch wood, creating an elevated household accent that reflects the beauty of the great outdoors. "The natural world is full of effortlessly elegant forms," explains the UK-based furniture maker, whose artistic aim is to make ordinary objects feel extraordinary. "Many of my customers are in the process of building a house or completing renovations, so they're looking for pieces that really add something special to their home. I like to think of my designs as creating functional sculpture, and turning everyday homewares into pieces of art."
Winner: Kitchen & Dining
Blue and white ceramic footed bowl by Dima and Nadya Gurevich of SIND STUDIO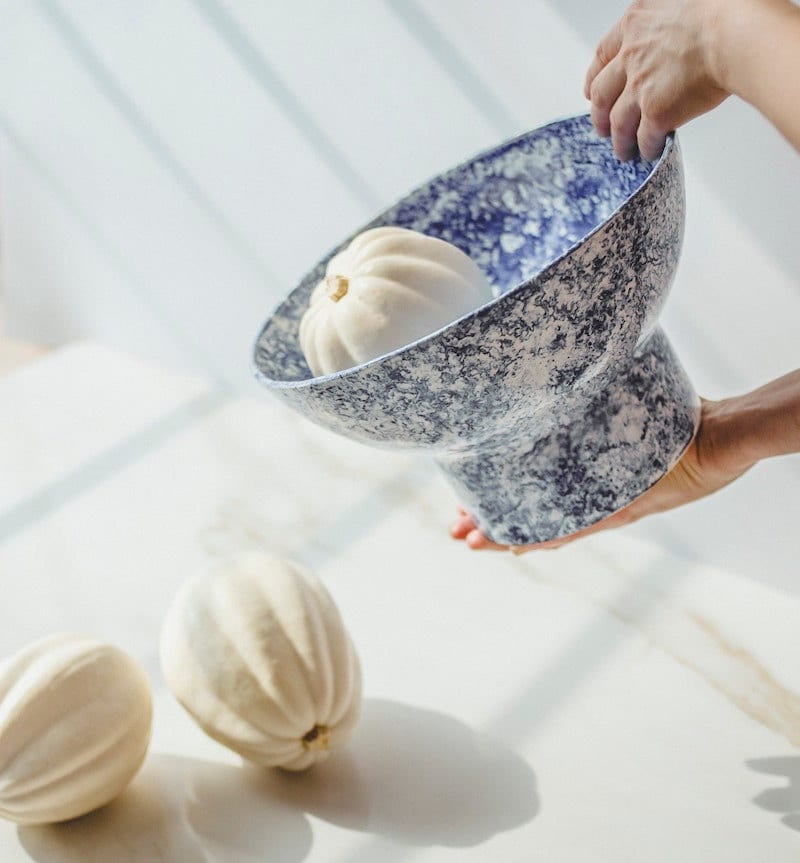 SHOP: Marbled ceramic fruit bowl from SIND STUDIO, $163
Perfect for serving up summery side dishes or just displaying your latest farmer's market haul, this gorgeous porcelain produce bowl from SIND STUDIO makes every gathering that much more memorable. Handcrafted by celebrated ceramists Dima and Nadya Gurevich—a husband-and-wife designer duo from Israel—the sculptural vessel boasts an all-over blue and white ocean-inspired motif that gives off subtle coastal grandmother vibes. "We were experimenting with colors and wanted to achieve an effect that would remind us of waves," Dima explains, noting the marbling technique they developed to paint this piece. Combined with its distinctive footed shape, the couple have created an heirloom-quality container suitable for both everyday entertaining and special occasions. "It's very versatile, so it'll look beautiful in different interiors," Dima says. "We love it for serving exotic fruits, fresh salads, and gourmet pasta."
Winner: Vintage
Mid-century modern pendant lamp by Doria Leuchten, from Stefan Zimmerle of Muc Design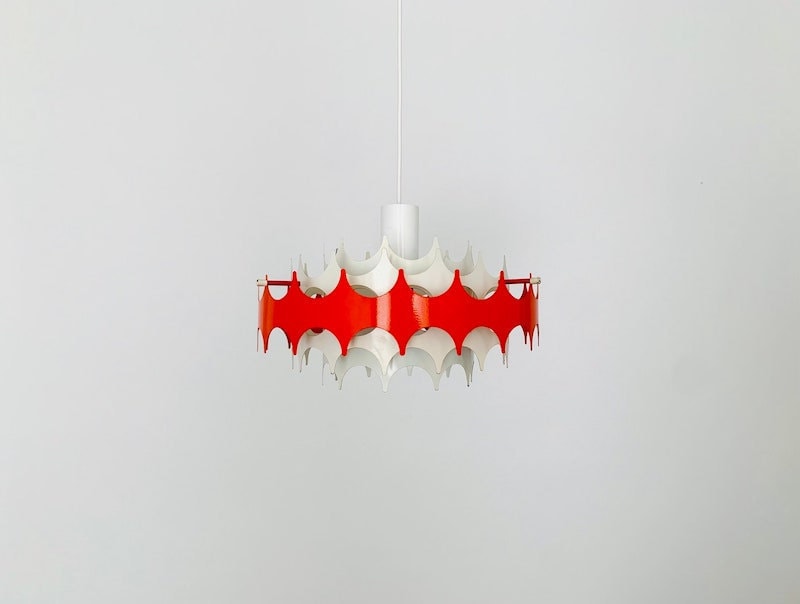 SHOP: Mid-century modern pendant lamp from Muc Design, $716
Originally designed by modern lighting manufacturer Doria Leuchten in the 1960s, this striking pendant light is what Stefan Zimmerle, curator of German vintage home goods shop Muc Design, calls "a rare vintage darling." Constructed of three concentric metal rings cut in bold, brutalist fashion, the lamp casts a surprisingly soft, spectacular array of shapes and shadows when lit. "I had never seen this design before, and was very happy to have found such an unusual piece," Stefan says. "I can envision it hung a little lower next to a couch with many plants around it, in a mid-century house or loft." A devoted collector of vintage lighting, Stefan's mission is to illuminate the potential of these storied statement pieces to a wider audience, and he's already found one confirmed vintage fixture fan. "We will definitely be purchasing plenty of lights from Muc Design!" Jake says. "Their stuff is really well curated and would work well in a lot of our projects."
Winner: Clothing & Accessories
Patchwork quilt coat by Prangchat (Deedee) Sathianthammawit of W.B.THAMM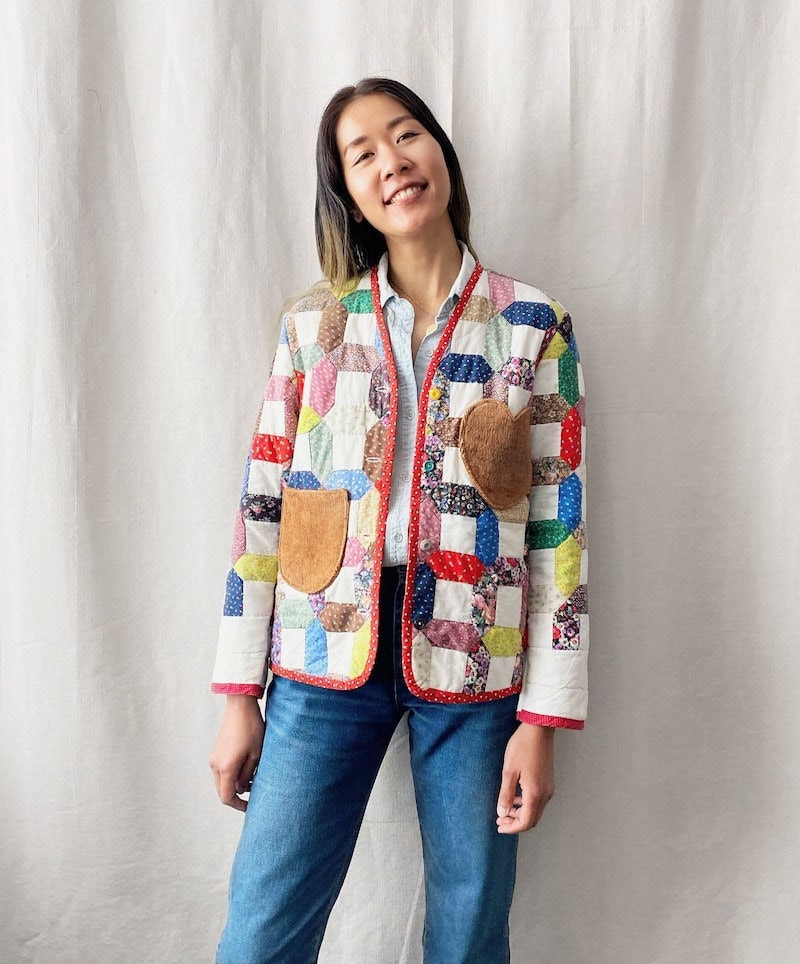 SHOP: Patchwork quilt coat from W.B.THAMM, $395
Calling all quilt lovers! (We're looking at you, Jenna, our self-professed "quilt-obsessed" judge.) If you, too, are a sucker for vintage coverlets and have a passion for hand-stitched fashion, clothing designer Deedee Sathianthammawit's colorful patchwork jacket is sure to climb to the top of your wardrobe wishlist. Part of W.B.THAMM's recently released outerwear line that gives new life to previously loved textiles, this lightweight collarless coat is sewn from a 1970s elongated hexagon quilt, and is Deedee's personal spin on the quilt-turned-coat trend—complete with vintage mismatched buttons. "I wanted to create a simple silhouette, then incorporate playful, textural elements like a heart-shaped pocket cut from corduroy," says the Utah-based maker. For a foolproof 'fit, simply pair with your favorite lived-in blue jeans and a crisp white button-down, and call it a day.
Winner: Furniture
"Suelo" modern daybed by Gretta Jones of Bertu Home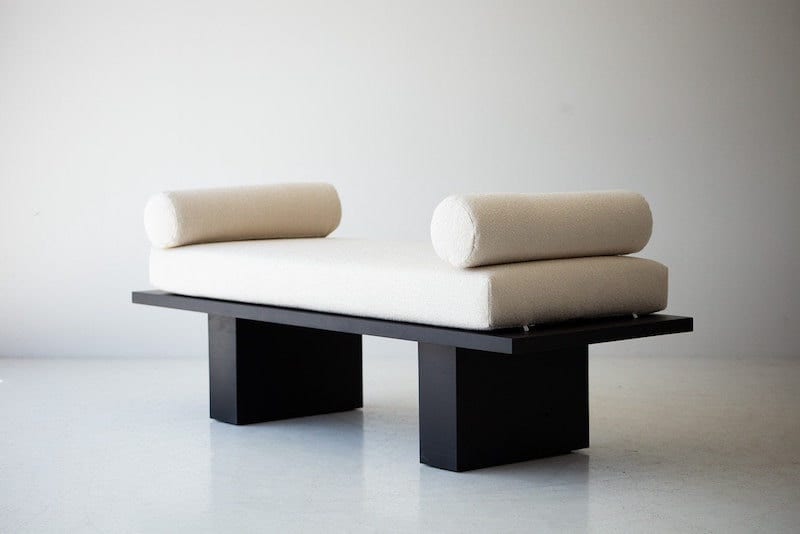 SHOP: "Suelo" modern daybed from Bertu Home, $3,500
"I love the idea of creating a space in your home that feels like a getaway or retreat," says modern furniture designer Gretta Jones of Bertu Home, whose travel-inspired daybed is a welcoming invitation to relax and reset. Handcrafted from solid wood in the small Ohio studio she runs with her husband, this sleek, loungey piece is propped with supportive bolster pillows, and designed to accommodate different body types in various states of rest. As our judge Jake says, "With furniture, above anything, it has to be comfortable." Luckily Gretta's dreamy daybed is not only totally cushy, it's super versatile, too, and thanks to its modular shape can easily be incorporated into an existing seating area or, alternatively, stand on its own accompanied by a small side table and draped with a cozy throw.
Winner: Jewelry
Leo halo earrings by Ashley Bebley-Adesiyan of It's All Culture Jewelry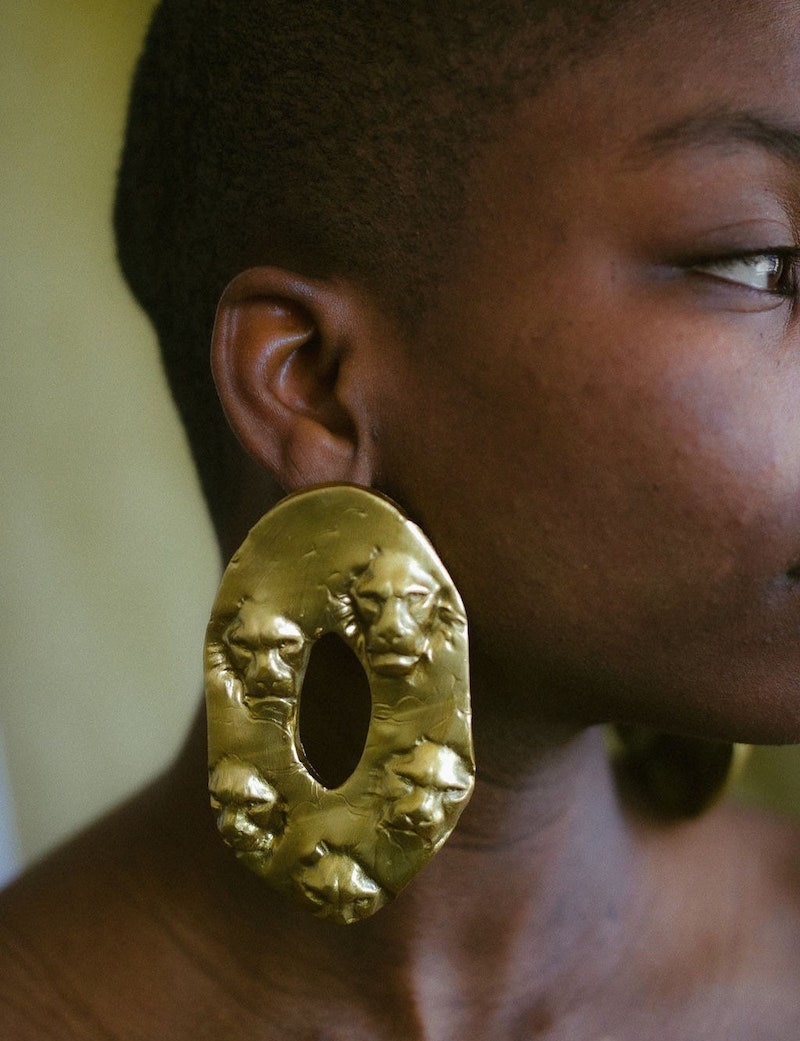 SHOP: Leo halo earrings from It's All Culture Jewelry, $50
If you ask Chicago-based accessories pro Ashley Bebley-Adesiyan of It's All Culture Jewelry, when you want to make a serious statement, go big, bold, and gold. Her signature style—powerful pieces that unapologetically take up space—is on full display in her Leo earrings, a set of stunning halo hoops sculpted with fierce lion faces. The overall effect is so sublimely sophisticated, it's hard to believe Ashley has achieved it with polymer clay. "I've definitely popularized faux gold jewelry and perfected it," she says—a finishing technique that left an impression on Jake. "It's so interesting to see how she works with clay to make a mold for her jewelry that so closely resembles metal," he says. It's a brilliant trick of the eye that allows Ashley to constantly push the limit on what she can create while keeping her designs lightweight enough for daily wear. "My customers are everyday working women, and I've seen my earrings become their everyday pair," she says.
Winner: Pets
Rectangular cat house by Sue Choi and Peter Gang of Live In Ideals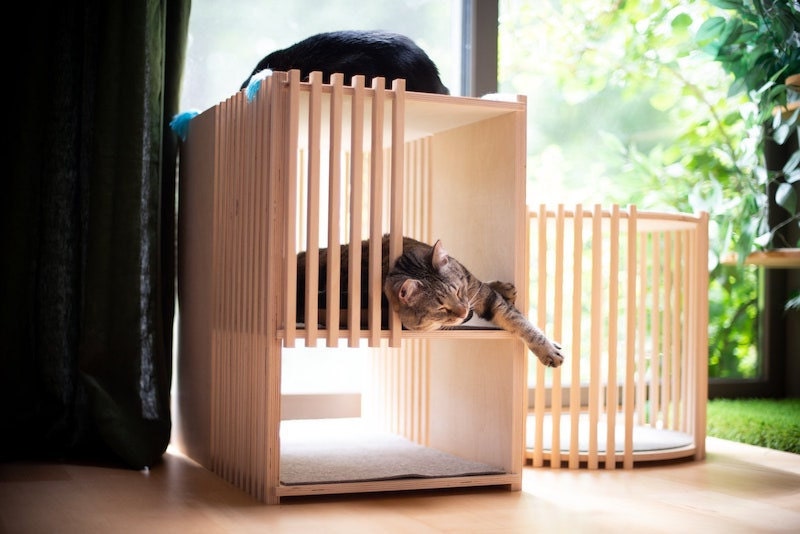 SHOP: Rectangular cat house from Live In Ideals, $520
Fellow cat lovers Sue Choi and Peter Gang get it: Your fur babies are your family. Sure, your home is theirs, but don't they also deserve their own special place to luxuriate? Enter the modern, rectangular cat house from Live In Ideals, which not only accommodates kitty's full calendar of activities (nap, sunbathe, repeat), it seamlessly incorporates into your living space. "We wanted our cat furniture to look great anywhere in the home, and harmonize with existing decor," explains the New York-based co-designing couple, who built their hardware- and hassle-free cat condo for their own beloved fluffs, Snow and Star. Inspired by the way wild animals keep camouflaged among the trees, they dreamed up a sleek, slatted wood structure that could both satisfy that frisky feline curiosity and, simultaneously, provide a sense of security. With nooks for hiding, playing, climbing, and lounging, your kitty will be purring on their new perch in no time.
Winner: Weddings
Rowen bodysuit and Bianca skirt by Kare Merrifield and Keira Danniels of Fern & Moon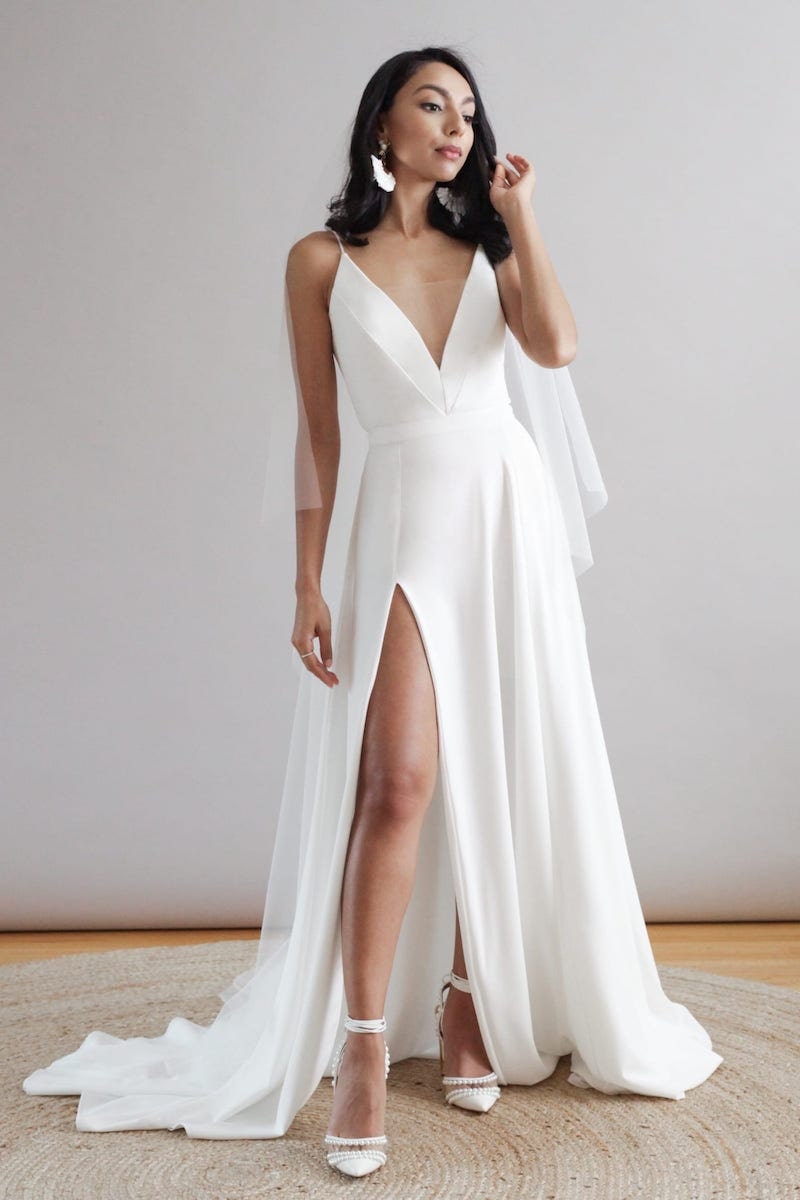 SHOP: Rowen bodysuit and Bianca skirt from Fern & Moon, $1,530
You might say Canadian bridal designers Kare Merrifield and Keira Danniels are on a mission to disrupt the wedding industry. "Our goal is to create thoughtful pieces that minimize purchases, reduce waste, and can be worn again and again," Keira says, explaining how they arrived at their minimalist, modular dress collection, Fern & Moon. A classic example of mix-and-match elegance, their Rowen and Bianca two-piece set begins with a dramatic deep V-neck bodysuit, and is topped off with a silky crepe skirt with a thigh-high slit. "Next year, my husband and I are planning a 10-year vow renewal, and I can totally see myself rocking that combo for the ceremony," Dayna says. "What I love even more than the beautiful design, though, is that afterward, it's intended to be repurposed as separates." Need some post-wedding outfit inspiration? "Wear the Rowen bodysuit with trousers on your honeymoon," Keira suggests. "Hem the Bianca skirt into a 60's-style mini and wear it with a T-shirt on your anniversary." The possibilities—like your love—are endless.
Winner: Kids
Knitted charcuterie from Colette Bream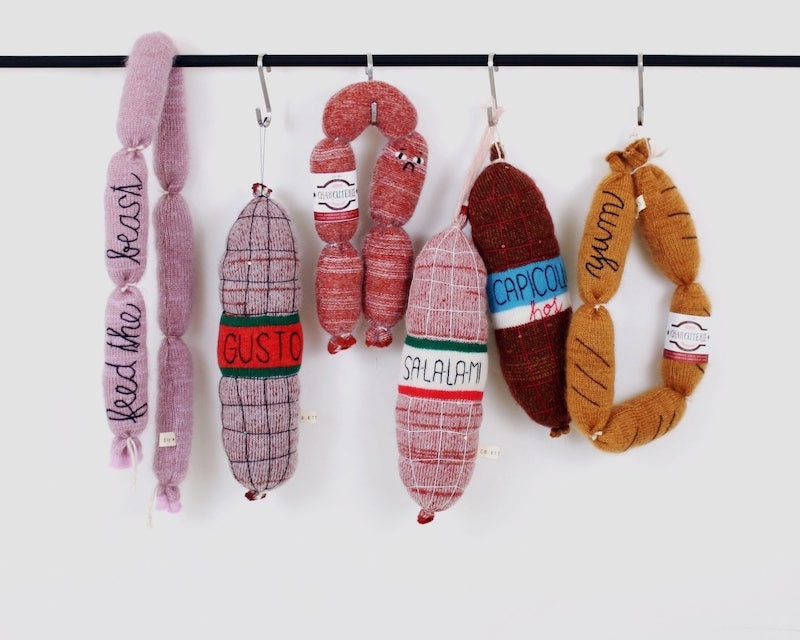 SHOP: Knitted charcuterie from Colette Bream, from $16 per sausage
From plump little plush salamis to snuggly pink sausage links, Colette Bream's whimsical knitted meats encourage us all—young and old—to take a more playful approach to the everyday. "I started designing for children, but over time, I came to realize that many of my products resonate with people of all ages," says Colette, whose delightful line also includes cute stuffed critters and cozy accessories—all hand-stitched in Maryland. Just take it from Jenna: "The little knitted charcuterie!" she exclaims. "OMG my dog would probably steal it, but they are darn cute!" Perfect for a healthy dose of pretend play, a quirky gift for your bestie, or a bit of cheeky decor ("a lot of grown ups hang them in their kitchen as a display piece," Colette says) these cuddly collectibles are one of Colette's most popular products to date, and are hand-knit using her own custom fabrics to create just the right speckled texture. "It's always been my goal to spark imagination," she says. Mission accomplished.
Winner: Art
"Blue Roads" canvas painting by Edina "Dina" Dodson of Art by Dina D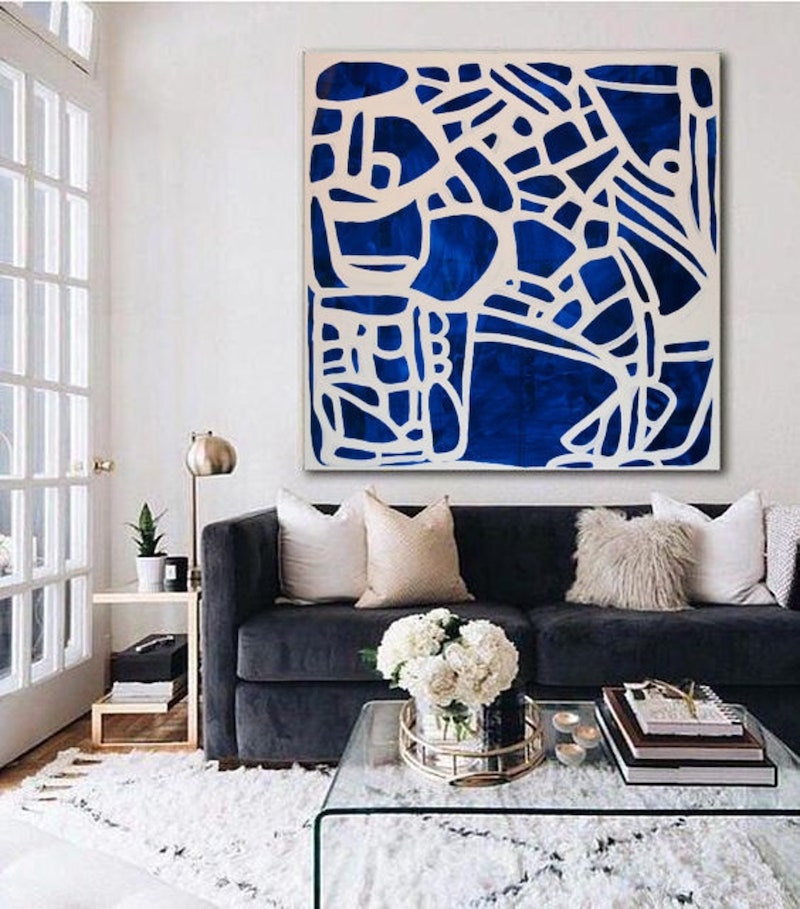 SHOP: "Blue Roads" canvas painting from Art by Dina D, $797
Whenever abstract acrylic artist Dina Dodson puts paint to canvas, it's an act of self-care. After her mother passed away in 2014, the Maryland-based maker began painting to help with the grieving process, calling it "pure therapy." Today, she runs Art by Dina D in honor of her late mother, with the goal of creating expressive art that tells a story. "Whatever my heart desires at that moment, I unload on canvas," she says. Take "Blue Roads" with its giant, energetic swathes of cerulean. " I felt like exploring," says Dina of the day she dove into the piece. "I felt the need to move to somewhere new, beautiful, and fun. This was my interpretation of an aerial snapshot of where I wanted to be." It's a transportive experience she hopes customers will share whenever they engage with her work. "There are good feelings put into creating my art, and my hope is they feel it too," she says.
Winner: Home Decor & Lighting
Extra-large leaning wavy mirror by Pedro Mealha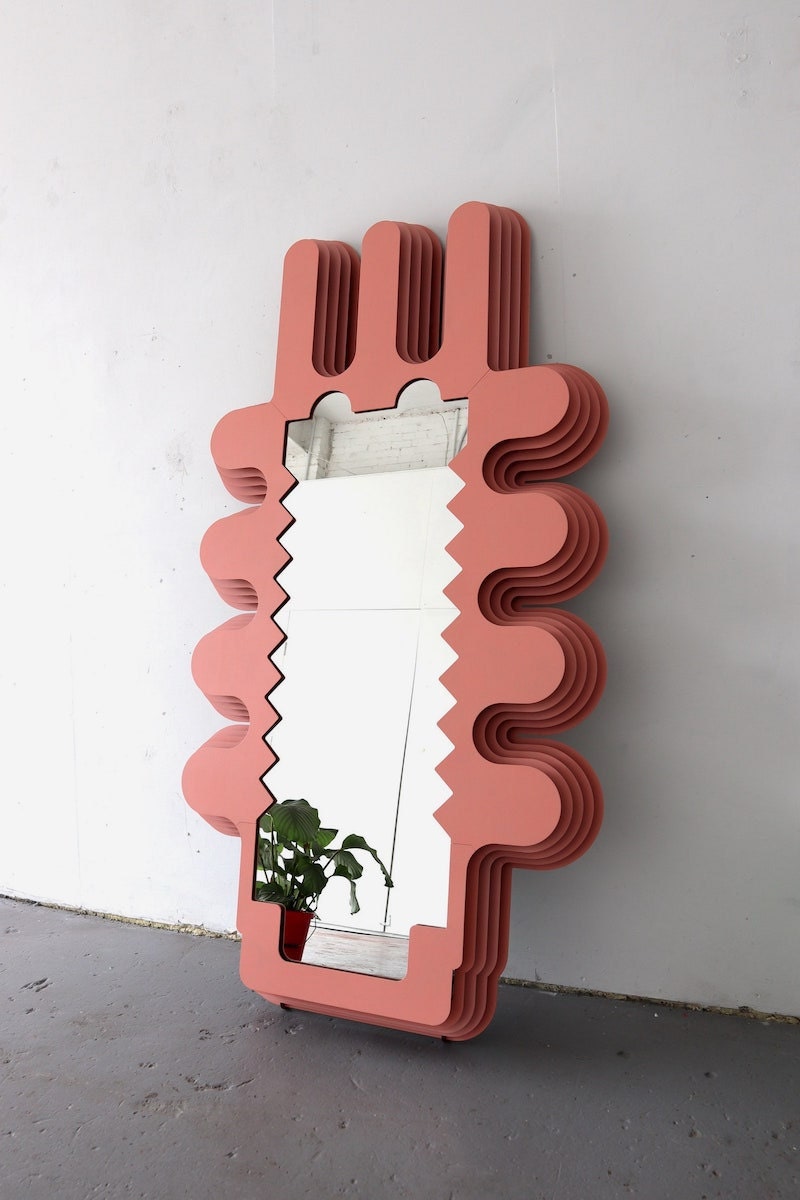 SHOP: Extra-large leaning wavy mirror from Pedro Mealha, $2,823
Wave hello to the brightest spot in your day: this extra-large, extra-expressive mirror with an outright eye-popping squiggle frame. Maybe it's a reflection of our recent obsession with all things fun and vibrant, but this showstopper by UK-based artist Pedro Mealha is checking a lot of our boxes. "In the world of design and particularly in interiors, there is a tendency to approach things with such a serious focus," Jenna says. Here, she adds, "there is a sense of whimsy and a sense of charm" that we all can appreciate. A cuckoo clock maker by trade, Pedro leaned into his playful, modern aesthetic to transform five layers of meticulously shaped plywood into a piece that will stand alone as the deserving focal point of any colorful, eclectic space. The final flourish? An all-over coat of peppy millennial pink paint, perfect for upping your mirror selfie game.