See (and shop) all 18 outstanding pieces right here.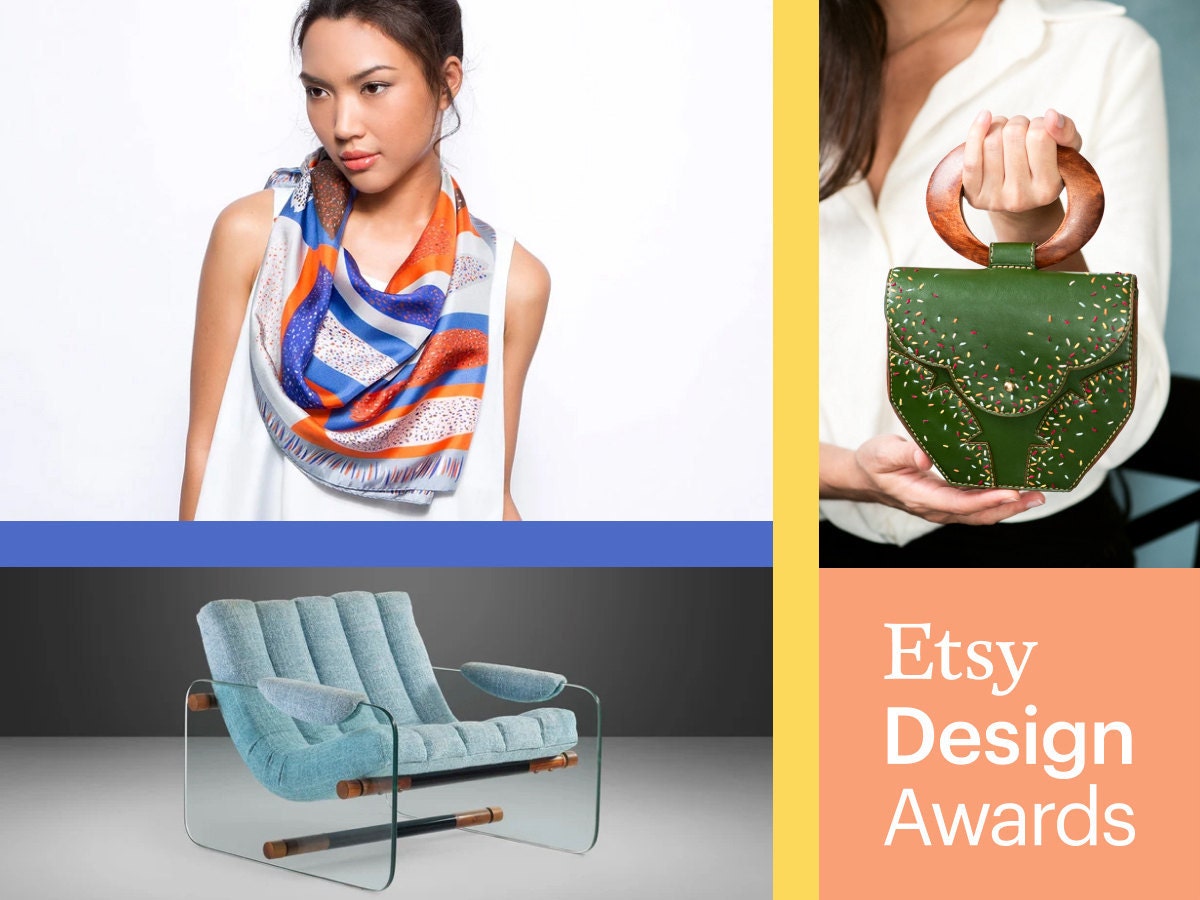 The very best designs don't just spark awe and admiration in you—they also add something lasting to your life. That combination is a defining feature of the winners of this year's Etsy Design Awards, our fifth annual celebration of the creativity and craftsmanship that abound in our seller community.
"When it came down to selecting the winners, the thing that struck me most—aside from their bold originality—is that you can tell [these pieces] were created to be used and loved by real people," says actor, producer, businesswoman, and designer Sarah Jessica Parker, who judged this year's category entries alongside Etsy Trend Expert Dayna Isom Johnson. "These aren't just wonderfully unique conversation pieces, they're items that were made to be enjoyed every day, to be worn and held, and ultimately to be passed down through generations."
Read on to learn more about the one-of-kind details and impeccable artistry of this year's top-voted designs—then click through to add some favorites to your cart (or at least your wishlist).
Grand Prize Award Winner
"Emma" cactus-leather bag by Maria Duque of Marigaby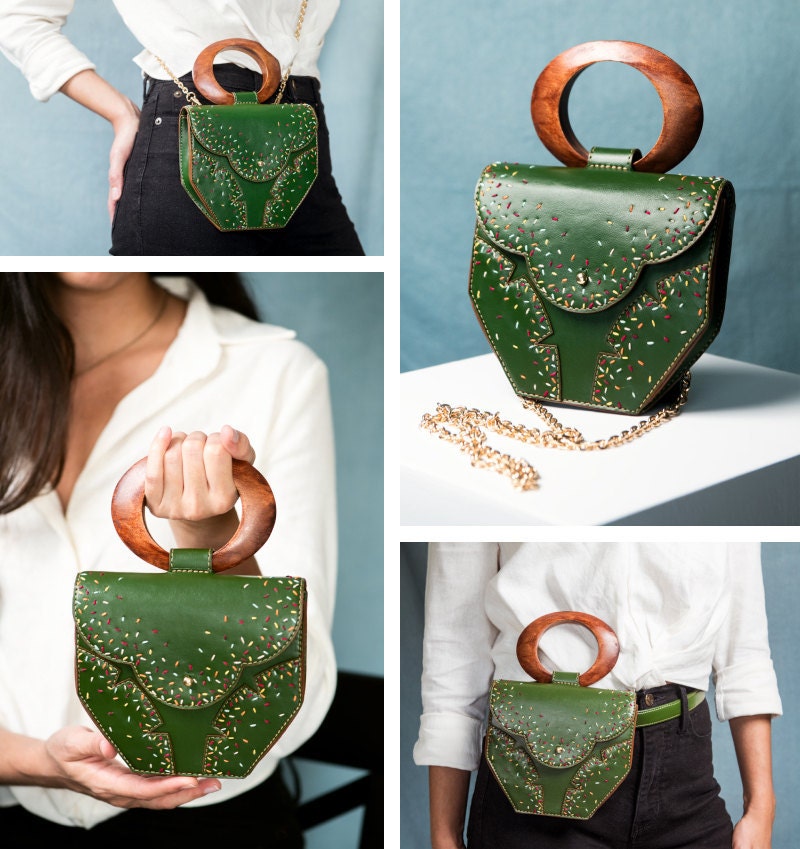 SHOP: "Emma" cactus-leather bag from Marigaby, $267
This year's Grand Prize winner, a petite Marigaby purse crafted from leaf-colored cactus leather (yes, as in the plant!) and adorned with a confetti of embroidered stitches in hues inspired by fresh fruits, represents a perfect marriage of style and substance. Designer Maria Duque's meticulous craftsmanship and innovative use of vegan materials wowed judges, all while serving up dreamy tropical vibes and wear-everyday versatility. Dayna says, "The combination of her attention to detail, creative design, and commitment to sustainability truly blew me away."
To Maria, designing a sturdy bag roomy enough to carry necessities, but small enough to wear comfortably and in a variety of ways, was essential. "What I love the most about 'Emma' is that you can wear it during the day with a casual outfit or for a night out," she says. "On your waist for a hands-free style, as a crossbody bag, or simply on your hand—either way, it'll always add the perfect, final touch of color."
Winners' Choice Award Winner
Dandelion interactive lamp by Dozen Lee and Matilda Kao of Mozi Dozen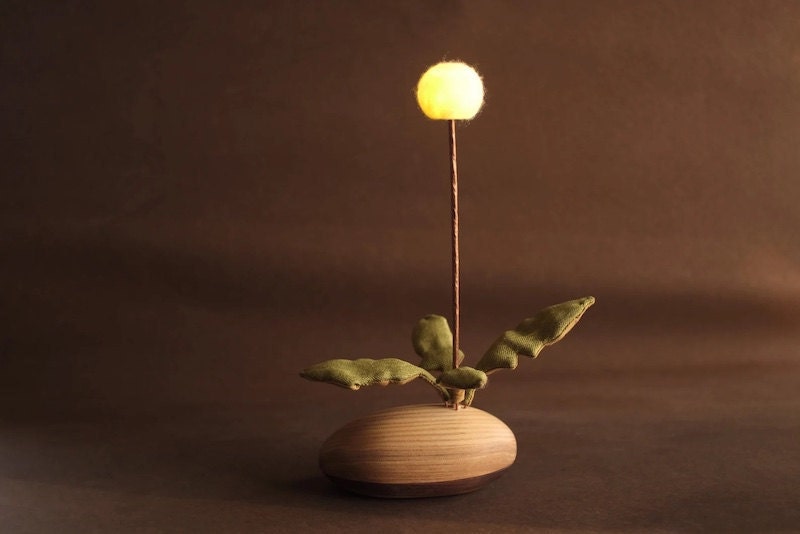 SHOP: Dandelion interactive lamp from Mozi Dozen, $191
Make a wish! Gently blow on the soft white globe of this dandelion lamp and watch its elegant wood-and-felt form illuminate, just like magic. Both a tabletop sculpture and a functional light, Mozi Dozen's interactive and playful piece is the first-ever recipient of the Winners' Choice Award, chosen by past Grand Prize honorees. This inventive breath-controlled light brings a special glow to home spaces. "In addition to being a bedside night light, it can also serve as the welcoming light for family members returning home at night," the Taiwan-based designers explain. "It can be used as a wish-making item when there are no candles around, or as a lovely centerpiece on the dining table." As judge Dayna Isom Johnson puts it: "The dandelion interactive lamp adds a whimsical touch to an everyday moment."
People's Pick Award Winner
Hand-painted, vegetable-tanned leather wallet by Sarah Ahmed of SA Collage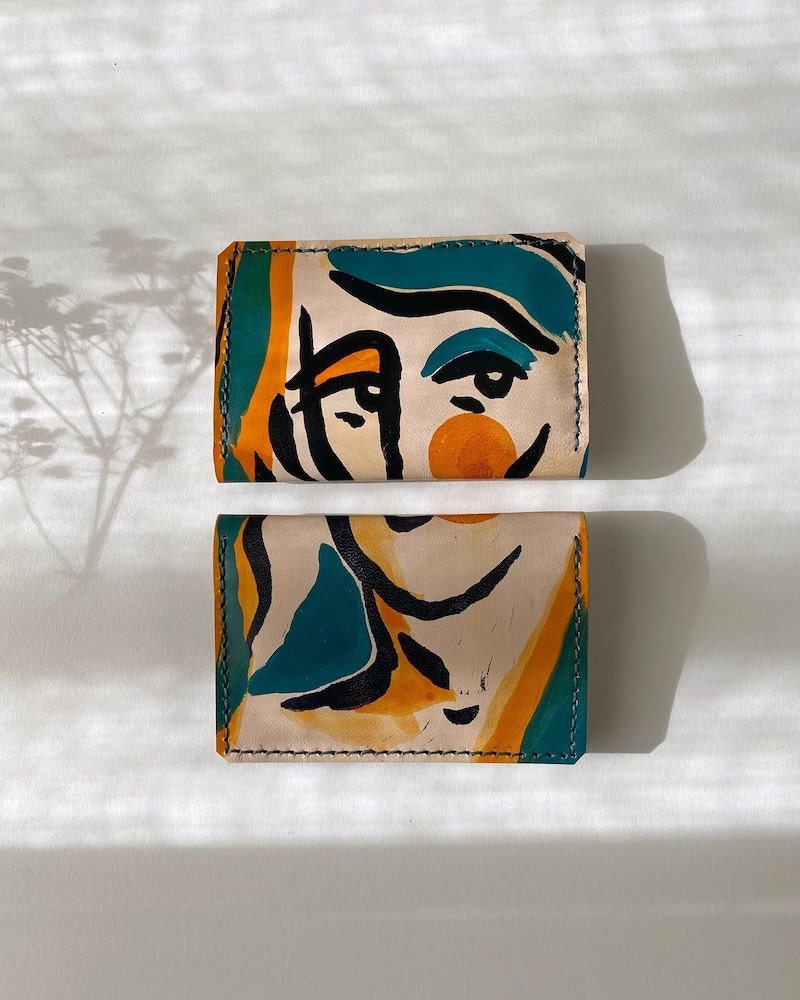 SHOP: Hand-painted, vegetable-tanned leather wallet from SA Collage, $81
"Our belongings and small details say a lot about who we are," says Canada-based artist says Sarah Ahmed, whose hand-painted and hand-stitched leather accessories for SA Collage won shoppers' hearts and took home this year's People's Pick Award. With four pockets, perfect for carrying credit cards and cash or a stash of business cards, her slim, minimalist wallet easily slides into your pocket or purse and adds expressive flair to daily living. "This wallet will definitely highlight the artistic, fun, and vibrant side of its owner."
Winner: Accessories
Printed silk scarf by Dikla Levsky of Dikla Levsky Design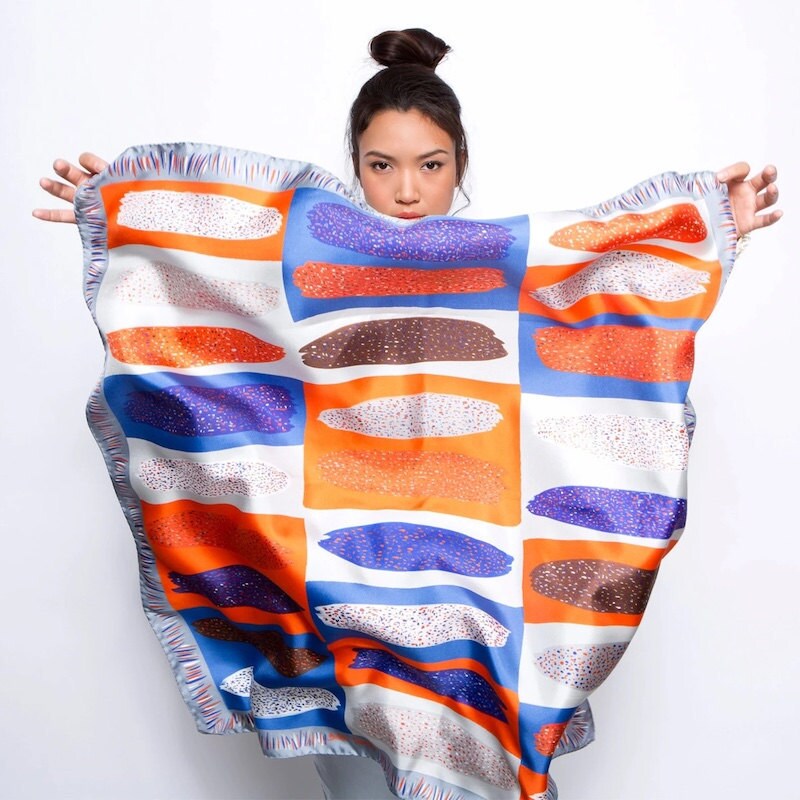 SHOP: Printed silk scarf from Dikla Levsky Design, $225
Printed with vibrant color blocks and speckled brushstrokes, Dikla Levsky's 100% silk twill scarf is no mere add-on. High-quality details, like a rolled hem, bring a boost of breezy-yet-luxe style to your wardrobe, while the gallery-worthy graphic makes a bold style statement. "Wear your scarf around your head or neck, or attach it to the handles of your favorite tote," the Tel Aviv-based designer suggests. "Casual, business, elegant, or vacation looks—this scarf effortlessly elevates any outfit."
Winner: Jewelry
Sandcast gold signet ring by Justin Duance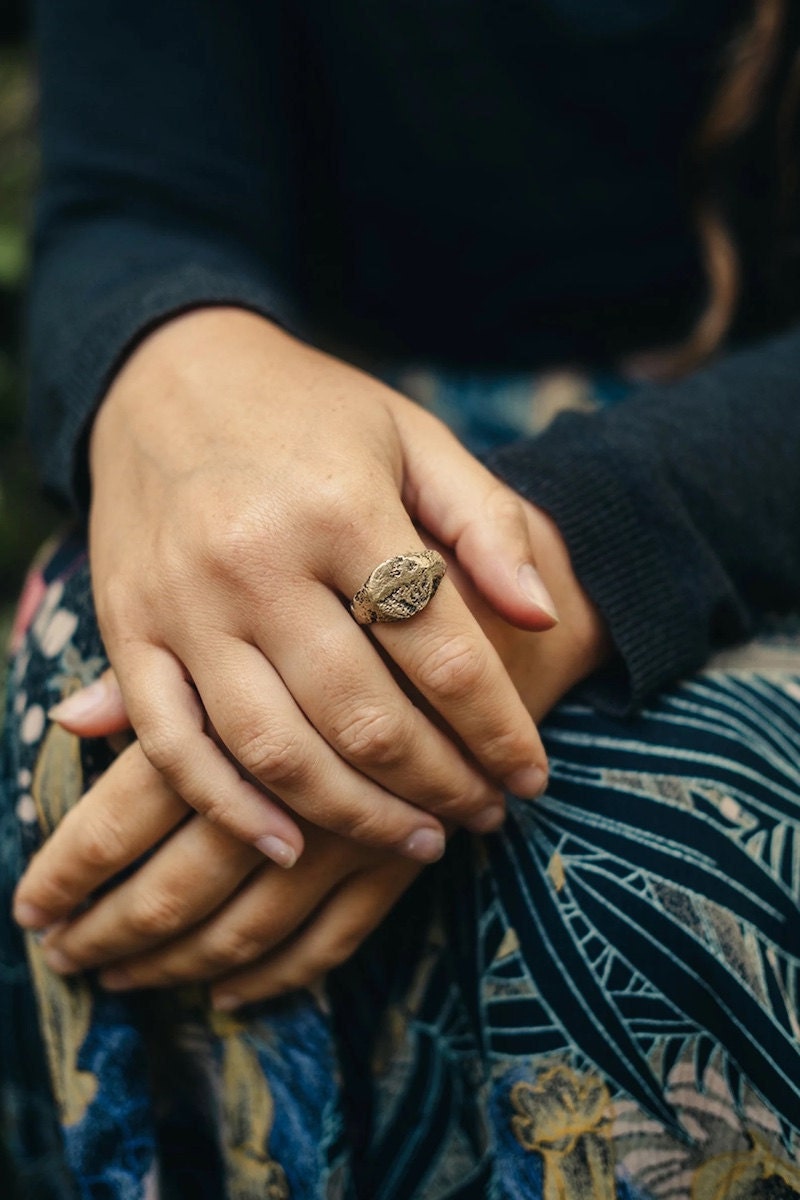 SHOP: Sandcast gold signet ring from Justin Duance, $1,465
Made from molten recycled gold cast in beach sand, England-based jeweler Justin Duance's extraordinary rings have a craggy, meteor-like surface that's surprisingly smooth to the touch. To imbue the ring with added personal meaning, customers can supply their own sand for the casting process. "It's a lovely way to personalize their jewelry," says Jamila Hirtenstein, one of the ten jewelers who works in Justin's studio, "a way of keeping a piece of their favorite place with them all the time."
Winner: Women's Clothing
Kente bustier and skirt set by Ivy Mawulormi Tettegah of iLORM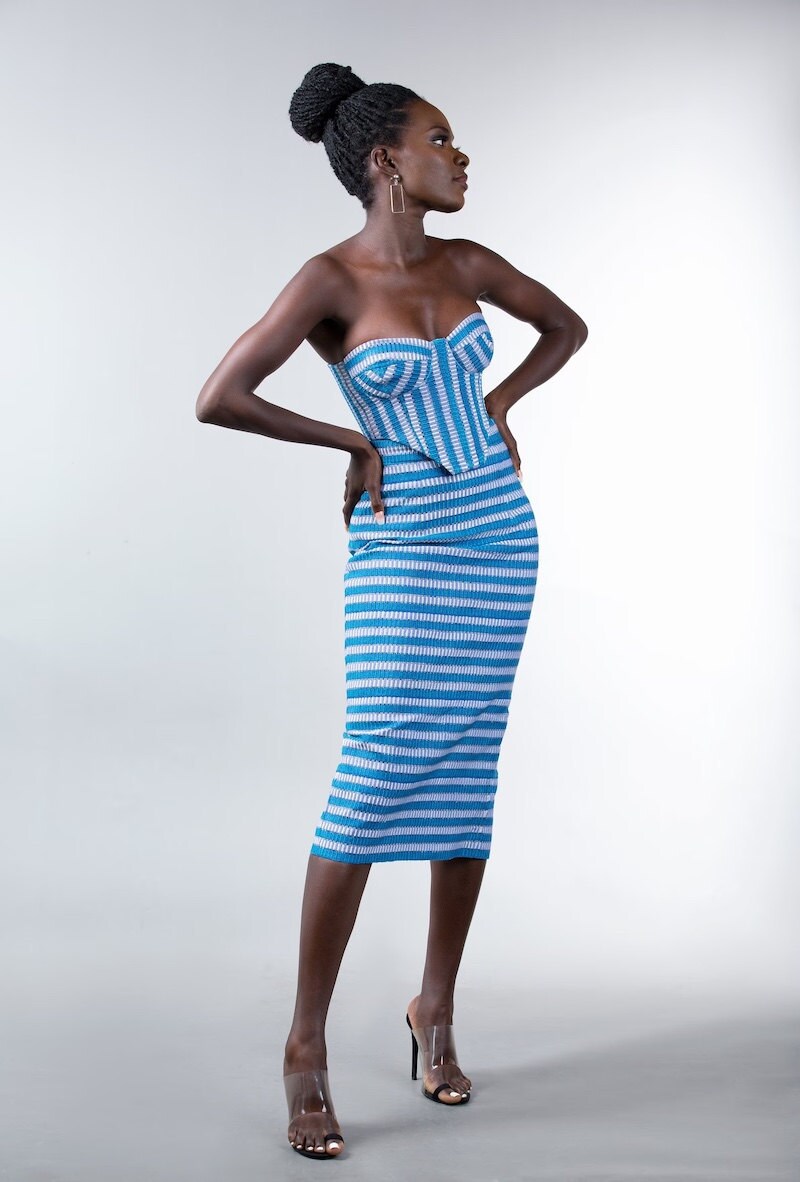 SHOP: Kente bustier and skirt set from iLORM, $164
"Dressing well and feeling comfortable in one's clothing can boost confidence and positively influence a person's mood and self-esteem," says Ivy Mawulormi Tettegah, owner of iLORM, a women's clothing company based in Maryland. "My goal is to empower and uplift customers through hand-tailored designs that complement their silhouette and remind them of how beautiful and amazing they are." Ivy and her sister work with local weavers and tailors in Ghana—the country where the pair grew up—to interpret traditional, handwoven kente cloth in new ways.
Winner: Men's Clothing
Cotton and hemp red striped sweatshirt by Mollie Decker and Michael Sklenka of Object Apparel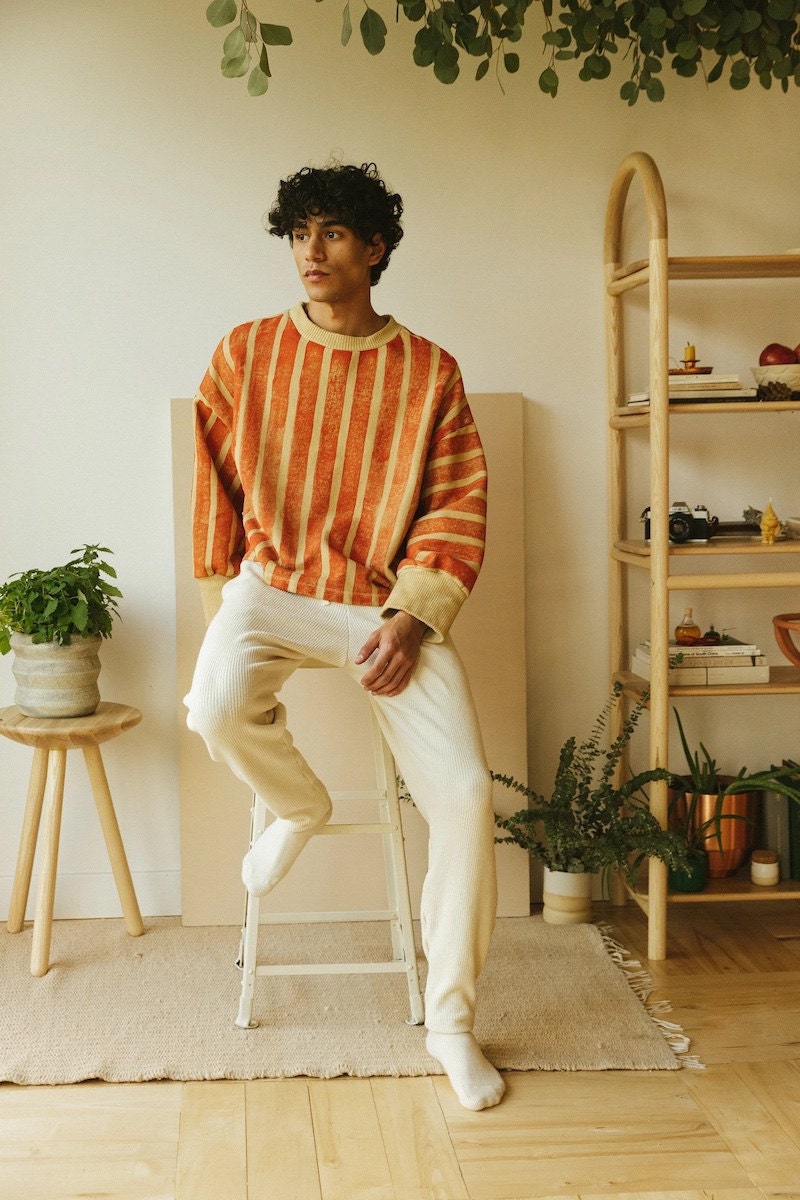 SHOP: Cotton and hemp red striped sweatshirt from Object Apparel, $180
Made with natural fibers and plant dyes, Object Apparel's sewn-to-order garments blend a bold, playful aesthetic with coziness and quality, ready for everyday wear. "We want to create genderless clothing that is comfortable, expressive, and easy on our environment," says Detroit-based designer, sewist, and co-owner Mollie Decker. "And we want our customers to feel confident, unique, and comfortable while wearing our clothing."
Winner: Home Decor
Ceramic chain planter by Mohamad Alsulaiman of Terroso Studios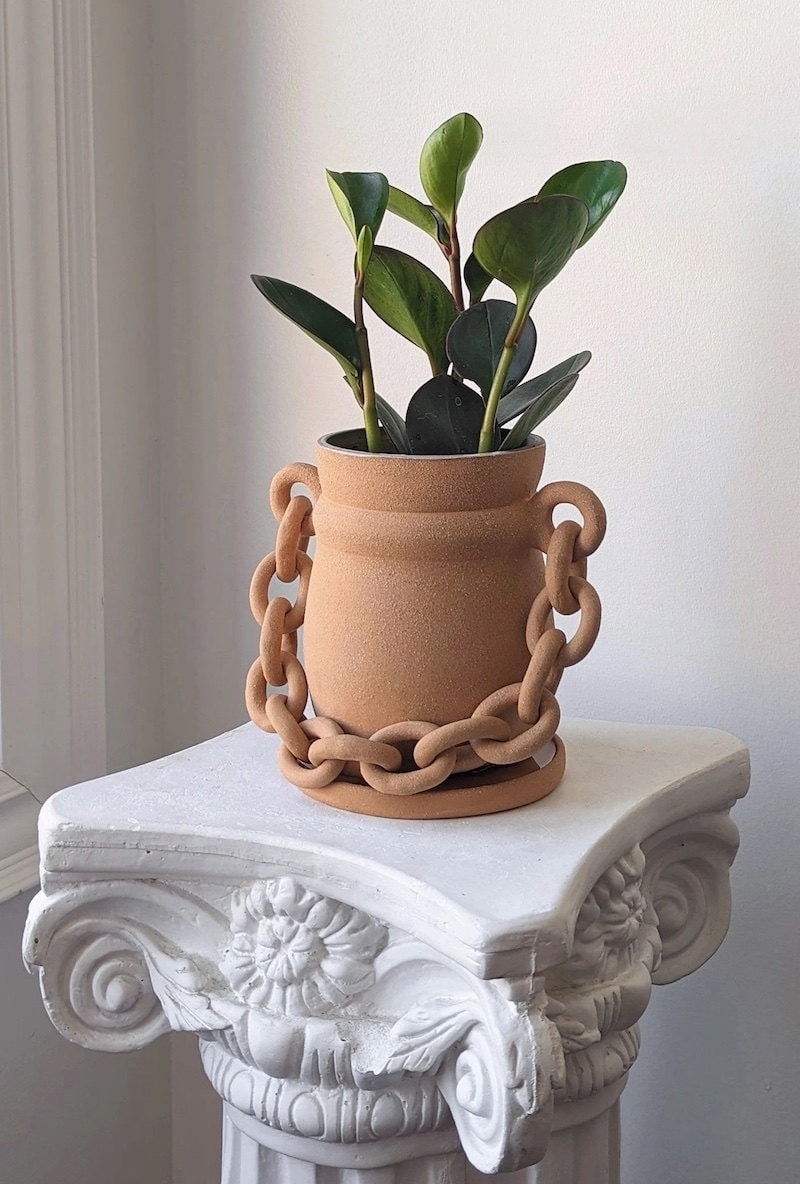 SHOP: Ceramic chain planter from Terroso Studios, $166
For Mohamad Alsulaiman, artist and owner of Canada-based Terroso Studios, his Syrian roots serve as a fertile source of creativity. "I take inspiration from my heritage and culture, where handmade ceramics, antiques, and extensive collections of jewelry—including rings and chains—are seen everywhere," he says. "I wanted to create something that would tell my story." As Mohamad explains, his terracotta planter, with its eye-catching chunky chain, "represents the connection between us and the earth, through nurturing and nourishing the plant that will be growing in it."
Winner: Art
"Ifeoluwa" art print by Dorcas Magbadelo of DorcasCreates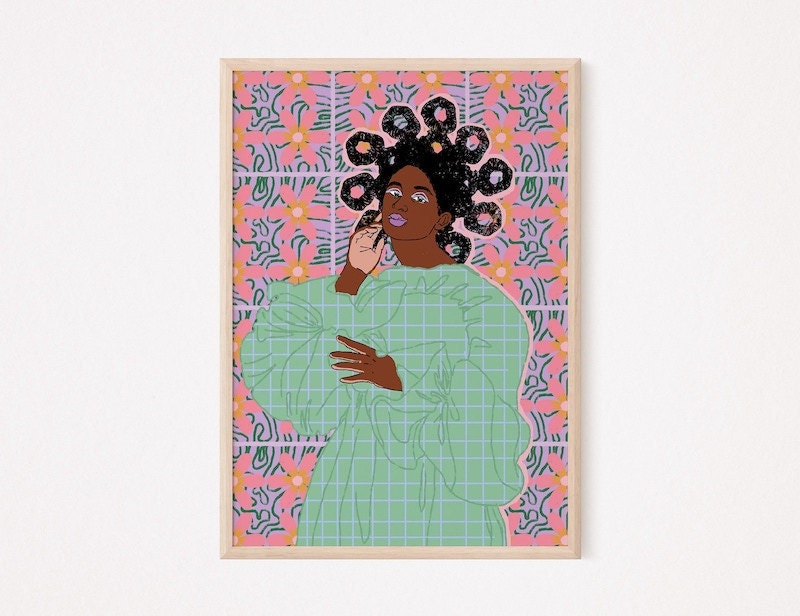 SHOP: "Ifeoluwa" art print from DorcasCreates, from $64
"I'm passionate about creating artwork that is accessible and relatable, work that sparks joy and makes Black women feel seen and loved," says London-based illustrator Dorcas Magbadelo, founder of DorcasCreates. For this striking portrait, the artist depicts a woman in a regal pose with a crown of hair, dressed in green—a color she says represents growth and renewal. Available on archival art paper in four sizes with four border options, you can customize this giclée print to match your space and style.
Winner: Furniture
Vintage glass lounge chair by Adrian Pearsall from ABT Modern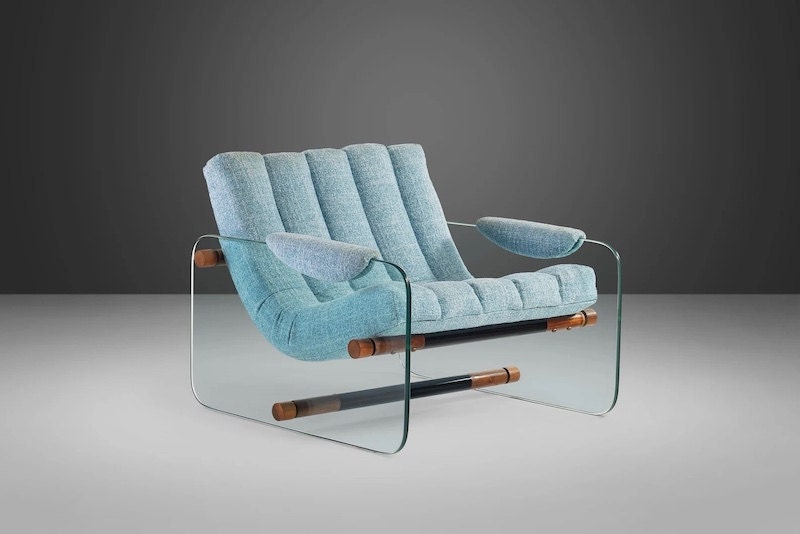 SHOP: Vintage glass lounge chair from ABT Modern, $6,400
Calling all vintage aficionados! You can take home a rare slice of furniture history: a museum-worthy, mid-century-modern-style lounge chair* made by American architect and designer Adrian Pearsall in 1970. "This chair is a perfect representation of what makes a vintage piece truly special,"says Josh Cemelich, founder of Florida-based vintage furniture shop ABT Modern. "It's an extraordinary combination of unique design, exceptional materials, and a time-honored history that sets it apart."
Winner: Lighting
Tilt lamp by Ed Heritage of Ed Heritage Studio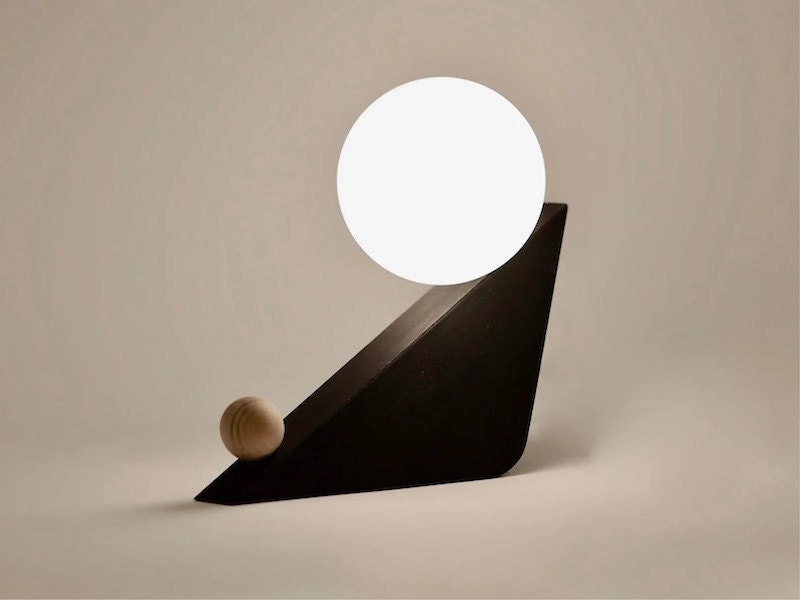 SHOP: Tilt lamp from Ed Heritage Studio, $356
It's not just the funky asymmetric design and exposed bulb that set Ed Heritage Studio's wooden table lamp apart; this clever curiosity also employs a surprising mechanism for turning on and off (no switch required). Instead, simply rock the base from one edge to the other, and voilà. "Tilt excels as a bedside lamp as it's so easy to find and use in the dark or when tired," the UK-based designer says. "I hope it inspires a small amount of joy every time you use it."
Winner: Kitchen & Dining
Enameled metal egg holder by Manon Ritaly of Manon Ritaly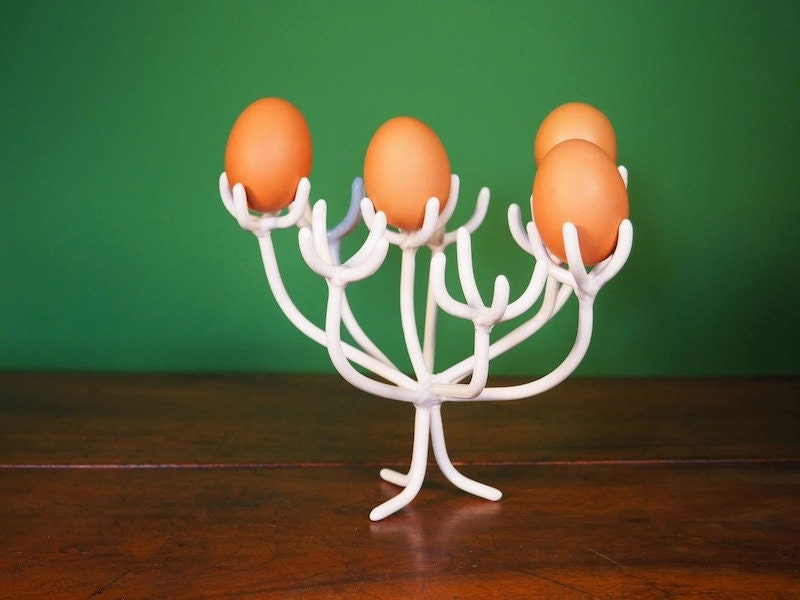 SHOP: Enameled metal egg holder from Manon Ritaly, $232
"The enameled egg holder stands out to me because I love to entertain," says Dayna, "and this is such a conversation starter for guests." Inspired by hard-boiled egg racks found on bistro counters, Parisian designer Manon Ritaly made this antler-esque armature—which could serve also as a jewelry stand or a decorative object—as an ode to the quotidian. Manon says, "I like the idea of highlighting simple, naturally beautiful and essential things that make up our daily lives."
Winner: Kids
Portable A-frame doll cabin by Cisco Ramos of Guineuoak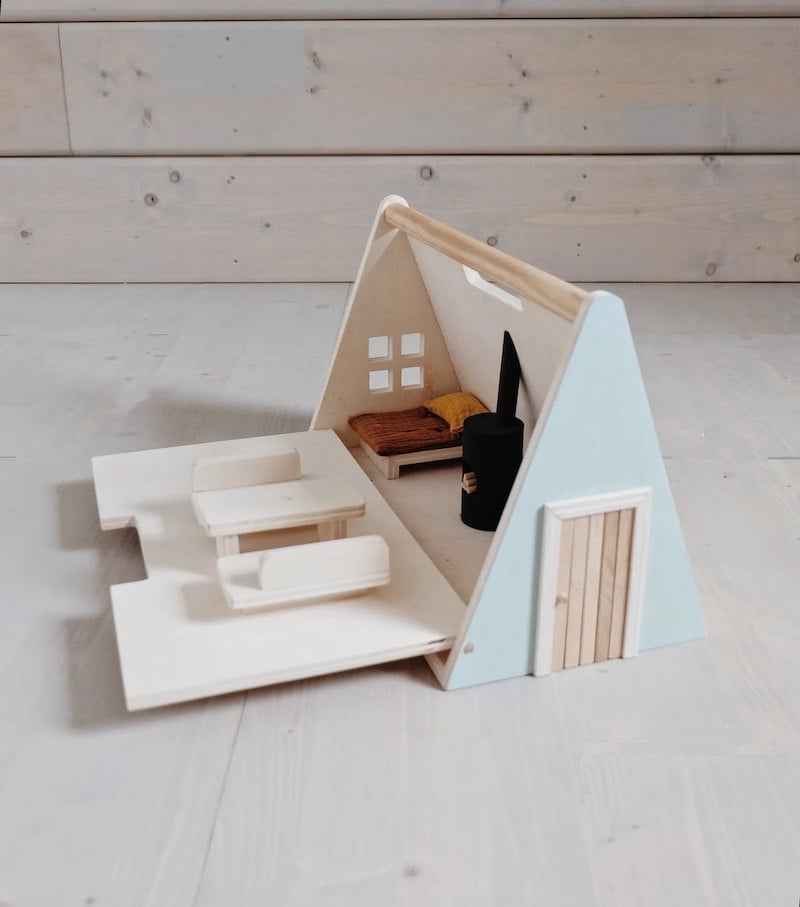 SHOP: Portable A-frame doll cabin from Guineuoak, $99
Think of Guineuoak's wooden toys as an invitation to play. Owner Cisco Ramos, a third-generation woodworker based in Spain, drew inspiration for this stylish, travel-ready, A-frame doll cabin from the clean, modern lines of Scandinavian design—and from his chosen medium itself. "Wooden toys…have a personality and a feel. They are meant to last, to pass from one generation to another," he says. "That makes creating those toys something really special."
Winner: Pets
Custom terrazzo framed clay pet portrait by Kıvılcım Ertas Karan of K's Craft House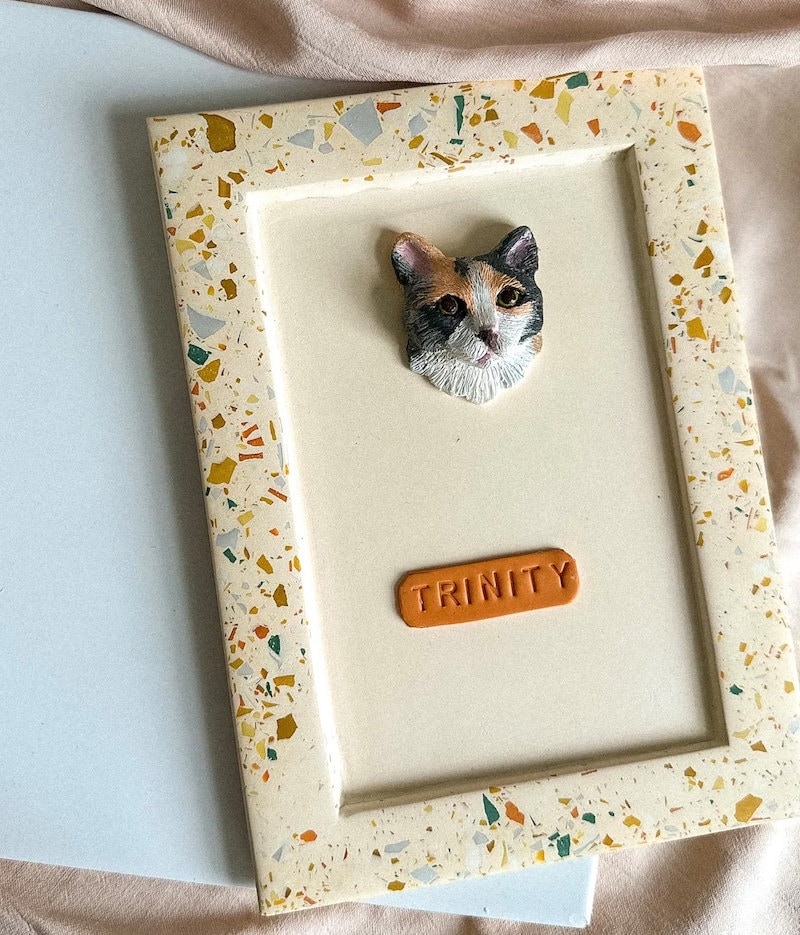 SHOP: Custom terrazzo framed clay pet portrait from K's Craft House, $93
Pay tribute to your favorite furry friend with K's Craft House's custom artwork. Part wall art, part relief sculpture, these pieces, created by Kıvılcım Ertas Karan in Berlin, make perfectly thoughtful presents for animal lovers and pet parents. "I envision my custom pet figurines becoming cherished keepsakes," the artist says, "bringing joy and a sense of connection to their everyday lives as a heartfelt reminder of their beloved pets."
Winner: Weddings & Celebrations
Rotating engagement ring box by Jack and Matthew of Woodsbury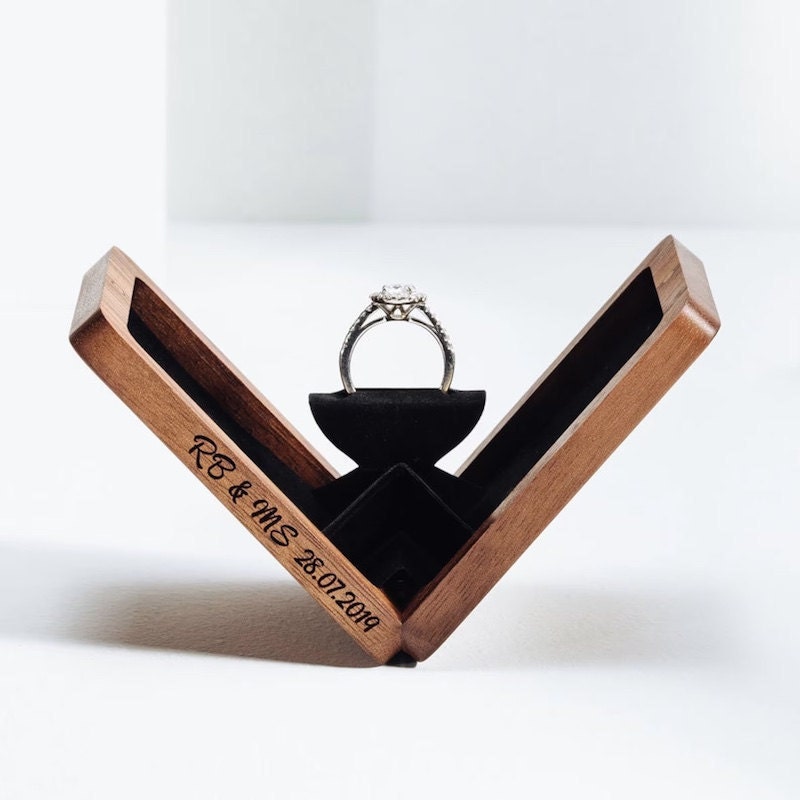 SHOP: Thin, rotating engagement ring box from Woodsbury, from $93
Jack and Matthew, the Australian craftsmen behind Woodsbury, make slim, pocket-friendly boxes for stashing engagement rings before popping the question. "There was a shared problem among our mates," Jack says. "We all found it difficult to conceal the ring box before proposing." His solution? A discreet, keepsake-quality case without the bulk. Plus, inside each walnut-wood box, a hidden swivel mechanism reveals the encased ring with an elegant flourish.
Winner: Wedding Style
Modern "Moi Et Toi" engagement ring by Taren Wilkins of Brockton Gems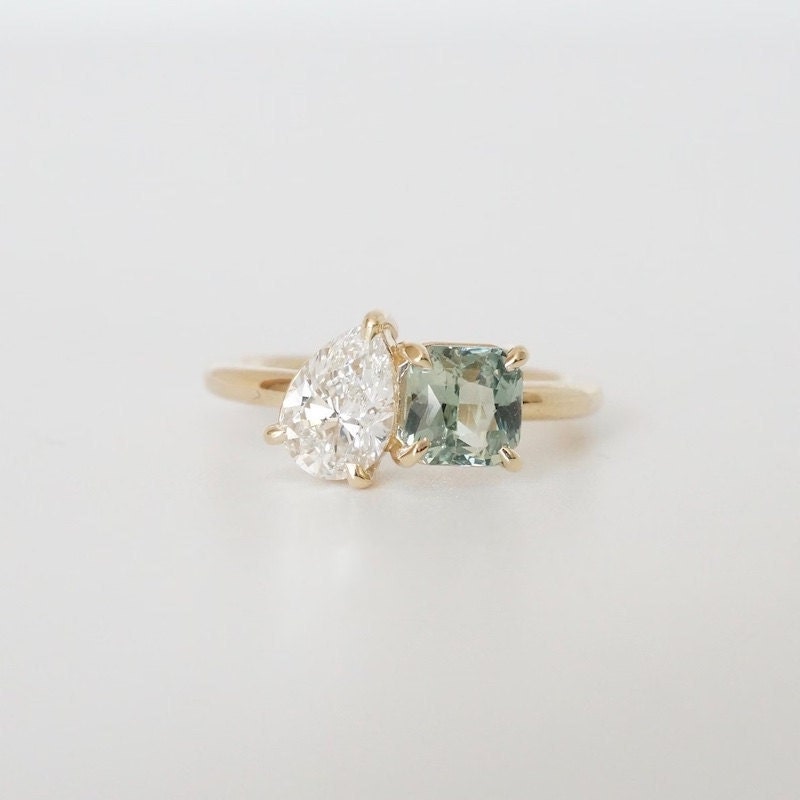 SHOP: Modern "Moi Et Toi" engagement ring from Brockton Gems, from $4,042
With a pair of glittering gems representing the union between two people, the historical "moi et toi"—or "you and me," in French—style of engagement ring exudes romance. "I wanted to create something modern and wearable that couples can customize and make their own," says Taren Wilkins, an accredited gemologist and jewelry designer for Brockton Gems, based in Toronto. "It's also [made with] diamond and sapphire, two of the most durable gemstones. So, it actually can be enjoyed everyday, all day, for a lifetime."
Winner: Personalized Gifts
Custom wood portrait by Texas Hoover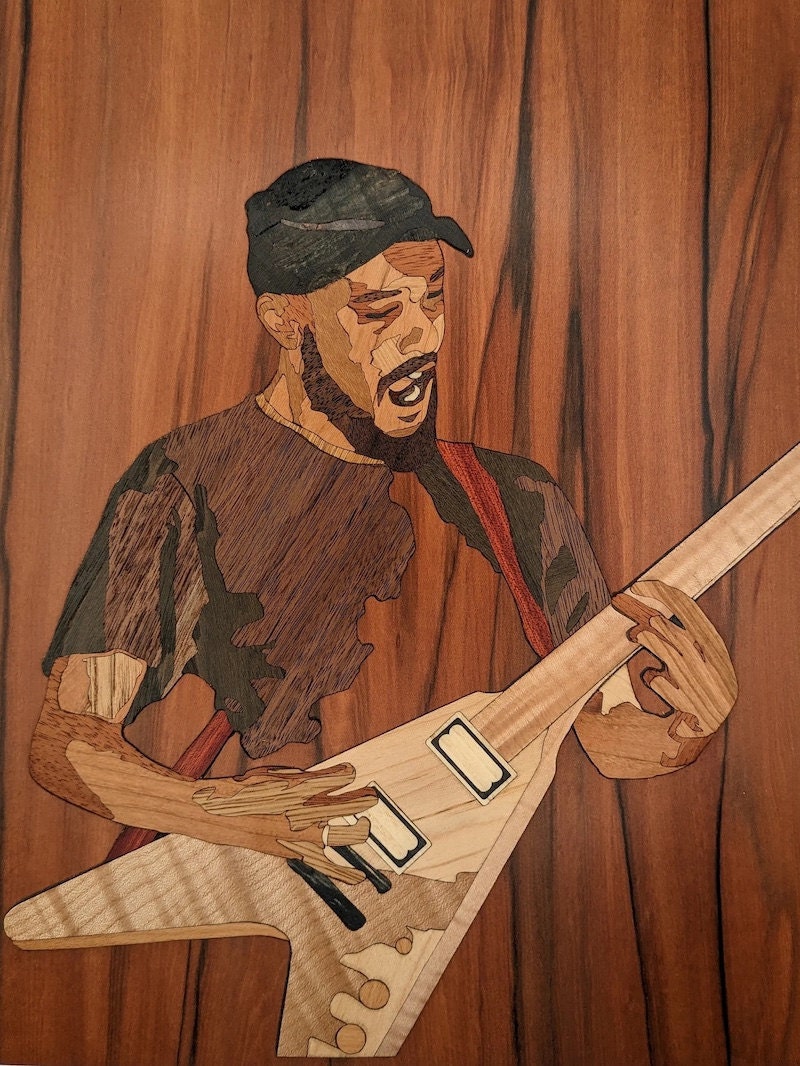 SHOP: Custom wood portrait from Texas Hoover, from $550
Look closely at one of Texas Hoover's heirloom-quality, custom portraits, and you'll see a mosaic made from wood: walnut, cherry, and varieties salvaged from fallen trees. "I use the natural direction of the wood grain like brush strokes, really capturing the movement and giving life to the piece," says Texas, a woodworker and luthier based in New Jersey. "I strive to provide a beautiful and timeless piece of art that captures the essence of my clients' loved ones and keeps memories alive."
Winner: Holiday
Modern stained-glass nativity set by Lauren Wzorek Earl of Szklo Glass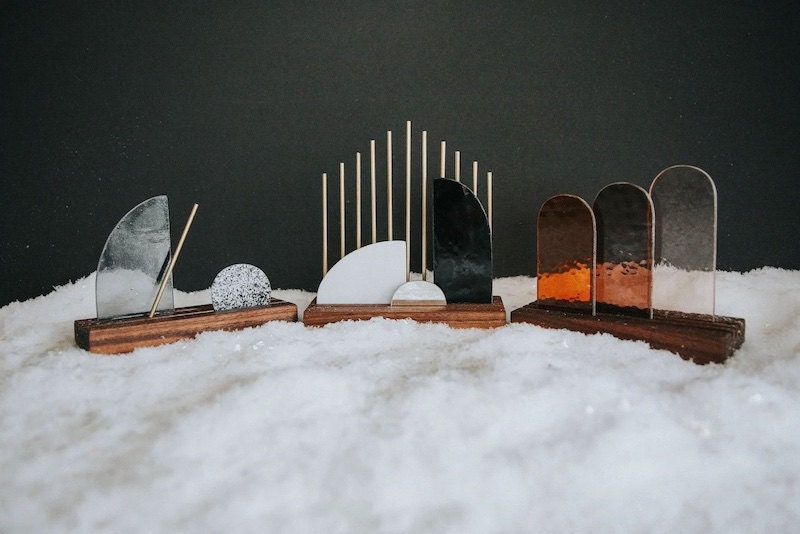 SHOP: Modern stained glass nativity set from Szklo Glass, $225
With abstracted forms crafted from a blend of materials (think stained glass in translucent earth tones, wood, and brass) Lauren Wzorek Earl's modern nativity sets for her Las Vegas-based shop Szklo Glass are open to interpretation. "Many display it during the Christmas season," she says, "while others leave it up year-round; others display it because they simply love the design, even though they don't observe Christmas."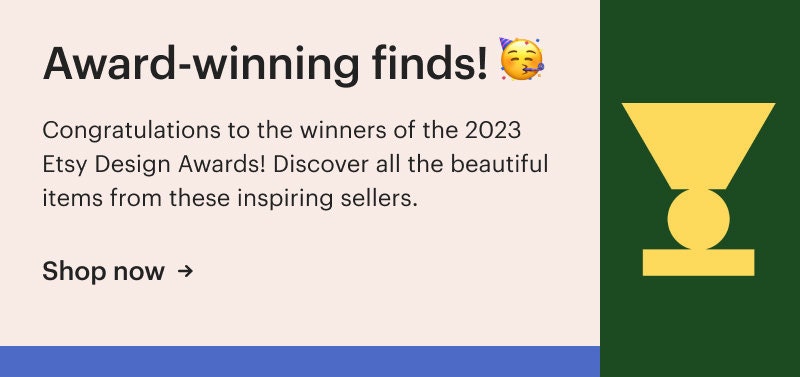 * Etsy has not evaluated this item's description, condition and authenticity.