Looking to spoil your favorite furry friends this season? French lifestyle blogger and (and new pup paw-rent!) Emmanuelle shares her playful picks.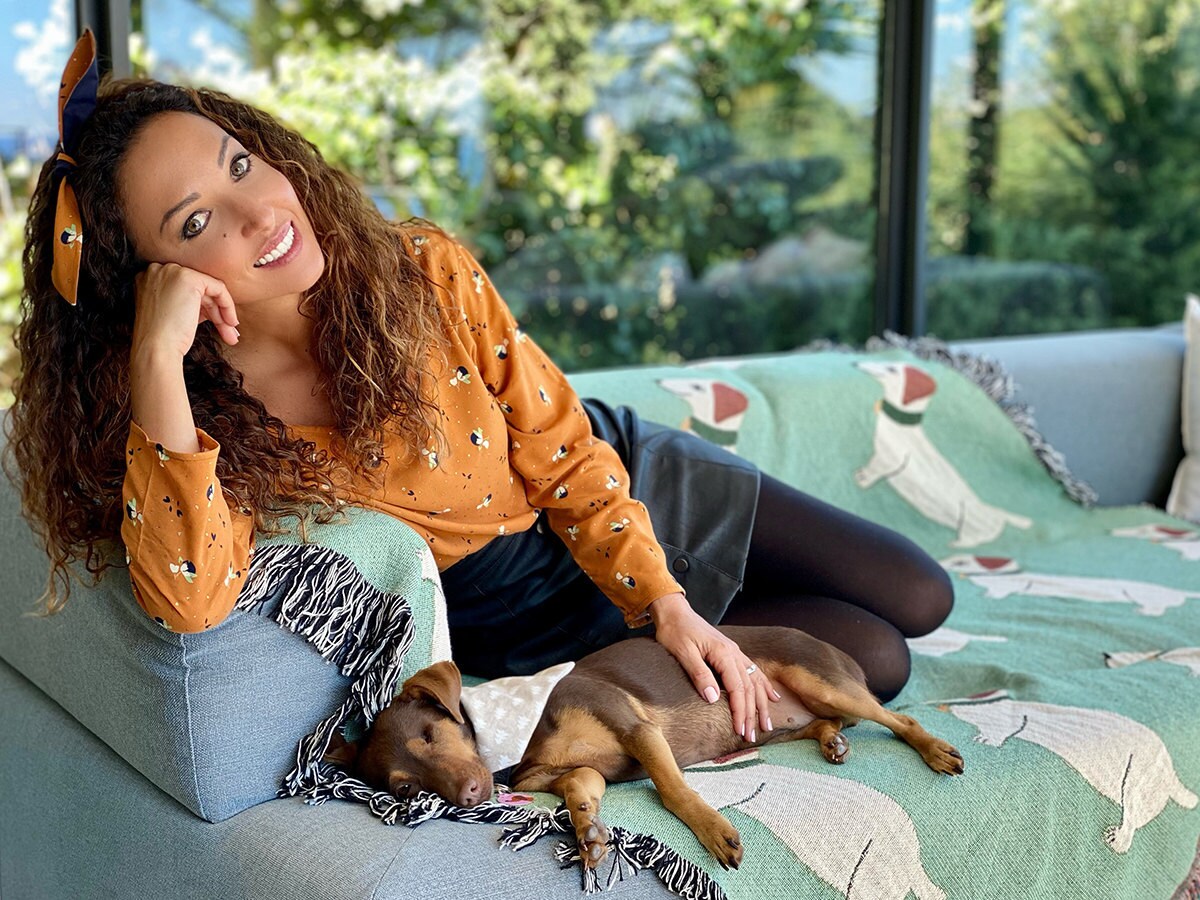 In The Etsy Edit Gift Guides, we've tapped some of our favorite tastemakers to share their top present picks for a magical holiday season.
For French lifestyle blogger Emmanuelle Rivassoux—who shares her chic country homestead with her husband, a donkey, a goat, a rabbit, and several hens—animals are nothing less than family. The newest member of her growing brood? A one-eyed rescue pup named Bonny, whose hilarious shoe-stealing antics are chronicled on Emmanuelle's critter-filled IG feed, @rivassouxemmanuelle, alongside a bounty of expert decorating tips and holiday inspo. 
To celebrate the holidays at home with Bonny, Emmanuelle brainstormed a batch of ultra-unique presents for fellow pet-parents looking to show off their animal obsession or spoil their own furry friends. "My approach is personal, and I always start by thinking about what will make someone happy," she says. From dachshund-patterned throw blankets to illustrated dog tags, read on to check out Emmanuelle's pawsome picks for pet-lovers.
An engraved pet ornament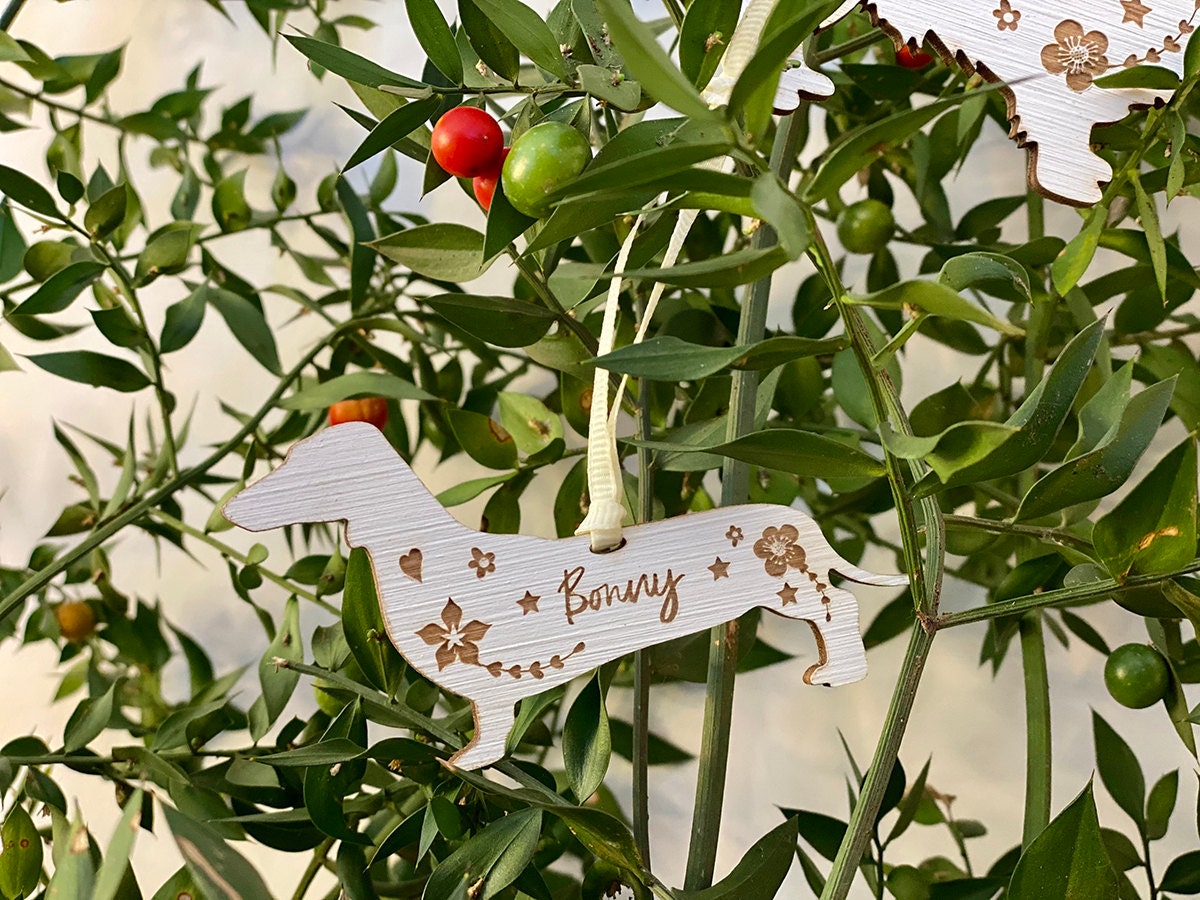 "These birch wood ornaments are so original," says Emmanuelle of the laser-cut keepsakes, which come embellished with scattered florals and can be customized with the dog breed of your choice. "I love that you can add the name of someone's pup, too."
A custom portrait stocking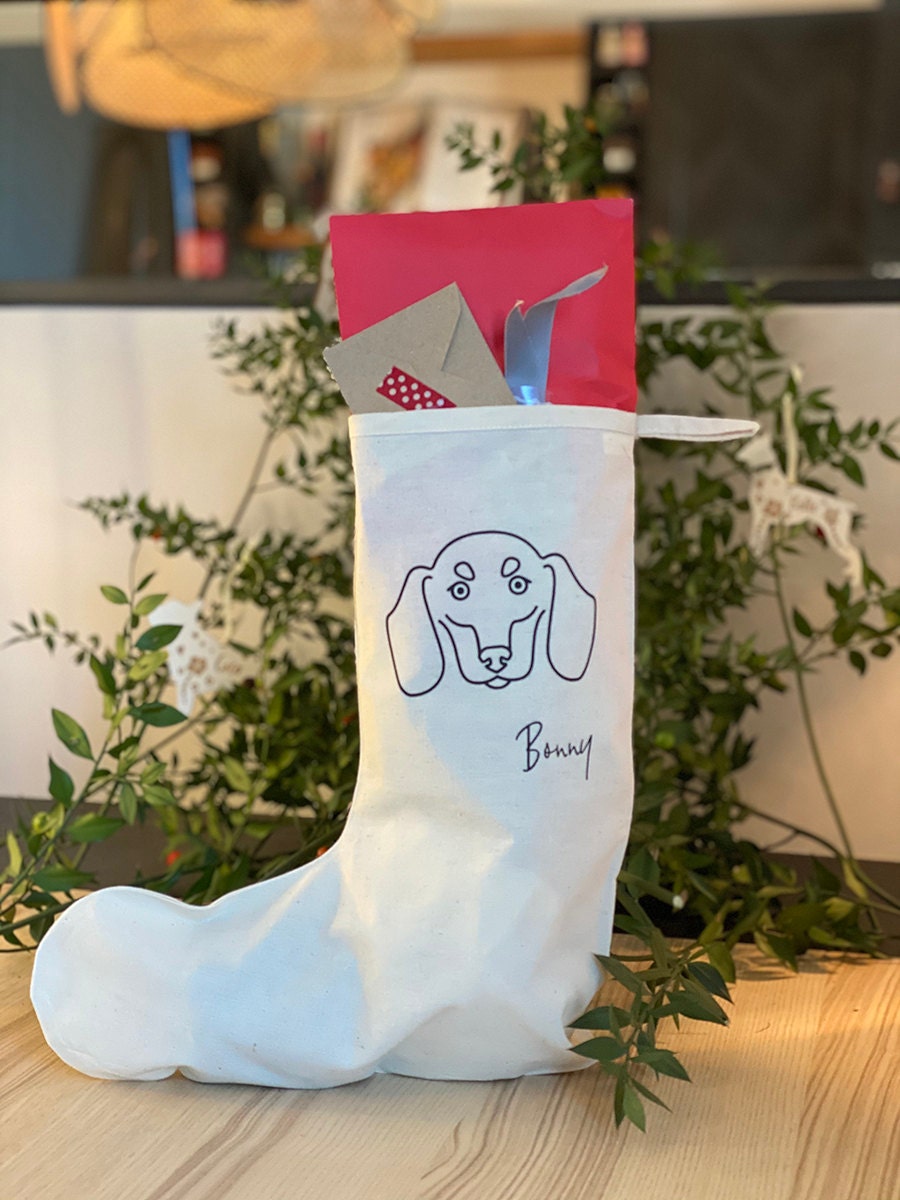 Celebrate the most important member of any household—who has surely been a very good boy or girl this year—with a minimalist cotton stocking, emblazoned with a line drawing of their tiny furry likeness. "These are too cute!" Emmanuelle says. "I can't wait for Santa to fill Bonny's stocking with treats."
A chic leather dog collar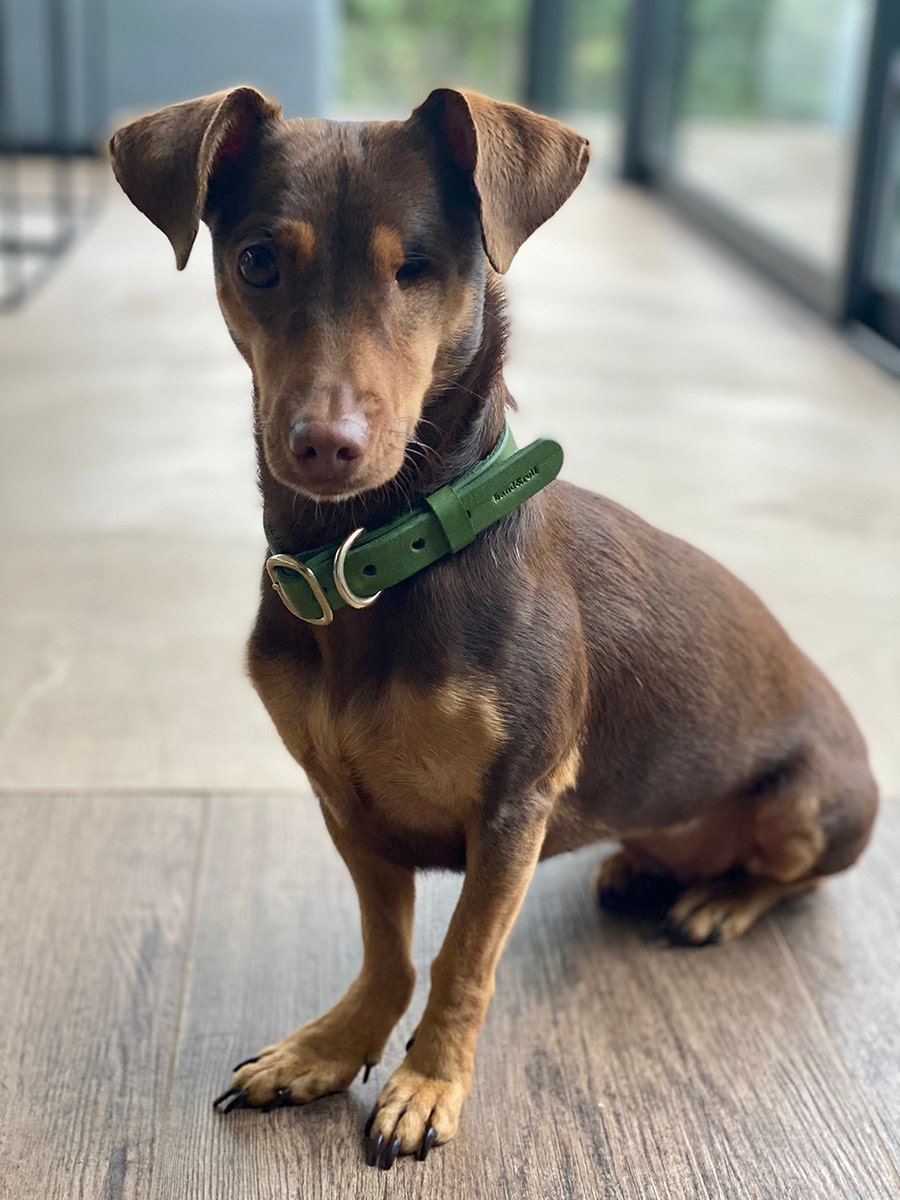 Fashion-savvy dog moms and dads will be proud to parade their four-legged friends down the street in these vegetable-tanned leather dog collars, which come in a range of earthy neutral shades that go with anything. "When I take Bonny out, I like when her look matches my outfit," Emmanuelle says. "This collar is so elegant."
An on-the-go treat pouch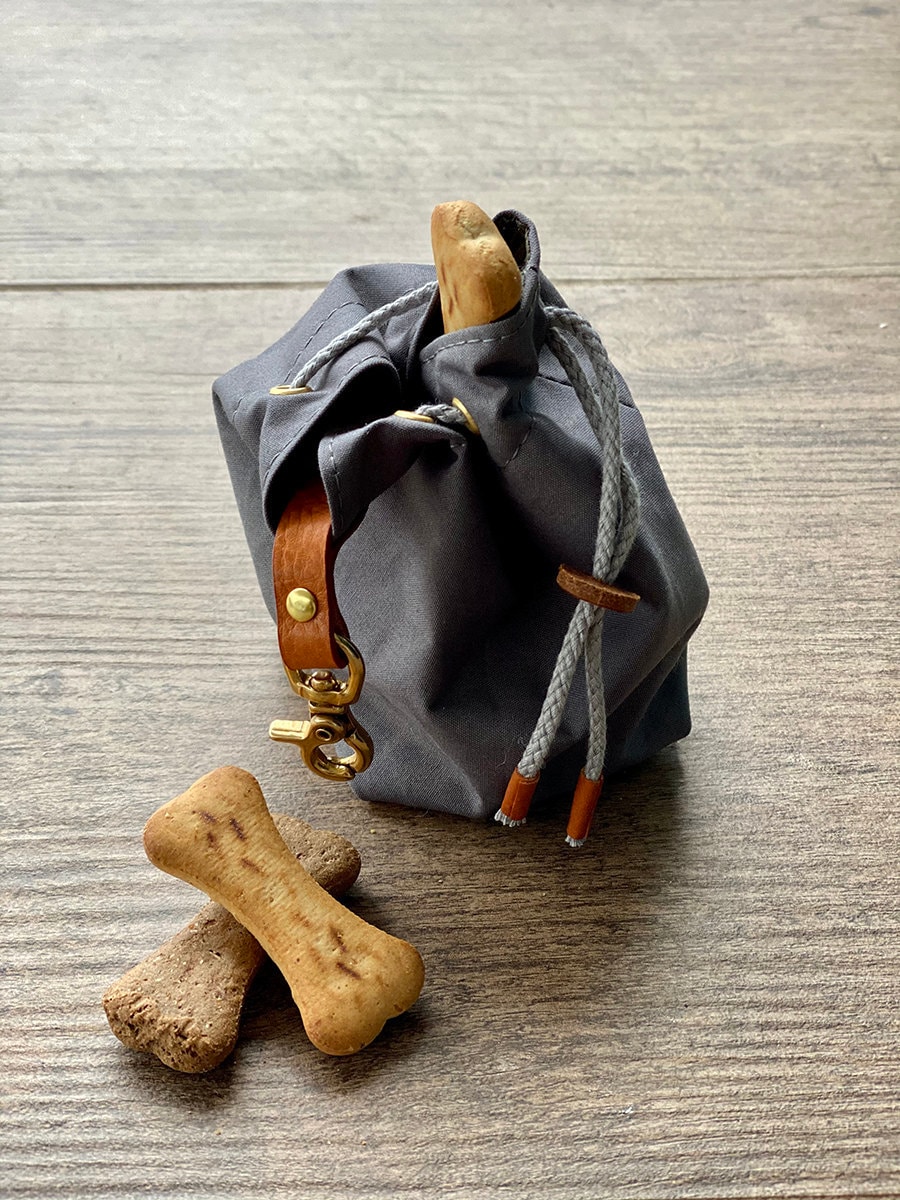 With its water-repellent waxed canvas exterior and sturdy brass clasp that clips easily onto a belt loop, this stylish treat tote is the perfect companion for training sessions and outdoor adventures. "These snack bags are so handy," Emmanuelle says. "They make it easy to carry treats with me to reward Bonny." 
A cuddly woven blanket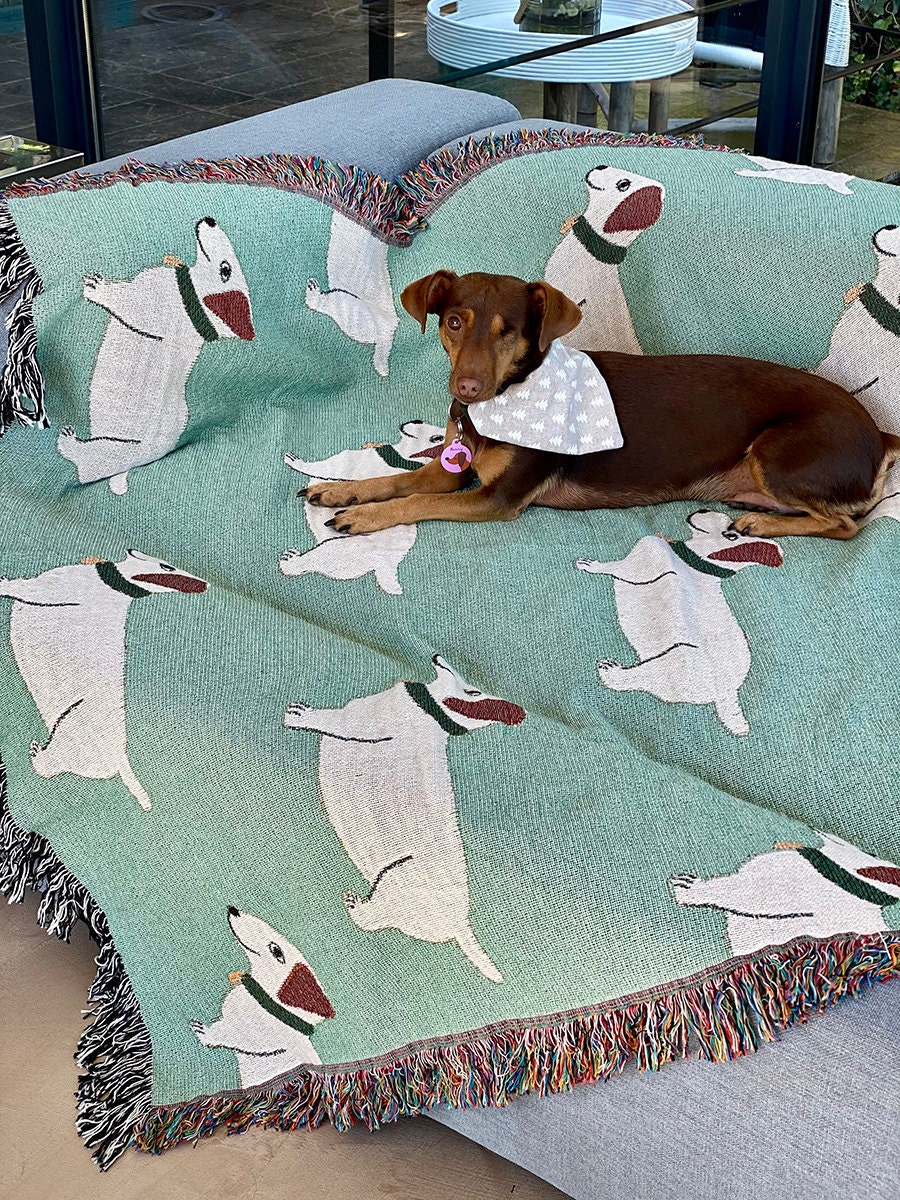 This cheerful cotton throw, embellished with the image of a sassy, smiling dachshund, is the ideal present for someone who wants to show off their love for their doggo while keeping their furniture fur-free. "Bonny is a big fan of climbing on the sofa," says Emmanuelle.
An illustrated dog tag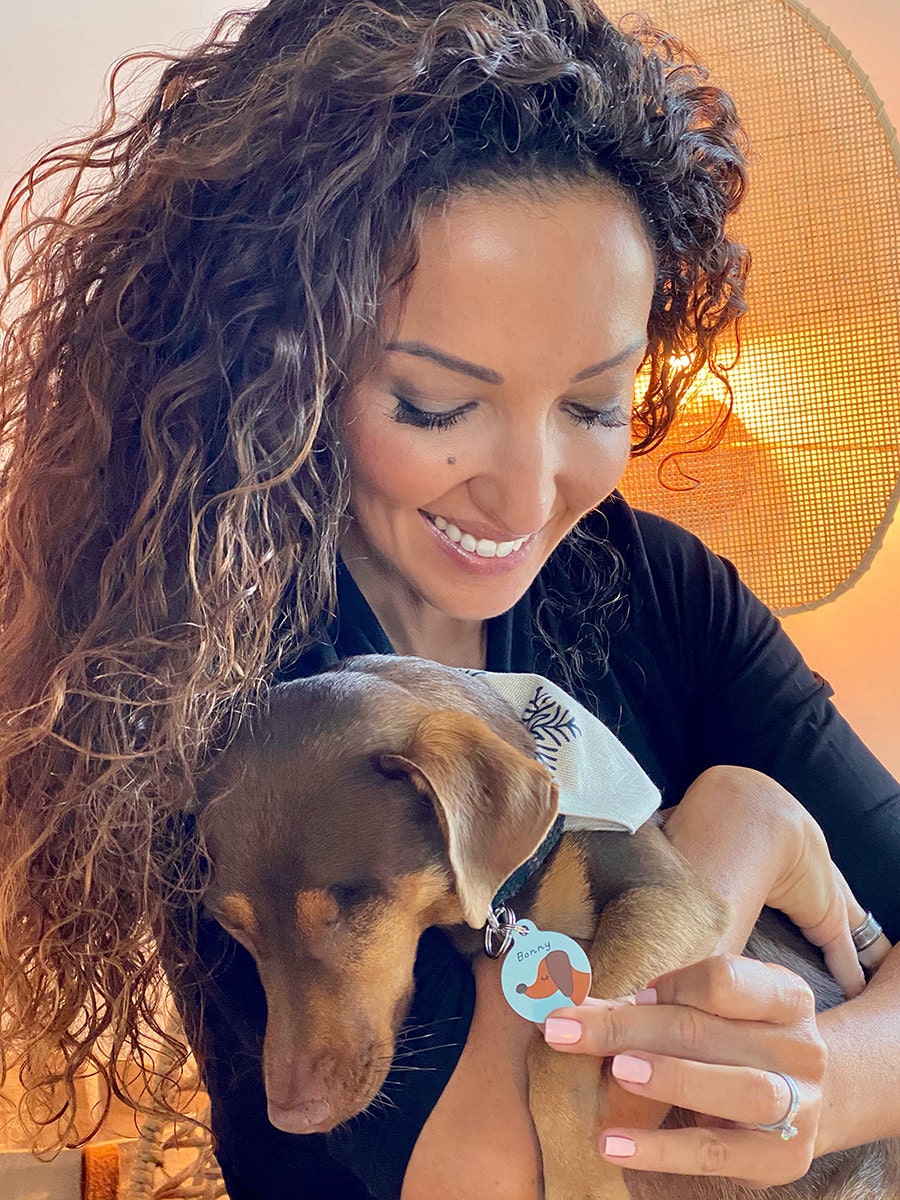 "These cute dog tag designs are so unique, and genuinely different from other options out there," Emmanuelle says. Made from lightweight aluminum strong enough to stand up to daily wear and tear, the illustrated waterproof IDs are customized to match the breed and coloring of your faithful companion. 
A handmade dog bandana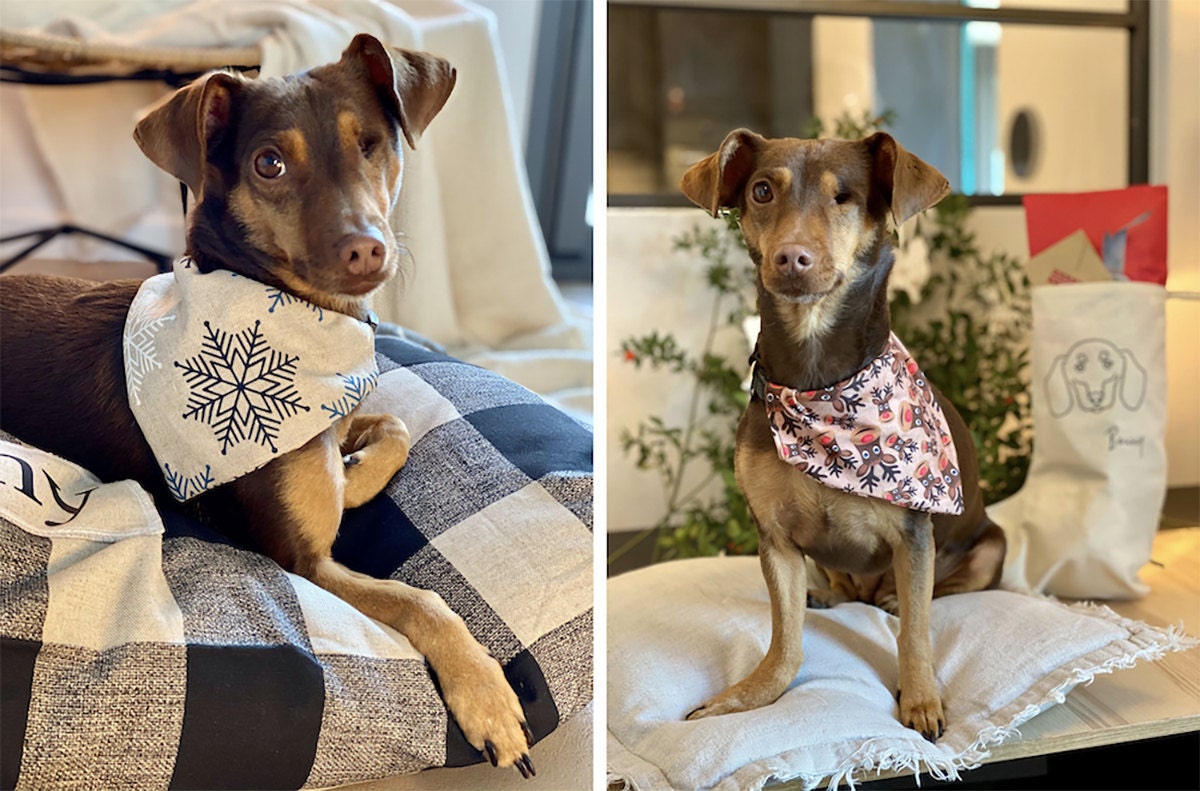 Accessorizing is just too much fun to be limited to humans. Case in point? These adorable, machine-washable doggy bandanas, available in a range of festive holiday prints including reindeer and snowflakes. "I love the way these bandanas attach right to the collar," Emmanuelle says. "I've chosen some sweet winter patterns that Bonny really likes."
A made-to-order dog bed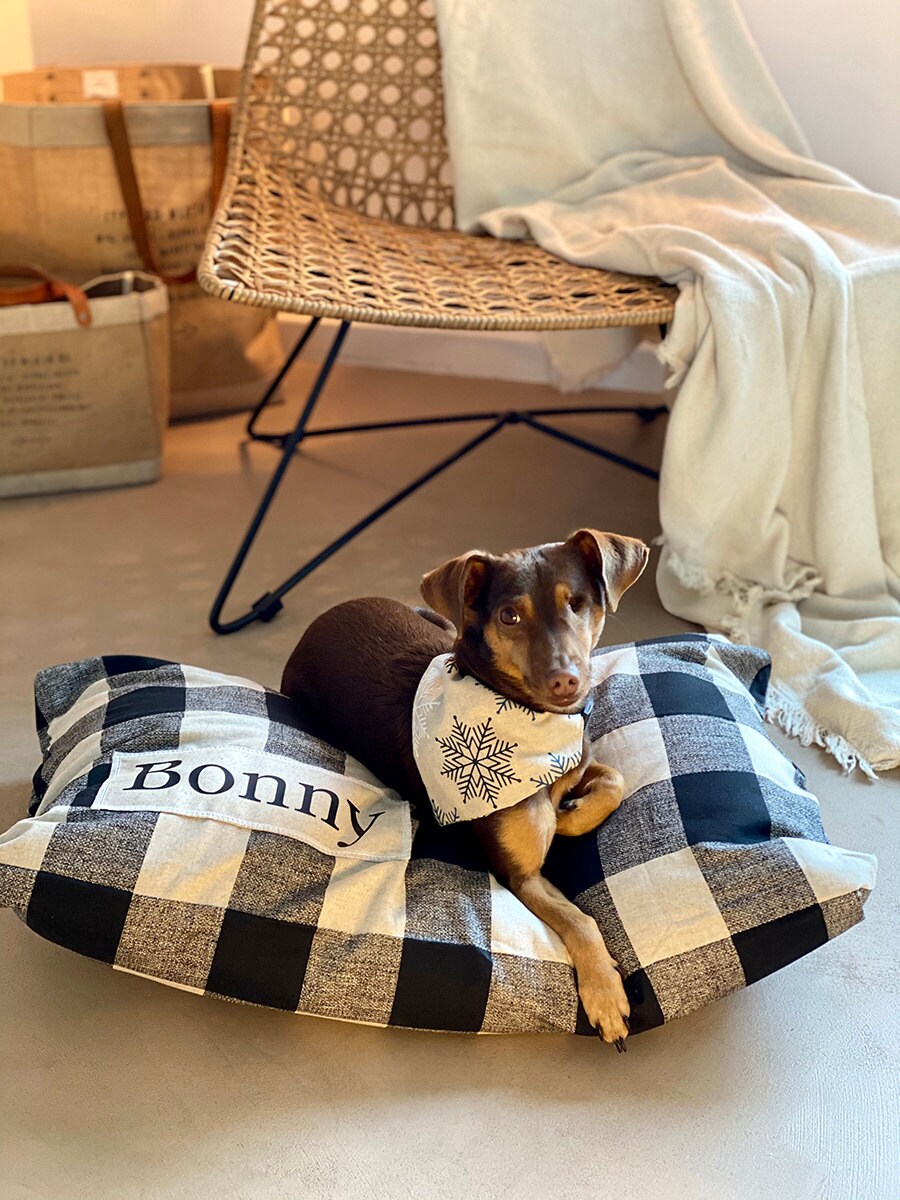 After a long day of walking, sniffing, and tail-wagging, snoozy pups will love getting snuggly on a soft dog bed, and nothing could be cuter than watching them curl up on this personalized plaid cover screen-printed with their name. "This is a favorite in our house," Emmanuelle says. "All I need to do is stuff the cover with a standard cushion, and Bonny has a beautiful bed. Plus, the style is timeless."

If your dog had a holiday motto what would it be?
"Don't get up too early." She doesn't like mornings.
Finish the sentence. 'Tis the season of...
...the cozy blanket, under which we love cocooning with Bonny.
Real talk: do you dress your dog up?
Yes! Bonny has a different bandana for every occasion, and in the winter she gets cold so she wears a sweater or coat when we go out. For the holidays, she has a Mother Christmas outfit, which we find very funny!
What do you find most amusing about your dog?
When we have to leave her at home, she steals our shoes and puts them on the bed. We know who she wants by whose shoes she takes!
Photographs courtesy of @rivassouxemmanuelle.