Style maven and mama-to-be Cynthia Andrews is marking the start of an exciting new chapter with sentimental jewelry and pops of meaningful home decor.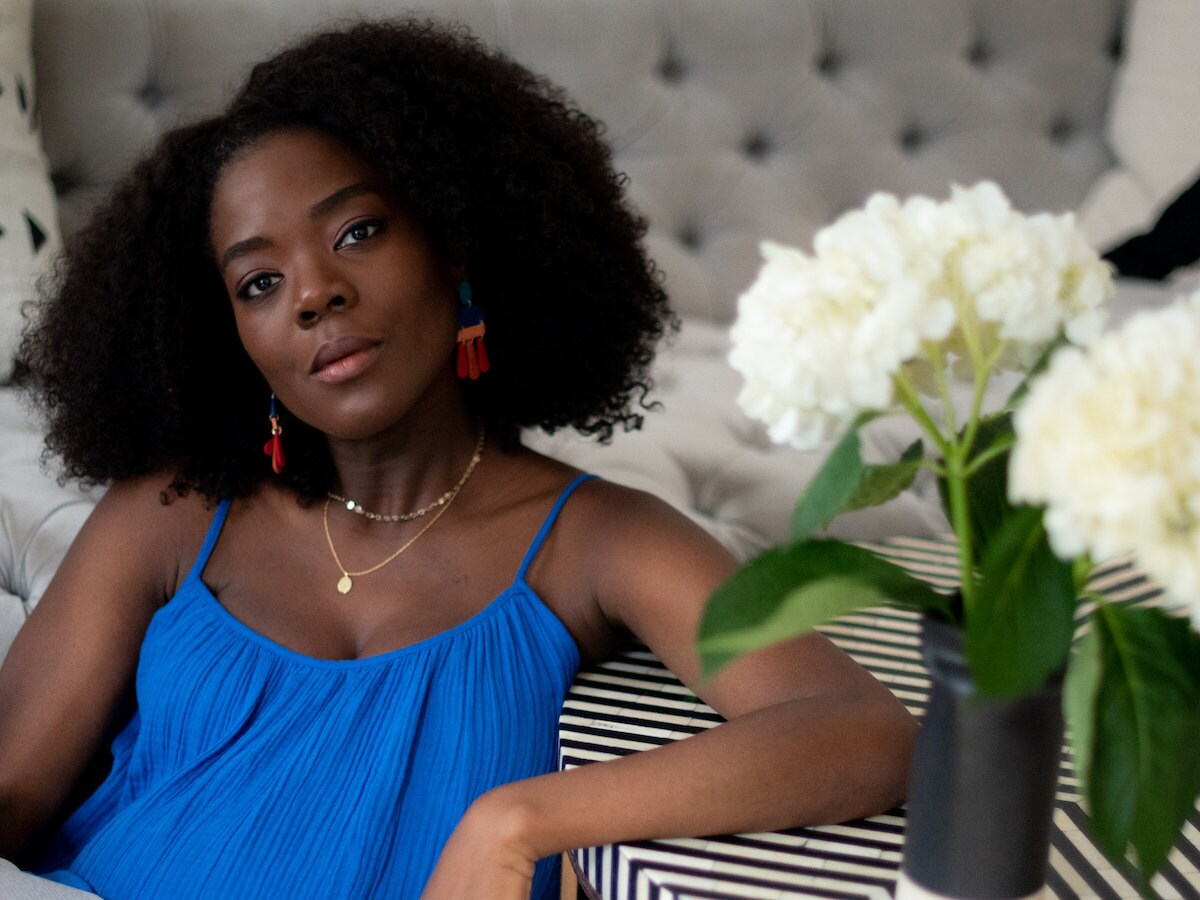 In The Etsy Edit, we go behind the scenes with some of our favorite tastemakers to explore their inspirational spaces and enviable style.
This summer marks an exciting chapter in the life of NYC-based attorney and style blogger Cynthia Andrews, whose cheerful, fashion-forward IG squares @simplycyn have long been some of our faves. Not only are she and her husband, Lester, hard at work on the renovation of their Brooklyn brownstone, but the in-progress pad will soon be home to two adorable new additions when the couple welcomes twin boys in August. And when it comes to shopping for her home and wardrobe, Cynthia has her sights set on handmade, meaningful pieces that are certain to remind her of this magical moment.
From bright, statement-making earrings to neutral, nursery-friendly throw pillows, Cynthia expertly blends bolder and softer elements in her jewelry box and decor scheme for an end result that's unique and uplifting. "It feels so good when you like what you see around you, and you can say: 'Yes, I am so happy to be here,'" she says. "I want to surround myself with memorable pieces that reflect who I am and where I want to be." Read on to learn more about Cynthia's approach to decorating and accessorizing, then discover her top tip for choosing artwork.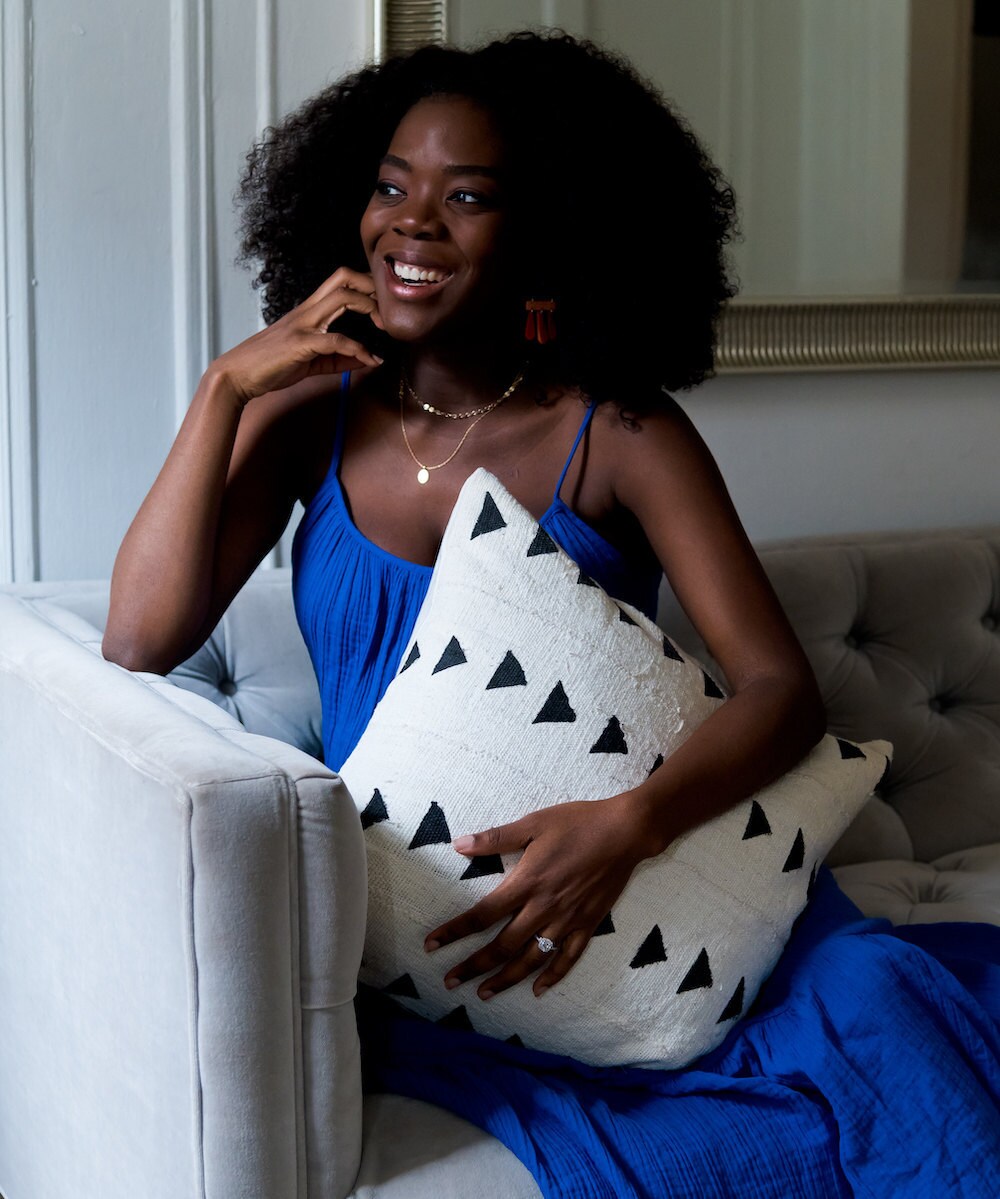 What does your approach to personal style look like? 
For me, it's all about having fun—if it catches my eye and I like it, I wear it. Anything goes! The one constant in my wardrobe is color, which is what drew me to these bold-but-lightweight clay earrings by Analy Jewelry. I love unexpected statement pieces that stand out, especially earrings, and I know this is a pair that people will stop me on the street about. I often dress more minimally during the summer, which is why I always wear jewelry that can pull a look together. 
The "New Mom" necklace is a quieter choice that can really elevate a look, too. 
Yes, I think there's something to be said for having a touch of softness that makes an outfit special. This gold pendant necklace from Borcik has an engraving of a pregnant woman, and wearing it now, in this season, is just so exciting for me. So much of what I love is loud and colorful, but sometimes something small and quiet can make just as much of an impact.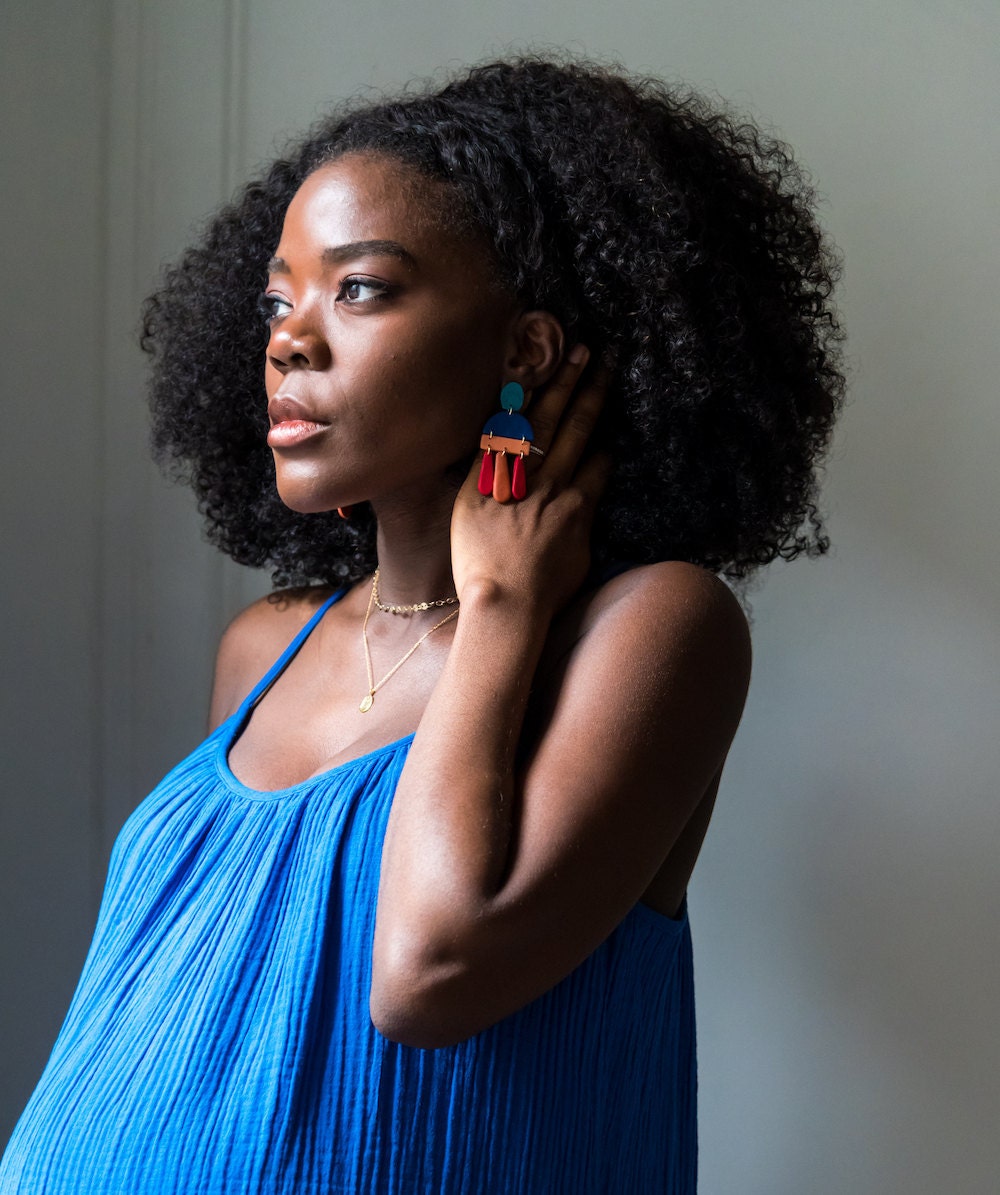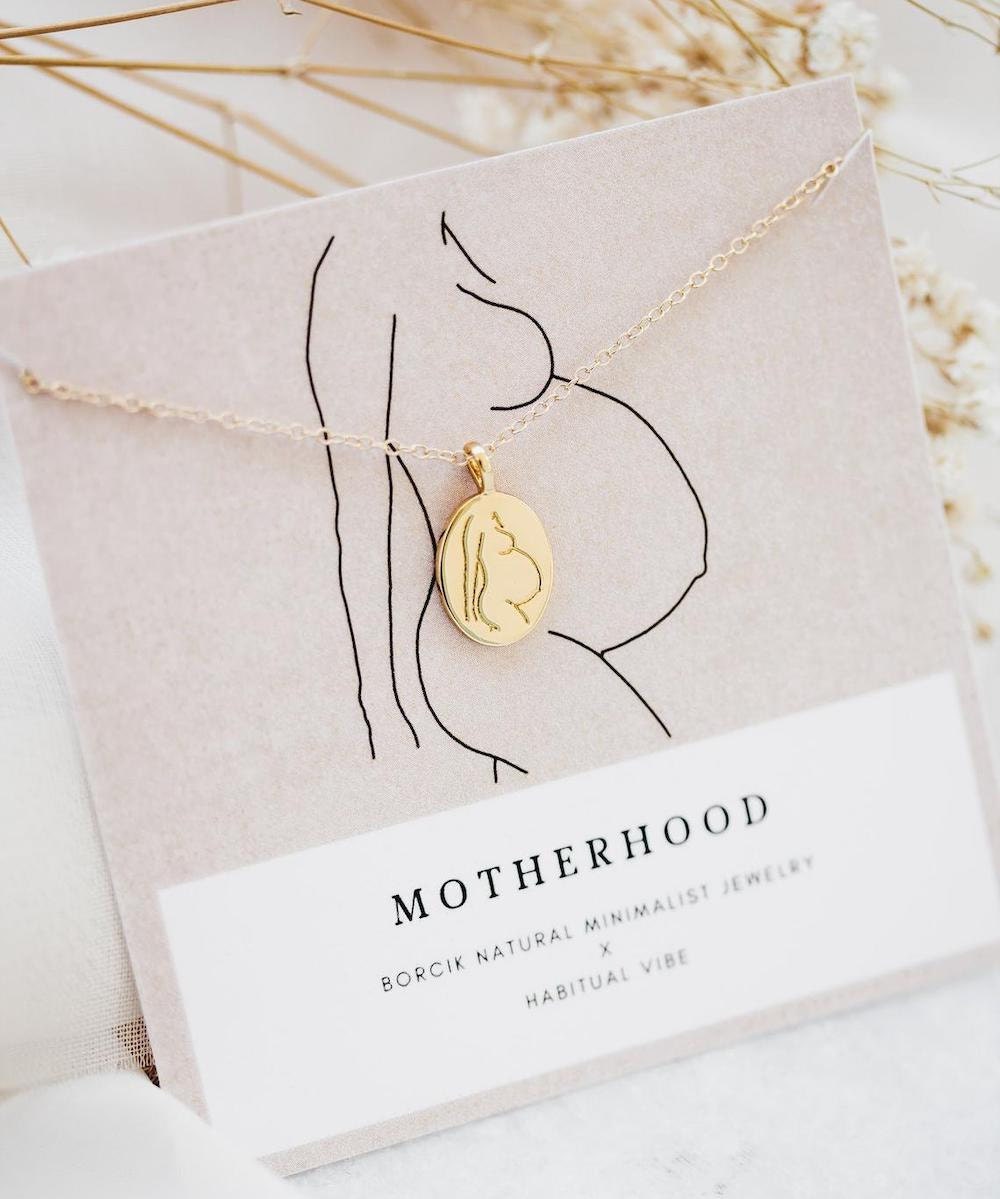 Do you plan to bring that softness into your decor as well?
Absolutely. I want to create a feeling of lightness and airiness. That's why I can imagine this modern ceramic vase by CLAY + CRAFT working in so many different rooms. I couldn't wait for the new house to start enjoying it, so I have it displayed in my current living area. Later, I can see it standing in my bedroom with fresh flowers, or in the nursery without anything in it because it has a presence and speaks for itself. 
How would you describe the aesthetic for the new house overall? 
There will still be color, but I'm looking to do a very clean, minimal aesthetic. These graphic mud cloth pillows from 2AngelsByCheryl are perfect for what I'm going for. They're intended for the nursery, which will be neutral and white, but I can see them pairing well with anything, and in any room. I love pieces that can adapt to any space. If things start to feel stale, just move them into another room, and you've done a quick refresh.
Have you begun choosing wall art for any of the rooms yet? 
We have. This Dancing Woman print by BlueArtDepo is one piece—it's absolutely beautiful. It features a silhouette of a woman dancing with the moon on her back, which is amazing, but that's not even what I'm most drawn to. I like art that gives me a brighter outlook and makes me feel invigorated, which is exactly what this piece does. To me, it looks like hope and beauty. 
We have a few fireplaces in the new home, and I think this will look perfect above one of them, but one rule of thumb I have is never to rush yourself into choosing something that will work in a specific space. I recommend searching for work that speaks to you, and when you find it, just get it. You will always find a place for it.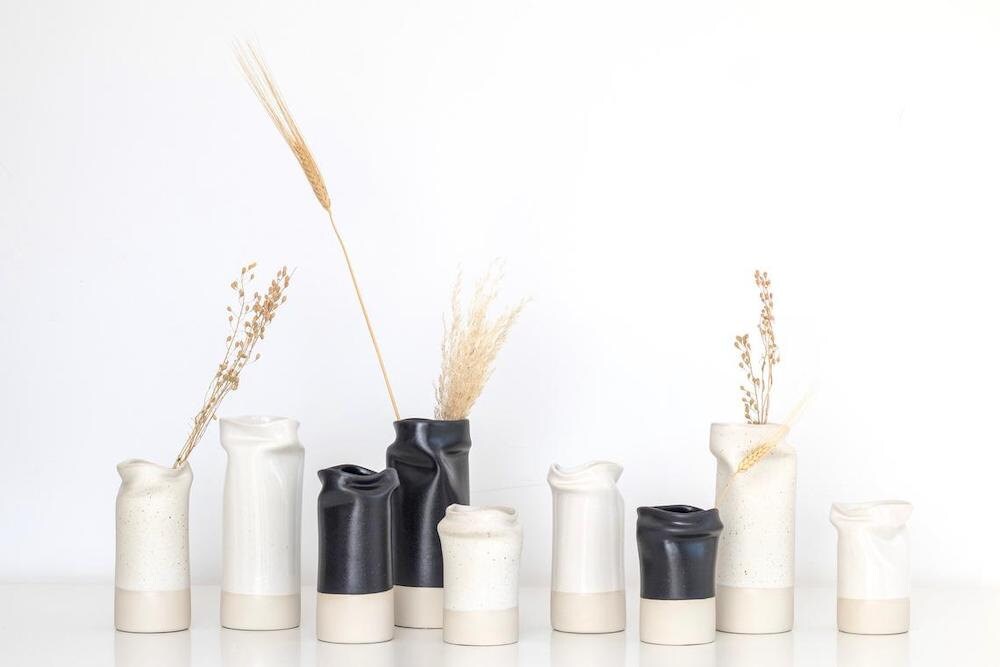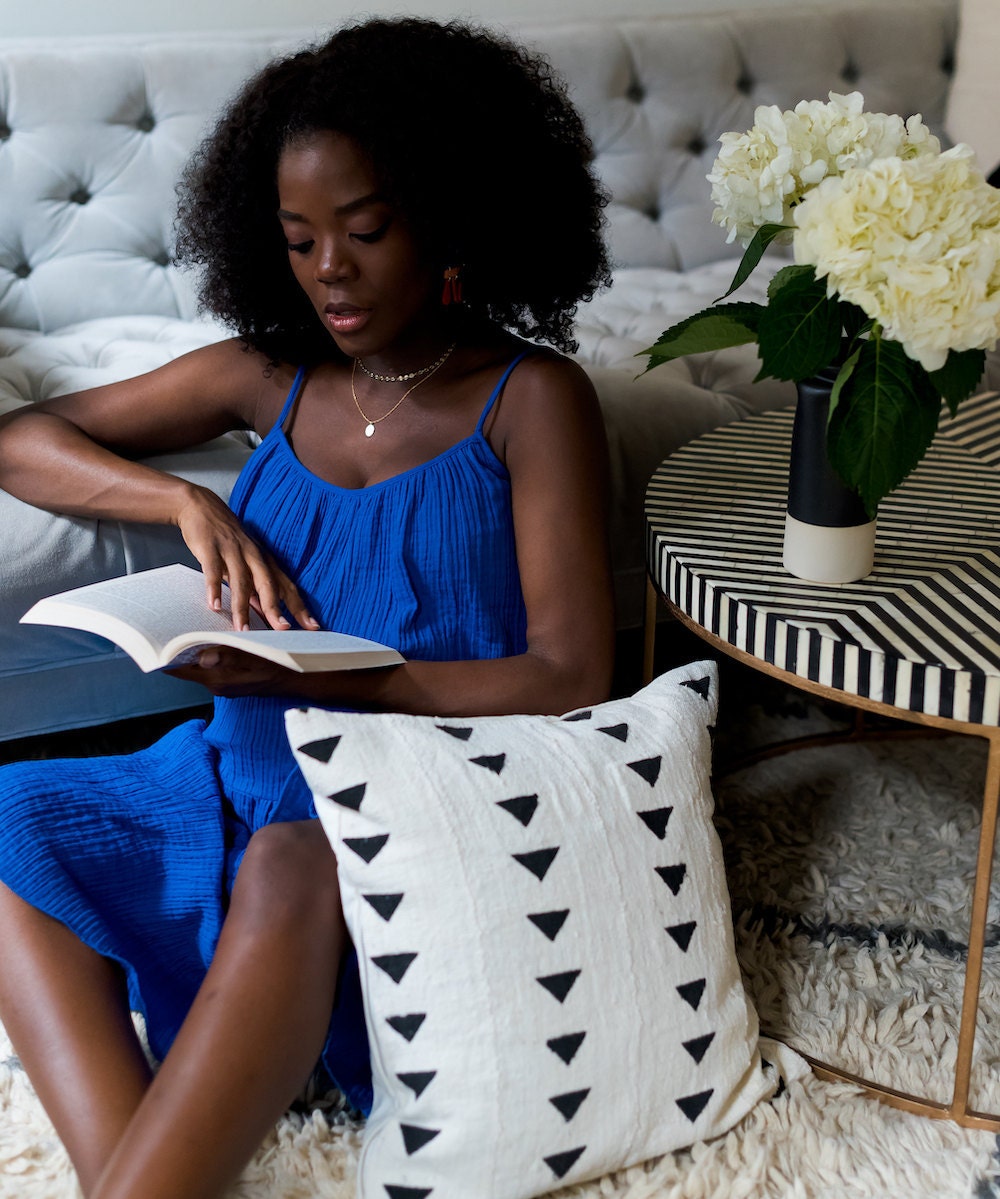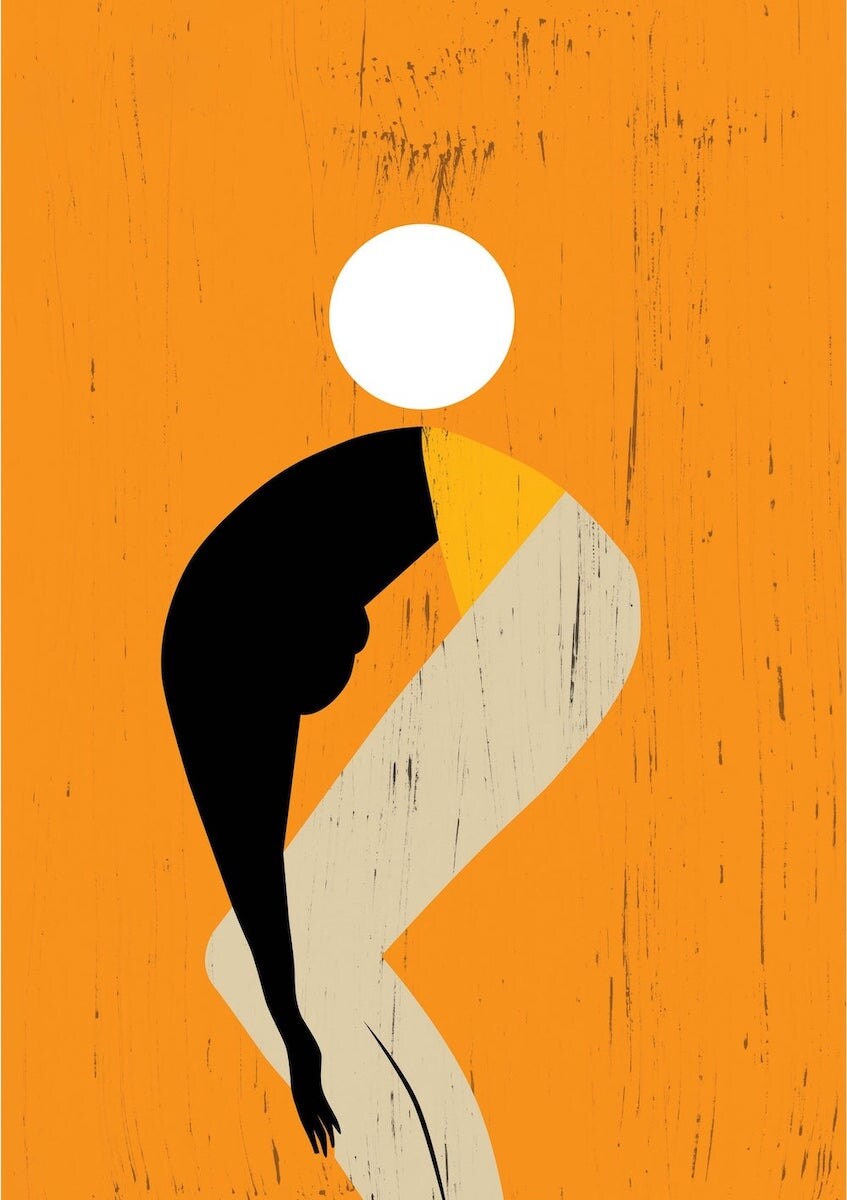 How does your space affect how you feel day to day?
One of the best feelings in the world is opening the door to your home, walking in, and letting out that sigh. A beautiful, organized space calms me down and makes me happy. I never want to wait for a vacation to feel like I'm somewhere special. I can upgrade my living room with a few new pillows and feel like I'm in Morocco, or add a piece of art to the wall that takes me to Africa. I can travel the world through the things I bring into my home. Getting it just right is when your space reflects not only who you are, but the space you want to be in.
Bonus round:
What's your go-to snack?
Give me all the mangoes. I don't know if it's pregnancy, but I eat two a day. I'm the mango lady! 
What skill do you most want to master?
I wish I could braid hair.
What are you currently bingeing?
We just finished the new season of Insecure. It's so good!
Photographs courtesy of @simplycyn.