by Sharon Steel
From iridescent opals to naturally faceted gemstones—and, yes, diamonds too—we've rounded up this season's most swoon-worthy engagement ring bling.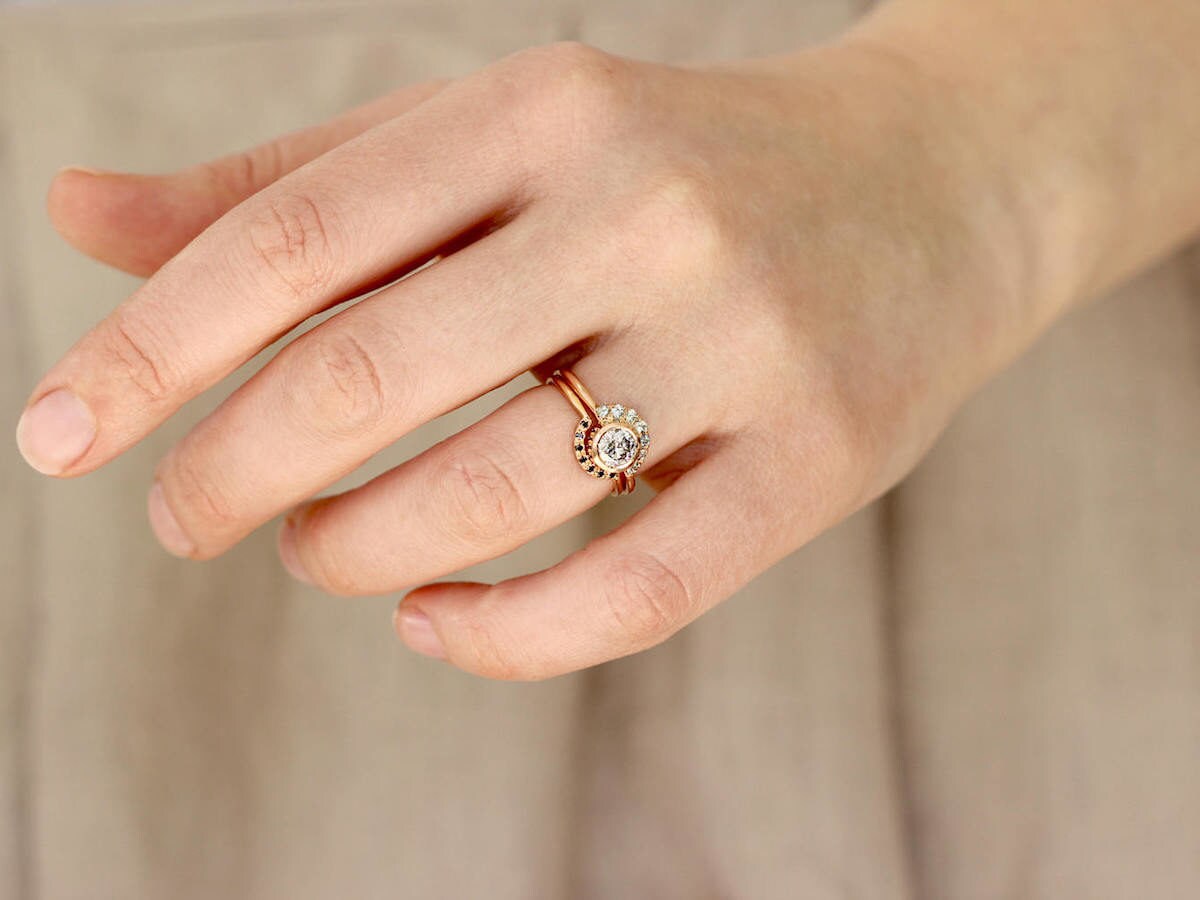 Marriage may be an ancient institution, but these days, more and more couples are forgoing old-school wedding traditions in favor of fresh,
one-of-a-kind celebrations
. And in addition to the eclectic dresses, unexpected decor, and hundreds of other
delightful details
making weddings ever more unique, there's a new crop of original
engagement ring styles
on the scene, providing refreshing alternatives for brides- and grooms-to-be looking to stand out from the hordes of happy couples announcing their big news via blingy Boomerangs. This season, jewelry designers on Etsy are setting new standards for engagement rings—beginning with the notion that there
aren't
any standards. Innovation is the name of the game, with today's rings serving as vehicles for personal expression rather than outdated symbols of status. From delicate stackable bands to unconventional
gemstones
, the engagement ring trends of the moment celebrate a sense of romantic individuality that'll last a lifetime.
The evolution of the stack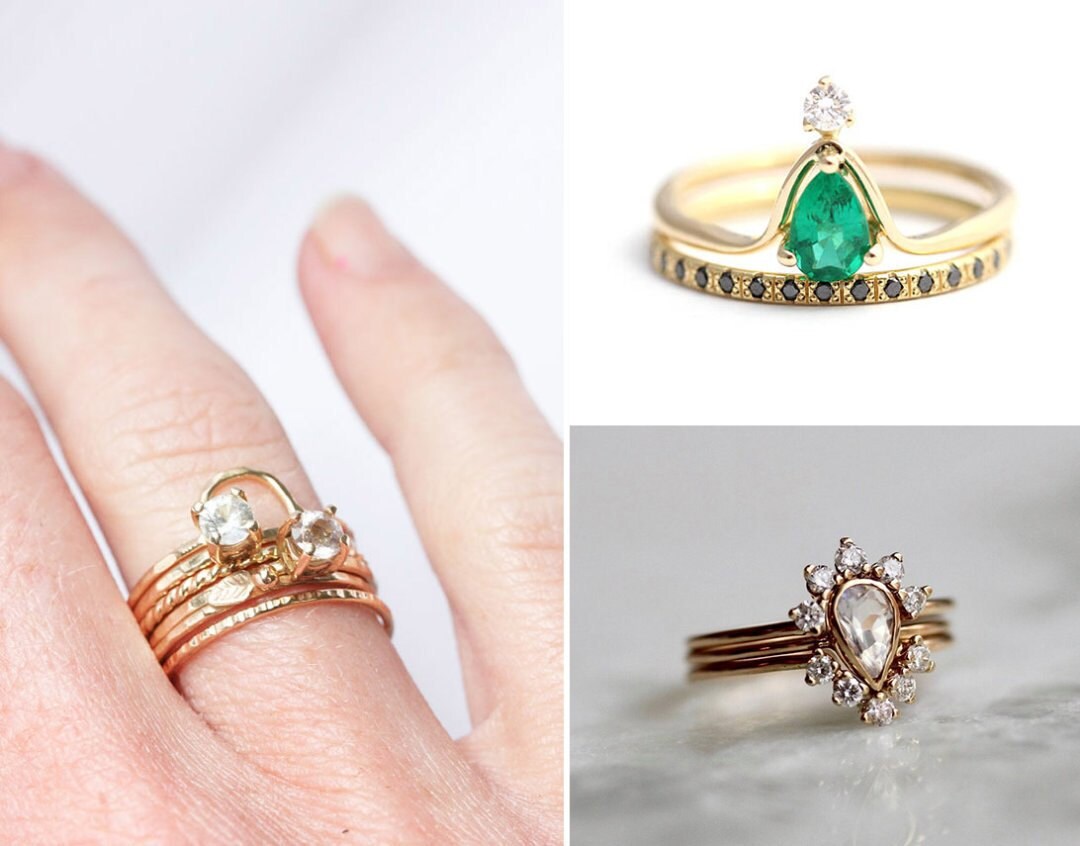 >
The showstopper solitaire was once regarded as the ultimate in bold
wedding jewelry
, but these days, many active brides are placing a premium on everyday wear, replacing chunkier standalone rings with stacks of whisper-thin bands that are designed to be layered (and less likely to snag on
yoga pants
). Thanks to an array of personalized stones and puzzle-like pieces, brides can create three-, four-, and five-band stacks that are entirely their own. Bonus: This sophisticated aesthetic can easily evolve over time, giving couples the opportunity to add new pieces to mark an anniversary or other milestone—and even allowing fashion-savvy brides to mix up their look from day to day.
Elegant warmth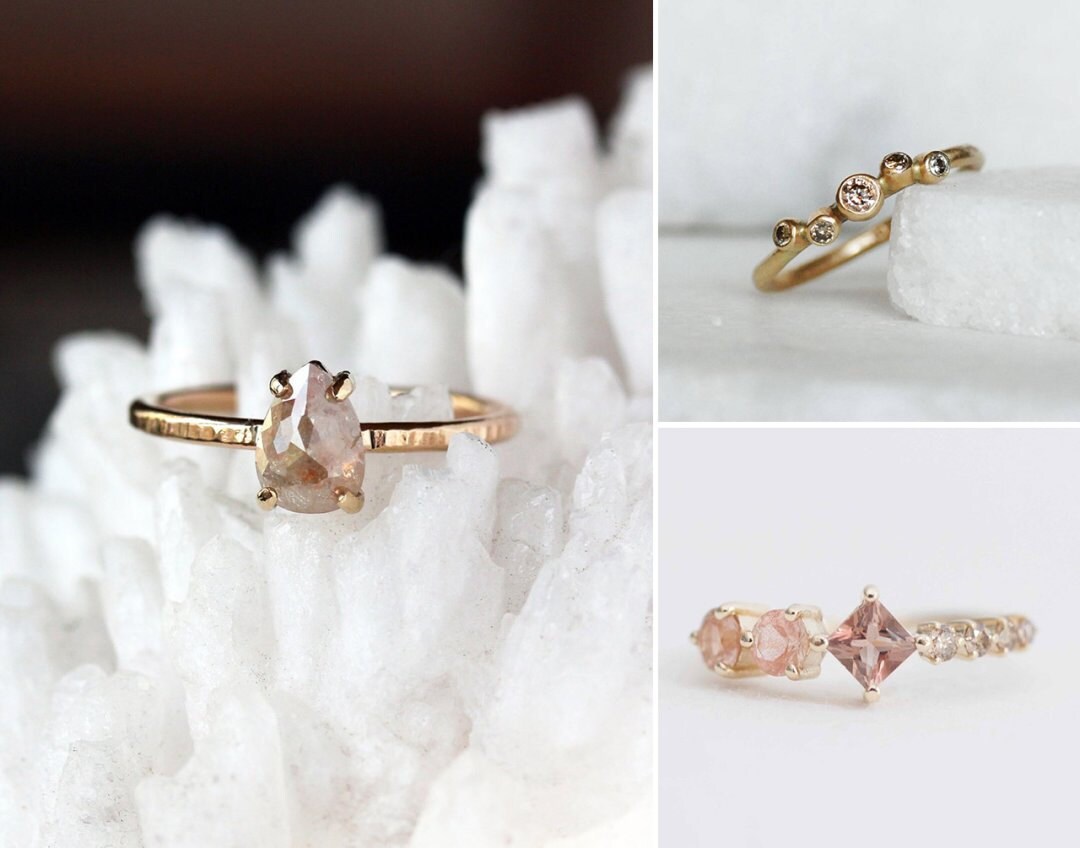 >
Colorful gemstones
are popping up more and more in the realm of fine jewelry, as engagement ring makers branch out from traditional colorless diamonds and introduce refined pops of color in their designs. And today's couples are taking note, expanding their wedding jewelry palettes to embrace a dazzling array of subtle champagne, rose, and gray stones. Stunning in their own right, these elegant, warm-hued gems also offer the ideal complement to alternative precious metals like rose gold, creating pale pink head-turners beloved by millennials and
modern brides
alike.
Iridescent revival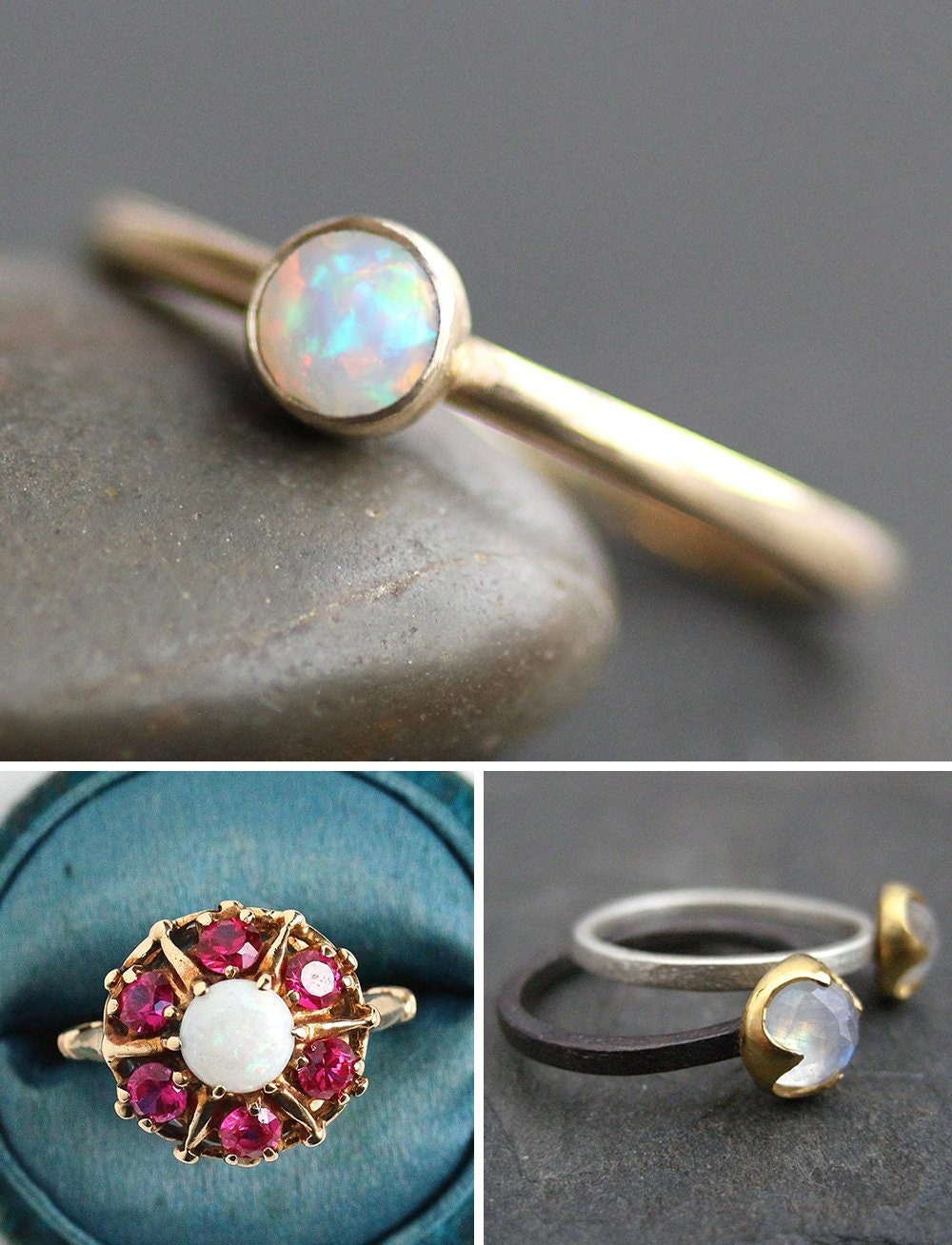 >
The mystical and mysterious
opal
has been on the upswing for a little while now, but it's officially time to add a new generation of brides-to-be to its growing list of admirers. These beauties are ideal for those who value individuality over the four C's: No opal is the same, and the multi-colored flecks found within each stone shift their tone in response to their environment, casting a truly one-of-a-kind glow. Suffering from opal overload? Milky moonstones are another staple of the iridescent gem revival, delighting wearers with their chameleon-like qualities as center and accent stones alike.
Refined takes on raw stones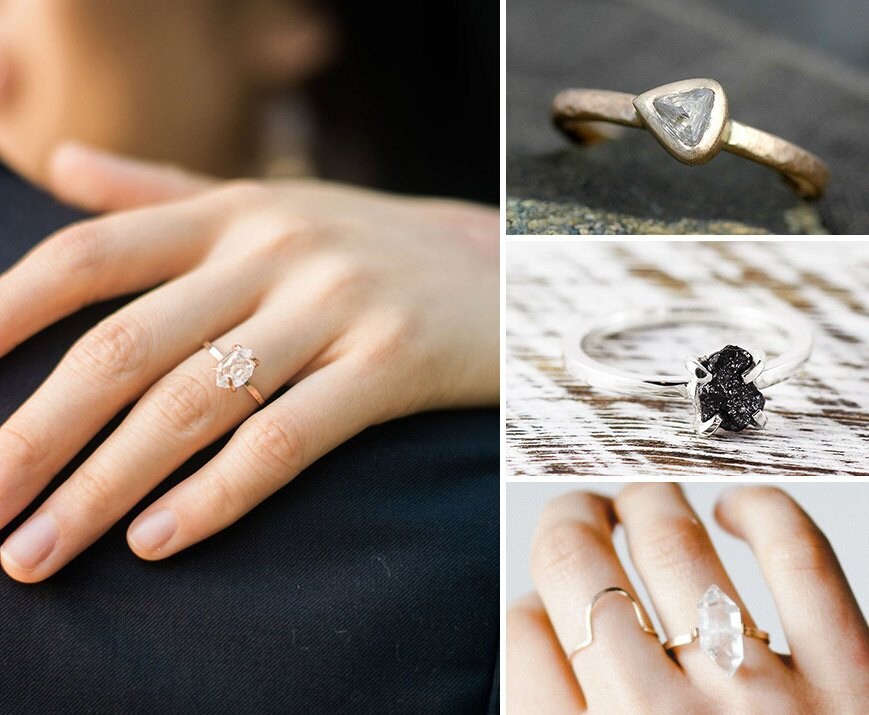 >
The beauty found in rough surfaces has proven to be a vast source of inspiration for Etsy designers, who have developed a wide range of wedding jewelry showcasing raw and naturally faceted gemstones. Buyers are intrigued by their unfinished, fresh-from-the-earth feel and more casual vibe; they're a perfect fit for a 
laid-back bride 
with an easygoing wardrobe and a low-key approach to accessories. (Or for the bride on a budget: Natural stones are a go-to category for affordable wedding jewelry options.) In an expansive assortment of shapes, colors, and settings, these uncut stones are anything but one-note.
A new kind of bridal bouquet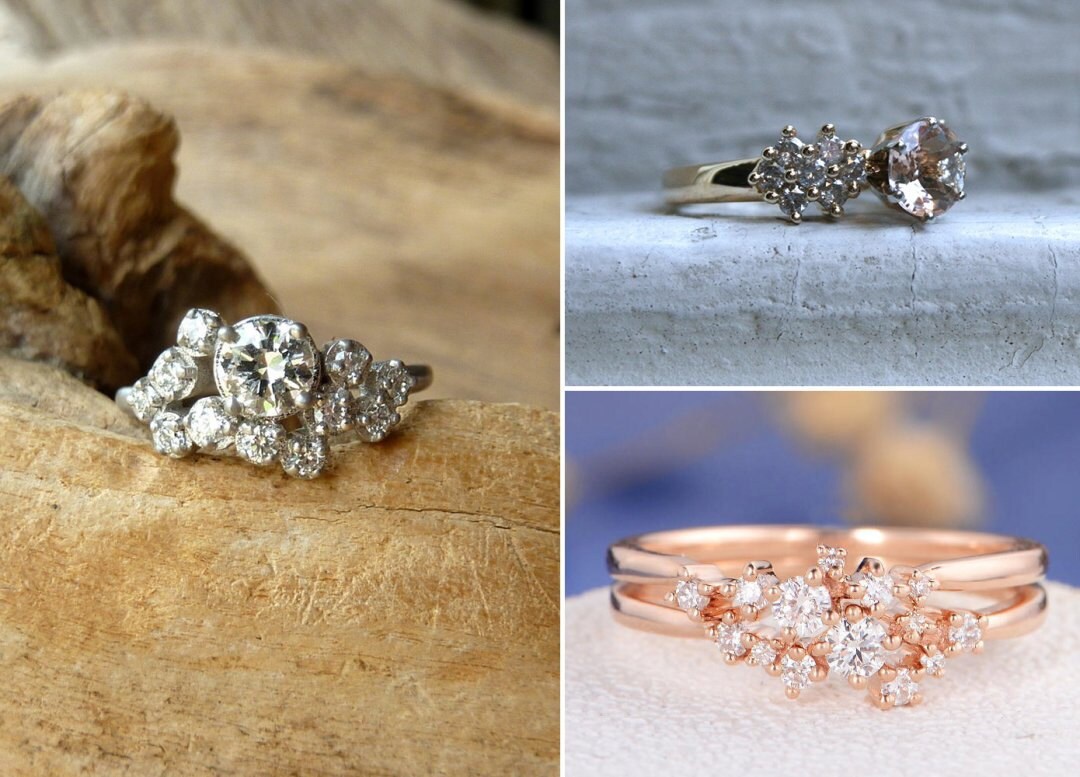 >
You heard it here first: Symmetry is overrated. These days, many handmade and vintage sellers on Etsy are leaving balanced, by-the-book settings behind in favor of bespoke cluster rings that gather multiple smaller stones onto a single band, often mixing cuts and colors along the way. While cluster rings can vary greatly depending on the size and placement of the stones, one thing is certain: These sparklers make a statement, proving that you don't necessarily need a hero stone to make a big impact.