From clever costume hacks to trick-or-treating with a twist, let these out-of-the-box ideas help you make the most of the holiday.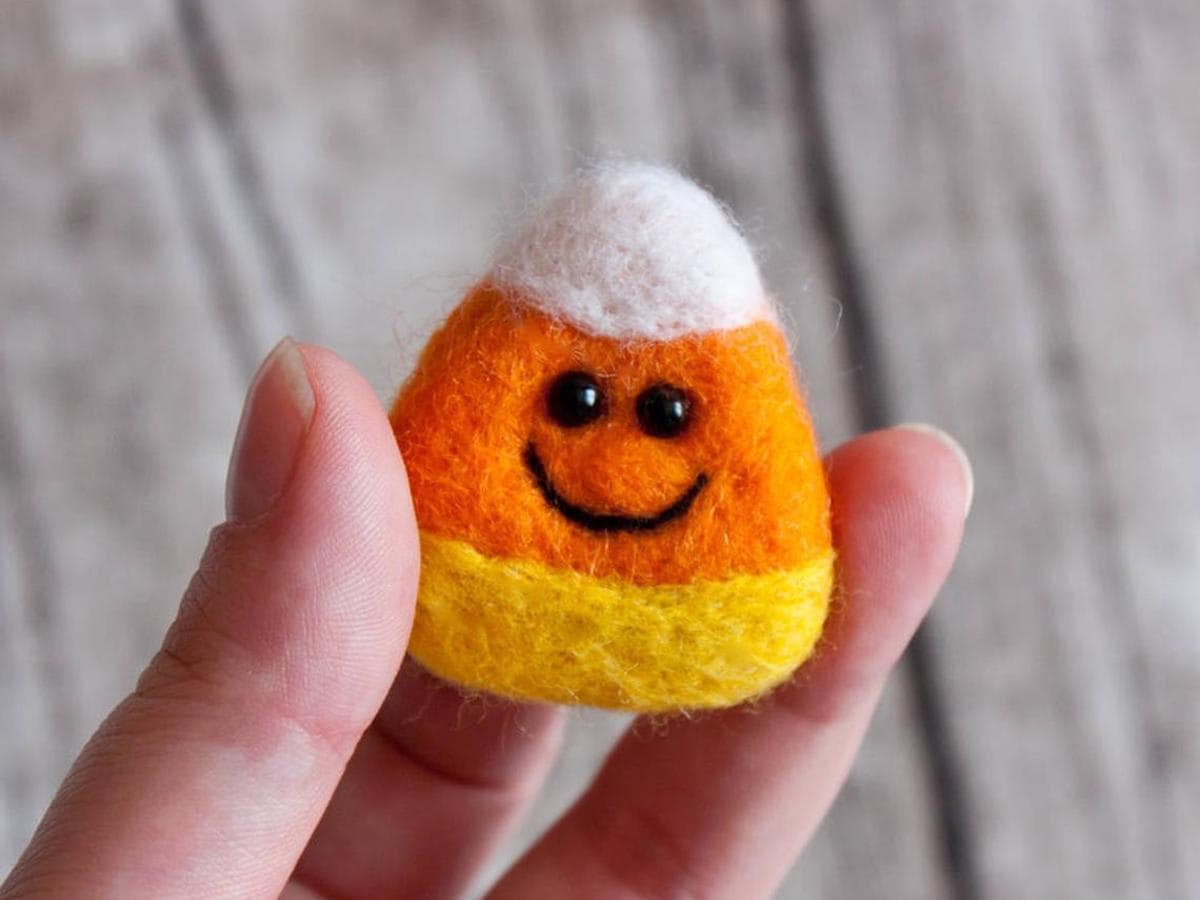 If the onset of October would typically have you planning your annual monster mash and rallying your crew for a group costume, have no fear: Even if this year's Halloween celebrations won't be as big and bone-chilling as usual, there are still plenty of ways to get in the spooky spirit. "This Halloween will be an opportunity to showcase our creativity more than ever before," says Etsy Trend Expert Dayna Isom Johnson. "And—no surprise—Etsy sellers are offering some of the most imaginative alternative ideas out there." From face masks that double as costumes to outdoor decor that'll make yours the most haunting house on the block, read on to discover five trending tricks to make your modified festivities feel spooktacular in their own special way. 
Creative costumes
Mask + costume combos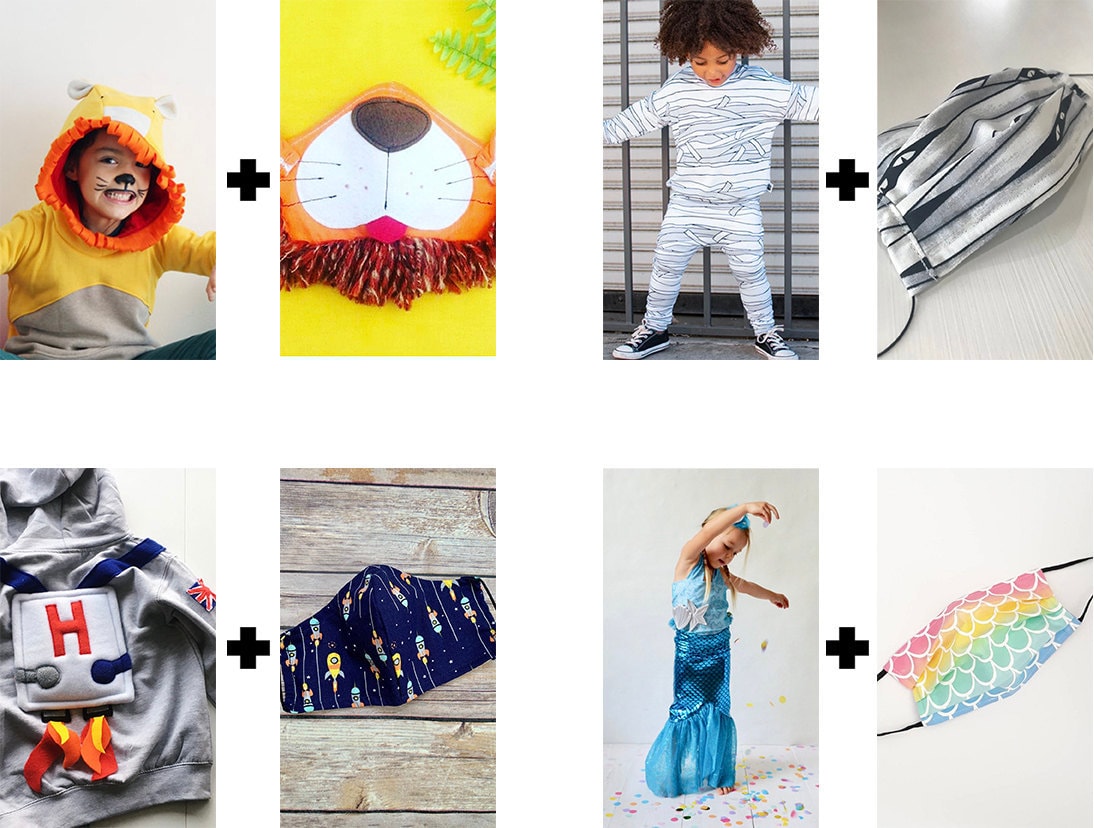 These days, you're not fully dressed and ready to walk out the door until you put on your mask. For Halloween, clever costumers are incorporating the everyday accessories into their ensembles by choosing designs that complement—and in some cases, complete—their overall look. "This trend is proof that functional can still be totally fierce," Dayna says. A few of our fave coordinated combos? A friendly lion with a fringed mane, a bandage-wrapped (and masked) mummy, and a magical rainbow-scaled mermaid. "Plus," Dayna adds, "these picks are perfect for parents who want to forego the fuss of face paint."
Halloween-themed loungewear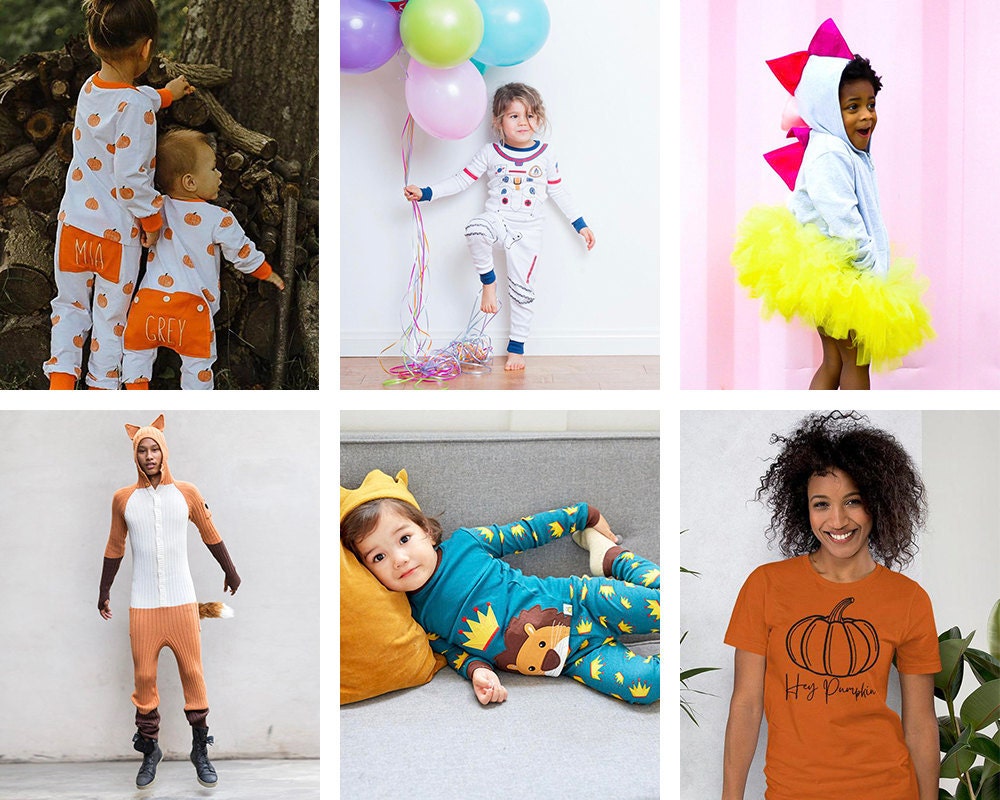 Opting to keep the festivities indoors? Get the whole family cozy and in character with costume-inspired jammies and comfortwear. "Pose for your obligatory Instagram post, then settle in for a low-key night of snacking on candy corn and marathoning scary movies," Dayna says. Whether you prefer personalized pumpkin-patterned sets or head-to-tail critter-themed outfits (complete with pointy eared hoods), these whimsical everyday threads make for an easy, economical alternative to one-and-done costumes that won't get worn again.
Top-dressing accents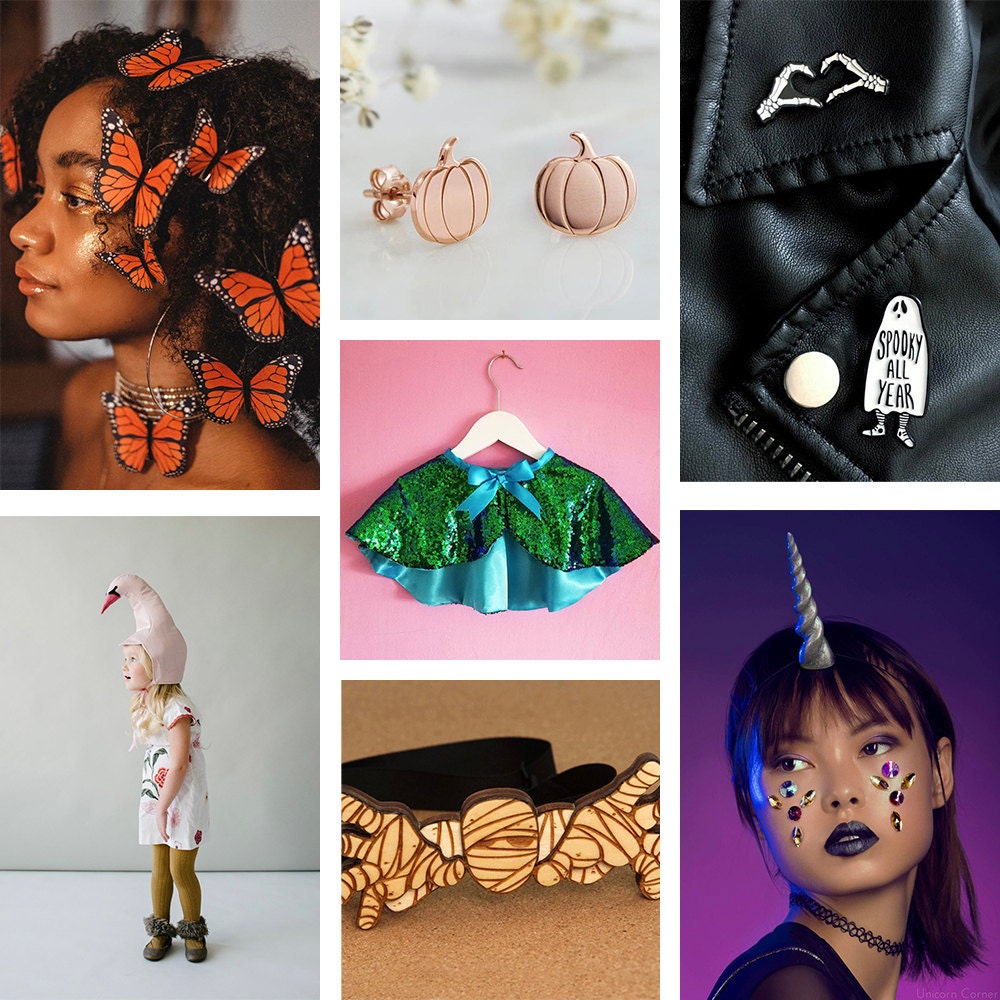 From classroom celebrations to after-hours office parties, many of our usual Halloween happenings are going virtual in 2020. Lucky for us, standing out on screen is as easy as accessorizing from the waist up. "Think haunting jewelry, festive headwear, and alluring eye masks," Dayna says. A bewitching brooch can subtly show your spooky side, while over-the-top animal hats and shimmery unicorn horn headbands make an unforgettable artistic statement. For a final flourish that's sure to shine, try an eye-catching sequin cape. The best part? You can dial in from the comfort of your stretchy pants, and no one will be the wiser.
Decor and activities
Trick-or-treating with a twist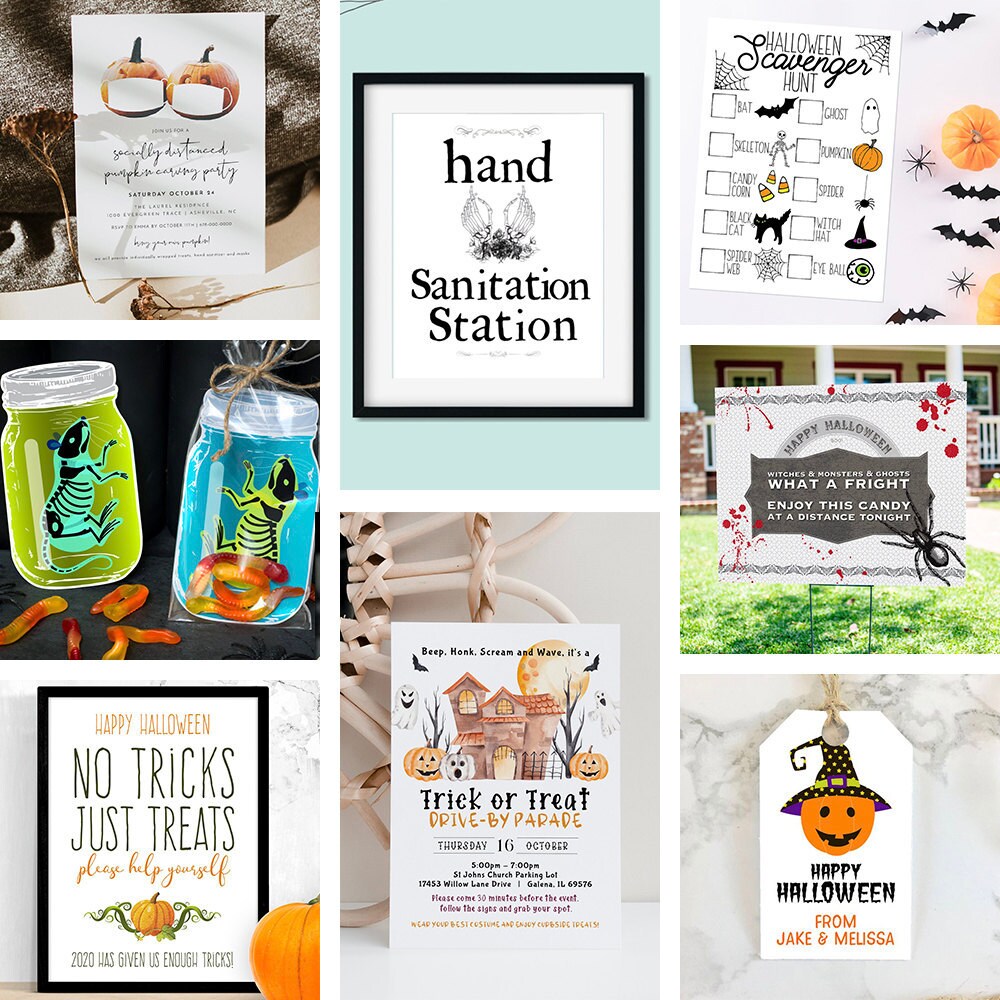 True, trick-or-treating may look different this year, but parents are coming up with all sorts of creative tweaks to make sure the tradition is just as sweet. Neighbors who want to participate are setting up standalone candy stands and sanitation stations, while others are organizing socially distanced events (think drive-by trick-or-treating or spooky sidewalks-turned-catwalks). "Etsy sellers are designing a wide variety of cute, custom lawn signs and printable supplies to help you advertise your approach to passersby," Dayna says. One completely contactless option she expects to take off? "Drop-off deliveries, with specially packaged goodie bags filled with homemade treats."
Above-and-beyond outdoor decor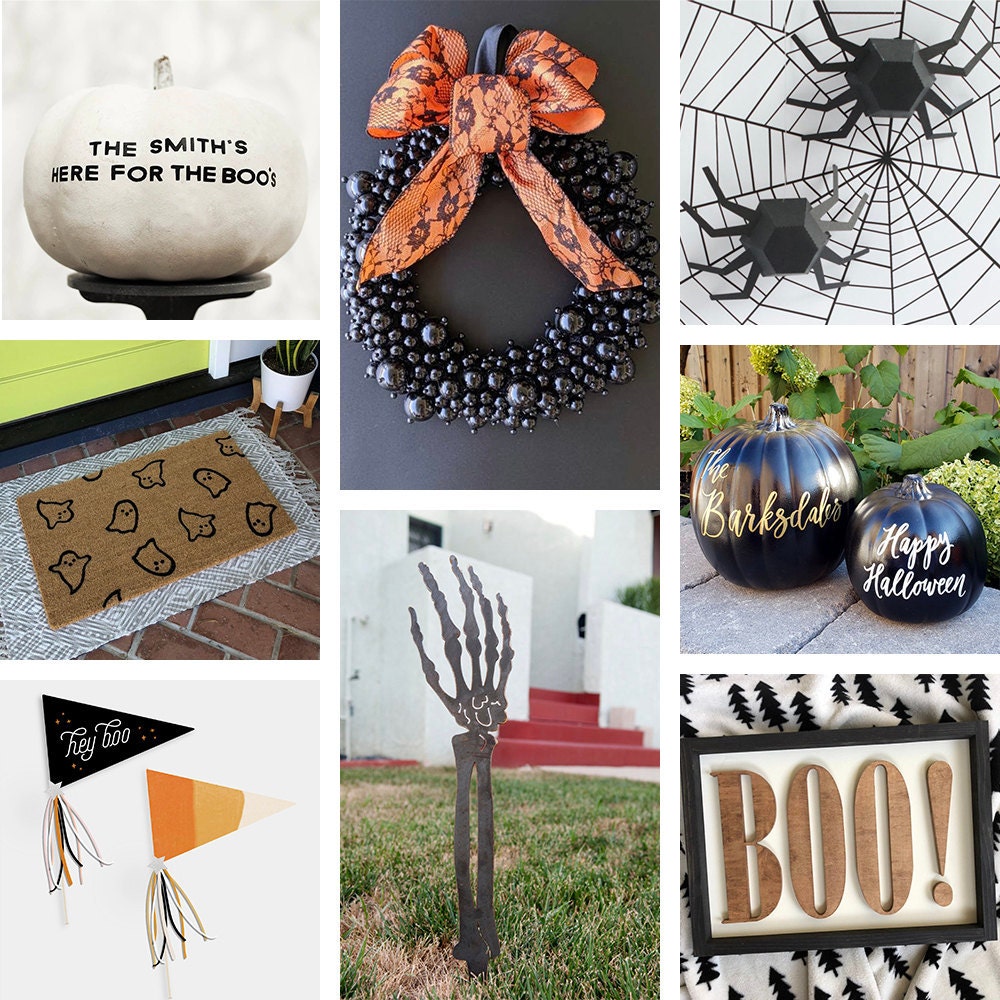 This Halloween, you can still go big even if you're staying home. Whether you're working with a fun-size fire escape or a sprawling front lawn, show the neighbors your seasonal spirit by dressing up your digs in over-the-top outdoor decor. Keep it peppy with wickedly cute wreaths and welcoming doormats, or up the eerie ambiance with corner-creepifying cobwebs, complete with spindly paper spiders. "Whatever your vision, we'll all be getting extra-creative this year, and that means DIY-ing a lot of our decorations too," Danya says. "I'm talking everything from hand-painted pumpkins to festive fringe banners that holler 'Happy Halloween!' from a distance."