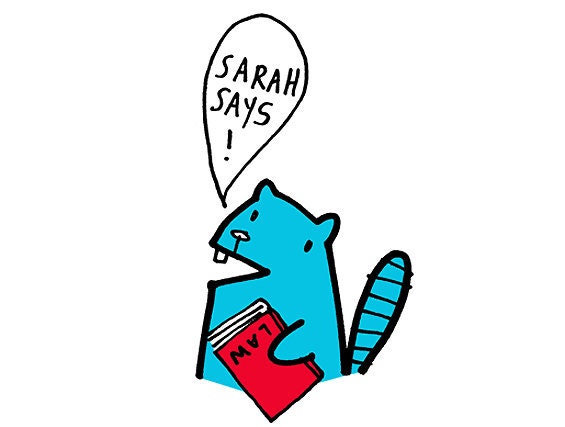 Copyright infringement is a hot topic on Etsy and in the media. As we see in the
You be the Judge
series, there are always at least two side to any infringement story. Many artists, lawyers and even judges may disagree as to what constitutes copyright infringement and alternatively what should be deemed
fair use
or otherwise allowed by law. But what about items on Etsy? If you feel like an item or material on Etsy violates YOUR intellectual property right, please send Etsy the information we need, as set forth in Etsy's
Copyright and Intellectual Property Policy
. Etsy needs six pieces of information before we will comply with our policy and remove the material. When Etsy receives proper notice from a copyright owner or a person authorized to act on behalf of the owner, Etsy, as a venue, complies with our policies and removes the material. Etsy treats all complaints seriously, whether the complaint is from a well known company, an individual, or from an Etsy member. You may wonder, why not just flag the item? Why jump through these hoops? This is because an allegation of infringement is a serious matter. In fact, if you materially misrepresent that a product or activity is infringing your intellectual property, you may be liable for damages (including costs and attorneys' fees). Under United States copyright law, only the legal or beneficial owner of an exclusive right under a copyright is entitled to take action. In other words, copyright owners are responsible for policing their own rights and bear the cost of policing. It must be the copyright owner — not a simply well-intentioned member of the Etsy community — who reports copyright infringement and ultimately decides what uses are permitted and what uses may violate rights. If you were to discover that an individual had utilized your copyright protected work, it's up to you to decide how to proceed. You may find that the use is absolutely fine. In fact, this use could bring you great publicity! You may choose to ask the person to enter into some sort of agreement to use your work. On the other hand, you may decide that you want the use to stop. The choice is up to you (and maybe your lawyer). Here's an example: a t-shirt on Etsy has an iconic cartoon character silk screened on it. The owner of the copyright of the cartoon character has the right to decide how to proceed. The t-shirt maker may have permission to use the cartoon character in their work. But if copyright owner believes that the use is infringing, the owner might ask a seller to stop selling the items. Alternatively, the owner might ask the seller to enter into a licensing agreement. The copyright owner might simply choose to allow the use. If you see something on Etsy that you feel infringes on your intellectual property rights, you may choose to contact Etsy and provide us with the information as specified in our policies, found at this link:
http://www.etsy.com/copyright_policy.php
. Let me know what you think about this topic!
--- This information is for educational and informational purposes only. The content should not be construed as legal advice. The author and Etsy, Inc. disclaim all responsibility for any and all losses, damages, or causes of action that may arise or be connected with the use of these materials. Please consult a licensed attorney in your area with specific legal questions or concerns.
NOTE: This was originally published on October 30, 2007. We changed the timestamp to bring it up to the top for a refresher!