Everything you need to know about getting your wedding stationery signed, sealed, and delivered.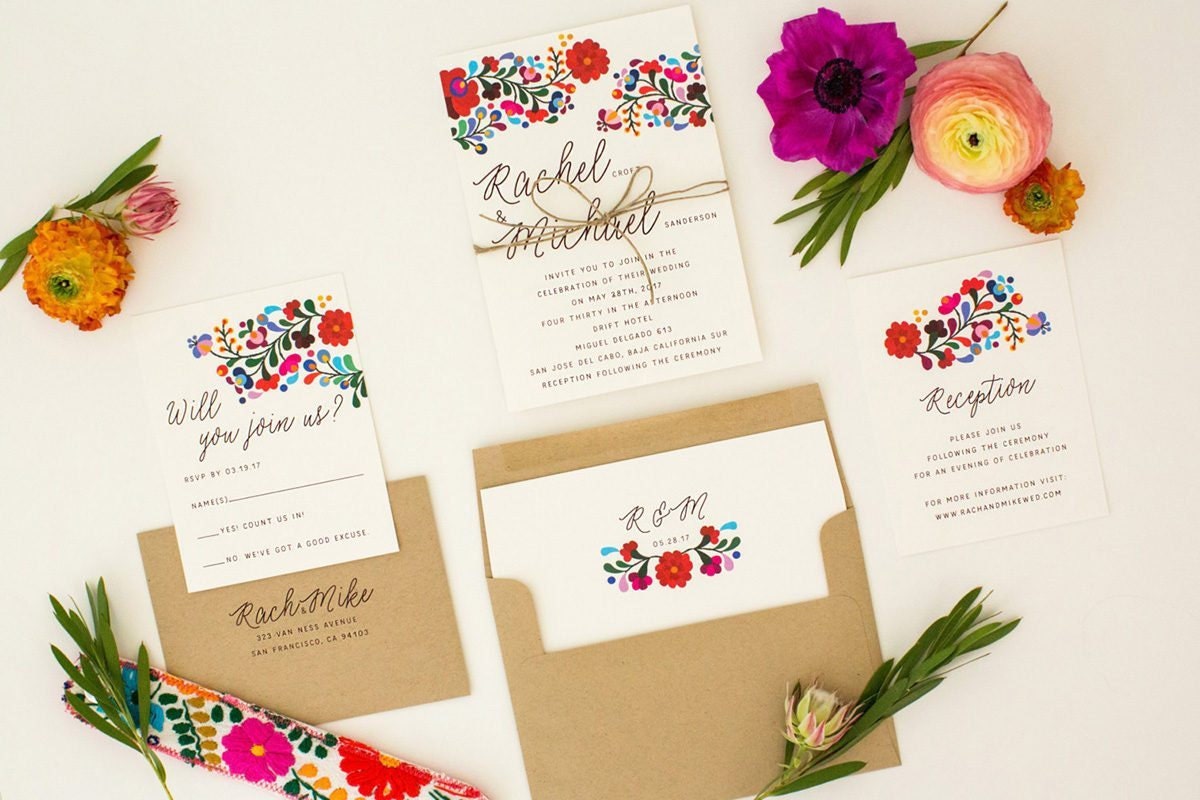 In the months leading up to your wedding, you may dream about
your dress
and fantasize about your flowers, but it's the
paper goods
that you'll be getting truly hands-on with, from designing and sending save-the-dates and invitations to eagerly opening the RSVPs as they begin to trickle in (and later, crafting thoughtful thank-you notes while you bask in post-honeymoon bliss). So naturally, you'll want to get them just right. But with so many factors to consider, all of which affect the timeline and cost — from paper stock and printing method to the number of pieces you'll include — finding the balance between budget and beauty is no easy feat. To help you decide on the suite of your dreams, we've assembled this handy primer. Whether you opt for a deluxe collection, a mix-and-match assortment, or the print-at-home approach, there's just one thing that really matters: that you and your partner-to-be put your own distinctive stamp on it.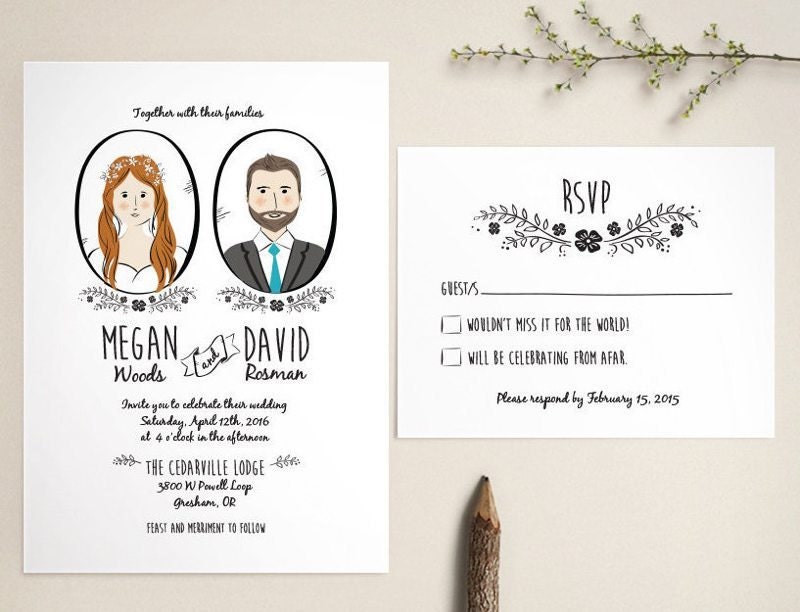 Lucy Loves Paper
I. Suite Styles
The basic components of any suite are: the invitation itself; the reply card and pre-stamped return envelope; and the outer envelope. Optional elements may include an inner envelope (to protect the invitation during delivery), the reception card, an accommodation card, and a map. Save-the-dates and thank-you cards do not have to match your suite and can be ordered separately — although having your primary stationer handle these, too, can save a step. Not only will your invitations provide your guests with the practical details of the event — the date, the place, and the time — they also send a message about the tone and style of your wedding. Let your venue locale, color palette, and the level of formality you're going for guide your choices for the invitation design. Think: kraft paper and hand-drawn illustrations for a 
rustic
 ceremony; formal black script with gold accents for a 
classic romantic
 affair; or bright pops of color with bold fonts for an 
offbeat
 event.
4 to 6 months: the timeframe before the big day when you should finalize your stationery order (for destination weddings, aim for closer to 12)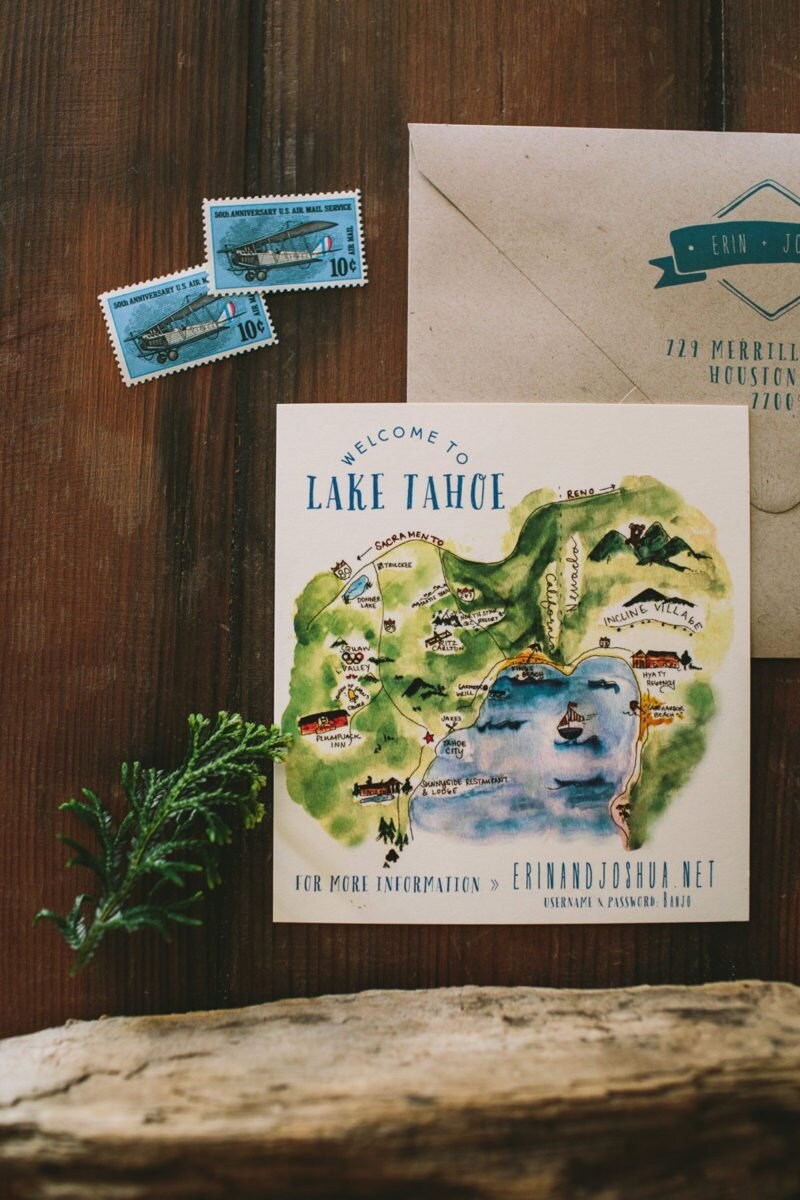 Wide Eyes Paper Co
II. Fit to Print
Like your invitation design and style, your chosen printing method will help to set the stage (and guests' expectations) for your wedding. Here, the lowdown on the most common printing techniques — ordered from least expensive to most.
Flat Printing
The Process:
Invitations are printed from a computer file to an inkjet or laser printer to create stationery that is smooth to the touch.
The Pros
: Allows you to use as many colors, fonts, images, and designs as you want without any additional costs; perfect for casual and informal events, at-home DIY printing, and when time or money (or both!) is a factor.
The Cons:
Ink can smudge and smear, and thinner, less-luxe paper is usually a must for feeding through a printer.
The Cost
: Because it's quick and easy and requires little manpower, flat printing is the most inexpensive printing option ($).
The Timeline
: If printing at home, you can have a finished product in as little as a day; an outside stationer should be able to complete your order within a week.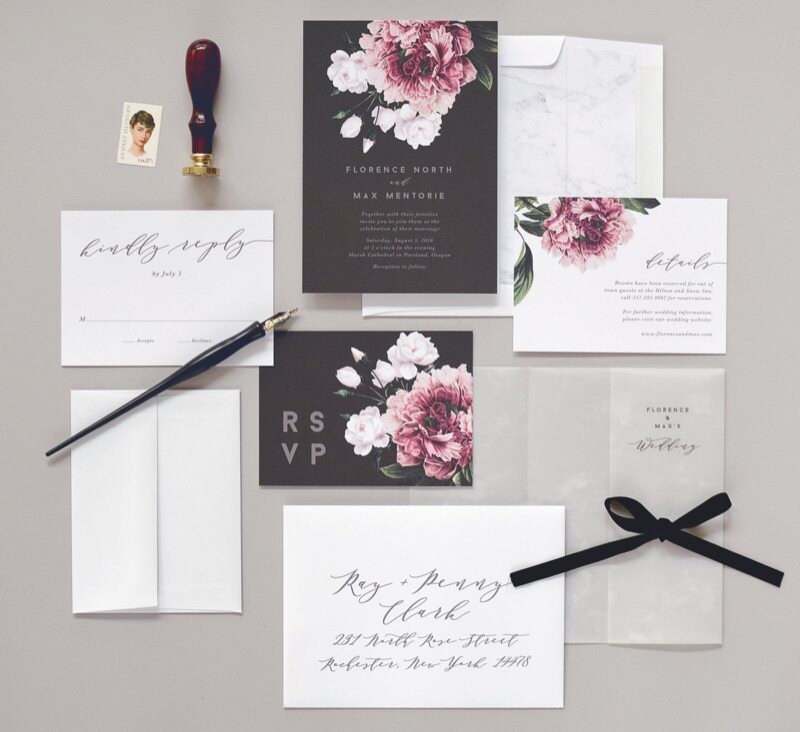 Rachel Marvin Creative
Thermography
The Process
: Wet ink is dusted with a resin-like powder and heated to create glossy, raised type.
The Pros:
Ideal for a couple who wants an engraved look for a fraction of the price — or the ability to print light-colored ink on dark paper.
The Cons:
 You're limited to only two ink colors and one-sided printing.
The Cost:
 Slightly more expensive than digital printing, as DIY is not an option ($$).
The Timeline: 
Turnaround after approving your proof typically takes one to two weeks.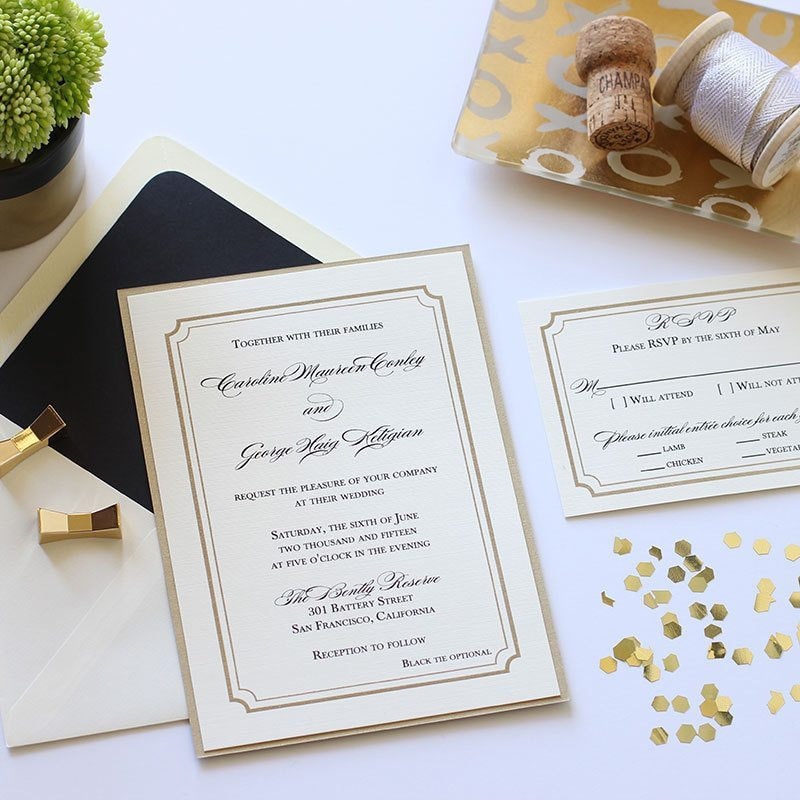 Blush Paperie
Foil Stamping
The Process:
Metallic foil is pressed into paper with a heated copper plate.
The Pros:
Can be combined with digital printing, letterpress, and engraving (but not thermography, as the heat from the stamping process will melt the lettering); is suitable for printing on a wide variety of paper options; and comes in matte and glossy finishes for a range of looks — from formal and traditional to bold and modern.
The Cons:
This kind of versatility and flexibility comes at a cost.
The Cost: 
Foil stamping is time consuming and labor intensive, which makes it an expensive endeavor ($$$).
The Timeline: 
Be prepared to wait six to eight weeks for your finished product.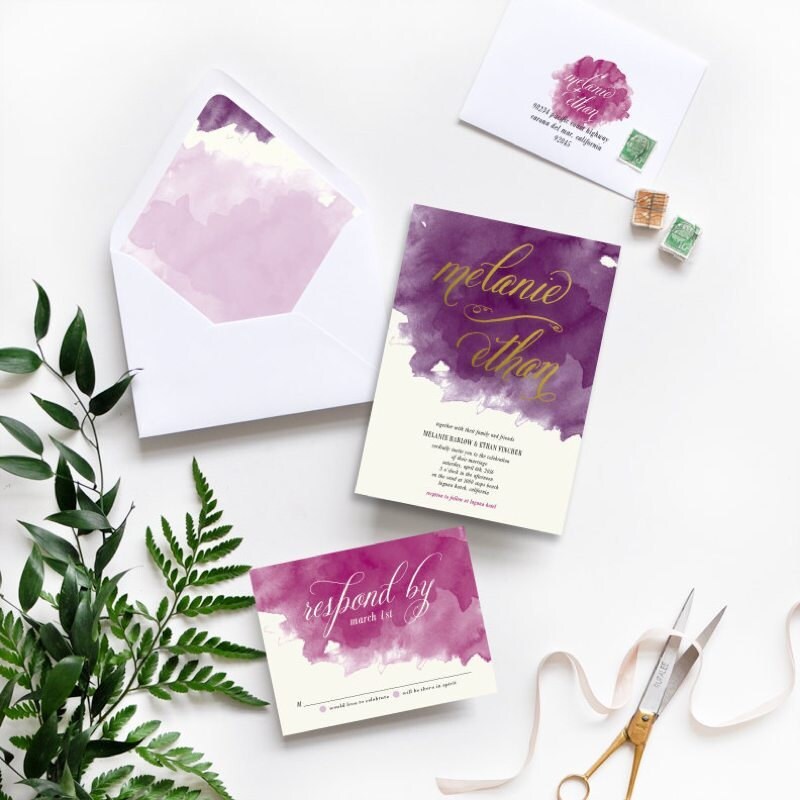 Smitten on Paper
Tip: To save on paper and postage costs, print only your invitations on expensive, heavy-weight paper and print the other enclosures on a lighter-weight paper
Letterpress
The Process
: A polymer plate with your invitation design is created and then hand-set and pressed onto paper to create indented lettering.
The Pros
: Letterpress stationery is a natural fit for a rustic wedding, but can also work well with just about any style of event, if the appropriate font and colors are chosen.
The Cons: 
Because separate plates need to be created and fed through the press for each ink color, you are usually allowed only two colors per design; the handmade process results in color and type variations; letterpress printing only works on thick paper with a rough texture.
The Cost:
Like foil stamping, the letterpress process is labor intensive and the prices reflect that ($$$).
The Timeline:
Turnaround time is usually around four to six weeks.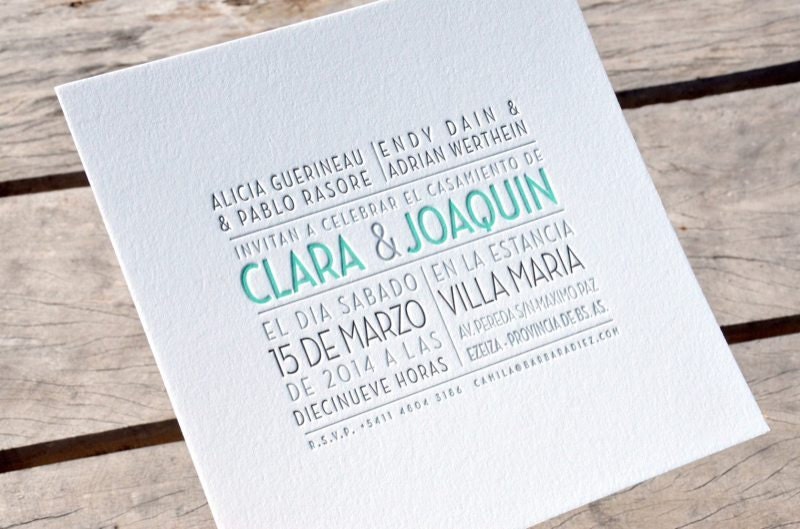 Mil Letterpress
Engraving
The Process:
A copper or metal plate is etched with your design and then filled with ink; paper is then placed on top of the plate and pressed into the design. The result is raised, opaque lettering on the front of the invite and indented lettering on the back.
The Pros
: It's the best method for printing fine and thin typefaces and for printing white ink on colored paper; it's also the preferred printing method of both the White House and royalty (read: formal events only!).
The Cons:
Lots of limitations: no bold fonts, only one (matte) ink color, and you typically must use (also-pricey) cotton paper.
The Cost:
 Engraving is truly a work of art, and it's priced accordingly ($$$$$).
The Timeline: 
Expect your order to be complete in six to eight weeks.
5%: the portion of a wedding budget that's typically set aside for stationery — so plan carefully if you have your heart set on luxe letterpress or engraved styles
III. Paper Primer
Once you've decided on a printing method, you'll need to chose your paper. Keep in mind that certain papers are better suited for specific printing techniques, and generally speaking, the thicker the paper, the heftier the price tag will be.
Cardstock
As the most popular and inexpensive paper option, cardstock is well suited for almost any printing technique. Cardstock is thicker and heavier than the text-weight paper that is used in day-to-day printing and does not crease or tear as easily. In addition to coming in several finishes like matte, shimmer, and textured, cardstock folds easily and is the perfect paper if you are looking for tri-fold, gatefold, or layered invitations. Cardstock is ideal for home printing, but make sure to choose stock that's between 80 and 110-lb weight, and to do a test run first to see if your printer can handle the thickness of the paper.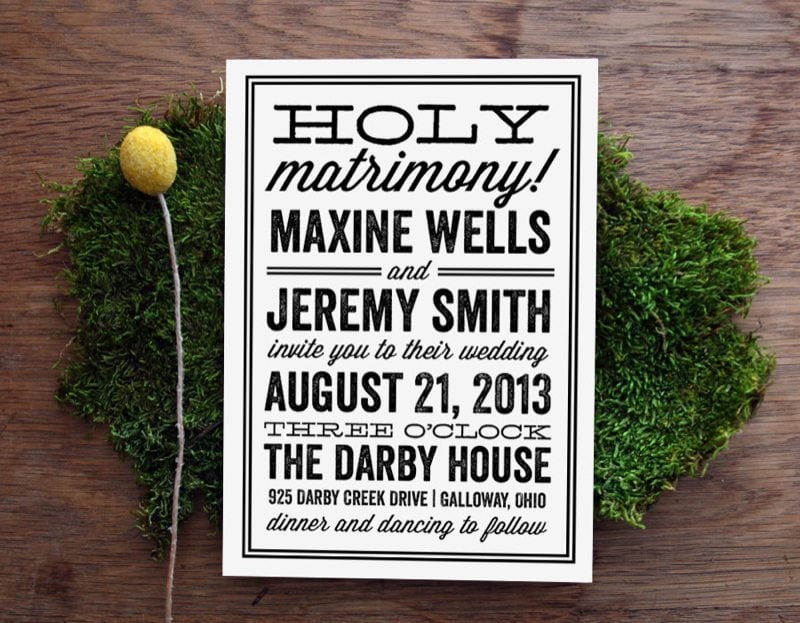 Cheer Up Cherup
Kraft Paper
If you're having a rustic or vintage-themed wedding, chances are you'll be incorporating this textured paper into your big day. Made of recycled wood pulp, this natural looking paper comes in a variety of weights and is appropriate for letterpressing, digital printing, and thermography. Also consider using kraft paper as a backing for your invitations if they're going to be printed on a lighter-weight paper. Kraft is also a great option if you're looking to use folded or pocket-envelope designs.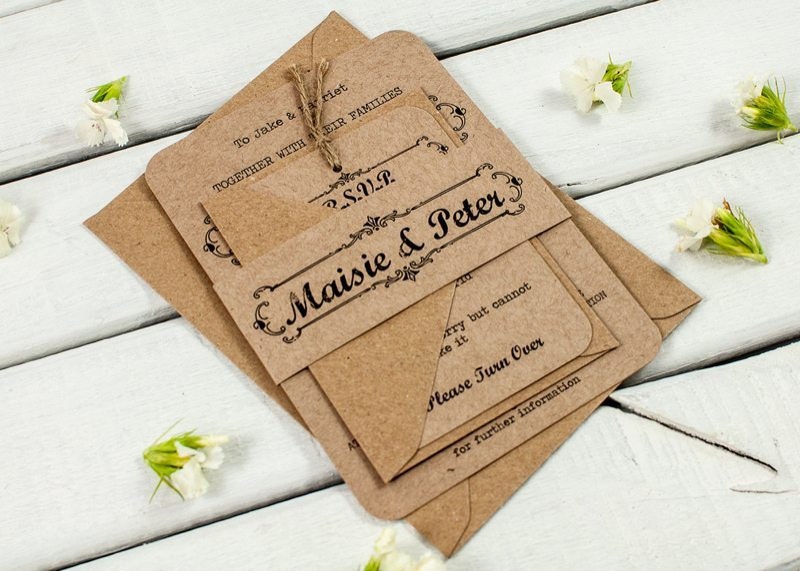 Norma & Dorothy
Cotton Paper
One of the most expensive paper options, 100% cotton paper is smooth and soft to the touch and instantly signals a formal event. Because cotton fibers are stronger than wood-pulp fibers, this paper will create crisp and clean impressions when letterpressed or engraved.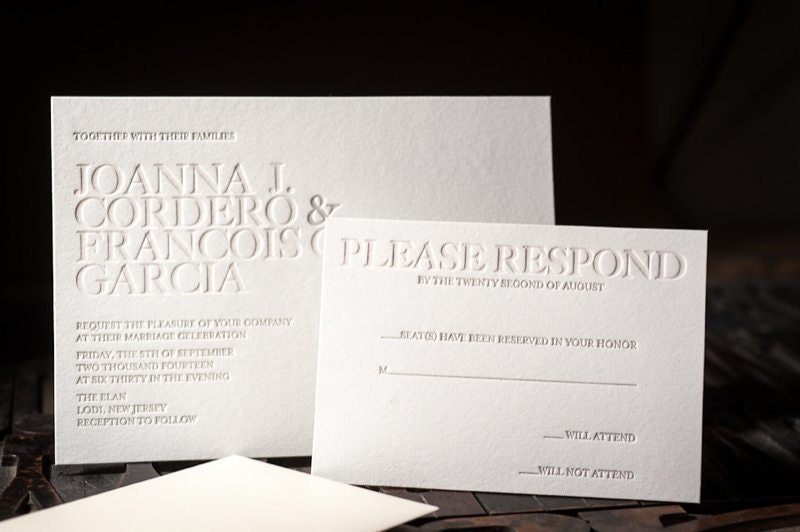 Fossil Letterpress
Vellum
In the olden days, this translucent paper was made from dried calf's skin; luckily, today's version is made of plant and tree fibers, and can have either a smooth, plastic-y appearance or a more worn and textured look. Vellum can be printed with an image or photo to overlay your wedding invitation, or you can print your invitation details directly on the vellum and use cardstock or kraft paper as a backing. Because it's so thin, vellum cannot be letterpressed or engraved.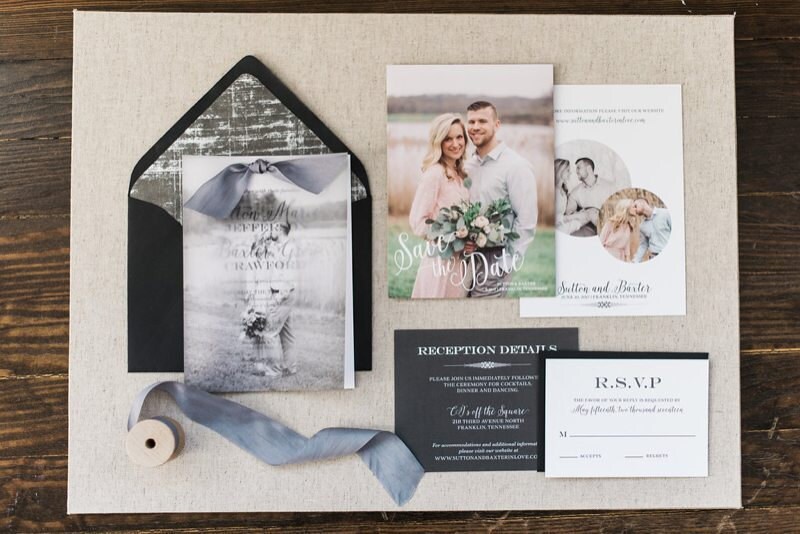 Meg Morrow Fine Paper
Tip: Want to give your invites a little edge? Ask your stationer to edge-paint or foil your invites. The process is just like it sounds: Ink or foil is applied to the edges of your stationery, resulting in a surprising pop of color.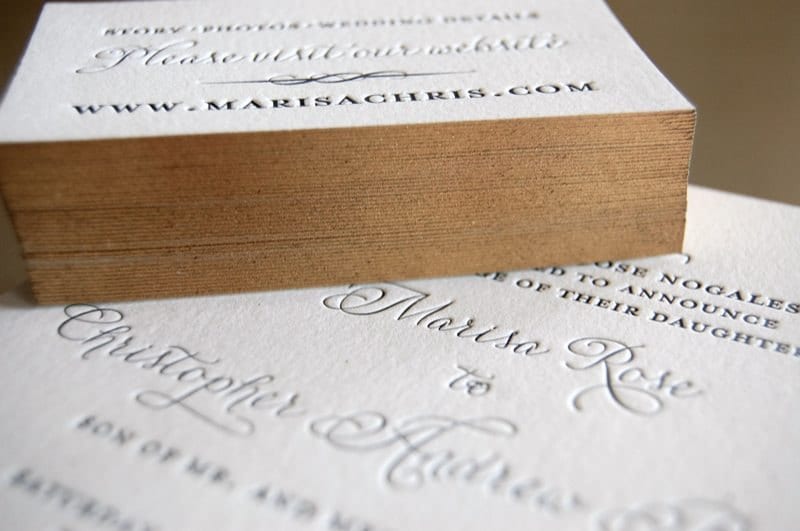 Bella Announcements
Lead image from JP Stationery.
  Save